Butterscotch Oatmeal
Lately I've been starting to feel guilty eating in front of Charlotte. It's like she can somehow tell that my bright red strawberry pie is better than her brown wheat bread. I don't get it. She stared at me while I licked my plate, and I actually cast my eyes down in shame. I guess that's how you know when to start eating treats during naptime. (If the most notable part of the previous statement is the fact that I lick my plate after I eat pie, then I'm sorry, we are not friends.)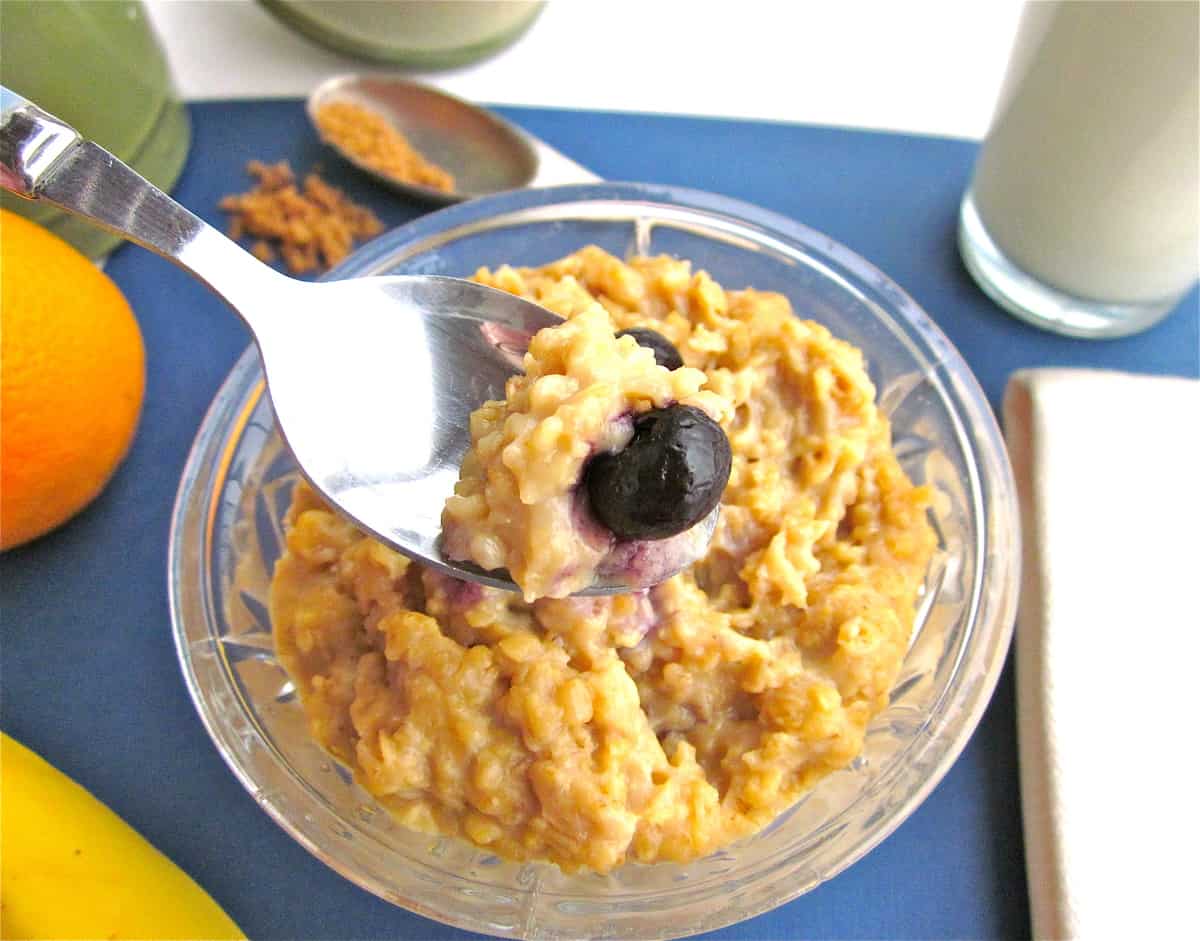 Charlotte has been on a genuine food strike lately. Yet she hasn't figured out how to spit out food that she doesn't want to swallow. The other day I was feeding her oatmeal and she refused to swallow the food in her mouth, so it was just sitting there. I figured she would swallow it eventually, and stopped worrying about it. A good 20 minutes later I took her over to my friend Nancy's house to be babysat. I was explaining the bedtime routine when suddenly Charlotte sneezed. Spraying Nancy's carpet with 20-minute old saliva-y oatmeal.
But don't worry, you will not be spraying anyone with this Butterscotch Oatmeal. It is seriously incredible. It looks like regular oatmeal, but can I just tell you that I have made it at least 10 times in the last month? No joke. It is that good. The egg makes it rich and creamy, and the brown sugar really does morph into a butterscotch flavor as it cooks. Eric grew up eating this stuff and now my kids will too, because I am completely addicted. They will eat it, even if they choose to spray.
print
Did you make this recipe?
Leave a review »
Butterscotch Oatmeal
Ingredients
2

cups milk

1

egg

1/3

cup packed brown sugar

1/4

teaspoon salt

1

cup quick oats

2

teaspoons butter, optional
Instructions
In a small saucepan, whisk together the milk, egg, brown sugar, and salt.
Turn the heat on to medium, and don't go higher than that the whole time you are cooking otherwise it will turn out grainy.
Mix in the oats. Stir occasionally. When the oatmeal begins to bubble, cook and stir until thick.
When it has reached the consistency you like, remove from heat, and stir in butter until melted.
I usually let it sit off the heat with a lid on for a couple minutes so that it gets nice and thick. Serve with milk and fruit!
by The Food Charlatan

If you make this recipe,
share it on Instagram
 using the hashtag
#TheFoodCharlatan
so I can see it!
Source: my mother-in-law Kris
We are a participant in the Amazon Services LLC Associates Program, an affiliate advertising program designed to provide a means for us to earn fees by linking to Amazon.com and affiliated sites.