This soup is basically blended up zucchini. It has no cream in it (other than to garnish) yet it's so smooth and rich. A summer time solution for all those garden veggies! WAIT I forgot about the popcorn to go on top! Guys, it's so good!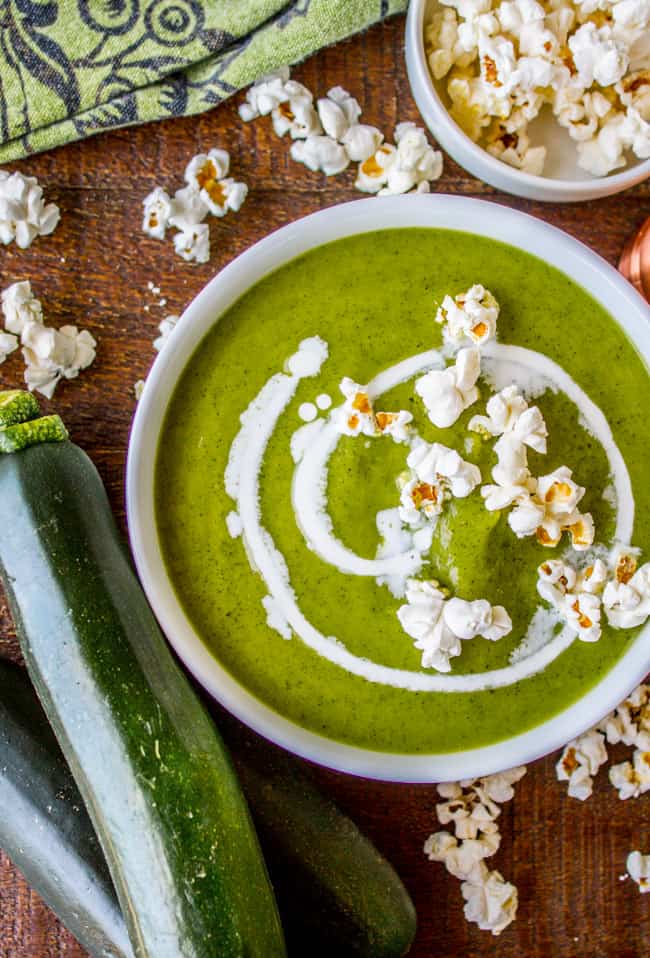 We just got home from a week long trip to Eric's tiny hometown in Montana, where his parents live. The population is about 5,000. It's a nice change of pace from all the traffic and bustle here in Sacramento. It takes literally 5 minutes to get anywhere you want to go. Oh, except all the places you want to go that are 4 hours away. (Like Target.) But why go anywhere when the porch swing is calling?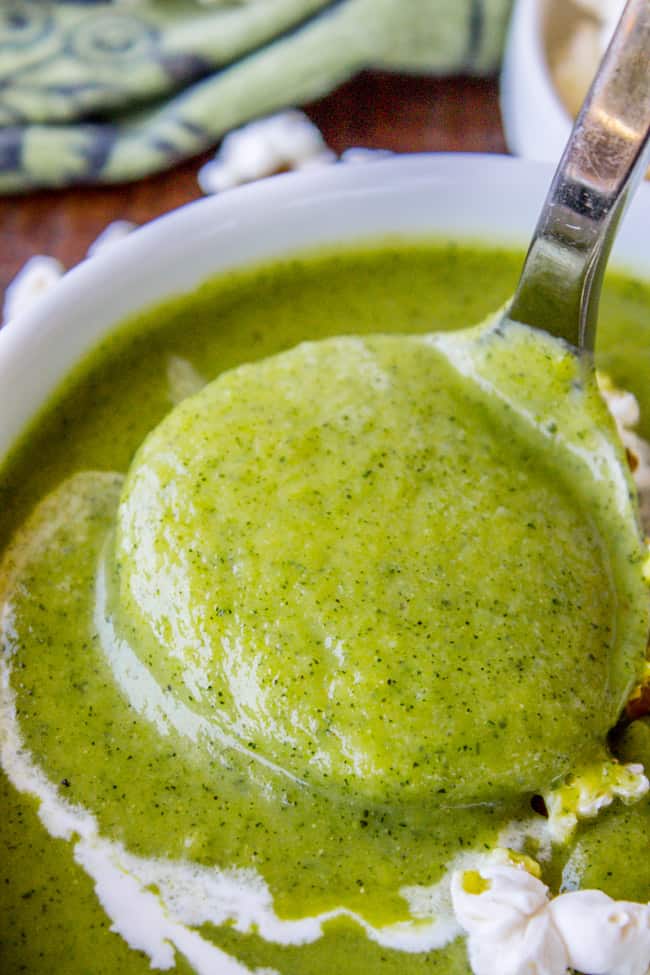 It's a 21 hour drive to get there, so we got really comfortable hanging out in our van together. Basically we're going to start sleeping in the van because we love it so much. Sometimes I just go sit in it to remember how awesome it was. <<SARCASM
I really shouldn't be complaining. Our kids are pretty awesome for long car trips. I'm going to jinx myself!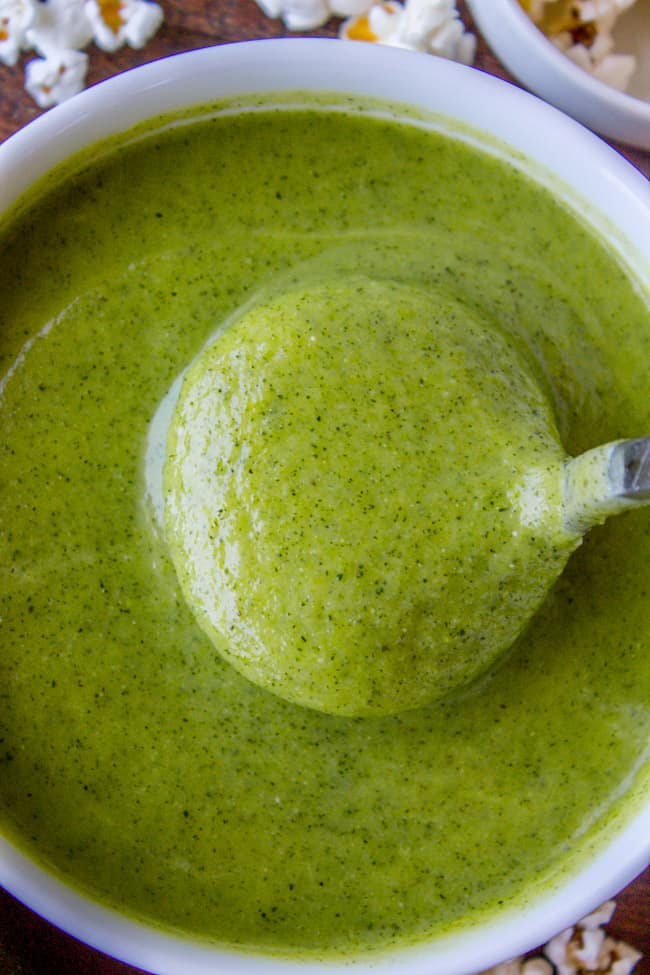 Last summer my mom, sisters and I had a girls weekend, and my sister-in-law Sandi pulled this soup out of the fridge for lunch one day. Her kids had been in the kitchen earlier making popcorn and there was some left out. My sister Laura topped her bowl of soup with some of the popcorn. Whaaat?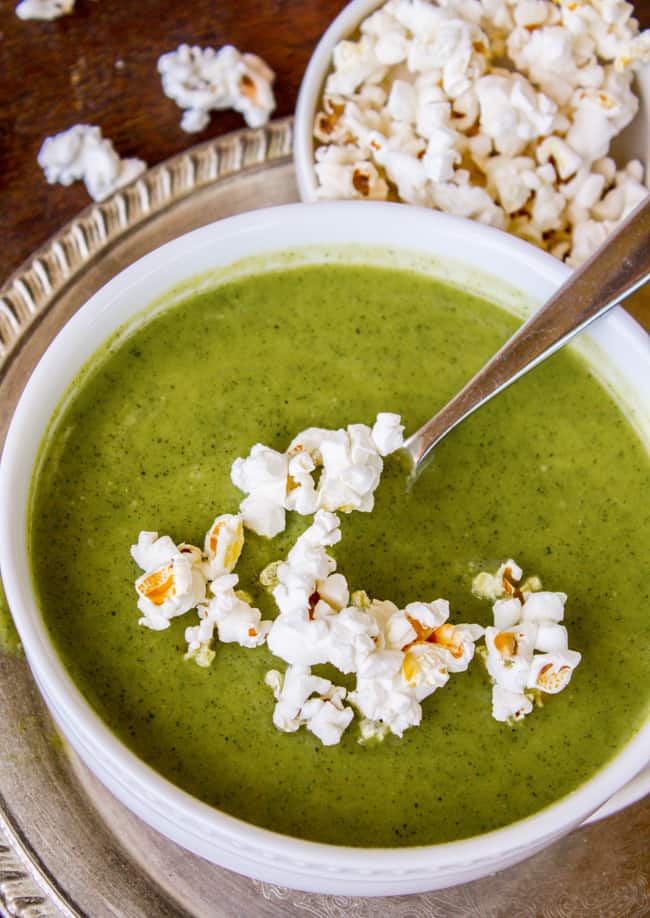 I thought she was crazy at first, until I tried it. I was totally blown away. A crunchy, satisfying soup topper that's practically calorie free? (Also, popcorn is a whole grain, did you know?)
Laura served her mission in Ecuador, and told us that serving popcorn as a garnish for puréed soup is a thing there. She said that they serve any kind of soup purée with a bowl of popcorn on the side, so you can garnish at will. The popcorn gets soggy pretty fast, so you  have to keep adding more just a little at a time to get that magical crunch.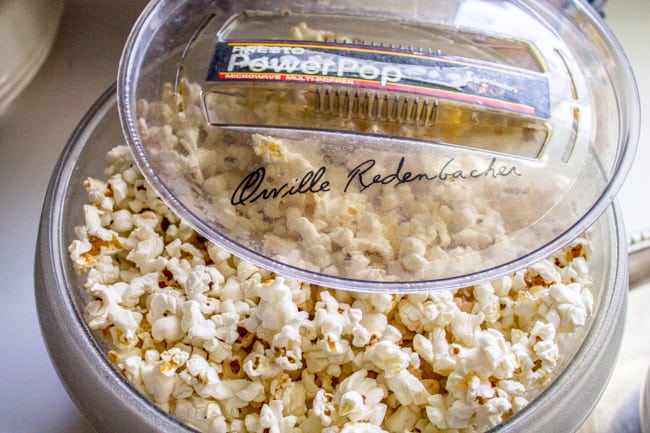 Here's our popcorn maker. I think Eric has had this since before we got married. (Did he steal it from you when he left for college, Kris??) He loves popcorn so much. You can buy one here on Amazon. It's a really great little popcorn popper, we love it. It's pretty foolproof. And a lot healthier than microwave popcorn in a bag, because you can add as much or as little butter as you want.
I didn't even add salt or butter to the popcorn for this soup. You could of course, but the soup takes care of the flavor, so why bother? Although. I haven't tried it, and generally everything is better the more butter you add, so…let me know how that goes.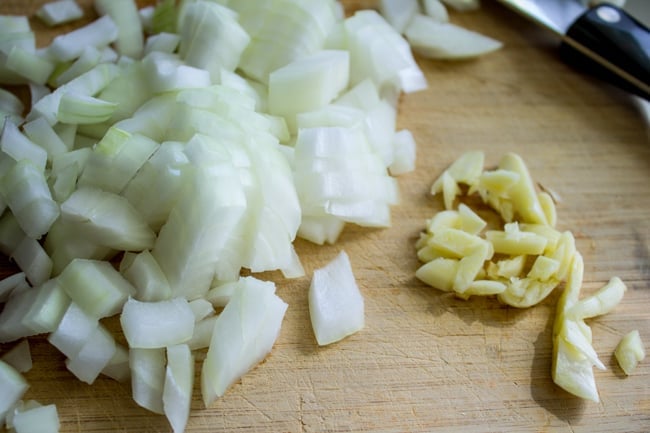 I love Better Than Bouillon! It's such an easy soup enhancer.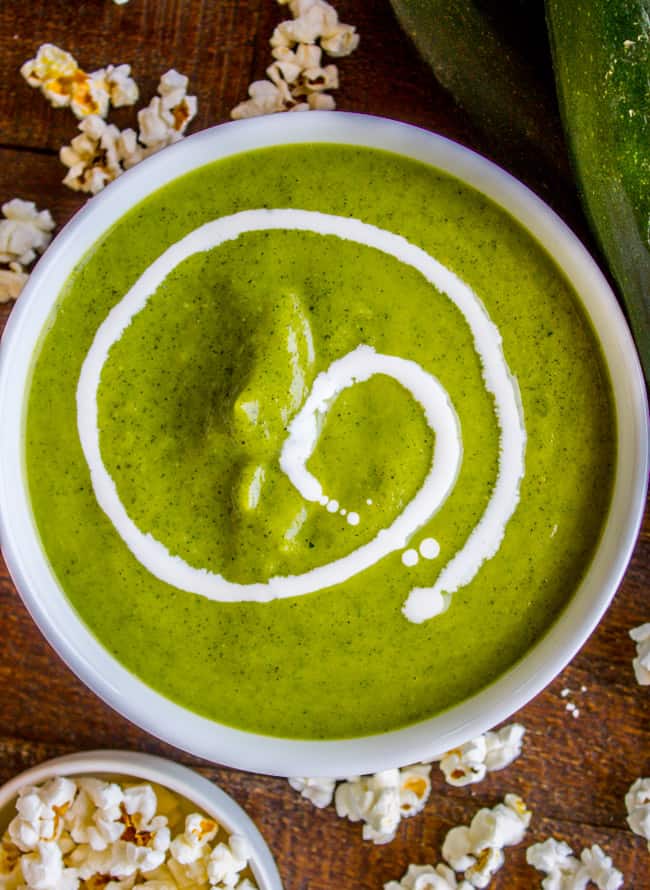 I asked Sandi how to make zucchini soup and she said she just takes a bunch of zucchini, steams or boils it, blends it up with butter and a little broth, and voila. I had to complicate things of course, by adding onion and garlic (totally worth it), but that's about it. It's so simple and a great way to use up zucchini if you have a ton from your garden. You can also use yellow squash in this recipe; either replace or combine it with zucchini.
Facebook | Pinterest | Instagram | Twitter

Creamy Zucchini Soup with Popcorn Garnish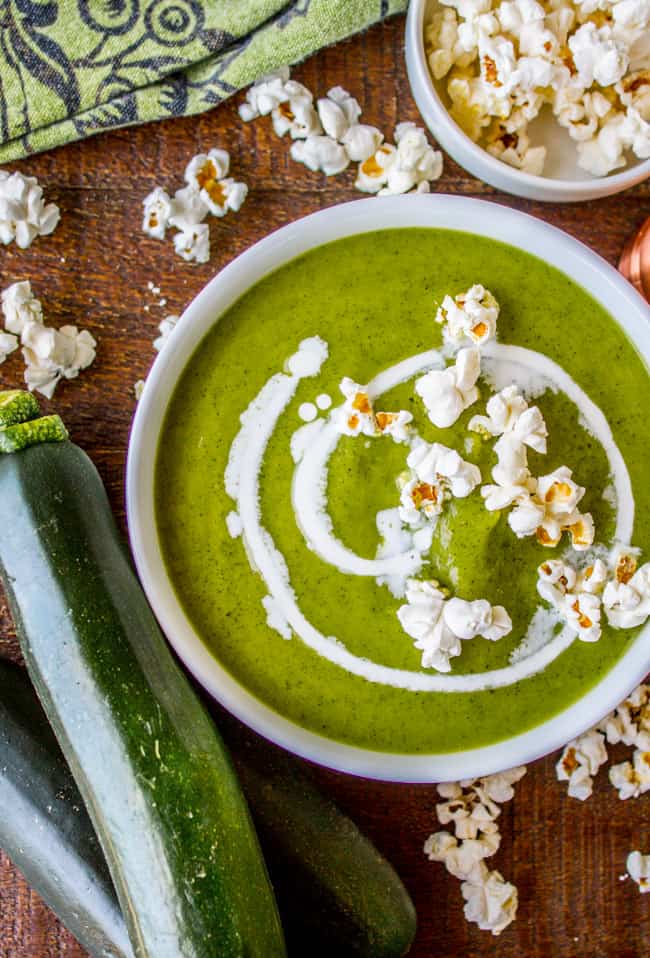 This soup is basically blended up zucchini. It has no cream in it (other than to garnish) yet it's so smooth and rich. Also, POPCORN!!
Ingredients
3

tablespoons

butter and/or olive oil

,

any combination of the two is fine

1

medium

onion

,

chopped

2

cloves

garlic

,

smashed and then roughly chopped

6

smallish

zucchini

,

about 1 and 1/2 pounds

2 & 2/3

cups

water

2

teaspoons

Chicken Bouillon

1

teaspoon

kosher salt

1/2 to 1

teaspoon

garlic salt

1/4 to 1/2

teaspoon

pepper

Popped Popcorn,

to garnish

cream

,

or half and half, to garnish
Instructions
Heat a 10 inch wide pot over medium heat. Add the butter and/or olive oil.

When it is hot and shimmers, add the onions and garlic. Don't chop your garlic too small, you don't want to burn it.

Saute for 5 minutes or so while you slice the zucchini.

Slice all the zucchini into rounds and add to the pot.

Saute for about 10 minutes, stirring occasionally, until the zucchini is fork tender.

Add the water and chicken base, along with the salt, garlic salt, and pepper. Pro tip: now is a good time to sneak some zucchini from the pan. Glorious. Sometimes I wonder why we don't just eat vegetables all the time.**

Continue to simmer another 10-15 minutes, until the zucchini is very soft.

Use

an immersion blender

to blend the soup. Or transfer the soup to a blender, leaving the tab at the top open to allow steam to escape. Hold a towel over the top so you don't spray yourself with zucchini lava. Blend in batches if necessary. Pour the soup back into the pot.

Reheat the soup on medium heat if necessary.

Garnish with a drizzle of cream and some popped popcorn! So fun!
Notes
*Use vegetable base if you want this to be vegetarian. Or you could use regular chicken or vegetable broth in exchange for the water + Better than Bouillon. (Use the amount of liquid the recipe calls for.)
**I remembered. It's because of bacon.
Recipe is from Sandi, method adapted from Food and Wine.
Nutrition
Serving:
1
g
|
Calories:
119
kcal
|
Carbohydrates:
9
g
|
Protein:
3
g
|
Fat:
9
g
|
Saturated Fat:
2
g
|
Polyunsaturated Fat:
2
g
|
Monounsaturated Fat:
4
g
|
Sodium:
1004
mg
|
Potassium:
515
mg
|
Fiber:
2
g
|
Sugar:
6
g
|
Vitamin A:
731
IU
|
Vitamin C:
34
mg
|
Calcium:
46
mg
|
Iron:
1
mg
Other delightful puréed soups to love! (all of these you could garnish with popcorn…I'm telling you guys.)
30 Minute Pea Soup (From a Bag of Frozen Peas) << this is soooo easy. Such a no brainer last minute meal. I love it.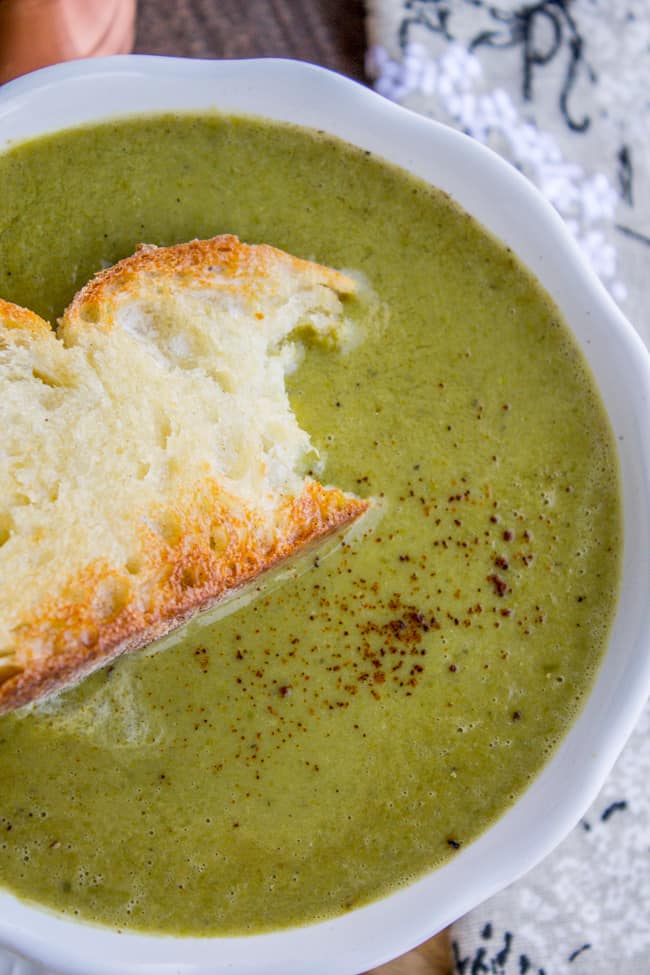 Simple Asparagus Soup << love this one too.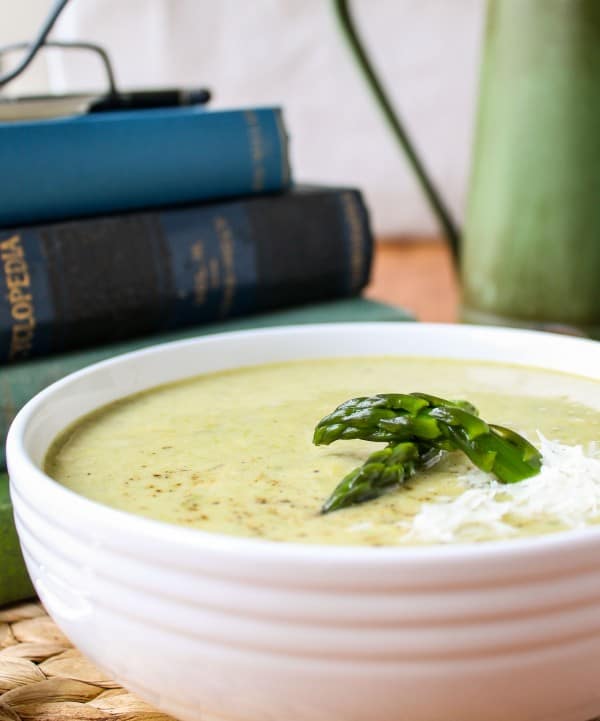 Roasted Butternut Squash Soup << this one is great for winter time.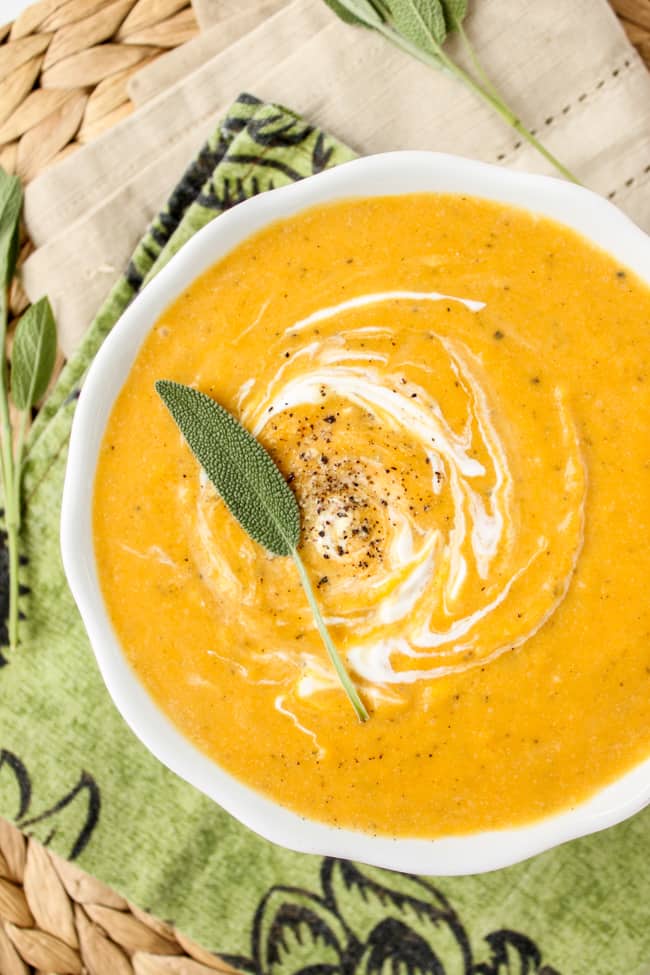 Easy Cheddar Cauliflower Soup << this is one of my absolute favs. Can't wait to try it with popcorn! (!! Cheddar popcorn?? Whaaat!!)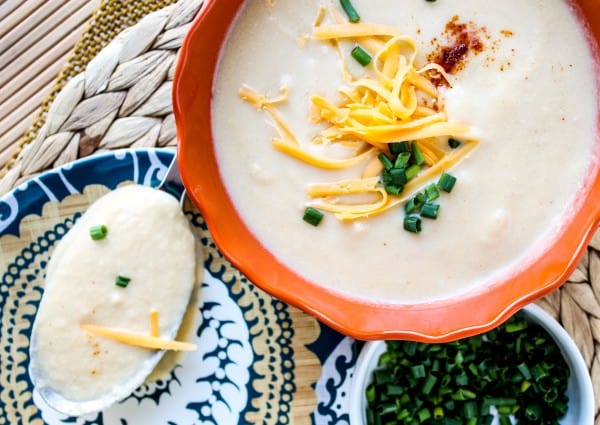 More popcorn or zucchini soup from friends!
Roasted Tomato Soup with Parmesan (and popcorn garnish) from No. 2 Pencil
Sarah's Popcorn Soup from Sarah Cooks the Books
Lima Bean, Zucchini, and Spinach Soup from A Beautiful Plate
Chilled Zucchini Soup from All Day I Dream About Food