This classic Pimento Cheese Dip is the perfect consistency. It has just the right amount of spice, and a secret ingredient that adds a little zing! Super easy appetizer or side dish for summer BBQs.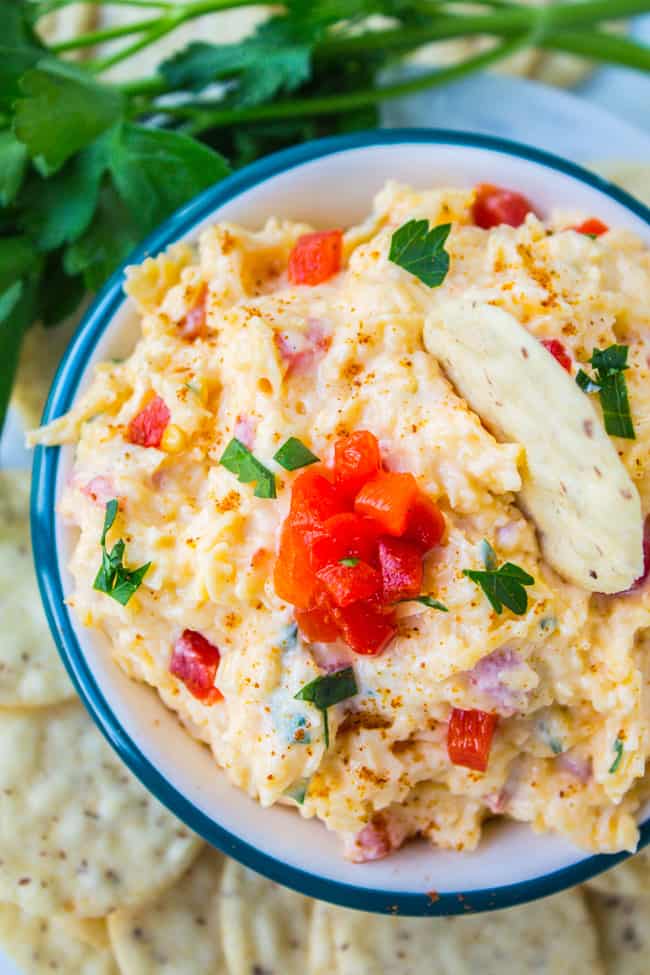 Last week I said goodbye to most of my pants and hello to a compartmentalized underwear drawer. What do YOU do when your best friend comes to stay for a few days? Buy clothes? We throw ours away.
Sarah has been reading the magic Japanese tidying book (have you heard of it?) I haven't read it yet, but she told me about it and that's pretty much the same thing.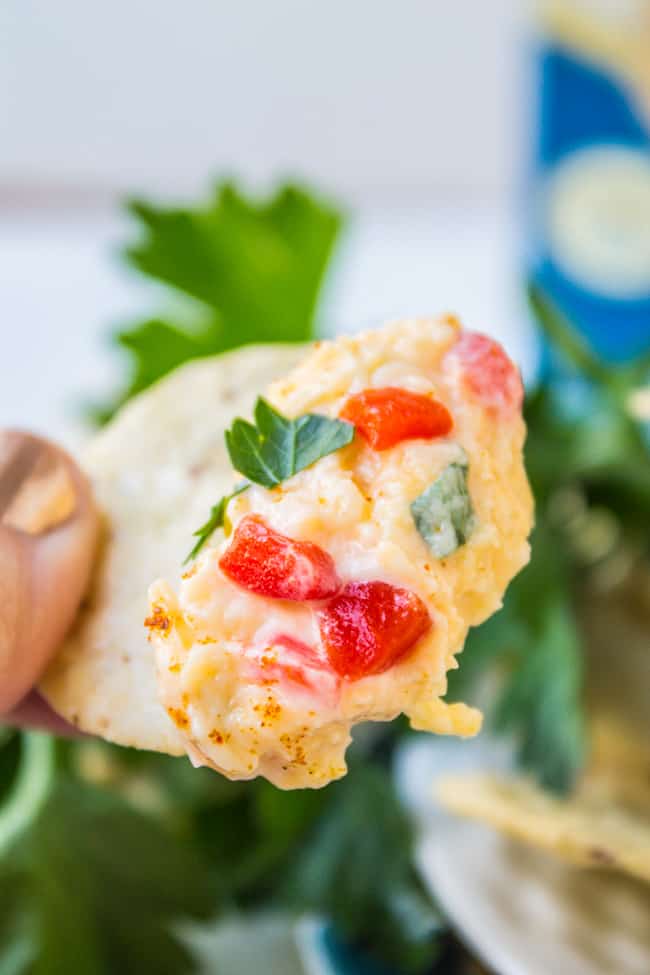 Sarah was my roommate in college, and if you have ever seen Francis Ha, then you know a little bit about us. I don't bother writing about her much (except when she sews us Bono and Poe pillows) because it never does her justice. Someday I will write our memoirs. Or probably she will. (Sarah's the responsible one. She used to do my laundry in college when my hamper would start overflowing onto her side of the room.)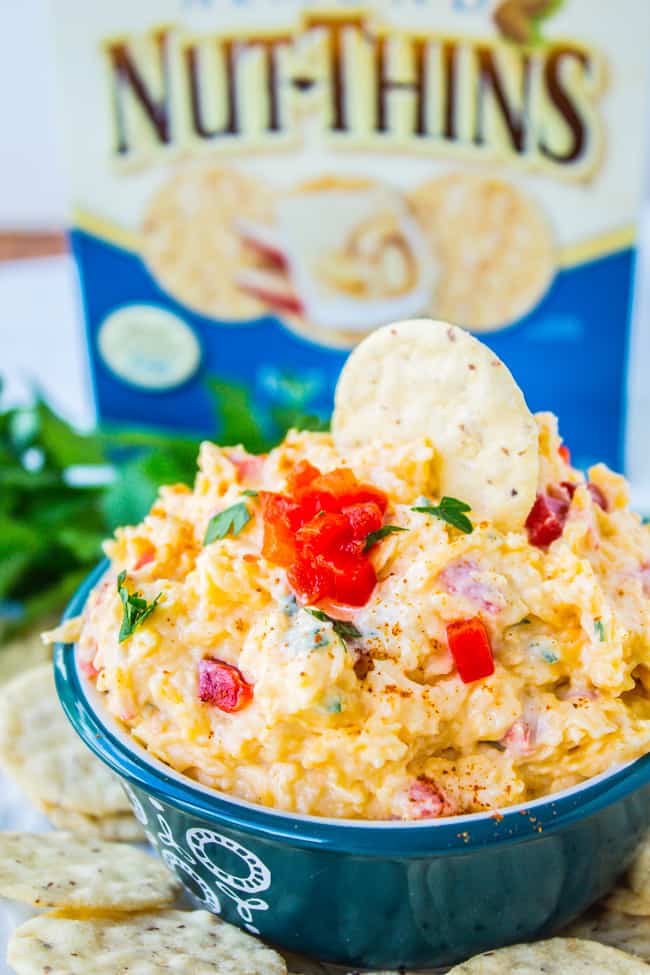 Sarah is pregnant with her fourth, and she got to leave almost all her children behind to come stay with me. Which was awesome, because I'm really great at ignoring my kids, leaving more time for the serious task of underwear compartmentalization. Sarah hopped on the ignore train too, because my children are capable of being ignored without causing bodily harm. Sarah's kids, on the other hand…are not.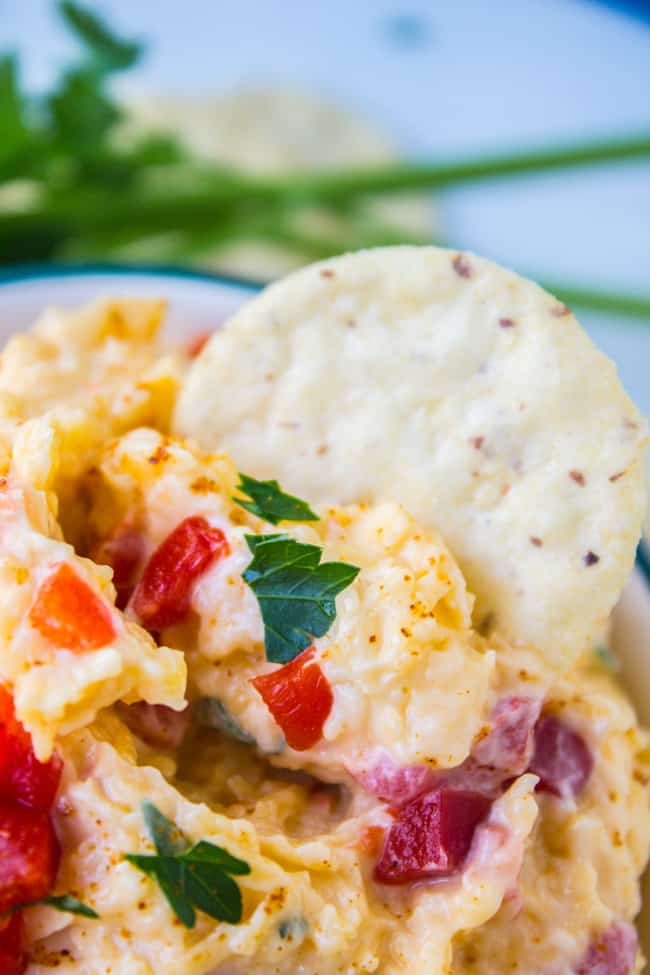 She told me about one time when she had some friends over for dinner on a night her husband was working late. She was chatting with them in the kitchen when she realized that she hadn't seen her children for at least 8 minutes. When she found them, there was paint covering the carpet, her 4-year-old was dancing gleefully in the mess, and her 2-year-old was squeezing paint directly on the head of her 9-month old baby.
When it was all over, her 4-year-old said matter-of-factly, "Well Mom, I guess you've learned your lesson not to put the paint where I can reach it."
If I ever complain about my children again, please, feel free to send me hate mail.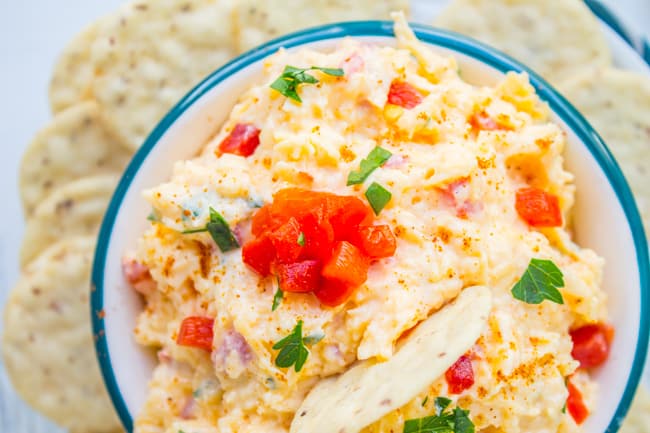 So I promised a secret ingredient in this dip, and here it is: dijon mustard. My favorite Easy Cheddar Cauliflower Soup calls for dijon, and since this dip is mostly cheddar cheese, I thought, hey why not. I LOVE it. I really felt like the traditional dip ingredients were missing some flavor element, and the dijon fixed that right up. I mean, it makes perfect sense, mayonnaise and mustard go together like cheese and crackers. (Can I get an amen.)
Eric and I could not stop sneaking this dip from the fridge. It keeps very well, so you can make this in advance. I particularly love it paired with Blue Diamond's new Nut-Thins. They are made of rice and nuts, and are just the right level of sturdy and crispy. Perfect for digging right in to this cheesy glorious dip!
Do you guys give up? Or are you thirsty for more?
Facebook | Pinterest | Instagram | Twitter

Pimiento Cheese Dip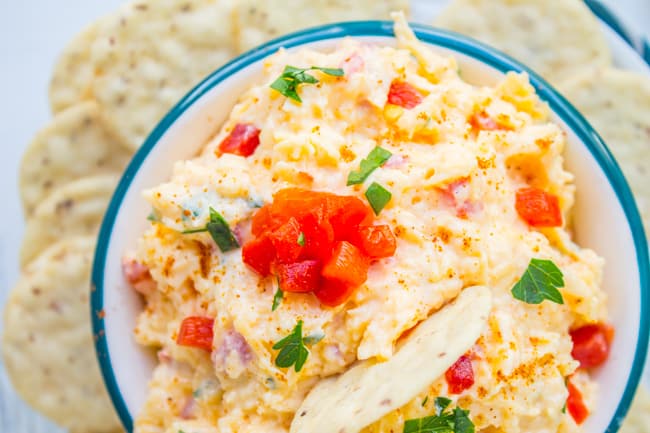 This classic Pimento Cheese Dip is the perfect consistency. It has just the right amount of spice, and a secret ingredient that adds a little zing! Super easy appetizer or side dish for summer BBQs. 
Ingredients
1

pound

cheddar cheese

,

block sharp*

1 & 1/2

cups

mayonnaise

4

ounces

pimientos

,

chopped and drained

1

tablespoon

parsley

,

chopped

1/4

teaspoon

garlic

,

minced

1/4

teaspoon

cayenne pepper

1/2

teaspoon

dijon mustard

1

box

Almond Blue Diamond Nut-Thins
Instructions
Finely shred the cheese. I mean it here, don't use the big grater.

Combine all ingredients (except the crackers) in a big bowl. Adjust cayenne and dijon to taste.

Serve room temperature or chilled with the perfectly dip-able Almond Blue Diamond Nut-Thins.
Notes
*Don't use pre-shredded cheese. Shredded cheese is coated with flour-y stuff so that it doesn't stick together, which means it won't stick together as well in your dip.
Nutrition
Serving:
0.5
cup
|
Calories:
902
kcal
|
Carbohydrates:
36
g
|
Protein:
23
g
|
Fat:
75
g
|
Saturated Fat:
24
g
|
Polyunsaturated Fat:
26
g
|
Monounsaturated Fat:
17
g
|
Trans Fat:
1
g
|
Cholesterol:
103
mg
|
Sodium:
1175
mg
|
Potassium:
121
mg
|
Fiber:
3
g
|
Sugar:
8
g
|
Vitamin A:
1387
IU
|
Vitamin C:
17
mg
|
Calcium:
580
mg
|
Iron:
2
mg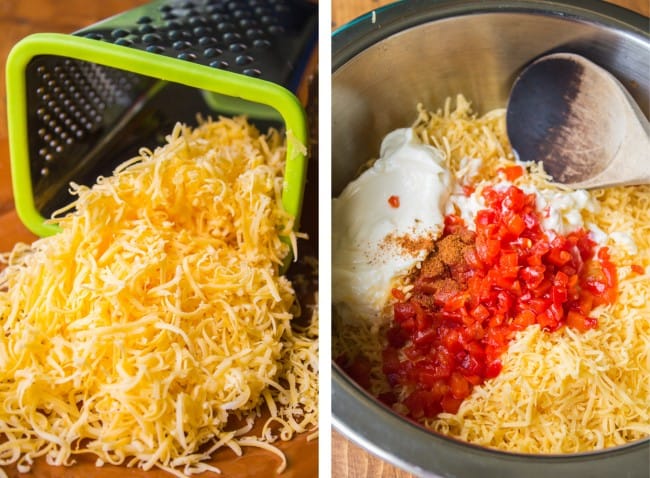 Use the fine shredder!!
Here are some other summer dip ideas! 
Pimiento Cheese Ball: (don't hate on my ugly picture, this stuff is legit–that's a pecan crust!)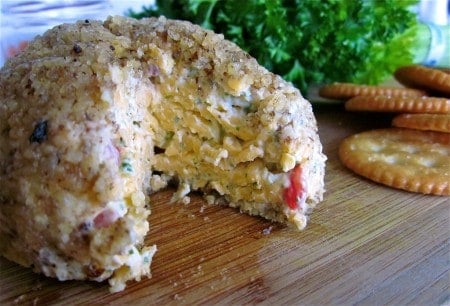 Easy Strawberries and Cream Appetizer: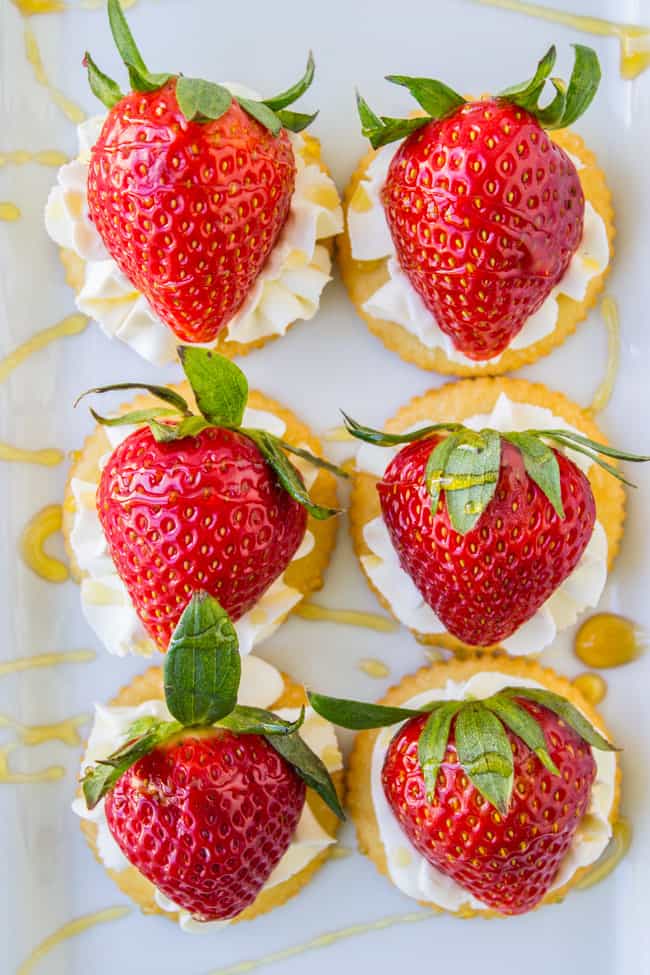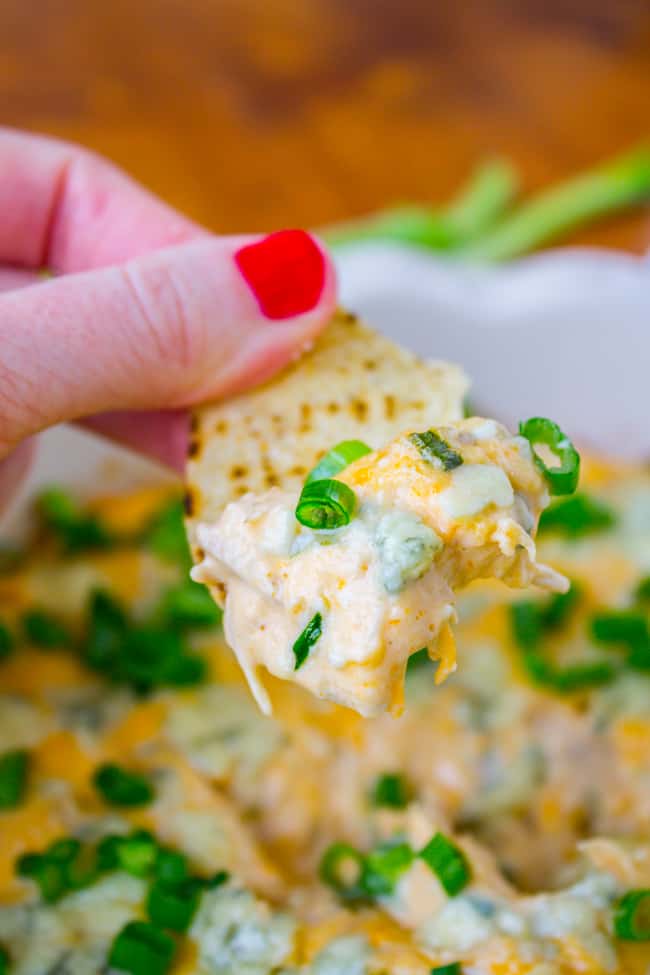 More pimiento goodness!
Bacon Pimiento Cheese Cups from Buns in My Oven
No-Mayo Pimiento Cheese from Bran Appetit
Pimiento Cheese Pinwheels, from SewLicious Home Decor
This post is sponsored by Blue Diamond Nut Thins. All opinions are my own of course! I would never post something on my blog that I didn't love. Thanks for supporting awesome companies like Blue Diamond that help me keep my blog up and running!