I'm in love with this Oven Baked Greek Chicken! This recipe is super easy to put together and is healthy to boot. Greek style chicken thighs are paired with mushroom, bell pepper, red onion, and cherry tomato. Serve over couscous or rice!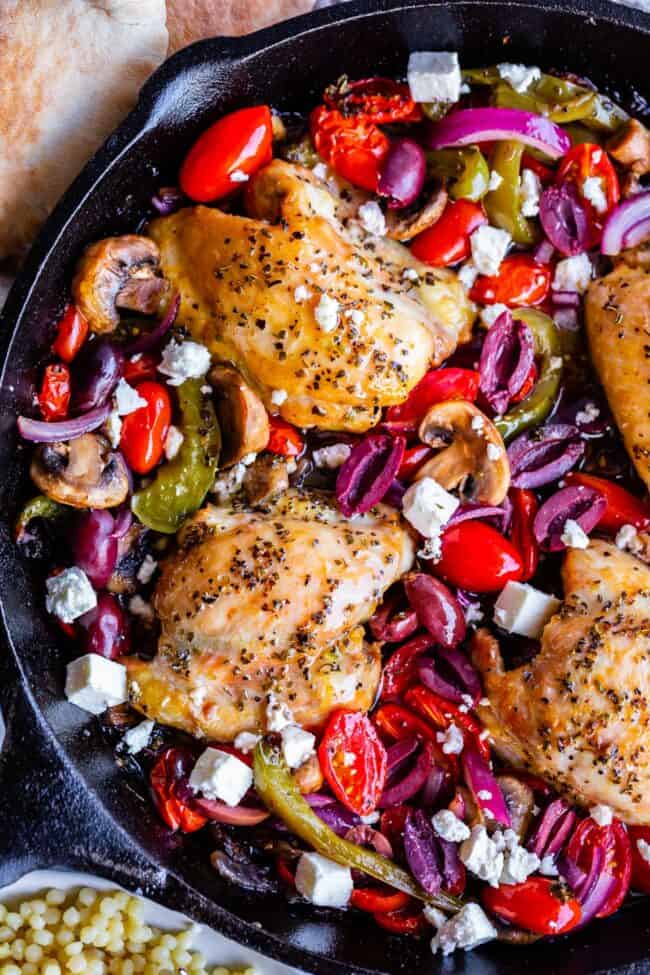 "Excuse me," said the woman in line behind me, as we finished our transaction at Target, "did you know that you have – –
(and then the longest moment passed where I'm stressing, thinking she's going to say that I have toilet paper on my shoe, or that I've forgotten to button up after nursing the baby, or that one of my four kids has dumped a bottle of shampoo on the ground)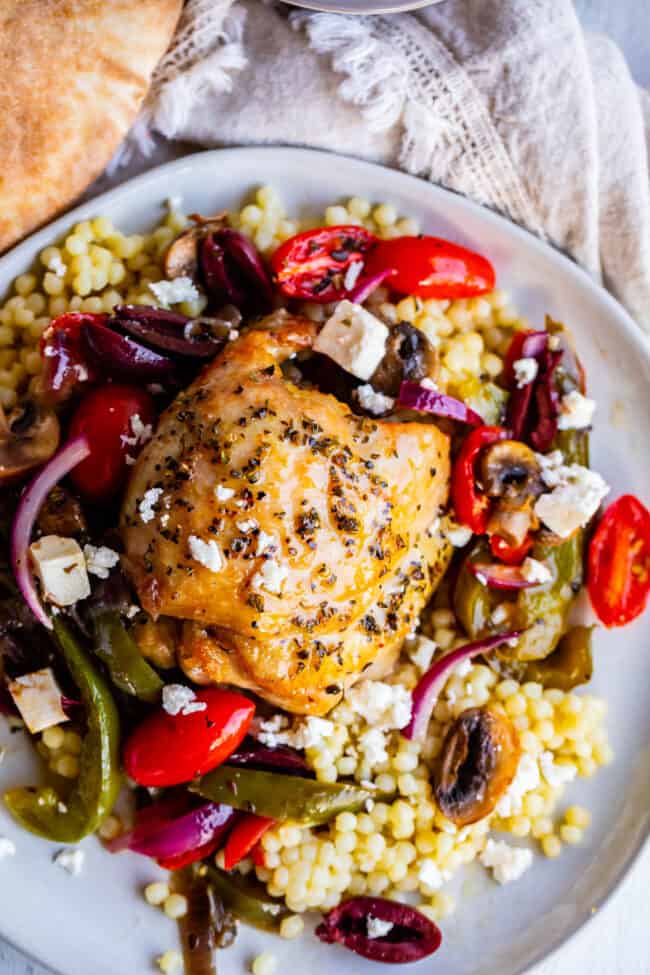 – – but then she finished, "Did you know that you have perfect children?"
I laughed SO hard. Not like a chuckle. Like a full on belly laugh. I laughed so hard I couldn't even think of what to say. People were looking. She was probably wondering how these kids are so perfect when they have a lunatic for a mother.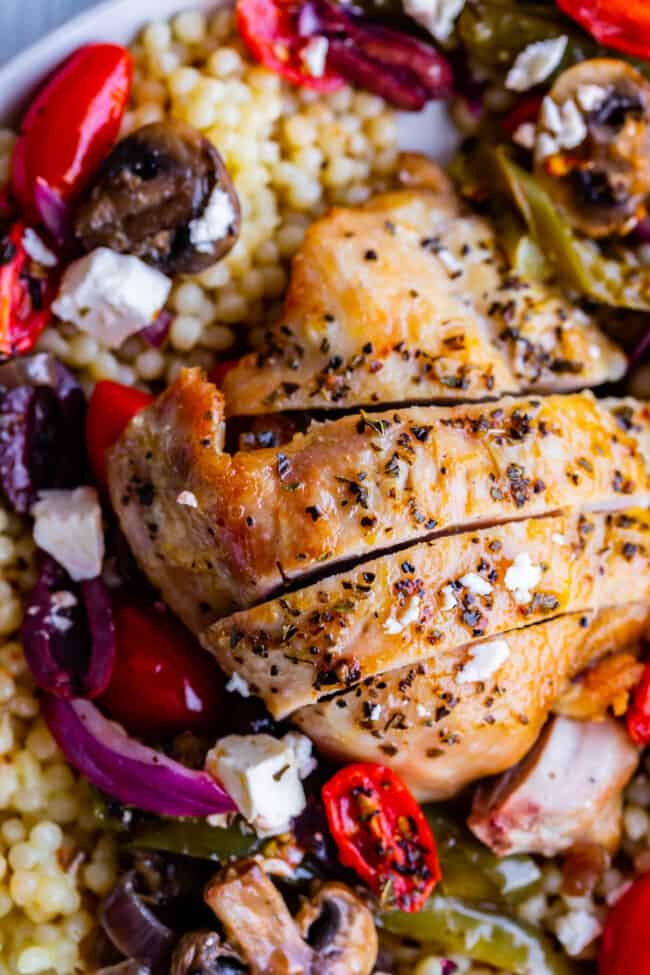 (Also, my kids had literally just finished playing a rambunctious game of tag in the women's clothing section, so clearly she saw them during a quiet moment. Totally nice of her to say that though, right? I eventually calmed down enough to ask her if she had her own kids, and she said, "Oh yes, and grandkids, so I'm an authority!")
Well, in other news, the baby is 5 weeks old now and everything is totally back to normal! Just kidding.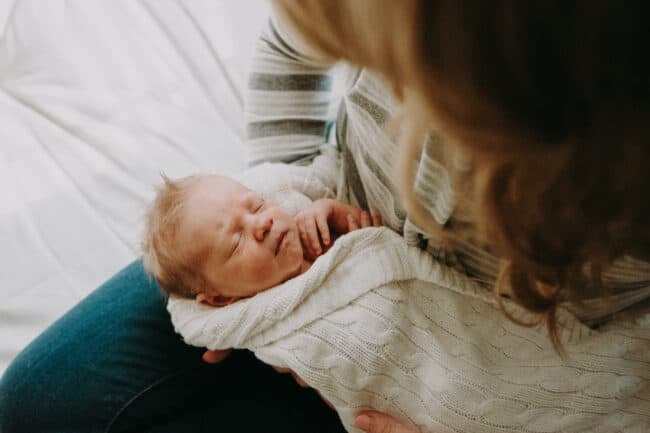 This picture makes everything look cool calm and collected, right?? Ha. As if. We're surviving though! Photo is by Ashlee Gadd Photography, highly recommended if you are in Sacramento!
Before the baby came I had time to photograph this super easy weeknight meal. It was so good that we made it again for dinner the next week. We don't repeat meals that often around here, so that is saying something!
How to make this easy Baked Greek Chicken
First start off by searing your chicken thighs. You can do boneless or not boneless, skin on or off, it's totally up to you. You can also use chicken breast if you prefer, as long as they are not too big.  Get a nice brown sear over medium high heat, and then remove the chicken to a plate.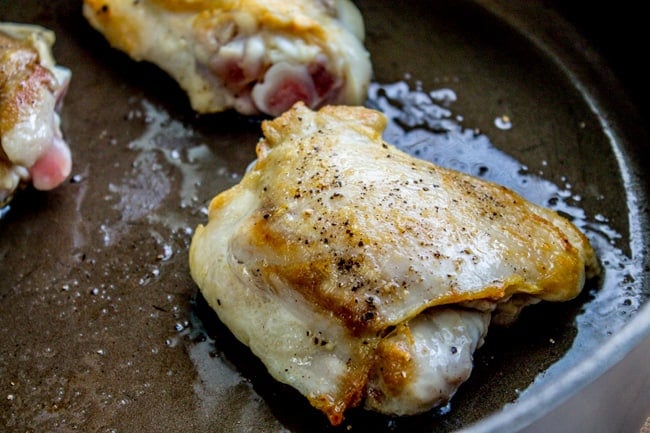 Next chop up your veggies. You're going to saute green bell peppers, mushrooms, red onions, and sliced garlic in the same pan that you seared the chicken in.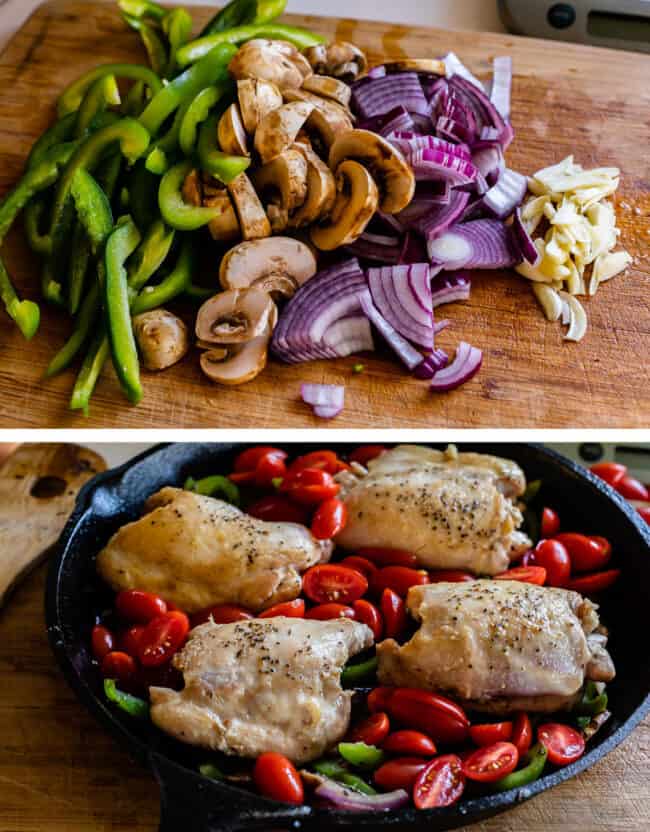 Once you've softened up the peppers and mushrooms, add the chicken back on top along with some sliced cherry tomatoes. Toss it in the oven until the chicken is done, and dinner is ready to go! Top with kalamata olives and crumbled feta.
The best part about this recipe? It's done in about 30 minutes, or 45 if you're slow or have wild children in the background like me.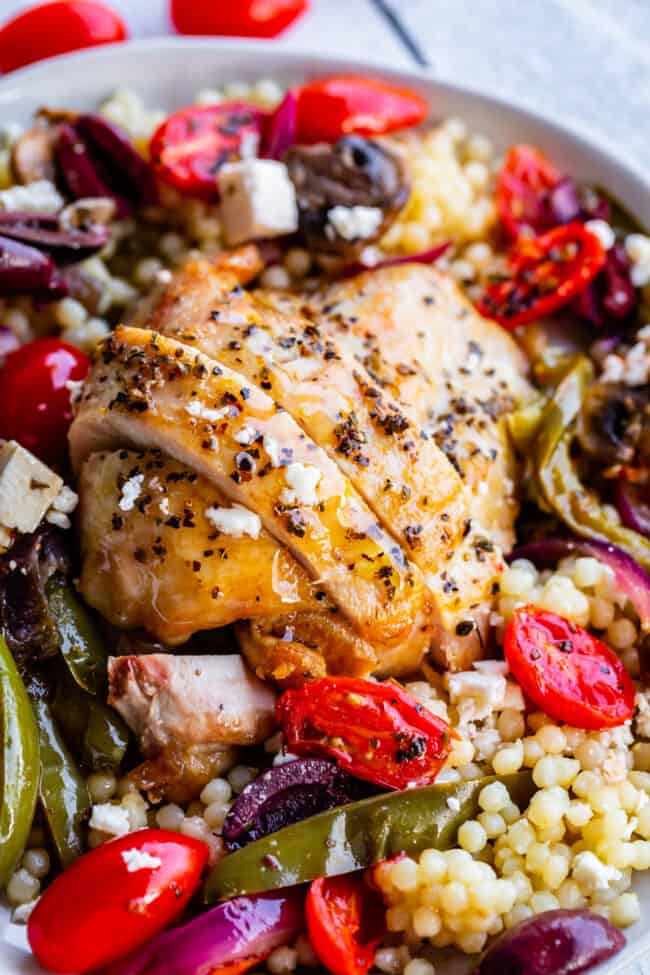 Whatever you do, don't forget to drizzle the whole dish with a bit of olive oil and red wine vinegar after it comes out of the oven. I love the zing it adds! An effortless flavor punch. It's the same secret ingredient that makes these Roasted Sweet Potatoes and Brussels Sprouts so amazing.
What to serve with Greek Chicken
This baked Greek chicken is excellent served over Israeli couscous, as shown in the photos. You can find it on the same aisle in the store as the rice and beans. It's basically pasta in the shape of tiny balls, a little smaller than a pea. It's really delicious and lends a toasty flavor. It pairs especially well with Mediterranean inspired cuisine! Bonus: it has a super quick cook time. If you start making it when you put the chicken in the oven, they will be done at about the same time.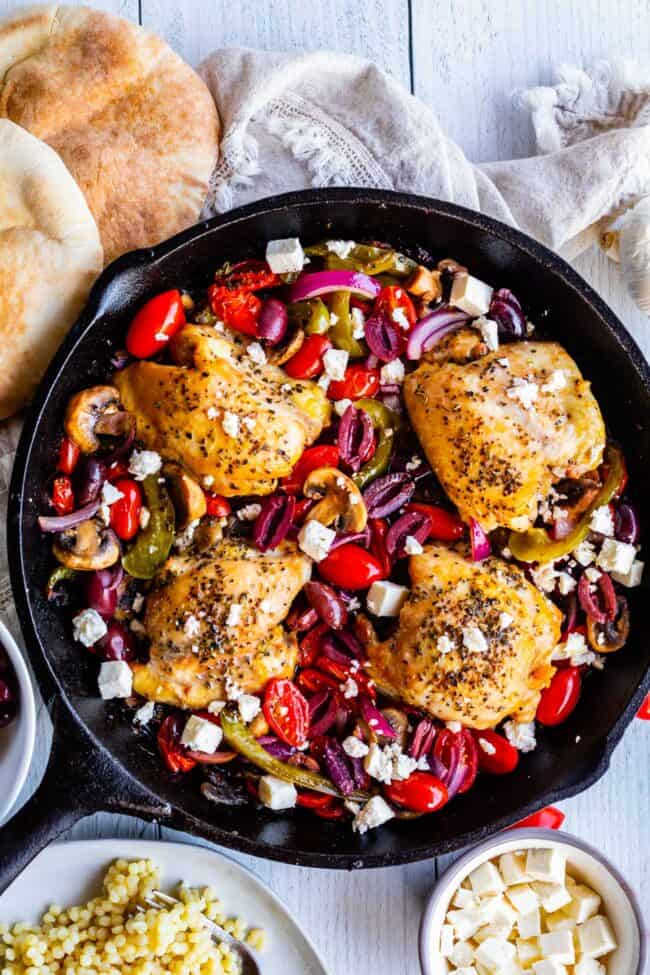 You could also serve Greek Chicken over rice, pasta, mashed potatoes, roasted potatoes, etc. It would be really great served over cauliflower rice too, for a low carb option.
As for side dishes, we love to pair this with a big green salad (like this Apple Gorgonzola Salad) and some toasted pita bread. Or whatever type of crusty bread you have on hand. If you are making this for company and want an appetizer, make this Tzatziki Sauce with Toasted Za'atar Pita! Heaven!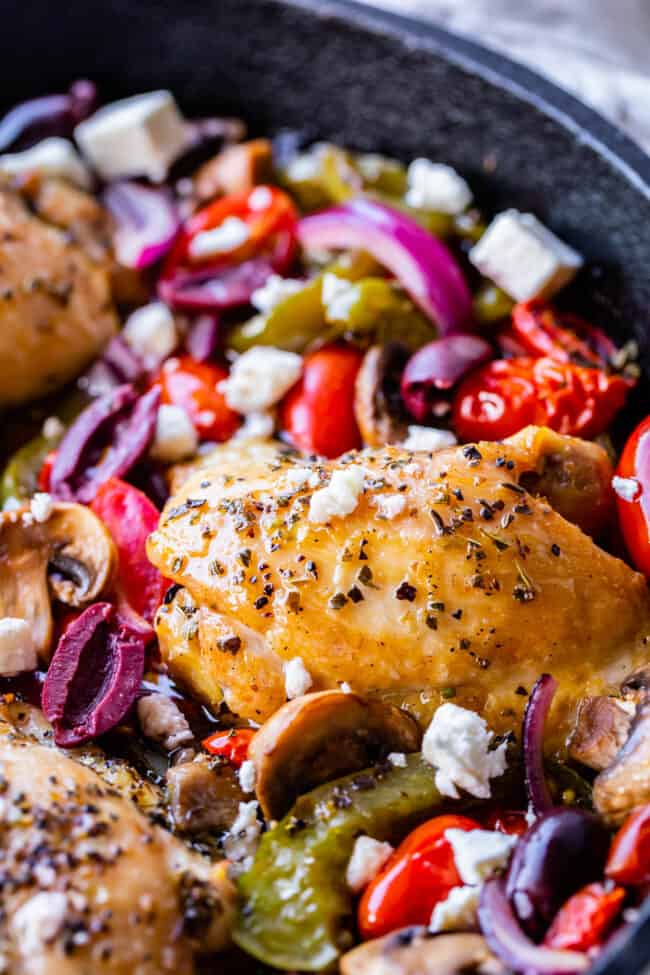 More Greek flavors you are going to love!
Facebook | Pinterest | Instagram

Oven Baked Greek Chicken with Veggies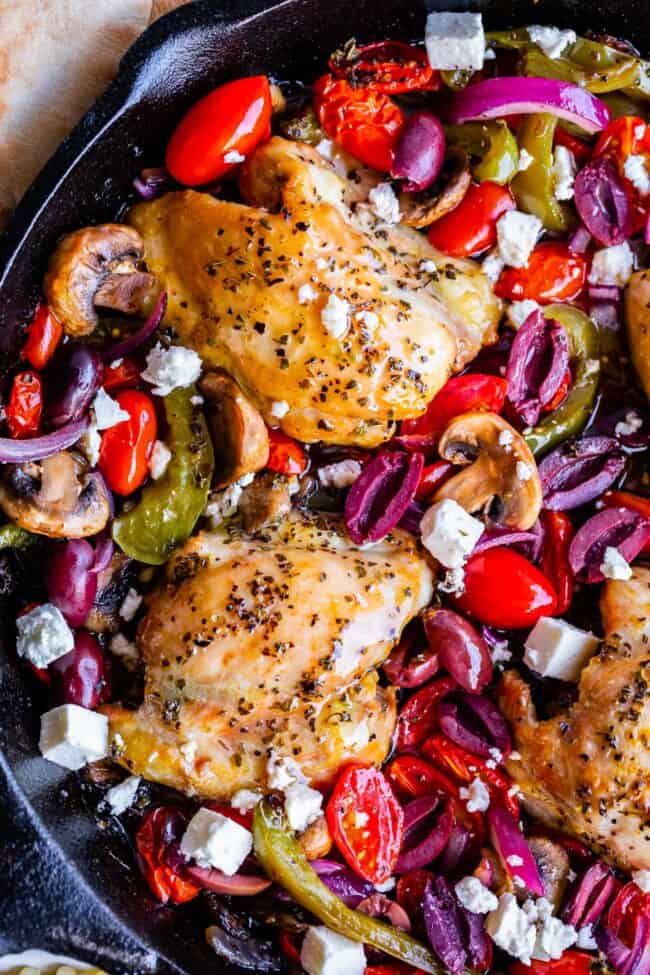 I'm in love with this Oven Baked Greek Chicken! This recipe is super easy to put together and is healthy to boot. Greek style chicken thighs are paired with mushroom, bell pepper, red onion, and cherry tomato. Serve over couscous or rice!
Ingredients
4-5

boneless skinless chicken thighs

1

teaspoon

kosher salt

1/2

teaspoon

black pepper

1

tablespoon

olive oil

1

small

red onion

,

sliced

1

green pepper

,

sliced

8

ounces

sliced mushrooms

3

cloves

garlic

,

smashed and sliced thin

1

teaspoon

kosher salt

1 & 1/2

teaspoons

dried oregano

black pepper

,

to taste

2

cups

cherry tomatoes

,

halved

1 & 1/2

teaspoons

dried oregano

1/2

cup

Kalamata olives

,

sliced

1/2

cup

feta cheese

,

crumbled

2

tablespoons

olive oil

2

tablespoons

red wine vinegar

hot Israeli couscous

,

for serving
Instructions
Preheat your oven to 425 degrees F.

Heat a large

12 inch cast iron skillet

over medium high heat. Pat the chicken dry with paper towels. Sprinkle 1 teaspoon salt and 1/2 teaspoon black pepper over both sides of the chicken.

Add 1 tablespoon oil to the hot pan and swirl. When it is shimmery, add the chicken to the pan with plenty of space in between each thigh. Sear the chicken for about 2 minutes, and when it is nice and brown, flip each thigh and sear for another minute or two until brown. You are not cooking the chicken, just searing the outside. Remove the chicken to a plate and set aside.

Add more oil to the pan if necessary. Keep the heat at medium high. (If your veggies aren't prepped yet, turn the pan off.) When it is hot, add the red onion, green pepper, mushrooms, and garlic.

Season with 1 teaspoon salt, 1 and 1/2 teaspoons oregano, and black pepper to taste. Saute for 3 minutes, then remove from heat.

Stir in 2 cups sliced cherry tomatoes. Place the seared chicken on top of the vegetables, and add any juices to the pan. Sprinkle with another 1 and 1/2 teaspoons oregano.

Transfer to the oven and cook at 425 for about 15 minutes, or until a meat thermometer inserted into the chicken registers 160 degrees.

Remove from the oven and sprinkle with 1/2 cup Kalamata olives and 1/2 cup feta cheese. Drizzle with 2 tablespoons olive oil and 2 tablespoons red wine vinegar.
Nutrition
Serving:
1
g
|
Calories:
412
kcal
|
Carbohydrates:
24
g
|
Protein:
30
g
|
Fat:
22
g
|
Saturated Fat:
6
g
|
Polyunsaturated Fat:
3
g
|
Monounsaturated Fat:
12
g
|
Trans Fat:
1
g
|
Cholesterol:
124
mg
|
Sodium:
1751
mg
|
Potassium:
792
mg
|
Fiber:
4
g
|
Sugar:
6
g
|
Vitamin A:
675
IU
|
Vitamin C:
45
mg
|
Calcium:
165
mg
|
Iron:
3
mg