Greek Lentil Tacos with Cucumber Pico de Gallo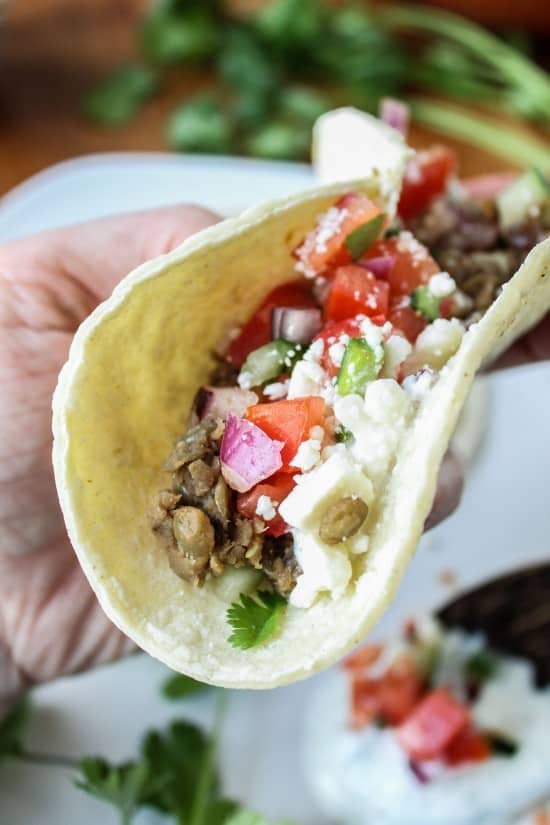 "Hi, do you work here? I shattered some glass on aisle D23. I'm really sorry."
(Adjusting her earpiece) "Oh yeah, I heard them talking about that. It's all taken care of."
"Um, yeah. I shattered even more glass on a different aisle."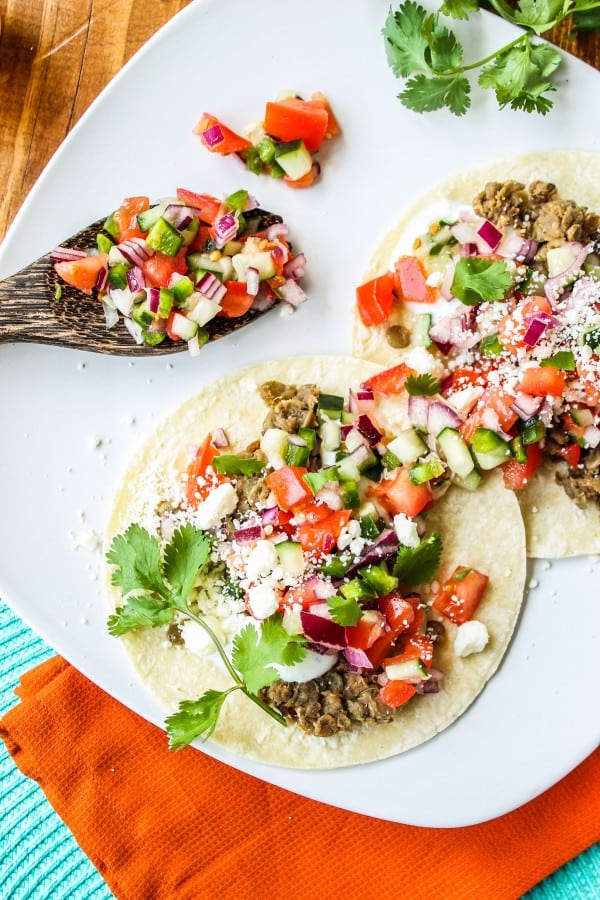 You guys are going to think that my life consists of nothing but shopping-with-toddlers horror stories. WELL YOU'RE RIGHT.
When the kids dropped the first package of light bulbs, I was stressed to say the least. I was in the decorative-mirror aisle, looking at cluster mirrors that are way too fashionable for my house. (In retrospect, I suppose I should just be grateful the little animals didn't get their hands on any mirrors.)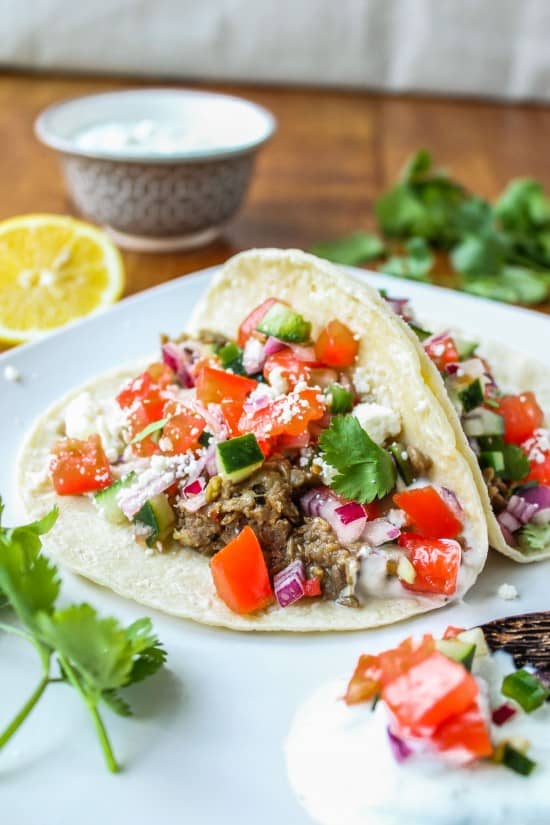 When the kids dropped the second package of light bulbs, I cried. You should have seen me. Probably you would have laughed, but only if you were out of sight, because if you had laughed at me for real in that moment I would have ACTUALLY judo-chopped you. I kept blubbering to other Target shoppers not to step on the glass. They kept a wide radius, whether from my broken-glass warning or the rabid gleam in my eye, I'm not sure.
After that I headed straight for the Easter candy section. I bought 6 bags of Sweet Tart Jelly Beans and an entire package of Reese's Eggs. They were almost gone by the time we got home. Why no, I'm not an emotional-eater, are you?
Guys, I'm totally obsessed with lentils lately.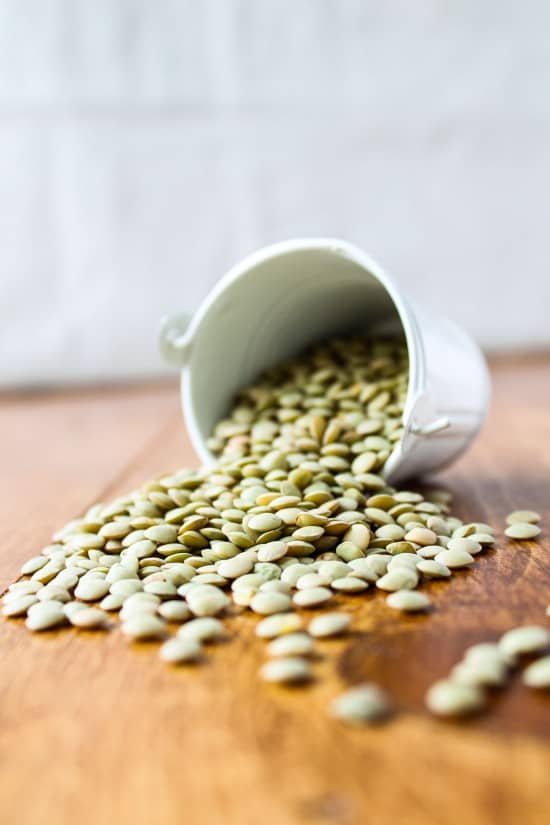 I keep adding them to things that should not have lentils in them. Sometimes it turns out pretty bad…but sometimes I find a gem. Like these Greek Lentil Tacos.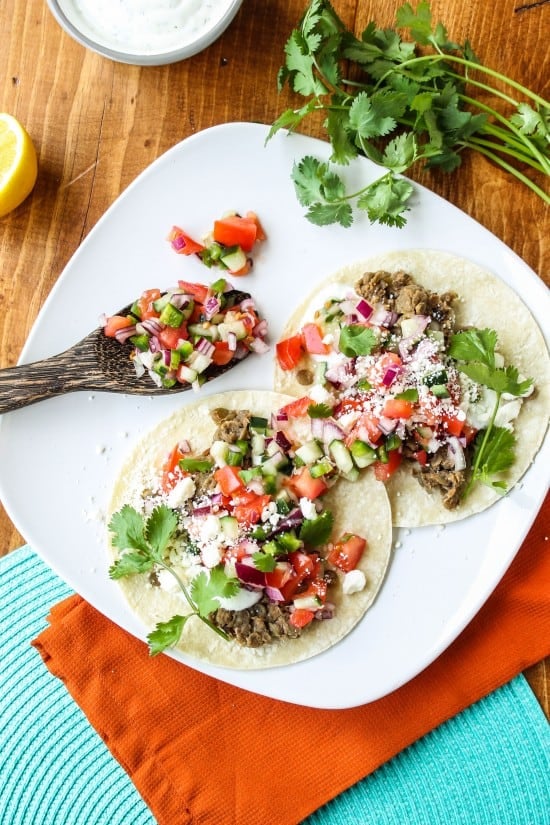 Have you guys had regular lentil tacos? Just replace ground beef with cooked lentils, basically. Budget Bytes and A Couple Cooks both have great recipes.
This is my Mediterranean-ish version. The lentils are cooked in oregano and garlic, and topped with cucumber pico de gallo. I like the coolness that the cucumbers add to the pico. A simple dill-yogurt sauce rounds out the spice. Forgive me for not Greekify-ing these more by putting them in pitas; I just happen to prefer a thinner wrapper. I'm sure pitas would be great too. A very satisfying meatless meal.
Do you guys give up? Or are you thirsty for more?
Facebook | Pinterest | Instagram | Twitter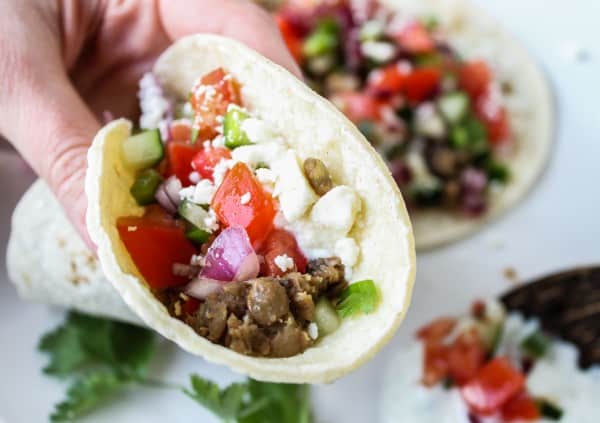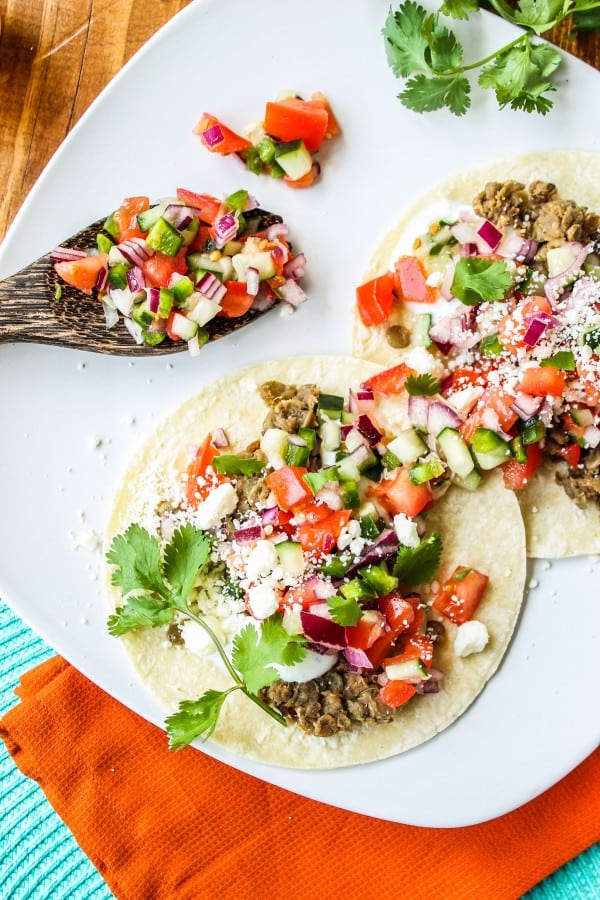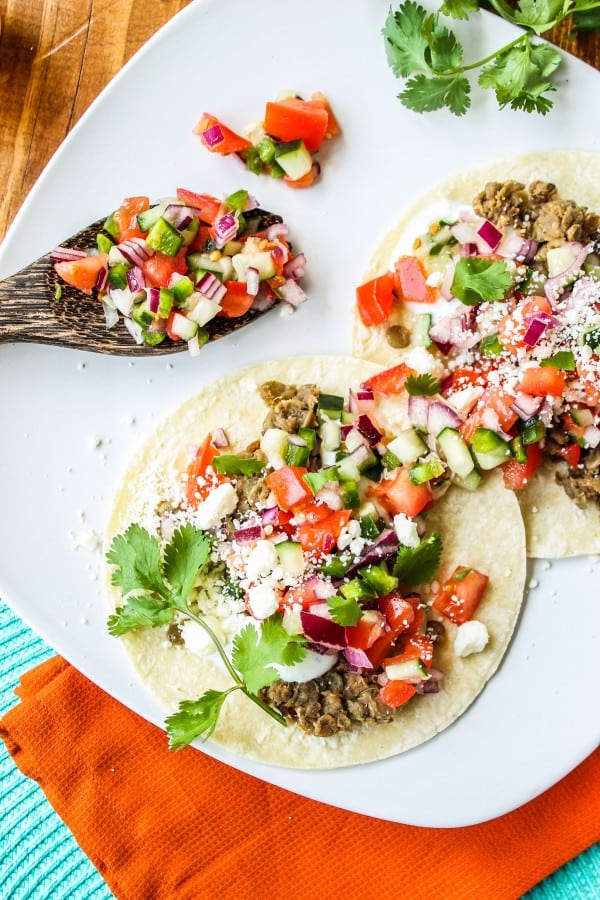 print
Did you make this recipe?
Leave a review »
Greek Lentil Tacos with Cucumber Pico de Gallo
Serves 4-5
adjust servings
Ingredients
For the lentils
5

cups water

1 1/4

cups lentils, or 8 ounces

1

tablespoon olive oil

1/2

red onion, chopped

3

cloves garlic, minced

1/4

cup water

1

tablespoon tomato paste

1

teaspoon oregano

1/8

to 1/4 teaspoon crushed red pepper

1

teaspoon salt

black pepper to taste
For the yogurt sauce
1

cup plain yogurt

1/2

teaspoon dill

1/4

teaspoon salt

1/4

teaspoon garlic, minced
For the Cucumber Pico de Gallo
3

roma tomatoes, chopped

1/2

red onion, chopped

1

jalapeno, minced

1/2

medium cucumber, chopped

1/2

teaspoon salt

juice from 1/2 lemon

cilantro to taste, chopped

10-12

corn tortillas

4

ounce feta cheese
Instructions
In a medium pot, bring 5 cups of water to a boil. Rinse the lentils in a colander. Add the lentils to the pot and bring back to a boil. Continue to cook for 20-25 minutes or until tender. Add more water if necessary. Drain and set aside.
In a large saucepan, heat 1 tablespoon of olive oil over medium heat. Add half a red onion (save the other half for the pico de gallo) and saute for about 5 minutes or until soft. Add the garlic and cook for another minute.
Add the lentils. Add 1/4 cup water, tomato paste, oregano, crushed red pepper, salt, and black pepper to taste.
Meanwhile, make the yogurt sauce. In a small bowl combine yogurt, dill, salt, and garlic. Store in the fridge until you are ready to eat.
Make the Cucumber Pico de Gallo. In a medium bowl combine the tomatoes, onion, jalapeno, cucumber, salt and lemon juice. You can either add cilantro to the Pico or garnish each taco with it.
Heat the corn tortillas by spraying each side with nonstick spray and spreading them out on a baking sheet. Broil for about 2-3 minutes, then flip each tortilla and broil again for 2 minutes. Alternatively, you could heat them on the stovetop.
To build the tacos, spoon some lentils down the center of a tortilla, top with yogurt sauce, Cucumber Pico de Gallo, and feta.
by The Food Charlatan

If you make this recipe,
share it on Instagram
 using the hashtag
#TheFoodCharlatan
so I can see it!
Source: The Food Charlatan, inspired by Budget Bytes and A Couple Cooks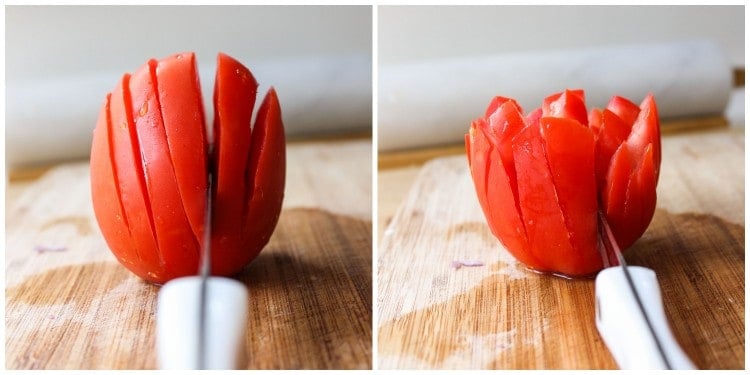 Here's how I like to cut my tomatoes for pico de gallo. I slice them one way not quite to the bottom, then the other way, then turn and chop.

I did the same thing for the cucumbers.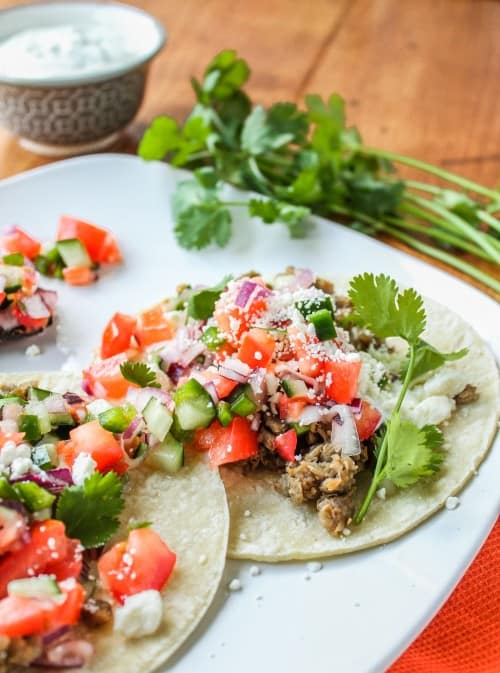 We are a participant in the Amazon Services LLC Associates Program, an affiliate advertising program designed to provide a means for us to earn fees by linking to Amazon.com and affiliated sites.