Make your favorite American-style Greek gyros at home! This gyro meat recipe combines ground beef and lamb to get that distinctive flavor you find at Greek restaurants. The texture is meatloaf-style rather than restaurant-style, but the flavors are on point. Doing it this way saves tons of time. Top with Tzatziki Sauce, tomatoes, onions, and cucumbers! Originally published February 21, 2020.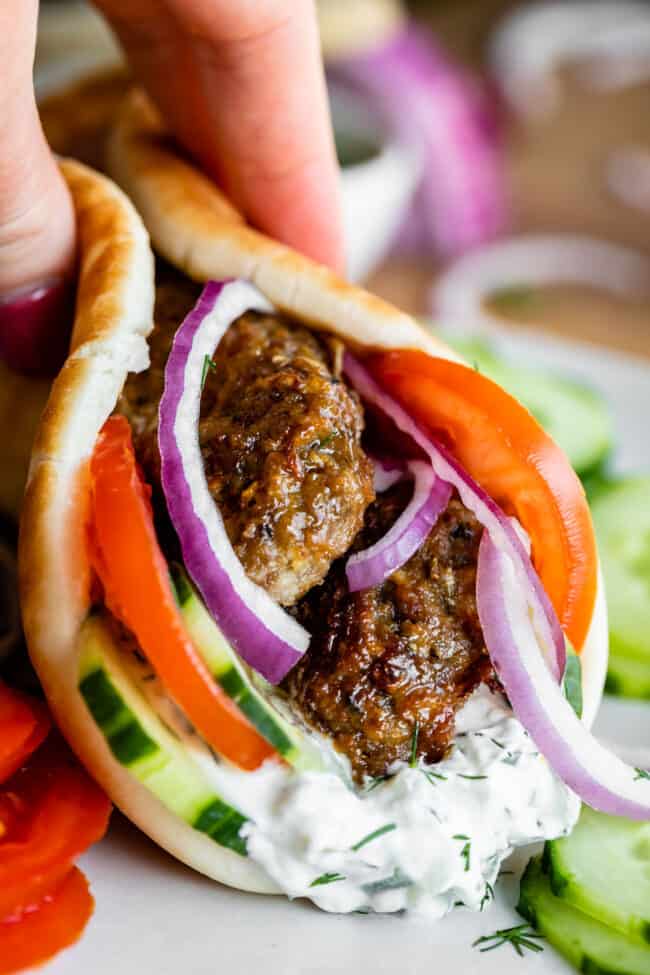 Table of Contents
We heard a giant crash and a scream last night. I ran into the room to find my 3-year-old daughter Valentine buried under the dresser. The scariest moment as a parent, right?? She is okay, just a scrape and maybe some light emotional scarring. Just kidding! I'm sure she will forget about it soon, I hope?? Eric has since bolted the dresser to the wall. There are so many things to feel anxious or guilty about as a parent, but not having the dresser bolted wasn't even on the list!
I've spent the last couple days reading my mom's journal from when she was about my age: she had just had her fifth baby (me!) and I've just had my fourth, and our days are spent corralling children. It's actually not a journal, it's a bunch of letters sent to her best friend, who had just moved far away. Because let's be real, moms with 4 or 5 kids don't have time to journal!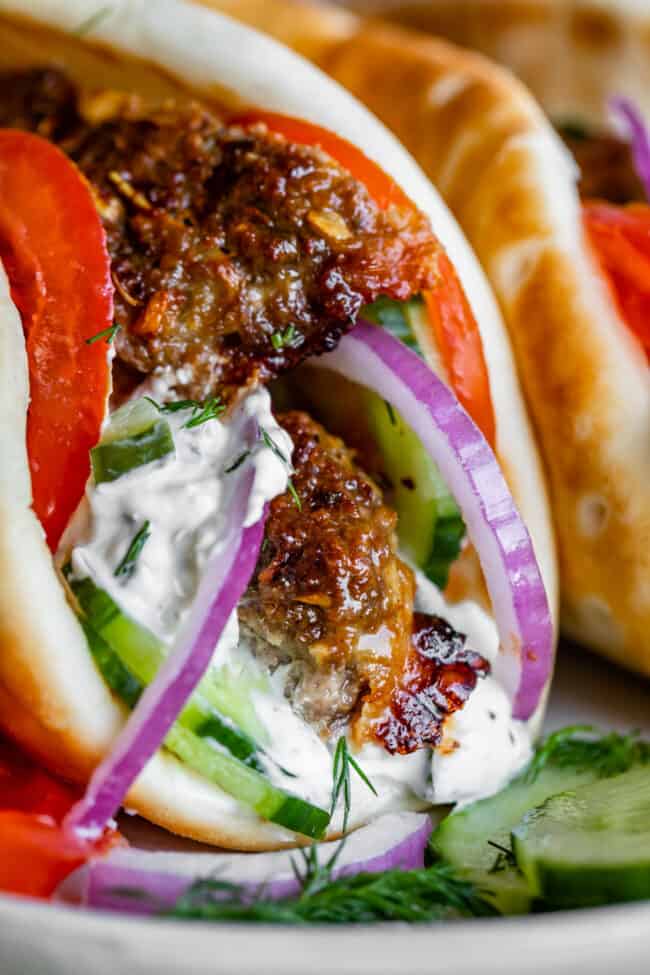 It is shocking how similar our problems, successes, struggles, and joys are. I guess motherhood is motherhood, right? If we went back 500 years would it read the same? My mom just finished telling the story about how she was carrying a pot of boiling potatoes to the sink to drain it, and ran into my brother, who was 4. Can you imagine accidentally spilling boiling water all over your son?? Gah! It makes me feel a little better about not having the dresser bolted.
Here are a few excerpts from her letters, in italics. You moms will be able to relate:
Yesterday I got in a huge fight with my oldest, took away $5 that I owed him, and now I can't remember the slightest detail. This led, of course, to the conclusion that I'm a worthless, inconsistent parent prone to hysterics. So what else is new, huh? ("Prone to hysterics" sounds familiar. Like mother like daughter!)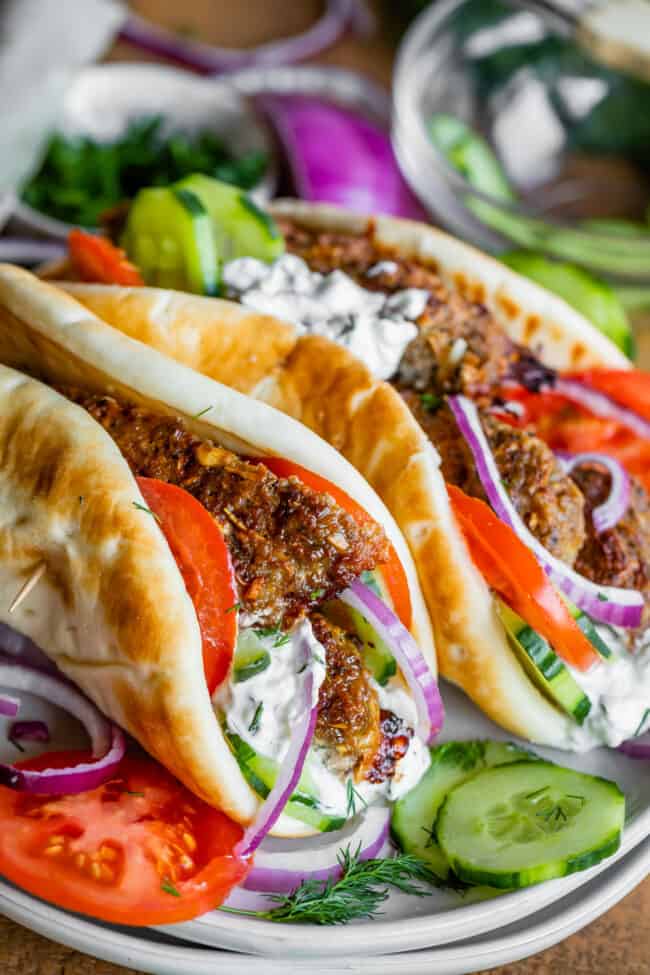 (From when she was pregnant with me, her fifth:) Since it had turned hot I hadn't been as hungry, and I had even cut out potato chips (daily) so I was feeling smug about my weight – and I gained 9 pounds. In 3 weeks. So I decided that if I'd already been convicted I may as well commit the crime. I've eaten potato chips with wild abandon every day since.
Well, it's 5:30, Rich will be home any second and I have not even started dinner. Poor man, I'm sure when he got married he thought he was getting a wife, and instead he got me. This is me, every day.
A 2 year old who's potty-trained – what a novel idea. I'm not even going to try until Nathan has a 1000 word vocabulary – including the sentence, 'I believe I need to use the toilet, mother.' Then I'll tackle it.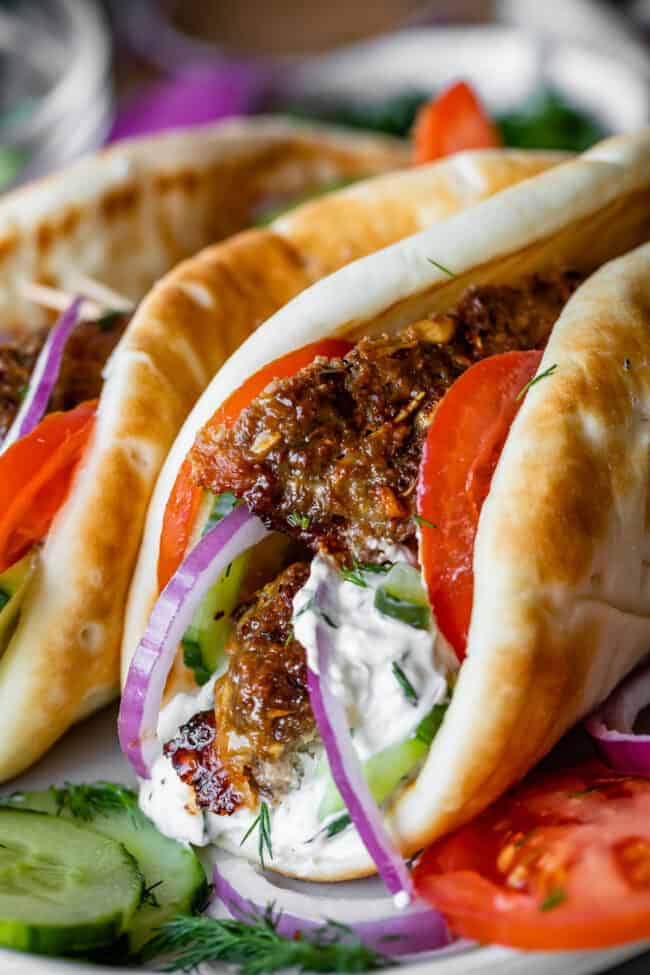 I read somewhere that most women living in pre-20th century didn't have much problem with menopause – they were dead before they were old enough to experience it. Wild hormone swings certainly account for witches, wild women, and sorceresses down through the ages. (I guess this explains the Salem witch trials?? Ha!)
Well, there you have it. Me, basically, if I had been a mom in 1987. Oh how history repeats itself!
Gyro Recipe Made Easier
Making traditional gyro meat is both time-consuming and labor intensive. This gyro recipe is essentially a meatloaf made with traditional Greek spices. You get all of the classic flavors without all the prep! And for most of us, it's also easier than trying to find a food truck that serves these babies. If you live near a gyro truck and can just order them on a whim…I am so jealous!
What is Gyro Meat?
Gyro meat is a delicious Greek preparation of heavily seasoned ground meat. The meat may be beef, lamb, pork, or some combination of the above. It's traditionally cooked on a rotisserie (the vertical kind that you may have seen food truck vendors cut thin slices from), but today we're going to make it in the oven. Fun fact, the word "gyro" actually comes from a Greek word meaning "turn" because of the way that the meat is cooked on a turning spit. And today I'm gonna turn you into a gyro lover (see what I did there?).
What is Gyro Meat made of?
The gyro meat that you will find in most Greek restaurants in the United States is made with a combination of beef and lamb. I've never been to Greece, but I've read that it is actually more common to see gyros made with pork in the homeland.
Today's recipe is an easier version of the beef and lamb combo you will see in the US. To make it the way the restaurants do, you have to grind the meat very finely using a meat grinder or food processor, then press it down so that there are no air pockets, and let it marinate for a while. Then they skewer it onto a rotisserie skewer and cook. The meat is sliced off the edges.
It's delicious, obviously, but ain't nobody got time for that. Instead, we are taking all the flavors you love and basically making meatloaf. It takes about 30 minutes to make the meat, start to finish. Ground beef is combined with ground lamb and spiced with cumin, oregano, thyme, rosemary, and marjoram. The resulting meatloaf is tender and flavorful and perfect for a weeknight gyro fest! It comes together pretty quick.
Traditional Greek Gyro Ingredients
Today we are talking GYROS. (pronounced "hero.") If you have never had a Greek gyro before, you are totally missing out. It is a warm pita bread, topped with lemony-garlicky Tzatziki Sauce, gyro meat, onions, tomatoes, and cucumbers.
In other words, HEAVEN. Seriously my favorite item to get anytime there is a food truck situation. In Greece they serve it with french fries in the pita itself instead of served on the side. It is now my life mission to make it to Greece someday to try it that way for myself!!
Here are all the ingredients you'll need to make these–this is just to help you create your shopping list. Keep scrolling down to the recipe card below for full instructions!
For the gyro meat:
1 pound ground beef
1 pound ground lamb
Bacon grease (or butter)
Eggs
Milk
Lemon juice
Panko bread crumbs
Onion
Garlic
Dried rosemary
Dried oregano
Dried thyme
Dried cumin
Dried marjoram (optional)
To assemble:
Cucumbers
Pita rounds
Fresh dill (to garnish, optional)
How to make Gyro Meat
Here's a quick overview of how to prepare the gyro meat. Scroll down to the recipe card below for complete instructions.
Preheat the oven to 350 degrees F. Line a rimmed baking sheet with parchment paper.
Finely chop the onion and garlic using a food processor or knife.
Combine all gyro meat ingredients.
Combine the meat using your hands.
Shape the meat into about 10 oval patties. Line them up on the pan, not touching.
Bake at 350 for about 15-20 minutes.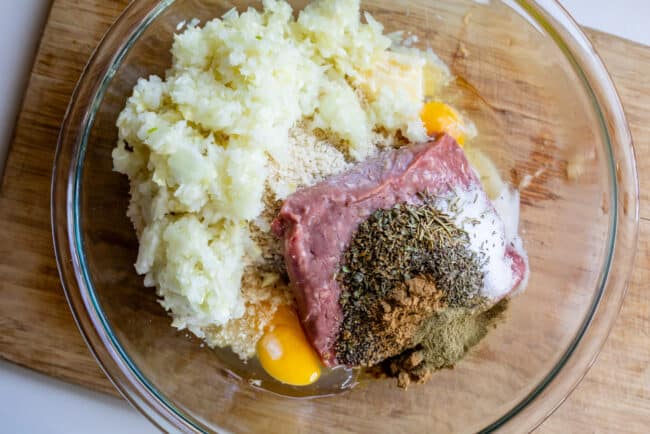 You'll start your gyro meat by finely chopping the onion and garlic. Combine both of those in a bowl with ground beef and lamb, butter or bacon grease, eggs, milk, lemon juice, breadcrumbs, and seasonings. Mix it all up using your hands, then shape the meat for baking.

I like to shape the meat into individual patties so that you get lots of crispy edges. You could easily shape it into one meatloaf if you prefer, and slice to serve. You will just have to cook it a bit longer.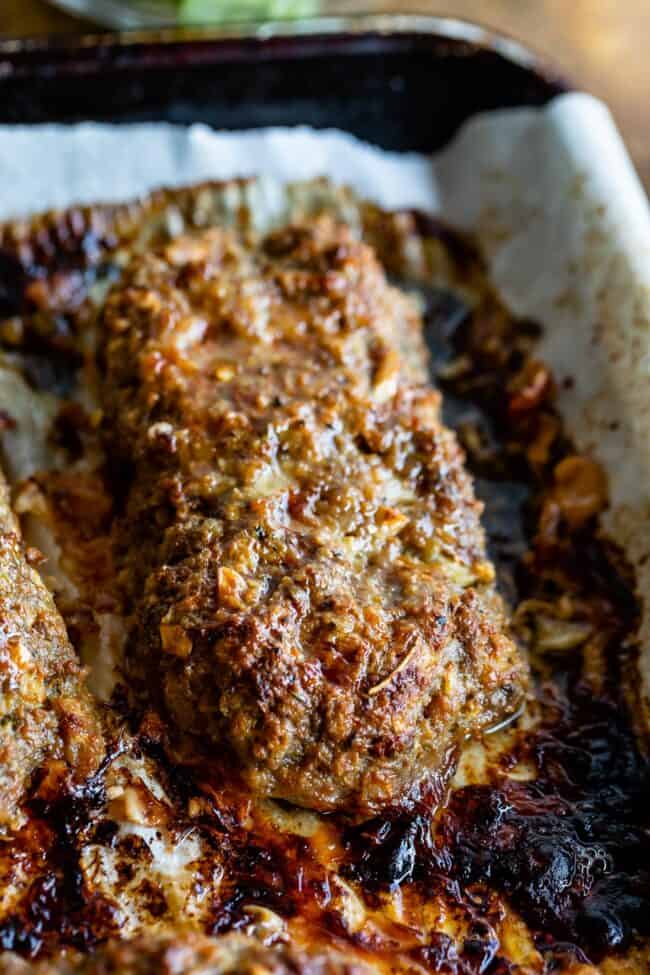 The ground lamb is what gives this gyro meat it's distinctive flavor. I know it can be tricky to find sometimes. If you can't find ground lamb, you could substitute ground beef or ground pork, but the flavor won't be the same. Go to your local butcher to find ground lamb, if your market doesn't have it!
How to Make Gyros
With the meat prepped and ready to go, it's time to start assembling our gyros. Is your mouth watering yet? (The recipe card below has more details on putting these together.)
Prep the toppings: First thing's first, get all of your toppings ready to go. I love to slice up red onion, tomatoes, and cucumbers. I also like to toast my bread ever so slightly so it's nice and warm. You can do this either in the microwave or in the oven.
Slather on the sauce. Lay the warm pita out onto a plate or work surface, then slather it with a generous layer of Tzatziki Sauce.
Add the meat. Slice one of your prepared gyro patties in half, then lay it on top of the sauce.
Top and serve. Top the meat off with all your toppings and a sprinkle of fresh dill.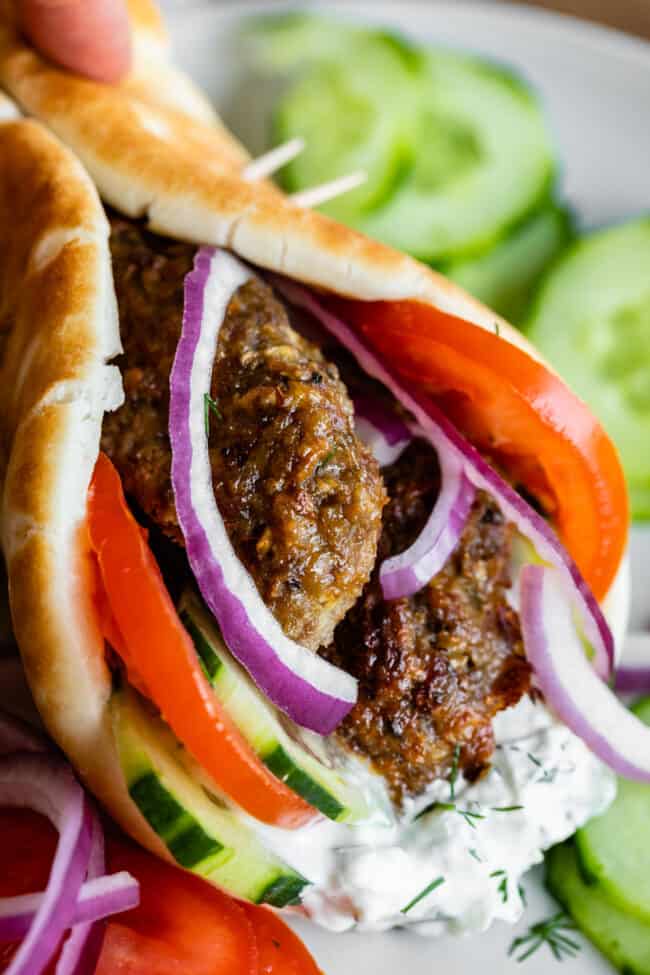 Storing, Freezing, and Reheating Gyros
Once your gyro is fully assembled, you should definitely serve it right away. However, you can prep the different components ahead of time, so they're ready to go whenever the gyro mood strikes. Here's how:
Veggies: Slice the veggies up and store them in an airtight container in the fridge for 2-3 days.
Tzatziki Sauce: Make the sauce in advance and store it in the fridge for up to 2 weeks.
Gyro meat: Prep and cook the meat, then store it in an airtight container in the fridge for 2-3 days or in the freezer for 2-3 months. To reheat, thaw in the fridge if frozen, then warm in the oven until heated through.
Pita bread: Pita bread can be kept on the counter for 2-3 days, or you can freeze it for 2-3 months and just warm it up in the microwave whenever you like.
Gyro Recipe Tips
This Gyros recipe is pretty straightforward, but here are a few of my tips for recipe success every time.
Prep the sauce first. The longer the sauce sits, the more flavorful it gets. Prep it ahead of time!
Line the baking sheet. You can line the baking sheet with parchment paper or with foil greased with a nonstick spray. This helps prevent the patties from sticking as they bake.
Use your hands. I like to wear disposable gloves to mix the meat with my hands. It might feel weird, but it makes mixing so much easier and faster.
Don't over-mix. Over-mixed meat can become tough and dry. Mix only until just combined so it stays moist and tender.
Serving Gyros
Gyros are traditionally served on pita bread. Pita is a thick, soft, delicious flatbread and makes a great sandwich filled with gyro meat and toppings. You can find pita bread at most grocery stores.
Gyros are also often served with seasoned French fries, which is absolutely delicious! If you don't feel like making french fries, you could serve these gyros with these easy 3 Ingredient Roasted Potatoes. You could also make this Greek Salad with Feta as a refreshing side dish!
Greek Gyro Recipe FAQ
How is gyro pronounced?
Gyro is actually pronounced completely differently than it probably looks to most of us. If you say it properly, you'll be saying "Yee-ro" or "Yee-ros". So yes, it sounds more like a European currency than a food. But if you're saying it "hero" or even "jy-ro" believe me I am not here to judge.
Is gyro meat lamb or pork?
It's both! Or either. Or neither. Traditional gyros are made using a combination of lamb and pork. Some are made using one or the other. Some are even made using other meats entirely like chicken or beef. It's more about the seasonings anyway.
What cut of meat is gyros?
Gyro meat isn't a special cut of meat – it's actually made from ground meat, which comes from a variety of cuts of beef or lamb (or from pork shoulder for ground pork). Sometimes, your ground beef might be labeled "ground round," "ground sirloin," or "ground chuck," but any ground beef is perfectly fine.
What are the fillers in gyro meat?
Gyro meat includes eggs, milk, lemon juice, breadcrumbs, onion, and garlic to give it flavor and moistness.What else? Seasonings, seasonings, and more seasonings! We're using a combination of salt, pepper, dried oregano, rosemary, thyme, cumin, and marjoram.
More Greek recipes you will enjoy!
Facebook | Pinterest | Instagram

Greek Gyro with Homemade Gyro Meat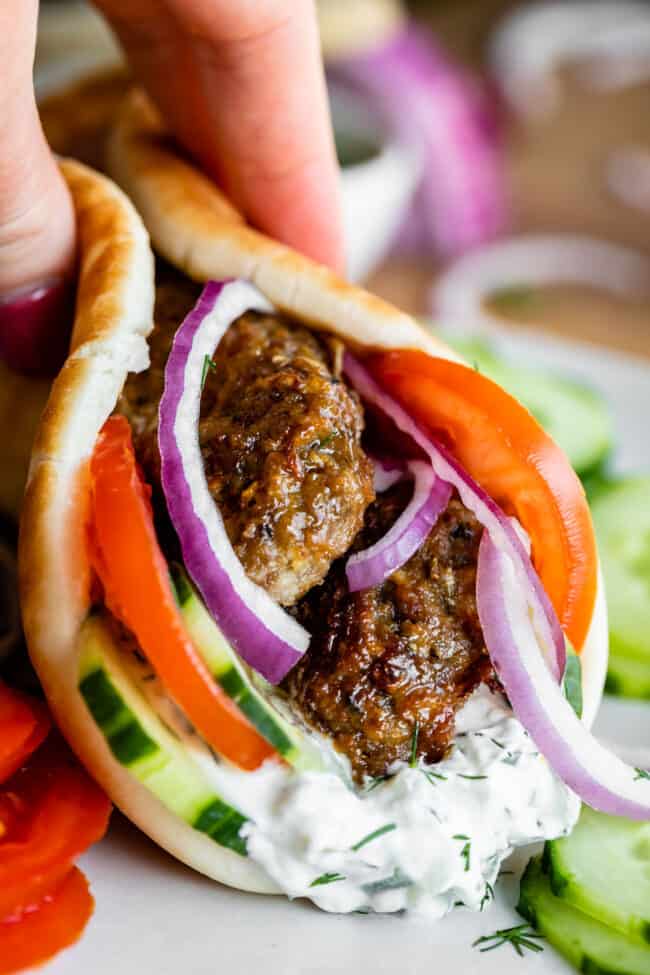 Make your favorite American-style Greek gyros at home! This gyro meat recipe combines ground beef and lamb to get that distinctive flavor you find at Greek restaurants. The texture is meatloaf-style rather than restaurant-style, but the flavors are on point. Doing it this way saves tons of time. Top with Tzatziki Sauce, tomatoes, onions, and cucumbers!
Ingredients
For the gyro meat
1

pound

ground beef

1

pound

ground lamb

2

tablespoons

bacon grease

,

OR butter*

2

large

eggs

1/2

cup

milk

2

tablespoons

lemon juice

1

cup

Panko bread crumbs

1

medium

onion

,

finely chopped

6

cloves

garlic

,

smashed and finely minced

4

teaspoons

kosher salt,

yes, 4 teaspoons**

2

teaspoons

black pepper

2

teaspoons

dried oregano

1/2

teaspoon

dried rosemary

1

teaspoon

dried thyme

2

teaspoons

dried cumin

1

teaspoon

dried marjoram

,

optional
To assemble
1

batch

Tzatziki Sauce

1

large

red onion

,

sliced thin

2-4

tomatoes

,

sliced

1-2

cucumbers

,

sliced

8-10

pita rounds

fresh dill

,

to garnish, optional
Instructions
Start by making the Tzatziki Sauce.

It needs time to marinate, so get it done first so it can sit in the fridge while you make the rest.

Make the gyro meat.

Preheat the oven to 350 degrees F. Line

a rimmed baking sheet

with parchment paper. Or line with foil and spray with nonstick spray.

If you have a food processor, use it to finely chop the onion and garlic. If not, use a knife to chop finely.

In a large bowl, add all gyro meat ingredients: 1 pound ground beef, 1 pound ground lamb, 2 tablespoons butter OR bacon grease,* 2 eggs, 1/2 cup milk, 2 tablespoons lemon juice, 1 cup Panko crumbs, chopped onion, minced garlic, 4 teaspoons kosher salt (see note), 2 teaspoons black pepper, 2 teaspoons oregano, 1/2 teaspoon rosemary, 1 teaspoon thyme, 2 teaspoons cumin, 1 teaspoon marjoram. (It's ok if you don't have the marjoram.)

Combine the meat using your hands. I like to

wear disposable gloves

when I do this. Using your hands feels a little weird, but it mixes the meat so much faster and more evenly than using a spoon, resulting in nice tender meat (as opposed to being overworked.)

Shape the meat into about 10 oval patties. See photos. Line them up on the pan making sure they are not touching each other.

Bake at 350 for about 15-20 minutes, or until

a meat thermometer

reaches 160 degrees F. Remove from the oven and keep warm.

Meanwhile, prepare the gyro toppings: Thinly slice a red onion. Slice the tomatoes. Slice the cucumbers. Warm the pita bread either in the microwave or in the still-warm oven. Chop extra fresh dill, if you want.

How to construct your gyro

: Add a layer of

Tzatziki Sauce

to a warm pita. Slice a gyro patty in half lengthwise for easier eating, and place on top of Tzatziki. Garnish with red onion, tomatoes, cucumbers, and fresh dill. Devour!
Notes
*I tried this recipe once with butter and once with bacon grease. I added it because lamb is very lean and tends to dry out when baked. You can probably skip it if you have high-fat ground beef.
**If you are using table salt, add 3 teaspoons salt.
Nutrition
Calories:
718
kcal
|
Carbohydrates:
52
g
|
Protein:
32
g
|
Fat:
43
g
|
Saturated Fat:
15
g
|
Polyunsaturated Fat:
3
g
|
Monounsaturated Fat:
13
g
|
Trans Fat:
1
g
|
Cholesterol:
148
mg
|
Sodium:
2087
mg
|
Potassium:
602
mg
|
Fiber:
3
g
|
Sugar:
7
g
|
Vitamin A:
693
IU
|
Vitamin C:
10
mg
|
Calcium:
265
mg
|
Iron:
4
mg