Every time I open my computer I see this picture of David Hasselhoff on my desktop.
These are the kind of jokes we play on each other when my family gets together. It's been weeks, but I haven't even tried to change it yet because I giggle so much every time I see it. (And yes, you read that right, it would be me "trying" to change it. You may think I am computer savvy because I have a blog. You are wrong.) At least he's not wearing a speedo.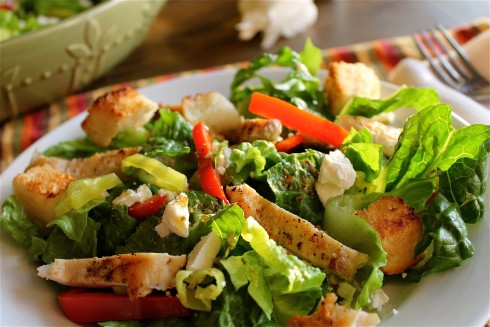 Look at how healthy I am! I made a salad! One that I actually love. I'll be honest, I'm not a huge salad fan. I'm usually that annoying person who is picking out all the goods and leaving the actual lettuce behind. But I love every ingredient in this salad so I didn't need to. I brought this to a salad social at my church tonight (where all the women get together to chat and eat salad and detox from all the holiday sugar highs). They had little bowls of candy at all the tables and I think I ate more Skittles than salad. Then I came home and melted some peppermint patties in the microwave and ate it with a spoon. (does anyone else do this??) So much for the detox.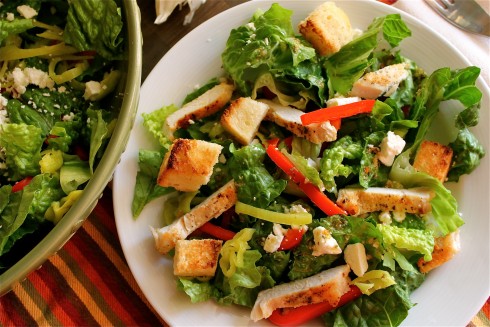 I took 68 pictures of this salad. They are almost all identical. But they are all a thousand times better than any other pictures ever because they were taken with my new SLR camera that I got for Christmas. I feel like Dorothy when the world suddenly had color. It's awesome!! Don't worry about the fact that I have no idea how to use it, and
that you are probably looking at these pictures right now thinking "ho-hum." Well whatever you Negative Nancy! Someday I will rule the photography world!! And I will put devil horns on all the pictures I take of you.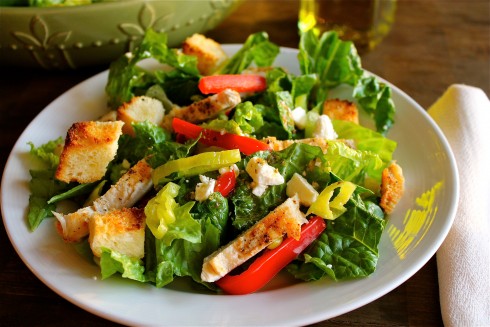 Greek flavors are just the best, aren't they? I wonder what they actually eat in Greece. Probably not this salad. Whatever. It's still amazing. At first I thought I was just making croutons what with the broiling the bread cubes and all, but they really don't get that crunchy. Just lightly toasted on the outside. I like it, it's different.
Greek Chicken Bread Salad

Source: Cooking Light
3 ounces cubed French bread baguette*
Cooking spray
1 tablespoon chopped fresh oregano (I used dried because I'm cheap)
3 tablespoons olive oil
1 1/2 tablespoons red wine vinegar
2 teaspoons minced garlic
2 teaspoons grated lemon rind
1/8 teaspoon crushed red pepper
1 pound skinless, boneless chicken breast halves
1/4 teaspoon freshly ground black pepper
1/8 teaspoon kosher salt
3 cups chopped romaine lettuce
1 cup sliced red bell pepper (about 1 large)
1/2 cup sliced pepperoncini peppers, drained
1.5 ounces feta cheese, crumbled (about 1/3 cup)
Preparation
Preheat broiler to high. Place baguette cubes on a baking sheet; coat with cooking spray. Broil 2 minutes or until edges are browned, turning once.
Reduce oven temperature to 425°.
Combine oregano and next 5 ingredients (through crushed red pepper) in a large bowl, stirring with a whisk; set aside.
Heat a large ovenproof skillet over medium-high heat; coat pan with cooking spray. Sprinkle chicken evenly with black pepper and salt. Place chicken in pan; cook 4 minutes on each side or until browned. Place pan in oven, and bake at 425° for 10 minutes or until chicken is done (If you use a meat thermometer, 165˚ is what you want). Remove pan from oven. Let chicken stand 5 minutes; slice thinly across the grain.
Add bread cubes, lettuce, bell pepper, pepperoncini peppers, and feta to bowl with oregano mixture; toss well. Place about 1 1/3 cups salad on each of 4 plates. Top each serving with about 3 ounces chicken.
*If you are in a hurry, you can just throw in some croutons. Obviously they will be more crunchy than this toasted bread, but it will save you some time.