This Sweet Potato Pie recipe is the dessert of your southern dreams! Sweet potatoes are roasted in the oven until caramelized and flavorful, then whipped into a super light and fluffy custard. A par-baked homemade pie crust gives it a perfect crispy-flaky edge. Finish it off with 3-ingredient salted caramel whipped cream! I will show you how to make it with step by step photos, it's so easy.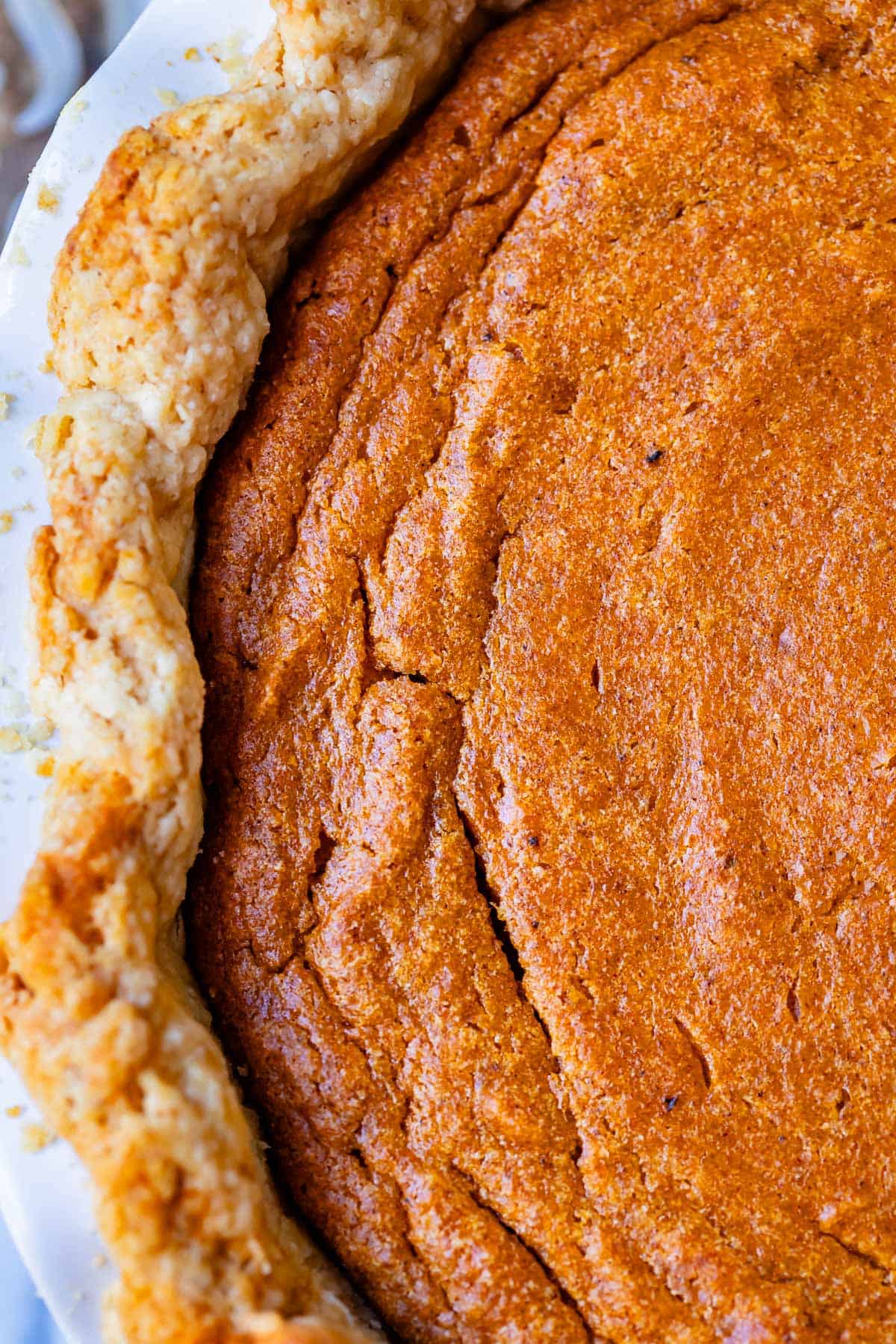 Table of Contents
The other day I was sending an email out to my subscribers (do you get my emails? Sign up here!) and I was running late. I try to send out emails with new recipes to my readers during the business day, because I figure most people are too busy with their evening routines to bother with their inbox.
I was kind of talking to myself but said out loud, "I hope people on the east coast will see this, it's already almost 5pm there!"
Truman was buried in a book across the room, and said without looking up, 'It's so weird that people on the east coast read your blog, Mom." I asked him why. He's like, "Well, it's just so weird that ANYONE reads your blog!"
Ahahaha! Spoken like a typical surly 10-year-old boy. Nothing like a little pre-teen realism to keep my ego in check.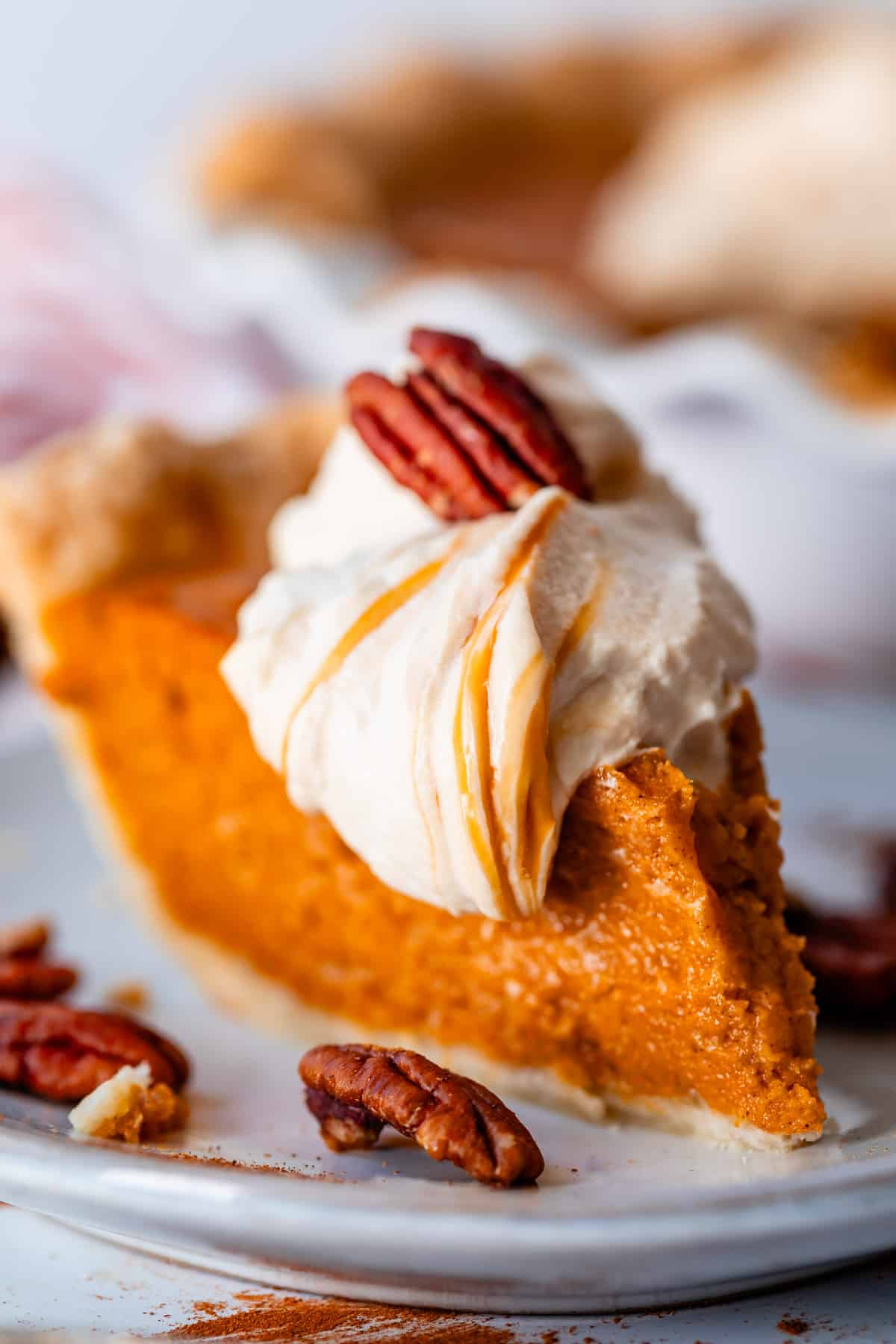 Since you are one of the "weirdos" reading my blog though, are you getting all the Thanksgiving recipes I have been sending to you? I have a true and abiding love for Thanksgiving food and have made so many fun recipes over the years to help you map out your menus. It's the most wonderful time of the year!
Have you got your Turkey recipe? Have you made your Gravy ahead of time? (Please, it's the only way!) Mashed potato plan all set? Cranberry sauce? How about the all important Stuffing? Sweet potatoes? And you need at least 8 pies of course. Oh and don't forget the Rolls so that the kids have something to eat ;)
Today I have one last dessert recipe that hopefully you can fit into your menu plan if you're not already maxed out. If you are, save it for Christmas, because I'm telling you my friends, this pie is the stuff of DREAMS.
Southern sweet potato pie
Have you ever had Sweet Potato Pie? It's a southern classic. I'm from California and didn't grow up with this pie (we are a pumpkin family) but I've seen the light. True conversion is happening over here. I will say it out loud: sweet potato pie is better than pumpkin pie. GASSPPPPP!!!! ahhhh!!
Don't get me wrong, I still love me some pumpkin pie, especially my version that has a Creme Brulee topping, but there is something magical about sweet potatoes that I didn't even know.
All my testers for this pie said the same thing. The first words out of their mouths after digging in to this sweet potato pie is to trash pumpkin pie. "Omg. This is so much better than pumpkin pie."
On the day I did the photoshoot, there was pie everywhere, on a thousand different plates in our kitchen. (I tend to go overboard on shoot days, making sure I get juuust the right bite shot and angles)
I walked in to see Eric not even bothering with a plate, but hunched over the pie pan itself, whipped cream on his chin, shoveling in bite after bite. I asked him, "Do you really think it's better than pumpkin pie?" He looked at me very seriously, "I've never felt this way about a pumpkin pie."
Well there you have it my friends. True love right there. I'm starting to get nervous about the competition.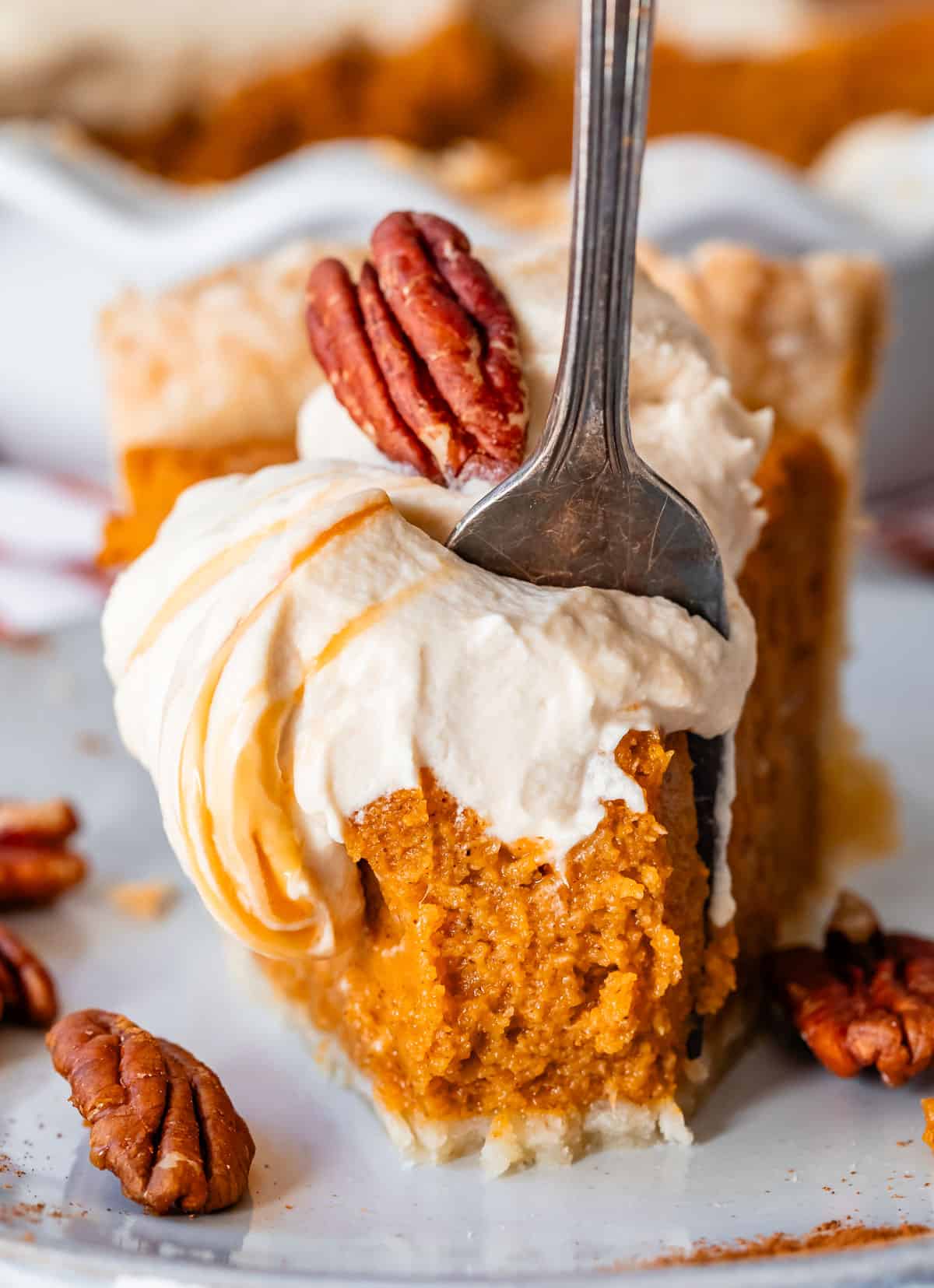 What makes this the best sweet potato pie
Here are all the things that take this pie from "regular" to "amazing."
Using the right spices: allspice and fresh nutmeg star here, along with a little cardamom and black pepper. Yes, really! Black pepper does not make it spicy but gives just the right rich flavor.
Whip in the egg whites and add at the end for the BEST fluffy texture
Use buttermilk instead of cream for a tangy flavor that contrasts so well with the potatoes and keeps it from becoming cloyingly sweet.
Make a homemade pie crust with lard. (this is a southern recipe, after all, embrace your roots)
Garnish with Salted Caramel Whipped Cream!!
This deserves it's own paragraph. I did not know you could whip salted caramel, but you can, and it gets fluffy and light. Then you add cream and keep whipping and it turns into the most AMAZING whipped cream that is light and fluffy and exactly the flavor of salted caramel. I'm sooo excited about this!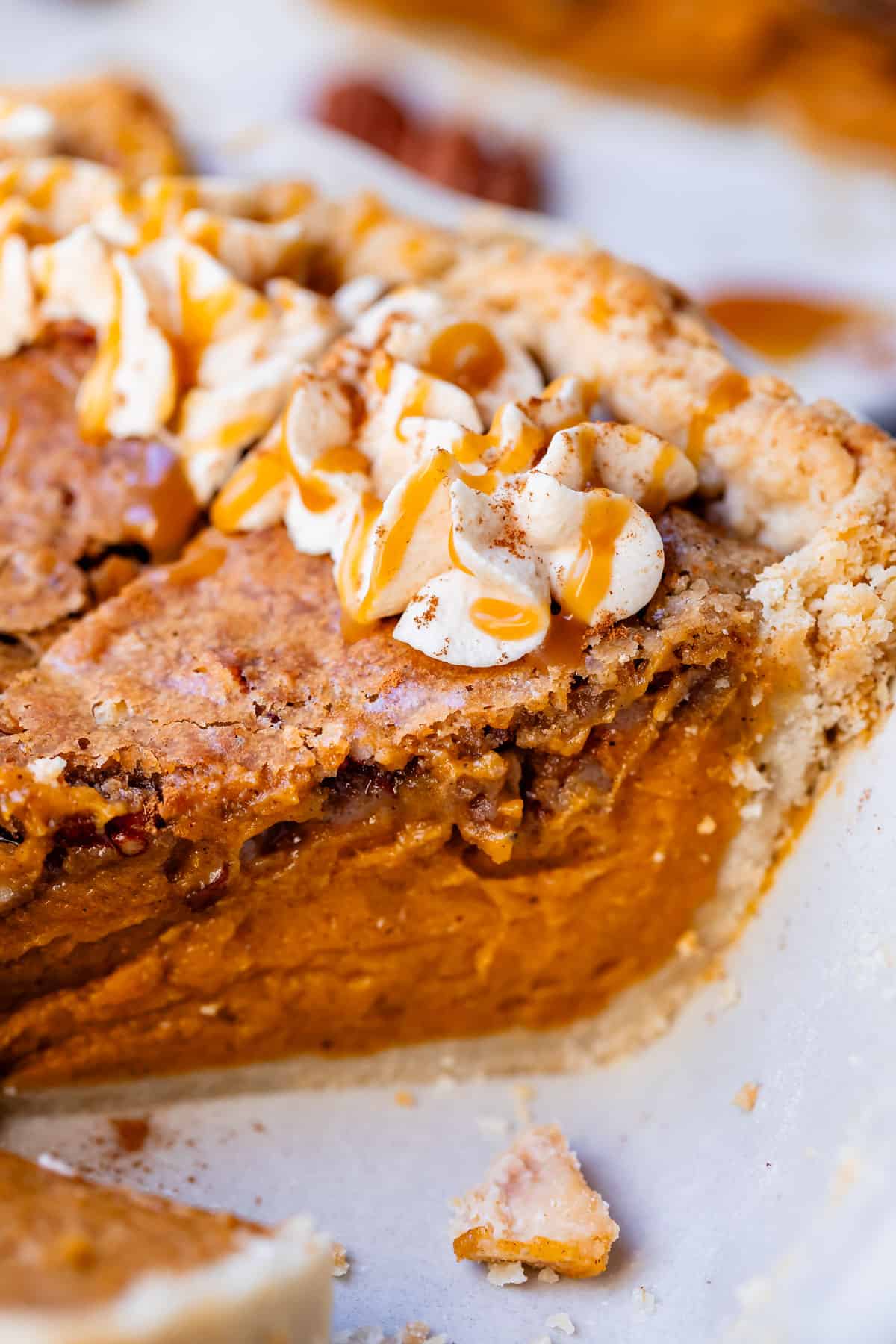 Okay one more amazing thing about this pie: PRALINE TOPPING, YA'LL.
This is optional, but the praline topping, made of flour and sugar and butter and an egg, is SOOO good, it kind of makes this feel like a pecan pie mashup situation. The topping melts into the top of the pie to create a smooth layer. It's pretty and adds the perfect crunch.
I'll show you how to make it both ways! More on that below, but first:
Sweet potatoes, yams, oh my!
Do you know what a sweet potato is? It's one of those confusing things we get to talk about every Thanksgiving! I do this for a living and I even forget, ha. The sweet potatoes we want for this recipe have a purplish red skin, and a bright orange flesh on the inside, like this:

Sometimes they will be labeled yams. But I promise, they are sweet potatoes. True yams are white on the inside and have a tough brown skin, almost like tree bark. Don't worry too much about mixing them up. Unless you are at an international market, you won't see any true yams. Anything you pick up will be sweet potato since about 95% of yams are grown in Africa!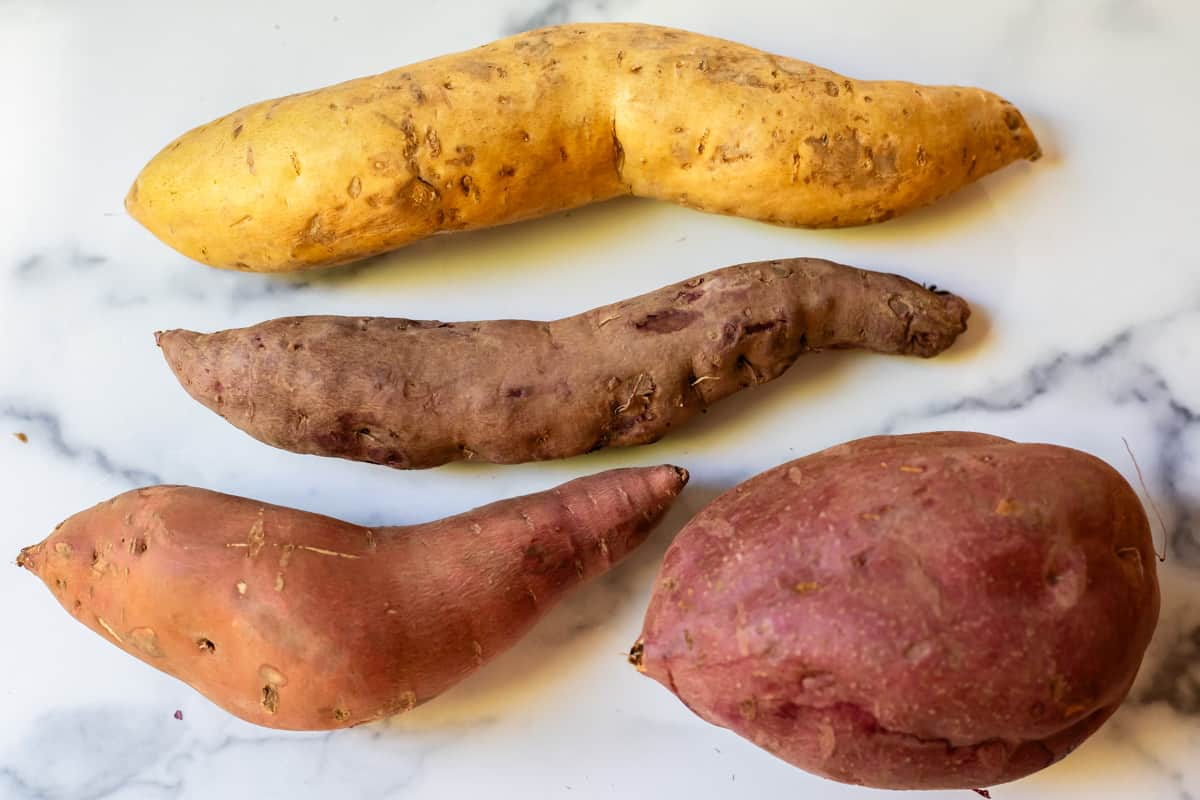 There are lots of varieties and colors of sweet potatoes though. Here are all the ones I found on my last grocery trip. Top: white sweet potato. Middle: Purple Stokes sweet potato. Bottom left: the classic ruby skinned, bright orange-centered potato you want for today's recipe. And on the bottom right: Grumpy potato. Just kidding it's a Japanese sweet potato but he kinda looks grumpy right?
A couple hundred years ago firm sweet potatoes (that kept their firmness even after cooking) were common in the states. When soft sweet potatoes (what we use) came on the scene, people wanted another word to differentiate between the two.
At that time, enslaved Black Americans had already started calling firm sweet potatoes "yams". They were eaten in place of the true yams that had been a staple food back in Africa. In fact, the word yam comes from the African words "njam", "nyami, or "djambi", meaning "to eat." That's just how prevalent and important yams are in Africa! It was natural to transfer the word to a new (and vaguely similar) root plant.
The term caught on, and that's why sweet potatoes are sometimes called yams here in America. Personally, I think "yams" is the cutest nickname and hope the tradition never dies!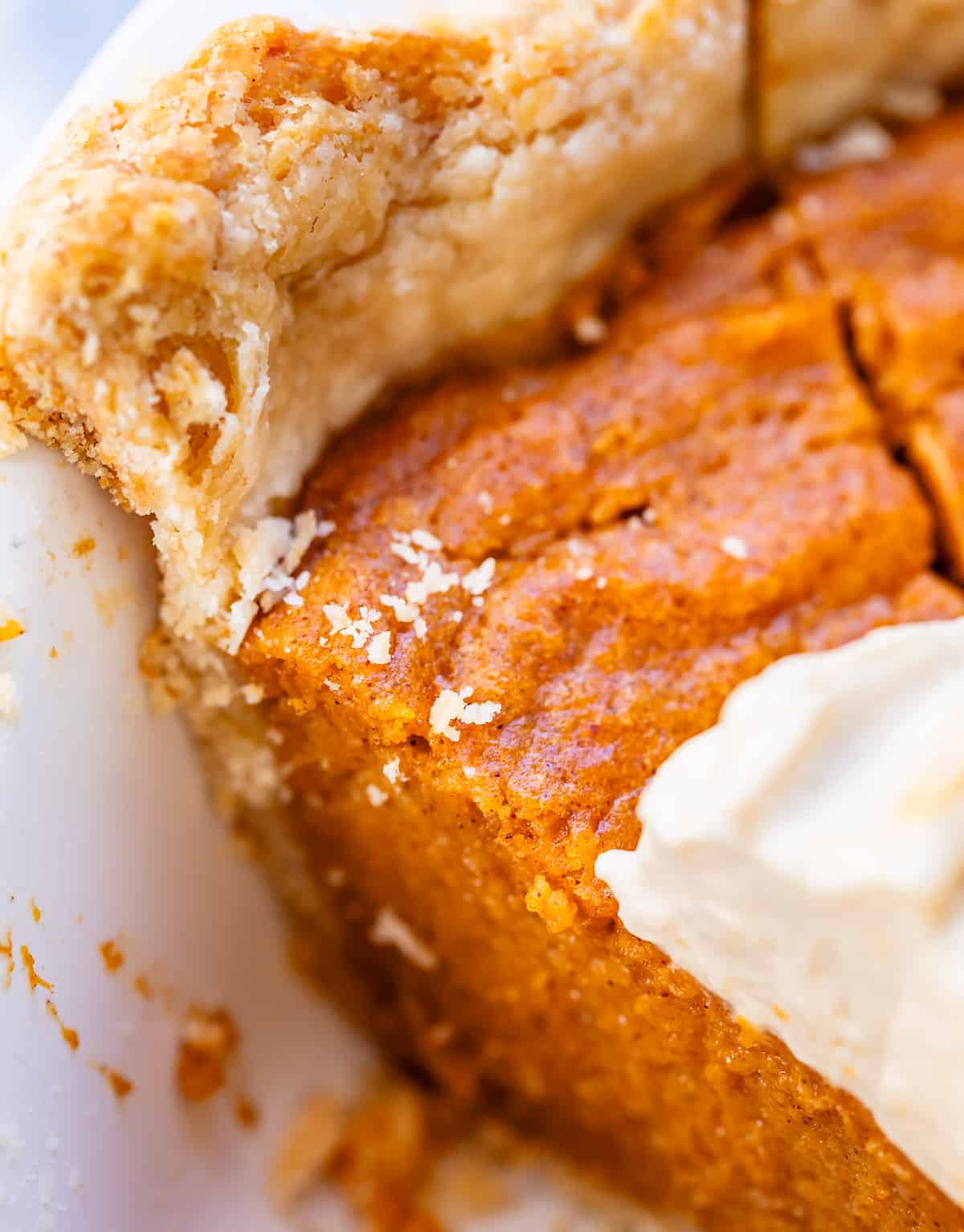 Why is sweet potato pie so popular?
Well you wouldn't be asking this if you could taste it, I promise! Sweet Potato pie is one of the south's best kept secrets and I am so here for it!
Pumpkin pie and sweet potato pie started to develop around the same time. Climate determined what was more popular: in the north, pumpkin grew easily; in the warm humid south, sweet potato vines thrived. African American slaves started creating sweets from it by first mashing sweet potatoes with some spices and a bit of sugar, and eventually created the baked pie version.
It is still a HUGE tradition all throughout the south, but especially in many Black American homes, where not only is it holiday tradition but part of a rich cultural heritage. If you want to learn more, read here or here to start!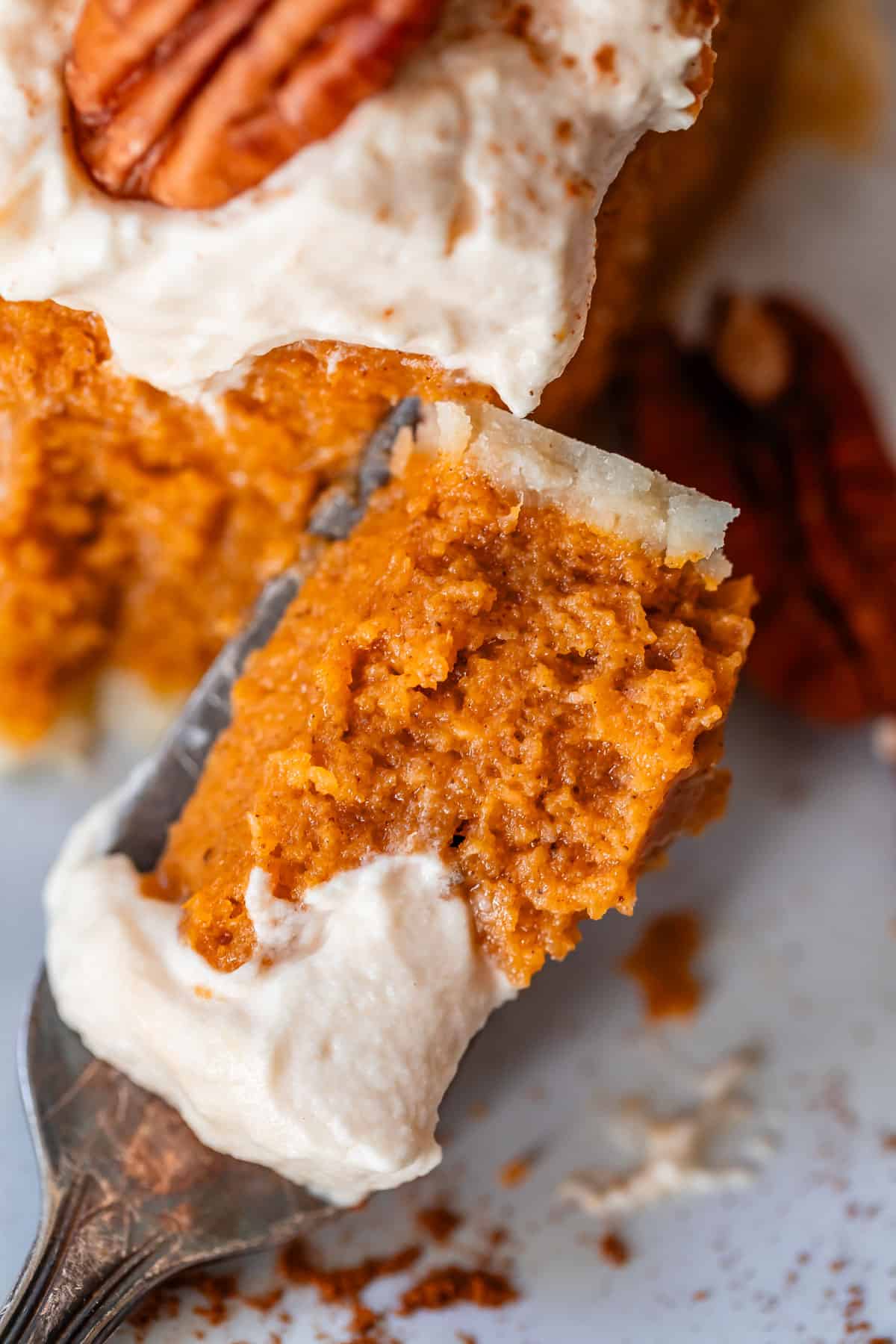 What is the stringy stuff in sweet potatoes?
Today's pie is incredibly smooth and creamy thanks to our handy food processor and by choosing the right potatoes. These steps are important because sweet potatoes are naturally a little stringy. You have to remember, they are roots storing energy to give life! What is ideal for the plant to propagate (pushing long, thin strands out of its root to become vines) is exactly the texture we don't want in our pie.
First, make the right selection. Look for smaller, fatter potatoes that hopefully are more in their "storage phase" vs their "growing stage" and will be less stringy. I never woud have thought of this, I always used to choose the skinny straight potatoes because they are easier to peel. But instead, get the fat ones!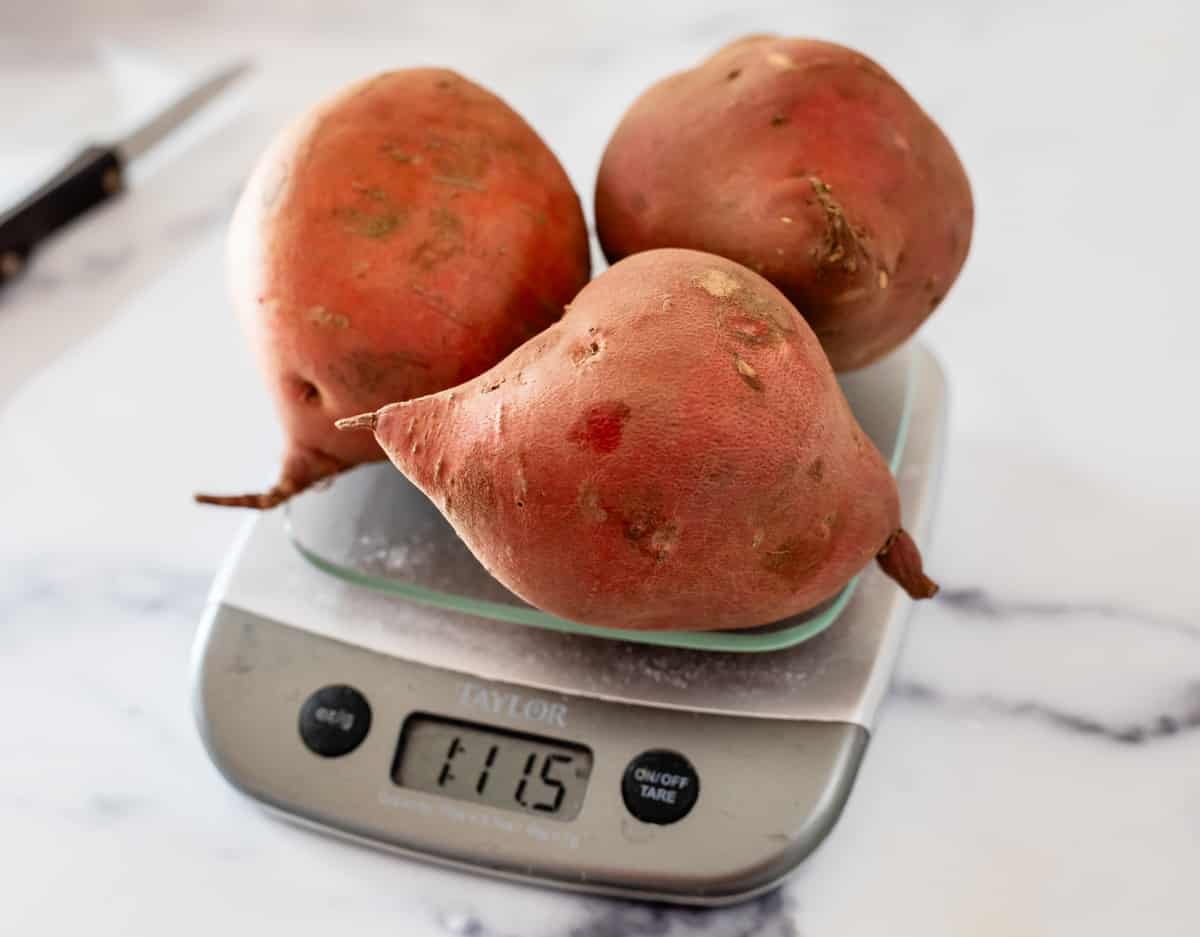 Look at this little fatty don't you just want to pinch his cheek?
Look for smooth skin and avoid tubers that have eyes that are sprouting. If you can, look for Covington or Jewel varieties, which tend to be less stringy than Beauregard (the most common).
Even with the right potato, you're going to have some sweet potatoes with strings, they're just kinda built that way. Here's the next step you can take: roasting only, no boiling or microwaving. Read more:
Is it better to boil or bake sweet potatoes for pie?
Baking is the only way! For flavor AND achieving the right texture. I tried to cut this step out for you guys, I really did! Roasting is kind of annoying. It takes about an hour, you have to turn on your hot oven, you have to peel hot potatoes, blah blah.
BUT YOU GUYS. I tried it both ways. I boiled sweet potatoes in a bit of water, and roasted potatoes with a light coat of olive oil. No salt, sugar, nothing: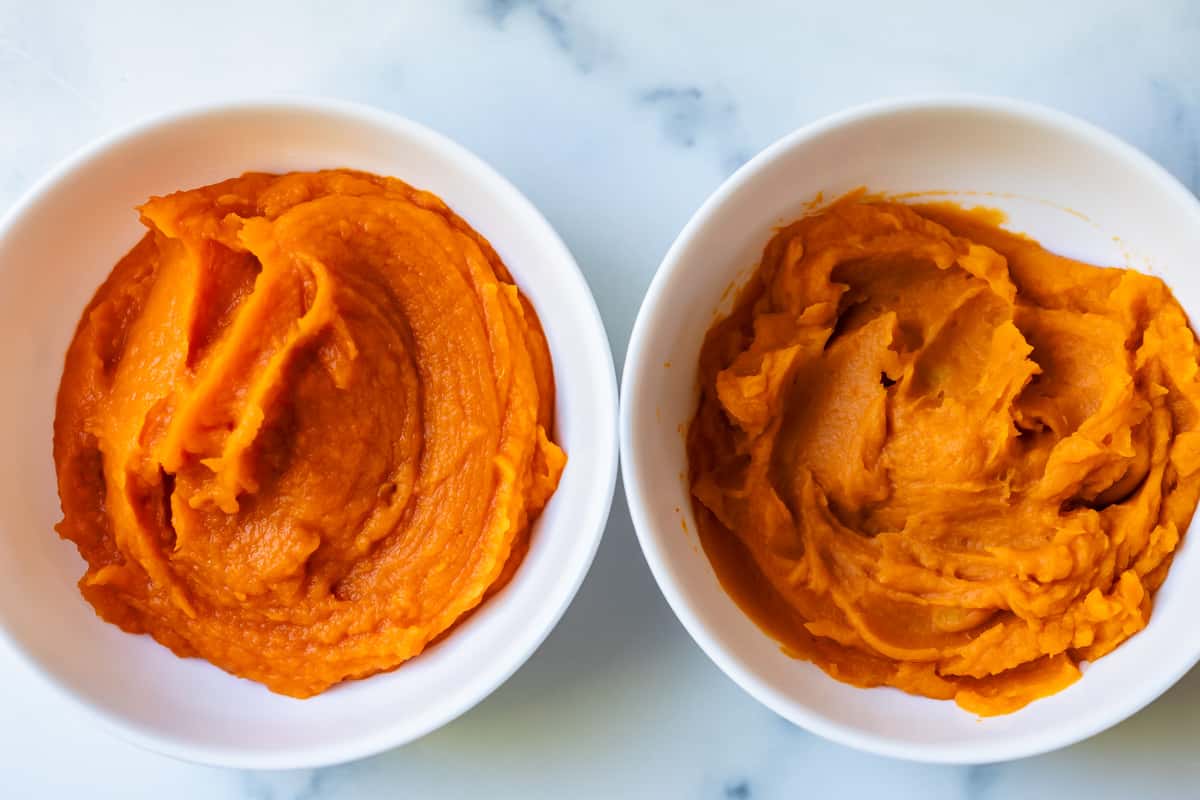 Roasted on the left, boiled on the right.
Can you see the difference, even in color? These are both straight out of the food processor. The Roasted potatoes are darker in color, more rich in flavor, and by golly they are SWEETER. Did someone spike this with sugar?? Nope, it's just science: apparently the higher temperature of baking vs boiling helps break down the starches into simple sugars, so baking literally creates more of that sugar-sweet caramelized taste we want.
I couldn't stop eating it, straight up, with a spoon. I didn't add sugar or salt or butter. I ate an entire bowl of what is essentially baby food for lunch that day. Haha! No regrets, it was delicious!
Can you see how the texture of the bowl on the left is even smoother? Roasting solves the stringiness problem. Say no to stringy pie. We want a dreamy creamy custard that makes it feel like we have LITERALLY floated onto a cloud, and roasting is the first step toward getting us there. Say it ain't so, but it's true: roasting is better.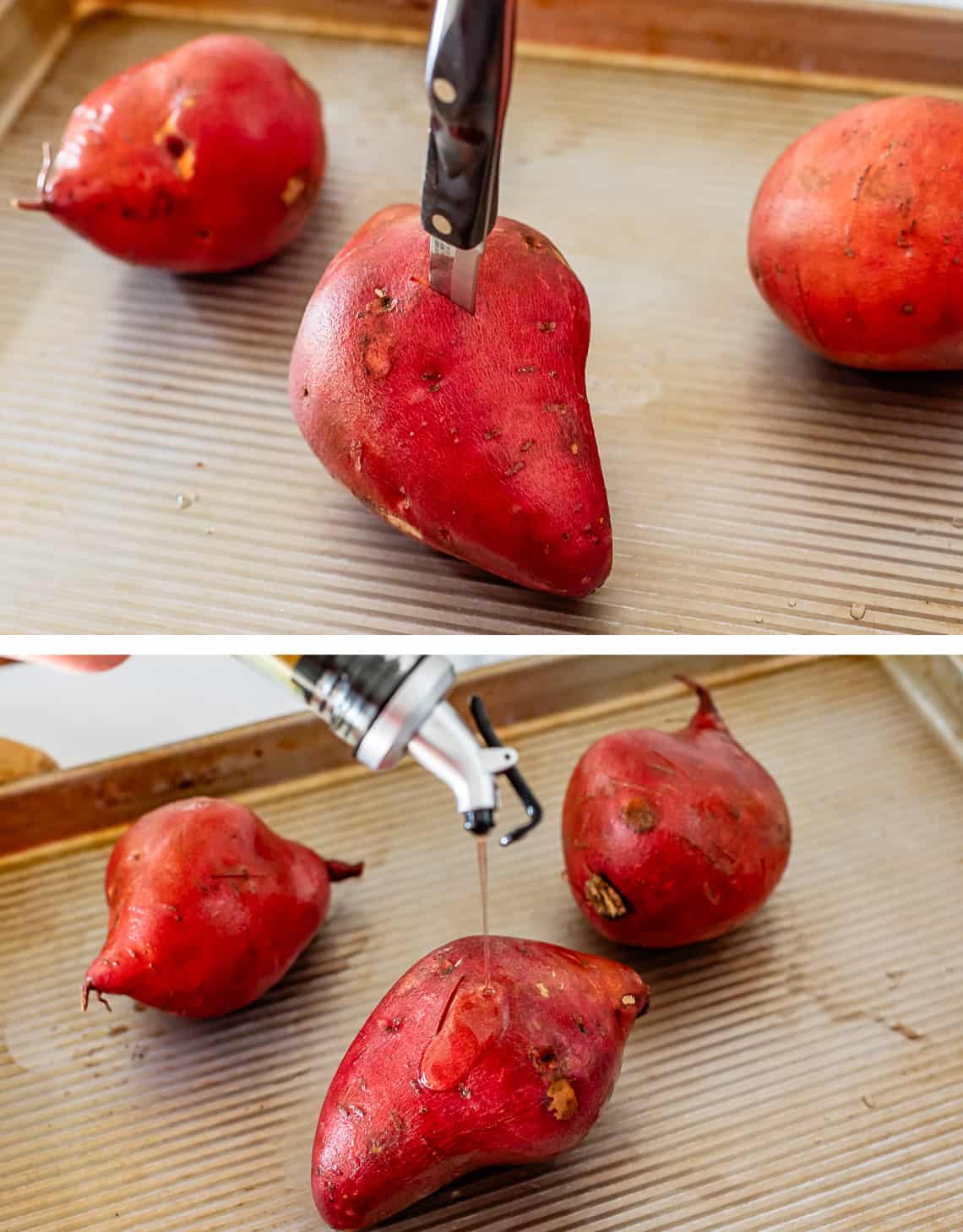 There are a couple more things you can do to minimize stringy-ness. First, don't microwave or boil sweet potatoes. This doesn't give enough time to dissolve the starch. Pierce with a knife to let the steam release, rub with olive oil, and bake until a fork goes easily go through the top skin all the way down to the baking sheet. When you peel the potatoes after baking, you'll see that most of the strings are just under the skin. You may be able to pull some of them right off!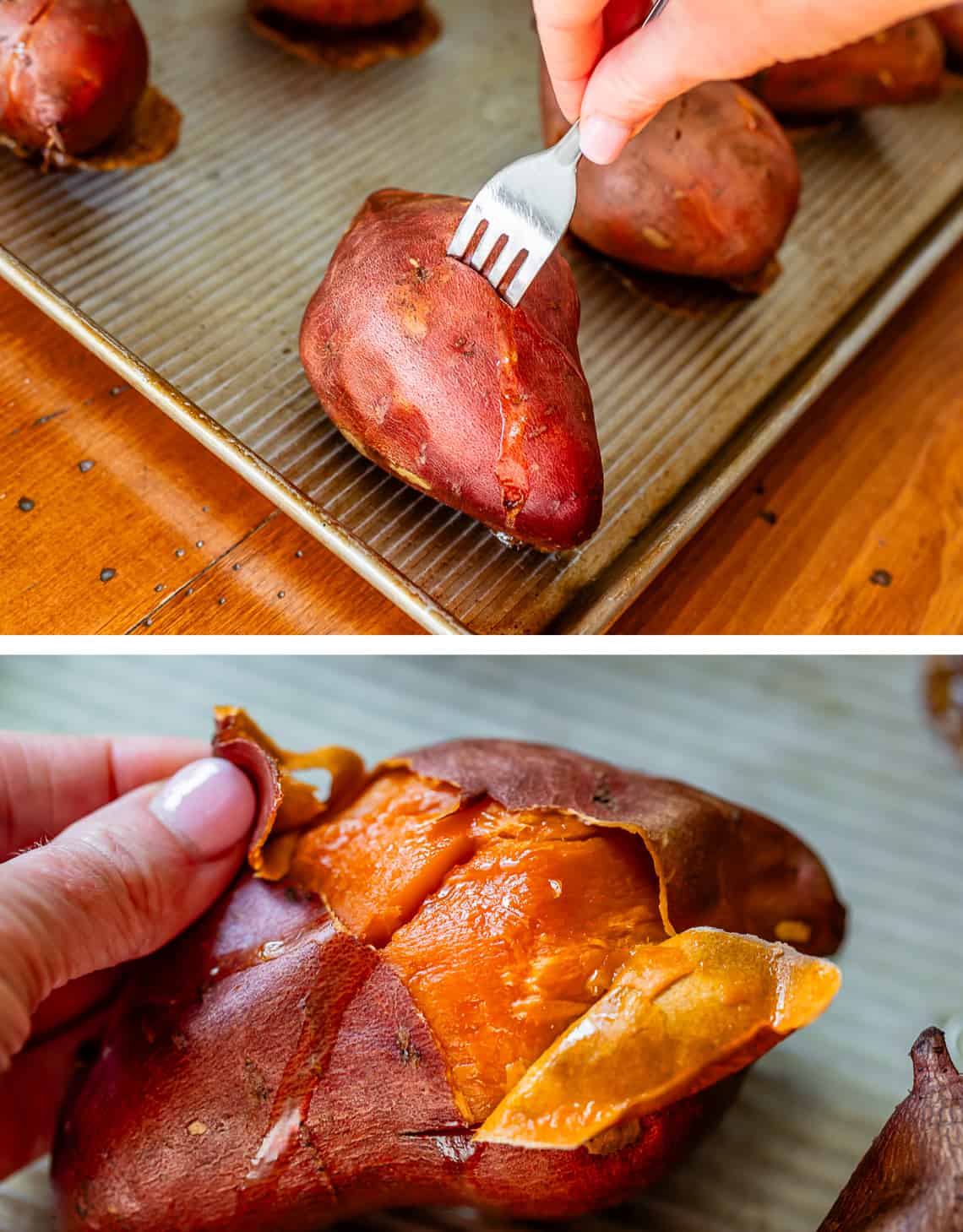 The next most important step is to use a food processor. This is the easiest way.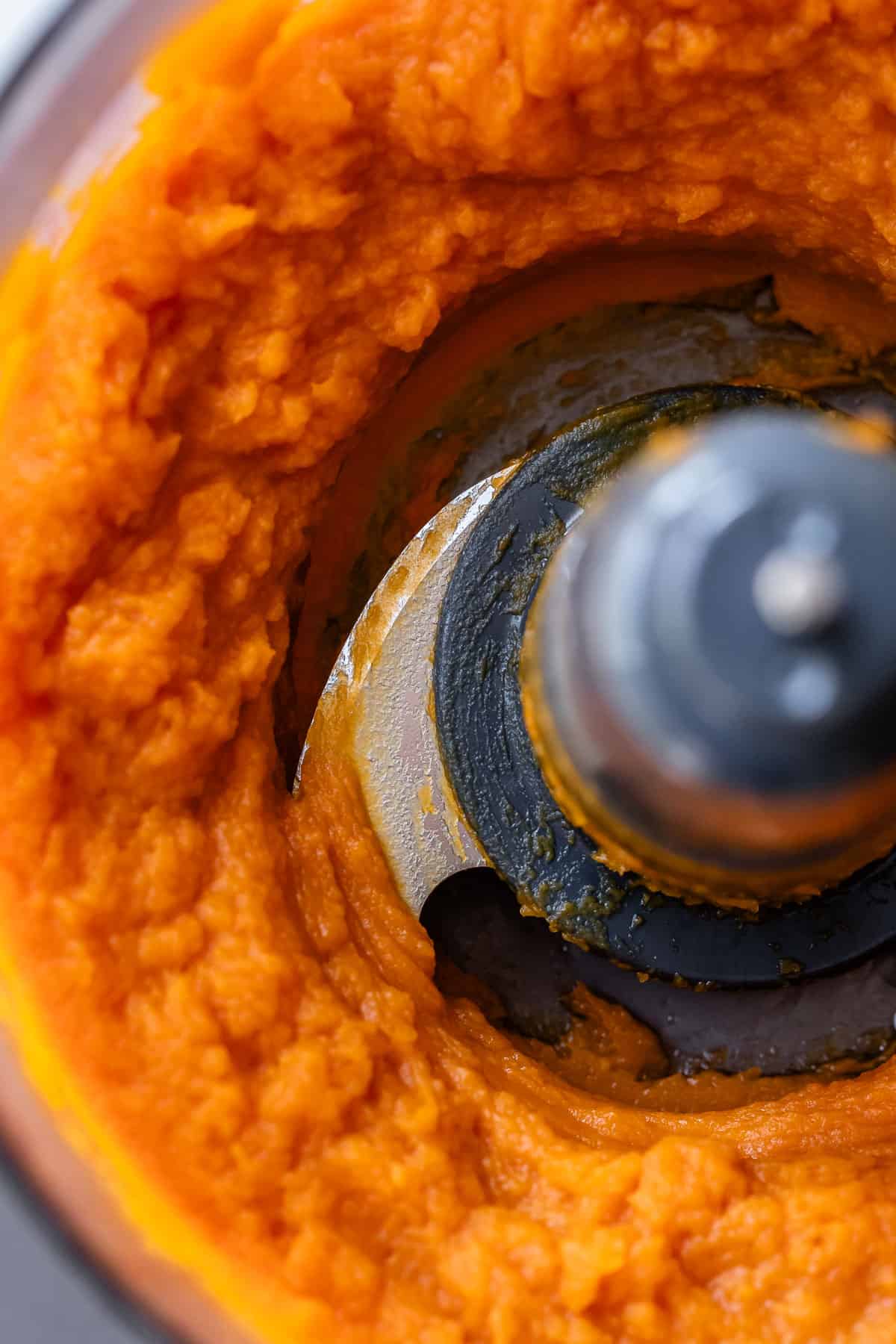 If you don't have one, use a hand mixer. After a minute of mixing, you'll notice the strings collecting on the beaters. Wash the strings off the beaters in the sink, and do it again. Keep washing/beating until the strings are mostly gone.
Last resort: use a potato masher. Not the best method but if you roasted, the stringiness won't be so bad.
And last, whether you mash, beat, or blend, you can also press the sweet potato through a sieve if you're looking for ultra smooth creaminess.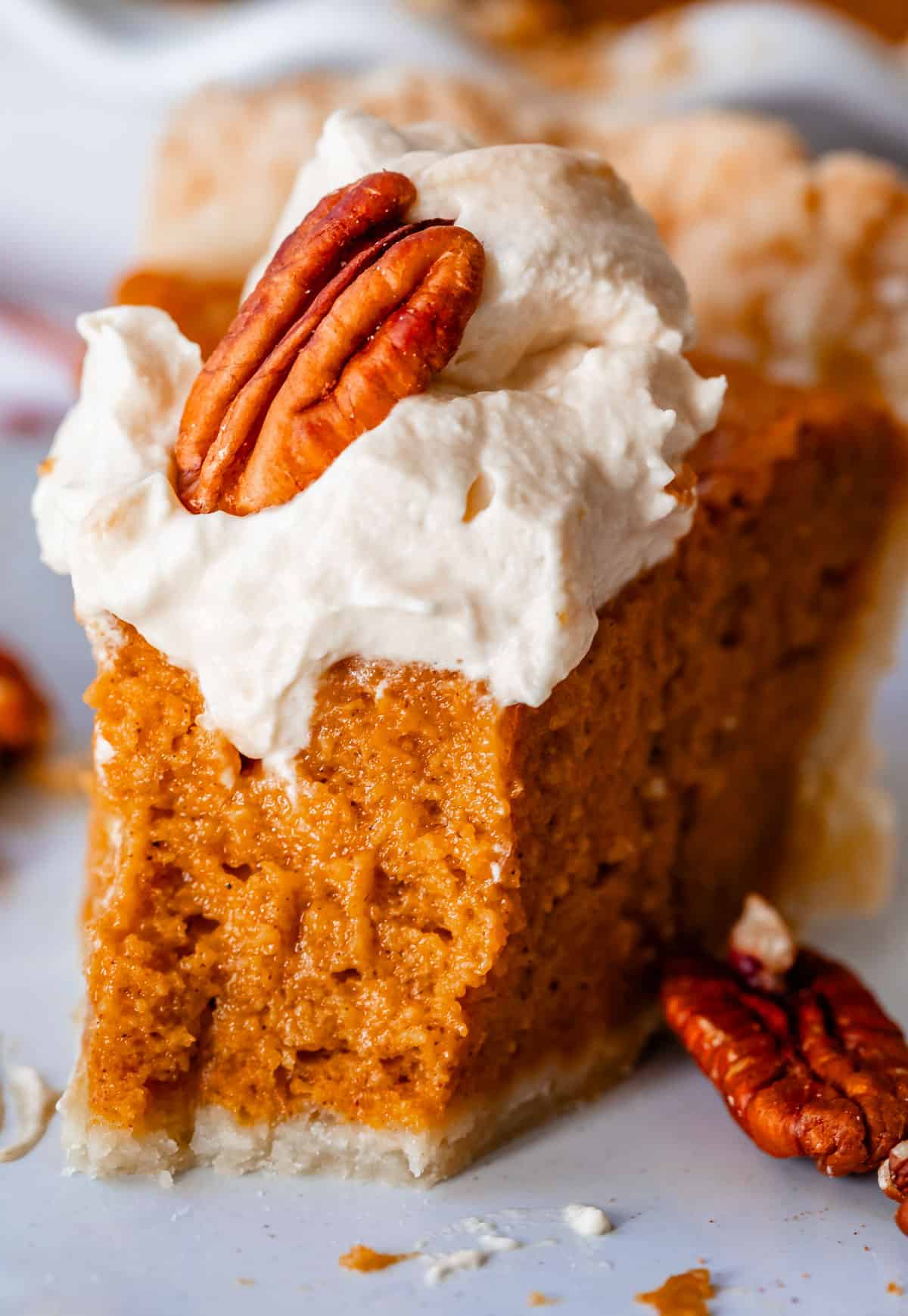 Ingredients for sweet potato pie
Once your sweet potatoes are baked and mashed, this pie comes together in a flash with simple ingredients. Full measurements and instructions are in the recipe card, but here's an overview of what you'll need:
sweet potatoes
butter
eggs
buttermilk
brown sugar
white sugar
vanilla
flour
cinnamon
ground ginger
nutmeg, fresh or ground
allspice
cardamom
black pepper
How to make sweet potato pie
For the BEST sweet potato pie, make a homemade crust. I've got all the tips and tricks and tons of photos on my post for How to Make a Flaky Pie Crust. This time, in the true southern spirit, I decided to replace all the shortening called for in the recipe with MANTECA. Also known as lard. (My hometown is called Manteca! I have a special love for it ;)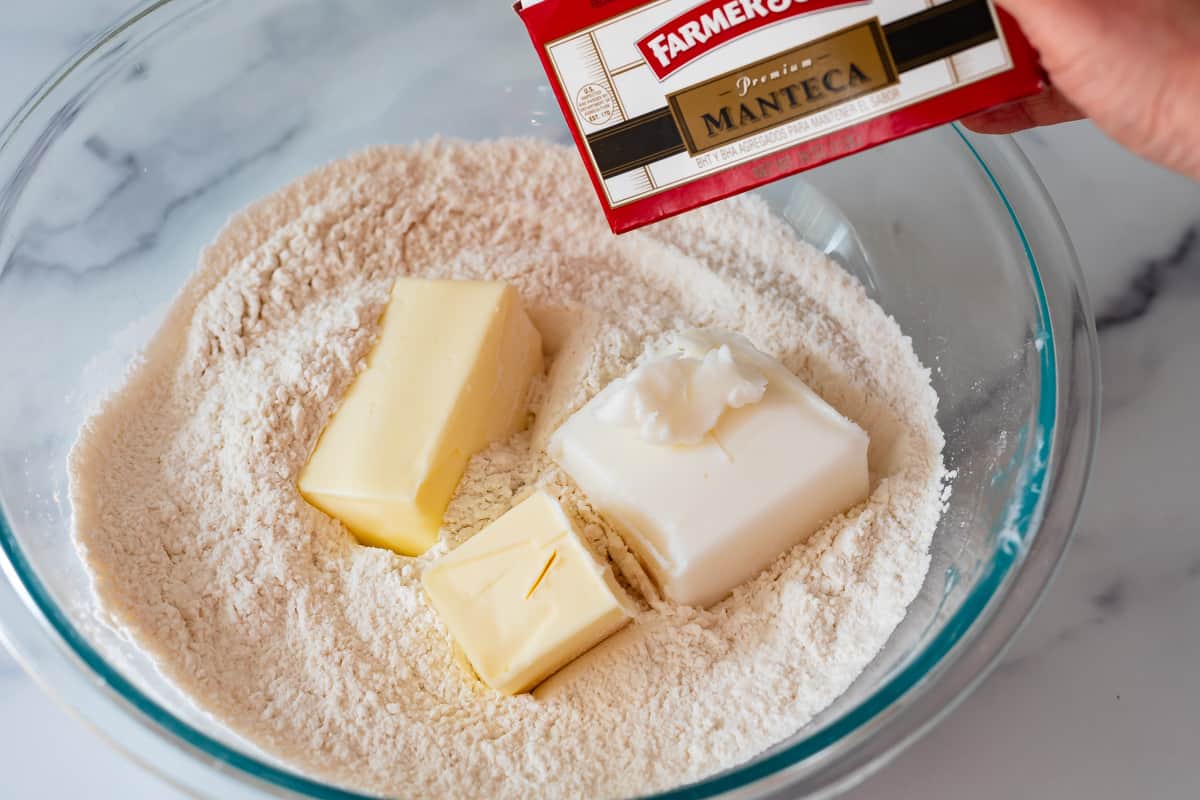 This gives the pie crust a super crispy flaky texture. So good! Shortening works great too.
The next step: to par-bake or not par-bake? All you need to do is decide if you want a slightly gummy bottom crust on your pie. If so, perfect! Roll out your pie crust and slap it in your pie dish, and let chill in the fridge until you're ready to fill. I'm not judging you at all, nopity nope nope.
BUTTTT if you want a beautifully crispy, flaky, buttery, perfectly cooked pie crust on the bottom…it's time to par-bake that baby.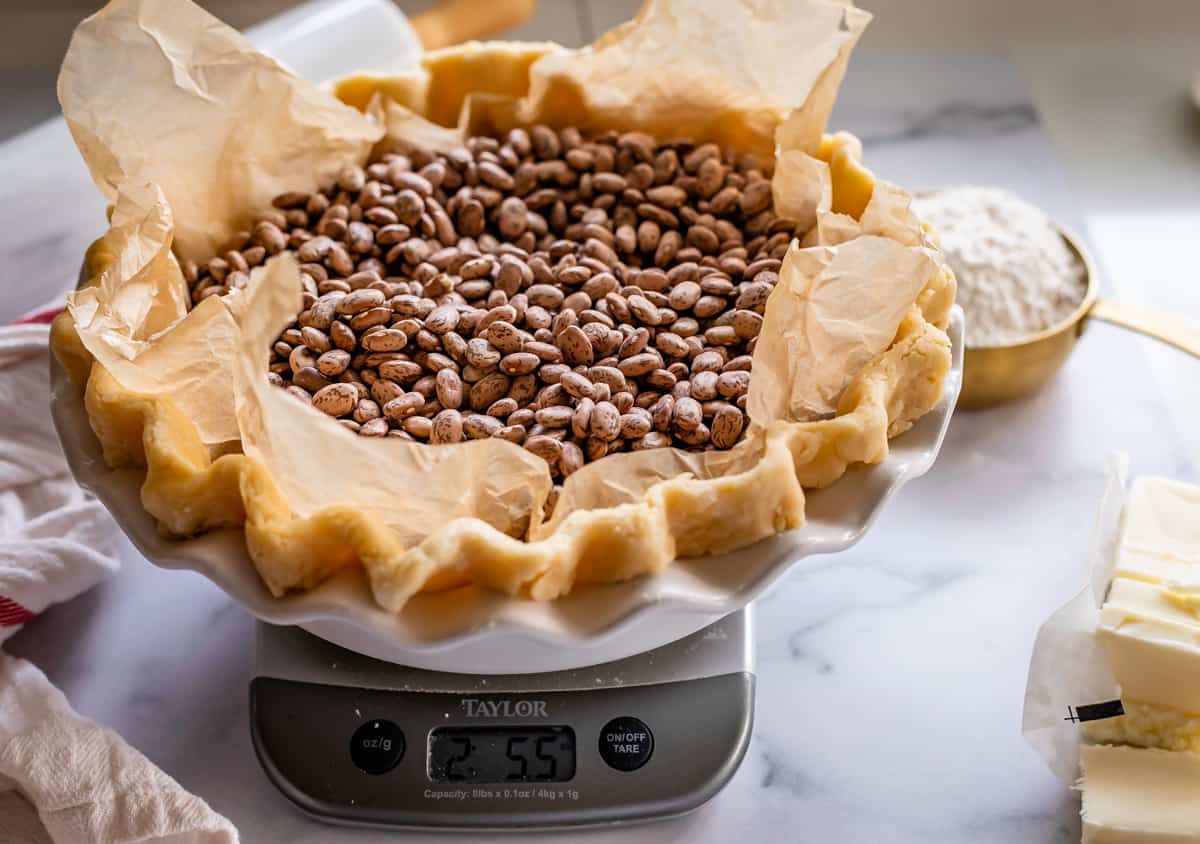 Fill 'er up.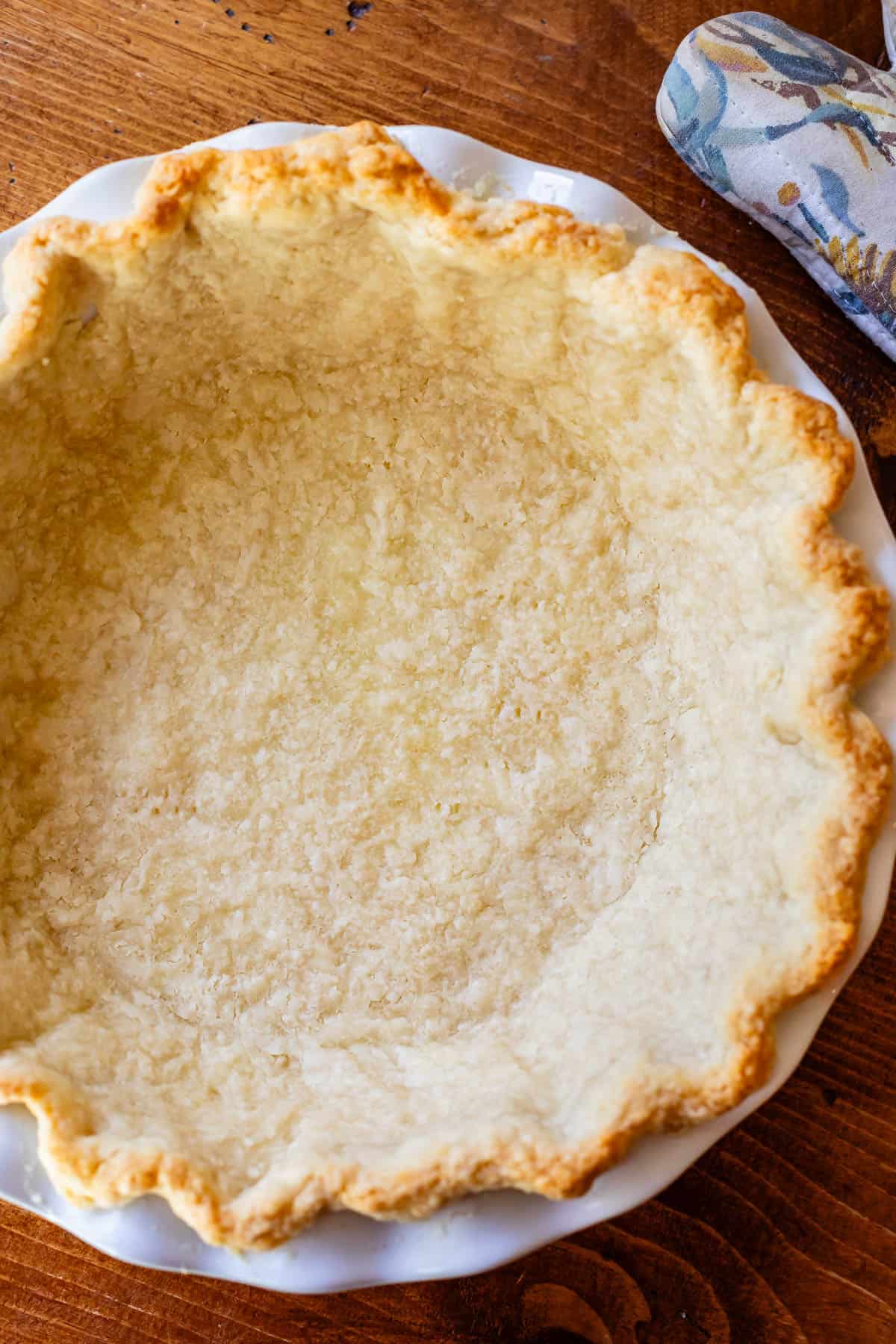 Follow all the instructions on my Blind Baked Pie Crust to make a par-baked crust.
Next up, poke, oil, and roast your potatoes. The photos for this are up above in the stringy potatoes section. Do not boil or microwave. It's not the same!!
Once they are roasted, I insist on using a food processor. If you don't have one a hand mixer is your best bet, and stop to remove any strings along the way if you see them.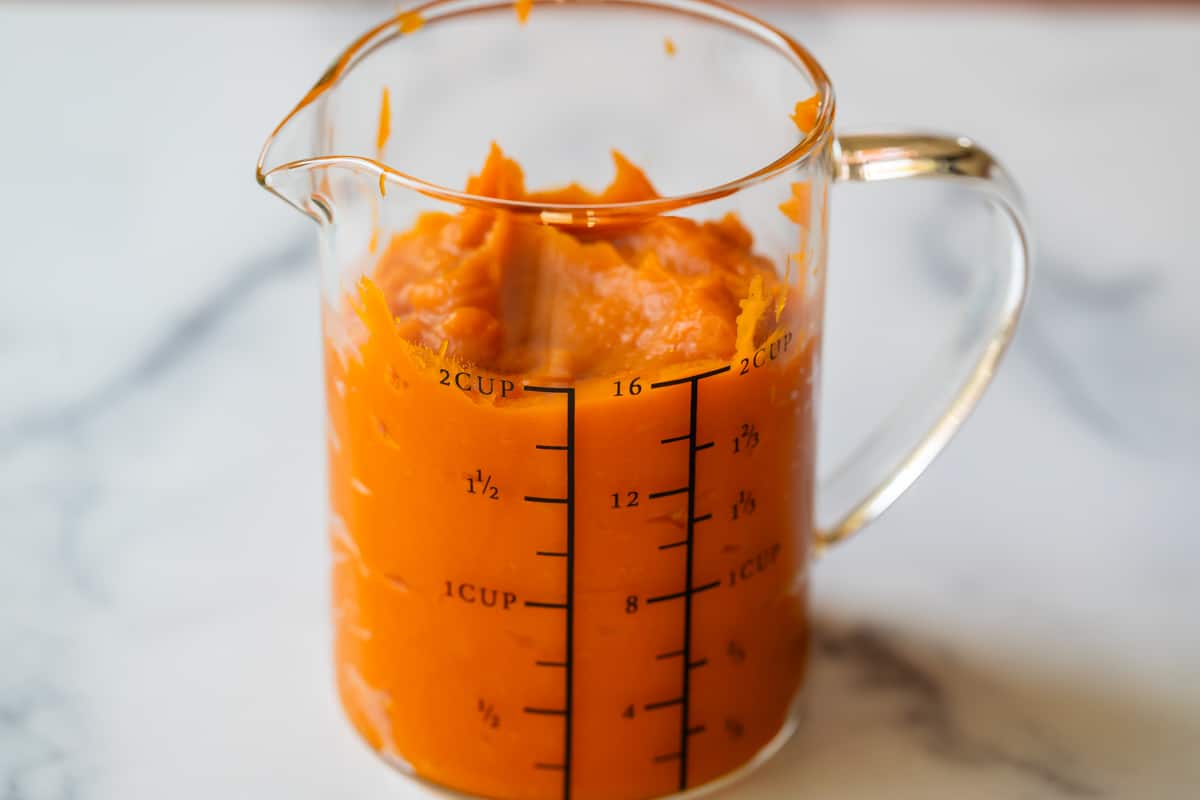 Measure out 2 cups of roasted sweet potato. Since every potato weighs a different amount, it's easiest to just measure and eat the leftover puree as a little halftime snack. You're welcome.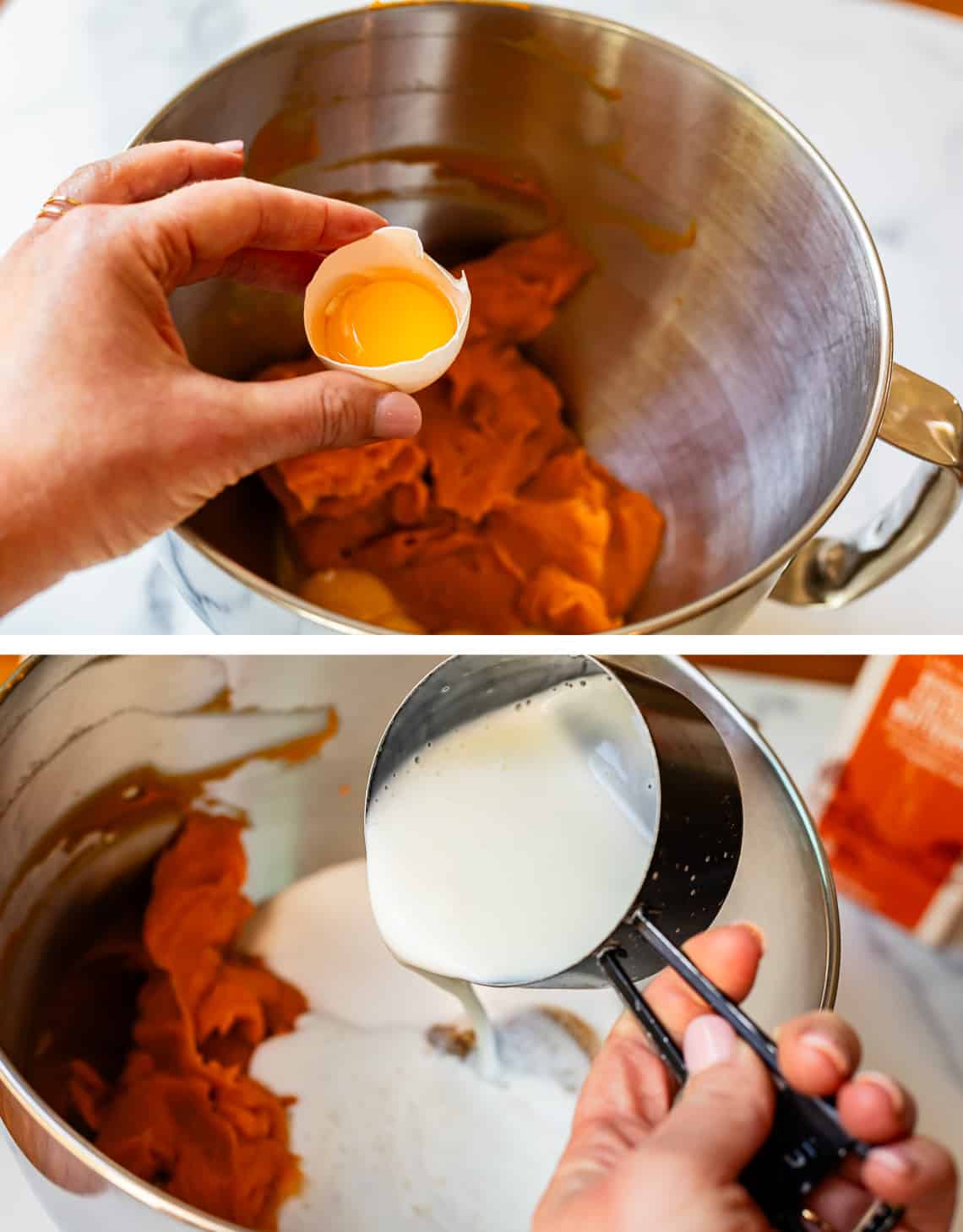 Add in the egg yolks (set the whites asides for later!), buttermilk, and vanilla and sugars. Make sure you are using thicccc buttermilk. If it is thin and milky (not creamy), use half whipping cream and half buttermilk. We need that fat!
The spices are really important in sweet potato pie. Have you ever ground your own nutmeg?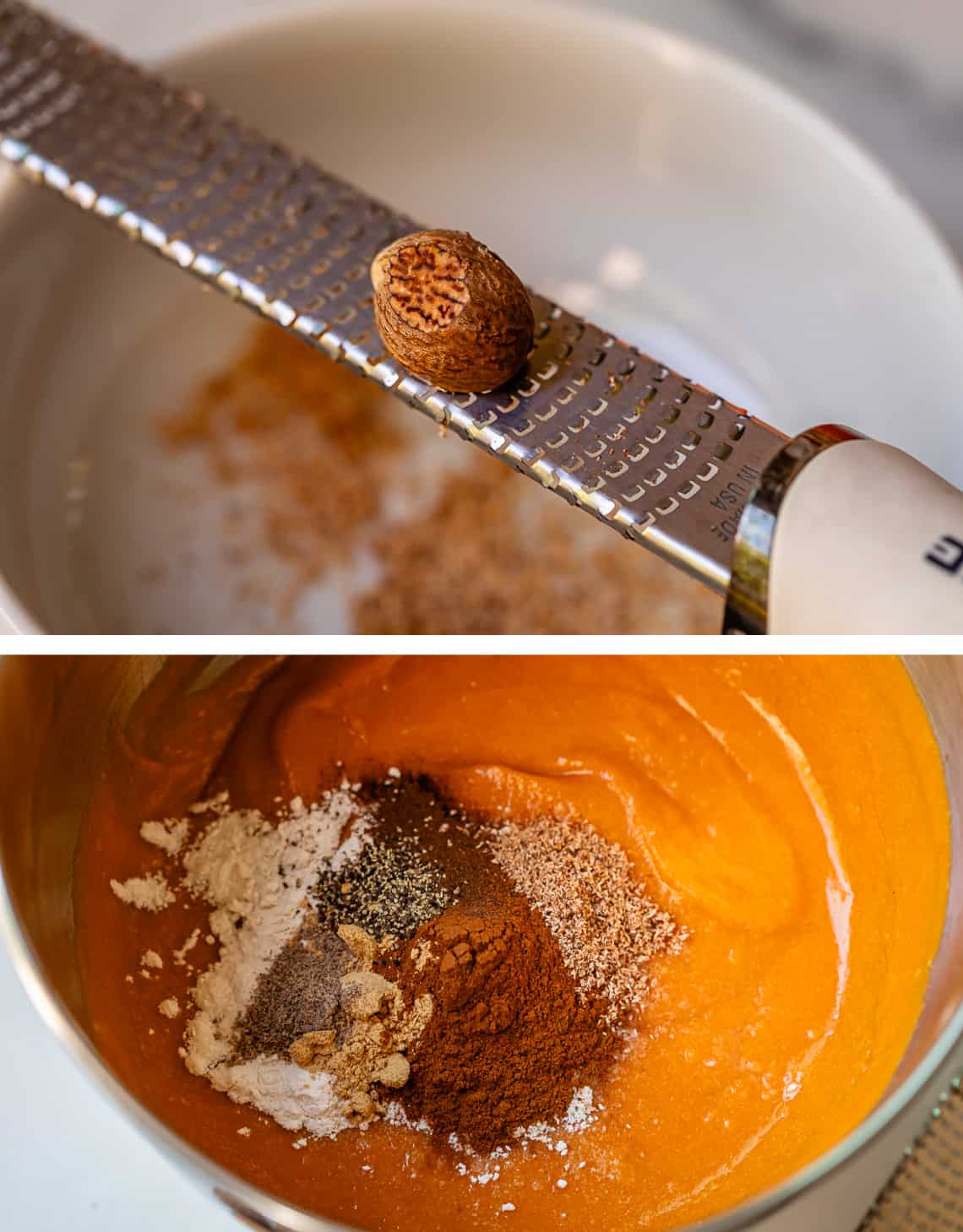 The flavor is pretty unstoppable. Add in your other spices, lots of cinnamon, some ginger, allspice is important here (not quite as strong as cloves.) I also love to add 1/8 teaspoon each cardamom (my one true love) and black pepper. Black pepper?? Black pepper, yes! It does not make the pie spicy. Just adds the perfect rich flavor, I love it. You can skip it if it makes you feel weird inside.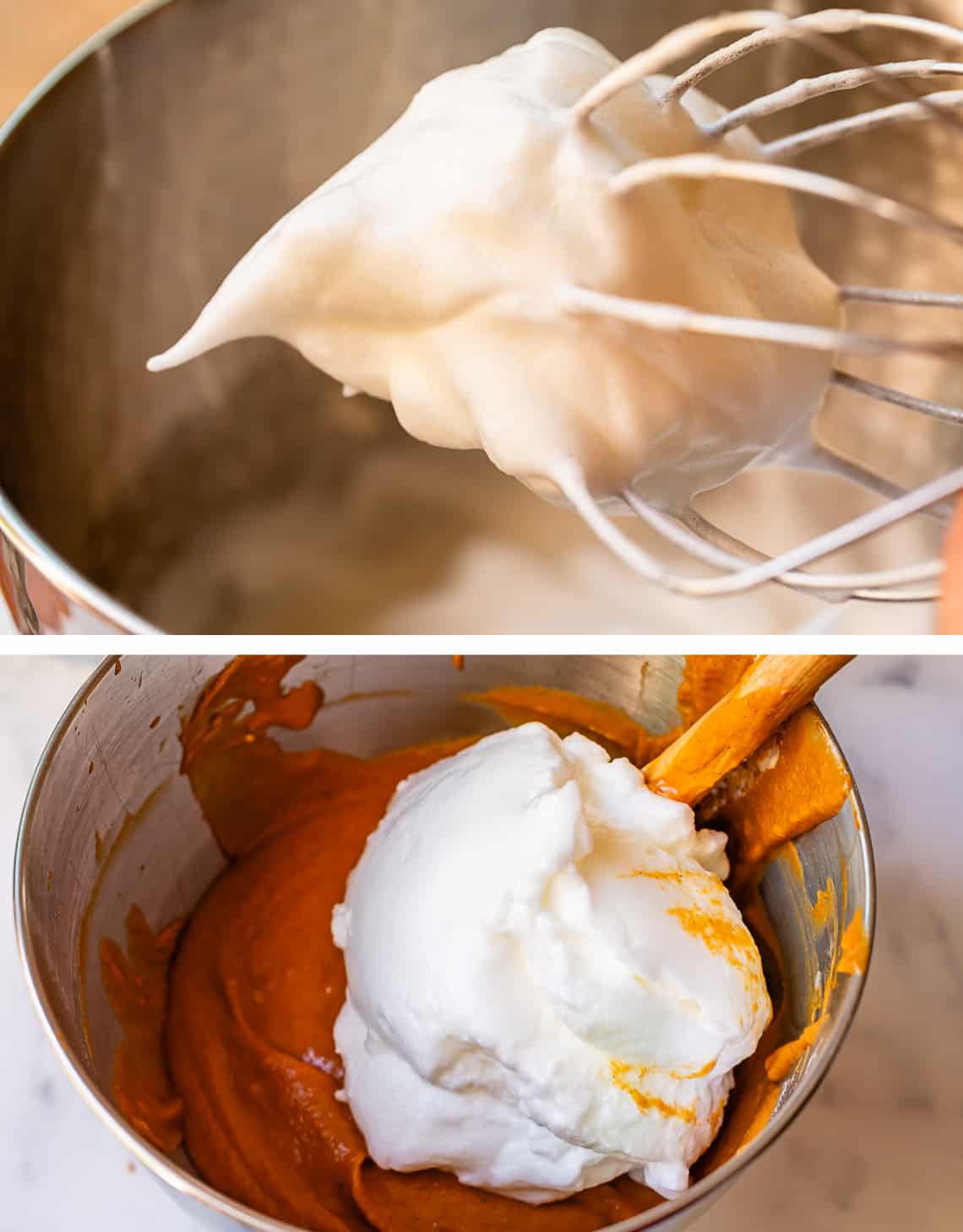 Don't forget to whip up those egg whites you kept out in the beginning! They do WONDERS for the texture of this pie. They make it light and creamy and cloud like, instead of a heavy custard feeling, like pumpkin pie.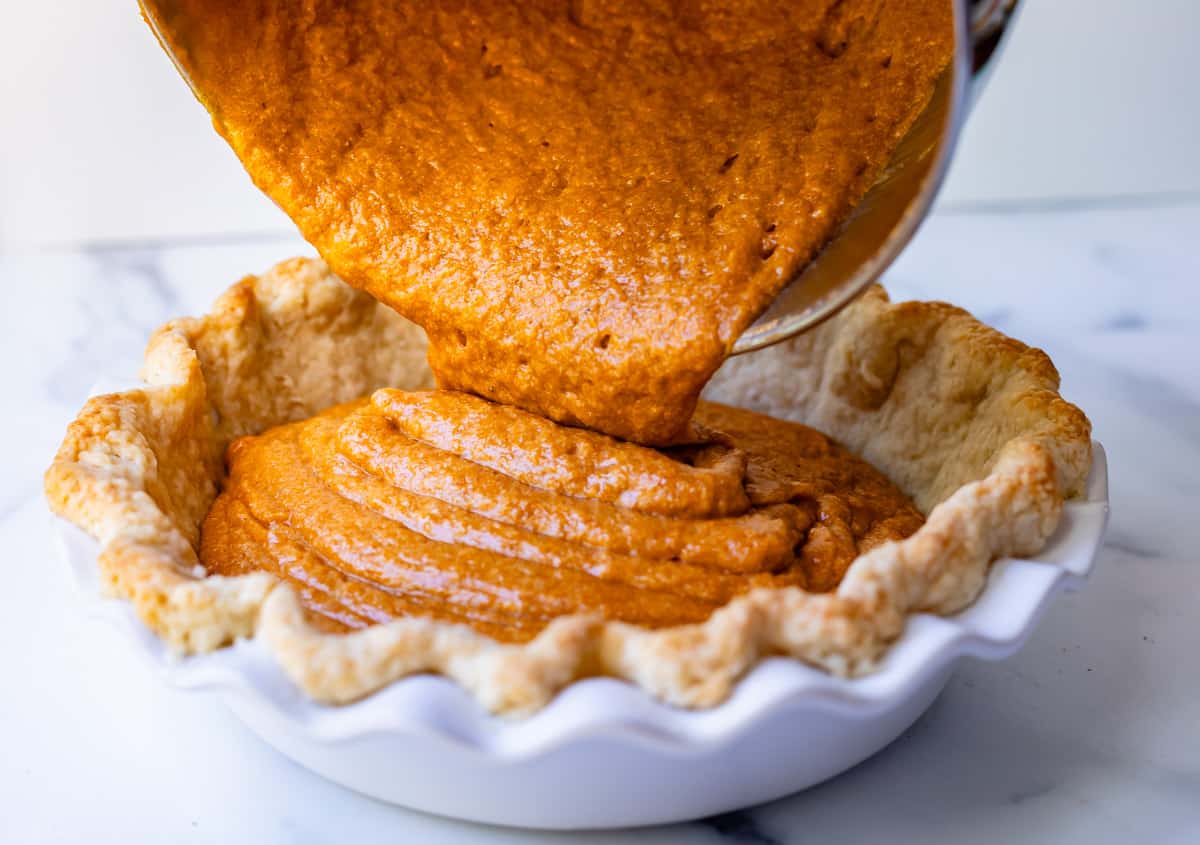 Pour your filling into the baked pie crust.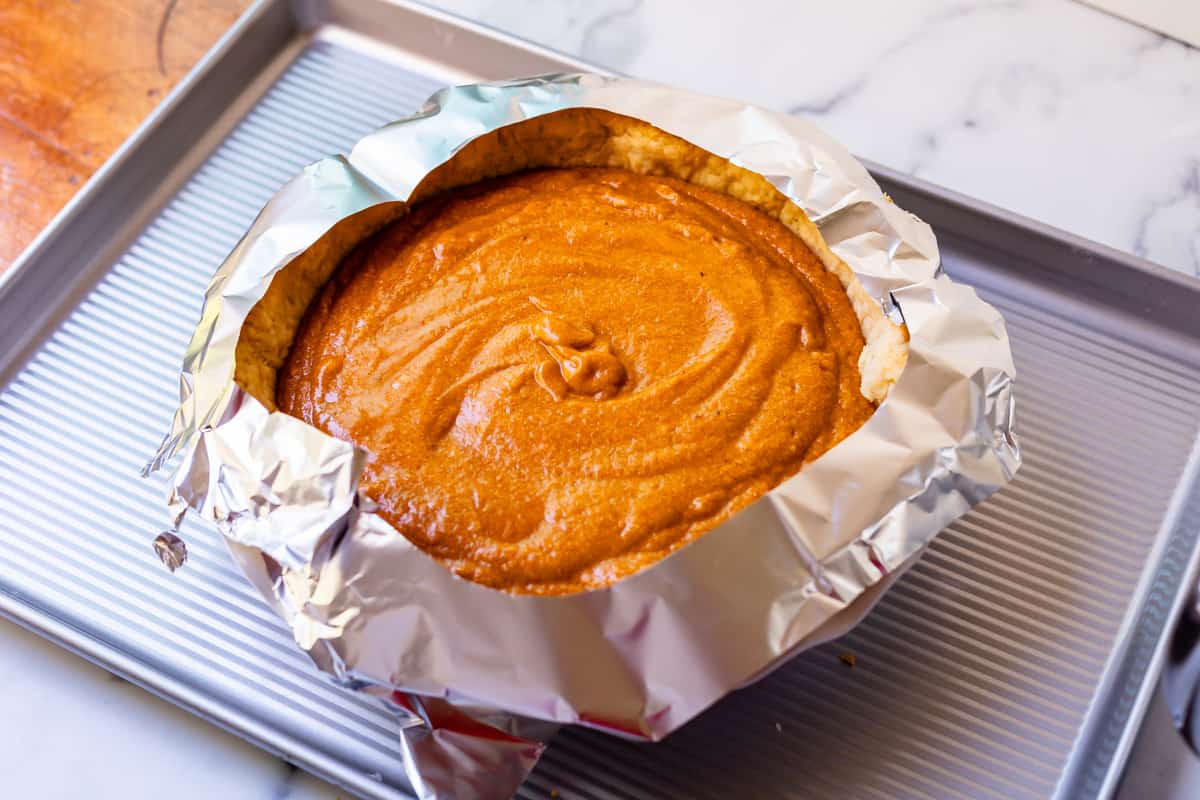 Then top your pie crust with some tin foil so it doesn't get over browned in the oven.
THENNNN if you want to be a little extra…halfway through baking you can add the praline topping.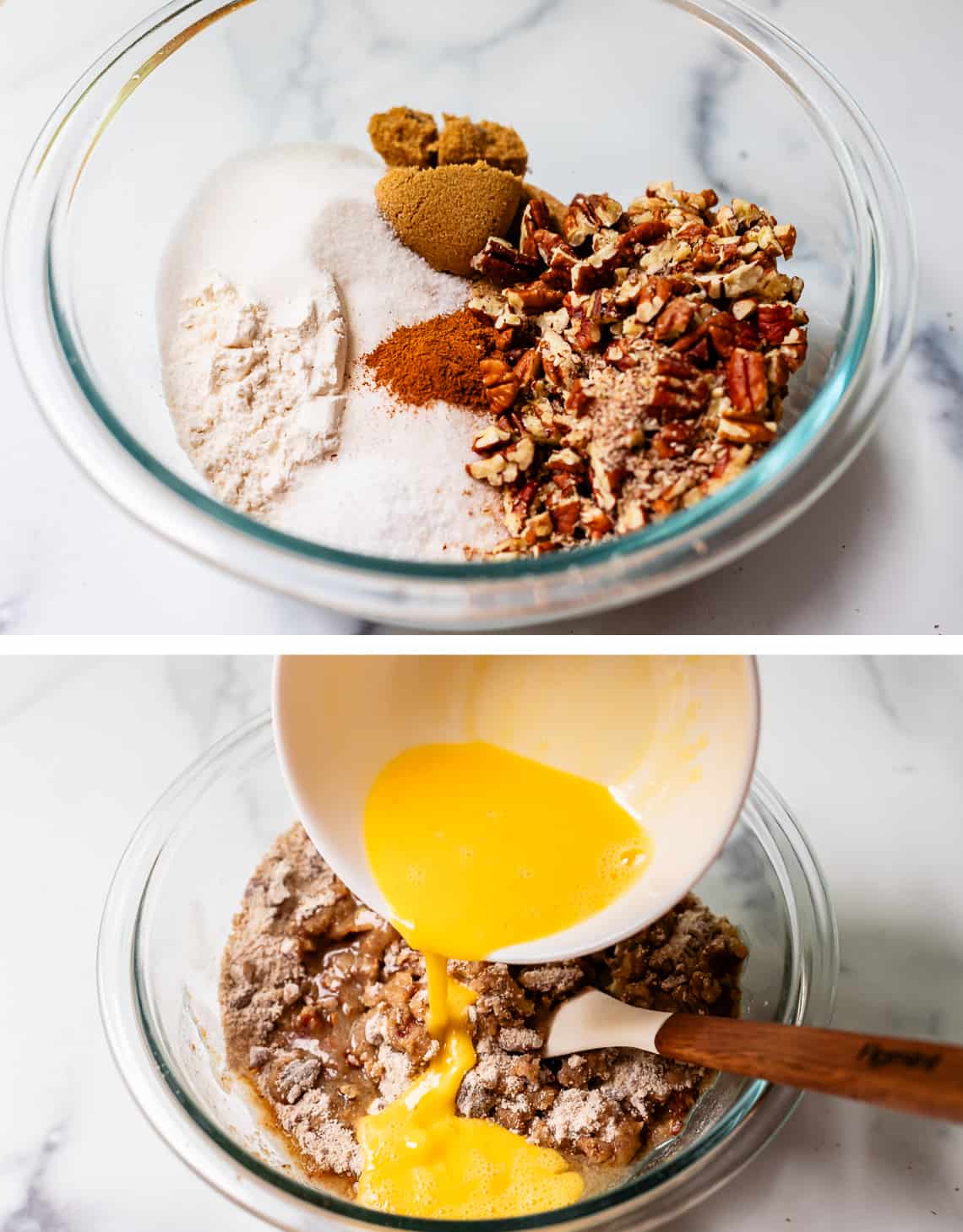 I secretly love the praline topping best. The pie is so, so good by itself, and you can't beat that classic orange-top look. But I LOVE me some pecans and streusel.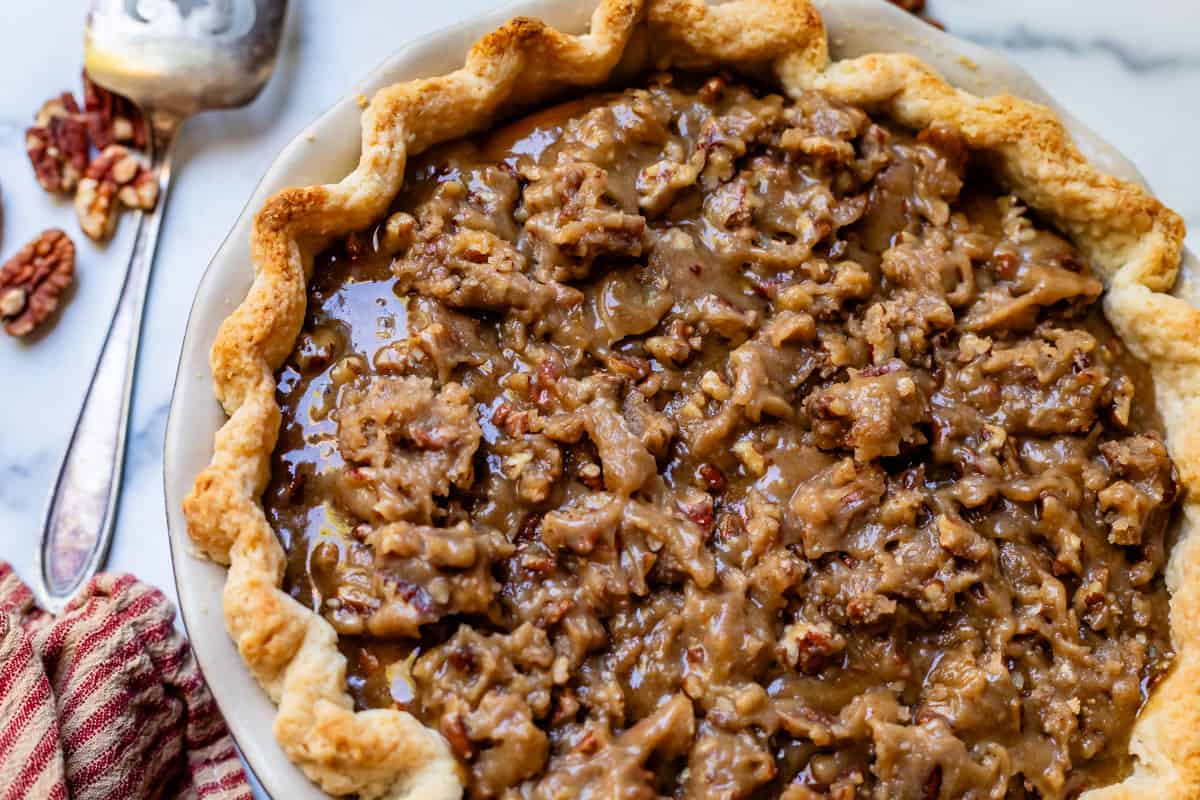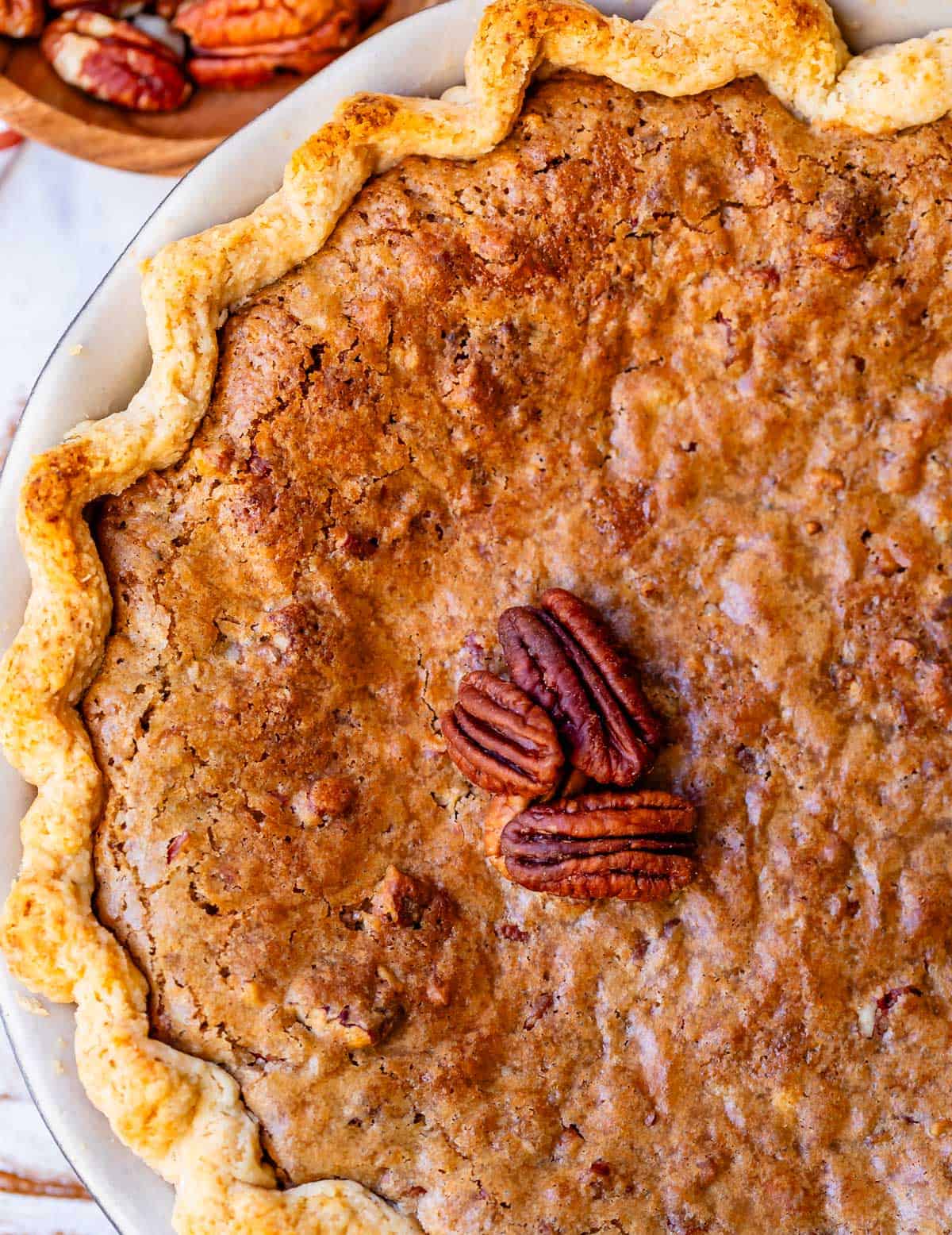 Once the pie is out of the oven and cooled, it's time to make the Salted Caramel Whipped Cream! I'm so excited about this you guys! I had no idea whipped caramel was a thing, but look at this: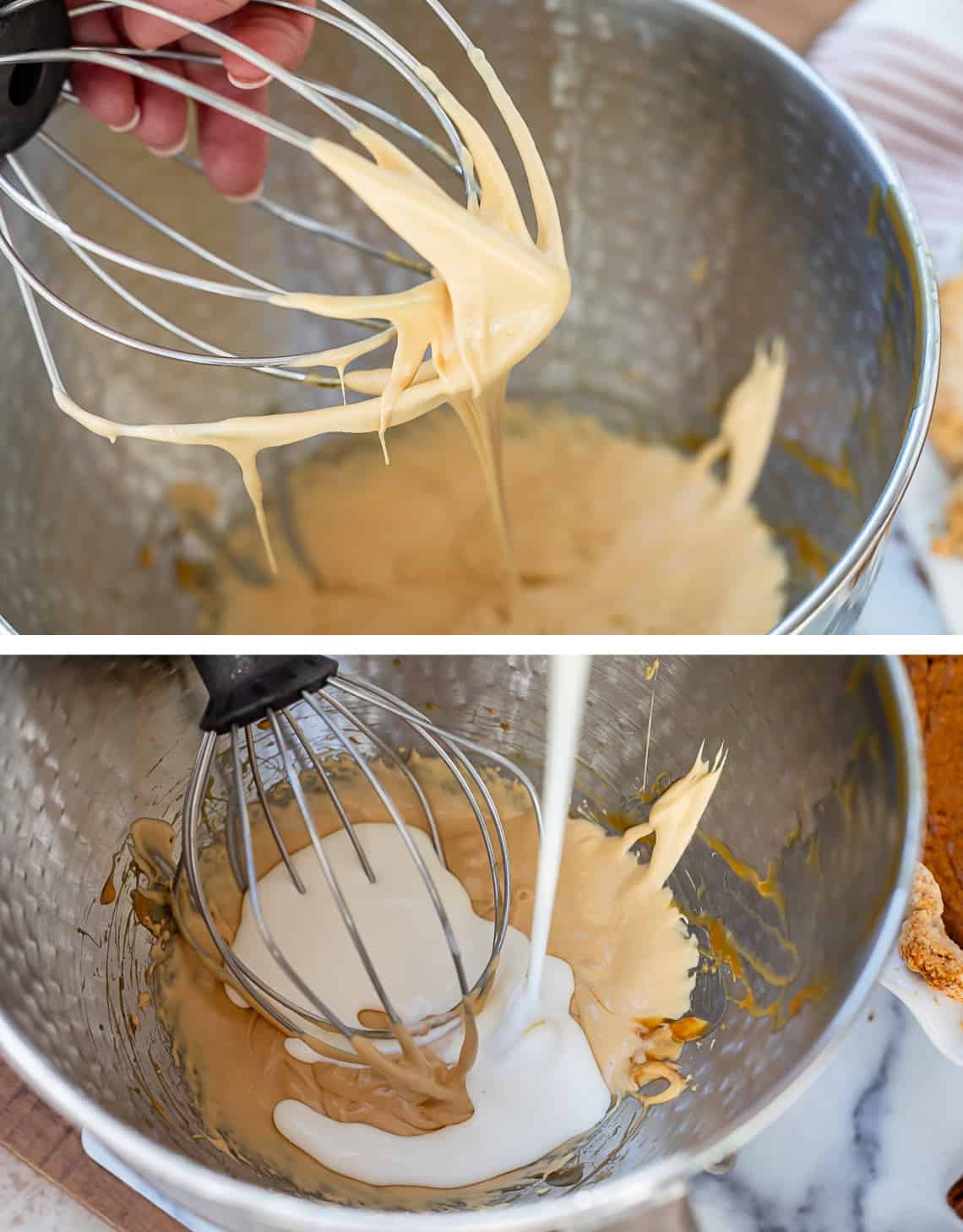 That creamy tan is a straight-up store-bought jar of salted caramel that I chilled in the fridge overnight. This step is essential for getting it to whip. Then once you've beat it for a couple minutes, add the cream to the caramel, keep beating, and it will turn into the most DELICIOUS whipped cream you have ever had!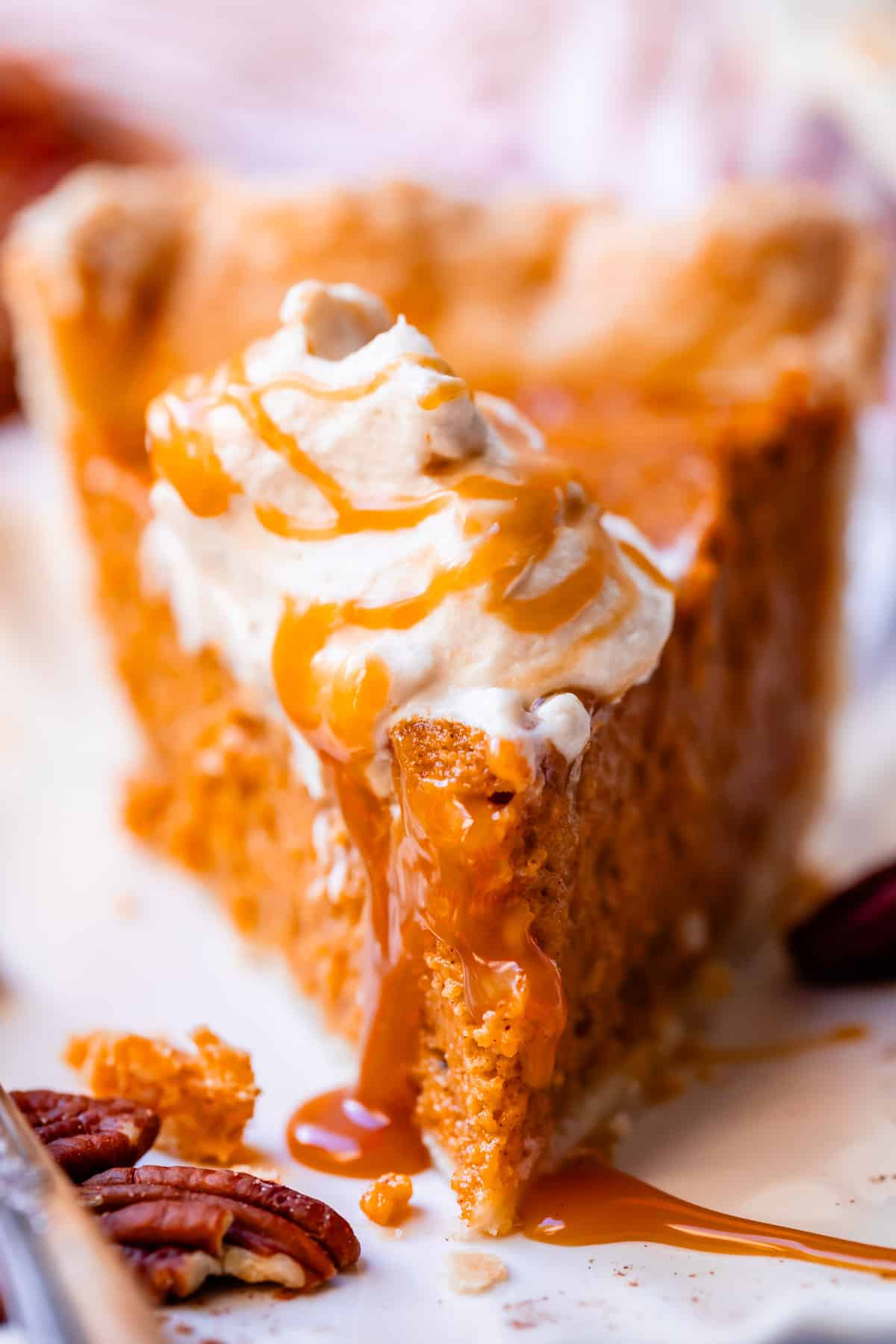 Then if you want to be a little extra (who doesn't?) top each slice with some extra regular salted caramel sauce. The perfect end to a Thanksgiving meal!
Does sweet potato pie need to be refrigerated?
Yes! Sweet potato pie is a baked custard with eggs and buttermilk, so eventually it needs to be refrigerated. But you should be ok for about 24 hours to leave it on the counter, if you prefer a room temperature pie. After that, transfer to the fridge. Keep it lightly covered, if you cover it tightly the condensation will drip onto the pie and make it soggy. It should last about 3 or 4 days. You can cut a slice and eat it right out of the refrigerator if you like it chilled, or let it sit on the counter for 30-60 minutes first.
Can you freeze sweet potato pie?
Nah, don't go there. I would much rather eat a piece for every meal than freeze it and risk a bad texture. ;) Technically it can be frozen, but the texture of both the crust and the filling will not be as good as fresh. If you truly need to freeze it, first make sure it comes to room temperature completely. Stick the whole pie plate in the freezer or put cut pieces on a cookie sheet and flash freeze for 30 minutes to set. Then wrap the pieces or whole pie well in plastic wrap. You can add the wrapped pie to a freezer ziplock bag or wrap the whole thing in foil. The pie should be good in the freezer for 2-3 months. To eat, thaw completely overnight, then set it out on the counter an hour or so before eating (unless you like to eat it very cold!).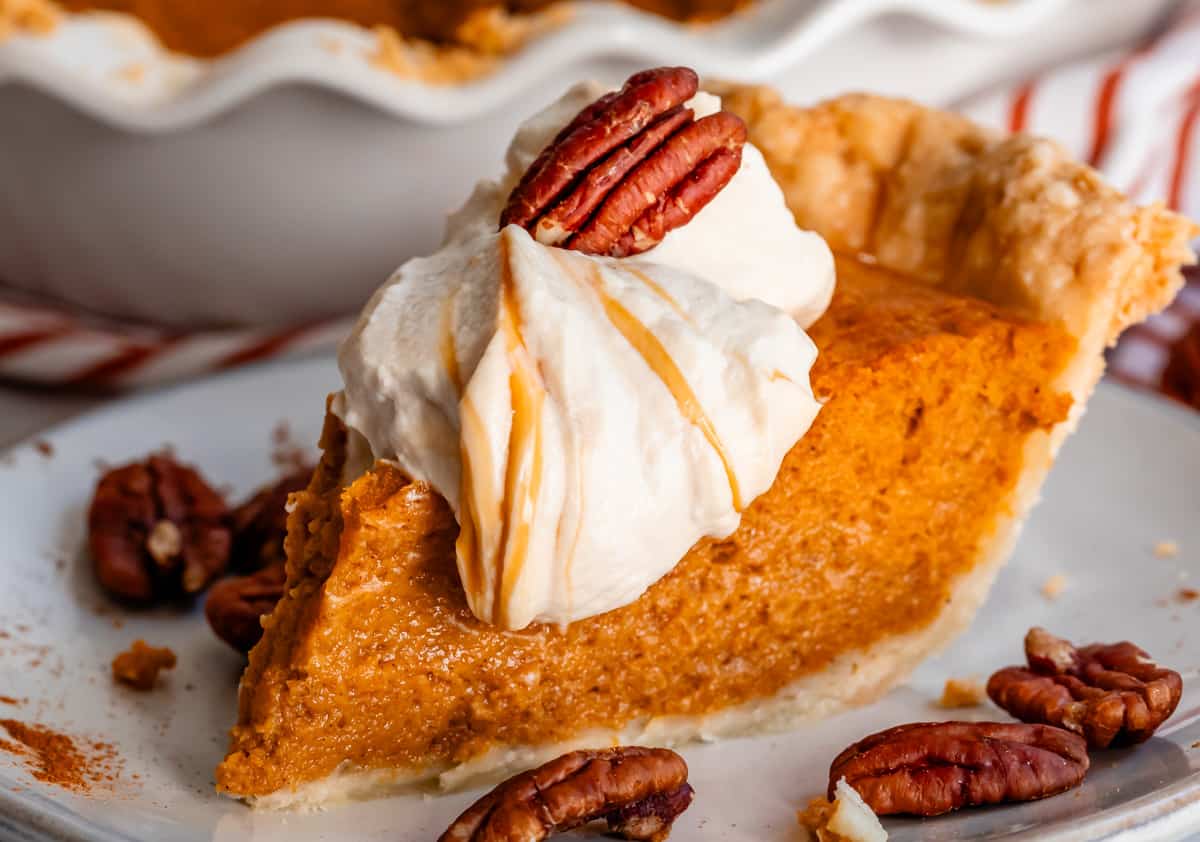 Frequently asked questions
why are baked sweet potatoes sweeter than boiled?
See, I'm not the only one wondering this!! The higher temperature when baking in the oven causes more of the starches in the potatoes to break down into simple sugars, making for a sweeter, more caramelized flavor than boiling.
why do you soak sweet potatoes before baking?
Some people like to soak their potatoes (sweet or otherwise) before frying or roasting. It helps remove some of the starch from the potatoes, which helps them get very crispy! Not what we need for today's recipe. Save that tip for when you're making sweet potato fries.
does sweet potato pie taste different than pumpkin pie?
Ya man, that's the first thing every tester said! They are similar though. Both pies are baked custards with a similar spice profile, including cinnamon, nutmeg, etc.

Sweet potato pie tends to have a lighter, airier but more textured filling, whereas pumpkin pie can be slightly creamier but more dense. Sweet potato pie is on the sweeter side with a more delicate flavor where you can actually taste the sweet potato. Pumpkin pie is not as sweet, and tends to be heavier on the spices. All of it depends on the recipes you use for both of course. I'm never giving up on Pumpkin Pie, especially with my bruleed topping. I'm all in for a world with BOTH pumpkin and sweet potato pies!!
why is my sweet potato pie soggy?
There are a few reasons. First, sweet potato has a really high moisture content so you HAVE TO blind bake the crust to make sure it's thoroughly cooked before added the filling and baking again. Be careful when adding your liquid ingredients, as too much might make the filling too moist and mushy. Also, be careful not to over mix the filling. If your pie is under baked, you can try putting it back in the oven at 375 or 400 degrees for about 10-15 minutes. I have not tried this, and there is mixed reporting about this method, so proceed with caution! If it's mushy after storing, it's likely because you covered it too tightly and the condensation dripped back down into the pie.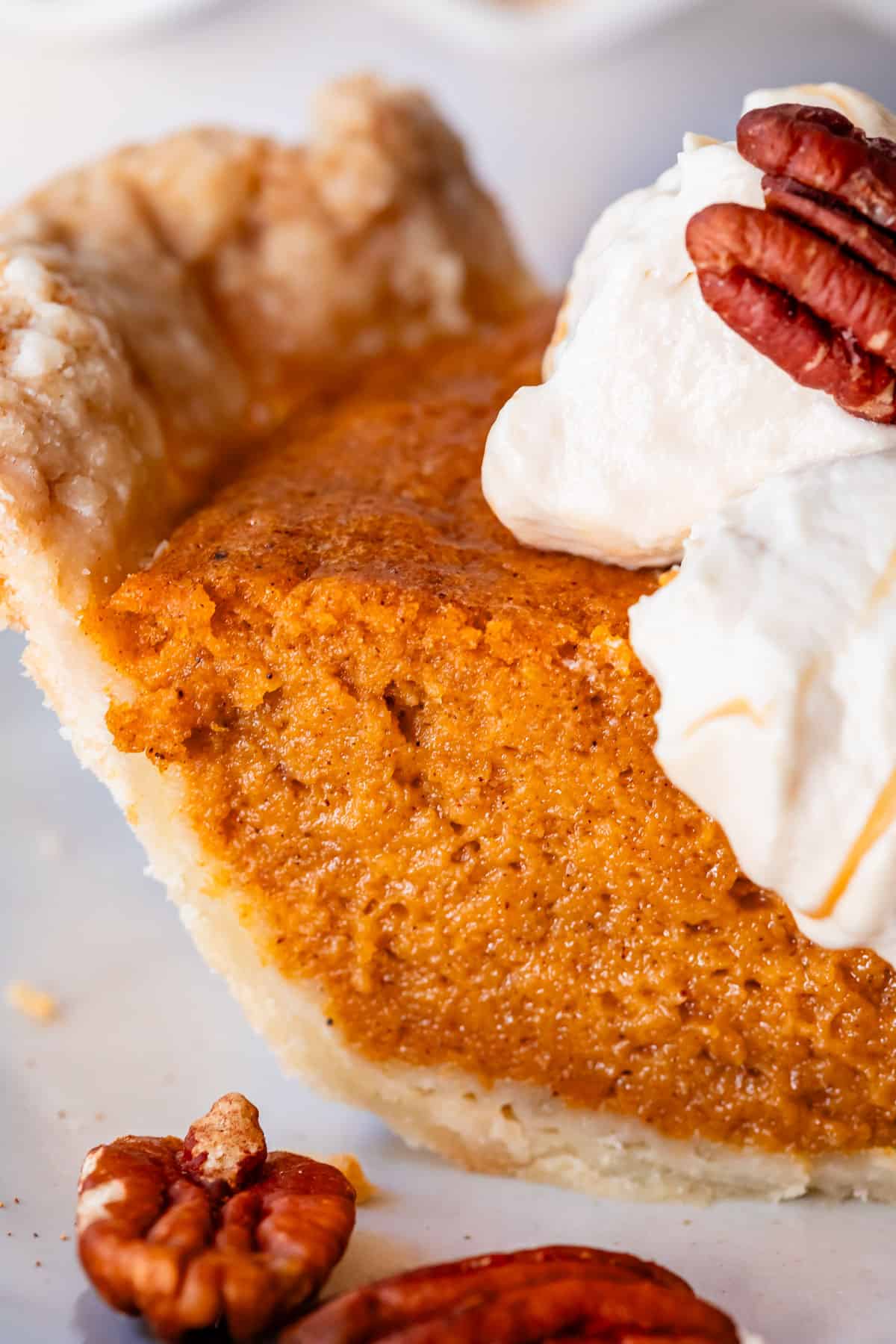 More delicious pies to fill your plate
Pie: dessert of the gods. It definitely deserves to have its own special category around the holidays. Here are some of my favorite and most popular pies!
Love sweet potato recipes? Me too!
Sweet potato isn't just for pie. Check out some of my top sweet potato recipes you can use during the dinner portion of a meal!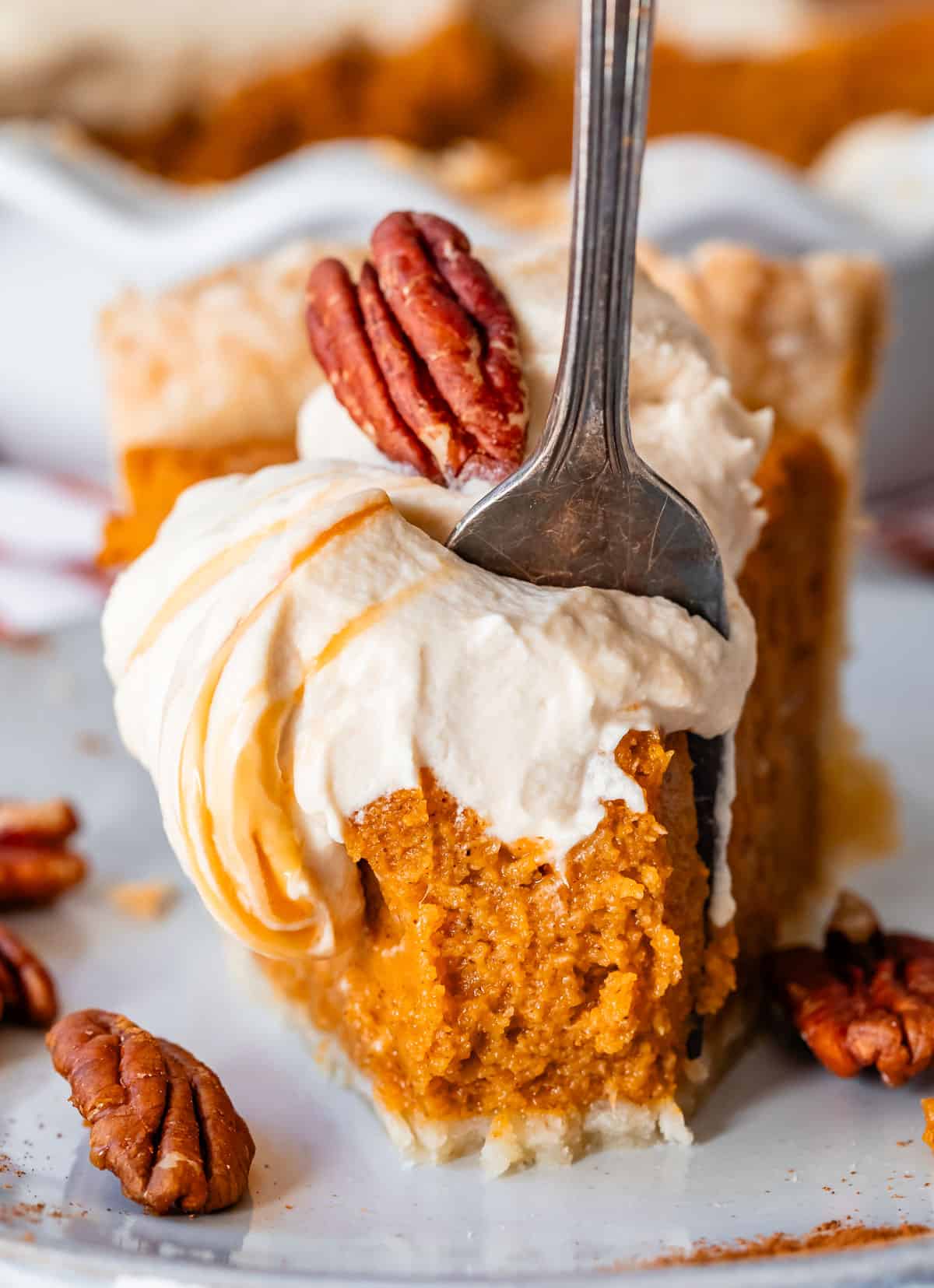 Facebook | Pinterest | Instagram

Sweet Potato Pie Recipe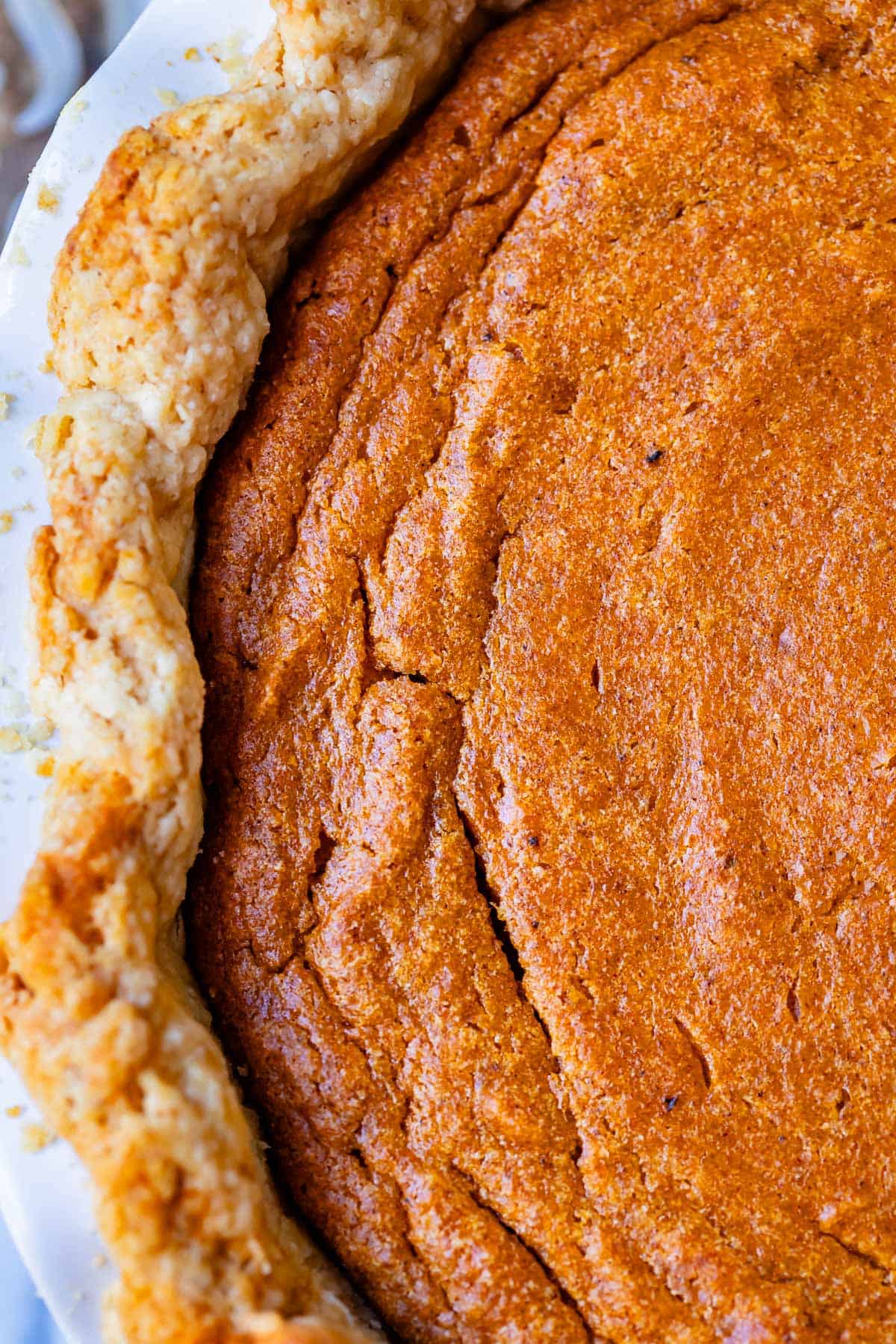 This Sweet Potato Pie recipe is the dessert of your southern dreams! Sweet potatoes are roasted in the oven until caramelized and flavorful, then whipped into a super light and fluffy custard. A par-baked homemade pie crust gives it a perfect crispy-flaky edge. Finish it off with 3-ingredient caramel whipped cream! I will show you how to make it with step by step photos.
Ingredients
1

homemade pie crust,

par-baked (my recipe makes 2 crusts)

2

large round

sweet potatoes

,

you need at least 1 and 3/4 pounds

1

teaspoon

olive oil

,

for rubbing on sweet potatoes

3

tablespoons

butter

,

melted

3

large

eggs

,

separated

1

cup

buttermilk

,

1.5% milkfat or higher*

1/2

cup

brown sugar

,

packed

1/2

cup

granulated sugar

1

tablespoon

vanilla extract**

2

tablespoons

all purpose flour

1

teaspoon

kosher salt

2

teaspoon

cinnamon

1/2

teaspoon

ground ginger

1/2

teaspoon

fresh nutmeg

,

or 1/2 teaspoon ground nutmeg

1/2

teaspoon

allspice

1/8

teaspoon

cardamom

1/8

teaspoon

black pepper
For the (OPTIONAL) Praline Topping
1/2

cup

all purpose flour

6

tablespoons

brown sugar

,

packed

6

tablespoons

granulated sugar

1/2

teaspoon

kosher salt

1/2

teaspoon

cinnamon

1

cup

chopped pecans

1

large

egg

,

beaten

6

tablespoons

butter

,

melted
For the Salted Caramel Whipped Cream
1/2

cup

salted caramel sauce

,

CHILLED

1 & 3/4

cup

heavy whipping cream

1/4

teaspoon

kosher salt
Instructions
Prepare and Par-Bake your pie crust. Use my recipe for Flaky Pie Crust, then follow the instructions for Par-baking on my post for How to Blind Bake a Pie Crust. Follow instructions for baking the crust (with weights) at 425 for 15 minutes, then removing the weights and baking another 3 minutes, until the center of the pie crust is just barely blonde and matte. Set aside your par-baked crust to cool.

(You do not HAVE to par bake your pie crust.*** Your pie will be fine. But you risk the crust being gummy on the bottom and not perfectly flaky. This is a bit more of a texture issue with sweet potato pie, since the filling is already so soft. You need a bit of flaky crispness for contrast. I highly recommend par-baking!)

Roast the sweet potatoes: Preheat your oven to 400 degrees F. Wash and scrub 2 (large) or 3 (small) sweet potatoes, you want to make sure you have about 1 and 3/4 pounds total. Place them on a baking sheet poke each potato a few times on each side with a paring knife, reaching nice and deep. Drizzle with 1 teaspoon olive oil and rub to coat.

Roast the sweet potatoes at 400 for about 50 minutes. Check them with a fork: it should slide right through to the center easily. Leave them in a few more minutes if the center is still hard. Remove from the oven and let cool until you can reasonably handle them.

Lower the oven temperature to 350 degrees F. Place a sturdy baking sheet in the oven to heat. If you have a pizza stone or pizza steel, place it in the oven (with the baking sheet on top). Pizza stones do wonders for regulating oven temperatures, especially toward the end of baking when you have to open the oven to check your pie.

Peel each sweet potato. The skins should come right off easily. Give your potato a taste. See, isn't it so good??

Add all the sweet potato flesh to a food processor and process on low for a minute, then on high for another minute. Make sure all the little stringies are broken up. Don't skip this step! Processing is what gives our pie that perfectly smooth texture. (If you don't have a food processor, I would use a hand mixer, or a potato masher as a last result.)

Make the pie filling. Measure out 2 cups of sweet potato puree and add to a large bowl or stand mixer. (Treat yourself to the remaining sweet potato puree. Eat it with some salt and a pat of butter, or straight off the spoon, baby food style. I'm telling you, it's so so good!)

Add 3 tablespoons melted butter and give it a stir.

Add 3 large egg yolks to the sweet potatoes. Add the egg whites to a separate bowl (to be beaten later.)

Add 1 cup thick buttermilk, 1/2 cup packed brown sugar, and 1/2 cup granulated sugar.

In a small cereal bowl, add 2 tablespoons flour, 1 teaspoon kosher salt, 2 teaspoons cinnamon, 1/2 teaspoon ground ginger, 1/2 teaspoon fresh nutmeg, 1/2 teaspoon allspice, 1/8 teaspoon cardamom, and 1/8 teaspoon black pepper.

Whisk to combine the dry ingredients, then add to the sweet potato mixture and combine well, scraping the sides of the bowl, until thoroughly mixed.

Use a hand mixer to beat the 3 egg whites in the other bowl. Beat them for at least 2-4 minutes, until stiff peaks have formed (see photo). Use a rubber spatula to gently fold the egg whites into the sweet potato mixture. Keep folding until there are no white streaks.

Make a tin foil pie-shield. Fold a square piece of foil (about the size of your pie) in half, then in half again. Cut out the center. (See my Flaky Pie Crust post for pictures of this). Unfold, then carefully mold the foil around the edges of your par-baked pie crust. This will prevent the crust from over browning. Do not cover the center of the pie at all. It should be completely exposed.

(If you did not par-bake your crust, remove the pie from the oven at the halfway mark, then cover edges and return to finish baking.)

Bake. Place the pie on the heated baking sheet. Bake at 350 for about 50-55 minutes, until the edges are firm and the center jiggles when you shake the pan. The edges should be puffy and domed, and the center slightly sunken. The center should look jiggly like jello, not sloshy or liquid-y. It will continue setting up as it cools. Over baking causes cracks and a dry texture.

Let the pie cool on a wire rack for about 4 hours, until room temperature, then cover and transfer to the fridge if you like chilled pie. This pie can be served room temperature or chilled.

Make the whipped cream: When you are ready to serve your pie, make the whipped cream. Add 1/2 cup CHILLED caramel sauce to a large bowl or mixer. Use the whisk attachment to beat the caramel until it is light and frothy, at least 2 minutes on high, making sure to scrape the edges.

With the mixer running, slowly add 1 and 3/4 cup heavy whipping cream. Add 1/4 teaspoon kosher salt. Continue beating on high for 1-3 minutes until soft peaks form.

Garnish the top of the pie, or each individual slice, with the salted caramel whipped cream.

OPTIONAL Praline topping: In a medium bowl, add 1/2 cup flour, 6 tablespoons brown sugar, 6 tablespoons white sugar, 1/2 teaspoon kosher salt, 1/2 teaspoon cinnamon, and 1 cup chopped pecans. Stir together.

In another bowl, microwave 6 tablespoons butter until barely melted. (if you get it too hot, let cool for a couple minutes.) Add 1 beaten egg while whisking with a fork. Add the liquid to the nut mixture and mix until barely combined.

After the pie has been baking as instructed for 30 minutes, remove the baking sheet from the oven and carefully add the praline topping all over the pie using small spoonfuls to evenly distribute. Return the pie to the oven (crust still covered, but praline not covered!) and bake for another 20-30 minutes until the top is browned and crisp. Follow instructions for cooling and serving.
Notes
*You need a fatty buttermilk. It should be nice and thick when you pour it. If you can only find buttermilk that has more of a milk consistency, then use half buttermilk and half heavy cream in this recipe.
**You can replace this vanilla with 1-2 tablespoon bourbon (or other booze) or real maple syrup.
***If you choose not to par-bake, just roll out your pie shell, crimp the edges, and keep it chilled in the fridge until you are ready to add your sweet potato filling. Then bake as directed. You still might need a pie shield toward the end of baking, check toward the edge to see if your crusts are getting t0o brown.
Nutrition facts do not include the optional praline topping, but it does include the whipped cream.
Nutrition
Calories:
406
kcal
|
Carbohydrates:
40
g
|
Protein:
5
g
|
Fat:
26
g
|
Saturated Fat:
14
g
|
Polyunsaturated Fat:
2
g
|
Monounsaturated Fat:
8
g
|
Trans Fat:
0.1
g
|
Cholesterol:
115
mg
|
Sodium:
487
mg
|
Potassium:
142
mg
|
Fiber:
1
g
|
Sugar:
30
g
|
Vitamin A:
879
IU
|
Vitamin C:
0.4
mg
|
Calcium:
88
mg
|
Iron:
1
mg