This delicious custardy, cranberry pie recipe has everything. Creamy, sweet custard meets bright, tart cranberry, all wrapped up in a buttery, flaky pie crust! This gorgeous make-ahead pie is perfect for the holidays!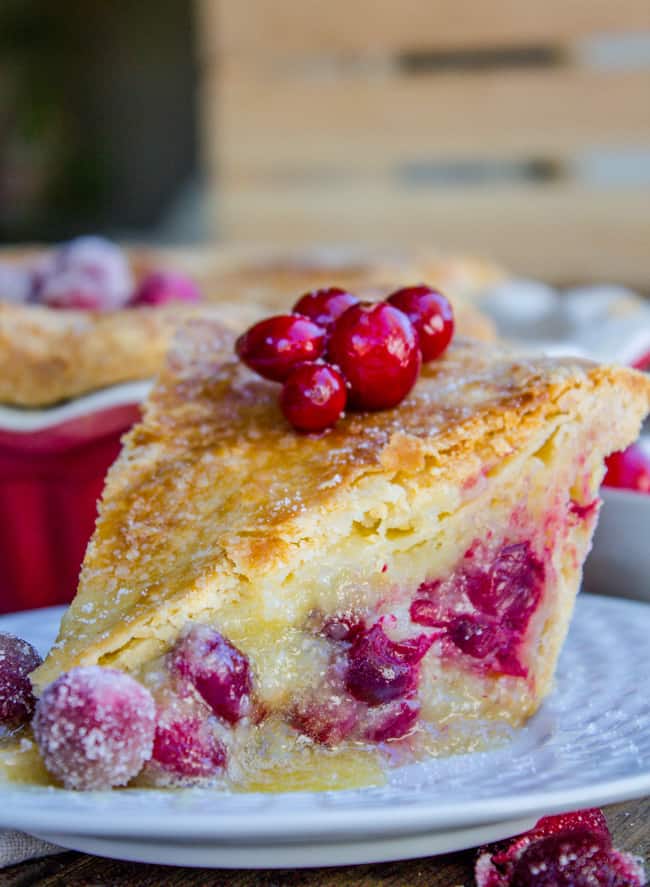 Originally posted October 22, 2015. Here's a flashback:
I found out today that my eyebrows are two different colors. For real. How I have gone my entire life without realizing this is beyond me.
It was the girl at the MAC counter who told me. I am a decidedly un-girly person in many ways, so just the fact that I was at the Mac counter in the first place requires explanation: tomorrow at 8am I am going to be talking about pie on LIVE television.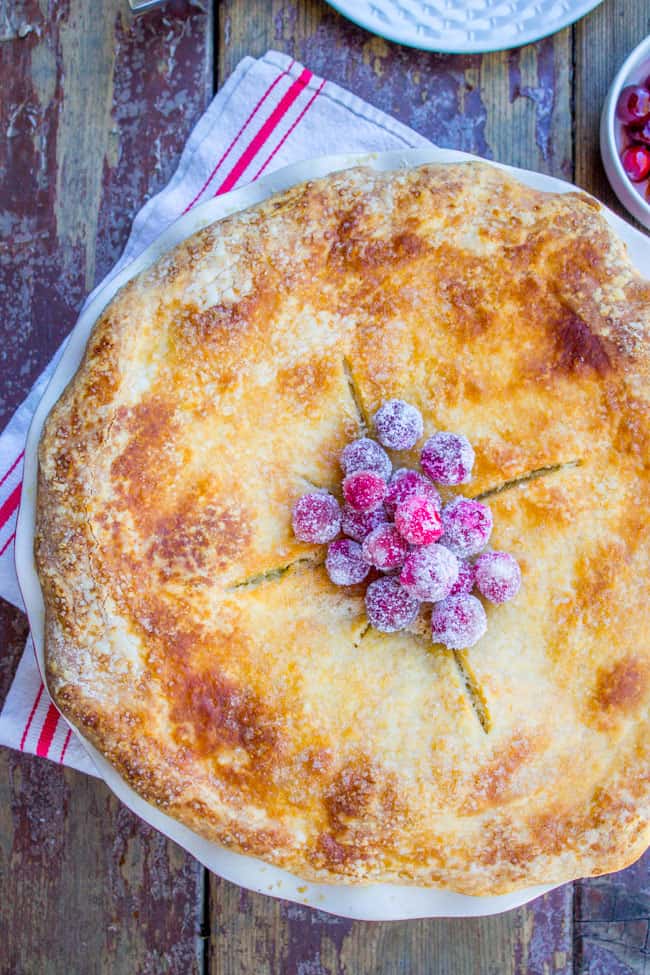 Don't get me wrong. I think I'm okay looking. But when someone tells you you're going to be on LIVE TV, all the sudden your "bushy eyebrows are cool" and "$6 Target tees are okay by me" mantras get tossed out the window, and you start texting all your friends who know stuff about clothes and makeup to HELP PLEASE, don't let me go on live television with caveman eyebrows.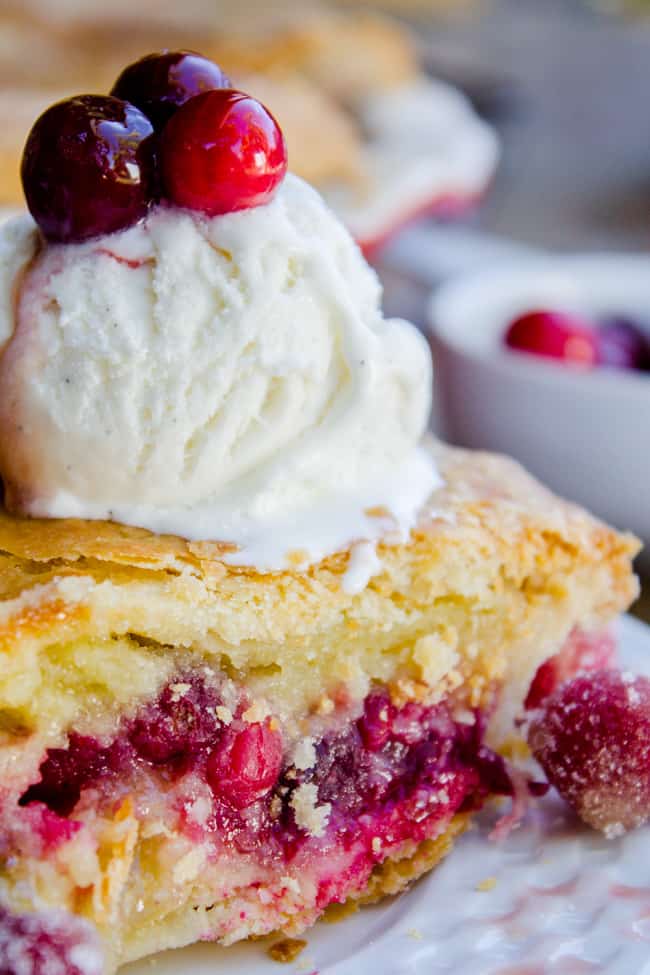 And then the Mac lady tells you your eyebrows are 2 different colors. I'm just happy the truth came on a day when I was feeling SO SECURE.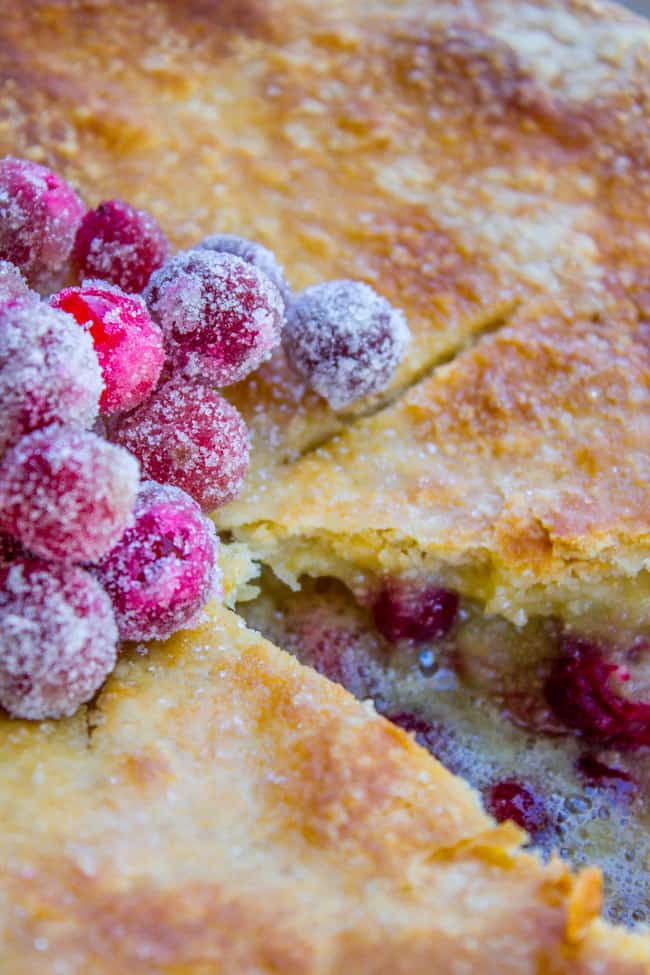 How to make custard pie
Have you guys ever had Rhubarb Custard Pie? It is the stuff of legends. No really, Eric's family has been making it for years, and when I finally tried it for the first time last year I thought I was actually going to die of happiness. It is absolutely my favorite pie. The sad part is that I can't have it whenever I want. Rhubarb has a pretty short season in the grocery stores, which is such a joke because it grows like a weed.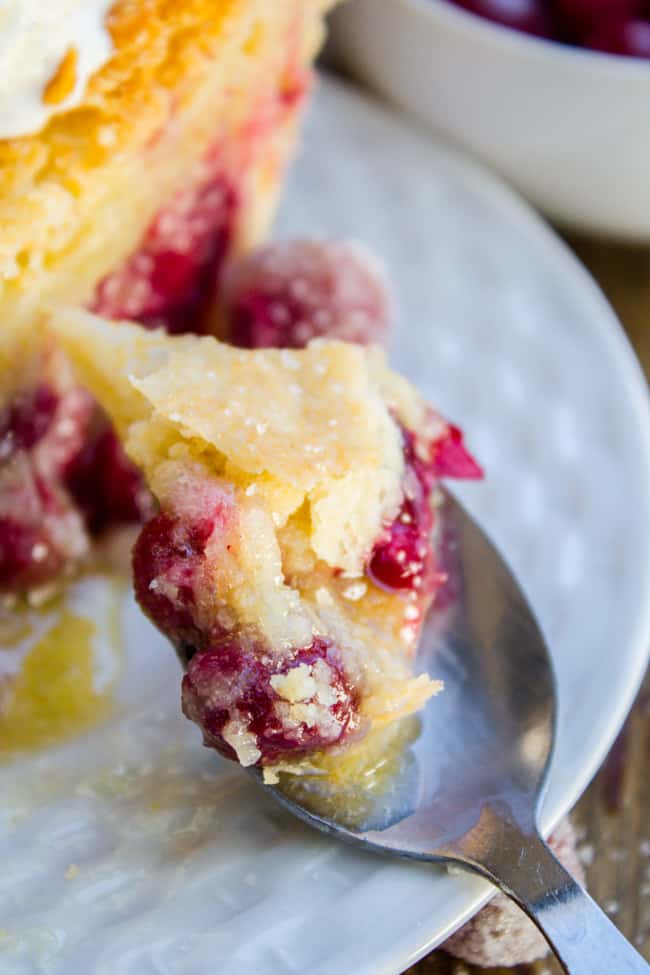 I wanted to recreate the pie using cranberries, my other favorite super-tart-short-season fruit. The thing about cranberry pie is that people are always mixing it with other fruit, like apples and stuff. I'm a cranberry purist. But if you just cook cranberries with sugar, then you essentially have cranberry-sauce-pie, which isn't what I wanted. I wanted creamy, rich custard with bursts of tart cranberry flavor throughout.
If at first you don't succeed, pie, pie again
It turned out awesome! At least it did by the 4th or 5th trial. I lost count. Anyone want pie? There is a lot of pie at my house. How bout a too-runny pie? Or a too-tart pie?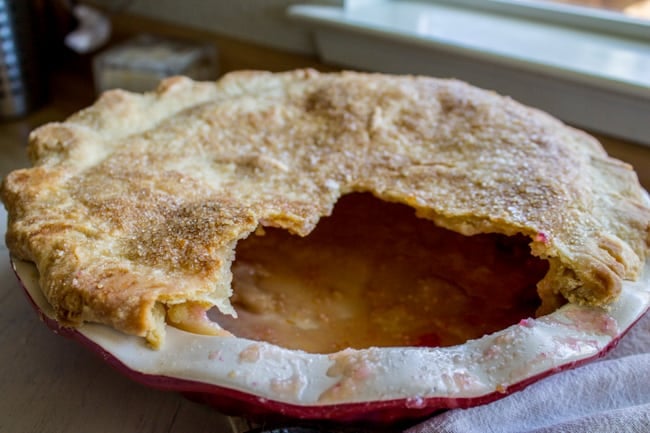 Hey, all I can say is that a reject pie is STILL PIE. If you want the final version you better come like right now because I am eating this thing for breakfast lunch and dinner over here.
Cranberry Pie Filling with Custard
Here's how to make it for real. Just look at all that custard!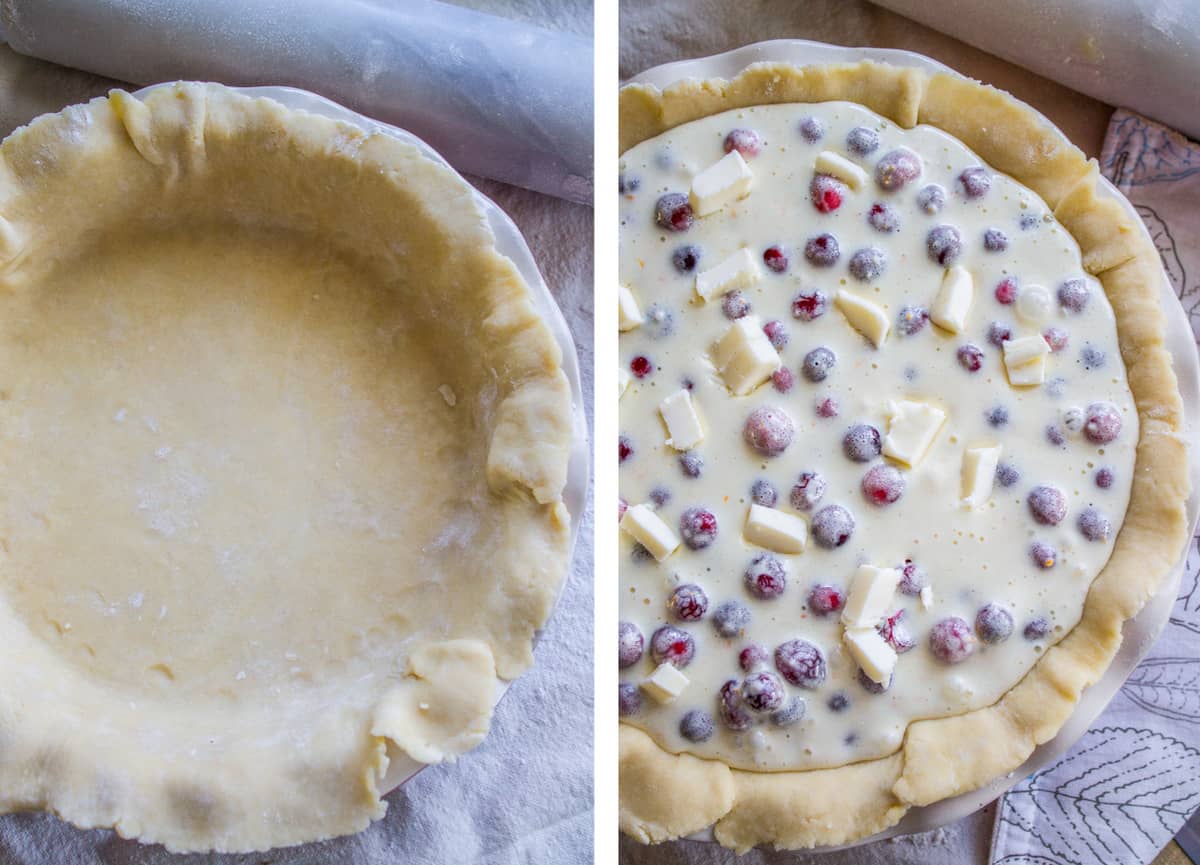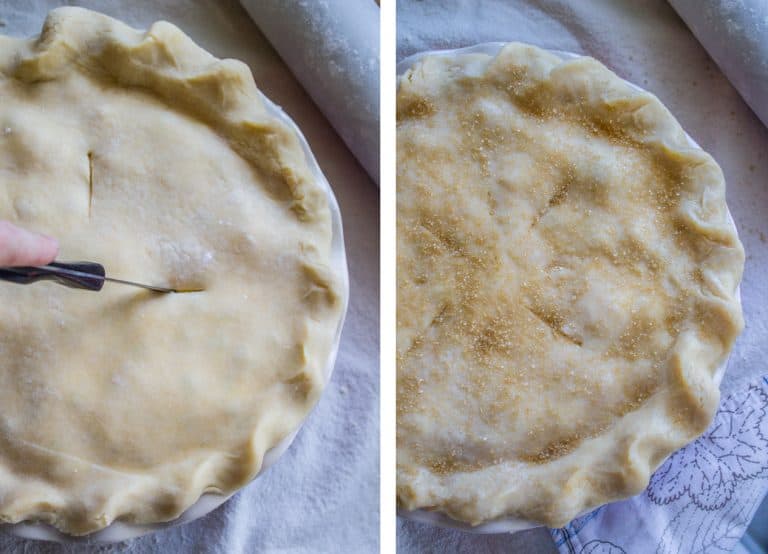 This is my new favorite pie to make for the holidays! It would be such a fun change from pumpkin and pecan on Thanksgiving, and so pretty and colorful for Christmas.
P.S. If you live in Sacramento and you want to see just how mismatched my eyebrows really are, tune in to Fox 40 KTXL at 8am on October 23rd! (If you're not local, I'll post a clip later.) UPDATED: Here is the link to the news clip.
P.P.S. This pie is AMAZING when served with Sugared Cranberries. They are super easy. Check out the recipe here!
NEVER enough pie:
The original, legendary Rhubarb Custard Pie: << the recipe that today's pie is adapted from
Peach Custard Pie: << I'm telling you, custard pie is where it's at. This is the only type of peach pie I will eat.
Pecan Pie Recipe with Buttery Streusel Topping << you might think this sounds too sweet but you're wrong. It's PERFECTION.
Apple Custard Pie with Cinnamon Streusel << the only way I will eat apple pie. I told you I was obsessed with custard pie right??
Butterscotch Pie with Meringue Topping << This is a classic. Butterscotch and meringue were meant to be!!
Crème Brulée Pumpkin Pie << my favorite way to eat pumpkin pie. No custard, but that's because pumpkin pie is already basically pumpkin. Torch the top with sugar instead!
More great cranberry recipes
Brown Butter Cranberry Tart <<this is a personal favorite of mine! I just love cranberries.
Cranberry Cake with Warm Vanilla Butter Sauce << This is so divine! A family favorite!
Cranberry Cherry Pie with Almond Glaze << OK, I realize I'm a hypocrite as I just said I'm a cranberry purist but I've grown up since I originally posted this, what can I say?
White Chocolate Cranberry Cookies << the combination of white chocolate and cranberry is the best, right?
Cranberry Cheesecake Pie from Bake or Break
Facebook | Pinterest | Instagram

Cranberry Custard Pie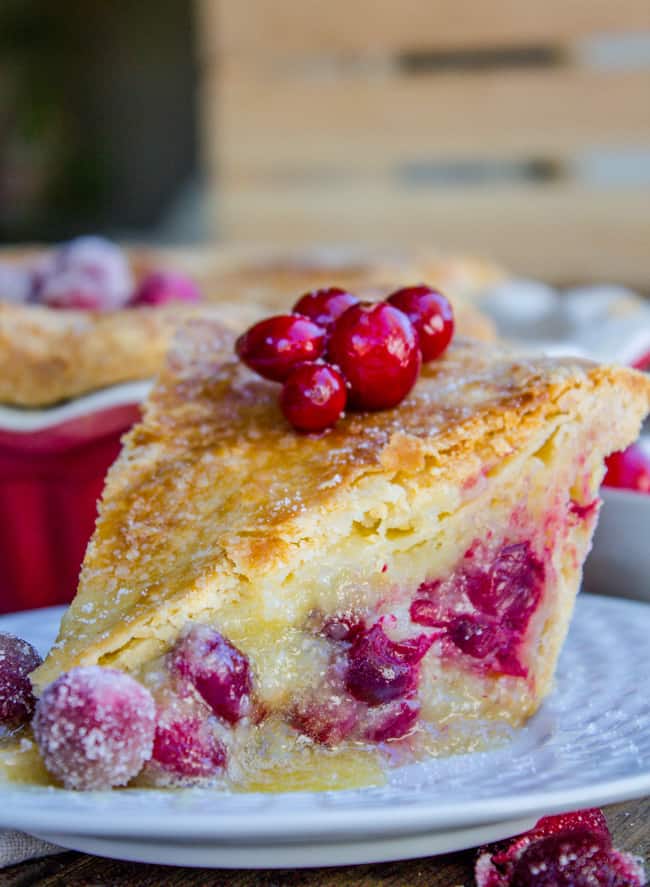 This delicious custardy, cranberry pie recipe has everything. Creamy, sweet custard meets bright, tart cranberry, all wrapped up in a buttery, flaky pie crust! This gorgeous make-ahead pie is perfect for the holidays!
Ingredients
For the crust:*
1/4

cup

water

,

very cold

2

cups

flour

1 & 1/2

tablespoons

sugar

1

teaspoon

salt

1/2

cup

shortening

,

butter flavored

6

tablespoons

salted butter

1/2

egg

,

beaten
For the pie:
4

eggs

2

cups

granulated sugar

1/4

cup

cornstarch

1/2

teaspoon

salt

1/2

cup

flour

,

spooned and leveled

3

cups

cranberries

,

raw, if frozen, thaw them first

2

tablespoons

butter

,

cold, cut into pieces

water

,

for brushing

coarse sugar

,

for sprinkling

Sugared cranberries,

for garnish
Instructions
For the crust:
Measure out 1/4 cup water into a glass measuring cup and stick it in the freezer.

In a large bowl, whisk together flour, sugar, and salt.

Use a pastry cutter or fork to cut in the shortening and 6 tablespoons butter. Cut until it looks like coarse crumbs. Don't overdo it!

In a small bowl beat one egg. Pour out half (into the sink or into another container, or heck, into a frying pan if you're hungry). You can just eyeball it.

Add the half beaten egg to the cold water that you put in the freezer. Beat it together, then add it to the butter/flour mixture. Stir until it is just coming together, then use your hands to knead it once or twice (only to make it come together). You can add up to a tablespoon more ice water if it is crumbly, though I've never had to do this. Divide the dough in half.

Generously sprinkle flour onto a sheet of parchment paper (or just a very well floured workspace). Roll the dough with a rolling pin into a circle, using as much flour as you need so that it doesn't stick. Invert the parchment paper onto a deep** 9-inch pie pan and gently peel off the paper. Arrange the pie crust and trim edges as necessary.

Repeat with the remaining dough, up until the invert step.
For the pie:
Preheat the oven to 400 F.

In a stand mixer or large bowl, beat eggs on medium speed for about 2 or 3 minutes, until they are a light yellow color.

Add the sugar and beat on medium for one more minute.

Add the cornstarch and combine thoroughly, scraping sides.

Add the salt and flour, and beat well.

Stir in the cranberries with a rubber spatula.

Pour into the prepared pie crust. Sprinkle the 2 tablespoons cut butter evenly over the mixture.

Transfer (invert) the top crust over the pie and seal the edges.

Brush the top crust with water and sprinkle with about a tablespoon of coarse sugar.

Use a sharp knife to vent the pie.

Cover the pie completely with foil that has been sprayed with nonstick spray.

Bake on a cookie sheet (in case it bubbles over) in the preheated oven for 55 minutes.

Uncover the pie and continue to bake for about another 15-17 minutes, or until the crust is firm and golden in the center.

Remove from the oven and let stand until room temperature, several hours or preferably overnight. You can speed things up by putting it in the fridge if you want.

Store covered on the counter. Warning: this means you will take bites of it every time you pass through your kitchen. Sorry in advance.
Notes
*You can totally use store bought pie crusts if you don't love rolling dough!
**Seriously, it needs to be a deep pie dish. If it's not, you won't be able to put in all the filling. Leave out about one cup. (You can bake the extra filling in a ramekin if you want! Tasty crustless custard :)
Nutrition
Calories:
626
kcal
|
Carbohydrates:
90
g
|
Protein:
7
g
|
Fat:
27
g
|
Saturated Fat:
11
g
|
Polyunsaturated Fat:
5
g
|
Monounsaturated Fat:
9
g
|
Trans Fat:
2
g
|
Cholesterol:
122
mg
|
Sodium:
574
mg
|
Potassium:
112
mg
|
Fiber:
3
g
|
Sugar:
54
g
|
Vitamin A:
506
IU
|
Vitamin C:
5
mg
|
Calcium:
27
mg
|
Iron:
2
mg