This Make Ahead Turkey Gravy is so easy and saves tons of time and stress on Thanksgiving Day! No more running around while the turkey gets cold, trying to skim fat and whisk out lumps while everyone stares at you because you misjudged your time and they are starving. (Oh, is this just me??)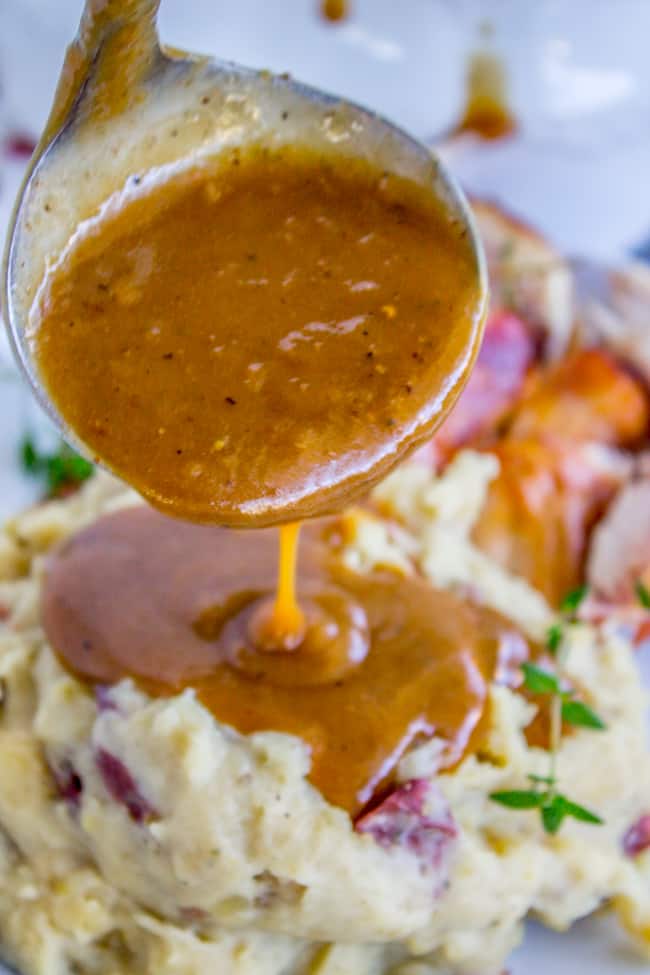 Originally published November 18, 2015
Sometimes when I'm in public I pretend to be a more concerned mother than I actually am. Like when Truman falls and bumps his head and the ENTIRE populace of Starbucks stops in its tracks to make sure he's okay. And what I say out loud is, "Aw, yeah, poor guy, he hit his head!" But what I really want to say is, come on people, this happens every day, let's not get choked up here. Two-year-olds have heads made of STEEL.
It was actually kind of awesome. Truman fell from a barstool and hit the back of his head going down. Before I could maneuver myself to a position where I could pick him up, an Asian man came out of nowhere and swooped Truman up in his arms, then handed him to me. I wish more strangers would do this kind of thing for each other! It was so refreshing.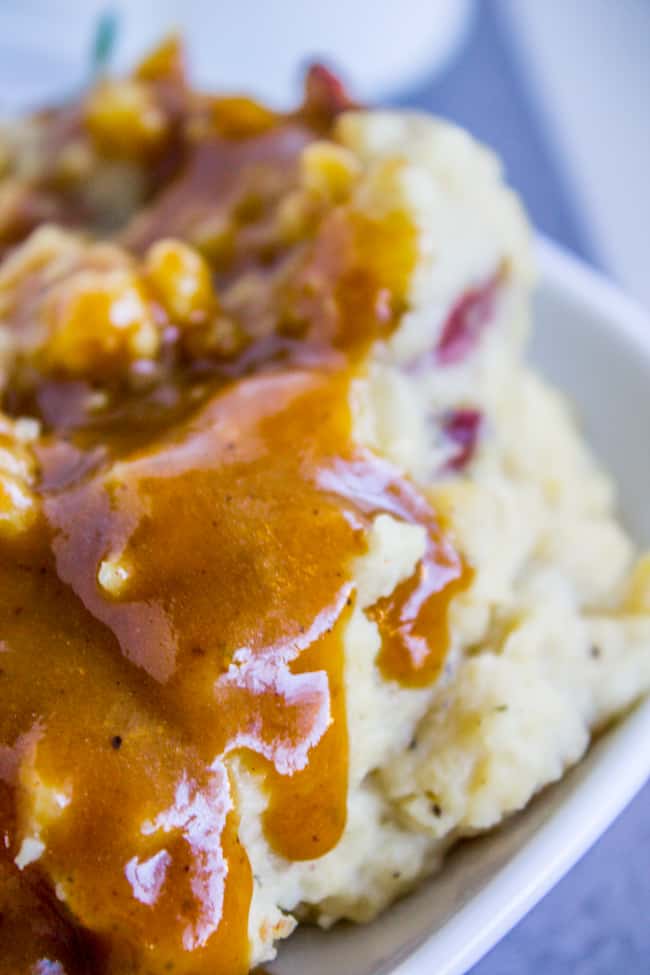 It reminded me of this video Eric showed me about a Japanese reality TV show that films kids as they complete their first errand. Apparently in Japan, parents start sending their kids on short errands when they are very young, like 3-5 years old. This would be impossible here in the US because 1) there are no stores close enough to walk to and 2) children are taught to mistrust adults they don't know. It's the opposite in Japan. Kids there are taught that they can trust adults, even if they are strangers.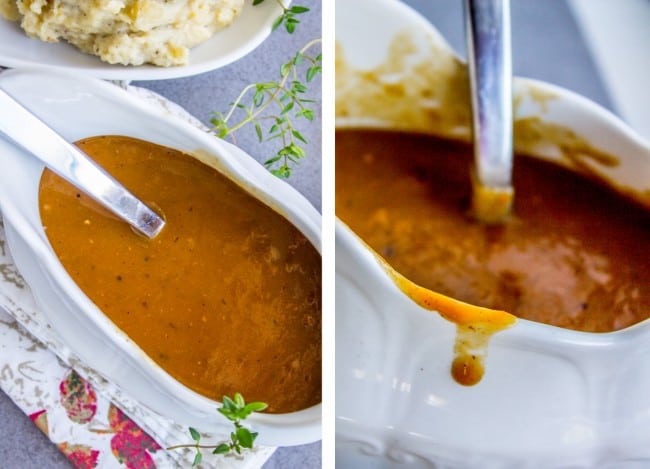 I think this is how the world ought to be, personally. Our culture has taken the distrust so far that I can no longer leave my sleeping son in the car for 5 minutes while I pick up some milk without worrying that someone will take a video and turn me in to the police. We were all raised not to trust each other, and so we don't. A bystander doesn't trust that I'm not negligent, and I don't trust a bystander not to turn me in. It's so sad. I would much rather teach my children that MOST people are kind and well-meaning, with a few who aren't, instead of the other way around.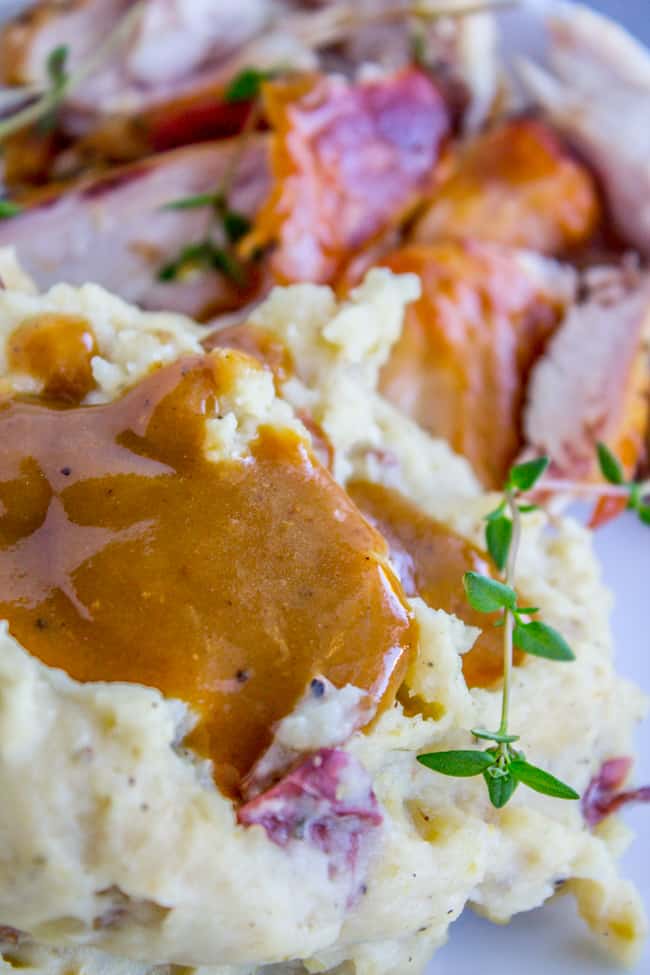 So I really just love it when a random stranger (a MAN, no less, not a fellow mother-warrior) has the guts to scoop up my kid when he falls down, even if it goes against the American "mind your own business" culture. It fills me up when I see people taking care of people. Do you have any opinions about this? I'd love to hear what you think in the comments.
Make Ahead Turkey Gravy
Who loves making gravy at the last minute on Thanksgiving? I just love pulling that bird out of the oven and frantically pouring off the juices to whisk up my homemade gravy. Said no one ever! I feel like gravy is the most stressful part of the entire meal. You need the turkey juices to make it (pray there is enough!), but you can't get the juices until the turkey is done, and then your turkey sits getting cold while you whisk like mad over a hot stove. It's kind of a nightmare.

Enter make-ahead gravy! My mother-in-law Kris has been using this recipe for years and she just told me about it. You use turkey wings and whatever other parts you can find (neck, thighs, whatever), roast them, boil them, and then make a gravy from those drippings.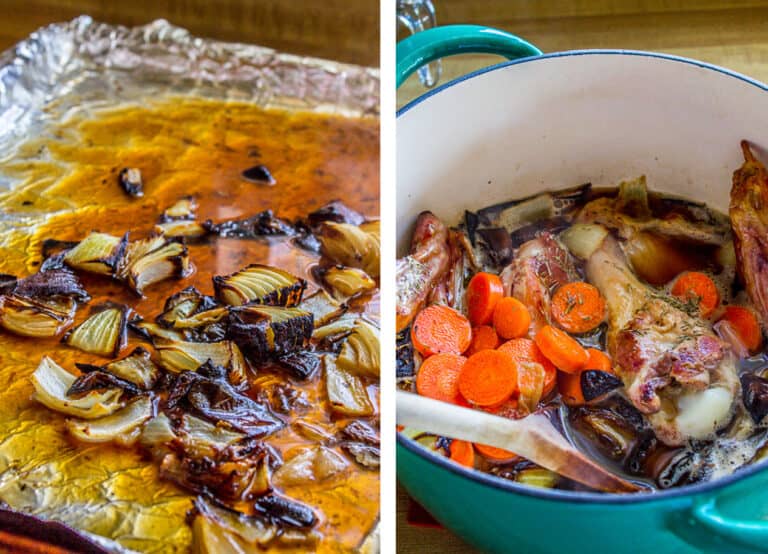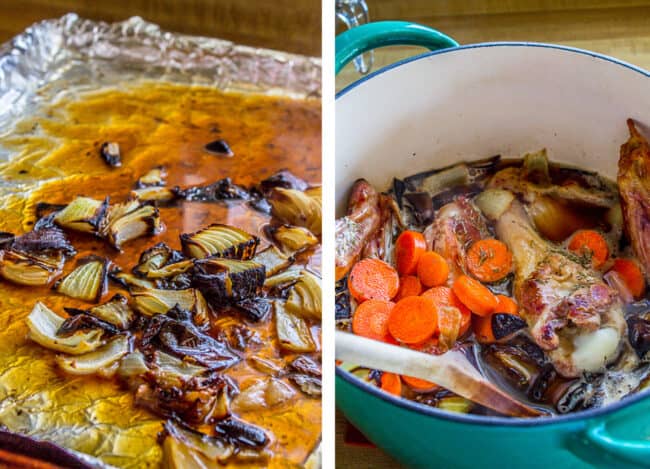 Below on the right is the broth after I froze it for 20 minutes. It makes it so easy to skim the fat! (Update Nov 2017: You can also use a Fat Separator Measuring Cup. They work amazingly well and are way faster. My sister sent me one in the mail after she read on this post (in 2015) that I still put my gravy in the freezer. Thanks Laura!!)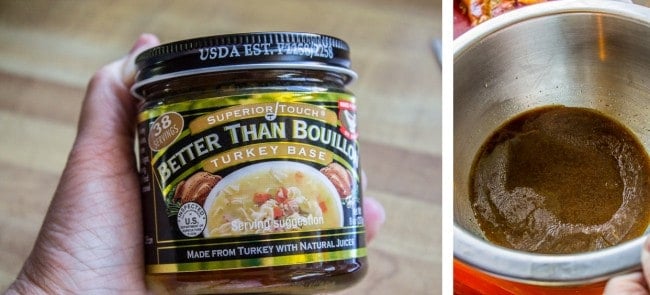 Then you stick it in the freezer and forget about it until a couple hours before you want to eat. You could literally make this gravy TODAY and have one less thing to do on the big day. Mine's already in the freezer ready to go!
More great make ahead recipes for Turkey Day:
Sea Foam Salad (Creamy Pear Jello)
Make Ahead Creamy Italian Mashed Potatoes
Pumpkin Roll with Lots of Cream Cheese
Thanksgiving classics that never fail:
Aunt Shirley's Famous Creamy Mashed Potatoes
Roasted Sweet Potatoes and Brussels Sprouts
Pecan Pie Recipe with Buttery Streusel Topping
Facebook | Pinterest | Instagram

Make Ahead Turkey Gravy for Thanksgiving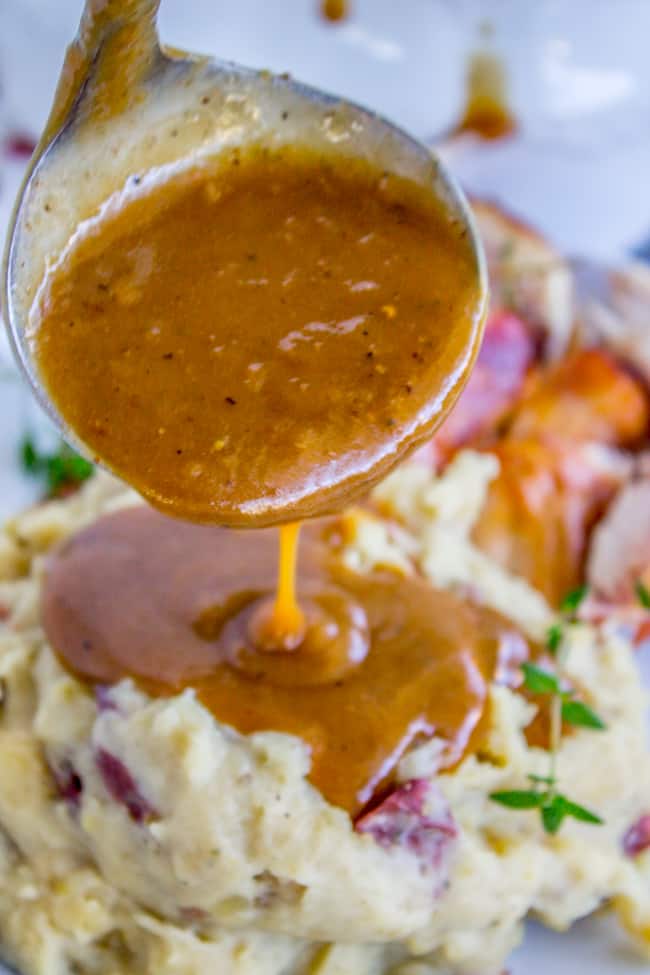 This Make Ahead Turkey Gravy is so easy and saves tons of time and stress on Thanksgiving Day! No more running around while the turkey gets cold, trying to skim fat and whisk out lumps while everyone stares at you because you misjudged your time and they are starving. (Oh, is this just me??) 
Ingredients
4

turkey wings or other parts

,

4 to 5 pounds total

2

medium

onions

,

roughly chopped

1

cup

water

6

cups

chicken broth

,

*

1-2

carrots

,

chopped

½

teaspoon

thyme

,

dried

3/4

cup

all-purpose flour

2

cups

chicken broth

,

*

2

tablespoons

butter

1/2

teaspoon

ground pepper

,

more to taste

1/2 to 1

teaspoon

salt
Instructions
Preheat your oven to 400 degrees F. Lightly grease a large baking sheet. (I used foil in the photo above out of habit, but there is no need.)

Place wings and other turkey parts on the pan. Scatter the onions over the pan.

Roast at 400 for 1 hour, up to an hour and 15 minutes. Make sure the parts are browned on top.

Remove the turkey parts to a large stock pot.

Place the baking sheet over two burners on your stove and turn both of them up to medium. Add 1 cup water and use a wooden spoon to stir up all the browned bits. When the bottom of the pan is clean, scrape the water into the pot with the turkey.

Add 6 cups chicken broth (or 6 cups water and 6 teaspoons turkey base.) Add the chopped carrots and the thyme.

Simmer uncovered for about 1 and 1/2 hours.

Remove the turkey parts and set aside. (You can pull off the meat and save it for something else, but I found that it was pretty tough.)

Pour the remaining onion and carrot mixture through a colander into a bowl. (You can discard the veggies or snack on them).

At this point I stuck the bowl in the freezer for about 20 minutes so that it was easy to skim the fat from the top.

Pour the broth back into the pot. Bring to a gentle boil.

Whisk together the flour and 2 cups broth, making sure to get out all the lumps.

Slowly whisk the flour mixture into the broth. Boil for 5 minutes, stirring. Stir in butter, pepper, and salt.

Taste it and see what you think. You can add more salt, pepper, thyme, or up to 1 teaspoon of turkey base.

Let cool and freeze in ziplock bags. Let the gravy thaw in the fridge overnight, or just stick it in the microwave.

If you are making a turkey on the day you plan to serve this gravy, add the fat-skimmed pan drippings to the gravy!
Notes
You can see in the photos that my roasting pan is lined with aluminum foil, but you don't need to worry about doing that since you want to scrape the browned bits anyway. I just did it out of habit. I used heavy duty foil and it worked out okay.
*Instead of chicken broth, I used Turkey Base from Better Than Bouillon. 1 teaspoon + 1 cup water = 1 cup broth. It has a really rich flavor and is perfect for making a very turkey-tasting gravy.
Nutrition
Serving:
0.3
cup
|
Calories:
175
kcal
|
Carbohydrates:
9
g
|
Protein:
13
g
|
Fat:
9
g
|
Saturated Fat:
3
g
|
Polyunsaturated Fat:
2
g
|
Monounsaturated Fat:
3
g
|
Trans Fat:
1
g
|
Cholesterol:
45
mg
|
Sodium:
724
mg
|
Potassium:
316
mg
|
Fiber:
1
g
|
Sugar:
1
g
|
Vitamin A:
922
IU
|
Vitamin C:
13
mg
|
Calcium:
26
mg
|
Iron:
1
mg