This warm, gooey Chocolate Chip Pie tastes like a soft-baked chocolate chip cookie. Except that it's encased in a buttery, flakey pie crust. It is completely irresistible, and so rich that a scoop of vanilla ice cream is necessary.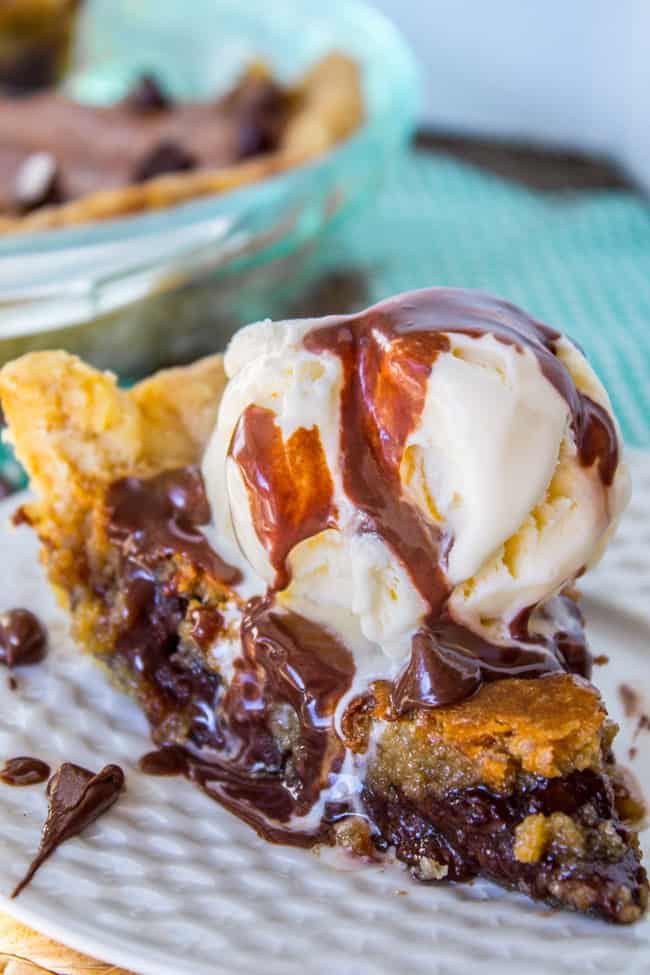 Originally published June 26, 2016
We are going to the beach tomorrow! The kids are super excited, especially since I promised to actually bring sweaters and shoes this time. (Northern California beaches are not exactly warm.)
Now I am faced with how to dress myself and the giant baby growing in my belly. I wore my regular swimsuit to a pool party last week and the straps were cutting into my shoulders so bad that I thought I would lose circulation in my arms permanently.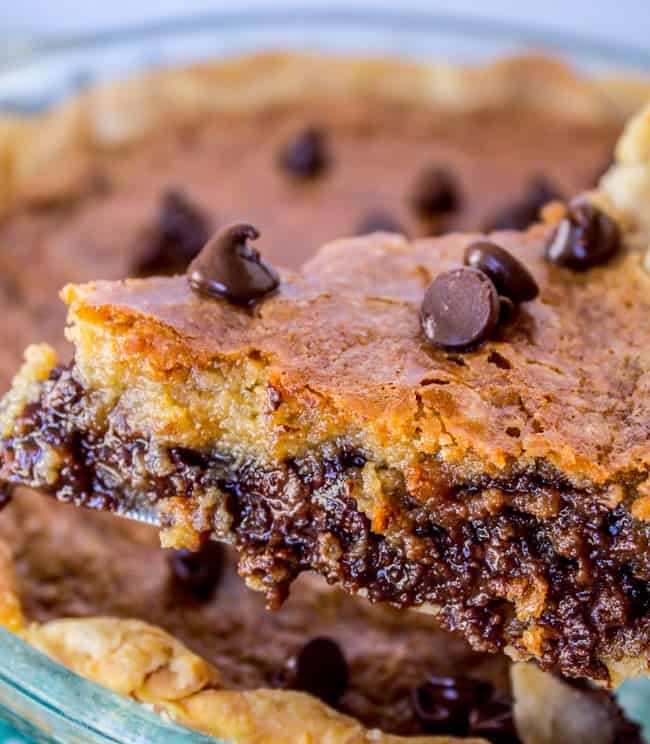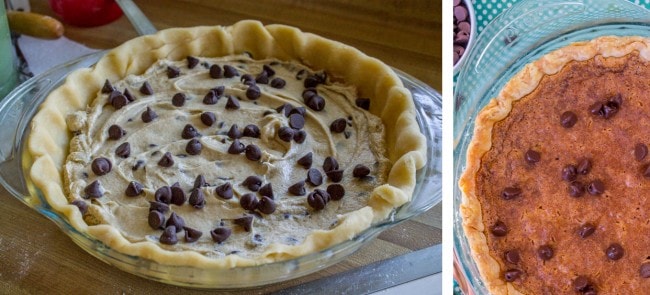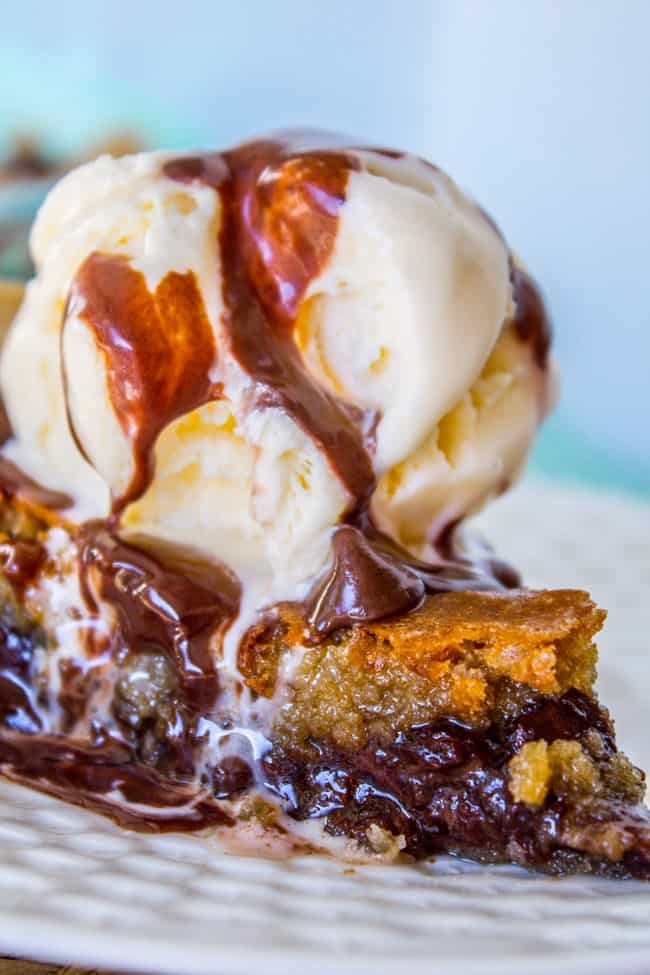 Technically I have a maternity swimsuit. But it's in Texas. My best friend Sarah and I share maternity clothes. She has 4 kids, this is my third, and every time one of us is pregnant we just send the whole box of clothes to the other one, adding as we go. It's awesome. And cheap.
Sarah is moving from Texas to the Bay Area in just a couple weeks (hooray!!) and she is bringing the clothes with her. Meanwhile, I'm starting to look like Baby Beluga over here.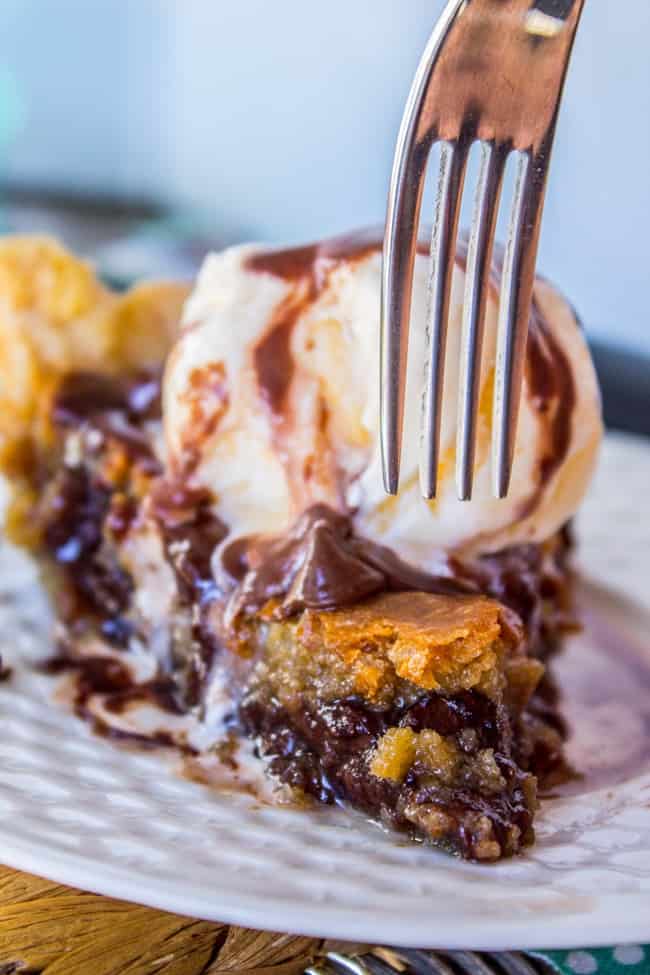 The nice thing about maternity clothes is that they make you look pregnant. Which is much better than wearing big shirts and unbuttoned pants, let me tell you. People don't realize I'm pregnant, and instead assume I'm just kinda porky. They probably think, "Man that girl is getting so fat she almost looks pregnant." Awesome.
To reinforce this idea, I have been eating copious amounts of THE Chocolate Chip Pie. I am literally eating a slice right now. There is chocolate all over my computer. And my camera. I have zero regrets.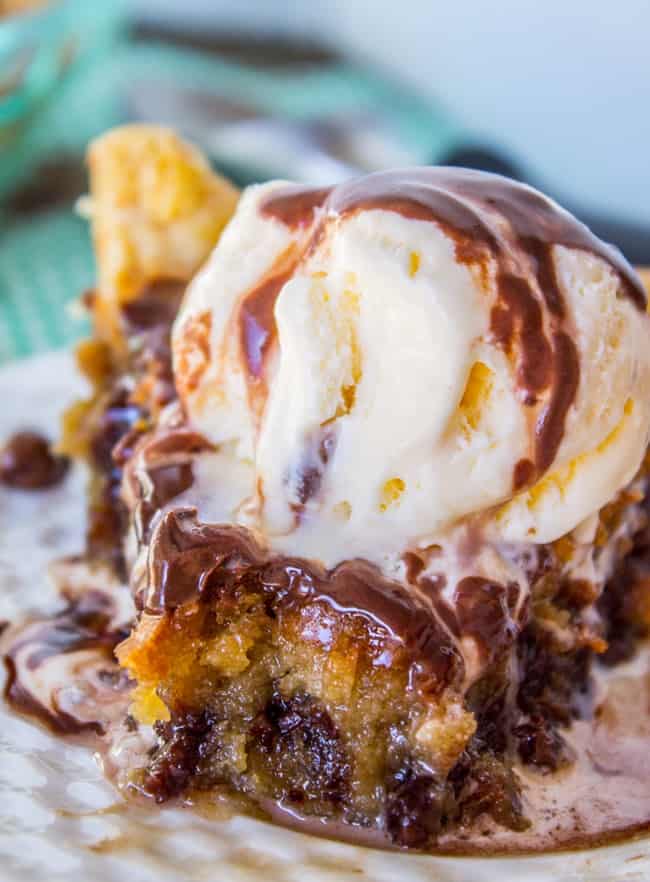 How to make THE Chocolate Chip Pie
I've eaten this pie a ton of times but I've never made it before. It is a classic at church potlucks around here. (And by around here I mean everywhere. Have you had it?)
THIS PIE, you guys. It's out of control. Imagine the flakiest, butteriest crust, filled with hot melty center-of-a-chocolate-chip-cookie. If I could bake cookies and just eat the center of every one, I would. This is an ENTIRE PIE of that. I almost want to call it Extra Warm and Gooey Chocolate Chip Cookie Dough Pie.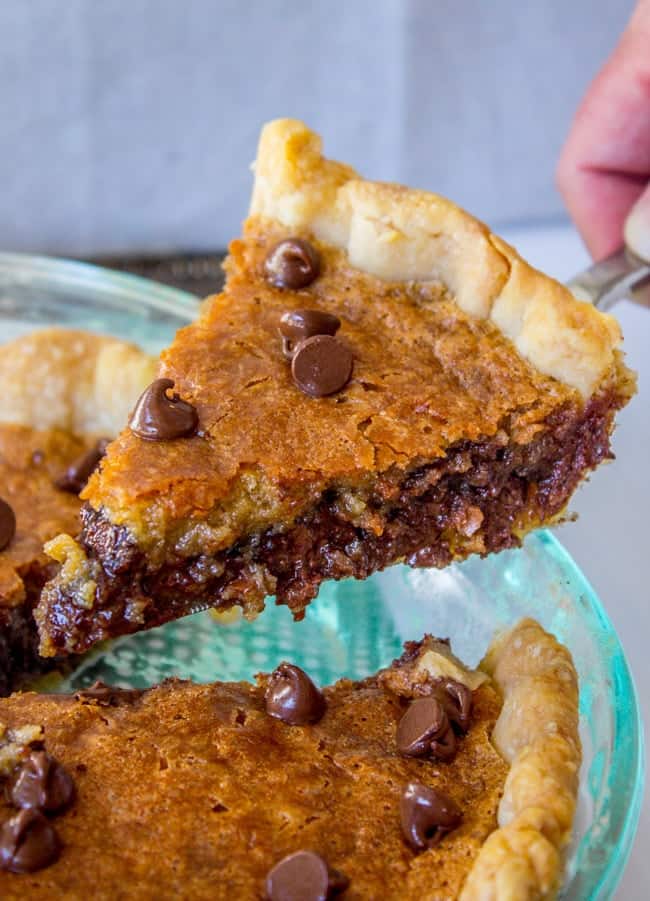 The recipe is a Nestle original I believe, just like the Toll House cookie. I only made 2 changes: add salt and vanilla. There's no baking soda or anything, so it turns out super fudgy and not cakey at all. And you are supposed to take it out before it fully cookie-ifies. Embrace the gooeyness.
This would be totally perfect to serve at your 4th of July festivities!
Two years ago: Brownie-Stuffed Chocolate Chip Cookies
Four years ago: Maple Pecan Buttercream Frosting
Six years ago: Cake Mix Coffee Cake
Facebook | Pinterest | Instagram | Twitter

THE Chocolate Chip Pie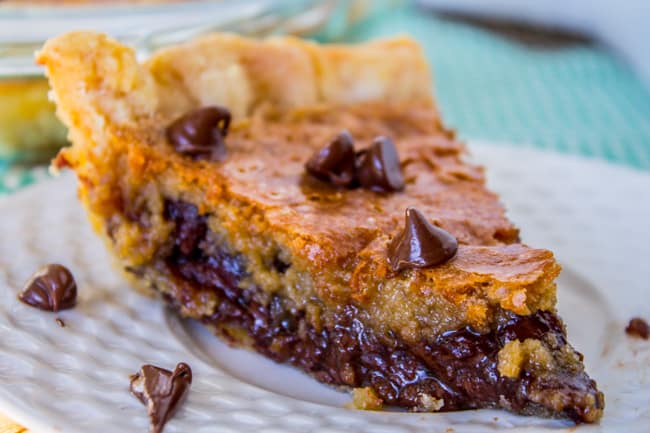 This warm, gooey Chocolate Chip Pie tastes like a soft-baked chocolate chip cookie in a buttery, flakey crust. A scoop of vanilla ice cream is necessary.
Ingredients
2

large eggs

1 & 1/2

teaspoons

vanilla

1/2

teaspoon

salt

1/2

cup

white sugar

1/2

cup

brown sugar

1/2

cup

+ 1 tablespoon flour

,

spooned and leveled

3/4

cup

butter

,

very soft** (1 & 1/2 sticks)

1 & 1/4

cups

semi sweet chocolate chips

1

cup

chopped nuts

,

if you must. I wisely left them out.

Vanilla ice cream

,

to serve

hot fudge or ganache

,

to serve
Instructions
Preheat your oven to 325 degrees F.

Lay out your pie crust in a 9-inch pie pan. Crimp the edges however you like. Set aside.

In a large bowl or stand mixer, beat 2 eggs until they are light and fluffy. Add the vanilla and salt and mix.

Beat in both sugars, then add the flour. Beat well.

Add the very soft butter. (If it's cold it's won't beat in and you will get butter chunks in your batter, which will not turn out well.) Beat well, scraping sides and bottom of bowl.

Add the chocolate chips and mix. The batter is super grainy! It's supposed to be thin, don't add more flour.

Scrape the batter into the prepared pie crust and smooth it out.

Bake at 325 for 50-55 minutes. Test the pie with a knife or toothpick, halfway between the edge of the pie and center. If it comes out clean it's done.

Cool completely. Or stick it in the freezer for 15 minutes and devour while it's hot and melty.

Serve with vanilla ice cream! Or a tall glass of milk.
Notes
*If you make my homemade pie crust, you will only use half of it. The recipe makes 2 crusts, meant for a double crust pie, but this recipe only needs one. UPDATE: my brother Eric just made this and didn't realize about the crusts, so he just layered both crusts on the bottom. He said it was amazing. Best idea ever!!!
**Normally I never soften my butter because I'm super lazy. I take it straight out of the fridge and beat it into submission with my mixer. But for this recipe, you are supposed to beat the eggs first, meaning you can't firmly put that butter in it's place. So you really have to soften your butter. Tough, I know.
Source: I added salt and vanilla (and tablespoon more flour) to the original Nestle Toll House recipe. Oh, and omitted the nuts. Because ew.
Nutrition
Serving:
1
slice
|
Calories:
566
kcal
|
Carbohydrates:
58
g
|
Protein:
6
g
|
Fat:
35
g
|
Saturated Fat:
19
g
|
Polyunsaturated Fat:
2
g
|
Monounsaturated Fat:
11
g
|
Trans Fat:
1
g
|
Cholesterol:
94
mg
|
Sodium:
411
mg
|
Potassium:
232
mg
|
Fiber:
3
g
|
Sugar:
36
g
|
Vitamin A:
614
IU
|
Calcium:
47
mg
|
Iron:
3
mg
You will love these other pies!
Chocolate Honey Chiffon Pie << this is one of my favorite pies of all time, it's one of my most-made pies. Don't let the title scare you, it's super easy: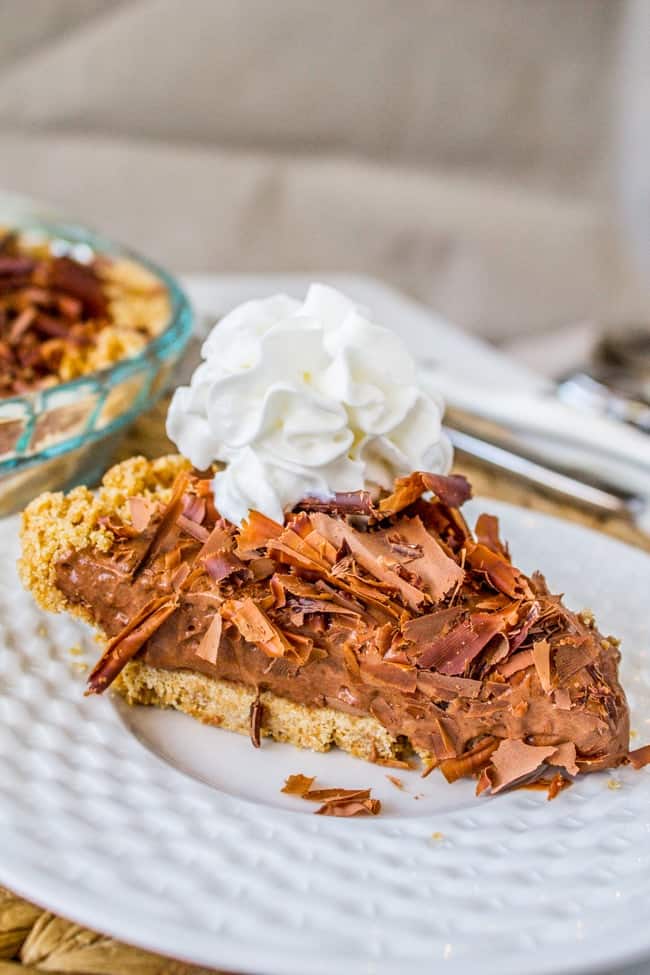 Peach Custard Pie << It's peach season!! DO IT!!!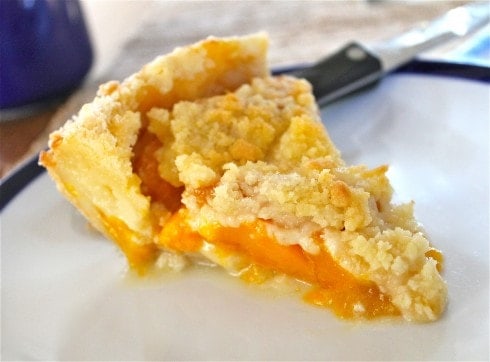 Mint Chocolate Chip Skillet Cookie << have you ever made a skillet cookie? Legit:
More piiiiiiie:
Chocolate Chip Funny Cake Pie from Taste of Lizzy T
S'mores Chocolate Chip Cookie Cake from Sally's Baking Addiction
Chocolate Chip Cookie Cake from Dessert for Two