The BEST Key Lime Pie is the tartest in all the land! It's not the best Key Lime Pie recipe if you don't have to pucker up in my opinion. A super thick layer of zesty lime custard, a crunchy graham cracker crust, and a generous piping of lime whipped cream makes this classic dessert a dream come true!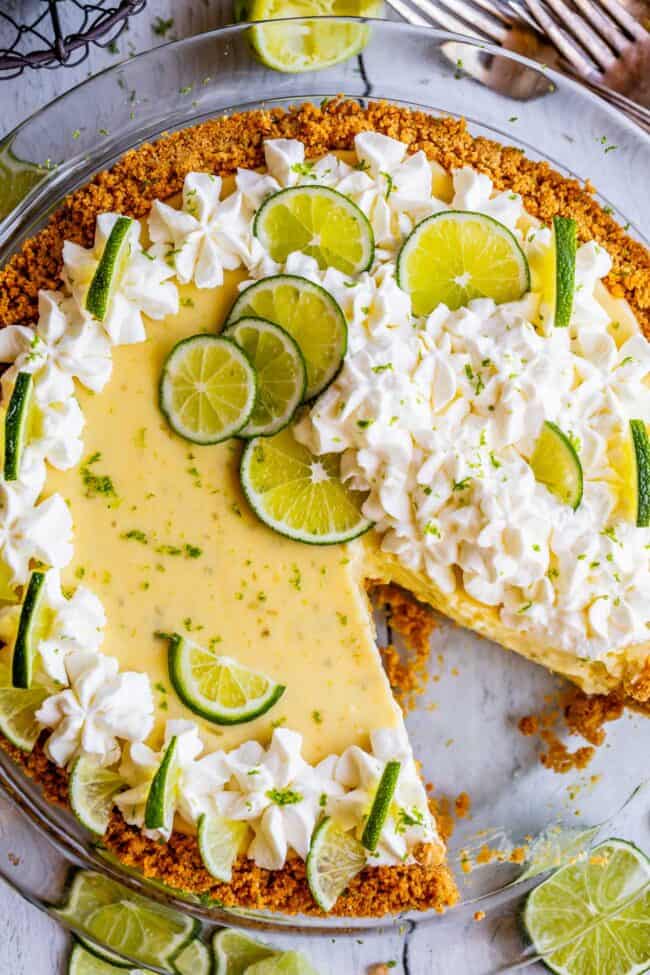 The other day I teared up a bit when a Little Mermaid song played on the kid's radio station. And then later that afternoon I got weepy listening to a country song. A country song, you guys. Pretty soon I'm going to be crying over pet commercials. I don't know what it is about being pregnant that makes women cry so much, but it is a seriously unjust situation.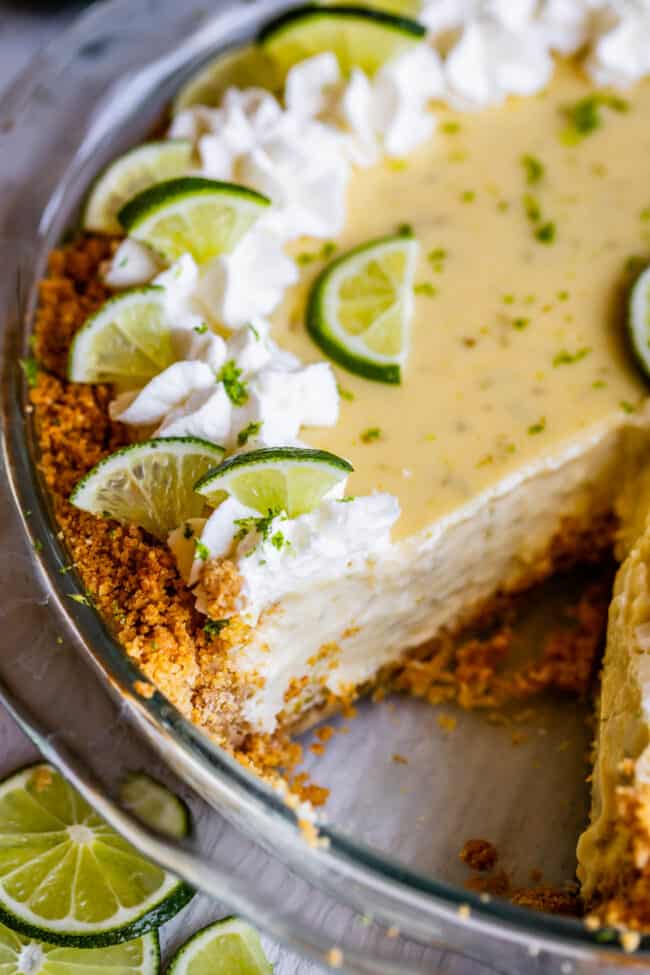 I almost cried again this afternoon, but it wasn't hormones this time. Valentine is two and has decided that naps are not her thing anymore. The new toddler bed is not helping. (Where is the baby jail/crib when you need it??) She was very quiet for two hours, leading me to think she was asleep, but OH NO. She was busy silently emptying every single drawer of the dresser in her closet where we store our craft and office supplies.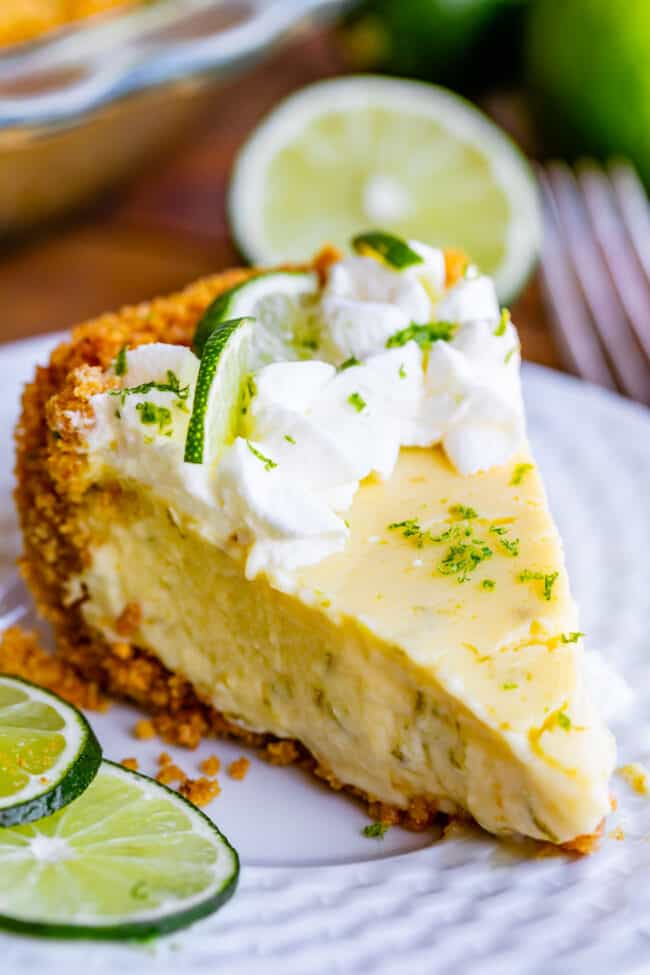 At least it's not as bad as an old friend of mine who had twin baby girls. She put them down for a nap in their new toddler beds, and she thought they were asleep but really they were busy dumping 20 gallons of water on the floor from the water bottles they had stored in the closet. They had to replace the flooring. See? It could always be worse!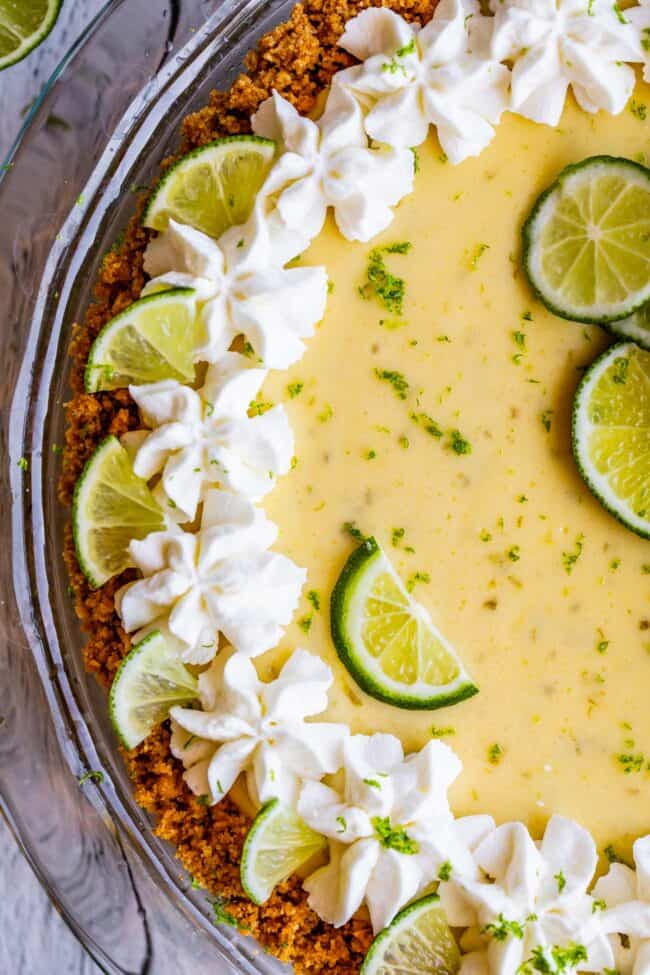 My brother Nathan decided to make a key lime pie recipe a few weeks ago, and sent me his notes. Mastering key lime pie became my new obsession, and 5 pies later (seriously) I've found the version I love best! We've eaten a LOT of Key lime pies over the last few weeks and I'm not sick of it yet. Is there anything better than an ultra tart lime custard with a crunchy graham crust?? No. There's really not. This pie is my favorite because it's so thick and tart.
What are Key Limes?
Key limes are smaller and more acidic than the regular limes you see at the store (which are called Persian limes.) They are picked when green but turn yellow when ripe. There were groves of these fat and juicy limes in the Florida Keys back in the early 1900s, but a hurricane wiped them out and many farmers planted regular Persian limes in their place.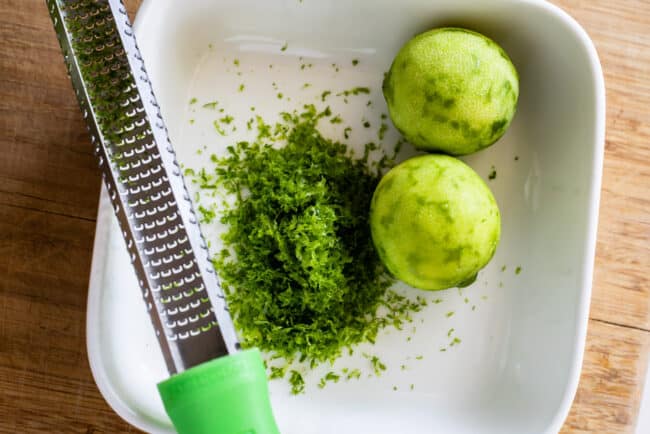 (These are Persian limes. A microplane grater is your best friend when making a key lime pie recipe! We're using a TON of zest!)
The "Key" limes you buy today (in the US) are usually from Mexico or Central America. They are tiny, seedy, rather bitter, and a pain in the neck to juice (and are NOT the same as the Key limes that became famous 100 years ago. So much for authentic key lime pie!)
Key limes are uncommon in most grocery stores and usually very expensive (and don't even get me started on bottled Key lime juice. Don't buy it! It's overpriced and not fresh and no pie of yours should deign to it!) To read more about Key Lime history, read this article from Serious Eats called Key Limes? More like Key LIES.

(Long live the Persian lime. An electric juicer is your other best friend when juicing this many limes. More than a cup of juice is no joke.)
Bottom line is this: if you really love the flavor of key limes, hunt them down and spend the money. Otherwise, use the regular Persian limes that you can get at the grocery store. You are going to get a fabulous "Key" Lime Pie that will taste fresh and delicious. Use the same amount of zest and juice that the recipe calls for, whether using key limes or regular limes.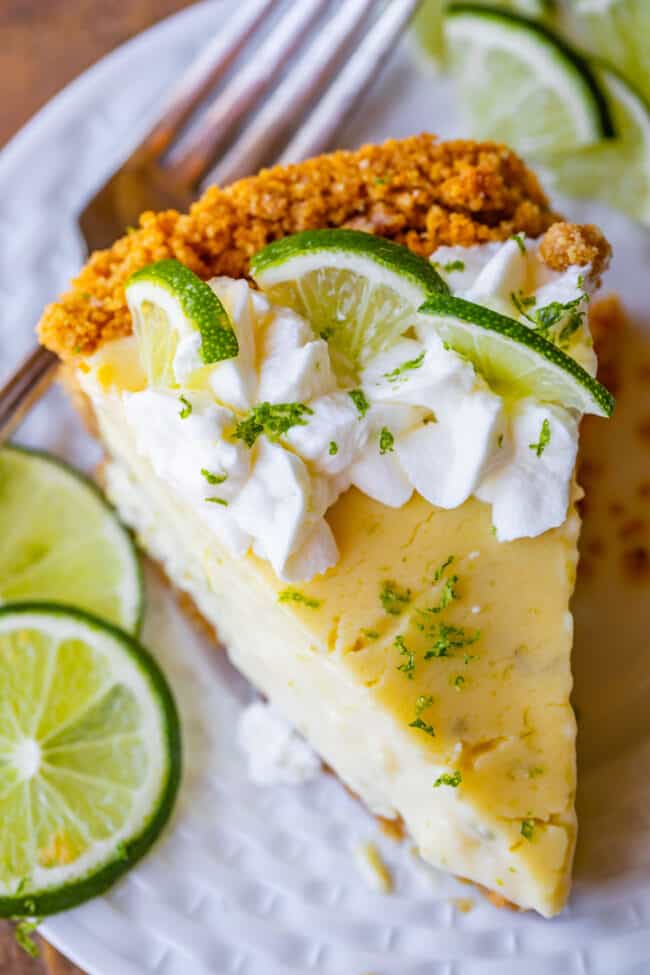 How to Make Key Lime Pie
My main complaints about the Key Lime Pies I've had in the past are:
1) there is not enough lime flavor (when I eat a citrus dessert, I want to have to pucker up my face. I want it TART) and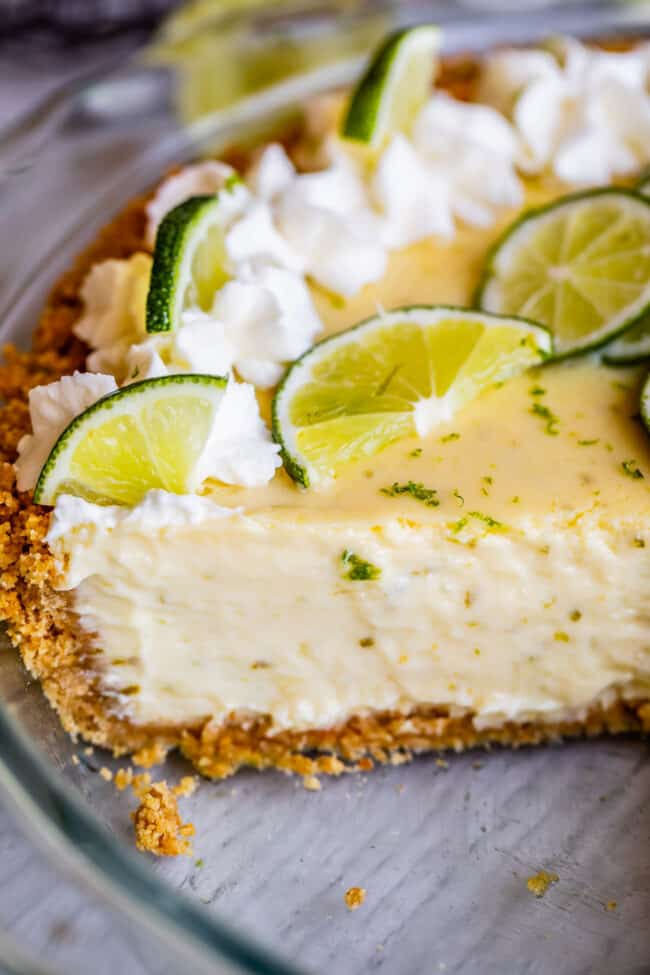 2) Many key lime pie recipes don't have enough of the actual lime custard part. The custard often only goes up halfway to the top of the graham crust (like 1 inch or so), and then the rest is filled with whipped cream. No thank you. I want double the amount of tart and tangy limey custard, all the way to the tippy top of the graham cracker crust, and THEN add copious amounts of whipped cream on top. YES!
So that's exactly what I've created here: the best key lime pie recipe. It's actually really easy to make. A super tall, custardy layer of lime that fills the pie pan, that is so tart it will knock your socks off, and covered with generous lime whipped cream.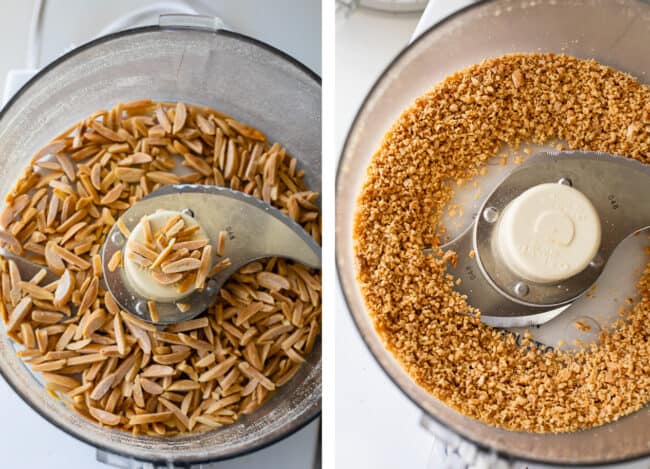 We're starting off with a graham cracker crust that has a half cup of ground toasted almonds in it. I LOVE the nutty, tropical flavor this adds to the finished pie, but it is optional. You can use all graham cracker crumbs no prob.

On the left are 6 egg yolks beaten for 5 minutes. They turn a nice pale yellow color from all the air whipped into them. On the right is how much sweetened condensed milk you need from a second can (the recipe calls for one full can plus 2/3 cup from a second can. Yes, I know this is annoying, but I was really committed to having more volume in the recipe to get a taller custard, and 2 cans made it too sweet. Use the other half can to make these Buried Cherry Cookies!)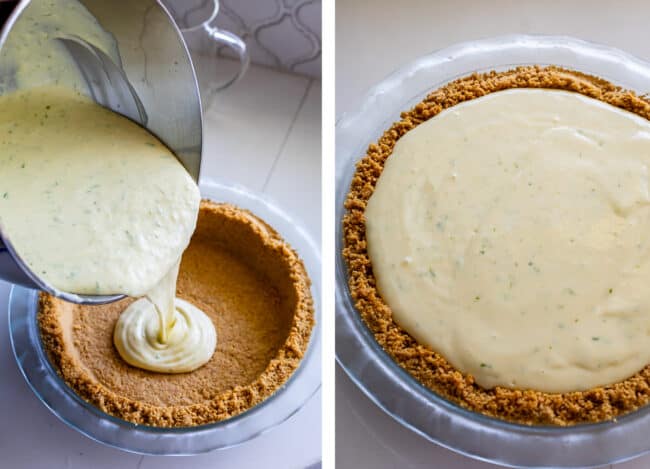 Fill that custard all the way to the top! Go SLOW. You might need to discard (or eat) a tablespoon or so of custard, depending on how tall you made your crust. I was able to fit all of mine.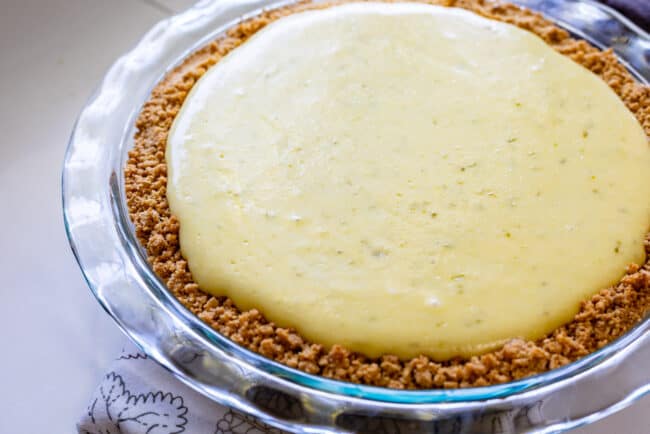 Here is the pie just after baking. You can see just a few tiny bubbles that are about to pop, and that's how you know your pie is done.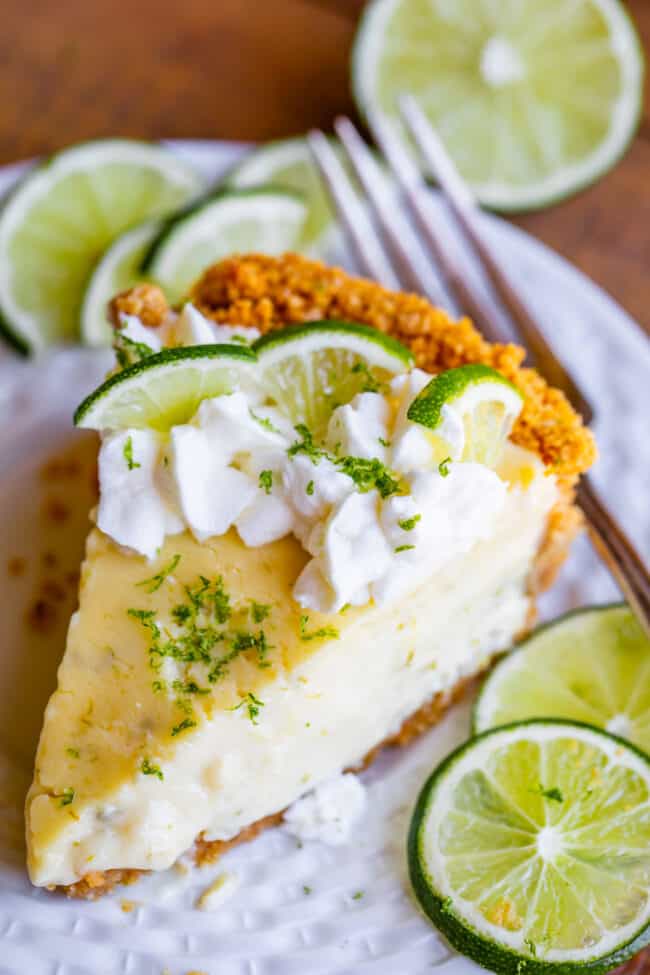 Add the juice of one lime to your cream while you're whipping it to give it a little bit of a kick, and then pipe it all over your chilled pie! Then try not to eat the whole thing. My brother Nate spread sour cream all over the top of his pie and sprinkled it with powdered sugar. Then he added the lime whipped cream. The pie is great on it's own, but I tried it that way and it was SO good! Sour cream: never a bad idea.
More citrus desserts you are going to love!
The Best Lemon Curd (Easy!) << Have you ever spread your morning toast with lemon curd? SO good.
Creamy Lime Bars << this is an oldie but a goodie!
Meyer Lemon Tart << If you've never tried Meyer lemons, do it! Such a great flavor.
The Best Lemon Bars << Lemon Bars are probably my favorite dessert. This is the BEST recipe!!
Blackberry Lemon Cheesecake Bars << Cheesecake ftw. These are very pretty, great for serving guests.
Lemon Crinkle Cookies with Lemon Frosting << The most delicious lemon cookies sandwiched with super tart lemon frosting!
Blueberry Lime Oatmeal Muffins << an unexpected and delicious flavor combo!
Lemon Curd Sugar Cookie Sandwiches << I love this combo!!
Fresh Blackberry Glace Pie << this is like a Strawberry Glace Pie, but with blackberries instead. SO good!
My mom's Lemon Meringue Pie << I should update this soon! Love this pie!
Impossible Lemon Pie from Southern Plate
Orange Pie Bars from Back for Seconds
Grapefruit Cream Pie from A Spicy Perspective
Facebook | Pinterest | Instagram

The Best Zesty Key Lime Pie Recipe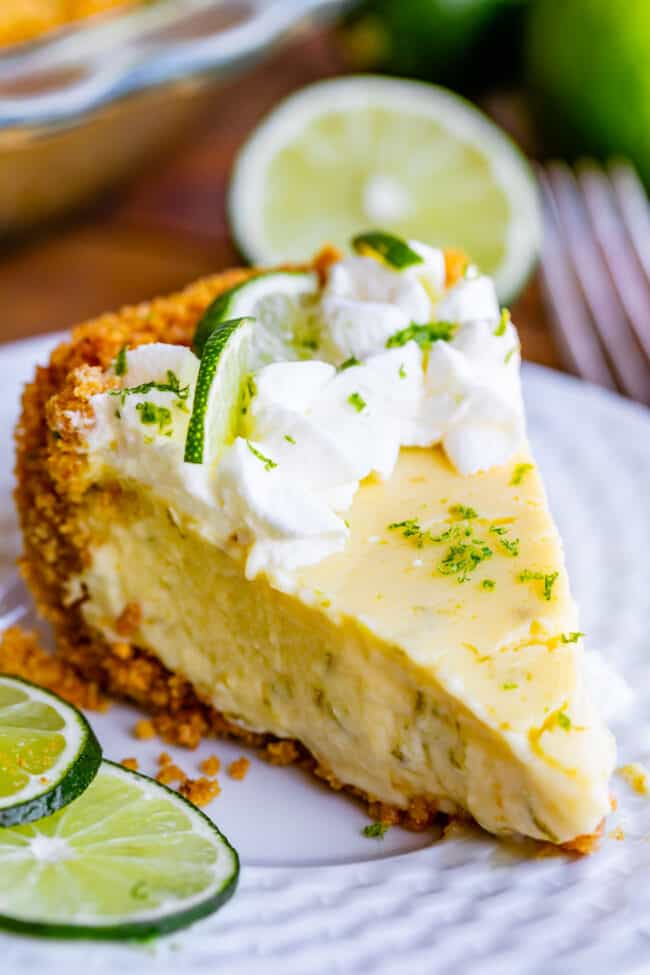 The BEST Key Lime Pie is the tartest in all the land! It's not a good Key Lime Pie if you don't have to pucker up in my opinion. A super thick layer of zesty lime custard, a crunchy graham cracker crust, and a generous piping of lime whipped cream makes this classic dessert a dream come true!
Ingredients
For the crust
1/2

cup

slivered almonds*

,

toasted

1 & 1/3

cup

graham cracker crumbs

,

12 full sheets

2

tablespoons

granulated sugar

1/4

teaspoon

salt

6

tablespoons

butter

,

melted
For the lime custard
6

egg yolks

1 & 1/2

cans

sweetened condensed milk

,

(1 can + 2/3 cup from a new can)

1

cup

+ 2 tablespoons full fat sour cream

2 & 1/2

tablespoons

lime zest

,

about 5-6 limes**

1

cup

+ 2 tablespoons lime juice

,

at least 7-8 limes**
For the lime whipped cream
1 & 1/2

cups

heavy cream

juice from 1 lime

1/3

cup

powdered sugar
To garnish
lime slices or wedges

lime zest
Instructions
Make the crust: Preheat your oven to 350 degrees F. Spread out 1/2 cup of slivered almonds on a baking sheet. When the oven is ready, toast the almonds for about 5-6 minutes, opening the oven to stir the almonds around every 2 minutes. The almonds are done when they are light brown and smell like heaven. Remove from the oven and set aside to cool.

Meanwhile, add 12 full graham cracker sheets to a food processor and pulse into fine crumbs. (You could also buy a box of graham cracker crumbs. You need 1 and 1/3 cups. If you are skipping the almonds, add 1/2 cup crumbs.)

Add 2 tablespoons sugar and 1/4 teaspoon salt. Add the toasted almonds to the food processor and pulse into fine crumbs. Add 6 tablespoons melted butter and pulse until the mixture resembles wet sand.**

Press the mixture into a 9 or 9 and 1/2 inch pie plate. I like to use a glass to press it. Make sure it goes as far up on the sides as you can get it to go. (So that the custard doesn't overflow)

Bake the crust at 350 for 10 minutes. Set aside to cool completely before adding the filling (I often stick mine in the fridge/freezer after it has cooled from the oven. If your pan is glass, you should be able to touch the pie plate with your hands before refrigerating (you don't want to crack the glass from the temperature change)

Make the lime custard: Add 6 egg yolks to a large bowl or stand mixer. Beat on medium high speed for about 5 minutes. Your yolks will lighten to a pale yellow color. (You're whipping air into them to make them nice and fluffy. Don't skip it.)

With the mixer running, add in the sweetened condensed milk. You need 1 and 1/2 (14-ounce) cans. This is 1 full can plus 2/3 cup from a second can. (use the remainder to make these

Buried Cherry Cookies

!)

Add 1 cup plus 2 tablespoons full fat sour cream and combine well.

Zest about 5 or 6 limes until you have 2 and 1/2 tablespoons. Do yourself a favor and buy

a Microplane zester

for this job. This tool is so sharp and makes zesting a breeze. Add the zest to the bowl.

Juice your limes until you have 1 cup plus 2 tablespoons. I used an

electric citrus juicer

, which makes it so fast. It's a worthy investment if you love citrus, or if you plan to make this pie!

Add 1 cup plus 2 tablespoons lime juice to the custard mixture and beat until just combined, scraping the sides and bottom of the bowl until you're sure it's all mixed in.

Pour the custard into the cooled crust. Pour SLOWLY to make sure it doesn't overflow.

Bake the pie at 350 for 25 minutes. You should see a few tiny bubbles on the surface of the pie. The pie will not look set and will be very wiggly. Never fear! It's supposed to be like that.

Remove from the oven and let cool on a cooling rack for about 45 minutes to an hour.

Cover the pie with plastic wrap and chill in the fridge for at least 3 hours. (You can make this pie up to 3 days ahead of time.)

Make the whipped cream: When you are ready to serve the pie, beat 1 and 1/2 cup whipped cream on high speed. With the mixer running, add the juice from 1 lime (do it while mixing to make sure you don't curdle the cream)

Add 1/3 cup powdered sugar and continue beating on high speed for 2-3 minutes, until the cream is stiff.

Add the whipped cream to a piping bag set with

a large star tip

. (Or you could put it in a ziplock and snip the corner.) Pipe the whipped cream on top of the pie however you like. Save any remaining whipped cream for guests to add to their own slice.

See note for alternative topping.

Garnish the pie with sliced limes and additional lime zest.

After decorating, you can freeze the pie for about 15 minutes before serving. Key Lime Pie is best served very cold!
Notes
*Make sure you get slivered almonds, not sliced. You don't want any part of the dark brown exterior, just the white part.
**Buy about 9-10 limes total at the store, just in case they are not very juicy (and so that you have plenty for garnish.) If you are using key limes, you will probably need over 30 limes. (Use an equivalent amount of zest and juice as the recipe calls for if using key limes.)
***If you don't have a food processor, crush the crackers in a ziplock with a rolling pin. You will need to chop the almonds very very finely with a sharp knife. If you have any sort of nut chopper, that would be best.
Alternative topping: My brother Nathan made this and spread the top of the pie with 1/2 cup sour cream, then sprinkled the top generously with powdered sugar, THEN served with the lime whipped cream. I tried it, it's so delicious!
Nutrition
Serving:
1
slice
|
Calories:
700
kcal
|
Carbohydrates:
66
g
|
Protein:
12
g
|
Fat:
45
g
|
Saturated Fat:
25
g
|
Polyunsaturated Fat:
3
g
|
Monounsaturated Fat:
14
g
|
Trans Fat:
1
g
|
Cholesterol:
261
mg
|
Sodium:
380
mg
|
Potassium:
484
mg
|
Fiber:
2
g
|
Sugar:
53
g
|
Vitamin A:
1489
IU
|
Vitamin C:
15
mg
|
Calcium:
324
mg
|
Iron:
1
mg