Fudgy Pumpkin Chocolate Chip Bars (Pumpkin Blondies)
These Pumpkin Chocolate Chip Bars are FUDGY just like brownies! You could also call them Pumpkin Blondies. They have the perfect balance of pumpkin flavor, cinnamon-y spices, and warm dark chocolate. They're made in a pot on the stove and are super fast and easy! The melted butter makes them so soft and fudgy.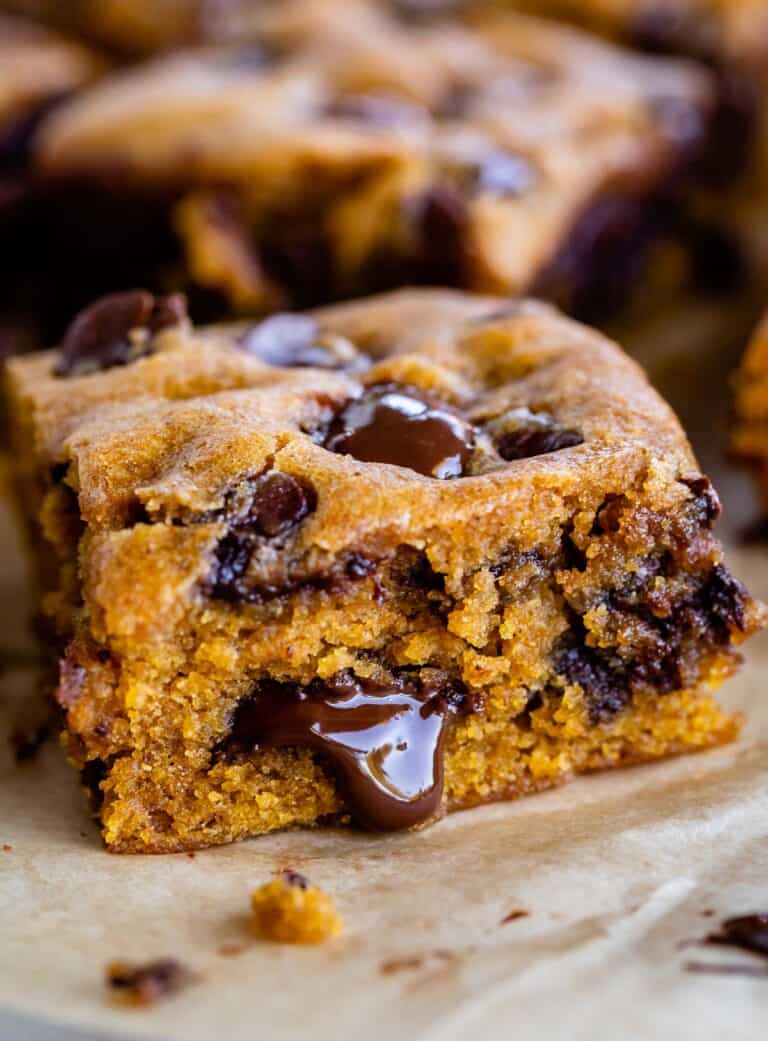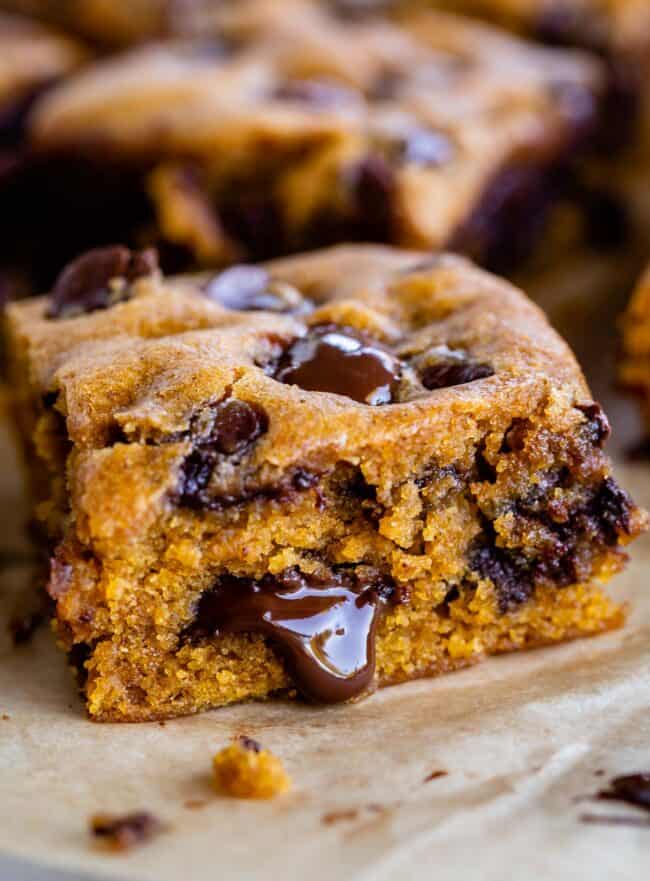 This post was originally published on October 30, 2011. 
We were eating these Pumpkin Chocolate Chip Bars the other night, and Truman said he was too full from dinner to eat one. "If I eat one of those right now, I will get sick!"
Charlotte, stuffing a huge bite  into her mouth, said, "It's worth it."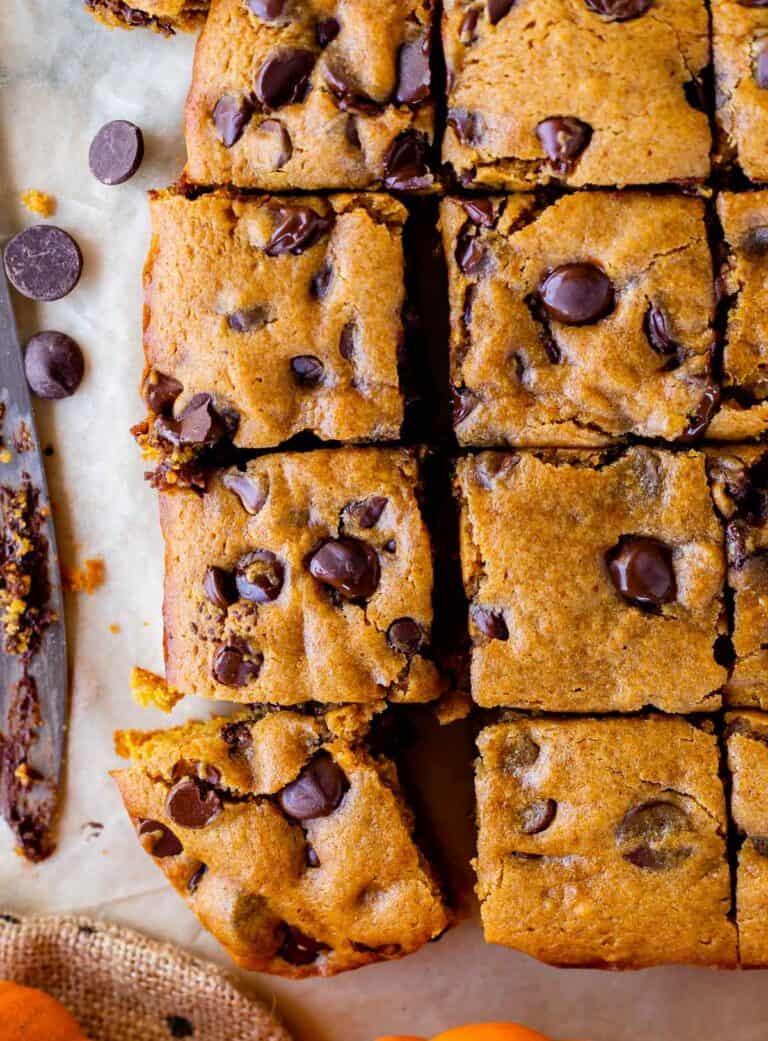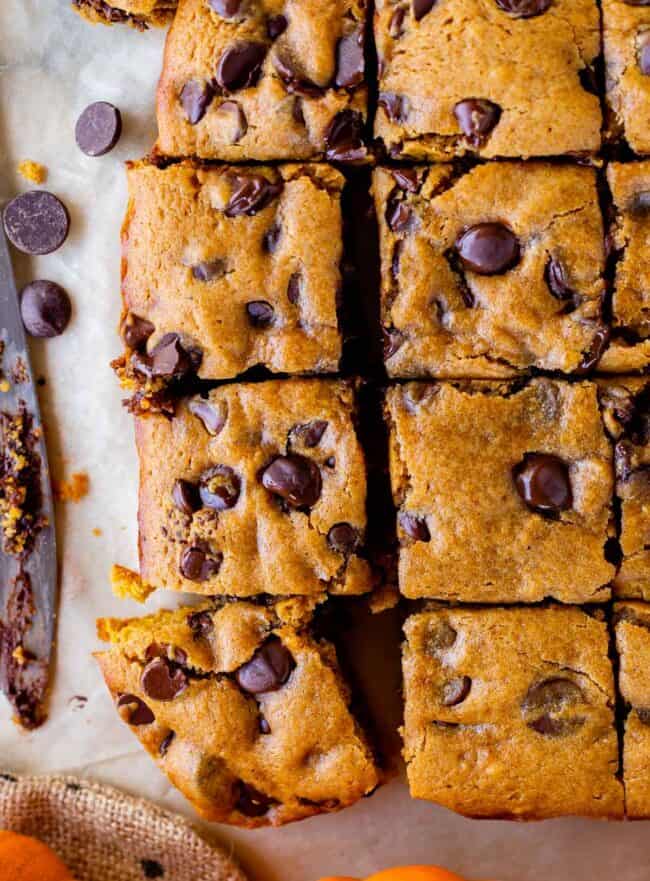 And that my friends, exactly describes the personality differences between my kids, haha! Charlotte is a little unreasonable when it comes to sugar…just like her mother.
How's everyone doing this week? Ready for Halloween? We are just gathering up the odds and ends for all our costumes. Eric and I decided last night that going as gnomes sounded pretty easy. Talk to me later this week when I am frantically trying to hot glue felt together to make a pointy hat. I am not a crafty person!!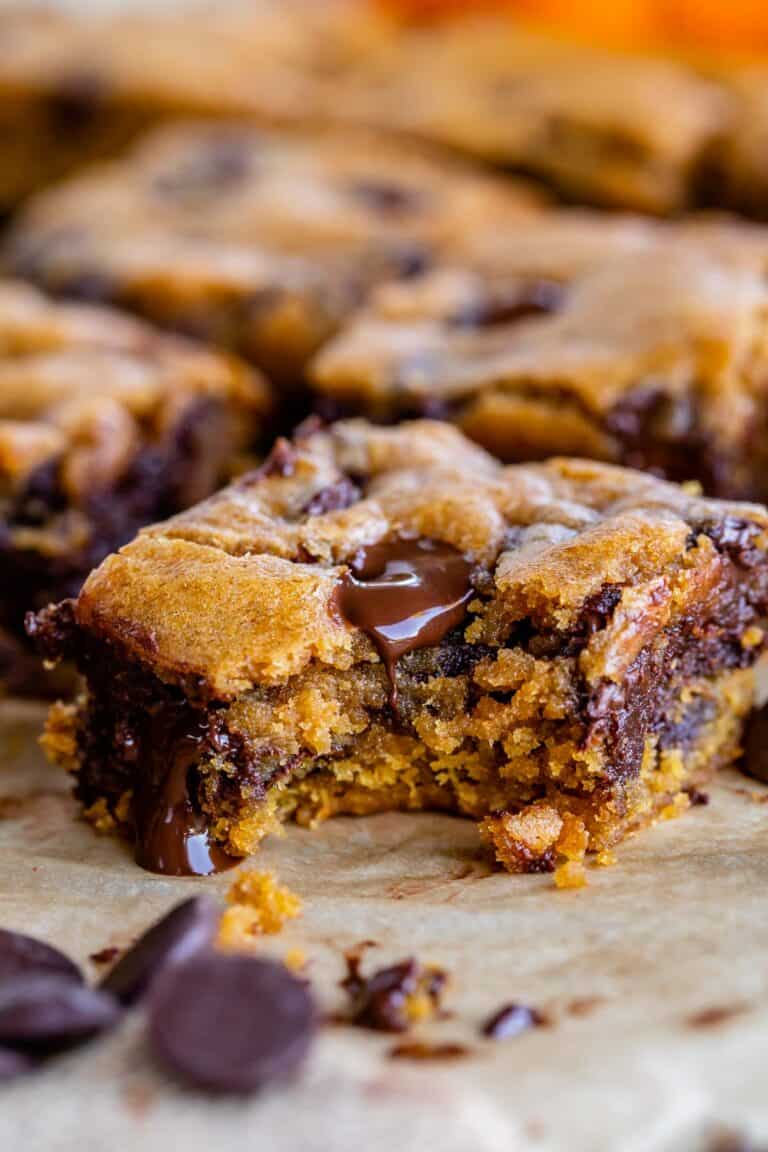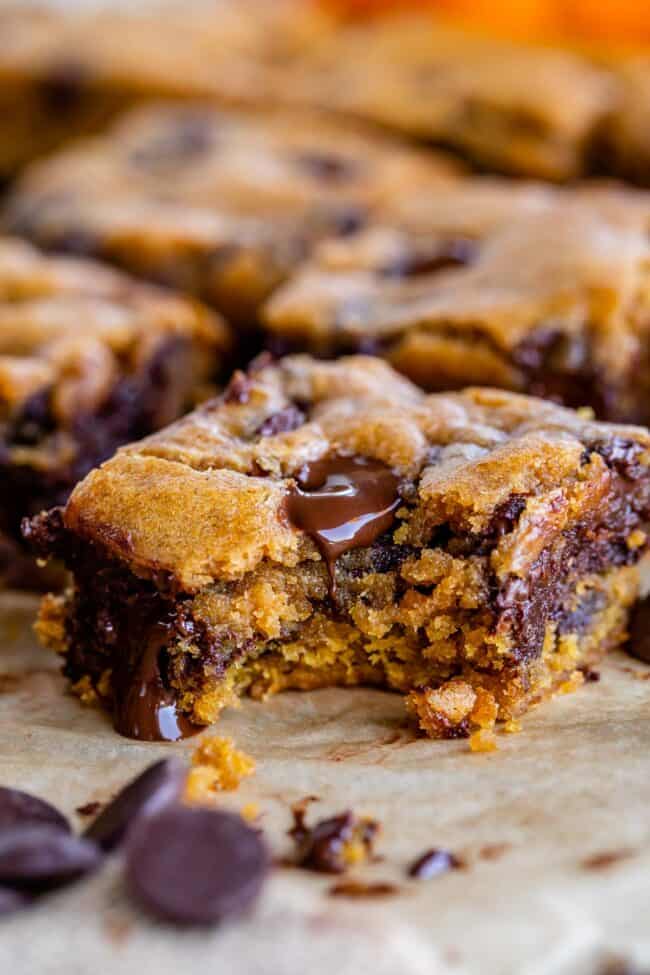 If you are going to any Halloween events this week, might I suggest these Pumpkin Chocolate Chip Bars? They are super fudgy and delicious, and I promise even if you eat too many and make yourself sick…it'll be worth it.
Pumpkin Chocolate Chip Bars (Pumpkin Blondies)
I love these bars because they are so fast! There's no fuss, just mix it all up, dump it in a pan, and throw it in the oven.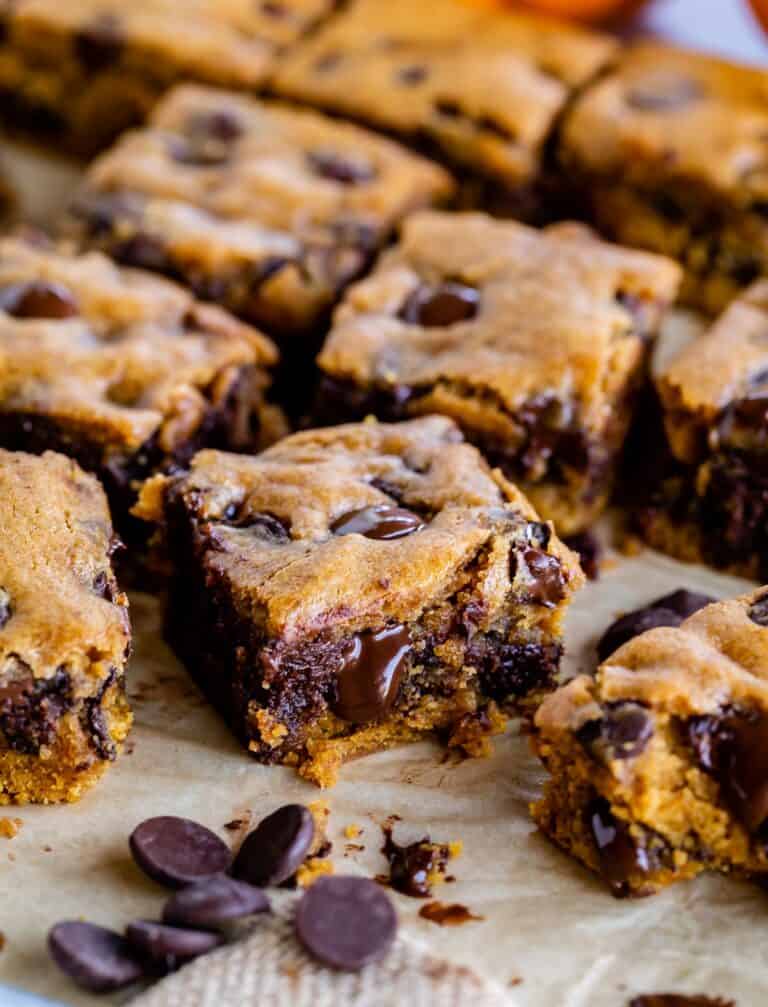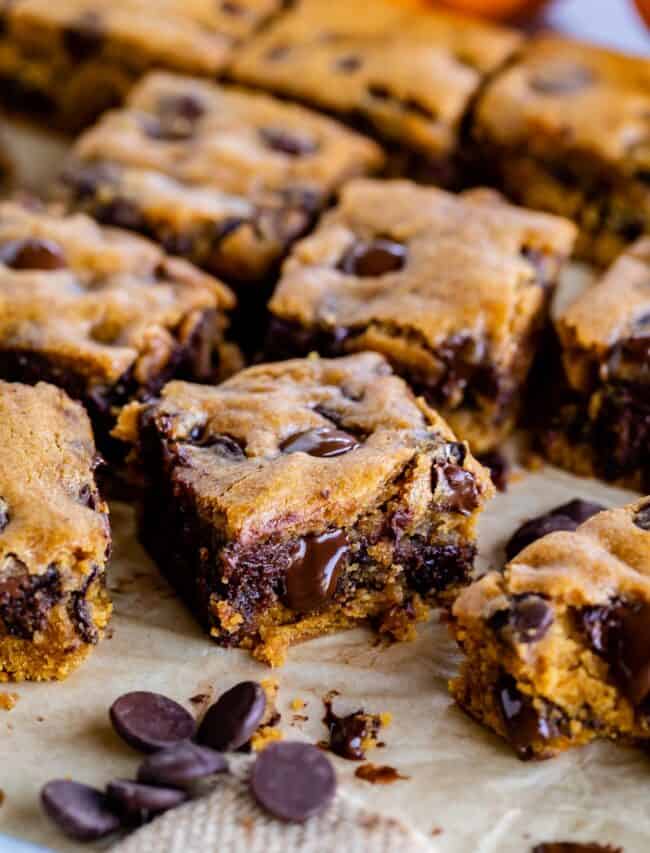 You don't even need a stand mixer or mixing bowl. We're doing it all in a pot on the stove! We want brownie texture for these pumpkin bars. Say no to cakey bars! These are pumpkin bars, not cake. Kind of like pumpkin brownies.
How to make pumpkin chocolate chip bars super fudgy
Melted butter is the answer! Most recipes for pumpkin chocolate chip bars call for creaming together the butter and sugar, like you would for cookies. But just like melted butter makes for a chewier and fudgier brownie, the same is true for these bars.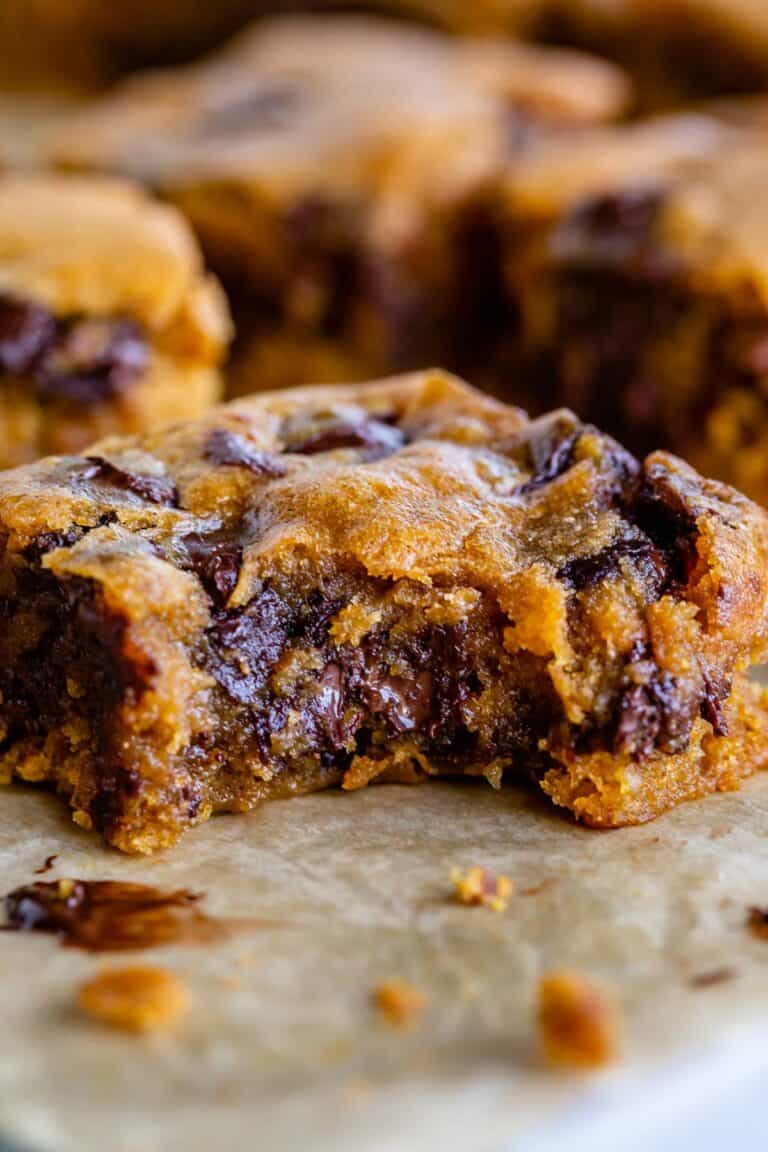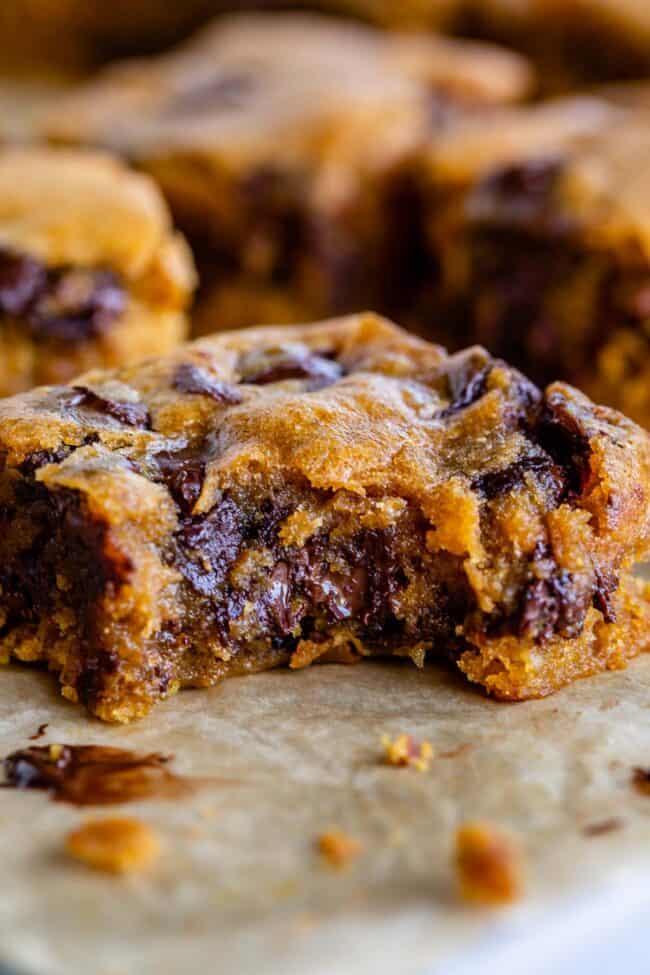 You can brown the butter if you like. Just keep cooking over medium heat until the mixture foams, and then turns brown and smells nutty. It's super delicious and adds flavor! Your bars will be a little more brown and less orange. I like it both ways! See notes for details.
Whether you are just melting or choose to brown, take a second to toast your pumpkin pie spice in the butter while it is still bubbly. I learned this trick while researching for my Homemade Spice Cake. Just like toasting spices in oil when you are cooking helps "wake up" the flavor, the same applies here, and since we have the hot butter anyway, may as well take advantage and liven up that cinnamon.
If you don't have pumpkin pie spice, I included the measurements for how much cinnamon, ginger, nutmeg, etc, you will need in the recipe notes.
Add in brown and white sugar, and the pumpkin puree.
Pumpkin acts like an egg
When making brownies, we use lots of eggs (usually 4 eggs, for a 9×13 inch pan) to get that chewy texture, rather than a fluffy, cakey texture.
But this recipe only calls for 1 egg. What??


It's because of the magical pumpkin. Pumpkin is this funny ingredient that acts kind of like an egg when you bake it. It's the reason why your pumpkin cookies often come out more cakey than chewy. (There is a time and a place for cakey pumpkin cookies, and also a time for chewy pumpkin cookies!)
The combination of melted butter and only using 1 egg in the recipe makes these the fudgiest pumpkin bars in all the land.
After adding in the egg, vanilla, and salt, add in some flour and baking powder. I actually tried this once without the baking powder. My favorite brownie recipes have zero leavening in them: no baking soda, baking powder, zip, zero zilch. It just makes your brownies more fluffy and less fudgy.
So I thought it would do the same for these pumpkin blondies. But they turned out oddly…spongey? They were still good, but I much preferred the batch with the baking powder.


Lastly, make sure you don't melt your chocolate chips. The batter is warm from the melted butter and your chips will start to melt and swirl into the batter right away. My hack is to put the warm batter in the pan, then sprinkle chocolate chips on top and gently fold them in, right in the pan. I like to use a mix of dark and semisweet chocolate, but any chocolate will do!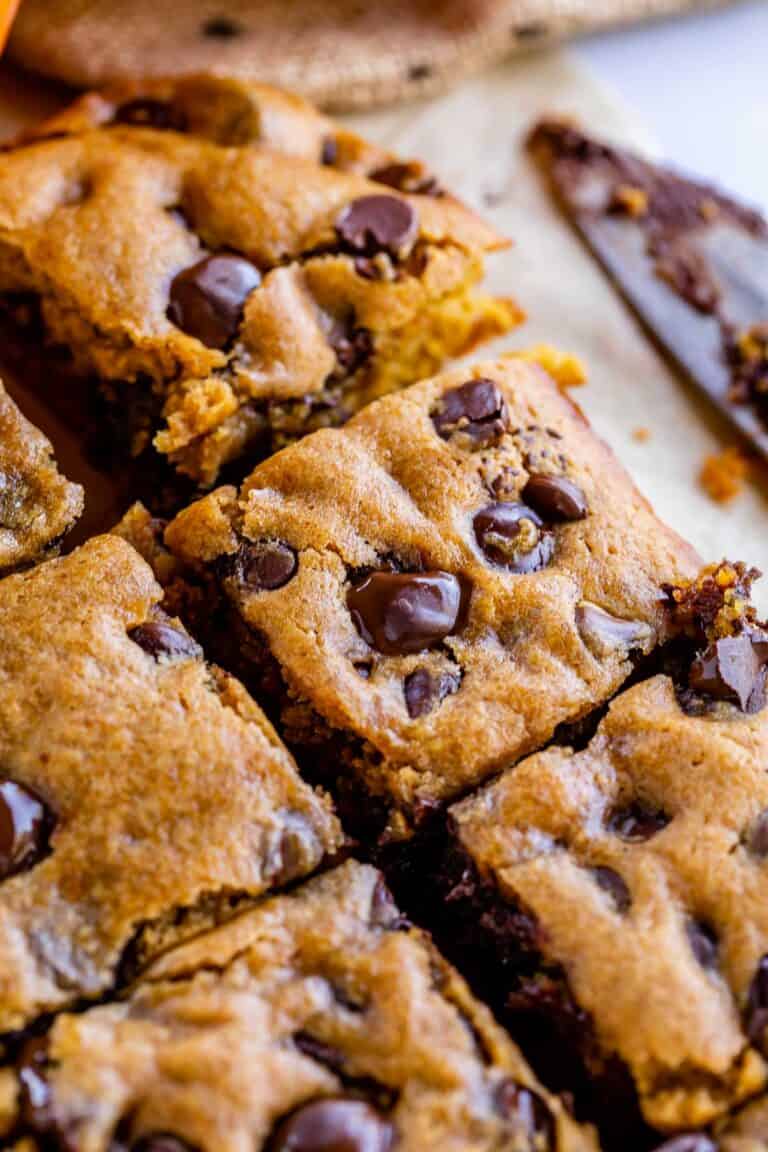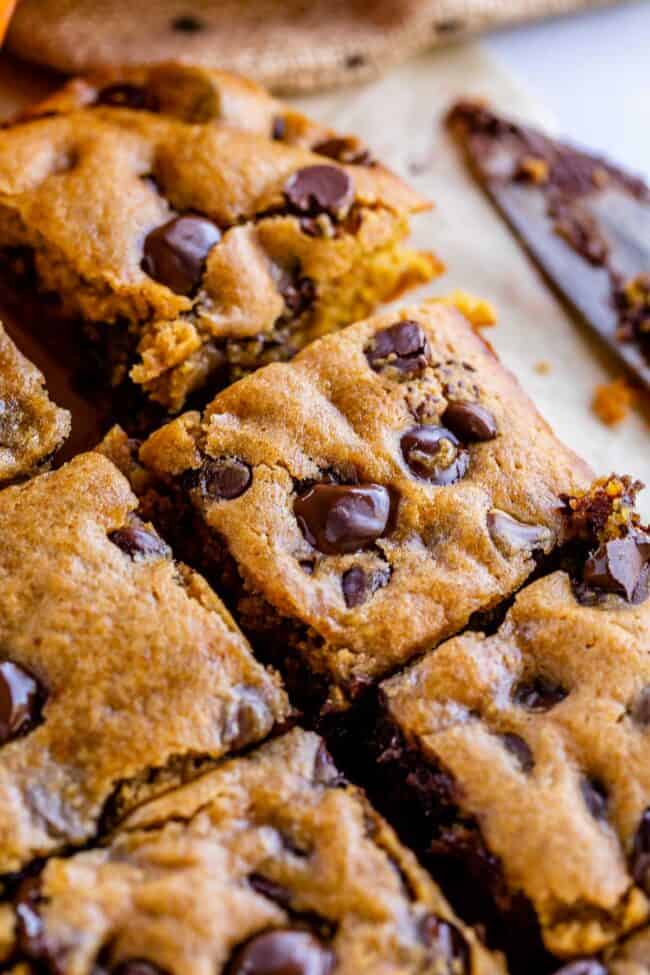 Adding white chocolate chips would be a fun twist! I haven't tried that but if you are a white chocolate fan I bet it would be awesome. Pumpkin and white chocolate definitely lend themselves to each other. (Read more about how to find real white chocolate at the store on this Penuche Fudge post.)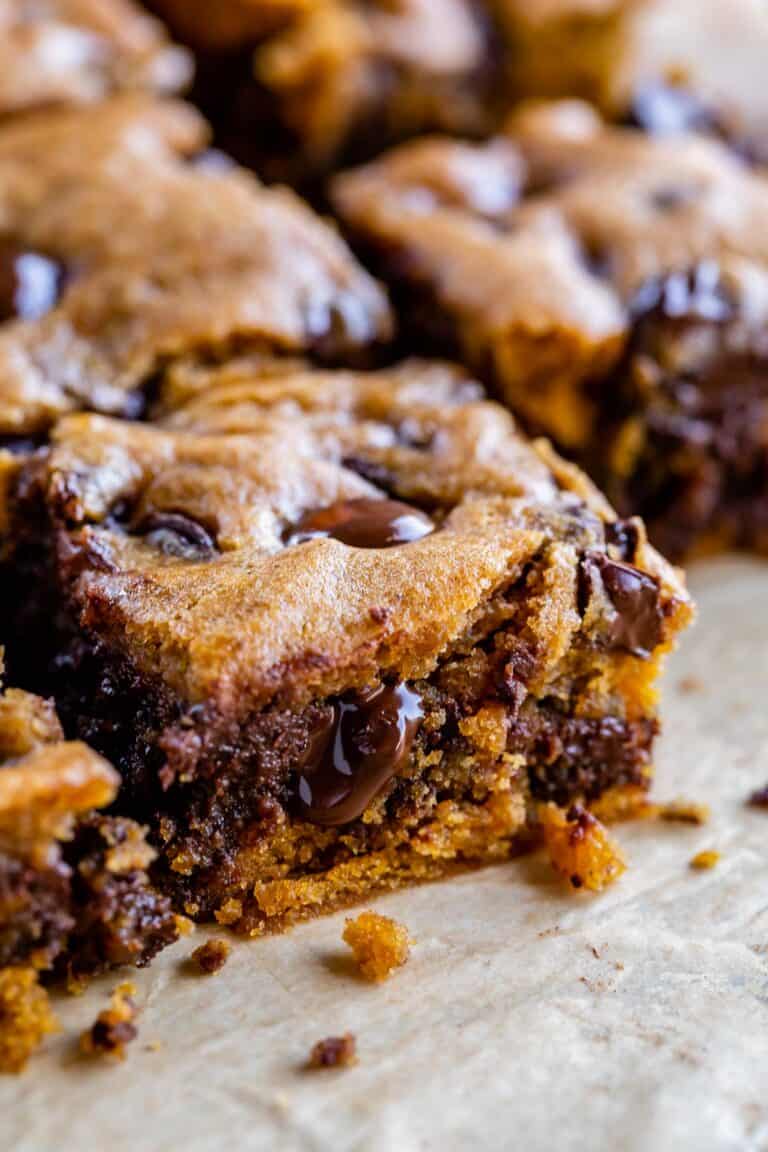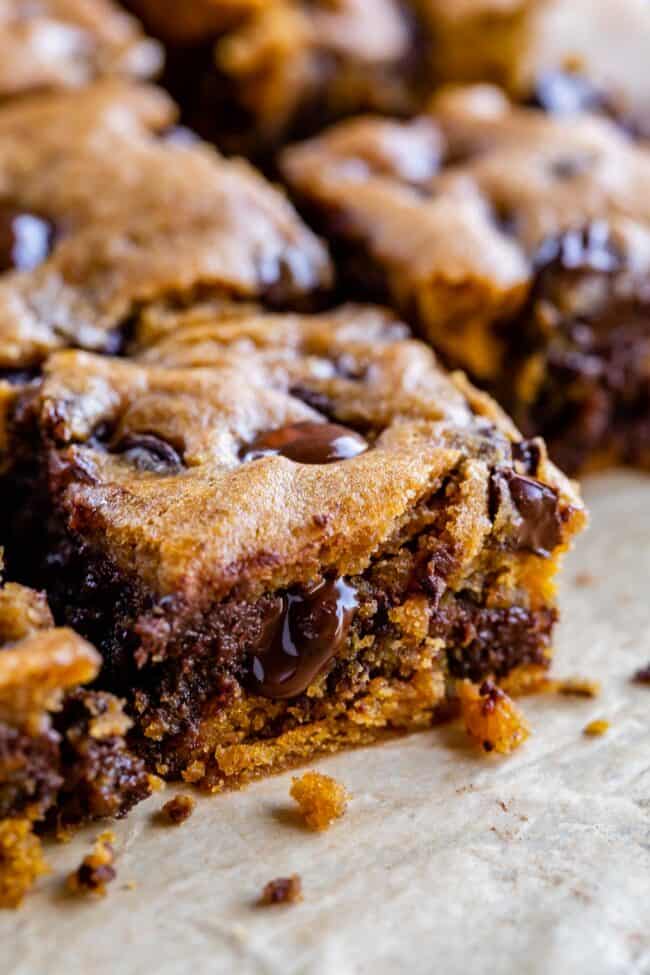 I posted these bars way back in 2011 when I first started my blog. Here's the old photo from yesteryear!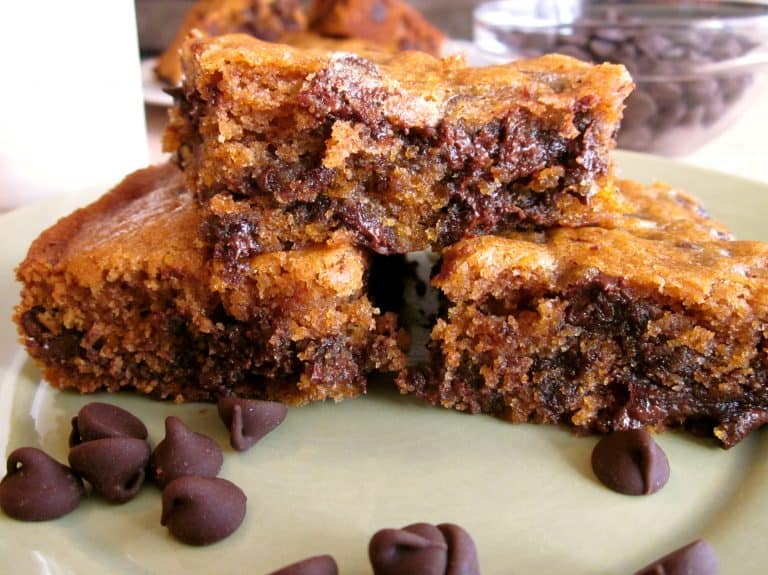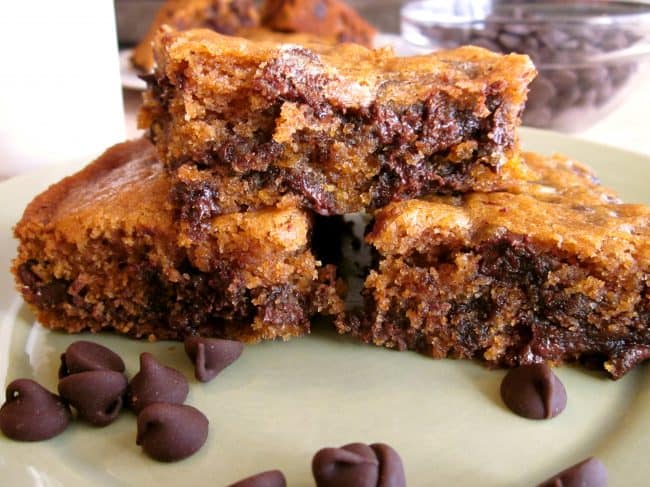 More pumpkin desserts you should try out!
Facebook | Pinterest | Instagram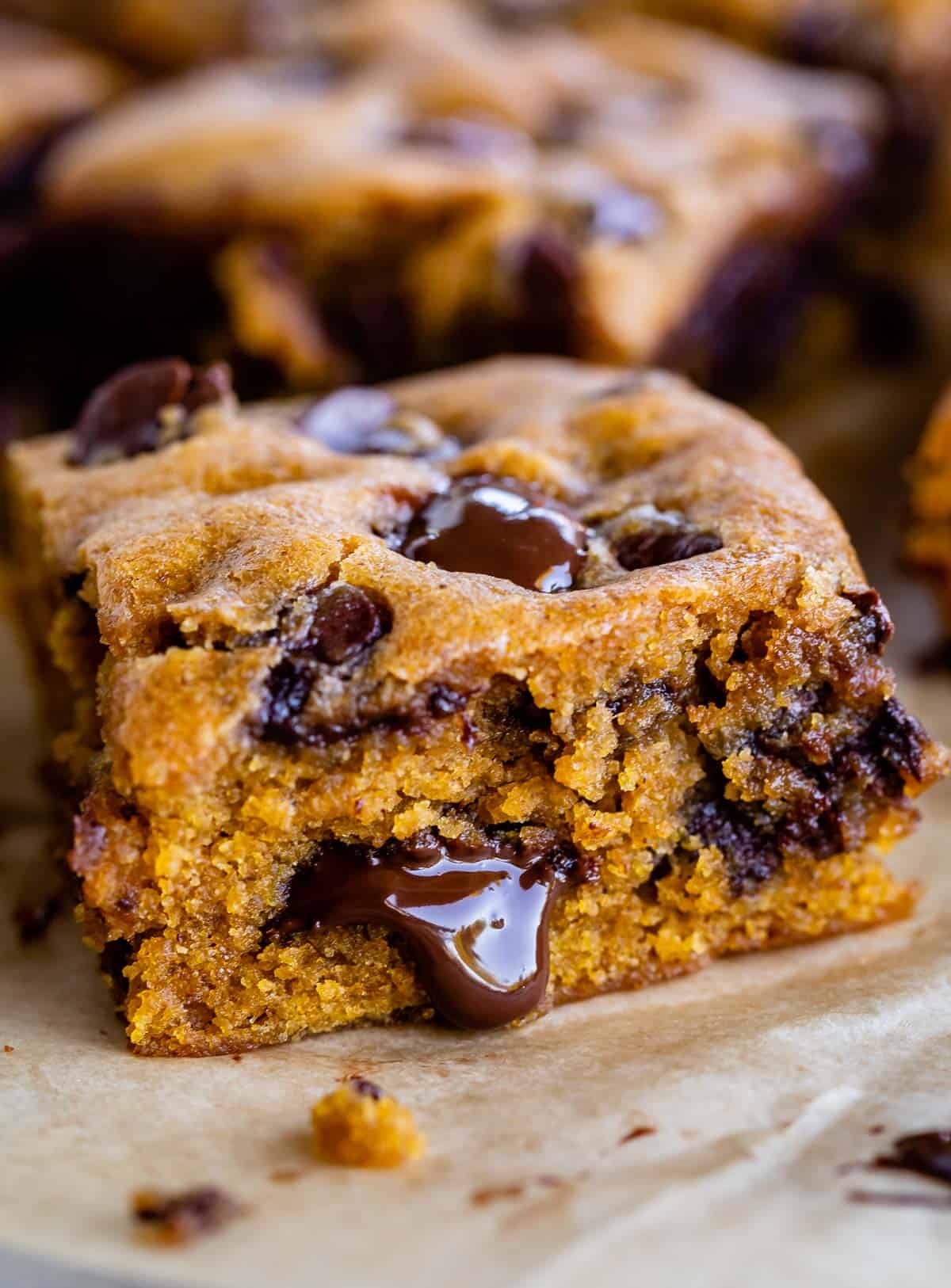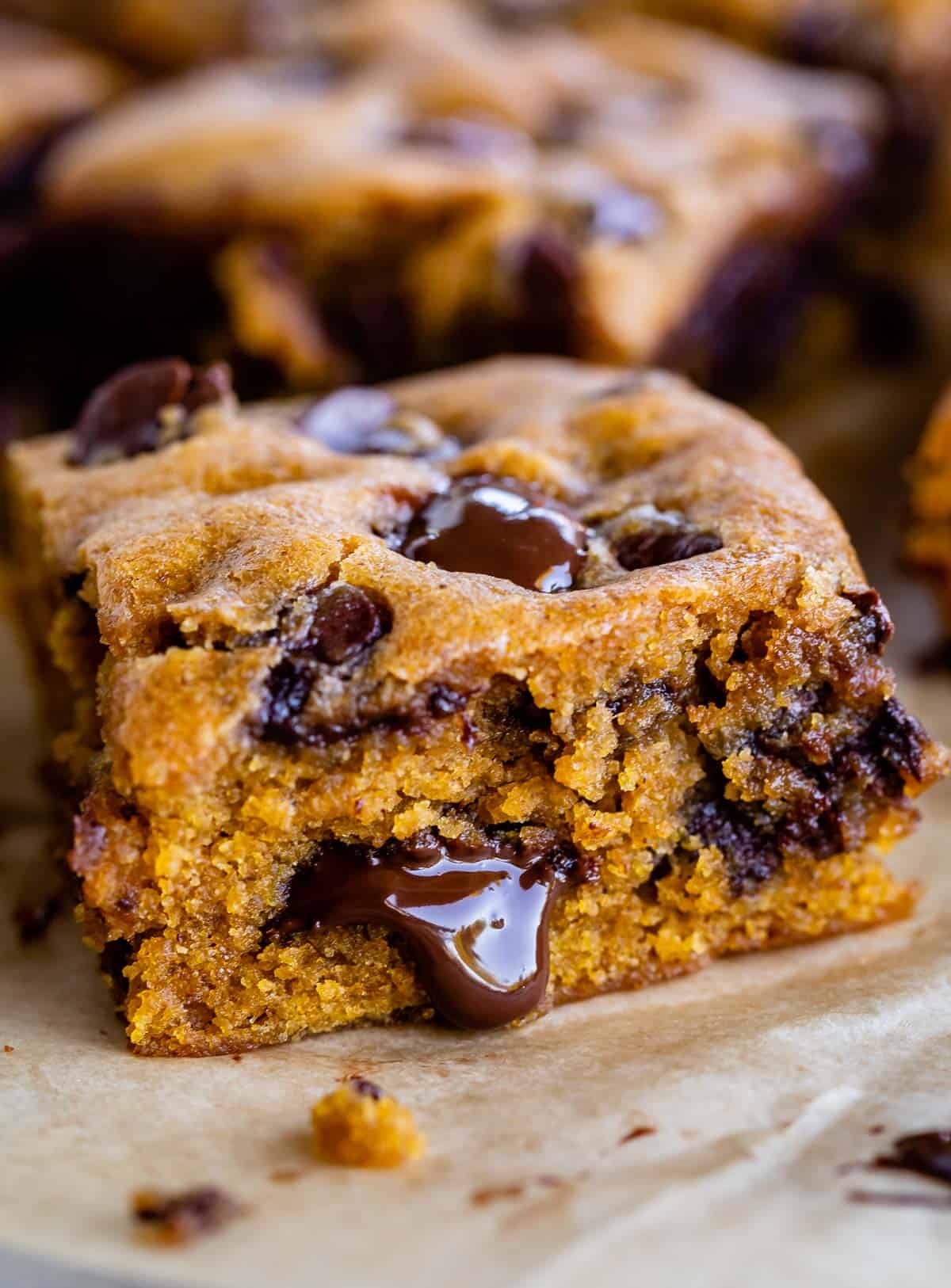 print
Did you make this recipe?
Leave a review »
Fudgy Pumpkin Chocolate Chip Bars (Pumpkin Blondies)
12-16
adjust servings
These Pumpkin Chocolate Chip Bars are FUDGY just like brownies! You could also call them Pumpkin Blondies. They have the perfect balance of pumpkin flavor, cinnamon-y spices, and warm dark chocolate. They're made in a pot on the stove and are super fast and easy! The melted butter makes them so soft and fudgy.
Ingredients
1

cup (2 sticks) butter

1

tablespoon pumpkin pie spice*

1

cup granulated sugar

1

cup brown sugar, packed

1

cup (8 ounces) canned pumpkin (not pumpkin pie filling)

2

teaspoons vanilla (I like Mexican vanilla)

1/2

teaspoon kosher salt

1

large egg

2

cups all purpose flour, spooned and leveled

1

teaspoon baking powder

1

cup semisweet chocolate chips

1

cup dark chocolate chips
Instructions
Preheat the oven to 350 degrees F. Spray a 9x13 inch pan with nonstick spray, or line with parchment paper. I like to line with paper so that I can lift the bars out later for easy slicing.
In a medium saucepan, melt 1 cup of butter** over medium heat. I used salted butter, but unsalted works great too!
When the butter is still bubbly and hot, add in 1 tablespoon pumpkin pie spice* (see notes for other spices). Let the spices toast in the pan for just a few seconds, then remove the pan from heat.
Stir in 1 cup sugar and 1 cup packed brown sugar.
Add in 1 cup pumpkin puree from a can. Don't use pumpkin pie filling! (Use the other half of the can to make pumpkin cookies!)
Add 2 teaspoons vanilla and 1/2 teaspoon kosher salt.
Add 1 egg and stir vigorously right away so that it doesn't curdle. If your butter/sugar mixture is still super hot, you might want to consider waiting a couple minutes to add the egg.
Add 2 cups flour, spooned and leveled, but don't stir yet. Add 1 teaspoon baking powder to the flour and use the teaspoon to stir it into the flour.
Stir in the flour until most of the lumps are gone, but do not over beat. Just like brownies, you want to get all the ingredients incorporated, but you don't want to mix it so much that you end up with tough pumpkin bars. See photos. Don't add the chocolate chips yet.
Pour the batter into the prepared pan and spread to the edges.
Sprinkle 1 cup semisweet and 1 cup dark chocolate chips over the top. Use your spatula to gently fold them in so that they are incorporated into the batter. (If you mix the chocolate chips into the warm batter, they will melt right away)
Bake at 350 for about 25-30 minutes. They are done when a toothpick inserted in the center comes out with no wet batter on it. The edges should be pulling slightly from the sides of the pan.
Let cool before lifting the paper from the pan and slicing. (or just dig in while they're hot, I'm no judge.)
Keep leftover bars stored on the counter, tightly sealed. They will keep for 2-3 days before getting dried out.
These bars freeze well! Store in a sealed ziplock and freeze for up to 3 months. Let thaw in the sealed bag on the counter.
by The Food Charlatan

If you make this recipe,
share it on Instagram
 using the hashtag
#TheFoodCharlatan
so I can see it!
We are a participant in the Amazon Services LLC Associates Program, an affiliate advertising program designed to provide a means for us to earn fees by linking to Amazon.com and affiliated sites.