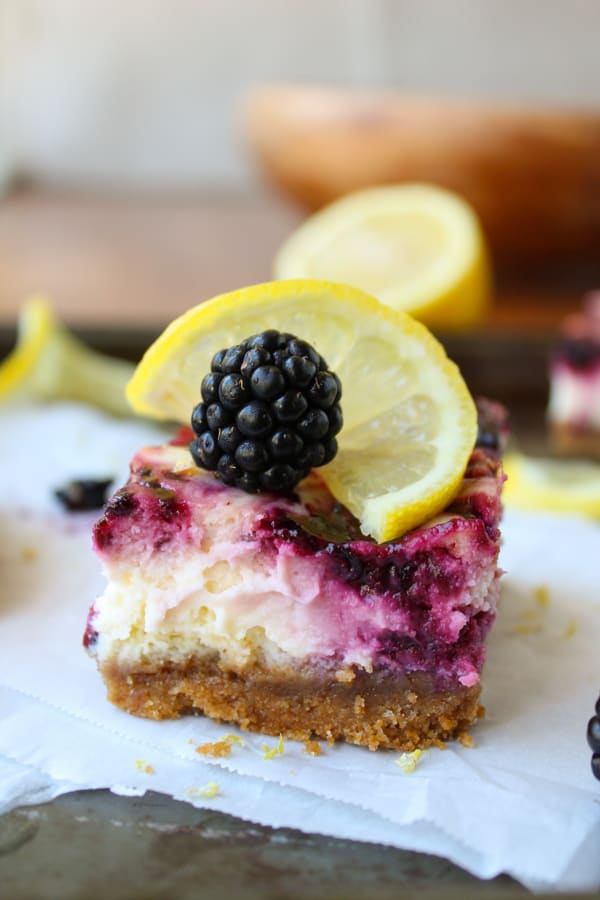 So I'm going to a BlogHer conference this afternoon. I've never been to a blog conference, and if you told me 6 months ago I'd be going, I would have laughed at you.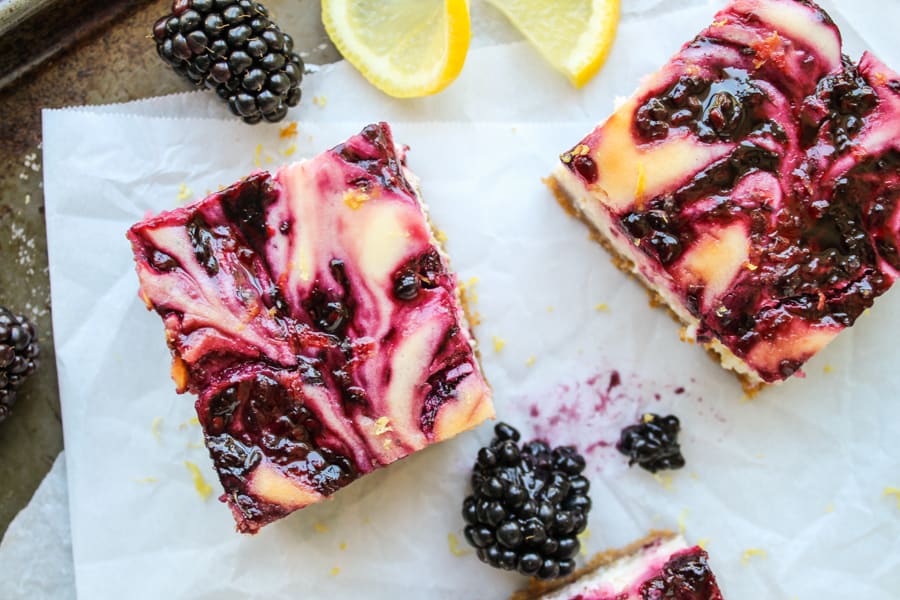 I'm not nervous at all or anything. Just ask Eric. He hasn't had to listen to me freak out about the fashion bloggers, not once.
Fashion bloggers, you guys. As in, people who exude so much fashion that they are selling their ideas. They will be at the conference. I swear, the idea of meeting them makes me more nervous than having to decide between chocolate chip cookies and
Almond Roca Bars
. I plucked my eyebrows in anticipation, even though I have straight-across bangs right now, so my eyebrows are not visible AT ALL.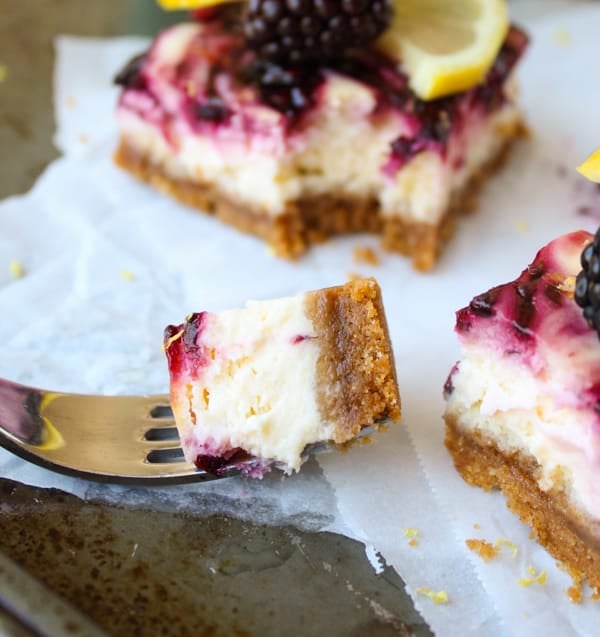 Speaking of eyebrows, my sister Nikki said one time that when she is in a hurry and only has time to do one thing to get ready, she pencils her eyebrows. This made me very concerned because we have the exact same eyebrows and I never do ANYTHING to mine. What's the one thing you do when you have 5 minutes to get dressed? Mascara? Blush? For me it's powder and bangs.
I was trying to get Eric to help me pick out my nail polish color last night and he said, "Karen, if you're going to bother doing anything to your nails, just go get a manicure." Or in other words, "Give up now, Karen." When I do my nails, they end up looking like I painted them using a pastry brush. It's bad, guys.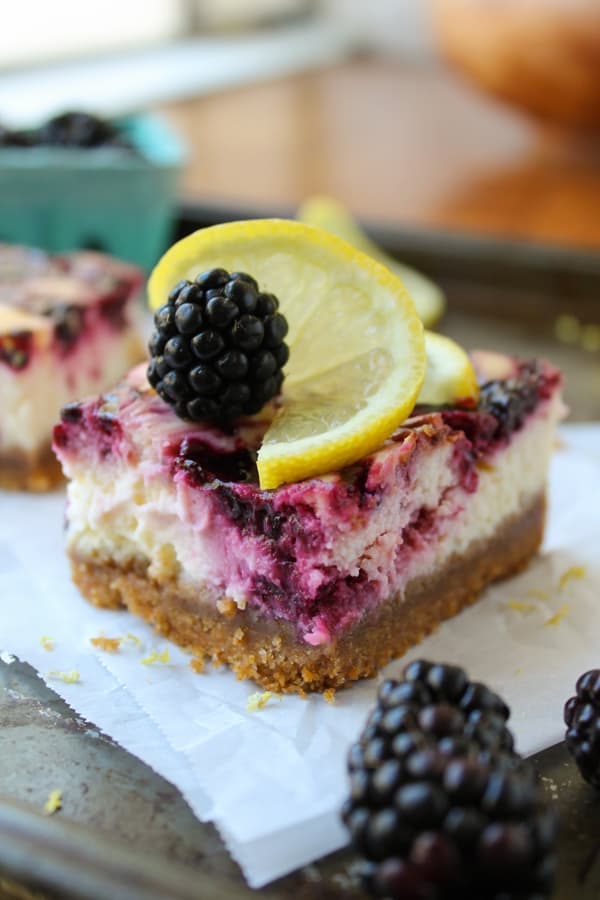 I'm kind of tempted to bring some of these Blackberry Lemon Cheesecake bars to the conference. Giving away food is the best the easiest way to win friends. Then I wouldn't even need to tell people what The Food Charlatan is about. I'd be like here, *shoves cheesecake,* THIS is what I'm about!!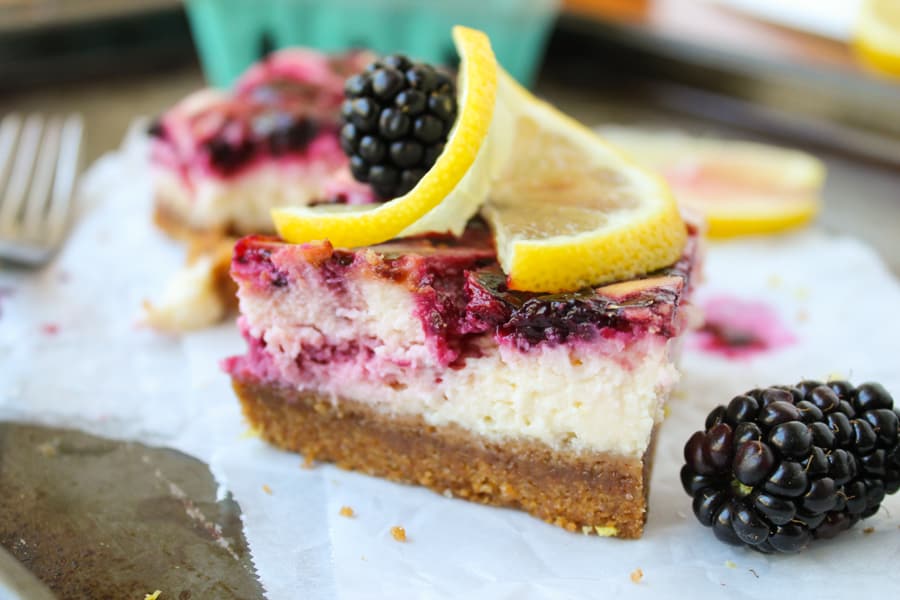 Creamy, bright lemon cheesecake with a smattering of blackberry puree on top. And the thickest crust you ever did see. It's heaven you guys. This is a great make-ahead dessert. Absolutely no last minute prep. This is not a good last-minute dessert. Every single one of those "hurry up and cool down" minutes lasts an hour, I swear. But it's best served completely chilled, so put your patient pants on. These bars are so worth it.

Blackberry Lemon Cheesecake Bars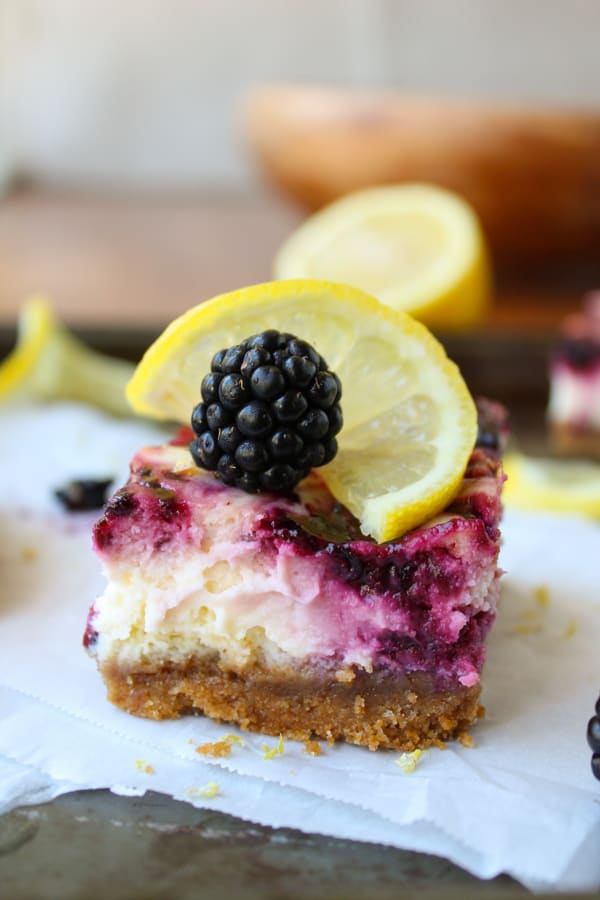 These Blackberry Lemon Cheesecake Bars are creamy, bright with lemon zest and blackberry puree, and have a super thick crust. Heaven.
Ingredients
For the blackberry puree:
6

ounces

blackberries

,

fresh or frozen

1/4

cup

granulated white sugar

1/4

cup

water
For the crust:
2

cups

graham cracker crumbs

,

2 cups crumbs, 12 full sheets of crackers

1/4

cup

granulated sugar

6

tablespoons

salted butter

,

melted
For the cheesecake:
2

8-oz packages

cream cheese

,

room temperature

1/2

cup

granulated white sugar

1/4

teaspoon

salt

1

tablespoon

lemon zest

,

or more

1/2

cup

sour cream

,

room temperature

2

large

eggs

,

room temperature

1/4

cup

lemon juice

,

fresh

blackberries and lemons

,

fresh, to garnish
Instructions
Preheat the oven to 350 F. Set your cream cheese, sour cream, and eggs on the counter.

Start with the blackberry puree. In a small saucepan, combine blackberries, 1/4 cup sugar, and water. Turn the heat to high and bring to a boil. Boil for 2-3 minutes, stirring occasionally, then lower the heat to medium. Continue to stir every now and then for 5-8 minutes. Break up the blackberries with the back of your spoon. The syrup should be thickened. Set aside to cool, or throw it in the fridge.

Meanwhile, make the graham crackers crust. Pulse the graham crackers in a food processor (or smash them with a rolling pin) until they are very fine crumbs. Add the sugar and melted butter to the food processor (or mix it in a bowl) and pulse until it looks thoroughly moistened, like wet sand.

Line an 8x8 inch pan with foil or parchment paper, if you want. (you don't have to, it's just easier to cut if you can lift it out.) Use the bottom of a glass to press the crumb mixture into the bottom of the pan (not up the sides). Bake at 350 F for about 9 minutes. Set aside to cool. Lower the oven temperature to 325 F.

In a large mixing bowl or stand mixer, beat together the cream cheese, sugar, salt, and lemon zest. Beat on high for 3 or 4 minutes, scraping down the sides and bottom at least twice. You want the cream cheese to get high and fluffy.

Add the sour cream and beat. Add the eggs in one at a time, beating in between. Add the fresh lemon juice and beat until smooth.

Once your graham cracker crust is not too hot to touch, pour the cream cheese mixture into the pan. Smooth it out with a spatula.

Use a spoon to dollop the blackberry puree all over the cheesecake. Use a sharp knife to swirl it together. Remember, less is more. You want to be able to see the white cheesecake on top, not just blackberry.

Bake at 325 F for 55-60 minutes. Keep a close eye on it toward the end. When you shake the pan, the center should not be jiggling any more than the outside edges. (The cheesecake will definitely jiggle, it's not completely set yet. Just make sure it's not sloshy in the middle.) If the cheesecake starts to brown on top, definitely take it out.

Let cool for at least an hour before putting it in the fridge. Refrigerate for at least 3 hours, covered. Garnish with lemons and blackberries.
Notes
If you don't like blackberry seeds, strain the puree through a mesh sieve after it cools down.
This cheesecake might crack. They're bars though, so who cares? They're like cheesecake's kid sister, they don't need to be quite so grown up. But if you don't want it cracking then feel free to look up some water bath options.
Source: barely changed from Broma Bakery
Nutrition
Serving:
1
bar
|
Calories:
276
kcal
|
Carbohydrates:
40
g
|
Protein:
4
g
|
Fat:
12
g
|
Saturated Fat:
6
g
|
Polyunsaturated Fat:
1
g
|
Monounsaturated Fat:
3
g
|
Trans Fat:
1
g
|
Cholesterol:
66
mg
|
Sodium:
281
mg
|
Potassium:
117
mg
|
Fiber:
2
g
|
Sugar:
28
g
|
Vitamin A:
379
IU
|
Vitamin C:
8
mg
|
Calcium:
49
mg
|
Iron:
1
mg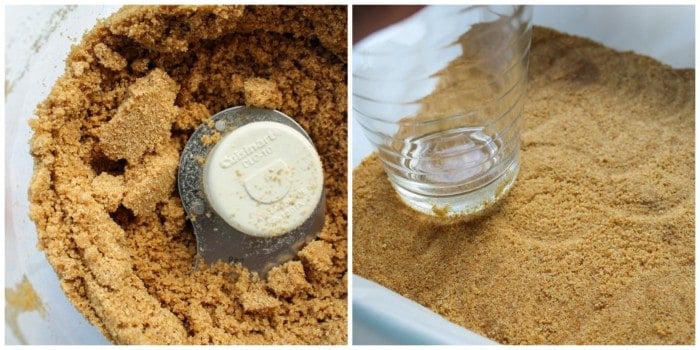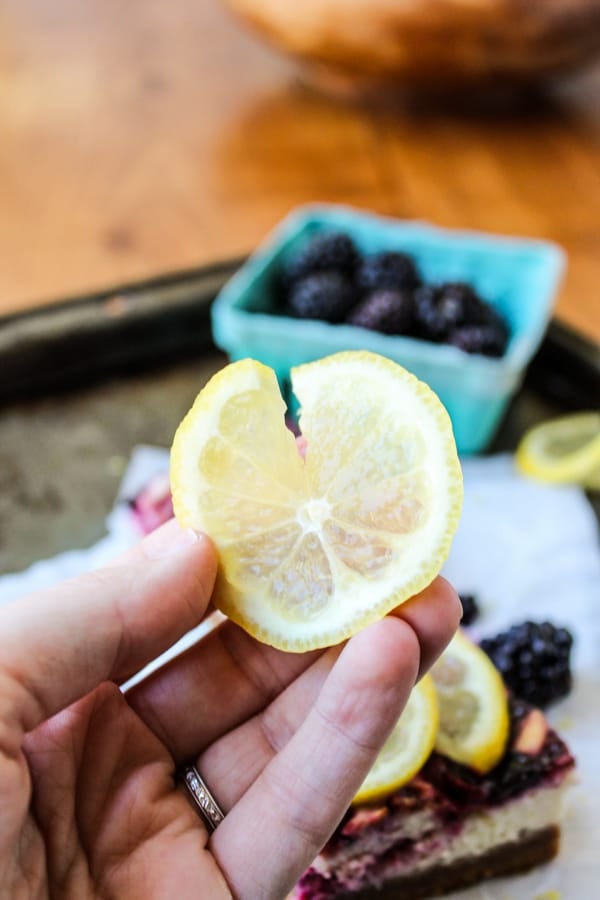 Here's how I cut my lemon to get that twisty thing goin on. Thin slice, then slice it halfway through and twist.