Do you have zucchini and yellow squash growing out your ears? This crispy parmesan crusted zucchini and yellow squash recipe is possibly the easiest summer side dish of all time, and a great way to use up garden veggies! I have a hard time not eating the entire batch single-handedly. Originally published on August 16, 2016.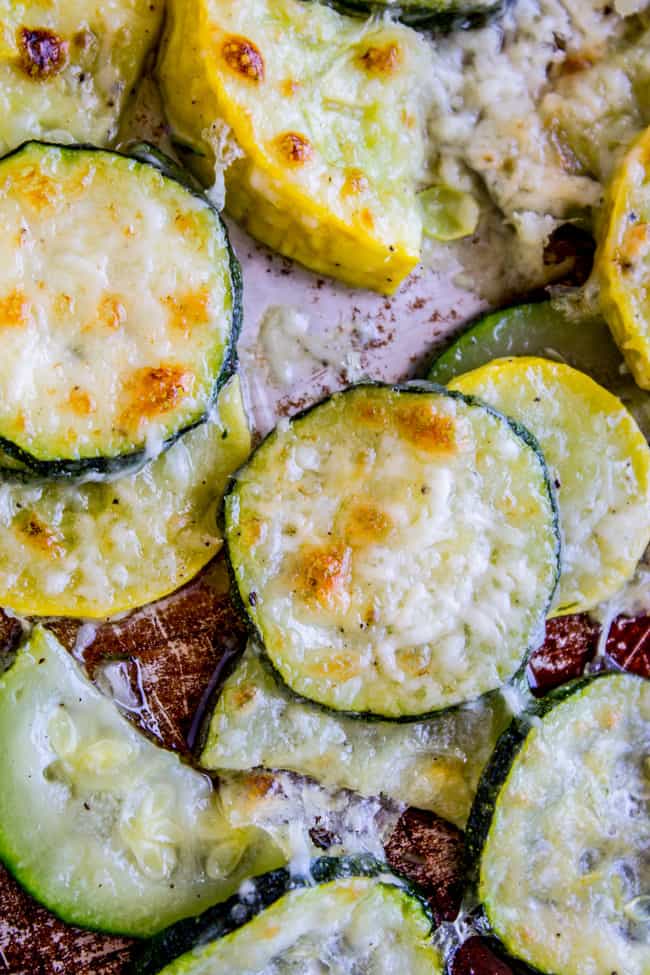 Tonight Eric took Charlotte out on a Daddy-daughter date. She counted down the hours from the minute she woke up this morning until they left at 6pm. They also got married last week sometime, so I feel like I should be getting jealous here pretty soon.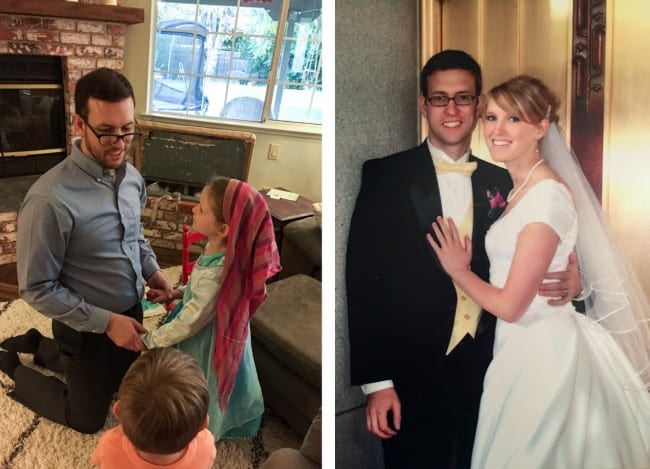 I was "the roommate" during the dating scenes leading up to the blessed event. (Their courtship sounded suspiciously like mine and Eric's.) Truman was the marriage officiator. You can send wedding gifts to…just kidding.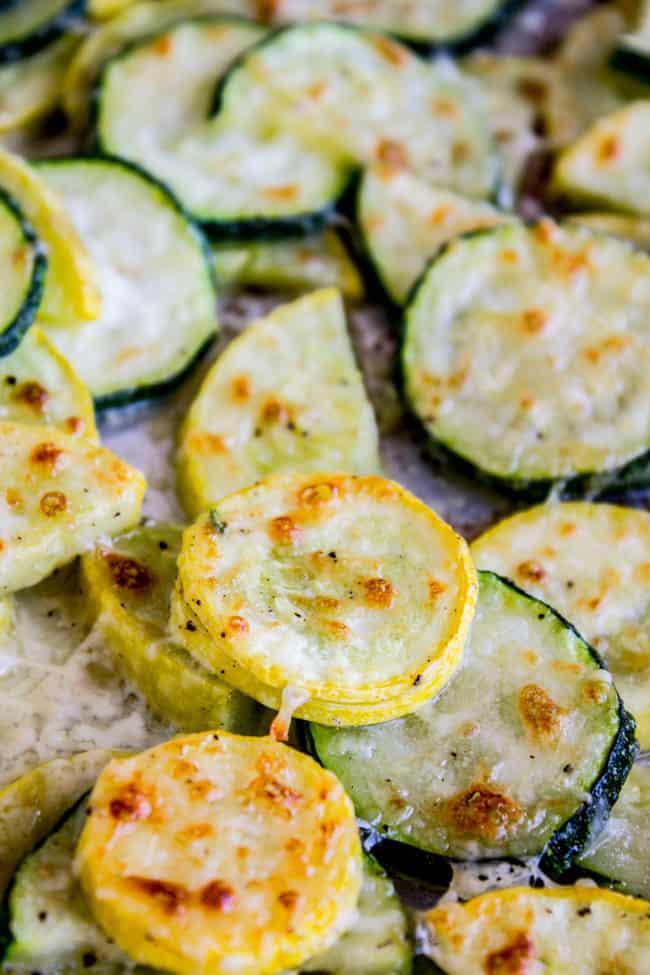 So how is your garden growing this summer? Did you plant one? We did, but pretty late. It's not the end of the world since we're in California, but our zucchini and yellow squash are still just little babes. I still wanted to try out this recipe though, ever since I saw my sister-in-law make it a few weeks ago. She got the idea from our cousin Lani, who is an amazing and intuitive cook. (She's the one who inspired these Roasted Sweet Potatoes and Brussels Sprouts.)
This seems like such a "duh" recipe, but I had never tried it and it is SO GOOD! Is there anything better than a crispy parmesan crust, I ask you? I didn't think so. Plus it's just so easy and quick. I am the laziest when it comes to side dishes (seriously…baby carrots, anyone?) but even I can handle this one. Baked zucchini and squash for the win!
Parmesan Squash and Zucchini: The Easiest Side Dish
And I really do mean easiest. This good-for-you side dish requires just a few simple ingredients and is ready in a total time of 16 minutes. Can't beat that, right? Just enough time for you to take a quick pre-dinner nap. (Although who am I kidding. I'll probably use that 16 minutes to break up a sibling sword fight that went south. Or to stop my two-year-old from permanent-markering the wall. C'est la vie!)
What's the difference between summer squash and zucchini?
While zucchini and summer squash are quite similar, they do have some key differences, which makes them both great additions to this parmesan squash and zucchini recipe.
Shape: Zucchini tends to be straight from top to bottom. Summer squash has a fatter, more rounded bottom. Like a zucchini, but with apple bottom jeans on.
Color: Zucchini is green. Summer squash, or yellow squash, is bright yellow of course! All the color is the best part of summer veggies.
Flavor: The two squashes are similar in flavor, but they are subtly different. Yellow squash has a sweeter, smoother, more buttery flavor while zucchini is richer and slightly more bitter, but in a good way.
Ingredients for Parmesan Crusted Zucchini and Squash
The ingredients for this baked parmesan zucchini really could not be simpler! All the details in the recipe card below.
Zucchini
Yellow squash
Olive oil
Salt and pepper
Parmesan cheese
How to make Parmesan Squash and Zucchini
Line a pan with foil for easy clean up.
Slice up your squash into ⅛ inch rounds.
Toss with oil and salt and pepper, and spread in a single layer onto your lined pan.
Top with shredded parm
Roast at 400 for 10 minutes! Seriously, that's it! Full details are in the recipe card below.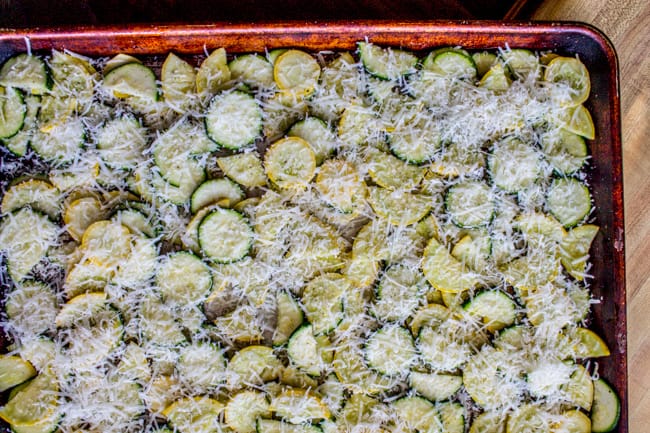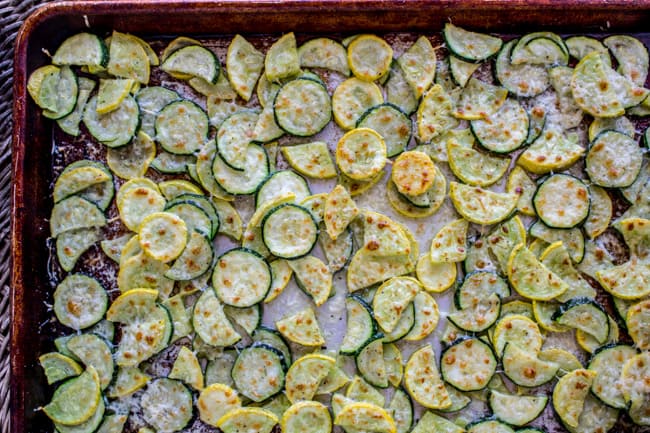 Do you cook zucchini with the skin on?
Yes! Although you can peel it if you prefer, there's really no need. The texture is soft and thin enough that you won't even notice it. It's where all the healthy stuff is too, vitamins and nutrients and stuff, so you wouldn't want to miss that.
Since you are leaving the skin on, remember to thoroughly wash the outside of the zucchini before slicing!
How do you keep zucchini from getting soggy when roasting?
Zucchini has a super high water content, which means it's naturally going to be soft. There are a couple of things you can do to make sure it isn't soggy though:
Go easy on the oil. Use just enough oil to coat the squash and zucchini, but not so much that it's drowning in it.
Cook on high heat. 400ºF is the perfect temperature. If the heat is too low, the zucchini will become overcooked and mushy before it's heated all the way through.
Roast in a single layer. As best you can, try to spread the squash out over the pan so the slices aren't on top of each other. We want the heat to be able to reach all around the slices to help evaporate some moisture.
Tips for Parmesan Zucchini
Slice larger or smaller. I usually slice the squash and zucchini into ⅛ inch rounds, but feel free to cut those rounds in half if you are a small-bite person. Totally up to you!
Shred your own cheese. The flavor and texture is just better. But come on, sometimes you just gotta git er done! Pre shredded cheese works fine.
Broil on the top rack. Moving the pan closer to the heat gives the cheese those perfect brown crispy spots. YAS.
Watch closely! The cheese needs just 2-3 minutes to melt over the squash, so don't walk away and keep a close eye on it. Can't tell you how many things I have literally set on fire in my broiler 😂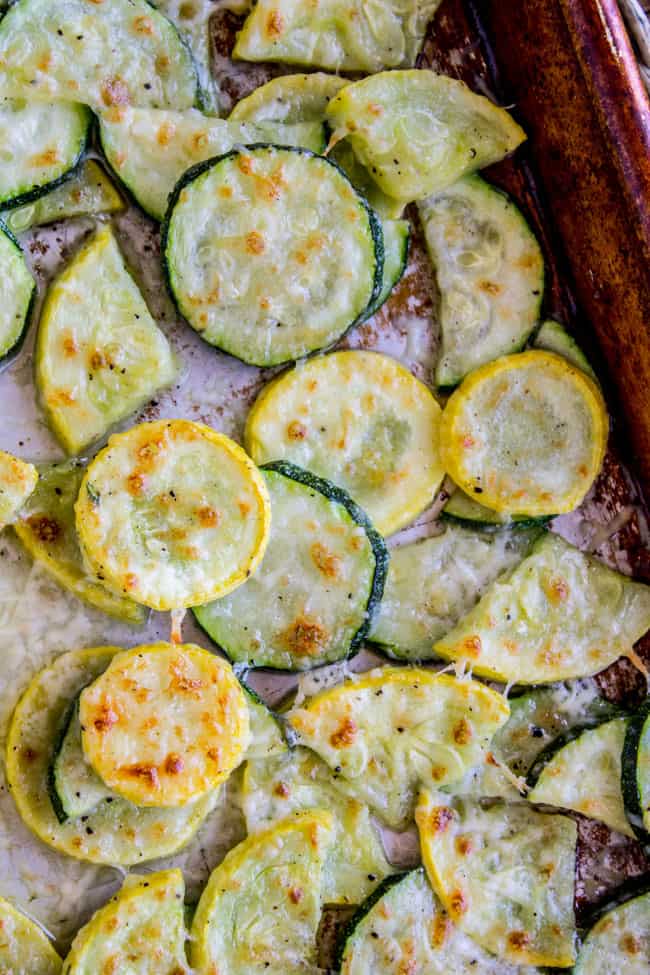 What to Serve with Parmesan Yellow Squash
This parmesan zucchini and squash recipe is about as summer-y as it gets, and it's insanely versatile, so I love to serve it next to all the summer meals.
It would be delicious next to a scoop of Tomato Basil Summer Veggie Casserole, BBQ Smoked Pulled Pork Sandwiches, Slow Cooker Mac and Cheese, you name it!
Storing & Reheating Baked Parmesan Zucchini
Parmesan Crusted Zucchini and Yellow Squash is best right away, but any leftovers will last in an airtight container in the fridge for up to 4 days.
To reheat, warm in the oven at 400 until hot. Or microwave for a minute. Keep in mind that the texture won't be quite the same as freshly roasted!
More ideas for how to use up that summer squash!

Parmesan Crusted Zucchini and Yellow Squash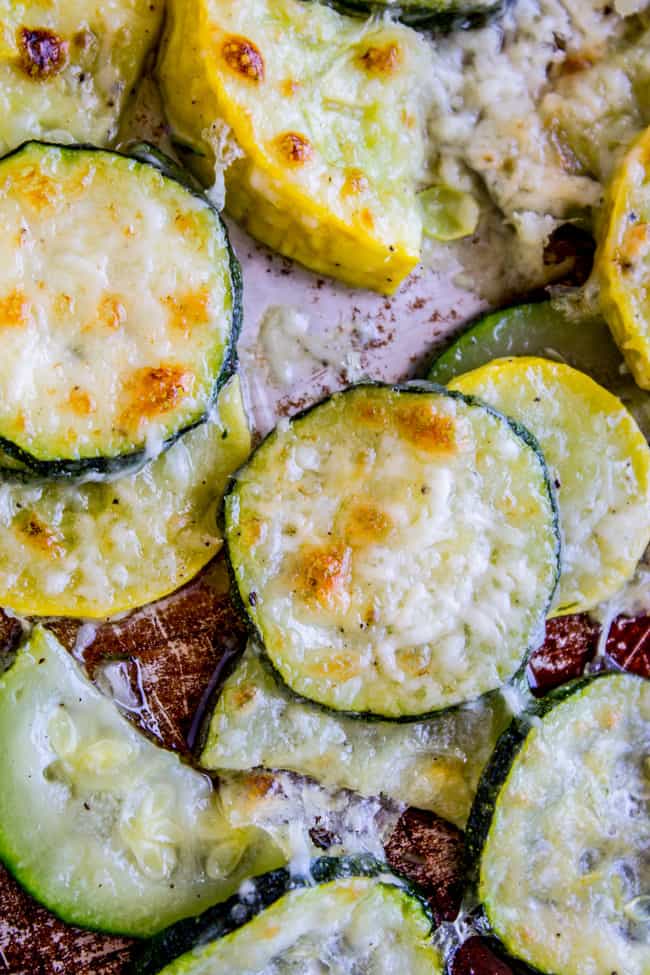 Do you have zucchini and yellow squash growing out your ears? This crispy parmesan crusted zucchini and yellow squash recipe is possibly the easiest summer side dish of all time, and a great way to use up garden veggies! I have a hard time not eating the entire batch single-handedly.
Ingredients
2

small

zucchini

2

small

yellow squash

3

tablespoons

olive oil

3/4

teaspoon

salt

cracked pepper

,

fresh, to taste, I like lots!

1/2

cup

Parmesan cheese

,

grated
Instructions
Preheat your oven to 400 degrees F. Line a large rimmed baking sheet with foil for easy cleanup. (You can skip the foil if you want)

Slice the zucchini and yellow squash into 1/8 inch rounds. You can half the rounds if you are a small-bite person, totally up to you.

Add the sliced squash to a large bowl, and add olive oil, salt, and pepper. Stir to coat.

Spread the oiled zucchini on the prepared pan. Do your best to make sure the squash are in a single layer.

Sprinkle the pan evenly with shredded cheese.

Roast at 400 for 9-10 minutes until tender.

Turn on your broiler and move the pan up to the very top rack. Broil on high for 2-3 minutes. Don't walk away!

Check it until it is as brown and crispy as you like it.

Serve immediately.
Notes
Do your best to spread the veggies in a single layer on the pan, so they get nice and crisp! Reheat these in an air fryer or oven (wish I had an air fryer!), on a pan on the stove, or in the microwave (won't get crispy). 
Nutrition
Calories:
108
kcal
|
Carbohydrates:
3
g
|
Protein:
4
g
|
Fat:
9
g
|
Saturated Fat:
2
g
|
Polyunsaturated Fat:
1
g
|
Monounsaturated Fat:
6
g
|
Cholesterol:
6
mg
|
Sodium:
428
mg
|
Potassium:
214
mg
|
Fiber:
1
g
|
Sugar:
2
g
|
Vitamin A:
223
IU
|
Vitamin C:
14
mg
|
Calcium:
111
mg
|
Iron:
1
mg