My brother Nathan ran an Ironman yesterday. That's a 2.4 mile swim, 112 mile bike ride, followed by a 26.2 mile run. 140.6 miles total. It took him nearly 14 hours to finish. Fourteen hours. Remember last week when I was having trouble putting on my mascara after my morning jog? My brother and his friends used to tell me in high school that I was adopted. I'm starting to believe it.
I'm really proud of him. Throughout the day hundreds of people dropped out of the race, but Nate pushed through.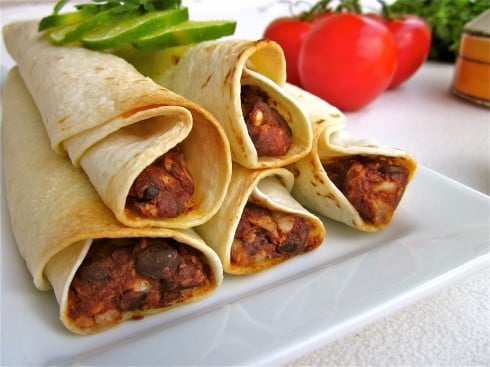 The next morning we ate breakfast at a European restaurant. It was a quaint little place that served Swedish Crepes and Hungarian Goulash. Nathan had some calories to catch up on so he ordered two meals, entering into yet another race, but this time against his own metabolism (he lost this one). A couple seats over, my mom was crying over the menu. Actual tears. (Some heartwarming European immigrant stories had been sprinkled among the meal descriptions. She never had a chance.) I was trying to convince my dad that the sauce for his Aebelskivers had some sort of alcohol in it because it tasted like Blackberry Nyquil. (I was right. It was Blackberry Brandy Sauce.) Meanwhile Charlotte was wiping her nose with her pancake. She's had a cold this week and I guess she thought the pancake would be absorbent? Never mind the smears of maple syrup and whipped cream all over her face.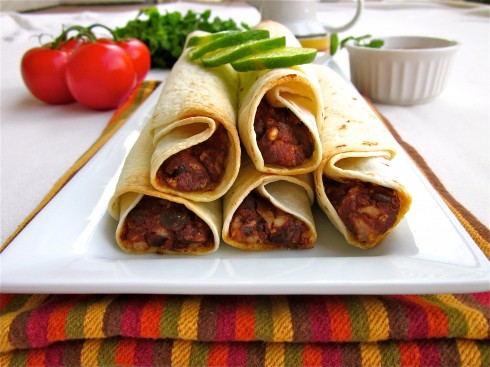 Baked Black Bean Taquitos. I was a little dubious about this recipe at first. The best part of a taquito is of course the juicy meat that is fried to a crisp on the edges. So what's a taquito without that essential filling? But I was surprised and delighted with this meatless version. I tried it out because I needed dinner on the table quick, and this looked easy. It had quite a lot of flavor to it, and I must say they were better than some traditional taquitos I've had. The fact that they are baked and not fried is awesome for two reasons: It's healthier and faster. And I didn't even have to sacrifice my favorite taquito-quality: even baked, you still get that delicious crispy bite on each end.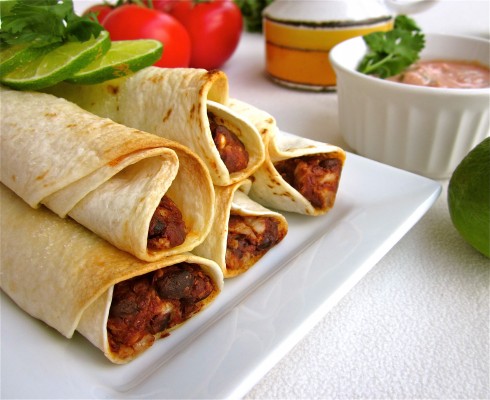 Baked Black Bean Taquitos

Source: The Curvy Carrot
Makes 8-10 taquitos
4 ounces cream cheese, softened
1/4 cup fresh salsa
Juice from one small lime
1 teaspoon chili powder
1/2 teaspoon cumin
2 cloves garlic, minced
2 tablespoons onion, chopped
15-ounce can black beans, drained and rinsed
15-ounce can refried beans
1 cup Monterey Jack cheese, shredded
8-10 large flour tortillas
Sea salt
For garnish: sour cream, salsa, avocado, etc.*
Preheat the oven to 425 degrees. Line a rimmed baking sheet with parchment paper and set aside.
In a large bowl, combine the cream cheese, salsa, lime juice, chili powder, cumin, garlic, onion, both kinds of beans, and cheese, mixing until well combined.
Place about 2-3 tablespoons of the bean mixture in the center of each tortilla and, starting at one end, roll each taquito up tightly. Place taquitos seam-side down onto the rimmed baking sheet.
Generously spray the taquitos with cooking spray. You may want to lift the taquitos and spray the underside as well. Lightly sprinkle with sea salt. Bake the taquitos for 15-20 minutes.  Serve with sour cream and salsa, if desired.*
*For a dipping sauce, I combined sour cream, plain Greek yogurt, salsa, lime juice and chopped cilantro. Use whatever proportions look good to you.