Guys. I went running this morning and I DID NOT STOP ONCE.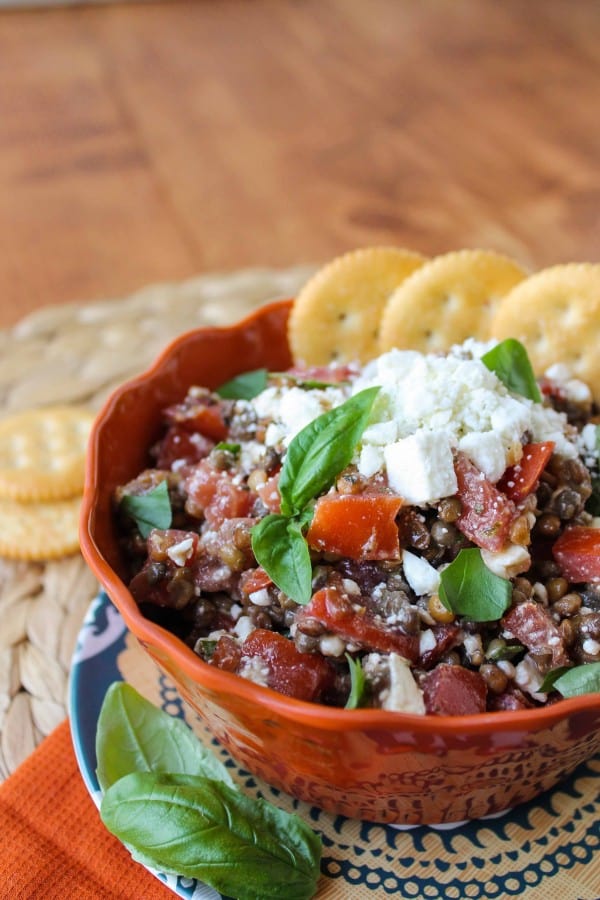 Okay. So maybe it was a measly mile-and-a-half jaunt around my neighborhood. Baby steps people.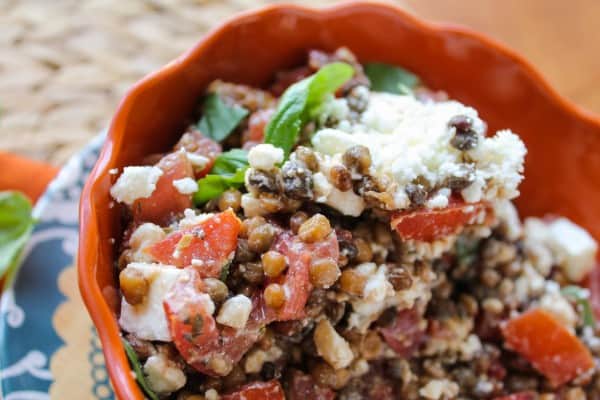 If you are one of those running nuts (yes, you are a nut) then shut up that inner monologue you've got going on right now. ("That's a warm-up for me, before the real work begins." "A mile-and-a-half? I could do that backwards in under 4 minutes.") Shut it, I say! That's MY thunder you're stealing! Give it back!!
(I'm lookin' at you Nathan. My brother ran a freaking Ironman a few years ago. 140.6 miles. Why do my family members have to be ridiculously awesome? I'm so cool when I'm not around them.)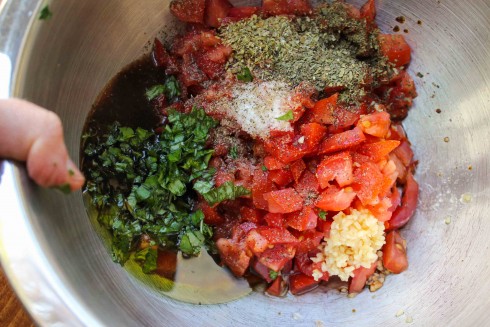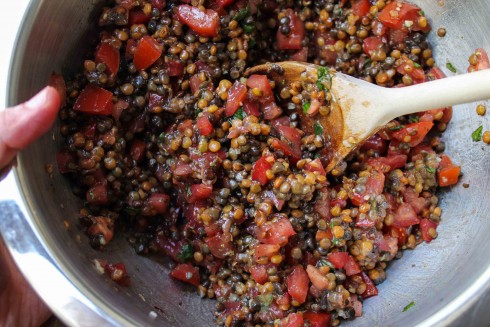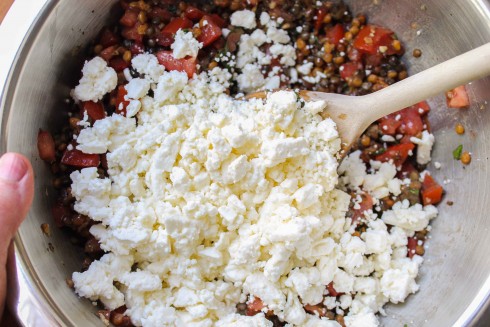 Running in the morning, no matter how far I don't go, does wonders for the rest of my day. I feel energized and productive before I've even done anything. And if I do get in a slump, I can just be like, wait a second, I ran this morning, I'm not some lame-o stay at home mom youtubing yet another Happy video tribute while stuffing my face with dip. Ima go do stuff.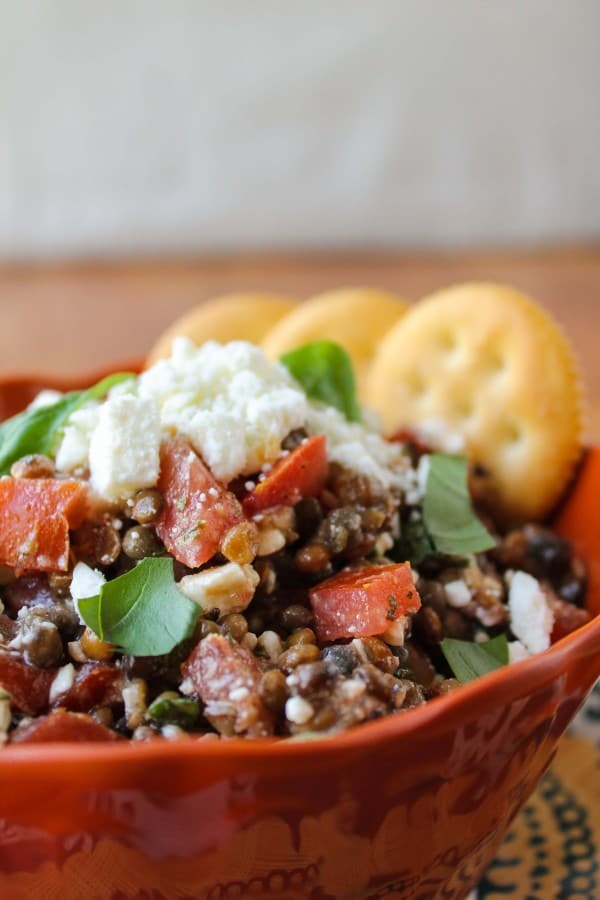 At least it was healthy dip. Lookie! Lentils! Tomatoes! Basil! This Fresh Bruschetta and Lentil Dip is sooooo good you guys. I told you I've been on a lentil kick lately, I wasn't lying. My friend served the original version of this dip at our book club a while back and I fell in love. It's from Trader Joe's: just a package of their steamed lentils, a tub of pre-made bruschetta topping, and a tub of feta. Thaaaaaat's it.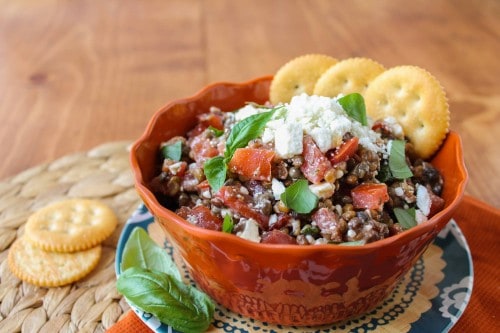 I created my own homemade version. I like the original, but this recipe has balsamic vinegar in it, so yeah, win. I think it's a lot more flavorful. Their pre-made bruschetta is really good, but you just can't beat fresh basil sometimes. I tried this 2 ways: once cooking the lentils myself and the next time I used the pre-packaged steamed lentils: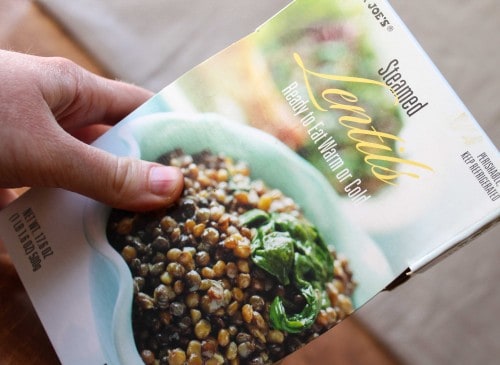 It works either way. If you live near Trader Joe's, save yourself a step. If not, just make your own. No big deal. It will be prettier if you use the steamed lentils because they stay firmer, but it doesn't make that huge of a difference.  You can serve this with any kind of cracker. Pitas would be good. I've even seen people do sliced cucumber, which would make it super low carb.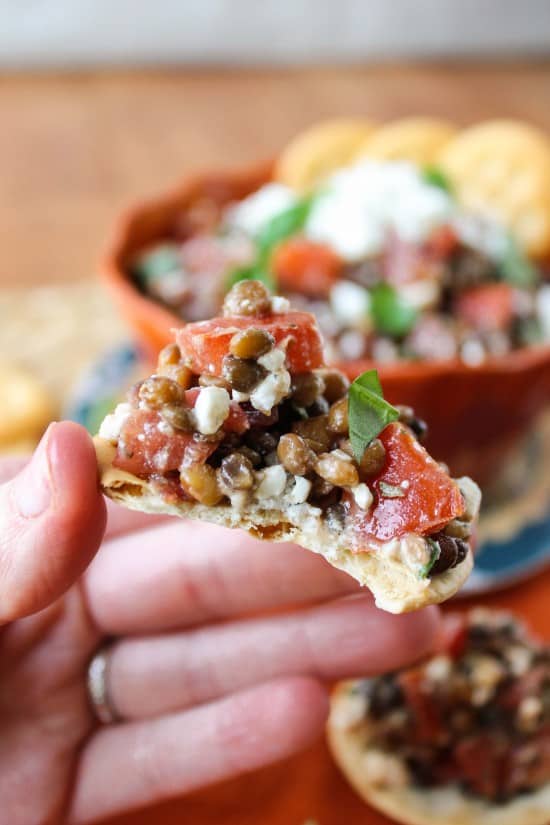 This is a great make-ahead appetizer, because the longer it sits, the more flavorful it becomes. It would be a fresh and easy choice for Easter this weekend. What are you guys making? If you need a ham recipe, make this Raspberry Chipotle Glazed Ham. (Don't be scared by my horrendous photos. That recipe's legit.)
Do you guys give up? Or are you thirsty for more?
Facebook | Pinterest | Instagram | Twitter

Fresh Bruschetta and Lentil Dip
This Fresh Bruschetta and Lentil Dip is easy, healthy, and perfect for Easter or a summer get together. Feta for the win.
Ingredients
8

oz

uncooked lentils

,

OR a 1 lb package steamed lentils

5

roma tomatoes

,

diced

8-10

basil leaves

,

fresh, chopped

1 & 1/2

teaspoons

garlic

,

minced

1 & 1/2

teaspoons

salt

pepper

,

to taste

1

tablespoon

balsamic vinegar

2

tablespoons

olive oil

1

teaspoon

lemon juice

1

teaspoon

dried oregano

1

teaspoon

dried basil

2

cups

crumbled feta

crackers or veggies for dipping
Instructions
If you are cooking your own lentils, rinse and drain them in a colander. Bring a large pot of unsalted water to a boil and add the lentils. Boil, covered, until tender but not mushy, about 20-30 minutes. Drain and cool, then refrigerate until chilled.

Dice the tomatoes and add them to a large bowl, keeping as much of the juice as you can. Chop the basil leaves and mince the garlic and add it to the bowl.

Add the salt, pepper, balsamic vinegar, olive oil, lemon juice, oregano, and basil. Stir with a wooden spoon. Add the cooled (or pre-packaged) lentils and feta and stir again.

Refrigerate for at least an hour to let the flavors meld.

Serve with crackers, pitas, on toasted baguettes, or with sliced cucumbers.
Notes
You can leave out the dried basil if you want, just add more fresh.
I eat this stuff with a spoon, so you can totally make this a side dish if you want.
Source: The Food Charlatan (inspired by Trader Joe's)
Nutrition
Serving:
1
cup
|
Calories:
241
kcal
|
Carbohydrates:
21
g
|
Protein:
13
g
|
Fat:
12
g
|
Saturated Fat:
6
g
|
Polyunsaturated Fat:
1
g
|
Monounsaturated Fat:
4
g
|
Cholesterol:
33
mg
|
Sodium:
859
mg
|
Potassium:
399
mg
|
Fiber:
9
g
|
Sugar:
3
g
|
Vitamin A:
518
IU
|
Vitamin C:
7
mg
|
Calcium:
214
mg
|
Iron:
3
mg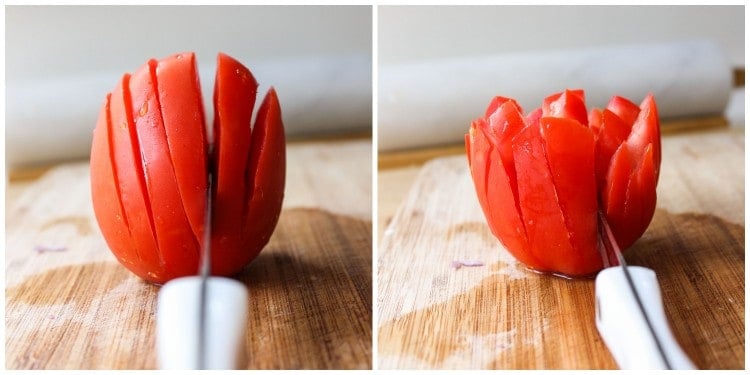 Here's how I chop tomatoes tiny-like.
If you're feeling extra dippy:
Cheddar Cheese Curry Dip from Tastes Lovely
Hot Pizza Dip (yours truly)
Caramelized Onion Dip from Simply Recipes
Artichoke and Roasted Garlic Dip from Wonky Wonderful
Avocado Dip from Lovely Little Kitchen