These Rubio's knock-off Beer Battered Fish Tacos are tender and crunchy and worth every speck of oil! The pickled onions! The coleslaw! The crispy fish! Originally published July 22, 2014.
Making delicious Beer Battered Fish Tacos
So have you guys been to Rubio's? They're known for their fish tacos, and with good reason. I've only been once (thanks Natalie!) but I can attest: those tacos are legit. I was reading a magazine a while back and saw a fish taco recipe that claimed to be like the ones at Rubio's. Homemade Beer-Battered Fish Tacos became my new life-mission.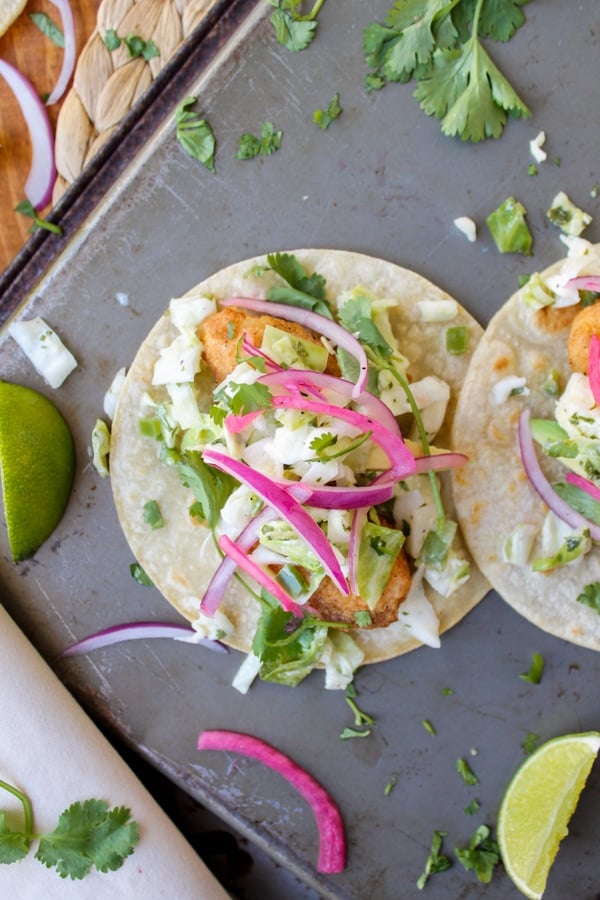 Adventures picking out the right beer
By the way, I totally don't drink beer. I bought a 24oz can of Tecate for this recipe and dumped the rest down the drain. Crazy, I know. (Except not really for me. I thought it smelled like barf.) I'm a member of the Church of Jesus Christ of Latter Day Saints and don't drink. I do cook with alcohol though, when I can't find a decent substitution. Beer is cheap so I went for it this time. Plus, what would you sub for beer in beer-battered tacos? I don't even know.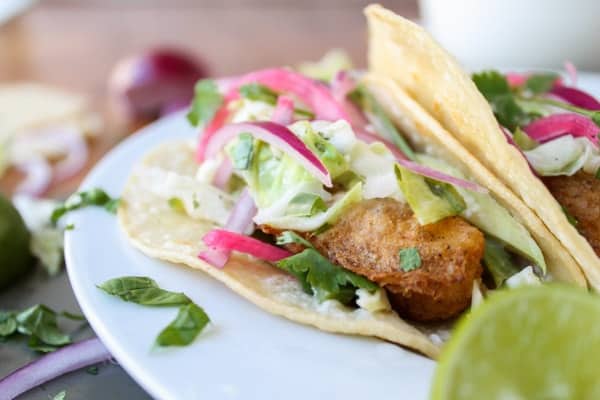 I still felt pretty awkward buying it though. I'm this blonde 20-something getting my thousand pounds of produce, whole milk, flour, and a giant can of beer. Do you remember your first time buying alcohol? I held back from saying anything to the cashier, but I was so ready to talk about how this was my first time. Besides cooking wine. Do you want to see my ID? Because I totally have it.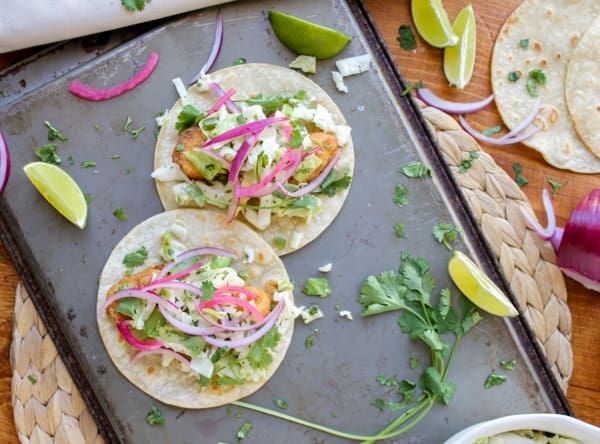 I almost stopped this lady in the beer aisle to ask her what to get, but thought I might freak her out. "Hi, I'm really sheltered and don't know anything about alcohol, can you pick out my beer please? It's only for tacos I swear." Yeah, no.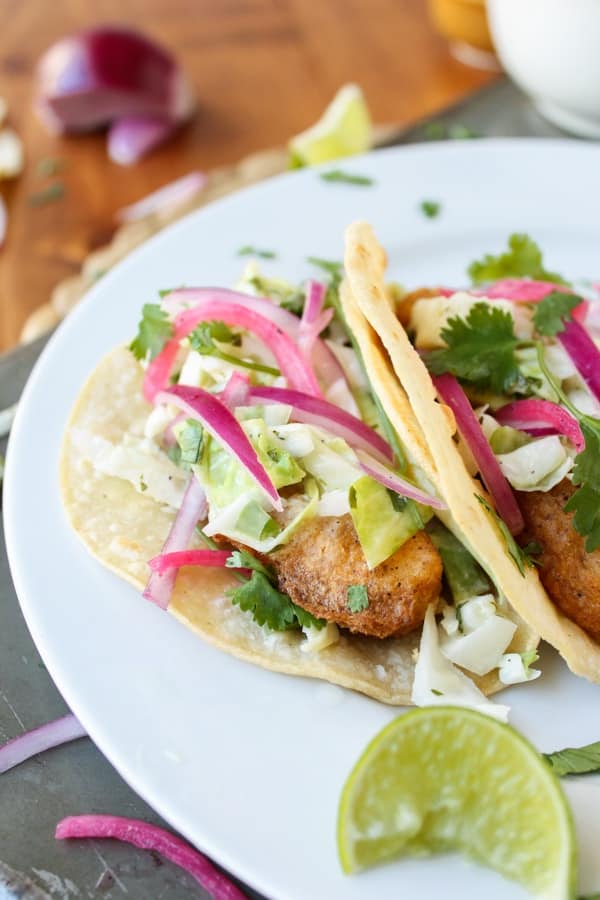 Speaking of alcohol, I bet most of you would be surprised at how little peer pressure I've had to deal with over the years. It's actually kind of refreshing. Even in high school. I bet I've been offered alcohol less than 5 times in my life. And once people find out I'm a member of the church they back off and are totally respectful. Go humans.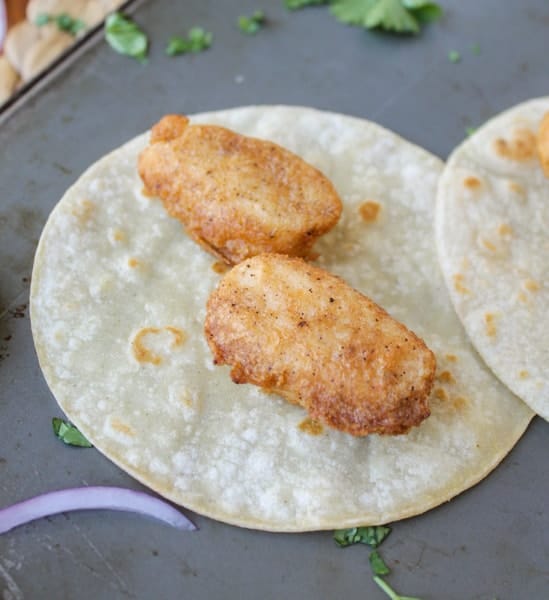 So these are probably some of the best homemade tacos I've ever had. The pickled onions! The coleslaw! The crispy fish! It's pretty much the best crunchy combination ever.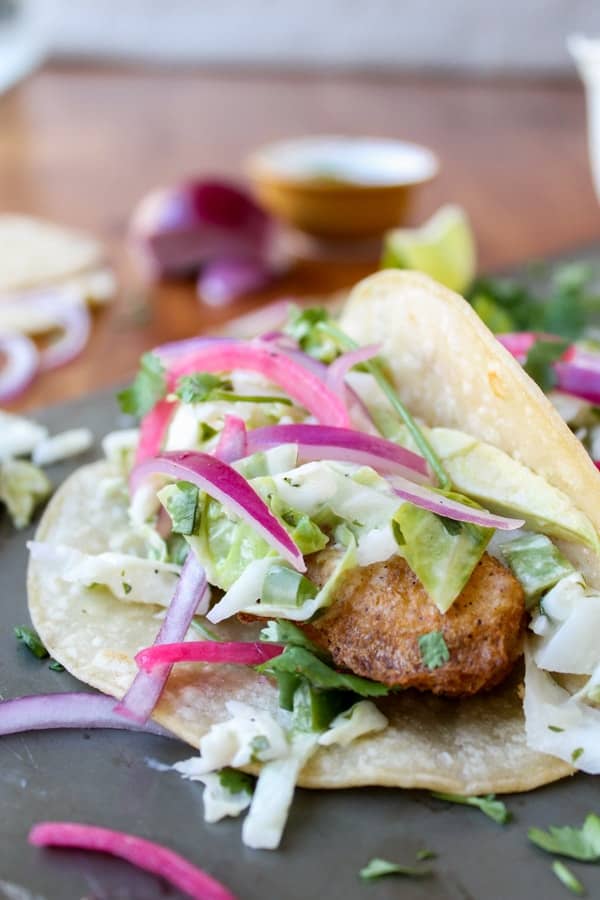 Reheating Fish Tacos
These are obviously best served right away, but if you have leftovers, bake them at about 400 F for 5-10 minutes and they will crisp up again. I used the leftover frying oil to fry up a few corn tortillas. You could use flour too. Warming them up in the microwave (covered) would work too. These would go fabulously with some homemade Horchata.
More taco recipes you will love!
Facebook | Pinterest | Instagram

Beer-Battered Fish Tacos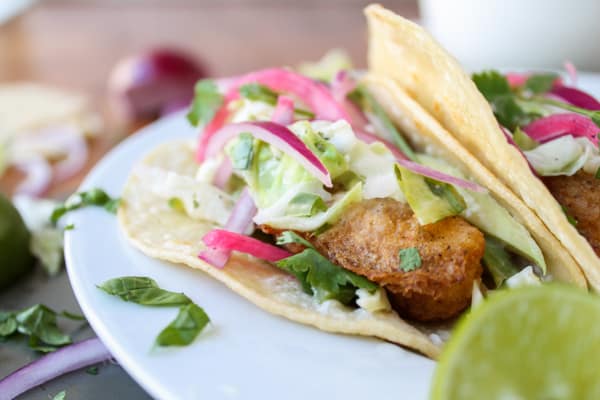 These Rubio's knock-off Beer Battered Fish Tacos are tender and crunchy and worth every speck of oil! The pickled onions! The coleslaw! The crispy fish!
Ingredients
For the pickled onions:
2

tablespoons

lime juice

,

fresh, 1 lime

1/4

teaspoon

salt

1/4

teaspoon

pepper

1

small

red onion

,

thinly sliced
For the coleslaw:
3

tablespoons

sour cream

3

tablespoons

lime juice

,

fresh, 1 lime

1/2

teaspoon

salt

1/4

teaspoon

pepper

1/2

small

cabbage

,

about 1 pound green cabbage, halved, cored, and thinly sliced

1

jalapeño

,

seeded and chopped or sliced thin

1/2

cup

cilantro

,

chopped
For the fish:
1

cup

all-purpose flour

1

tablespoon

cornstarch

1

tablespoon

chili powder

1

teaspoon

baking powder

1/4

teaspoon

cayenne pepper

1

teaspoon

salt

1/2

teaspoon

pepper

1

large

egg

,

beaten

1

cup

beer

,

such as Corona, Tecate or another lighter beer

Canola oil

,

for frying

1

pound

tilapia fillets*

,

cut crosswise into 3/4-inch-thick strips

8

corn tortillas

,

flour works too

avocado

,

to garnish

limes

,

to squeeze
Instructions
Squeeze 2 tablespoons of lime juice into a small bowl. Stir in the salt and pepper, then add the sliced onions and stir to coat. Set aside. Toss it every now and then as you prepare everything else.

Combine the sour cream and 3 tablespoons fresh lime juice in a large bowl. Stir in the salt and pepper. Add the sliced cabbage, jalapeño, ad cilantro. Toss and set aside.

Whisk together the flour, cornstarch, chili powder, baking powder, cayenne, 1 teaspoon salt, and 1/2 teaspoon pepper in a large bowl. Add 1/4 cup of this mixture to a large plate. Whisk the egg and beer into the remaining flour mixture until smooth.

Add a 1/2 inch canola oil to a cast iron or deep skillet. Turn the heat to medium and wait about 5 minutes. It should get to about 350 F. You will know it is hot when a small sprinkle of water jumps. Place a cooling rack on top of a rimmed baking sheet and set it next to the heated oil.

Work in batches to coat each piece of fish with the dry flour mixture, shaking off the excess flour. Dip each piece in the beer batter. Let the excess drip off, then carefully add each piece to the hot oil. Cook for 1-2 minutes, until the batter is golden brown, then use metal tongs to flip and cook for another 1-2 minutes. The fish should be opaque throughout. Remove to the prepared cooling rack.

If you have leftover oil, use it to fry the tortillas for about 30 seconds per side, setting them on paper towels to cool. If you want to skip this step, just warm the tortillas covered in the microwave.

To assemble the tacos, add fish, slaw, pickled onions, and avocado to a tortilla. Squeeze some lime juice over the top, and some sour cream or Mexican crema. This would be fabulous served with some Horchata!
Notes
I used frozen tilapia filets that I had thawed out. I used 4 filets and it was just about a pound.
To reheat leftovers, bake at 400 F for 5- 10 minutes until crispy.
Nutrition
Serving:
1
taco
|
Calories:
452
kcal
|
Carbohydrates:
63
g
|
Protein:
33
g
|
Fat:
7
g
|
Saturated Fat:
2
g
|
Polyunsaturated Fat:
2
g
|
Monounsaturated Fat:
2
g
|
Trans Fat:
1
g
|
Cholesterol:
108
mg
|
Sodium:
1285
mg
|
Potassium:
800
mg
|
Fiber:
8
g
|
Sugar:
6
g
|
Vitamin A:
1042
IU
|
Vitamin C:
45
mg
|
Calcium:
192
mg
|
Iron:
4
mg