Cheesy Buffalo Chicken Dip
This easy, blue-cheesy dip is the perfect appetizer for the Super Bowl coming up! Or any football game really. Or anytime you are feeling like eating dip for dinner. Make one batch to serve your guests, and another one to hoard for yourself. I'm not even kidding.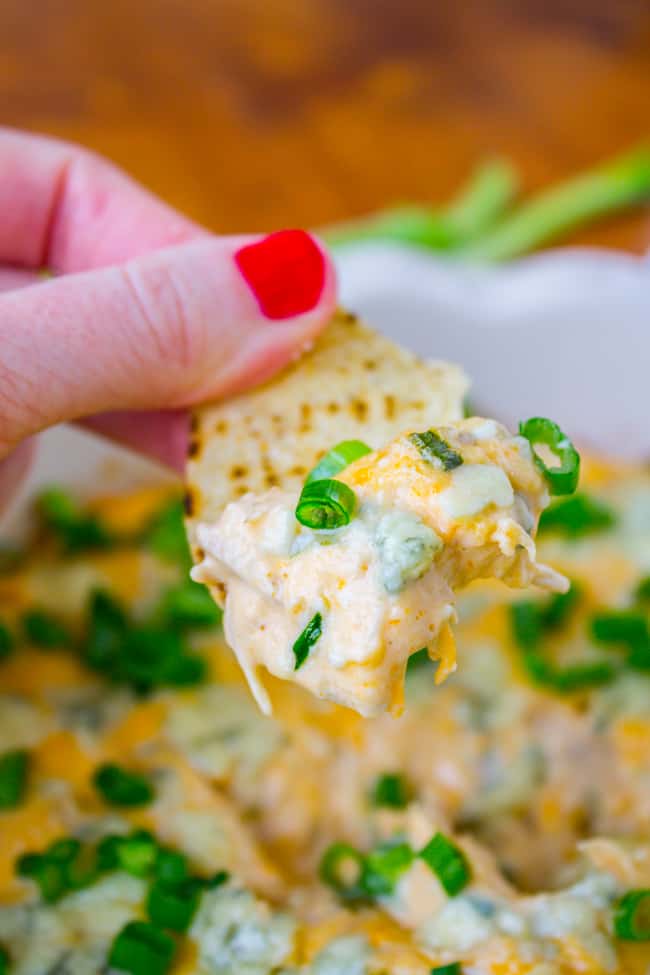 Today we went on a hike to a lake. You know, for sunshine and exercise. So that we don't turn into vampires. It worked!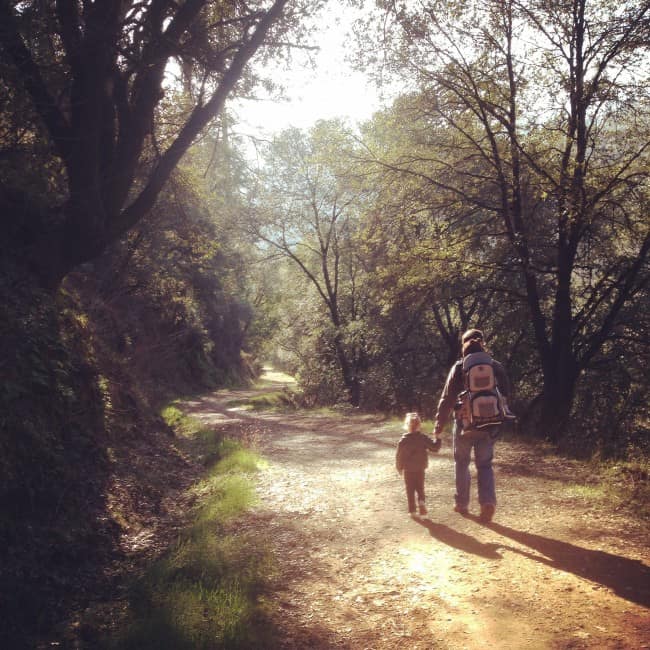 But sadly I hurt my back. I feel super old even saying that, back problems are for parents (Wait, I'm the parent now. CRAP.) Still, cool story right? "Yeah I hurt my back last weekend while having a Super Exciting Day Hike with my husband and kids. We are mega cool and outdoorsy, in case you were wondering."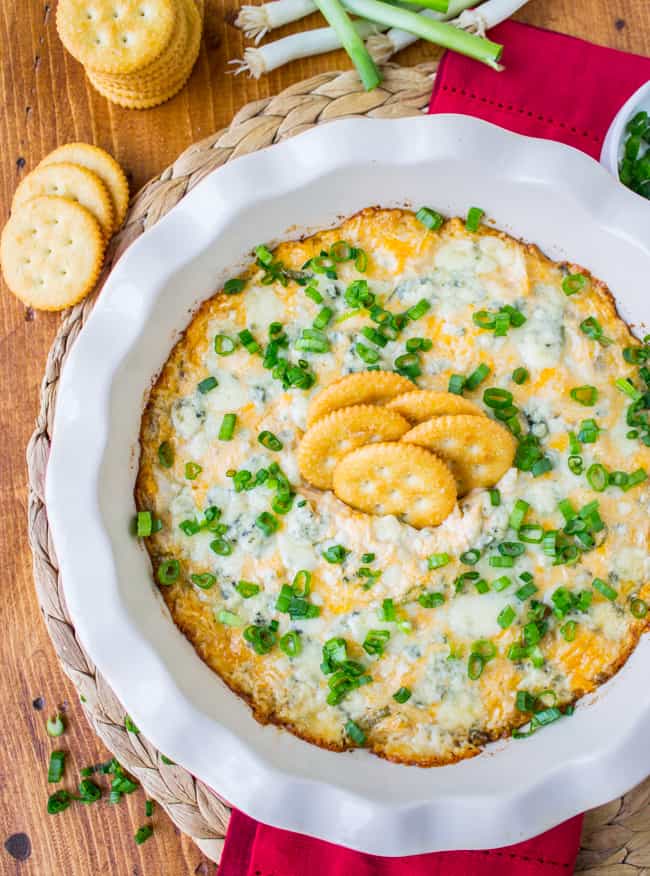 But here's how it actually happened. I forgot to take Charlotte to the bathroom before we set off, and of course she started getting a little squirmy halfway through our hike.
My best strategy for this situation is to hold Charlotte with my hands under her knees while she's in a sitting position doing her business. Works like a charm every time and no one has to get pee on their shoes.
But THIS time as I'm holding a 30-pound-currently-peeing-4-year-old, my back decides to do this old-person thing. So I'm literally tripping down the side of a ravine, trying not to drop poor bare-booty-still-peeing Charlotte in the mud.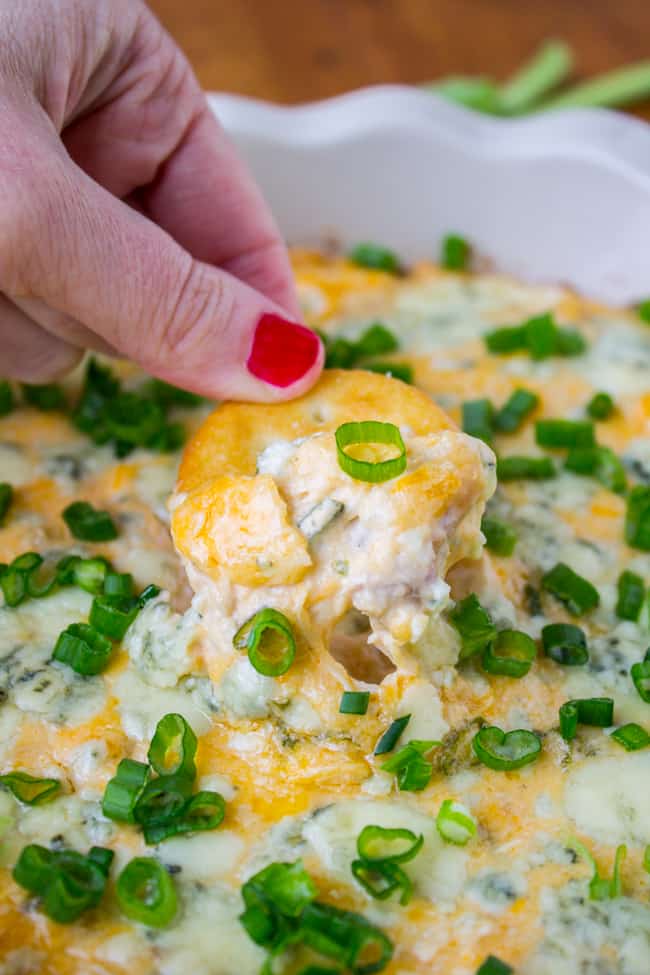 Don't worry, I'm totally fine, nothing a little ibuprofen can't fix, and Charlotte will probably only have my-Mom-almost-dropped-me-down-a-ravine-nightmares for a week or two, but here's the kicker: There was a bathroom LITERALLY around the corner, maybe 100 feet away from where we were. What kind of injustice is that?? Ah well. As Calvin's dad would say, at least it builds character.
So about this dip that's full of cheese and mayonnaise…We ate this for dinner. No, I'm not kidding. It was a low moment, okay? At least there's chicken in it! And green onions! We are so well nourished around here. At least we had salad too. I don't regret it for a minute. Well, maybe the salad actually.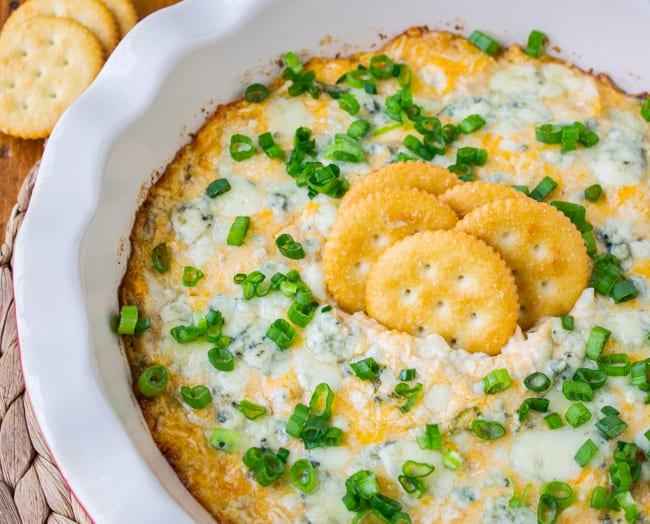 My friend Debbie made this for her daughter's birthday party last week. When I came to pick up Charlotte the dip was gone, but I heard so much about it that I decided I needed the recipe. After I made it, I decided that it was a good thing I wasn't present at the party, otherwise I would have been that awkward parent LITERALLY standing in a corner hoarding all the dip. This dip comes together so fast too. Perfect for dinner! I mean football!
P!S! Major post script here! I'm so excited to tell you that this year I will be contributing recipes over at I Heart Naptime once a month. Today my first recipe is up! More football food/dinner: Asian Stuffed Mushrooms!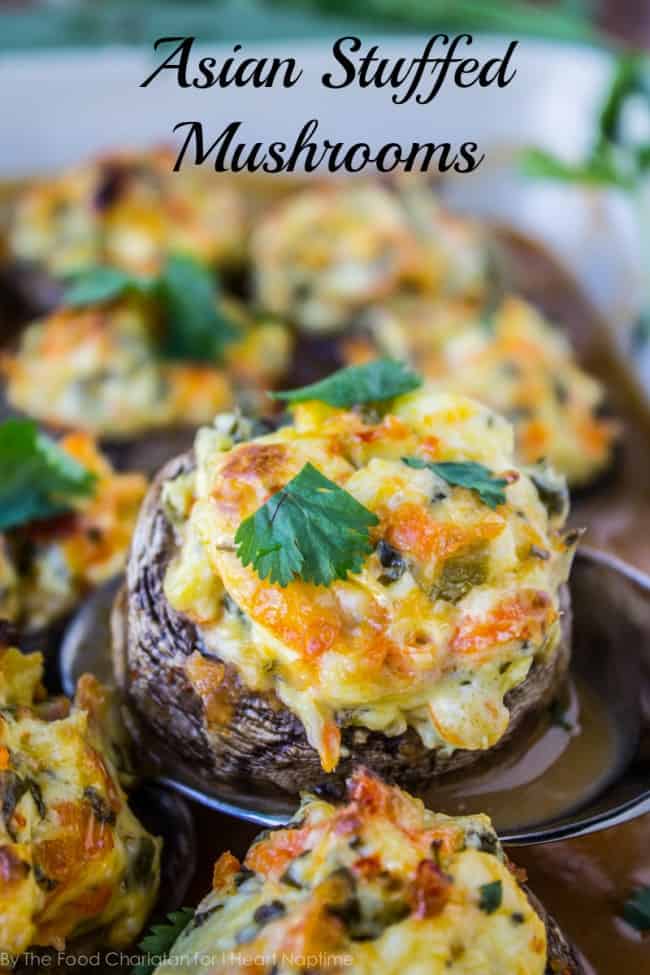 I'm wicked proud of this recipe and you should definitely check it out because THEY ARE AMAZING. Head on over!
Do you guys give up? Or are you thirsty for more?
Facebook | Pinterest | Instagram | Twitter


print
Did you make this recipe?
Leave a review »
Cheesy Buffalo Chicken Dip
Ingredients
2

cups cooked rotisserie chicken, shredded

1/3

cup Frank's Hot Sauce

1

cup mayonnaise

1

cup shredded cheese (I used a Mexican blend)

1/2

teaspoon lemon juice

3

tablespoons green onions, finely chopped

1/3

or 1/2 cup crumbled blue cheese

chopped green onions, to garnish

crackers or tortilla chips
Instructions
Preheat your oven to 375 degrees F.
In a medium bowl, toss the shredded chicken with the hot sauce.
Stir in the mayonnaise, shredded cheese, lemon juice, and green onions.
Spread into a 1 and 1/2 quart shallow dish (I used a pie plate). Sprinkle with blue cheese.
Bake uncovered for about 20 minutes, or until it is bubbly.
Serve with tortilla chips, Ritz crackers, or pita chips.
by The Food Charlatan

If you make this recipe,
share it on Instagram
 using the hashtag
#TheFoodCharlatan
so I can see it!
Source: my friend Debbie's mom, Bonnie. Thanks Bonnie!
More Super Bowl food! Or maybe just feed your family fat food!
Hot Pizza Dip: I've said it once, I'll say it again: one of my favorite dips of all time.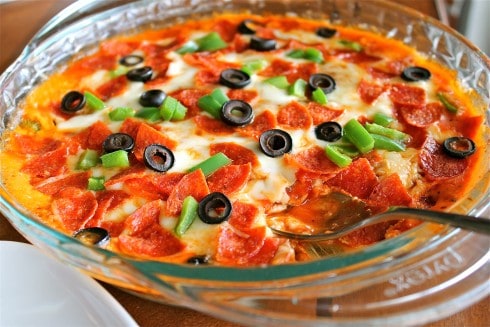 Reuben-Stuffed Crescent Rolls: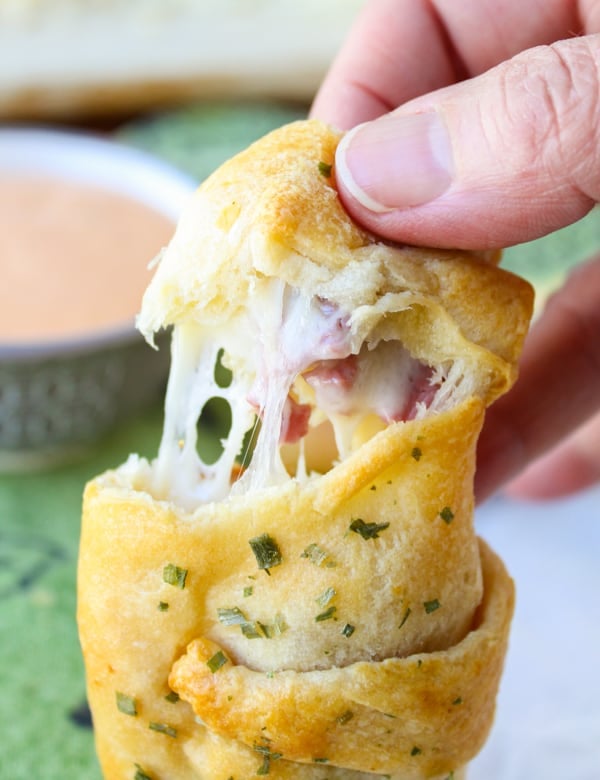 French Bread Pizza, 3 Ways: (always a crowd-pleaser!)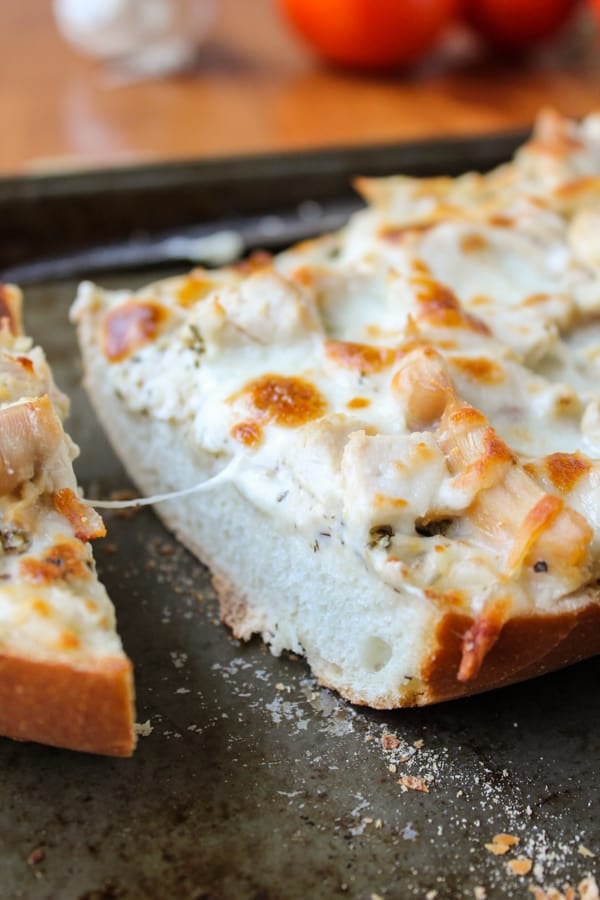 Fresh Brischetta Lentil Dip: If you are feeling fresh :)
More dip! More dip!
The Best Queso Blanco Dip from Barefeet in the Kitchen
Cheesy Bacon Spinach Dip from Damn Delicious
Cheesy Caprese Dip from The Cookie Rookie << I sooo want to try this one
We are a participant in the Amazon Services LLC Associates Program, an affiliate advertising program designed to provide a means for us to earn fees by linking to Amazon.com and affiliated sites.