Slow Cooker Chicken Tikka Masala
I've been making this Chicken Tikka Masala recipe for years, but recently adapted it for the slow cooker. It is SO GOOD. I may never go back! Tikka Masala is the one dish that I never get tired of ordering at Indian restaurants and this version is super easy and tastes restaurant quality.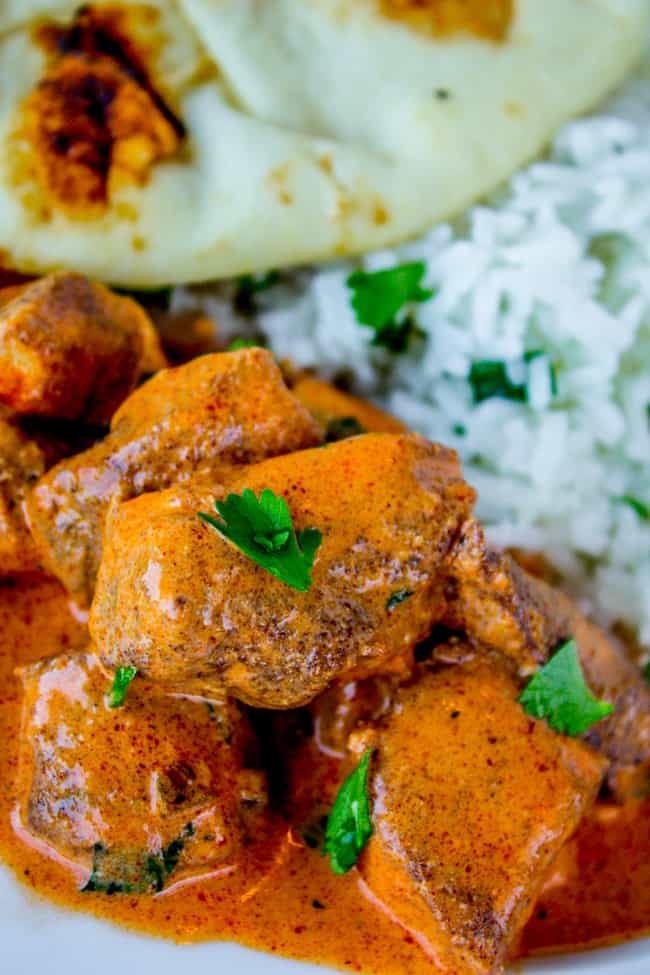 Originally posted January 25, 2017
Do you guys have rules for how late you can text people? I mean of course it depends on who you're texting. When I was growing up we didn't make calls after 9pm. Is there texting etiquette these days? I'm always worried I'm going to wake someone up.
Eric and I are night owls and sometimes forget that people go to bed at normal times. One time my brother called me at midnight just to see if I really always stay up like I claim I do. I answered right away of course.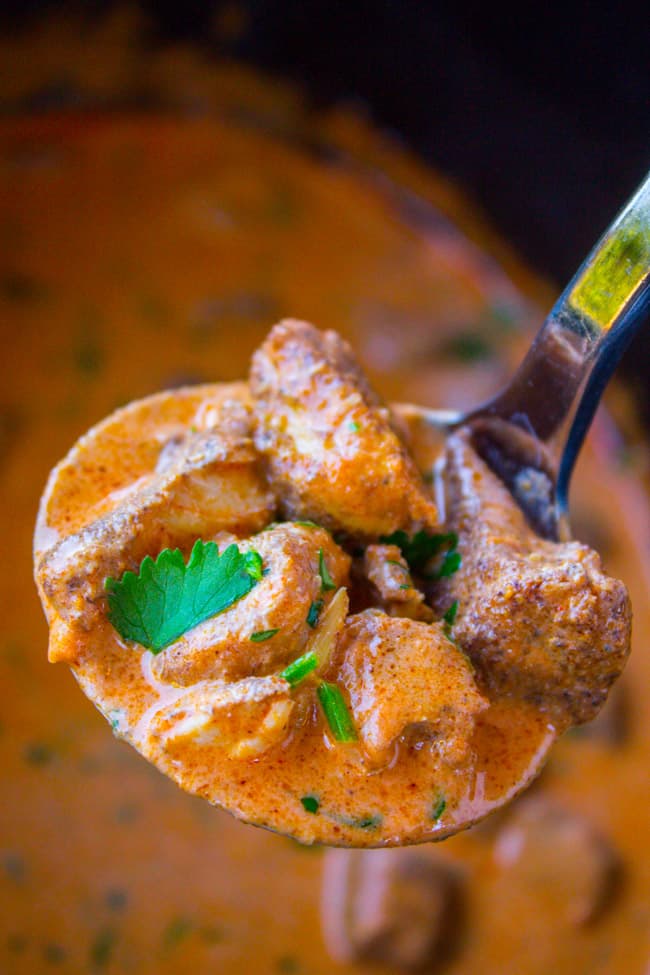 That same brother (who is also named Eric) went to college out of state in the same town that our uncle lives in. Our Uncle Ron had a habit of calling Eric waaaay too early in the morning. This was before cell phones, so when you call your nephew's apartment at 6am on a Saturday, you definitely wake all the roommates up. Eric asked him not to call so early. So next time he called at 7am and still woke up the entire apartment.
Eric realized that if Uncle Ron was getting up so early, that meant he was getting to bed early. So he calls him up at 11:30pm the next night, wakes up Ron, and says all chipper, "Hey Ron! I was just calling to let you know that I'm planning on sleeping in tomorrow!"
I would worry that someone might call me super early to get me back for texting them too late at night, but it wouldn't even work because I would sleep right through it.
How to make Chicken Tikka Masala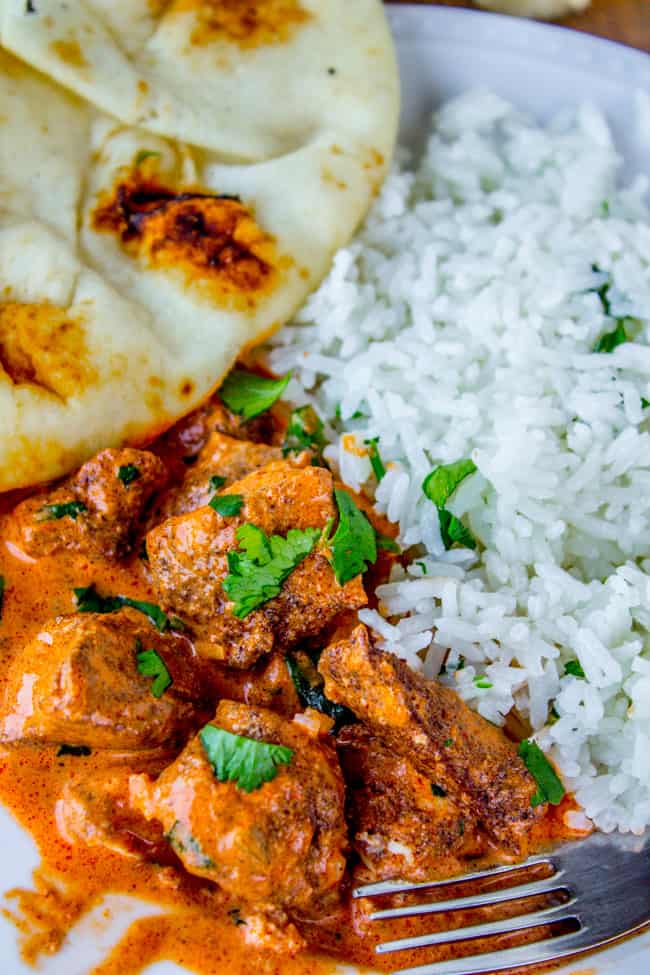 This Chicken Tikka Masala is an old stove top recipe that I've been making for years. It's a killer recipe. One time I made it for my friend Mir, who's from Hyderabad, and he said it tasted authentic. He was probably just feeding my ego, but I don't even care. This stuff is delicious.
I decided to see how it would work in the slow cooker and after a few trials I'm loving how it turned out. (I did the same with this stovetop Basil Chicken in Coconut Curry Sauce; here's a link to the slow cooker version. It's one of the top recipes on my site now. I actually decided to start working on a slow cooker Chicken Tikka recipe at the suggestion of one of the commenters on that post. Thanks for the idea Bethany!)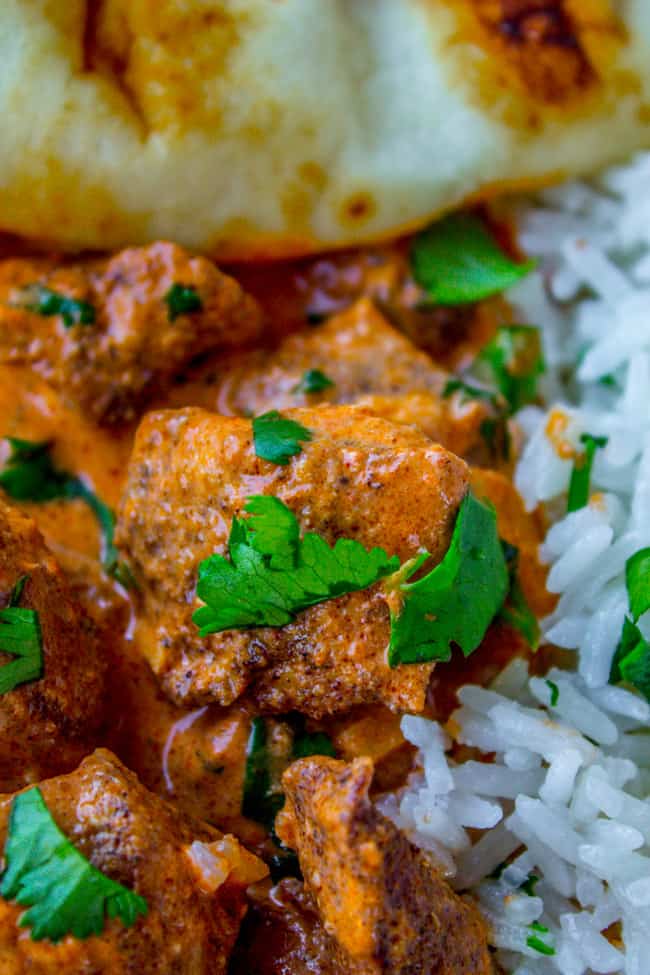 Slow Cooker Chicken Tikka Masala Recipe
The thing about Chicken Tikka is that the chicken is supposed to be grilled, or broiled on high, or something that gives you that roasted-on-the-outside, tender-in-in-the-center flavor. But cooking chicken in liquid all day in a slow cooker isn't going to give you that.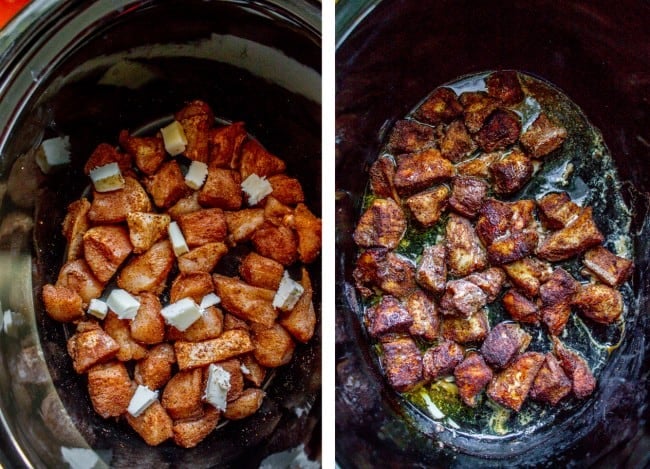 So I basically just removed the liquid; chicken, spices, and a little butter is all that goes in the crock pot until the end when you add the sauce. The result is golden brown chicken that has that roasted flavor. (I'm really loving this method and want to try it with some other recipes!)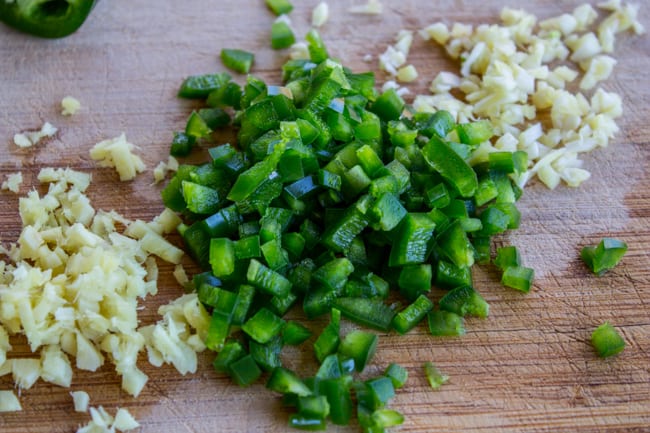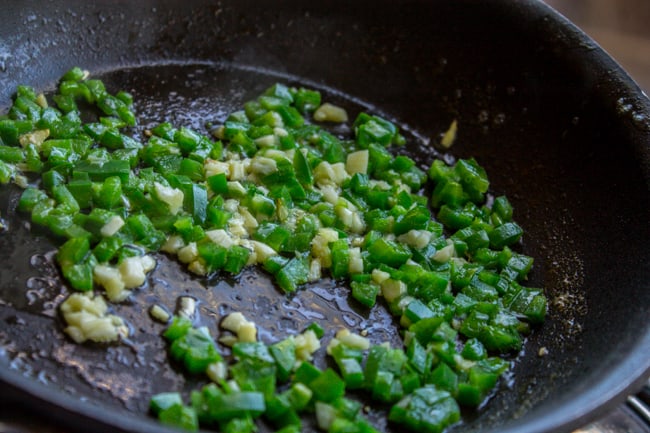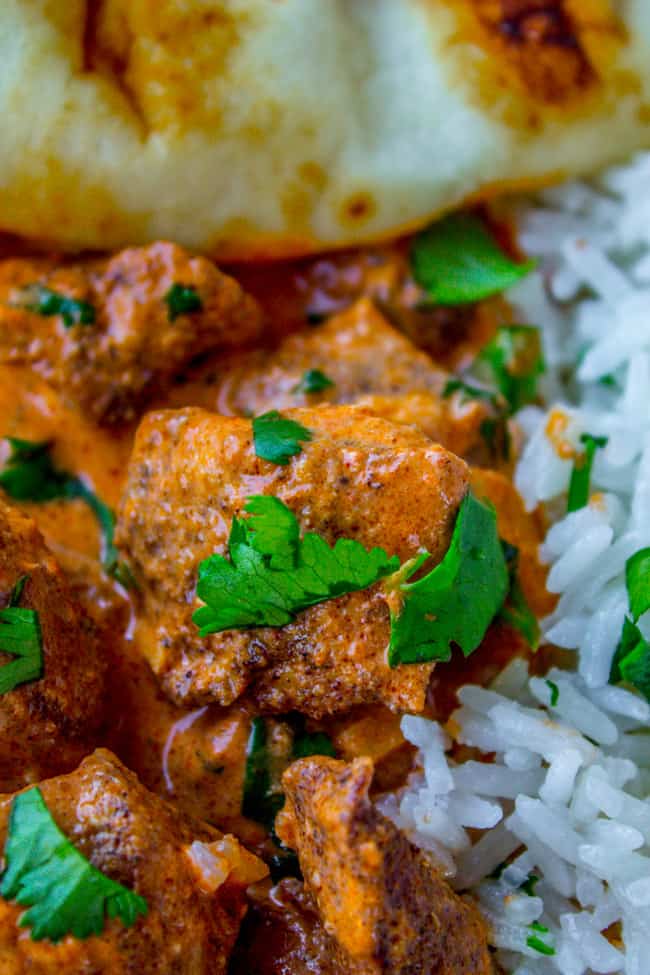 This recipe is pretty darn spicy as written. Feel free to reduce the cayenne pepper; there are 2 teaspoons total, which is quite a lot. (I wouldn't omit the jalapeno though, it adds great flavor. Most of the heat comes from the seeds anyway, and we're not using those.)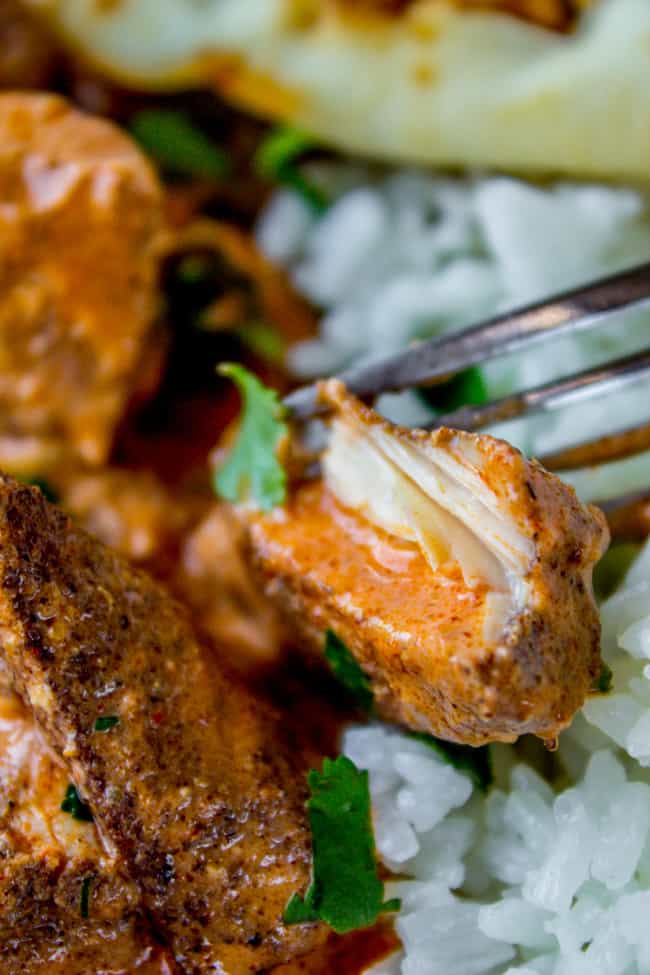 Next time I try this I'm replacing the cream with coconut milk, or perhaps coconut cream. It will make the final flavor a lot sweeter but would make this recipe dairy free, (if you used olive oil instead of butter) which is one reason people like the Slow Cooker Basil Chicken in Coconut Curry Sauce. They're always tagging in #whole30, and and I'm over here like don't look at me, I'm just here for the carbs.
Facebook | Pinterest | Instagram | Twitter
One Year Ago: Classic French Silk Pie with Really Thick Graham Cracker Crust
Two Years Ago: One Hour French Bread
Four Years Ago: Easy Sriracha Ham (Slow Cooker)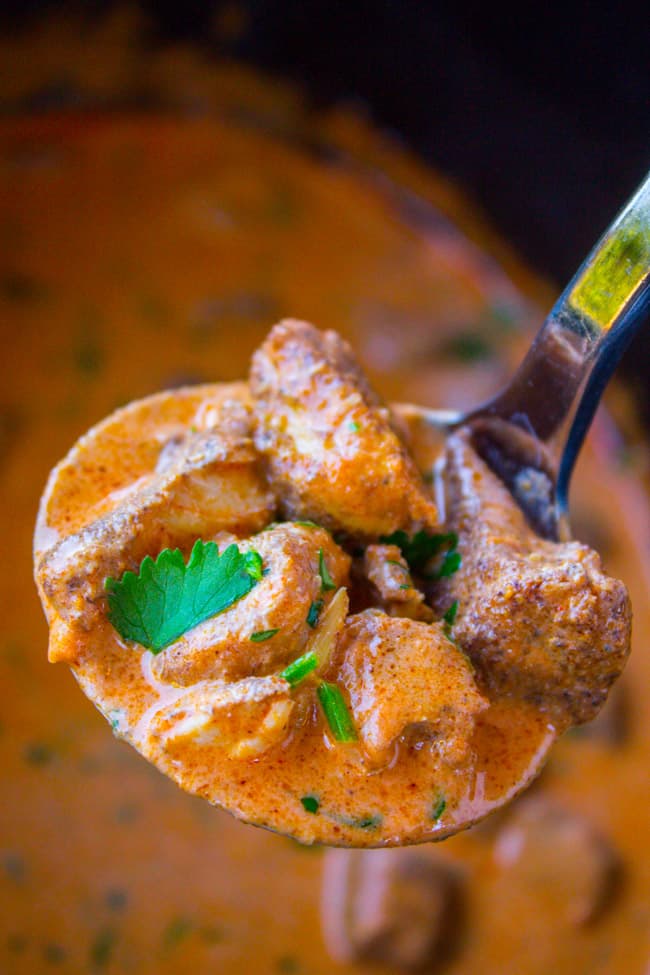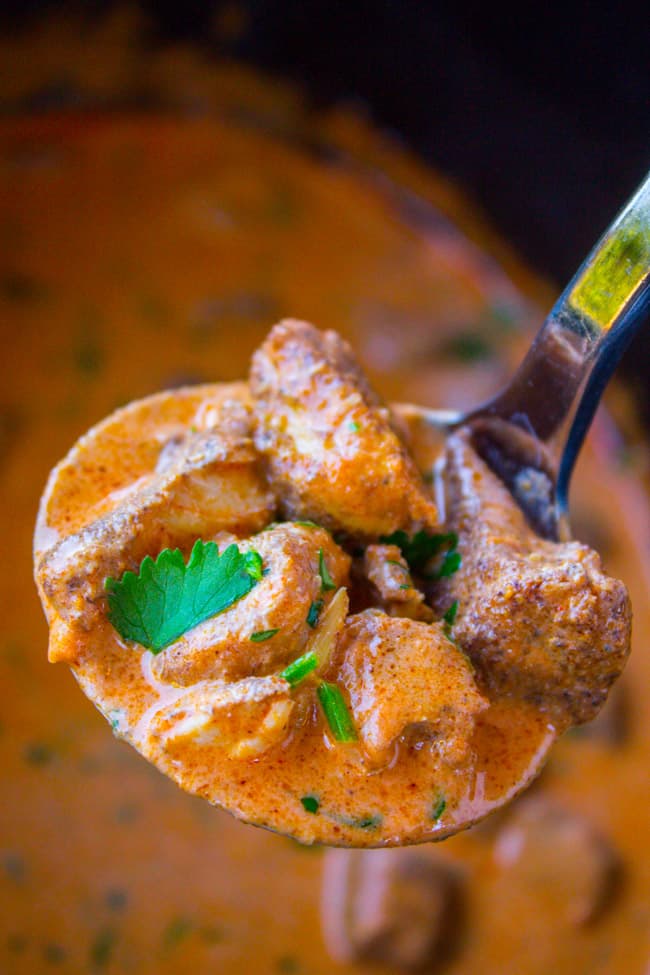 print
Did you make this recipe?
Leave a review »
Slow Cooker Chicken Tikka Masala
Serves 4
adjust servings
Ingredients
For the chicken
1

pound chicken breasts (about 3), cut into bite-size pieces

2

teaspoons ground cumin

1

teaspoon ground cinnamon

1

teaspoon cayenne pepper

1

teaspoon freshly ground black pepper

1

teaspoon kosher salt

1

and 1/2 tablespoons butter, cut into chunks
For the sauce
1

(8 ounce) can tomato sauce

1

cup heavy cream

1/2

tablespoon butter

1

clove garlic, minced

1

jalapeno pepper, seeded and finely chopped

2

teaspoons ground cumin

2

teaspoons paprika

1

teaspoon kosher salt

1

tablespoon lemon juice

1

tablespoon minced fresh ginger

1/2

to 1 cup plain Greek yogurt, as desired

1/4

cup fresh cilantro, chopped
Instructions
Chop the chicken into bite size chunks. Add the chicken to the slow cooker.
In a small bowl combine 2 teaspoons cumin, 1 teaspoon cinnamon, 1 teaspoon cayenne pepper, 1 teaspoon black pepper, and 1 teaspoon kosher salt.
Sprinkle the spices over the chicken and use your hands to coat the chicken well. Sprinkle 1 and 1/2 tablespoons butter chunks over the chicken.
Put the lid on and cook on high for 2-3 hours, or on low for about 5 hours.
When the chicken is cooked, remove the lid and add the tomato sauce and cream (turn the crock pot up to high at this point if it's not already.)
Add 1/2 tablespoon butter to a small frying pan. Add the garlic and jalapeno and sauté for 1 minute, or until fragrant.
In a small bowl combine 2 teaspoons ground cumin, 2 teaspoons paprika, and 1 teaspoon kosher salt.
Add the spices to the frying pan and continue sautéing for one minute.
Add 1 tablespoon lemon juice to the pan, stir it in and then remove from heat. Add this mixture to the crock pot. Add the minced ginger as well.
Replace the lid and let cook on high for another 20-30 minutes or until thickened and bubbly on the edges.
Taste it and stir in some plain yogurt. The amount is up to you. This makes it a little more creamy and also tempers the heat. Sometimes I don't add any, if I'm feeding kids I add more.
Stir in the fresh cilantro.
Serve with hot rice and naan.
by The Food Charlatan

If you make this recipe,
share it on Instagram
 using the hashtag
#TheFoodCharlatan
so I can see it!
Source: adapted from this stovetop Chicken Tikka Masala; original recipe adapted from Allrecipes.com
Here are some other recipes you will love!
This Roti (Buttery Indian Flatbread) is one of my most popular recipes and is a perfect complement with this tikka masala: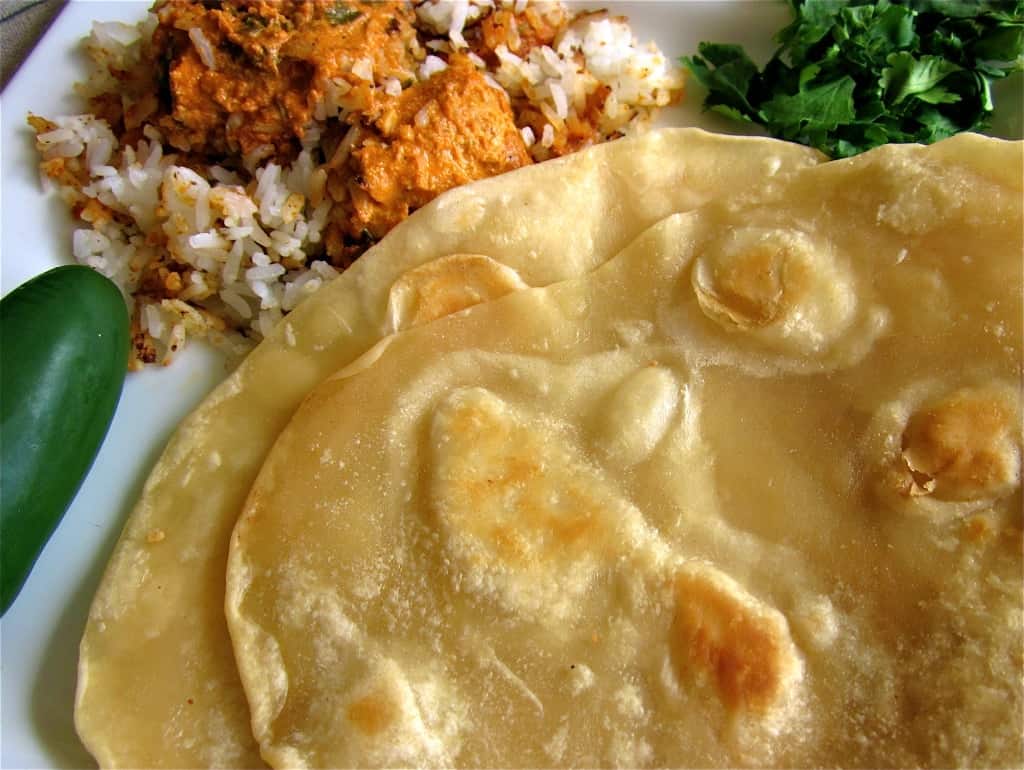 Chicken Tikka Masala Meatballs: made with ground chicken and the same sauce. Can you tell I'm obsessed with this dish??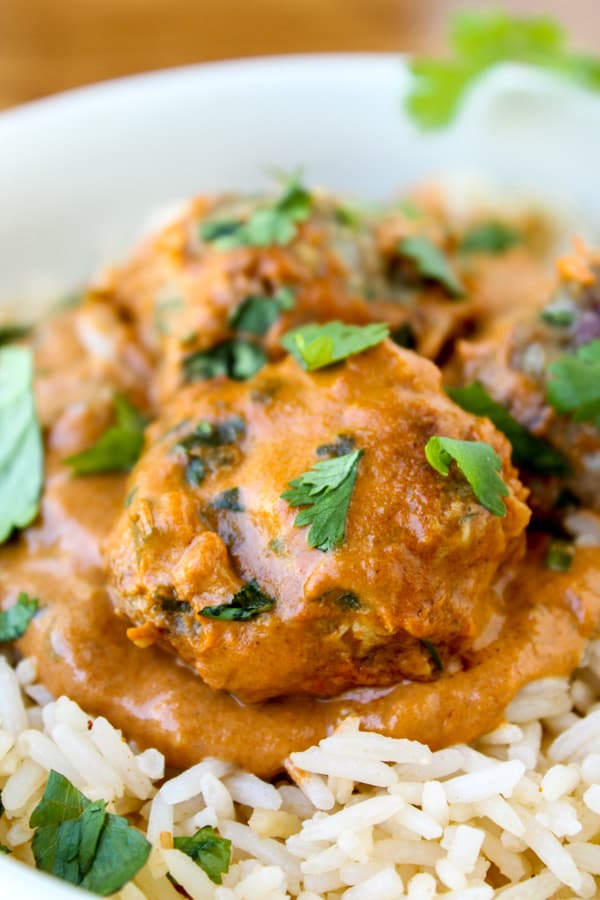 Slow Cooker Basil Chicken with Coconut Curry Sauce: << one of the top recipes on my blog!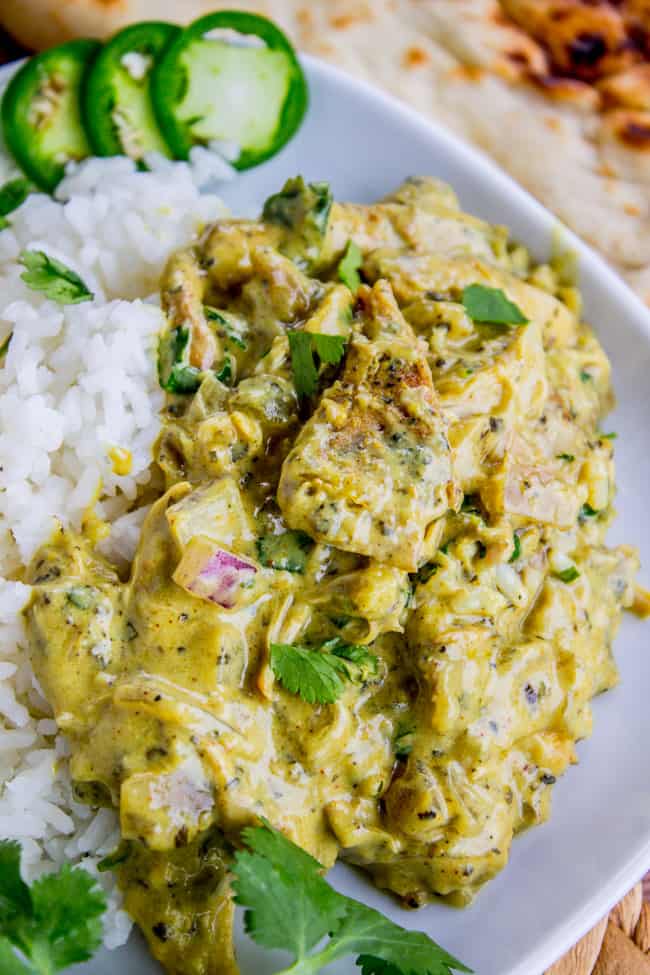 More Indian food from awesome bloggers!
Indian Spiced Braised Chicken from A Dash of Sanity
Slow Cooker Indian Spiced Chickpeas and Potatoes from Oh My Veggies
Tandoori Chicken from Simply Recipes
This post contains affiliate links. Thanks for your support!
We are a participant in the Amazon Services LLC Associates Program, an affiliate advertising program designed to provide a means for us to earn fees by linking to Amazon.com and affiliated sites.