Try out this 10 minute life-saver chicken quesadilla recipe for days when soccer practice and homework are kicking your butt. Enchilada soaked rotisserie chicken goes into a cheesy quesadilla, and then you dip. Mexican food heaven!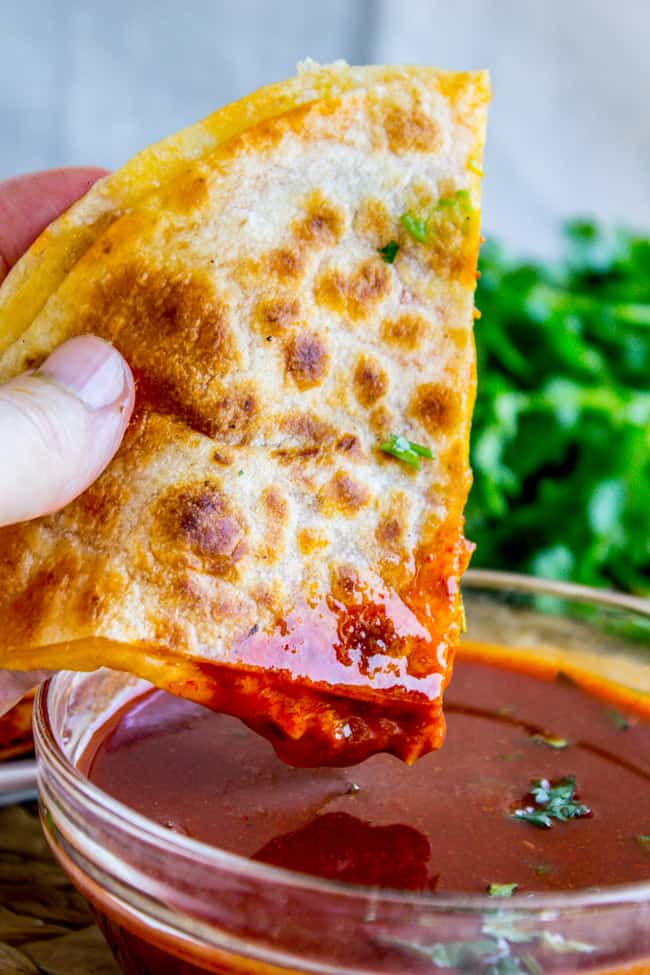 Originally published August 9, 2016
You should see me try to explain food blogging to my neighbors. Last year we bought a house in a court, which I didn't realize would be so different from living on a street. But it so is. It's kind of like living in a fishbowl all the time.
You know how you sneak out of your house in your pajamas sometimes to get the mail or whatever, and hope nobody notices? Well guess what, your court neighbor just casually looked out their window, not even trying to snoop, and saw you in your teddy bear pajamas and slippers.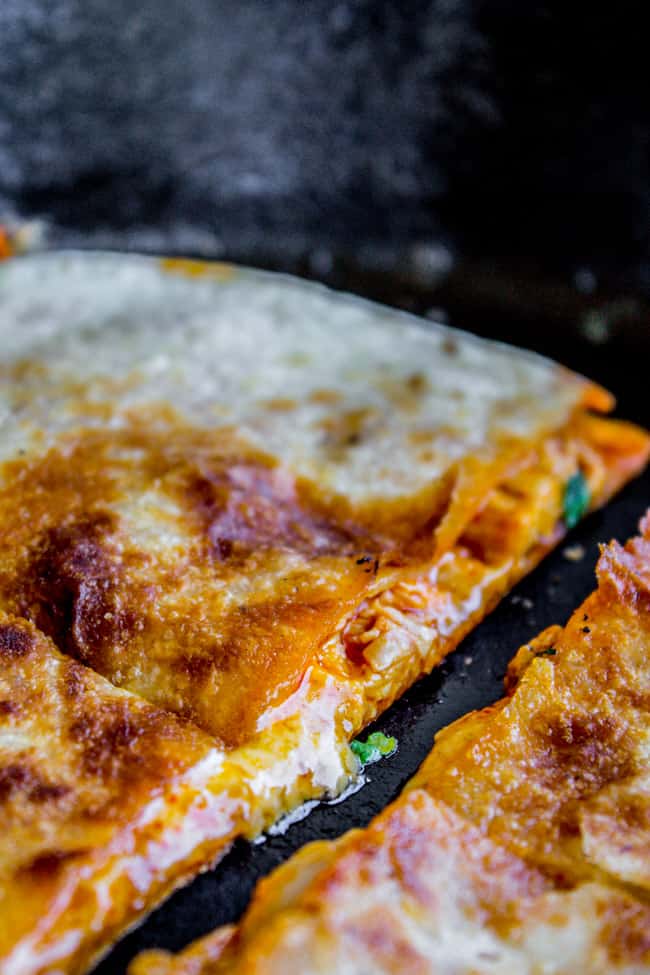 We have these neighbors directly across from us who basically live outside. It's a group of roommates, but they are all retirement age, and they really, really love beer. Lest you think I'm complaining, let me clarify that they are totally my favorite neighbors. They are super friendly, take care of their house, and wave and chat you up when you walk by. They have more furniture in their yard and driveway than I have in my entire house. Did I mention that their house is bright purple with royal blue trim? IT'S. AWESOME.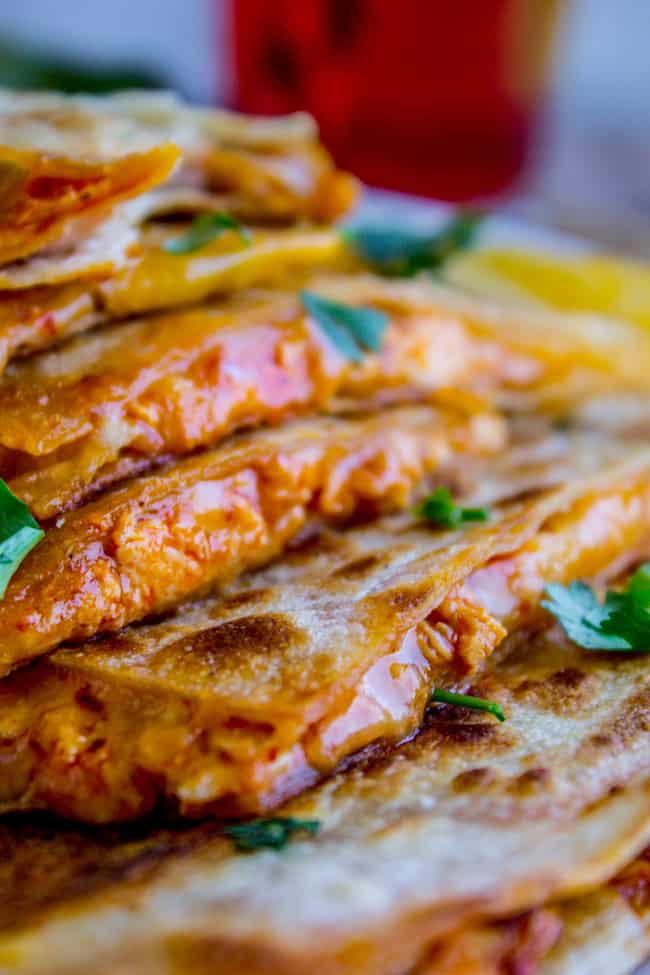 They are probably writing about me on their blogs, because to them I am the crazy pregnant lady who is outside on her porch every morning by 9:30 (in her pajamas; no shame) taking pictures of food. Lounging on a couch in the driveway of your flamboyantly painted house…or meticulously photographing Arugula Pesto Salmon in the early morning? You tell me which one of us is "the weird neighbor."
You should have seen Tyrone's face last week when he yelled across the street to ask what I was photographing and I yelled back, "Enchilada chicken quesadillas!" I've never seen a man look so confused in my life. Clearly he is unfamiliar with Pinterest food mashups. He didn't complain when I offered him one though. In fact I believe his exact words were something like, call this whatever you want, it's amazing.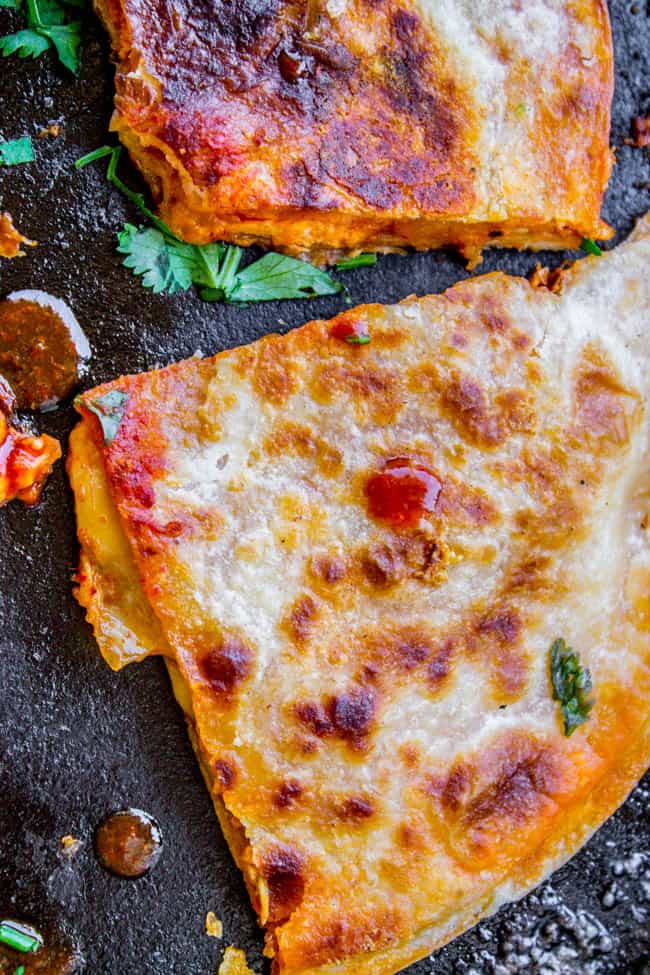 Or this morning, when I was shooting a recipe and Tyrone and Doug yelled good morning and I yelled good morning, do you want some homemade Chex Mix?* And Tyrone's like, alright, and as they mosey over Doug's like, what'd she say? And Tyrone's like, I dunno.
I guess that means they trust my food by now, even if they still have no idea why I'm taking pictures of it on my porch. Food bloggers are definitely the "weird neighbors."
*It's not actually homemade chex mix. It's a caramel-y Christmas treat that involves Chex, and it's amazing. And yes I'm shooting Christmas recipes in August. I'm having a baby in November, okay?? Don't judge me :)
How to make Chicken Quesadillas with Enchilada flavor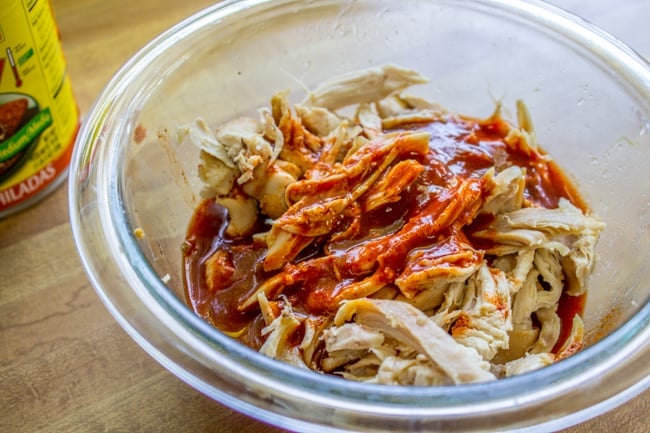 But back to the chicken quesadillas. Let me break this down for you: Open a can of your favorite enchilada sauce. Pour half over some rotisserie chicken. Make cheese quesadillas with the chicken in the middle. Dip the quesadillas in the remaining sauce. Easy, right? Sooooo good. Just ask Tyrone.
This recipe idea is from my sister Laura, who made a much more complicated version a while back, involving ground beef and sweet potatoes and zucchini. Hers sounds a lot healthier…but definitely not 10 minutes. Sometimes you just gotta git er done.
Facebook | Pinterest | Instagram | Twitter

10 Minute Enchilada Quesadillas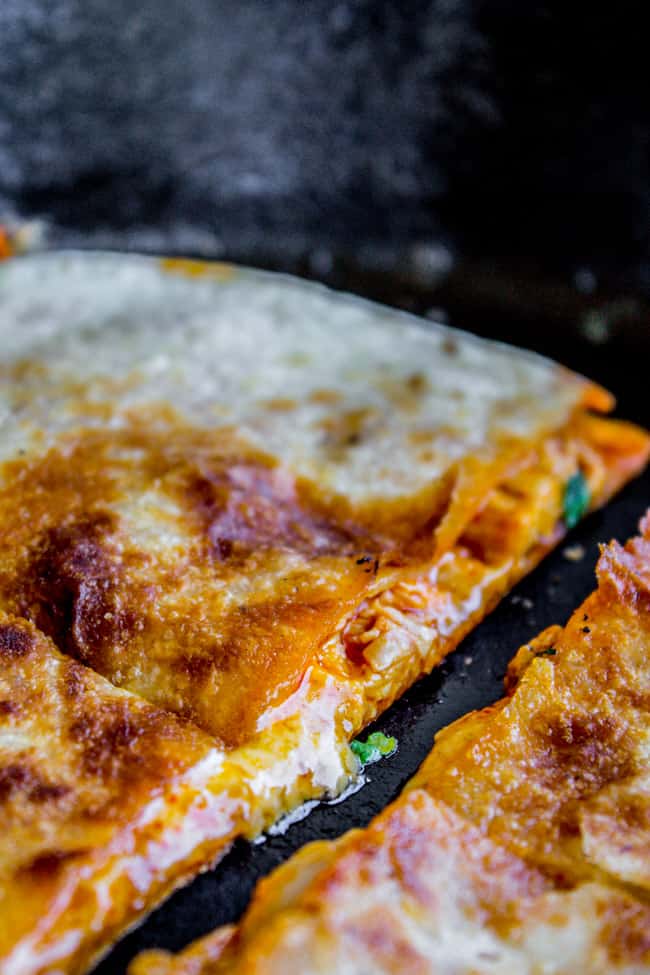 Try this 10 minute chicken quesadilla recipe for days when you have no time. Enchilada soaked rotisserie chicken goes into a cheese quesadilla.
Ingredients
2

cups

rotisserie chicken

10

ounce

or larger can enchilada sauce

8

tortillas

3-4

cups

cheddar cheese

,

shredded

butter for frying

,

optional

chopped cilantro

,

optional

sliced avocado

,

to garnish
Instructions
Add the chicken to a bowl. Open the can of enchilada sauce and pour some over the chicken. I used not quite half the can. (Keep in mind you need the rest for dipping, so don't go crazy.) Stir the chicken to coat.

Let the mixture sit for a few minutes so that the sauce has a chance to get friendly with the chicken.

Meanwhile, heat a large skillet over medium heat.

Add 1 teaspoon butter to the pan. Or don't. It's delicious to use butter, but you will still get a nice crispy quesadilla on a dry pan.

Place one tortilla on the hot pan and immediately sprinkle with cheese. Anywhere between 1/4 and 1/2 cup is fine.

Use a spoon to add some of the chicken on top of the cheese. Spread evenly. Sprinkle on some chopped cilantro if you want.

Sprinkle with more cheese, 1/4 to 1/2 cup, depending on how much of a cheese fanatic you are.

Top with another tortilla.

Continue cooking over medium heat until the bottom is light brown and crispy. Use a spatula to flip the quesadilla, and repeat on the other side.

Repeat with the remaining ingredients.

Serve with the remaining enchilada sauce for dipping. You can heat it up in the microwave if you want, or serve room temperature.

Serve with chopped cilantro and sliced avocado.
Nutrition
Serving:
1
quesadilla
|
Calories:
861
kcal
|
Carbohydrates:
55
g
|
Protein:
61
g
|
Fat:
44
g
|
Saturated Fat:
22
g
|
Polyunsaturated Fat:
2
g
|
Monounsaturated Fat:
11
g
|
Cholesterol:
198
mg
|
Sodium:
2179
mg
|
Potassium:
227
mg
|
Fiber:
3
g
|
Sugar:
9
g
|
Vitamin A:
1322
IU
|
Vitamin C:
1
mg
|
Calcium:
711
mg
|
Iron:
4
mg
More Mexican!
Easy Rotisserie Chicken Nachos << so quick! So good!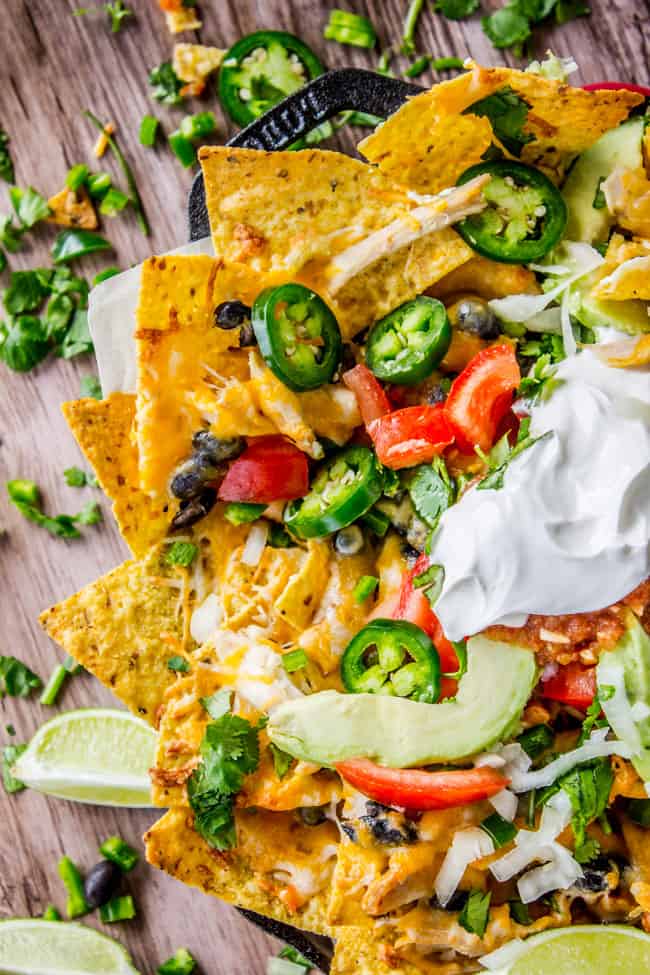 Cream Cheese Chicken Chili << this is a good pantry dinner–keep the stuff on hand and make when you haven't been to the store in way too long.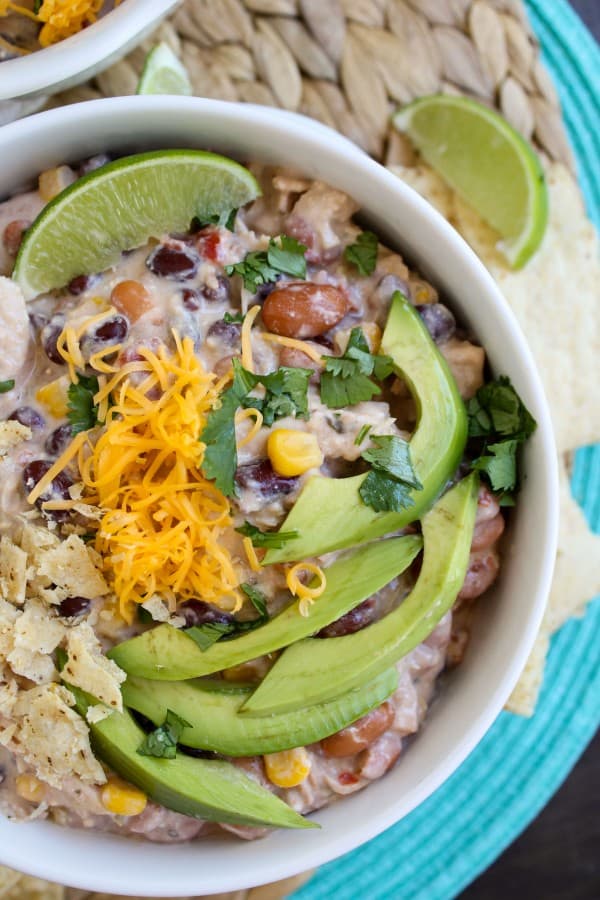 Traditional Tejano Pinto Bean (Slow Cooker)  << ok so these are not quick but they are SO worth the time. I make a huge batch and save it in the freezer so that I can pull it out whenever I want. Like on Enchilada Quesadilla nights :)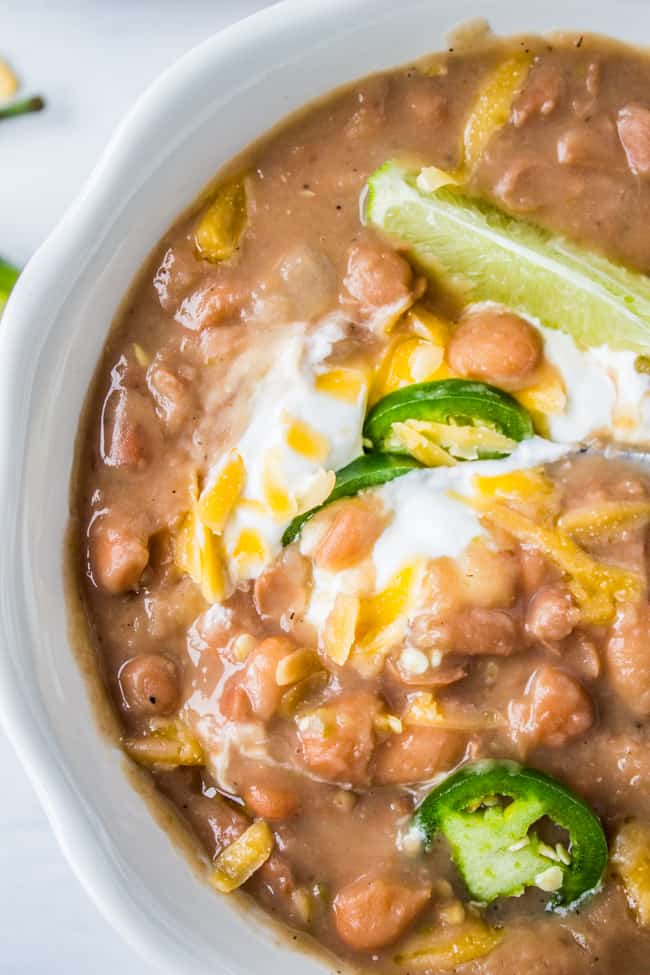 Other Mexican inspired easy dinners you will love!
Tex-Mex Enchilada Dip from House of Yumm
Avocado Chicken Quesadilla from Will Cook for Smiles
Chicken Fajita Quesadillas from The Chunky Chef