It doesn't get any easier or tastier than this Cheesy Chile Relleno Casserole recipe! Whole canned green chiles are layered with 3 kinds of cheese, then topped with an egg mixture. It's your new favorite breakfast casserole! Or is it dinner? YES! Originally published January 9, 2021.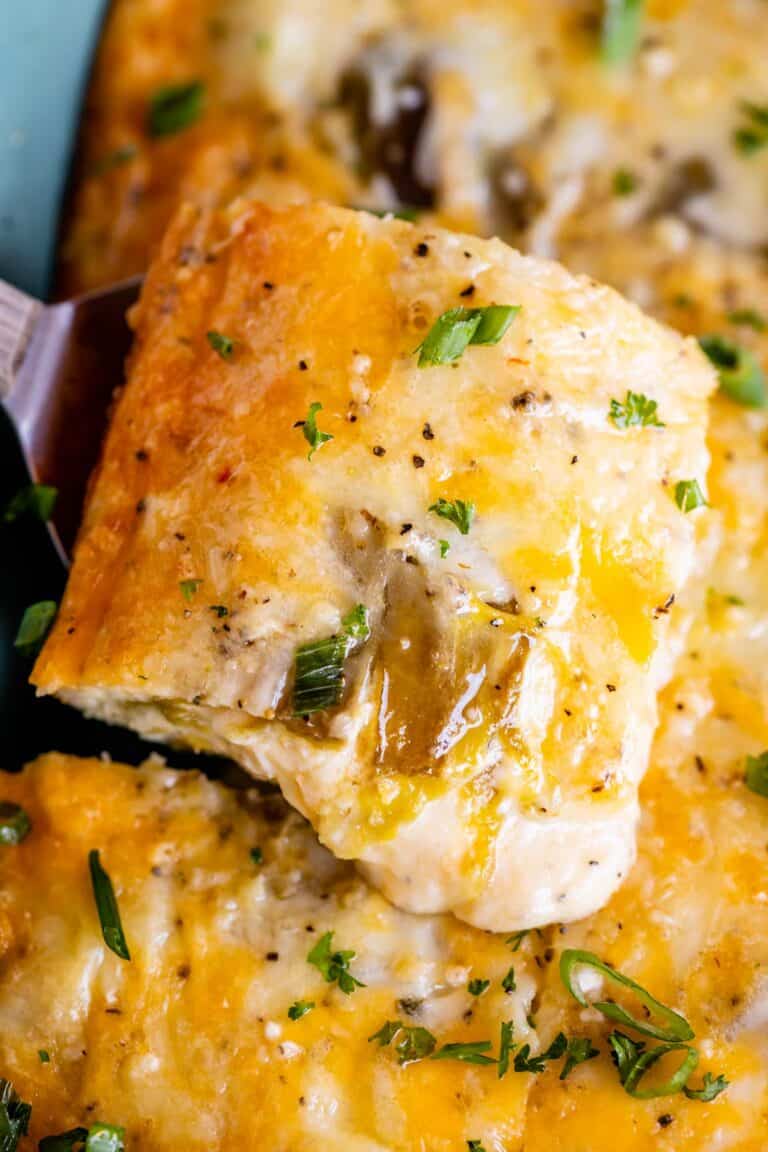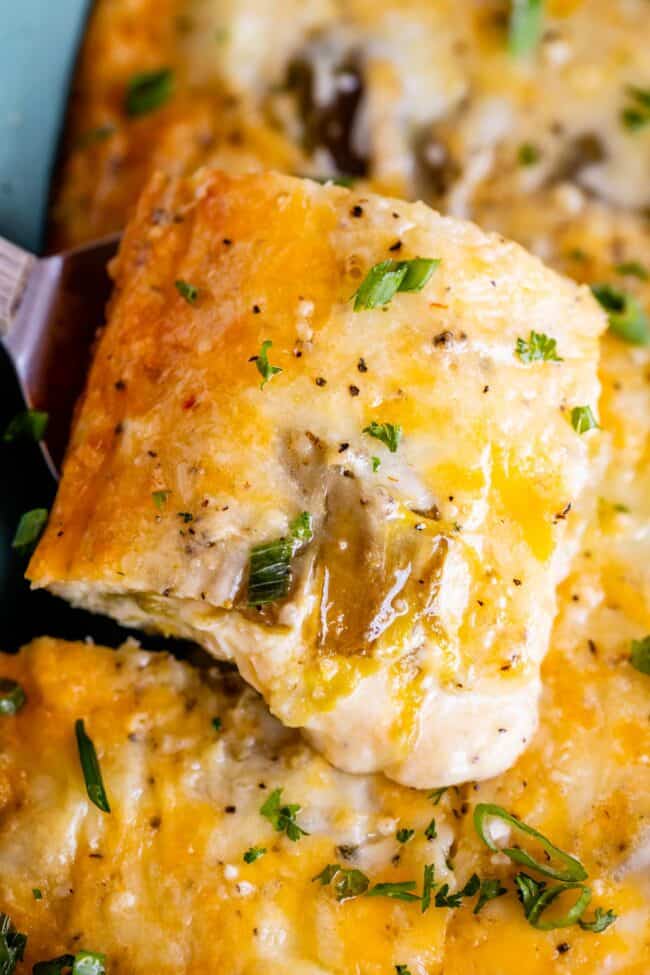 Table of Contents
I was checking out at the grocery store the other day, and the dude who was bagging my groceries had to get an extra cart to fit all my bags of food. My cart was piled so high I was actually balancing things so they didn't fall. You tend to get odd glances when it looks like you're stocking for the apocalypse.
But no, I was just doing our shopping for the week. I explained to the bagger that I have 4 children, and was going to be watching my best friend's 5 children while she goes on a getaway with her husband. For 6 days.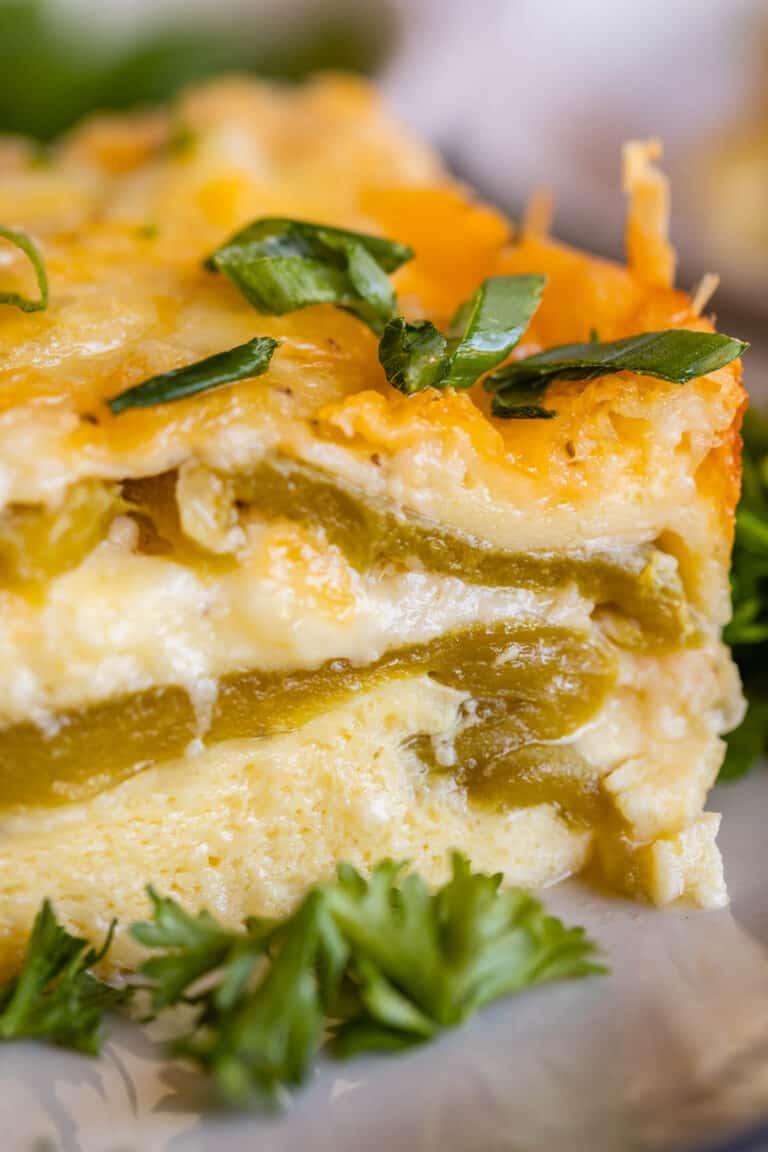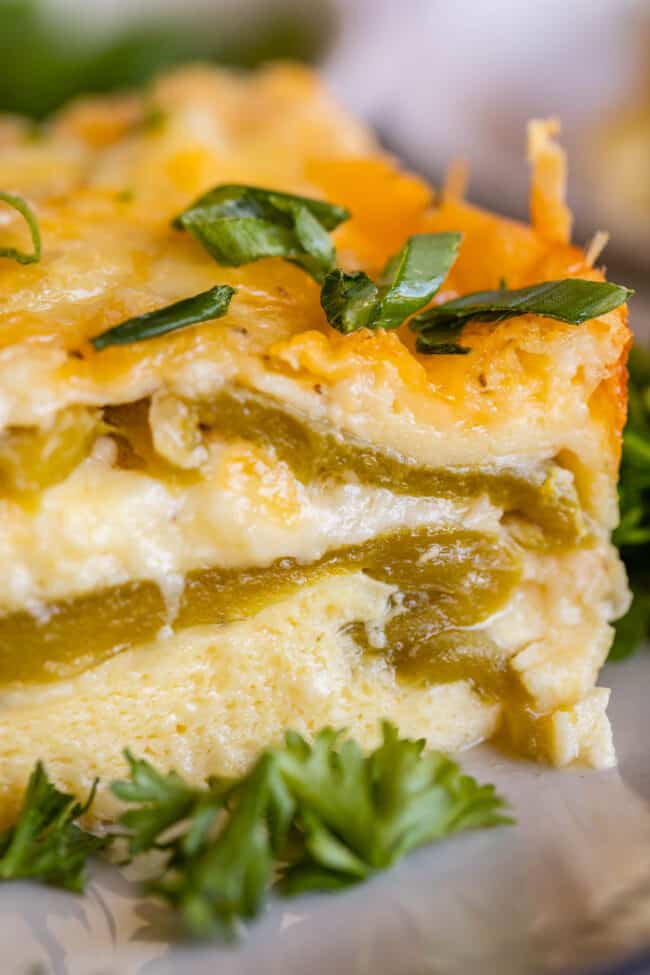 The bagger, who is a young 20-something with long hair in his eyes, looked at me with a straight face and said, "Nine kids? So, like, what are you getting out of it?" I started to laugh, and his eyes popped out of his head as he screeched, "Are you just doing her a solid?!?!?"
It is so funny how much your worldview changes when you have children. When you have a lot of kids, you are the only one who knows just how much you want to get away from them. The only other people who can really understand this are people with other children. We have to watch out for each other!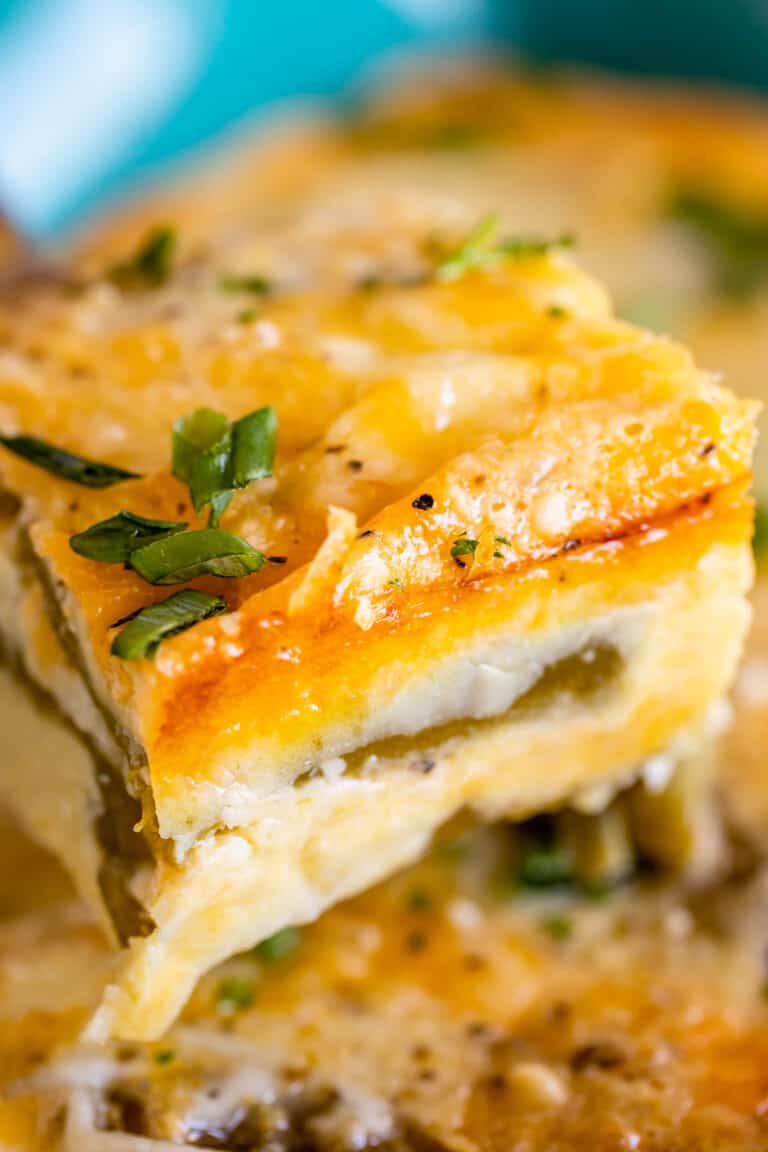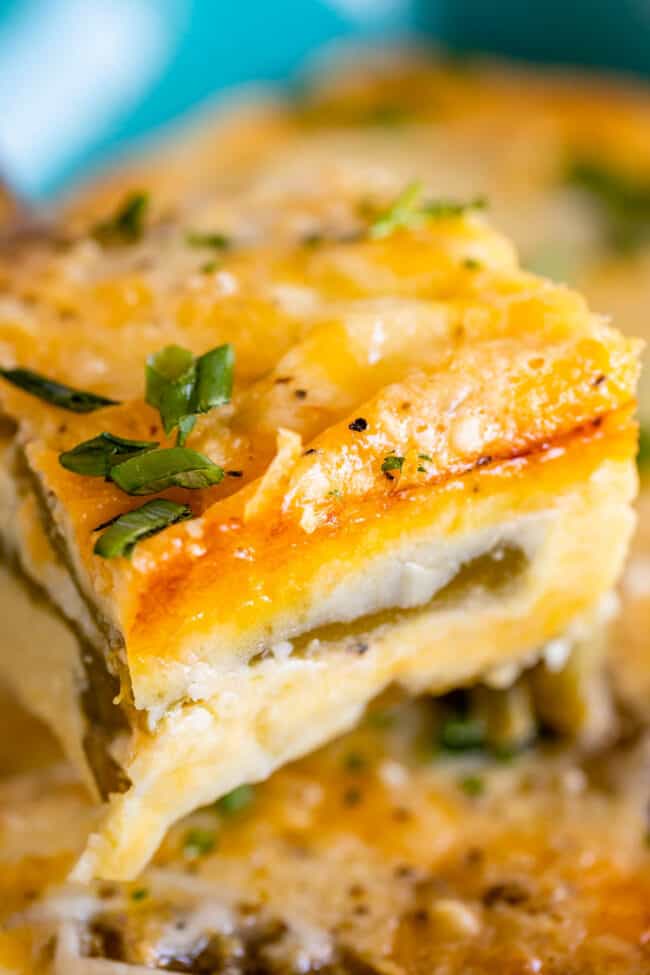 So here we are. A total of 9 children ages 10, 9, 8, 7, 6, 5, 4, and two 1 year old babies. And a partridge in a pear tree. It really hasn't been too bad! The one-year-olds are the biggest challenge. I feel like I got a baptism-by-fire insight into what it would be like to have twins. This week has definitely rid me of any lingering romantic notions about having my own set. It's a miracle they are still alive!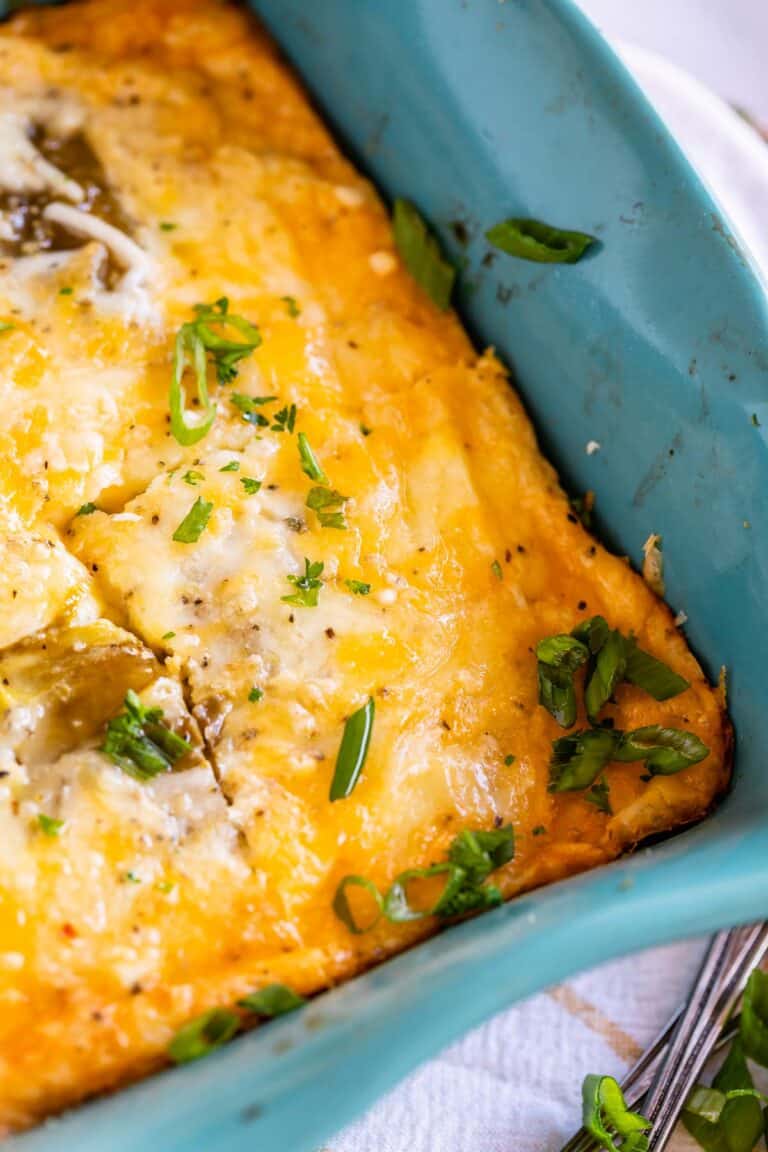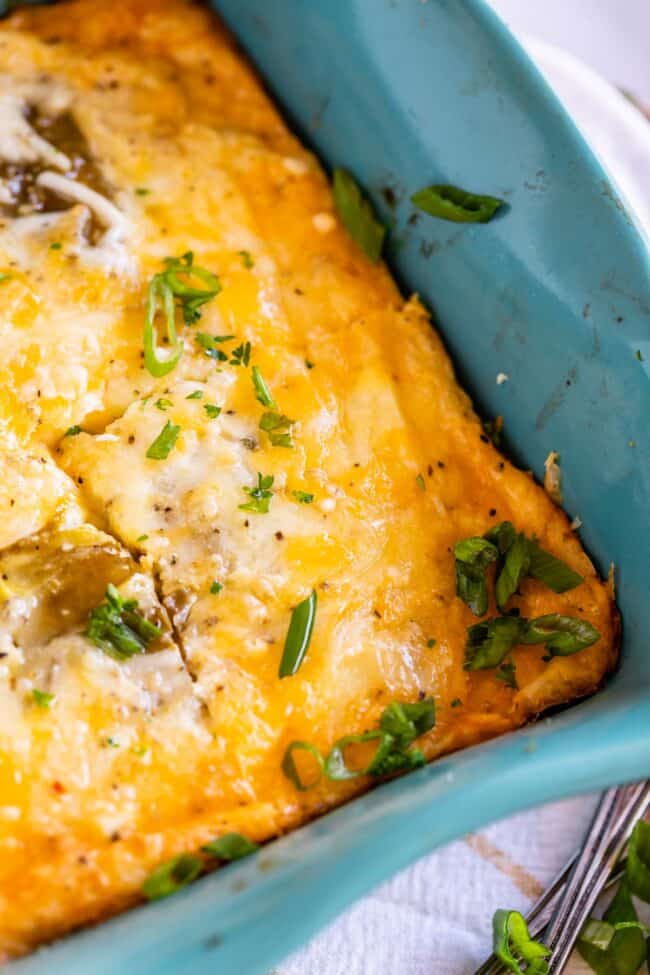 Highlight of the week was when one of the babies escaped from the bath and made it halfway across the house, stark naked and leaving a trail of water behind him, while a gleeful passel of squealing children danced around, egging him on. Someday when I'm an old granny, all the horror and angst will have disappeared from this memory, leaving behind only the laughs. Can't wait for that. Still rocking the maniacal gleam in my eye just now.
We got by on super easy dinner recipes all week! Mostly I fed the animals cheese and carbs. Seemed to keep them at bay. This chile relleno casserole fit the bill! It's Tex Mex heaven.
This Chile Relleno Casserole Recipe is Tex Mex heaven!
Have you ever had a chile relleno at a Mexican restaurant? It's a roasted poblano chile, stuffed with cheese, dipped in an eggy batter, deep fried, and served with restaurant-style salsa. The flavors and textures are HEAVEN. Making them at home involves, you know, deep frying, which is just a lot more than I'm willing to get into on a random Tuesday night.
But throwing some eggs, cheese, and a can of pre-roasted green chiles into a 13×9? That I can do. The good news is that this casserole version is still amazingly delicious even when you hit the easy button.
Chile Rellenos Casserole ingredients
Here's a quick shopping list to help you gather your ingredients. See the recipe card below for the full ingredients and instructions!
Whole green chiles (20 oz. can)
Cheddar cheese
Monterey jack cheese
Pepper jack cheese
Eggs
Evaporated milk
Flour
Baking powder
Kosher salt
Seasoning salt
Restaurant style salsa, for serving (homemade or store bought)
How to make Chile Relleno Casserole
This is one of those stupid-easy recipes. Like, make it once, and the next time you can probably do it in your sleep.


First you're going to need some WHOLE green chiles. Not diced like you usually get. (I actually tested this recipe with diced chiles, just to see. Lately I've had a hard time finding certain products; whole chiles aren't as common…Covid ripple effect. But this recipe is just NOT as good with the diced chiles. It doesn't have the right texture. Hold out for the whole chiles! Or get them online!)

They should be in the same area at the store as the diced ones. They usually come in 4 ounce, 7 ounce, or 27 ounce cans. The recipe calls for about 20 ounces, so you will need five 4-ounce cans, three 7-ounce cans, or 1 of the big cans and you will have a very chile-y casserole (or you will have some leftover).
If it's not already slit, open up each chile so that it will lie flat. Toss out the seeds if you find any.
Layer half of the chiles on the bottom of a greased casserole dish.

Cover with a heck ton of cheese! This is the the "filling" of our chile relleno. Chile relleno means "stuffed chile." Filled with cheeeeeese. Yes please. I like to use a combination of Monterey Jack, Pepper Jack, and Cheddar, but any shredded cheese combo you like will work fine! Pepper Jack will of course make it a bit spicier.


Repeat the layers: add the remaining chiles and more cheese. Then in a bowl, mix together a few eggs, flour, baking powder (to make it so fluffy!) evaporated milk, and seasonings. (You can use cream or half and half instead of the evaporated milk if you like). Pour the eggs all over the top of your gorgeous casserole. And that's IT.


Bake it up and serve. It will be gone in a flash!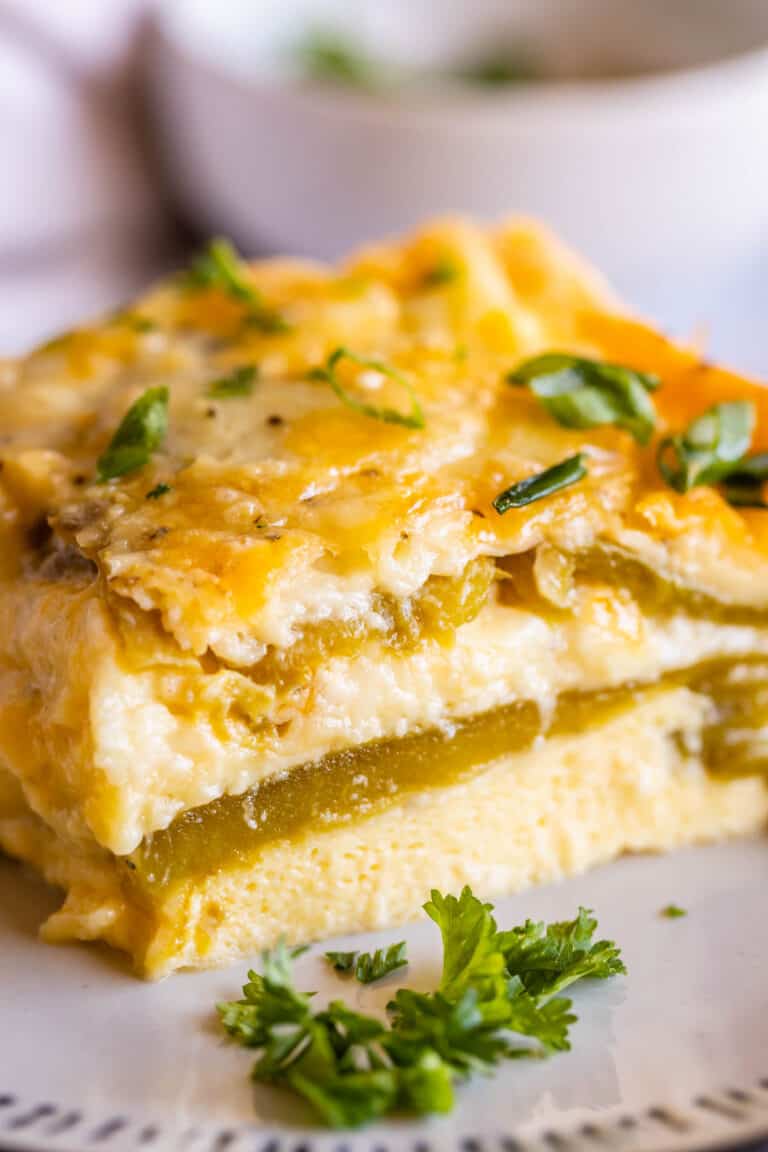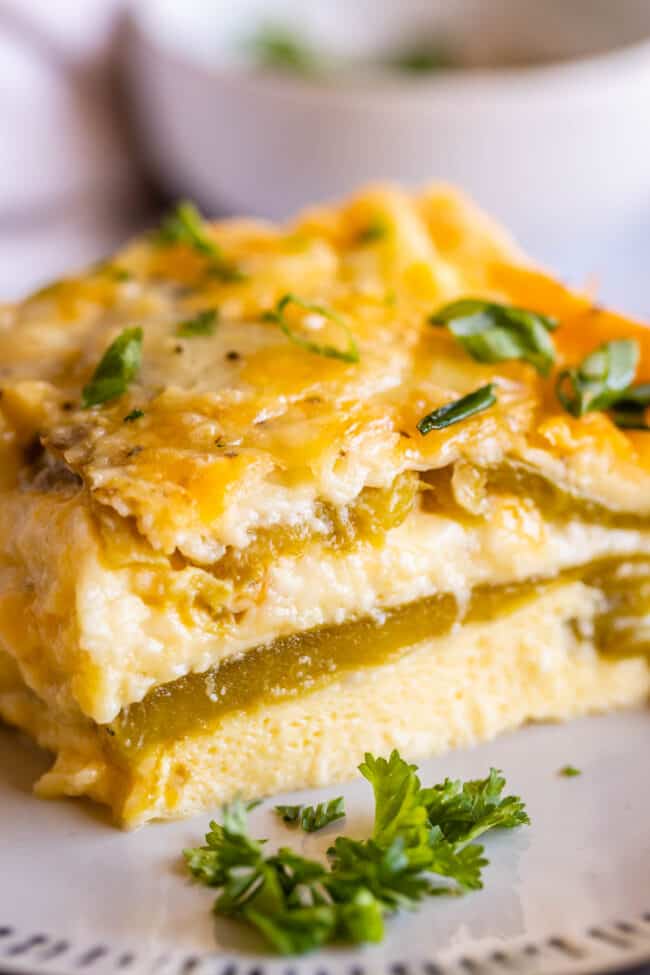 How to serve Chile Relleno Casserole
Breakfast or Dinner?
I've always thought of this as a breakfast dish because it's almost identical to a traditional breakfast casserole (cheese and toppings layered in a pan, then seasoned eggs and milk poured on top.) But you can serve it for dinner or whenever you like! Chile relleno is definitely not a breakfast dish, but this casserole seems to bend that rule just fine.
Good news! If you are making this for breakfast, you can make it ahead and refrigerate overnight!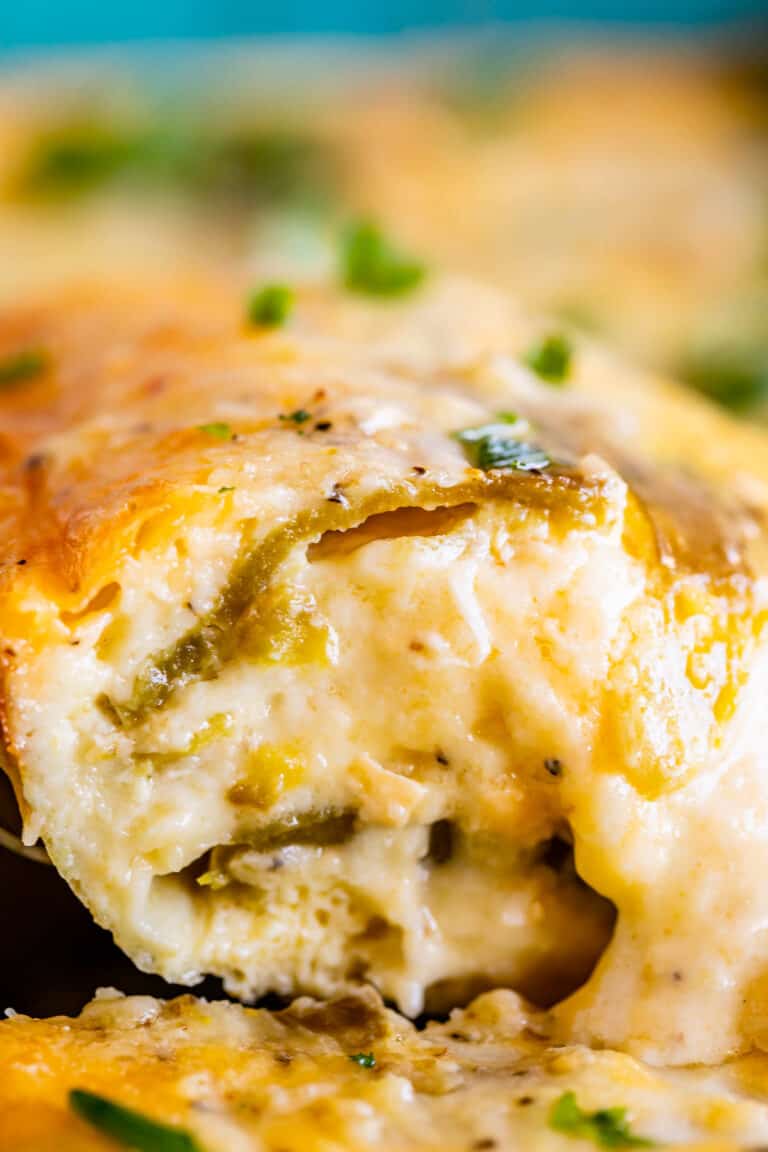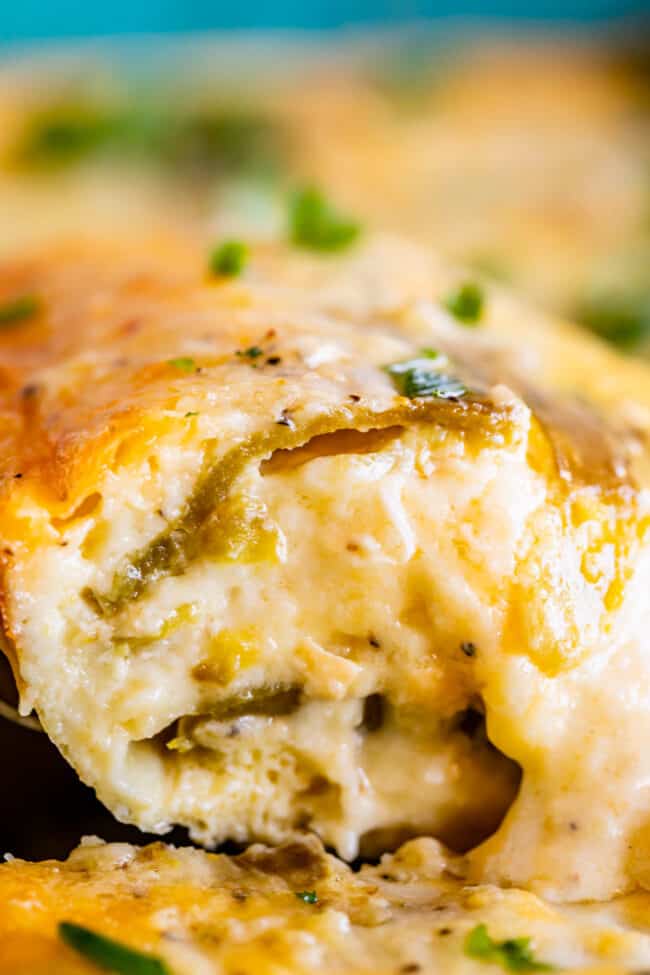 Breakfast side dishes ideas: Hashbrowns, sausage or bacon, fruit salad, orange juice!
Dinner side dishes: big green salad, cilantro lime rice, refried beans, chips and salsa.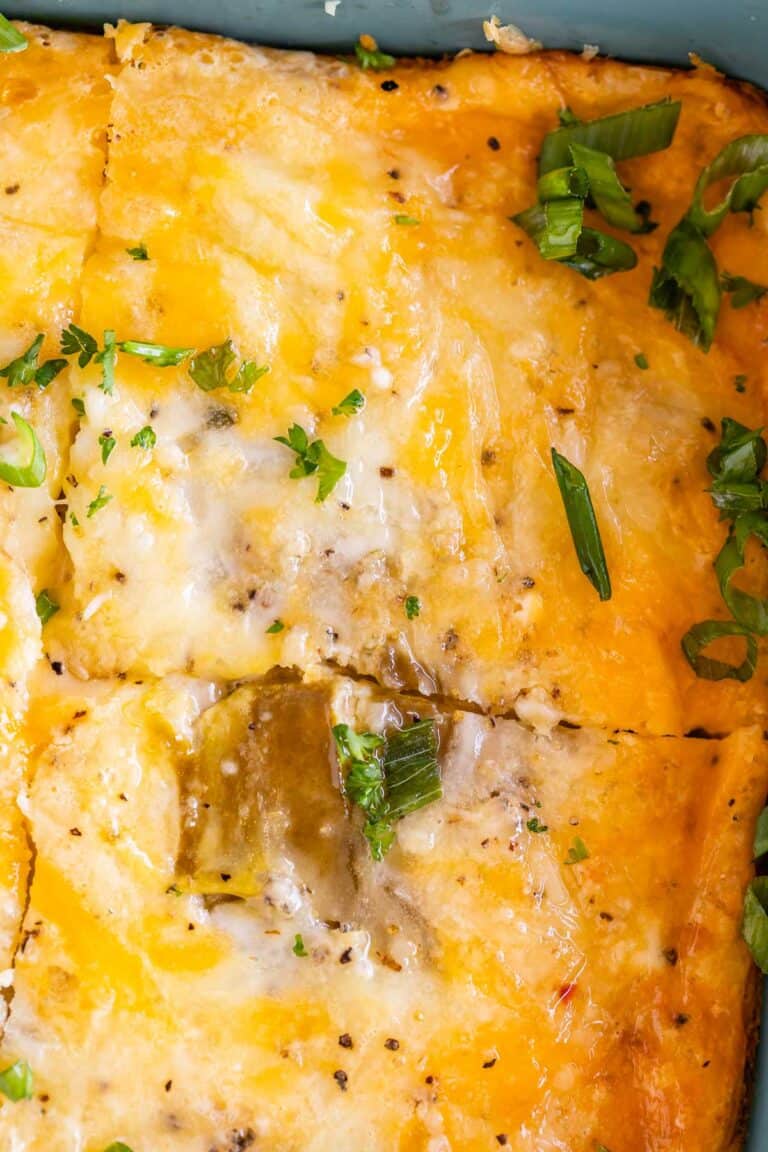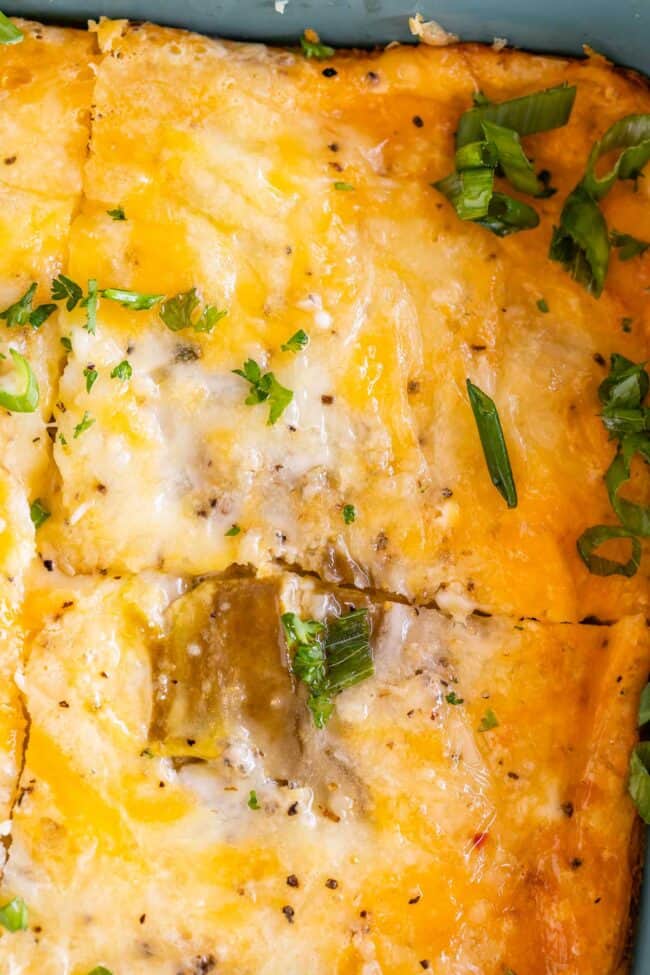 Chile Relleno Casserole Recipe storage
This casserole is a great make-ahead meal. Just cook it, cool it, and store it in the fridge to grab a slice of whenever the mood strikes. I have definitely eaten this for breakfast, lunch, and dinner (not all on the same day haha). You can also freeze the cooked casserole for up to 2 months and pull it out whenever you like. Just defrost it in the fridge overnight and it's ready to heat.
Green Chile Casserole
Can you make chile relleno without removing skin?
So, the roasted poblano pepper skin definitely needs to be removed. It's crispy, papery, and blackened, and at least MOST of it should be peeled off. In this casserole version of chiles rellenos, we're just using canned roasted chiles, which are actually Anaheim chiles, not poblanos. Both are delicious by the way, and both are good whether you roast them yourself or buy them canned. If you are making traditional chiles rellenos, you'll probably want to roast them yourself–and once they're roasted, you can put them in a tightly sealed container for about 15 minutes to make the skins easier to peel.
What nationality is chiles rellenos?
Chiles Rellenos originated in Mexico, in the city of Puebla. Many varieties of chiles rellenos are eaten throughout Mexico today. Of course we also eat them in the United States, because they are freaking delicious.
What does the word relleno mean in English?
Relleno is a Spanish word that translates to "filled" or "stuffed" in English. You'll often hear it in the name of a dish called "chile relleno" in which a poblano chile (aka poblano pepper) is filled with cheese, then battered and fried.
Garnish your chile relleno casserole with:
Egg Casseroles you will love
Facebook | Pinterest | Instagram

Chile Relleno Casserole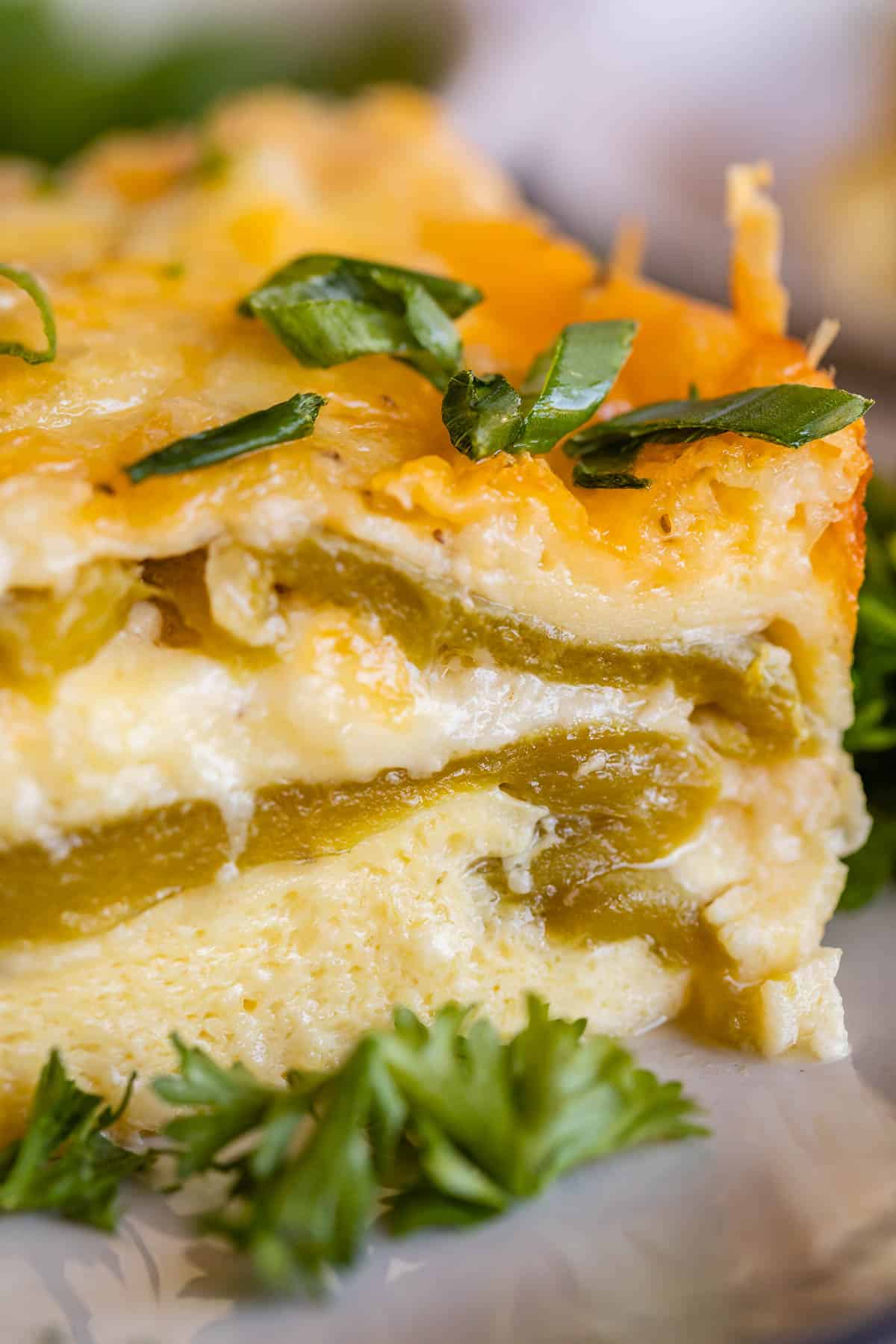 It doesn't get any easier or tastier than this Cheesy Chile Relleno Casserole recipe! Whole canned green chiles are layered with 3 kinds of cheese, then topped with an egg and milk mixture, just like a breakfast casserole. Is it breakfast? Is it dinner? YES!
Ingredients
nonstick spray

20

ounces

whole green chiles

1

cup

shredded cheddar cheese

,

divided

1

cup

shredded Monterey jack cheese

,

divided

1

cup

shredded Pepper Jack Cheese

,

divided

8

large

eggs

1

cup

evaporated milk*

2/3

cup

flour

1

teaspoon

baking powder

1/2

teaspoon

kosher salt

1/2

teaspoon

seasoning salt

,

such as Lawry's

3/4

teaspoon

black pepper

Restaurant style salsa,

for serving, homemade or store bought is fine!
Instructions
Preheat your oven to 350 degrees F. Spray a 9×13 inch pan with nonstick spray.

Open up the cans of whole chiles and drain completely. If they are not already open, slit one side of each chile with a knife and remove all the seeds from the center.

Layer the chiles in the pan, covering the bottom. Use half the chiles, about 10 ounces.

Top the chiles with 1/2 cup each of shredded cheddar cheese, Monterey Jack Cheese, and Pepper Jack cheese.

Repeat. Layer the remaining chiles on top of the cheese, top with 1/2 cup each of the cheeses.

Meanwhile in a large bowl or stand mixer, whisk together 8 eggs, 1 cup evaporated milk*, 2/3 cup flour, 1 teaspoon baking powder, 1/2 teaspoon kosher salt, 1/2 teaspoon seasoning salt, and 3/4 teaspoon black pepper.

Pour the egg mixture evenly over the cheese and chiles.**

Bake at 350 for about 35-45 minutes. You will know it's done when the top is puffy, the edges are golden, and the center doesn't wobble more than the edges when you shake the pan.

Let set for about 5 minutes and then serve! I love to serve this with Restaurant Style Salsa passed at the table, in case people want a little more heat. A store bought salsa will do, too!
Notes
*You can use cream or half and half in place of the evaporated milk!
**At this point, you can cover and refrigerate overnight! You might have to bake a couple minutes longer since it starts out cold.
KETO VERSION: You can make this recipe if you are on the Keto diet! Replace the evaporated milk with cream, and replace the flour with almond flour. Thanks to my cousin Misty who tested this out!
Nutrition
Serving:
1
slice
|
Calories:
298
kcal
|
Carbohydrates:
15
g
|
Protein:
18
g
|
Fat:
18
g
|
Saturated Fat:
10
g
|
Polyunsaturated Fat:
1
g
|
Monounsaturated Fat:
6
g
|
Trans Fat:
1
g
|
Cholesterol:
209
mg
|
Sodium:
821
mg
|
Potassium:
192
mg
|
Fiber:
2
g
|
Sugar:
5
g
|
Vitamin A:
628
IU
|
Vitamin C:
8
mg
|
Calcium:
405
mg
|
Iron:
2
mg