Super easy, fluffy dinner rolls done in ONE hour! And no instant yeast necessary, regular active dry yeast is what I use. These rolls are soft and pillowy and full of buttery flavor! This is my favorite recipe to make for dinner on a weeknight because it is so easy to put together!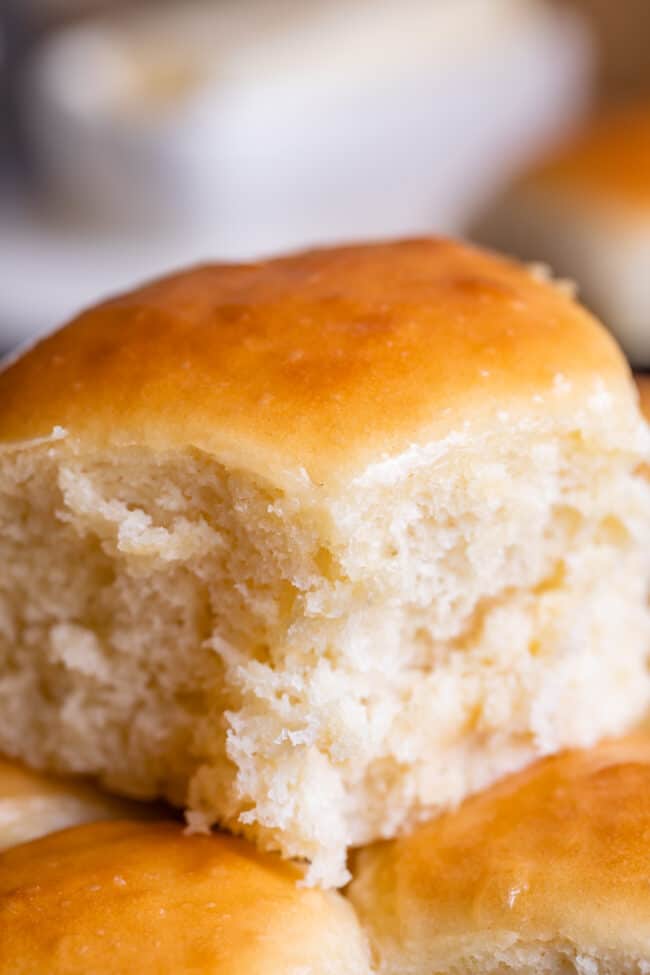 Last night I was using a towel to pull my whistling teakettle off the burner, and it lit ON FIRE. After a moment of shock I threw it in the sink and here I am, alive to tell the tale. Here's my poor tea towel now: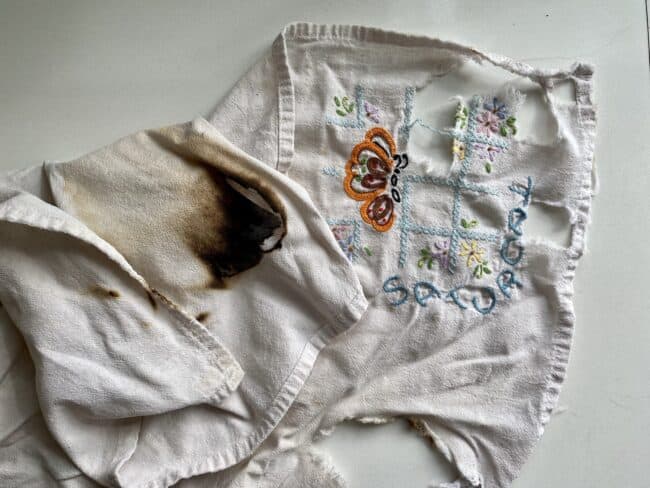 It looks pretty pathetic right?? The holes and frayed edges have nothing to do with the recent fire incident. This towel is at least 80 or 90 years old. I use it all the time.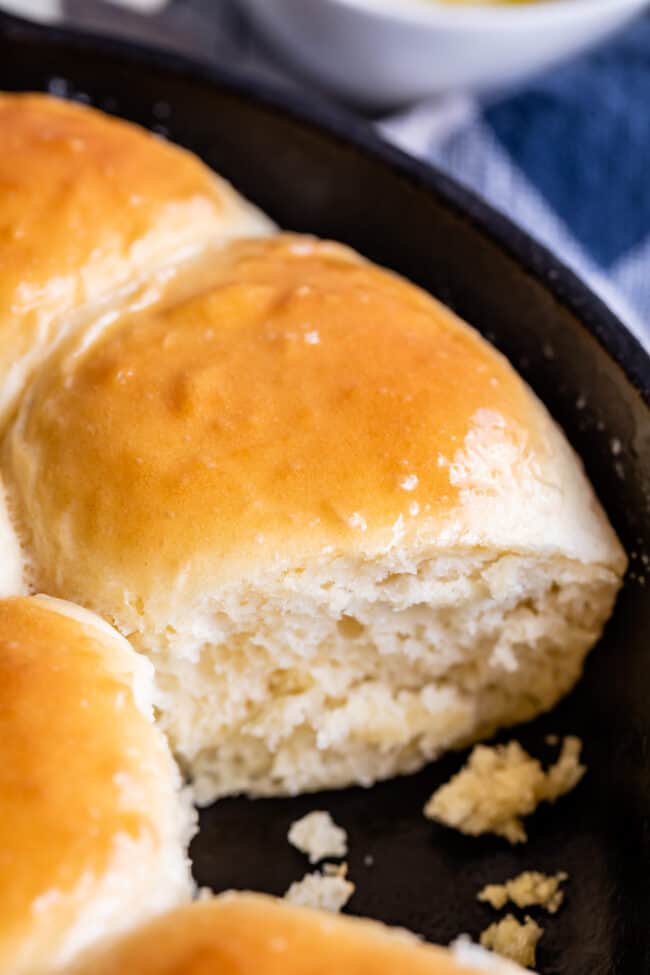 My grandma Georgia embroidered this tea towel when she was 10 years old, when she had tuberculosis and was sent away from her family to be quarantined. It was 1930. She was there for a year and a half. She wasn't getting better, and finally they sent her sister Pauline to be with her (they were Irish twins, only 11 months apart), and once Pauline arrived, Georgia recovered quickly.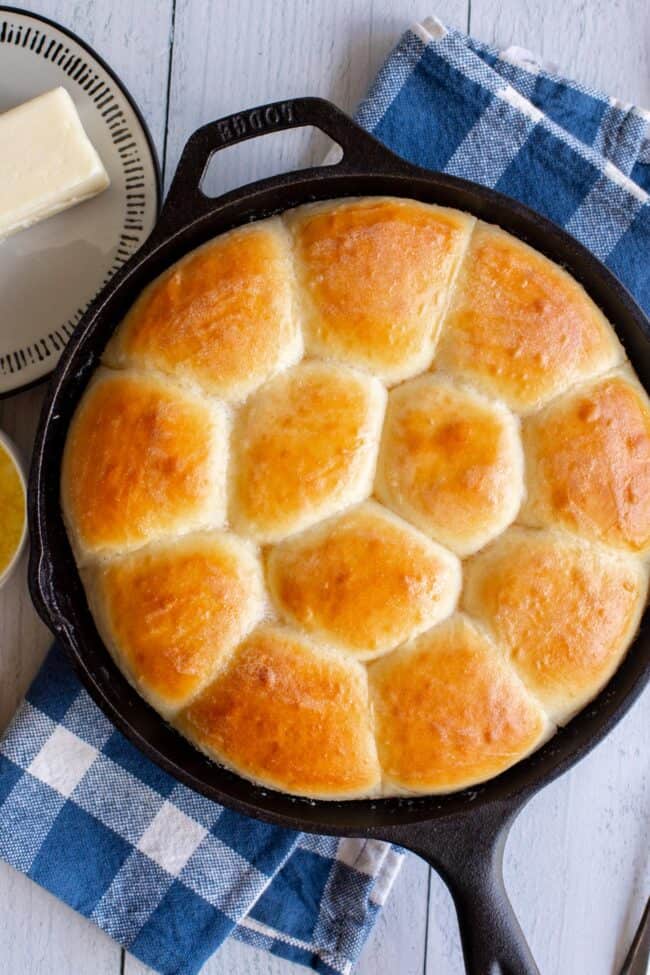 (Complain about the COVID-19 quarantine all you want. I know I do! But just be grateful you're not a scared 10-year-old with a deadly disease and have to go to a facility all by yourself where you don't know anyone. For 18 months. I seriously can't even imagine!)
Grandma Georgia embroidered dozens and dozens of these tea towels in quarantine, made from the softest flour-sack material you've ever felt. I have a whole set of them, as do all my siblings.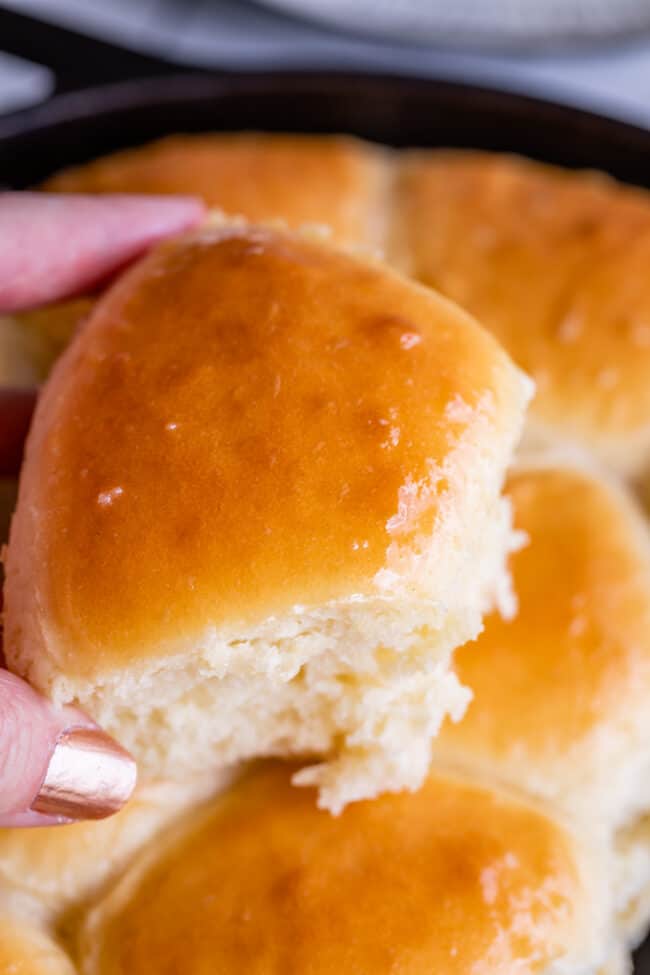 I texted my family that I had burned one of my tea towels and they shared stories about how they are the best towels ever and how sad it is that they are fraying. I mentioned that I don't believe in not using heirlooms, and my sister Nikki told me why. The sentiment comes from Grandma herself:
"While moving grandpa to a nursing home, Grandma found 50-year-old towels that she had got brand new for her wedding and had saved for a special occasion. They had rotted. That's why she told us all to use the towels she made for us right away. She didn't want us to never use them. I loved mine until their deaths."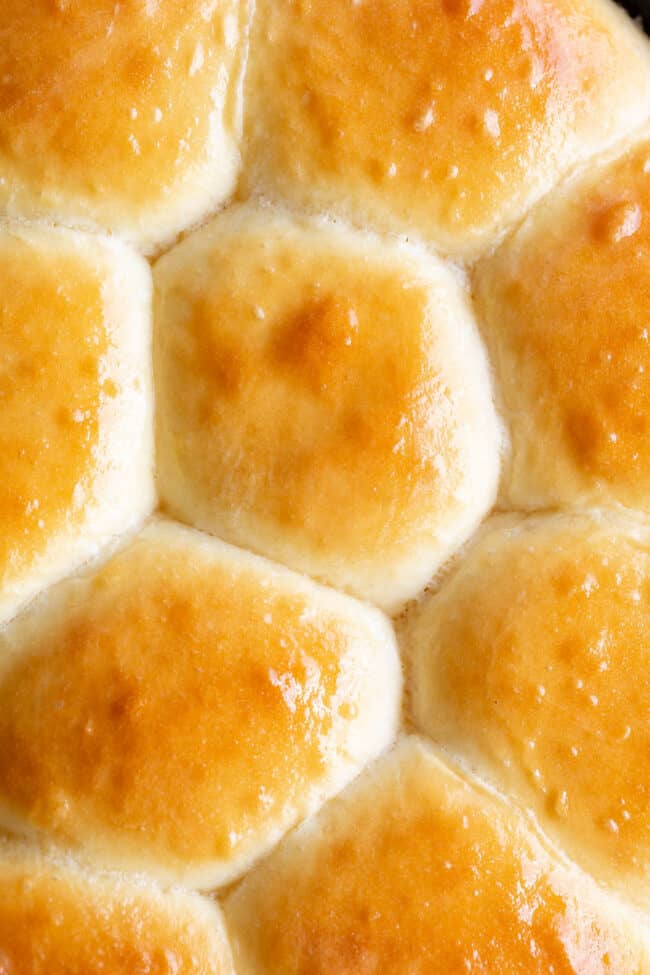 I think it's pretty funny that I internalized the message about using heirlooms instead of saving them for "a special occasion" but didn't know the story about my Grandma and the 50-year-old towels. I guess that's how legends get started!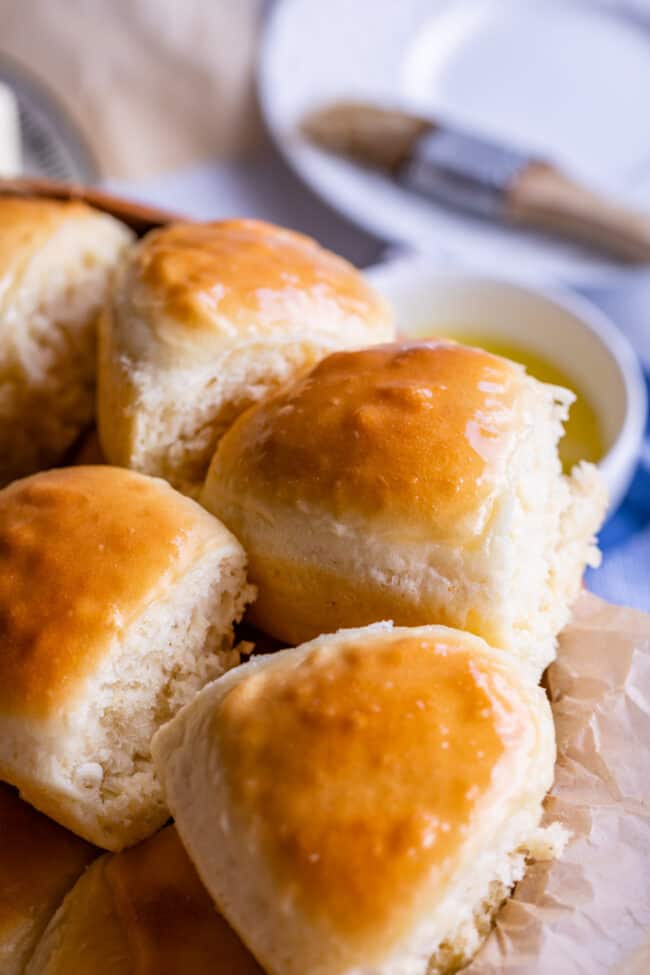 My brother mentioned that when his towels get too frayed to use in the kitchen, he uses them in the garage. He said he doesn't think he's ever thrown one away. After I took the picture of the burned towel, I intended to throw it in the trash. But I realized when he said that, it's still there on my counter. I guess I'm having a hard time too! Maybe I'll take it out to the garage for a second life? What do you guys think about using heirlooms vs. packing them away?
One Hour Dinner Rolls
Raise your hand if you love yourself some homemade dinner rolls! It really doesn't get any better than a hot fresh buttery roll, right?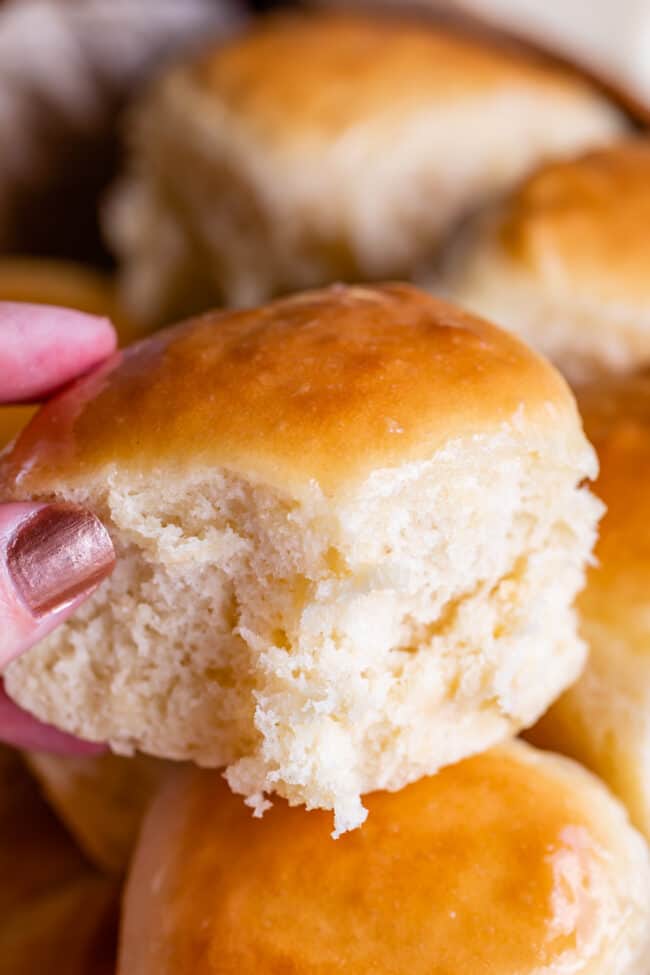 This recipe is adapted from my Aunt Shirley's Famous Buttery Dinner Rolls, which are truly the most amazing rolls of your life.
Today's version is similar, but can be made in half the time. We're just skipping that first rise and moving straight to shaping the rolls after a short rest.
Active Dry Yeast vs. Instant Yeast
You can use active dry yeast OR instant yeast for this recipe. I promise it will work either way. Active dry yeast is the most common kind of yeast you will see at the store. Instant yeast (or sometimes called bread machine yeast, rapid rise yeast, quick yeast, etc.)  is made in a similar way to active dry yeast, but yields a yeast with even finer grains than active dry yeast. Because of this, it dissolves faster than active dry yeast, resulting in a slightly quicker rise. It can also be stirred directly into dry ingredients without dissolving in liquid first.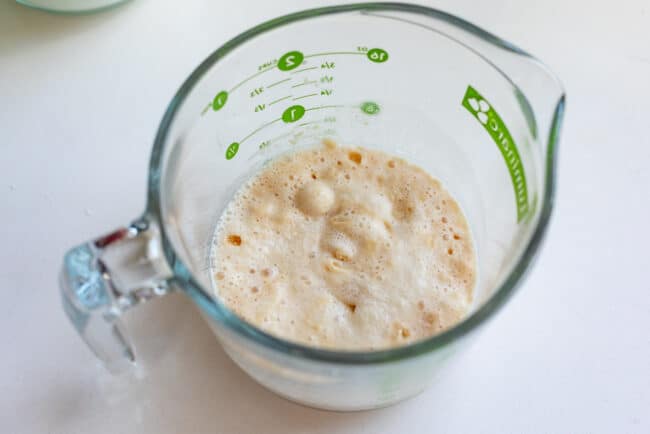 But. Here's the thing. It just doesn't take that long to dissolve active dry yeast. It takes less than 5 minutes. So to me, it's more annoying to have to keep two kinds of yeast on hand all the time than to just add active dry yeast to some warm water and call it good.
I always get nervous mixing yeast straight into the dry ingredients anyway, because what if the liquid you add to the recipe is too hot and kills your yeast? You wouldn't know until hours later when your bread didn't rise. For that reason, I always think it's worth it to "proof" the yeast in a bit of warm water, just to make sure everything is going to turn out in the end. Baking bread takes a while, and I'd rather know right away if I've killed my yeast!
How to Make Homemade Dinner Rolls in One Hour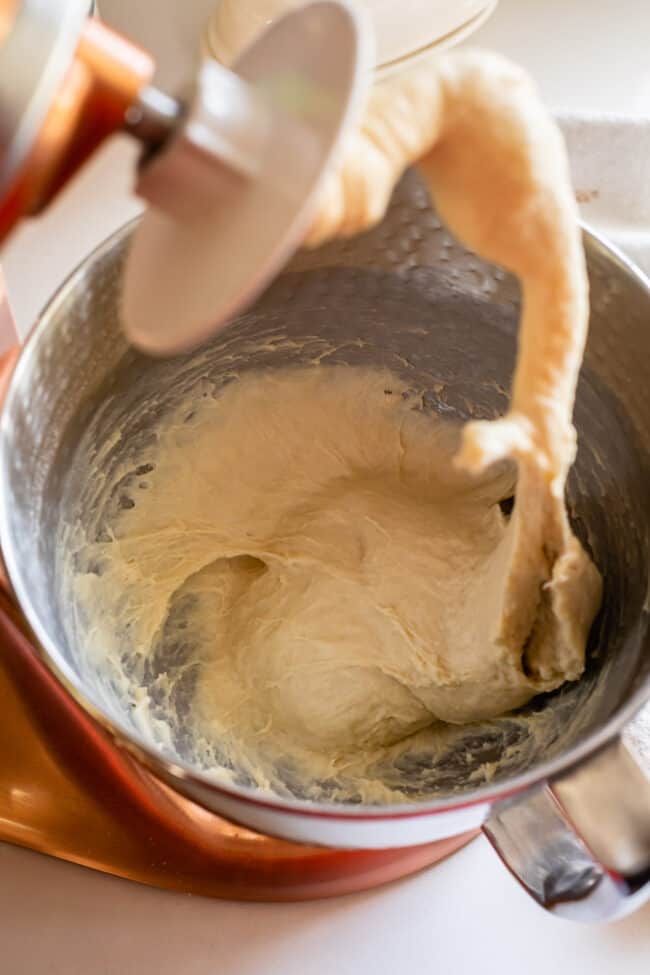 Let's make some rolls!! They are really so easy. This is the dough AFTER a 5 minute knead. It is pretty sticky! It will not shape into a ball. You are going to have to use your best judgment on how much flour to add. The less you add, the more tender your rolls will be. I added 2 and 1/2 cups.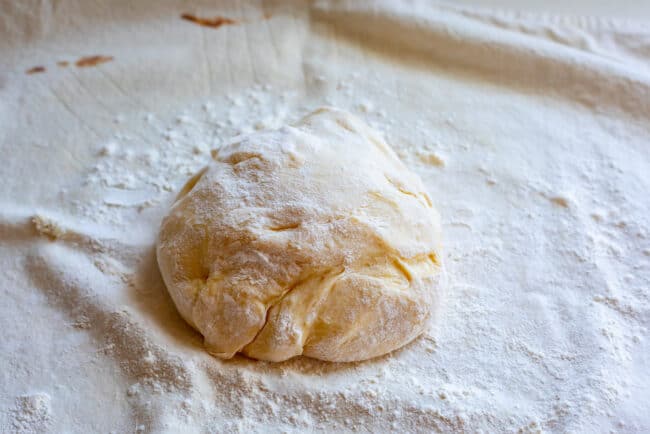 Scrape the dough onto a well-floured work surface and shape into a ball. Cover with your grandma's burnt tea towel, or a regular one will do I suppose. Let rest 5-10 minutes.

Divide the dough into 12 pieces, about 2 ounces each. Round one end with your fingers, pinching on the other end,

and voila. A cute little roll. Place them in the pan with a bit of space in between.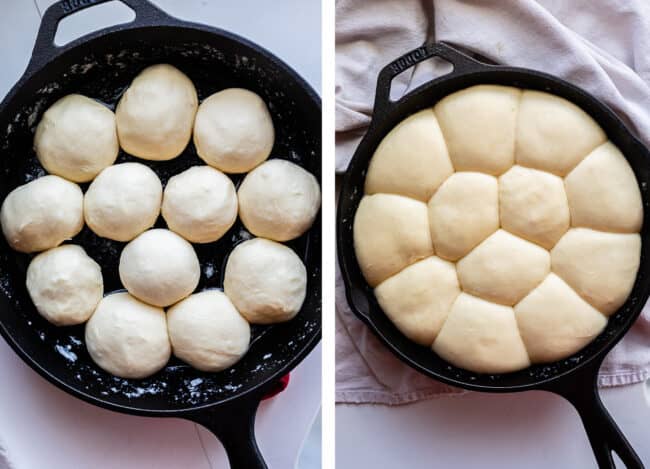 Here's what they look like after rising. You can totally make these rolls in a 9×13 inch pan if you don't have a cast iron skillet.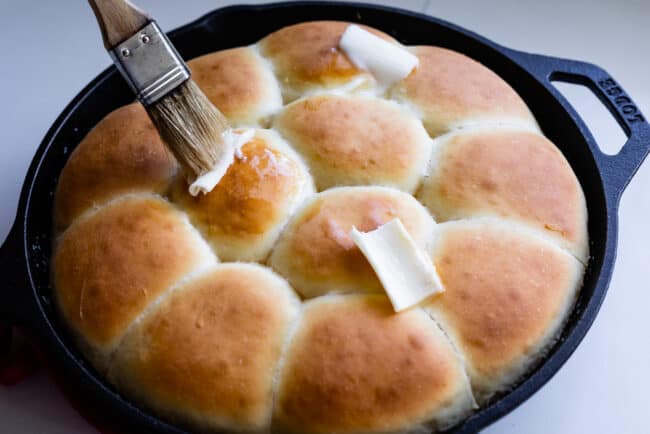 Don't forget to brush with butter right out of the oven!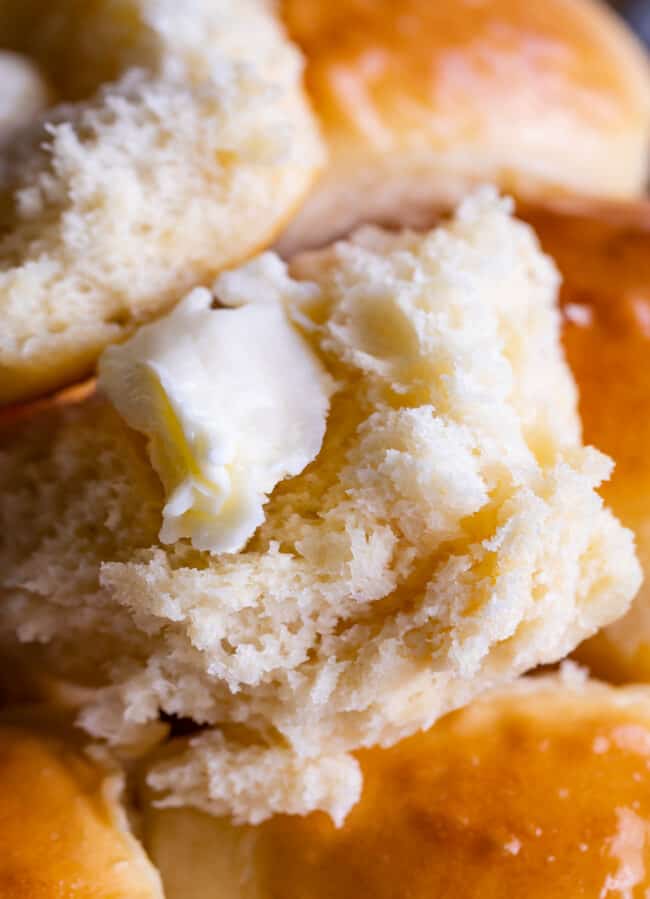 Gah just look at the center of this roll. It's SO tender and fluffy. It is like eating a buttery cloud. This is the stuff dreams are made of people. Happy Easter everyone!! Enjoy feasting and celebrating the resurrection of Christ!
More dinner roll recipes you will love!
Facebook | Pinterest | Instagram

Easy Fluffy One Hour Dinner Rolls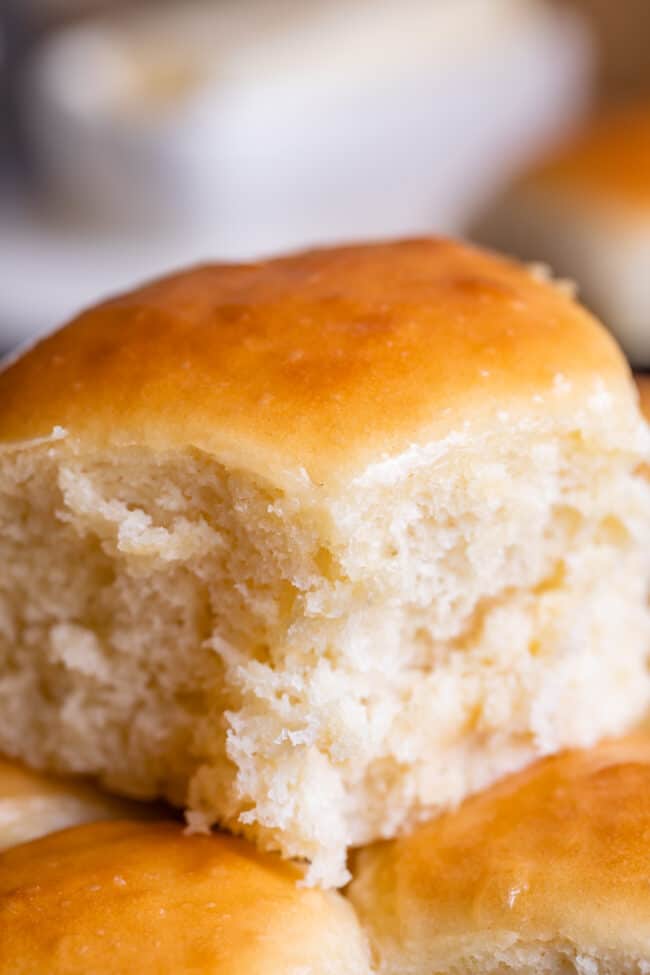 Super easy, fluffy dinner rolls done in ONE hour! And no instant yeast necessary, regular active dry yeast is what I use. These rolls are soft and pillowy and full of buttery flavor! This is my favorite recipe to make for dinner on a weeknight because it is so easy to put together!
Ingredients
3

tablespoons

warm water

1

tablespoon

active dry yeast*

1

teaspoon

sugar

,

to activate yeast

3

tablespoons

sugar

1

teaspoon

kosher salt

3

tablespoons

shortening

3/4

cup

milk

1

large

egg

2 & 1/2

cups

all purpose flour

,

spooned and leveled

1

tablespoon

butter

,

to grease pan

1

tablespoon

butter

,

to top finished rolls
Instructions
To proof the yeast: In a small bowl or coffee mug, add 3 tablespoons warm water. It should be lukewarm but not hot. It should feel like pleasant bathwater and not sting your finger at all. If you want to get technical, it should be between 105-110 degrees F.

Add 1 tablespoon yeast and 1 teaspoon sugar and stir. Let this mixture sit for 5 minutes. The yeast should dissolve and start to bubble.**

To make the dough: Meanwhile, in a large bowl or stand mixer, add 3 tablespoons sugar, 1 teaspoon kosher salt, 3 tablespoons shortening, and 1 cup of the flour called for in the recipe.

In a glass measuring cup, microwave 3/4 cup milk in 30 second increments until it is warm but not hot, the same temperature as the water. Add it to the flour mixture.

Stir together with a wooden spoon or beat with the paddle attachment. (I actually just use my hand to stir using the dough attachment because I'm a weirdo and don't like getting 2 attachments dirty.)

At this point the yeast should be dissolved and bubbly. Add it to the flour mixture.

Add 1 large egg and beat well until combined.

Add the remaining flour in increments, mixing in between. You might not need all the flour, and you might need a bit more. Bread is finicky like that. Use your best judgment to continue adding flour until the dough is smooth and soft, but still sticky. It will not pull away from the sides of the bowl completely. You need to add enough flour so that the dough comes together, but the less flour you use, the more tender your rolls will turn out. See photos.

Once all the flour is incorporated, use the dough attachment to knead the dough for 5 minutes. (If you are doing this by hand, you will need to knead for about 8 minutes on a floured work surface.) The dough is still quite sticky at this point. See photos.

Scrape the dough onto a well floured work surface, shape into a ball, and cover with your grandmother's 90 year old tea towel. (Or any tea towel will do I suppose). Let rest 5-10 minutes.

To prepare the pan/skillet: Meanwhile, turn your oven on 375 degrees F. It's only going to be on for 2-3 minutes.

Add 1 tablespoon butter to a 10-inch cast iron skillet OR a 9x13 inch baking pan. Place in the preheating oven until the butter is melted and the skillet/pan is hot. Turn the oven off. Use a pastry brush to swirl the butter around to coat the interior, making sure you grease the sides. Leave the pan in the hot oven until you are ready to shape your rolls.

To shape the rolls: Press down the resting dough and get out any air bubbles. Divide the dough in halves until you have 12 equal pieces (They should be about 2 ounces each if you want to measure.) Shape each piece into a roll shape by rounding the dough with your fingers on one side, then bring them around to pinch the dough on the other side. See photos. Place in the hot pan/skillet, pinched side down. There should be a little bit of space between each roll.

Cover the rolls with a tea towel. Open your turned-off oven and gauge the temperature. It should be warm but not too hot. If you can put your finger on the rack without burning yourself, then put your covered rolls in the oven and shut the door. If the rack is too hot to touch, place the rolls in the oven but leave the door open so that it continues cooling off a bit. We don't want the rolls baking yet.

Leave the rolls in the warm oven for 15 minutes. After 15 minutes, remove from the oven (place on top of the oven or in another warm place to continue rising) and preheat the oven back up to 375 degrees F.

Let the oven preheat and the rolls continue rising for another 10-15 minutes. The rolls should have doubled in size, and the total rising time after the rolls have been shaped should be at least 25 minutes.

Remove the towel and bake the rolls at 375 for about 12 minutes. The tops should be a deep golden brown all across the top. A thermometer should read at least 190 degrees at the center of a roll.

Remove the rolls from the oven and immediately melt 1 tablespoon of butter on top of the rolls, using a pastry brush to spread it around.

Let the rolls set for about 5 minutes before digging in! Eat with lots of melty butter! Or even better, this

Cinnamon Honey Butter

!
Notes
*You can use instant yeast in this recipe, but it's not necessary.
**If your yeast mixture is NOT getting foamy, then abandon ship! You killed your yeast with too hot water probably. Better to start over now than wind up with sad flat rolls in an hour.
Nutrition
Serving:
1
g
|
Calories:
169
kcal
|
Carbohydrates:
24
g
|
Protein:
4
g
|
Fat:
6
g
|
Saturated Fat:
2
g
|
Polyunsaturated Fat:
1
g
|
Monounsaturated Fat:
2
g
|
Trans Fat:
1
g
|
Cholesterol:
22
mg
|
Sodium:
224
mg
|
Potassium:
58
mg
|
Fiber:
1
g
|
Sugar:
4
g
|
Vitamin A:
106
IU
|
Vitamin C:
1
mg
|
Calcium:
24
mg
|
Iron:
1
mg