A simple and refreshing pear cucumber salad, autumn-ified with pistachios, blue cheese, and cranberries. An easy and healthy fall side dish…to combat all the football food.
Originally posted September 25, 2014
 My mom came over right as I was finishing up this salad. I plopped a bowl in front of her and she looked down and said, "What are these?"
"What are what?"
"These nuts."
"Mom. They're pistachios."
(Long pause)
Me: "You've never had pistachios."
(Guilty look.)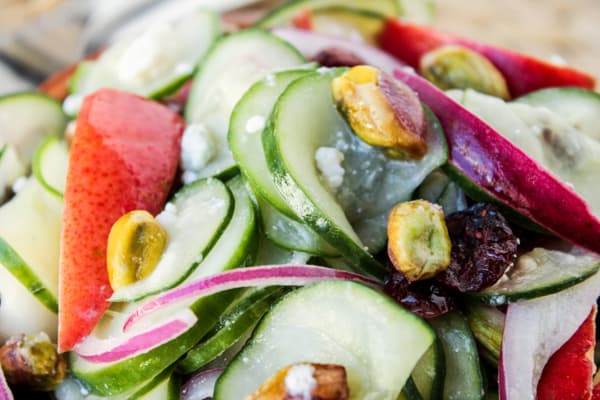 Do you guys see where I'm coming from here?? Now you know why I call myself a Food Charlatan. Look at my roots.
Anyway, after my mom tried this salad she decided that pistachios are very delicious indeed. (No duuuuuuh mom)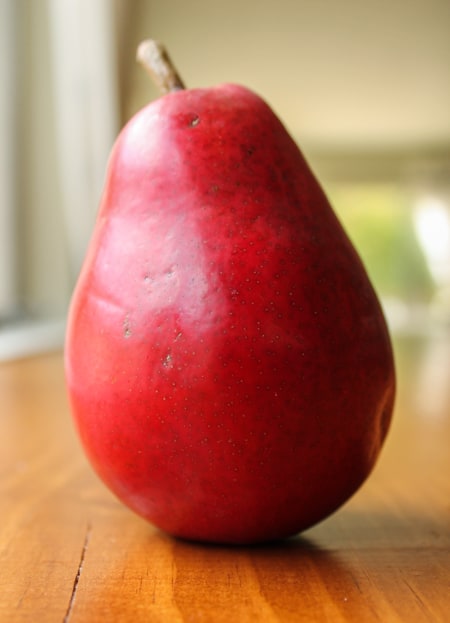 I just texted her to clarify again that she really hadn't tried them, and she told me that the only nuts she likes are chocolate covered almonds, and pecans. (But only in pecan pie.)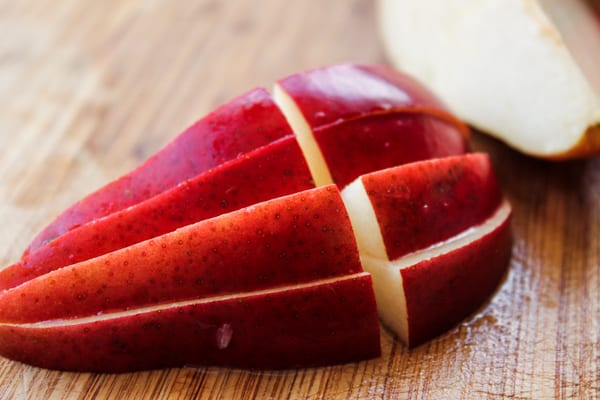 Oh, did I mention that her dad was an almond farmer? She grew up surrounded by nuts. Literally.
Well Mom, sorry these pistachios aren't covered in chocolate or brown sugar. But you have to admit they taste mighty fine in this salad.
How to make Pear Cucumber Salad
I don't know what it is with you guys and cucumber salad. My Cilantro-Lime Cucumber Salad is my most popular post ever and has over 350,000 pins on Pinterest. This Asian Marinated Cucumber Salad is a close runner-up. I was craving cucumber salad, but wanted something autumn-y.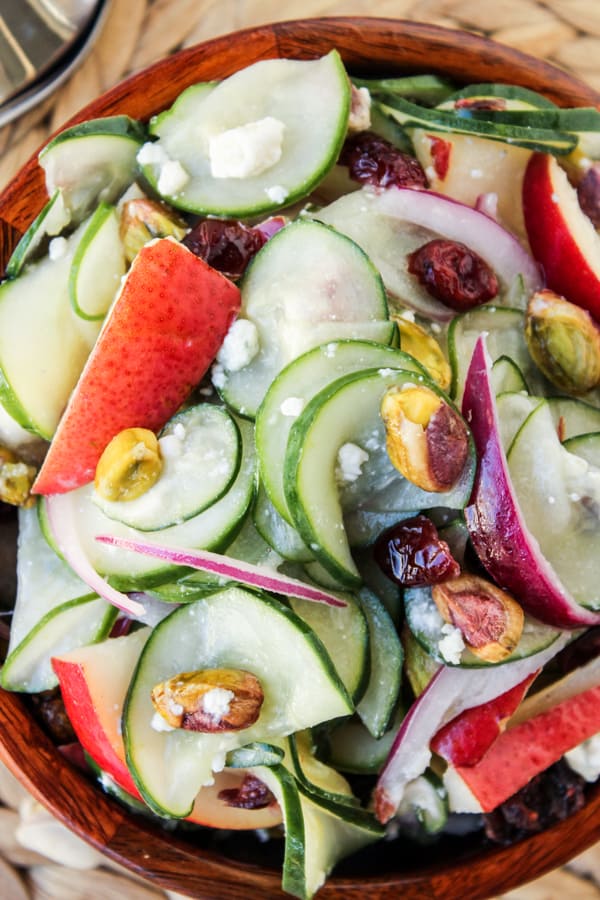 And so this Pistachio-Pear Cucumber Salad was born. It's pretty freaking delicious. The cucumbers are light enough that they serve as a pleasant background to the sweet pears, tangy bleu cheese, and salty pistachios.
The best part is how easy this is to throw together. This would be a great healthy side dish to bring to a football party, or you could even pin it for Thanksgiving. I think it would make a light and surprising side dish.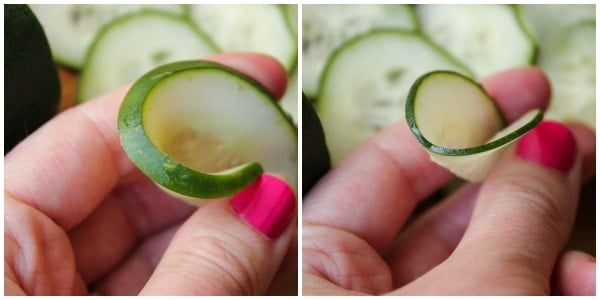 The cucumber on the left is too thick. Try to slice it really thin, like the one on the right. Use a mandolin if you have one.

 Here's how I sliced my pears. I didn't want to chop them too small because I was afraid they would just get pulverized when I stirred. I liked this size. This is a quarter of a pear, repeat with the other 3 sections.
Other fresh salads you might like:
Asian Marinated Cucumber Salad:
Greek Salad Recipe with Tons of Feta Cheese
Raspberry Avocado Salad with Poppyseed Dressing
Blueberry Corn Salad with Prosciutto from Recipe Girl
Roasted Beet & Arugula Salad with Pistachios and Goat Cheese from Garnish with Lemon
Strawberry Bacon Salad with Greek Yogurt Poppyseed Dressing from Lauren's Latest
Facebook | Pinterest | Instagram | Twitter

Pistachio-Pear Cucumber Salad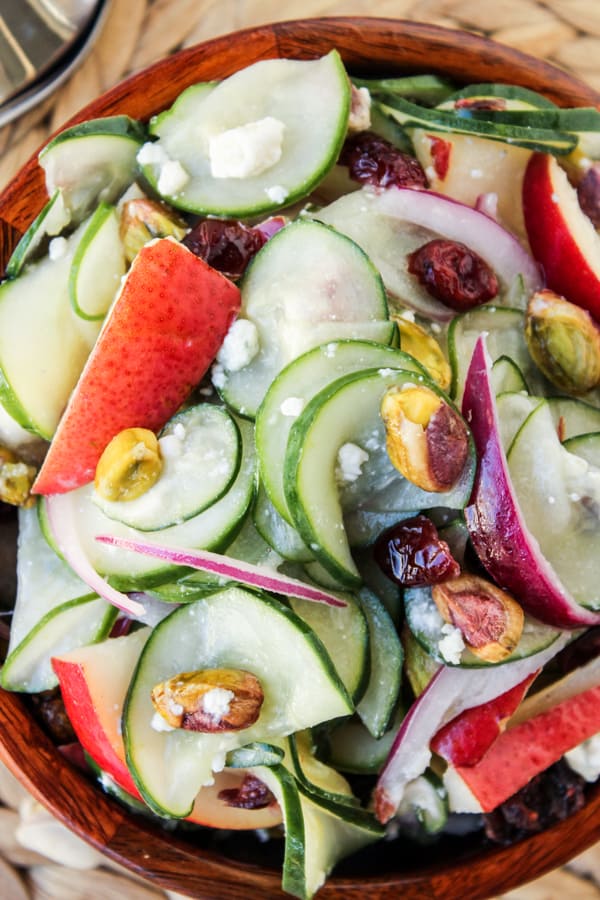 A simple and refreshing pear cucumber salad, autumn-ified with pistachios, blue cheese, and cranberries. An easy and healthy fall side dish.
Ingredients
2

medium

cucumbers

,

sliced thin (see photos)

1

teaspoon

salt

2

tablespoons

red wine vinegar

2

tablespoons

olive oil

1/4

medium

red onion

,

sliced thin

2/3

cup

dried cranberries

2

red pears

,

ripe but firm, sliced (I used Starkrimson)

1/2

cup

bleu cheese

,

crumbled

2/3

cup

pistachios
Instructions
Place the thinly sliced cucumbers into a colander. Sprinkle evenly with 1 teaspoon salt and stir to distribute. Let the colander sit in the sink for at least 15 minutes, stirring occasionally. (This helps the cucumbers release some of their liquid.)

Meanwhile, in a large bowl stir together the red wine vinegar and olive oil. Add the sliced red onions and stir to coat.

When the cucumbers are ready, add them to the onions and stir.

Add the dried cranberries and sliced pears. Stir gently to combine.

Sprinkle with bleu cheese and pistachios and serve immediately.
Notes
This salad is best served immediately. If you want to make it ahead of time, add everything to the salad except the pears and the pistachios. Pears are so delicate (and brown so easily) that it's best to slice them just before you are going to eat. The pistachios will start to get soft if you let them sit in the salad, so reserve them and sprinkle them over each serving if you want.
Nutrition
Serving:
1
bowl
|
Calories:
183
kcal
|
Carbohydrates:
20
g
|
Protein:
4
g
|
Fat:
11
g
|
Saturated Fat:
3
g
|
Polyunsaturated Fat:
2
g
|
Monounsaturated Fat:
6
g
|
Cholesterol:
6
mg
|
Sodium:
411
mg
|
Potassium:
257
mg
|
Fiber:
3
g
|
Sugar:
13
g
|
Vitamin A:
154
IU
|
Vitamin C:
4
mg
|
Calcium:
69
mg
|
Iron:
1
mg