Chicken Pot Pie with Biscuit Topping
This big ol' pan of Chicken Pot Pie with Biscuits can feed a crowd! Tender chicken and veggies with a delicious creamy sauce but instead of regular pie crust we're topping it with Flaky Buttermilk Biscuits. This is comfort food at its finest!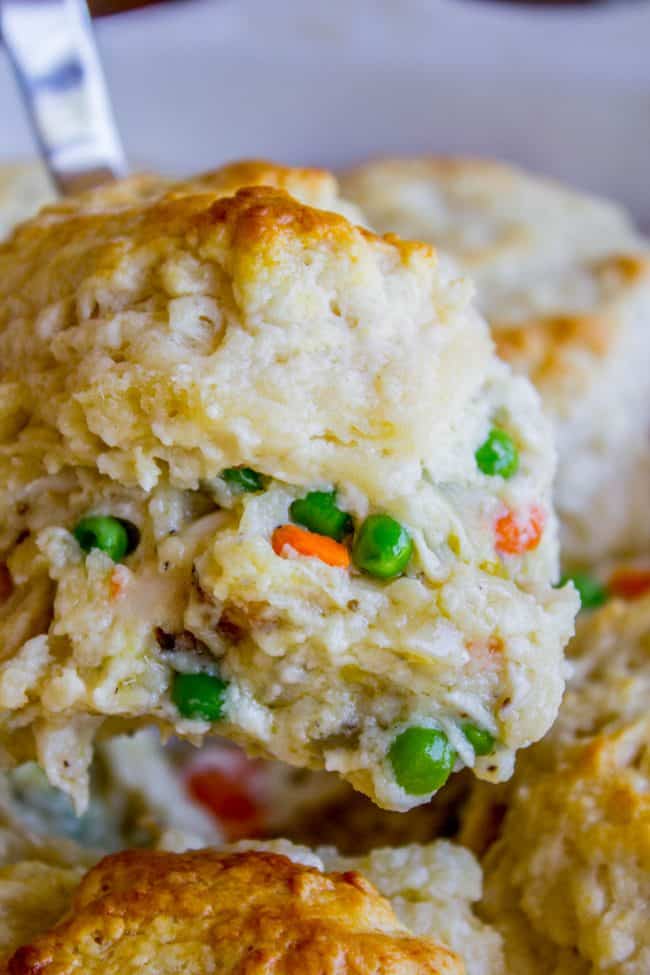 Originally posted September 1, 2017
Charlotte was given a tiny Dixie cup full of dirt in her Sunday school class a few weeks ago. It had flower seeds in it. Both Eric and I thought it was crushed up Oreos at first, and were totally disappointed that we weren't going to be able to nab some of Charlotte's Dirt Pudding Cup.
So much for that lesson on faith. No matter how much you believe, dirt ain't gonna taste like Oreos. (Until they come out with a dirt-flavored Oreo. I have no doubt this is in the works, since I'm pretty sure Oreo knows no bounds when it comes to weird flavors. Sherbert Oreo? Watermelon Oreo? Candy Corn Oreo? What is going on? Although we've got nothing on Japan. My BFF Sarah just moved there (!!! military) and will get first hand experience with the crazy candy flavors they have.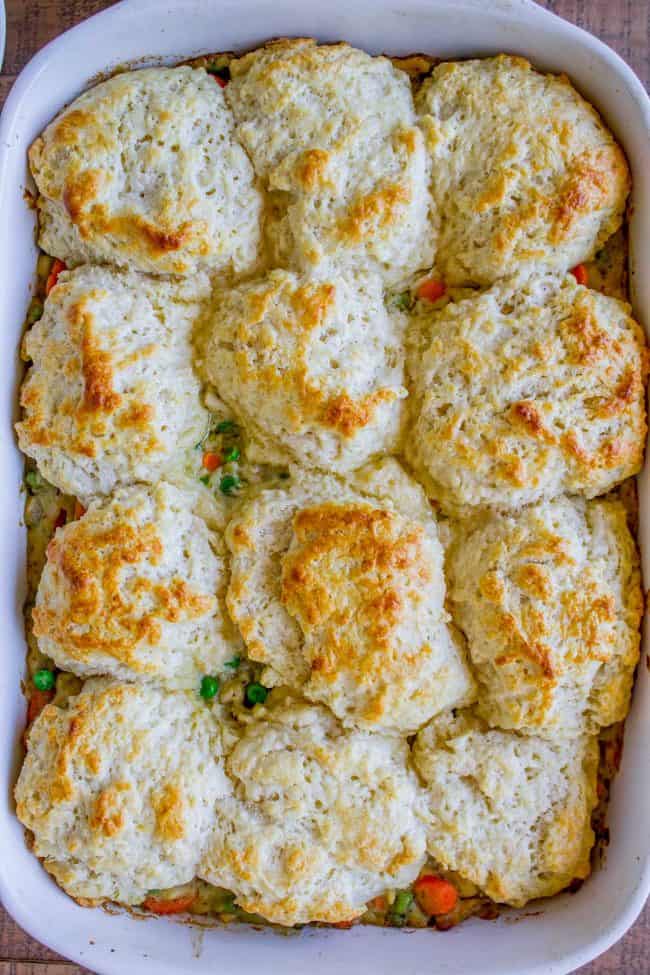 Also, speaking of weird food things in the Far East, a friend of ours just got back from a visit to South Korea, where he went to a coffee shop. When he walked in, they snapped a picture of him. And then they gave him a latte with his picture in the foam. NO FOR REAL. What?!)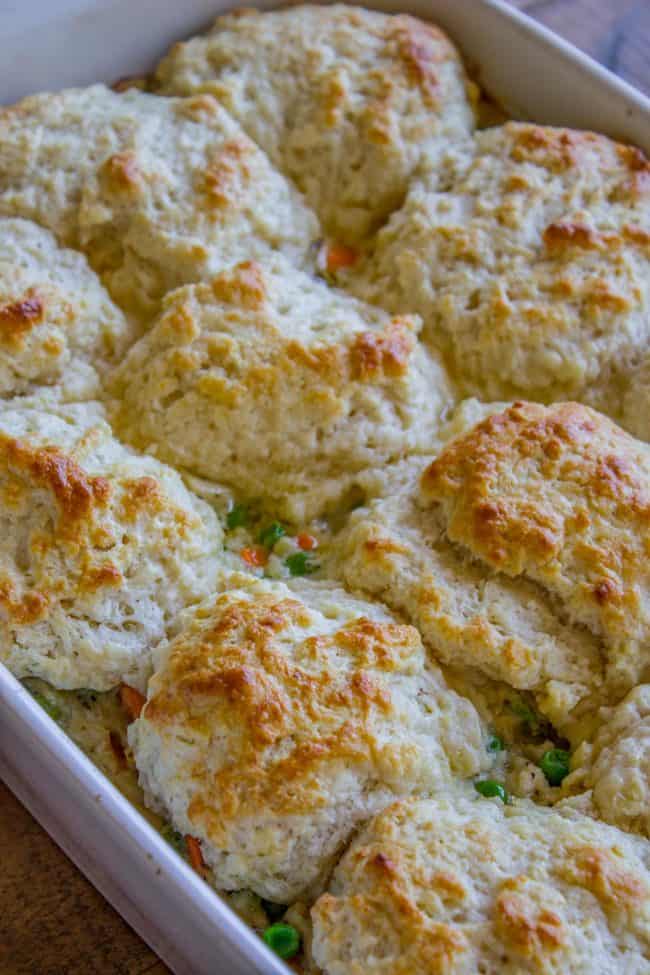 But back to the flower seeds in crushed Oreos. They actually sprouted into a tiny plant! I was so shocked. I'm notorious for killing living things, except my children, who are all 3 miraculously still alive. (Can I get a slow clap.) I'm really enjoying watching the little sprout grow from my station at the kitchen sink. It's kind of healing. You guys should all plant a seed in a cup today and watch it by your kitchen sink. It's great.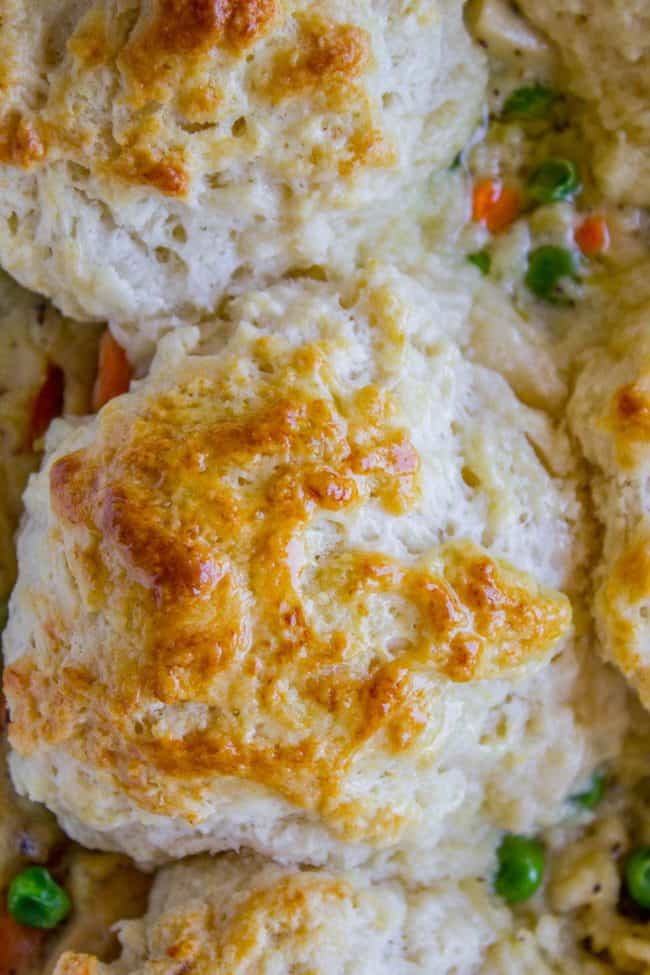 How to make Chicken Pot Pie with Biscuits
Earlier this week I posted How to Make Ultra Flaky Buttermilk Biscuits, the most tender biscuits in all the land. Today we're taking it one step further and baking them on top of chicken pot pie filling. As I mention in the recipe, they are amazing, so tender and flaky. They totally make this casserole next level. BUT. Pillsbury biscuits from a can will also work, or you could make Bisquick biscuits. Sometimes you just need to get dinner on the table!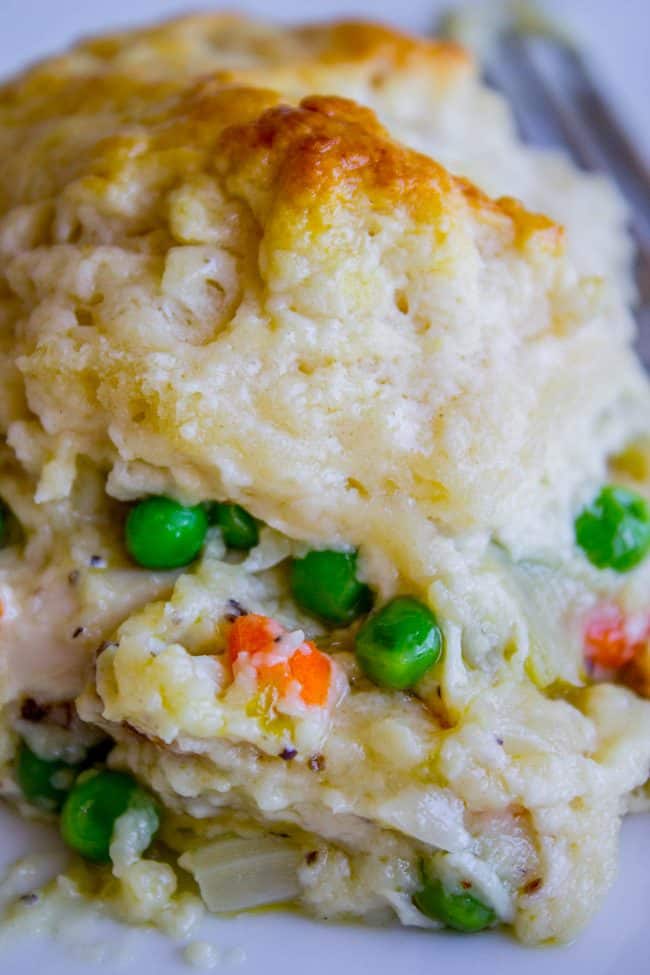 I did a few Instagram stories making this the first time, and my friend Amelia texted me for the recipe.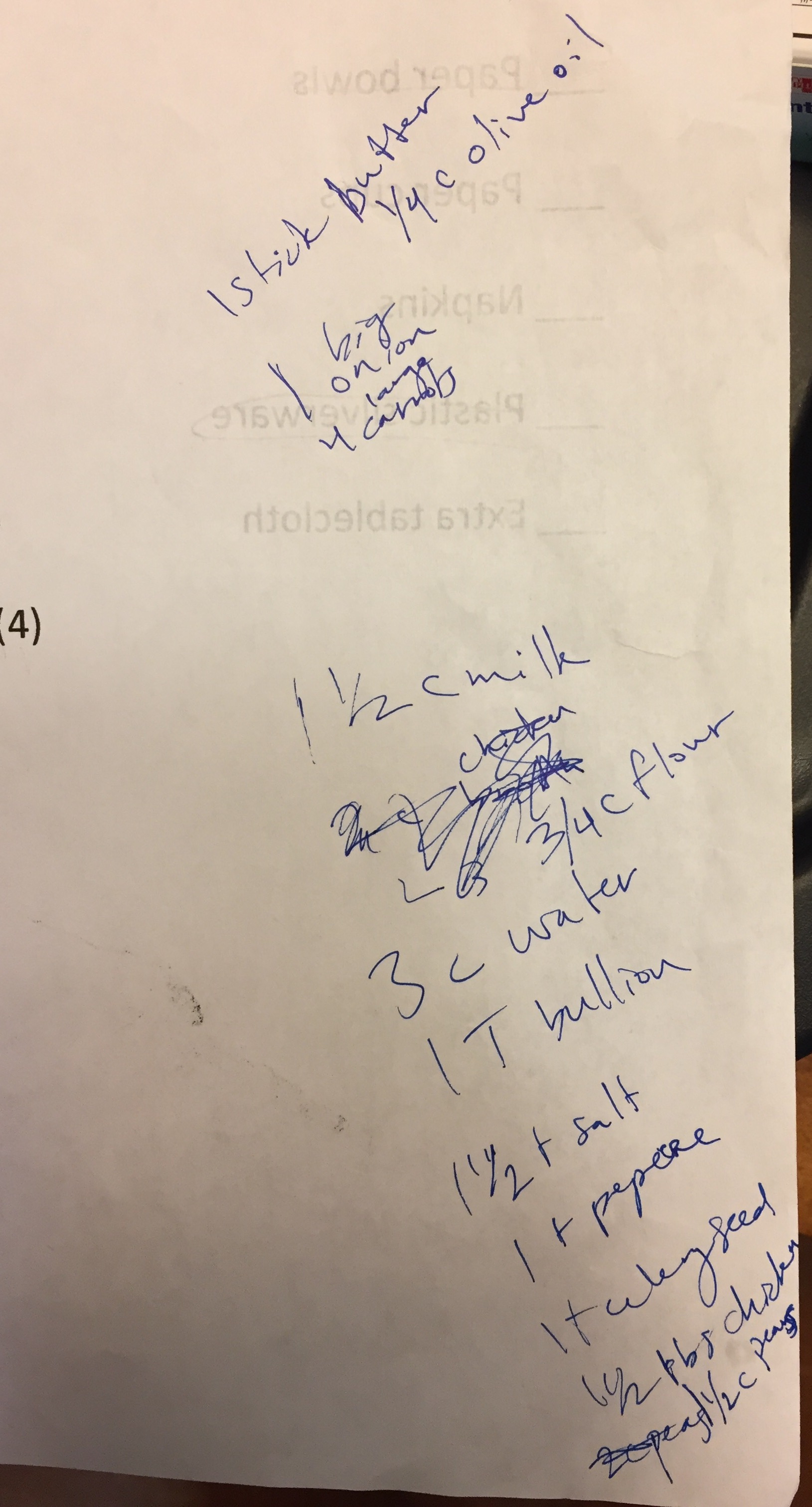 She somehow was able to put dinner together from this, I'm pretty impressed. Don't worry the printable is below!
This biscuit chicken pot pie is so great. Tender, roasted chicken, creamy white sauce with great flavor, and carrots and peas. Ahh it's so good. I wish I could eat this for every meal. Oh wait, that's exactly what I did this week, because this recipe feeds like 100 people so we had leftovers for days. This would be a great meal to bring to a new mom. Or it makes a great back-to-school meal. My kids are obsessed with it! I love when they ask for seconds on dinner. So rare, and definitely a sign of success!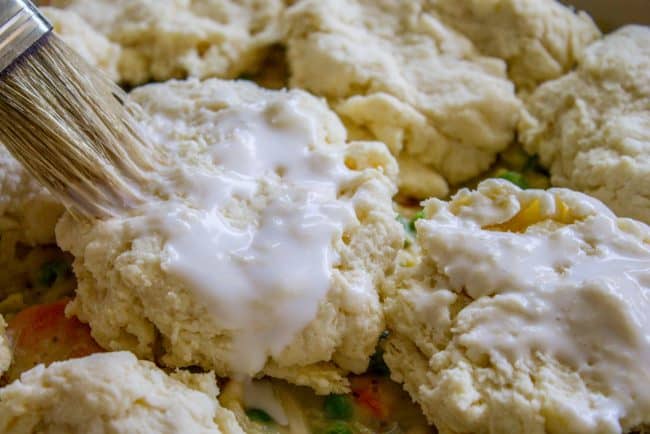 P.S. My birthday is coming up, and we're thinking of buying this bed that's on sale. Do you like it? No for real, help a sister out. I'm so so bad at decorating and stuff. (Also, you know you've reached Boring Adulthood when the highlight of your 30th birthday is buying furniture.)
More casseroles that will feed a small army:
Classic Shepherd's Pie with Crispy Cheddar Topping < Technically this is a Cottage Pie because it's made with beef. People on the internet get really mad about stuff like this. I'm over here like, call it whatever you want, just make sure you invite me for dinner guys.
Slow Cooker Chicken and Dumplings << From my Grandma Georgia!
Classic Double Crust Chicken Pot Pie << I based today's recipe on this one. So, so good.
The Best Baked Ziti (Postpartum Ziti) << Called postpartum because it's great to bring to new moms!
Easy Cheesy Ravioli Lasagna << An old classic.
Chicken n Biscuits from All Roads Lead to the Kitchen
One Pot Chicken n Biscuits from Dash of Sanity
Facebook | Pinterest | Instagram | Twitter
Chicken Pot Pie with Flaky Biscuit Topping
 This big ol' pan of Chicken Pot Pie with Biscuits has tender chicken and veggies with a creamy white sauce and flaky buttermilk biscuits on top.
Ingredients
1/2

cup

butter

,

(1 stick)

1/4

cup

olive oil

1

large onion

,

chopped

4

large carrots

,

chopped

1

& 1/2 cups celery

,

chopped

3/4

cup

flour

3

cups

chicken broth

1

& 1/2 cups milk

1

& 1/2 teaspoons kosher salt

1

teaspoon

pepper

1/2

teaspoon

celery seed

1

pound

rotisserie chicken

,

shredded

1

& 1/2 cups frozen peas

buttermilk or milk

,

for brushing
Instructions
When it is hot, add the onions, carrots, and celery. Saute for about 7-10 minutes, until the carrots are tender. Sprinkle with a little salt and pepper.

Now we're going to make a roux. At this point you can either remove the vegetables from the pan with a slotted spoon (reserving in a bowl) or you could try my work-around. Tilt the pan to the side so that all the butter and fat is at the bottom. Push the veggies up (see photos).

Add the flour to the butter in the pan. Whisk together and cook for about 1 minute to cook out the flour taste.

Pour the chicken broth VERY slowly into the flour, keeping the pan tilted. Pour a little bit, then whisk so that the liquid is absorbed, then stir some more. Take your time, you don't want lumpy sauce.

Once you have added all the broth and have a nice white sauce, you can stir the vegetables together it.

Slowly stir in the milk.

Season with 1 and 1/2 teaspoons salt, 1 teaspoon pepper, and 1/2 teaspoon celery seed.

Cook, stirring occasionally for 3-4 minutes, or until it has reached a thicker consistency.

Stir in the chicken and frozen peas. Turn off the heat.

Preheat the oven to 400 degrees F.
Make the dough for these homemade Buttermilk Biscuits, skipping all the rolling steps. Once you have kneaded the dough together, proceed here:
Separate the dough into 12 pieces and flatten them a little bit with your hands into a rough disc. It doesn't need to be perfect, and don't go too crazy, you want them kind of thick. (But not dome-y.) See photos.

Place each biscuit on top of the chicken mixture in the 9x13 pan.

Brush each biscuit with buttermilk or milk.

Bake at 400 for 25-30 minutes. The tops of the biscuits should be golden brown and the casserole should be bubbly.
Notes
*I always use water + this chicken base that I always keep in the fridge. You can find it in the grocery store. For this recipe, I used 3 cups of water and 1 tablespoon chicken base.
**This is my homemade biscuit recipe. They are amazing, so tender and flaky. They totally make this casserole next level. BUT. Pillsbury biscuits from a can will also work, or you could make Bisquick biscuits. Sometimes you just need to get dinner on the table!
Nutrition
Serving:
1
biscuit
,
Calories:
222
kcal
,
Carbohydrates:
9
g
,
Protein:
12
g
,
Fat:
16
g
,
Saturated Fat:
6
g
,
Polyunsaturated Fat:
1
g
,
Monounsaturated Fat:
5
g
,
Trans Fat:
1
g
,
Cholesterol:
57
mg
,
Sodium:
431
mg
,
Potassium:
148
mg
,
Fiber:
1
g
,
Sugar:
1
g
,
Vitamin A:
3651
IU
,
Vitamin C:
6
mg
,
Calcium:
19
mg
,
Iron:
1
mg
We are a participant in the Amazon Services LLC Associates Program, an affiliate advertising program designed to provide a means for us to earn fees by linking to Amazon.com and affiliated sites.