Chicken and Broccoli Stuff
How was everybody's Easter yesterday? Ours was full of family and church and lots and lots of chocolate. Seriously I think Charlotte ate her weight in candy. She loves it when Grandma's in town and in charge of buying the basket-fillers.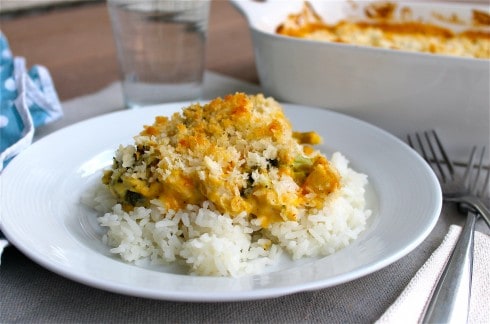 We had our Easter egg hunt over at my sister Nikki's. They just got back from Disneyland so this was the first time they met Truman. After a few minutes of chatting when we arrived, Nikki all the sudden goes, "Oh my gosh, Karen, you're wearing normal clothes. When you walked in I thought to myself, 'Man, Karen's lookin kinda fat today.' But you look good for having a baby a week ago!" I think she wins the back-handed compliment of the year award. Still though. I'll take it.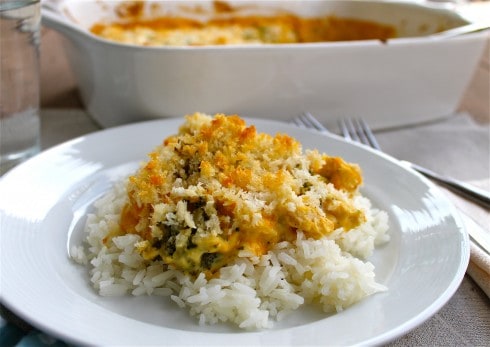 So I know "Chicken and Broccoli Stuff" may not sound very appetizing, but this casserole is bomb. (Oh yeah I just said that.) My mom made this for us all growing up. She was feeding 5 kids on a budget, so that right there tells you several things about this recipe: it's cheap, it's delicious, it makes a ton, and if we're being honest with ourselves, is probably not the healthiest casserole ever made. But it is dang good. It's similar to the Poppyseed Chicken I posted a few weeks ago. But hey this one's got broccoli in it! Yum.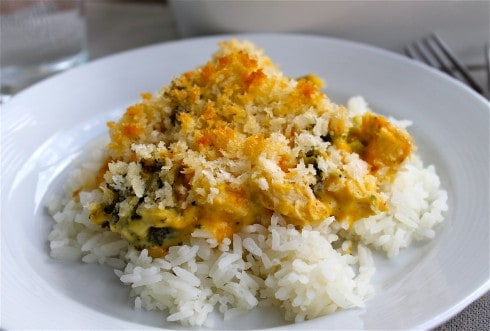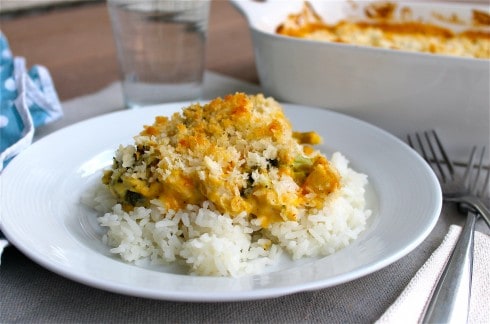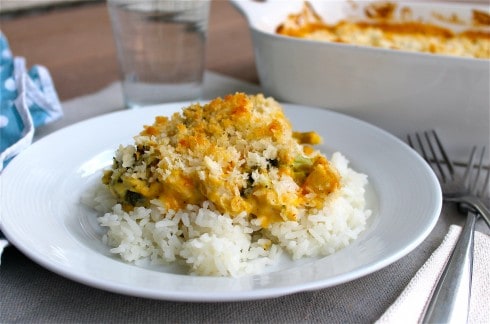 print
Did you make this recipe?
Leave a review »
Chicken and Broccoli Stuff
8-10 servings
adjust servings
Ingredients
1 16

oz package frozen broccoli, thawed

2

cans cream of chicken soup

1/2

cup mayonnaise

1/2

cup sour cream

2

teaspoons lemon juice

2

teaspoons Worcestershire sauce

1

teaspoon minced garlic

pinch cayenne pepper

a few shakes of lemon pepper

1/2

teaspoon seasoning salt

1/2

teaspoon onion powder

1/4

teaspoon black pepper

3

cups cooked chicken, chopped or shredded

1 1/2

cups shredded cheddar cheese

2

tablespoons butter

1 1/4

cups panko bread crumbs

hot cooked rice
Instructions
Cook the broccoli according to package directions. Steaming or microwaving them is the best way to retain nutrients. Set aside.
In a large bowl, combine the next 11 ingredients (cream of chicken soup-black pepper). A word on the spices: I totally just made this up. You can season (or not season) it however you want. These are just ideas.
Add the cooked broccoli and the chicken. Pour the mixture into a 9x13 inch pan.
In a medium bowl melt the butter. Add the panko bread crumbs and stir to combine. Sprinkle the bread crumbs over the chicken mixture.
Bake in the oven at 350 for 30-35 minutes, or until it is bubbly and the top starts to brown. Serve over hot rice.
by The Food Charlatan

If you make this recipe,
share it on Instagram
 using the hashtag
#TheFoodCharlatan
so I can see it!
Source: my awesome mom
We are a participant in the Amazon Services LLC Associates Program, an affiliate advertising program designed to provide a means for us to earn fees by linking to Amazon.com and affiliated sites.