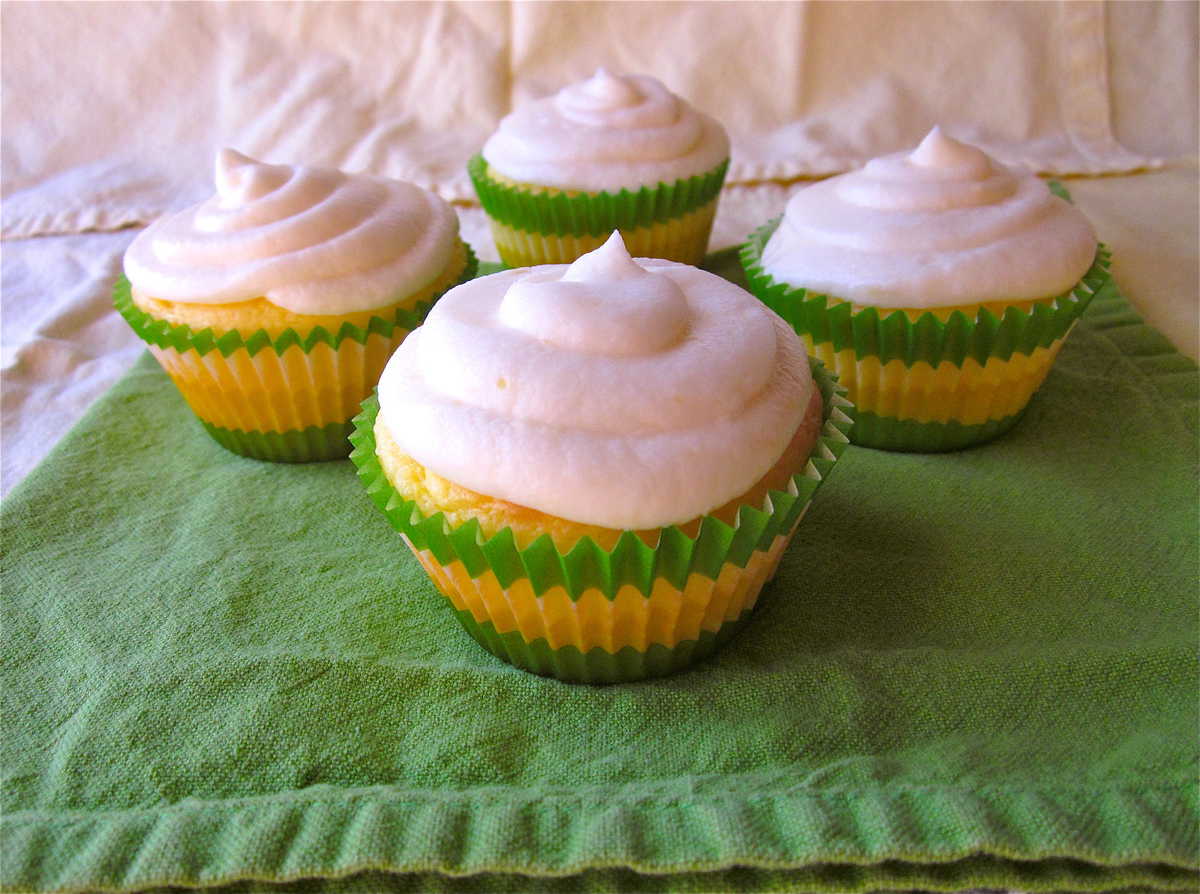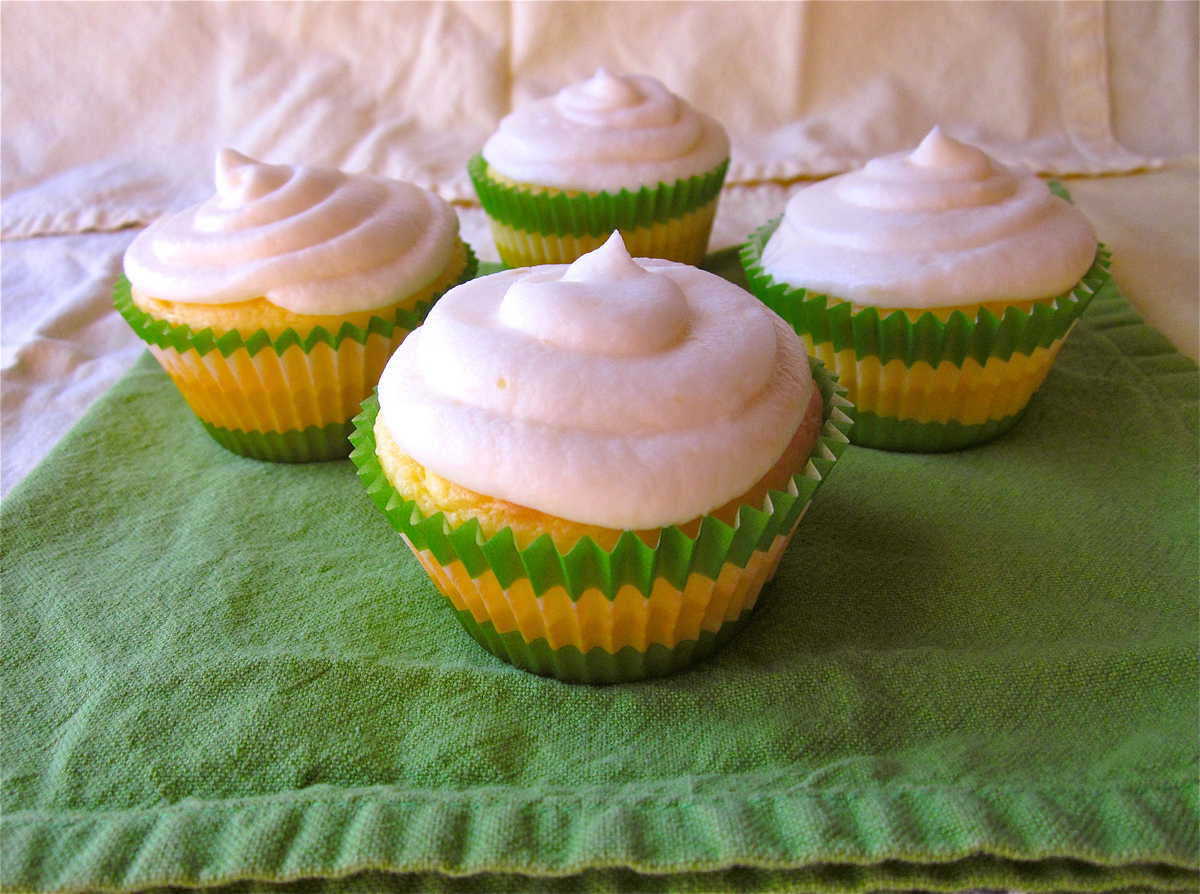 These cupcakes make me sweat. No, they're not hitting on me. I mean they actually make my face sweat.  This is one of God's little gifts to me. I don't have to use cook's intuition to know when my lemon cake is lemon-y enough.  I just have to take a bite and wait for the sweat to start dripping down my face.
Okay, so it's not really that intense. I noticed this citrus-sweat-trend my freshman year of college.  I had a meal plan that allotted a certain amount of money each day on my ID card, and it worked on vending machines. For some reason that year I was obsessed with ho hos and limeade. I would stick the ho hos in the microwave for a few seconds until they were mostly melted (all chocolate is best eaten warm.  It's a fact.) and bring it back to my dorm room. Then I would eat them with my fingers and drink limeade and squeal to my roommate Sarah about how my face was sweating from the tart lime flavor.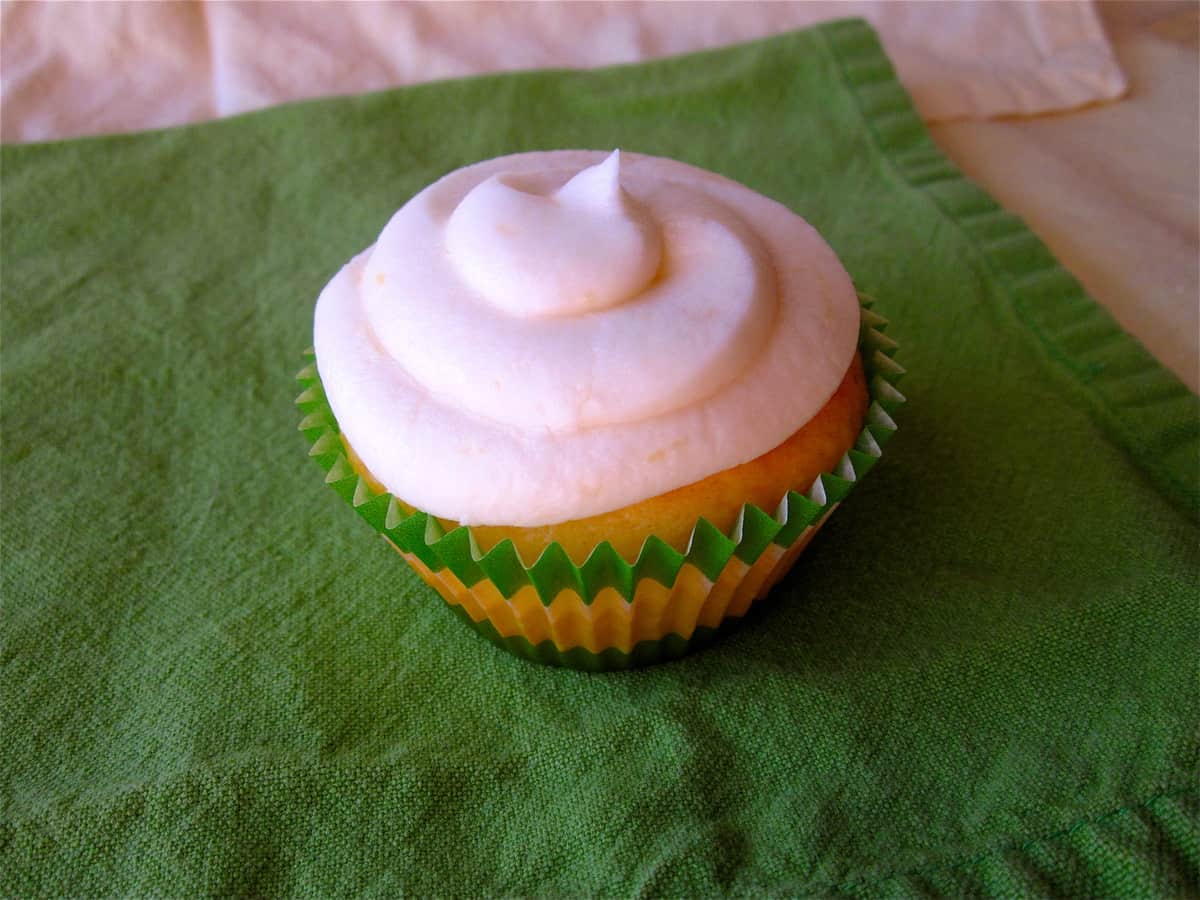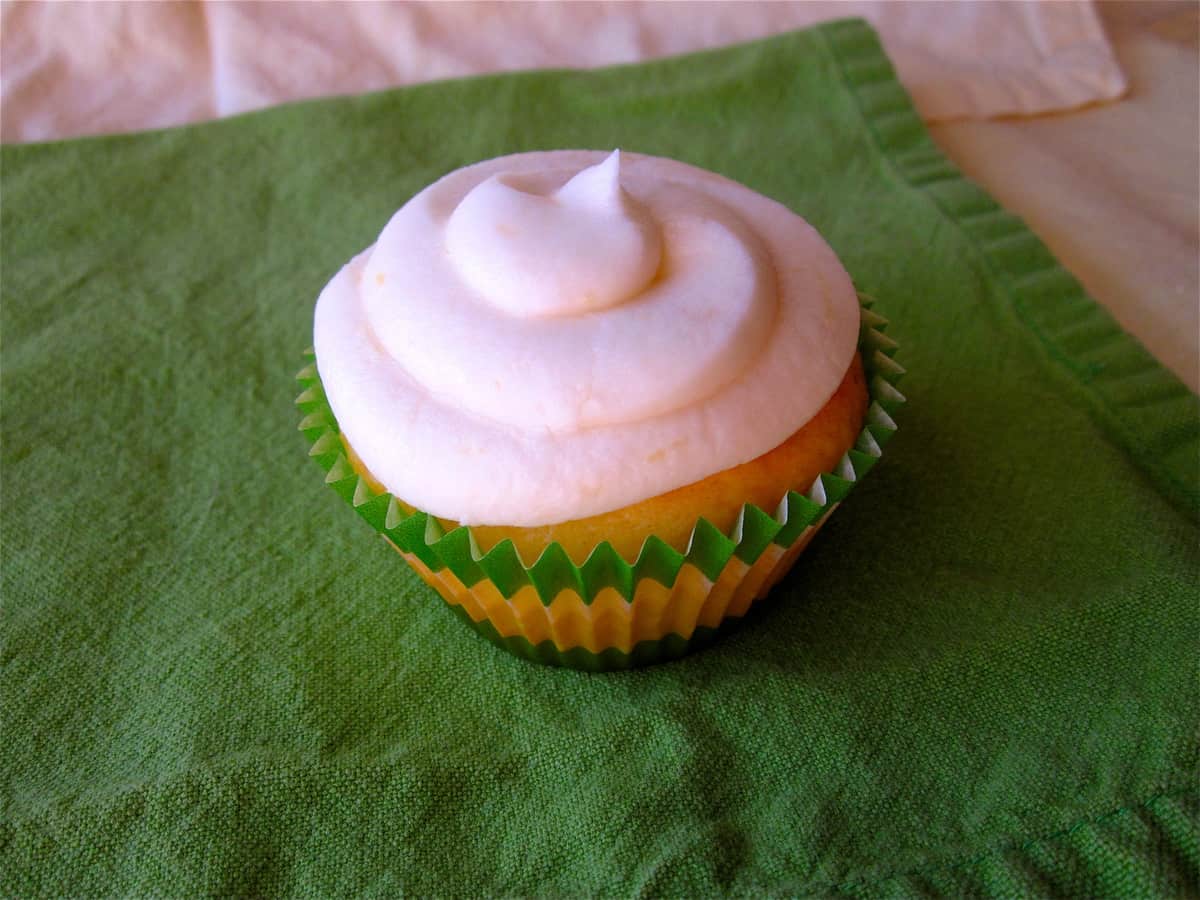 I realize now that this is kind of disgusting.  First and foremost, why wasn't I drinking milk?  Citrus and chocolate, really?  I also feel sorry for Sarah, who had to deal with a face-sweating roommate.  She might not have noticed that part actually, but I'm pretty sure she noticed the melted chocolate all over my face. She probably still sees mostly Chunk from the Goonies when she looks me in the eye.
I could not stop eating these cupcakes. I made them for our New Years Eve party and they were a hit.  There were some leftover and I'm pretty sure I had these for breakfast lunch and dinner the next day…and maybe elevensies too.
The original recipe calls for 1 teaspoon of lemon zest, and I probably quadrupled that.  This was for 2 reasons: 1) I generally like my citrus desserts really tart (the more sweat the better. Bring it on.) And 2) I used my mother-in-law's microplane grater to zest the lemon and I just couldn't stop; the thing is so incredibly sharp that I'm surprised I didn't slice off my hand. It was effortless. I will not rest until I have one.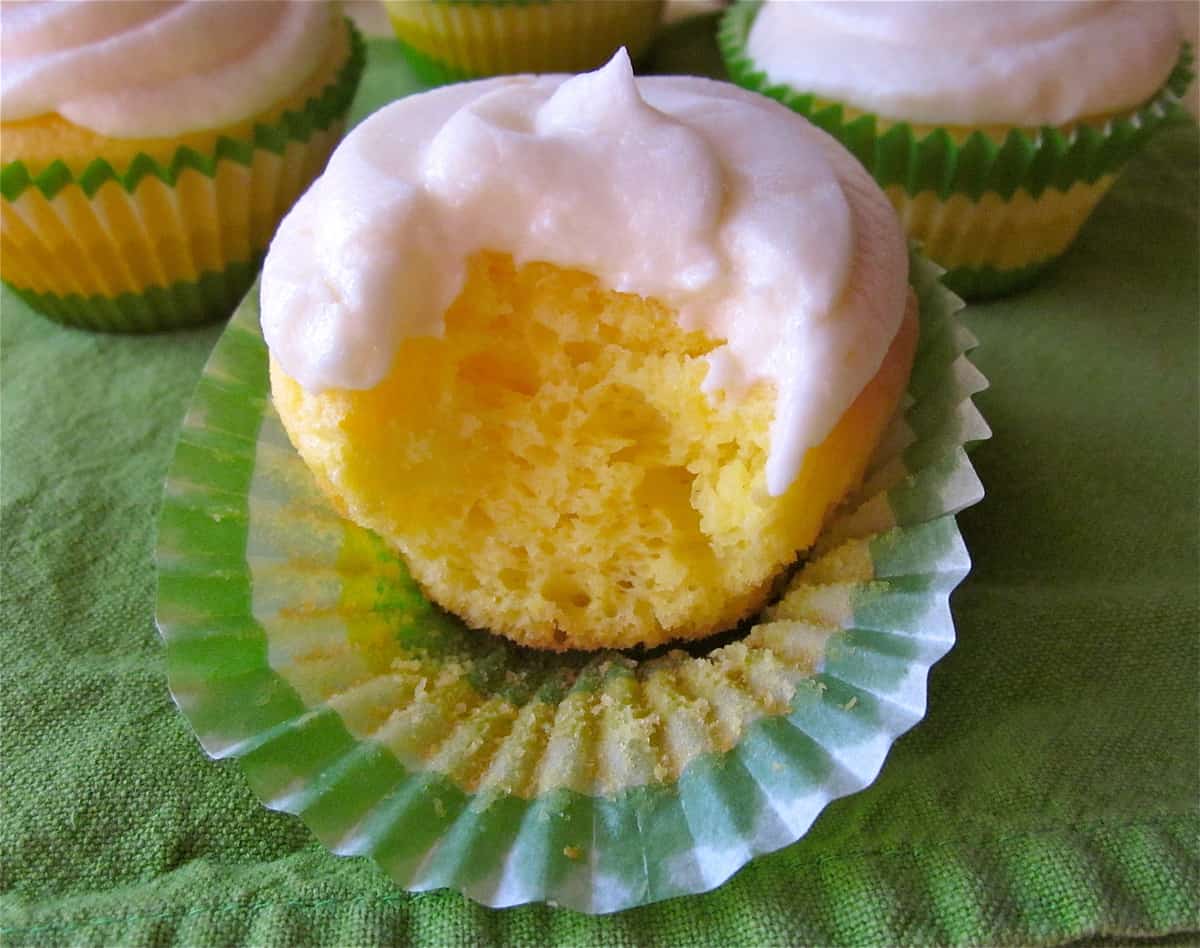 I feel like these cupcakes would be amazing lime-ified. You know, sub the pudding, zest, and juice for the lime variety.  Why don't they make lime cake mixes? Probably because they know I would go into a citrus-induced coma.  The doctor would be left to wonder why my face was drenched in sweat.
Lemon Cupcakes
Source: ever so slightly adapted from Mel's Kitchen Cafe
Cake:
1 package lemon cake mix
1 cup sour cream
3/4 cup water
3/4 cup oil
4 eggs
1 small package lemon instant pudding
Frosting:
1 cup (2 sticks) butter, very soft
6-8 cups powdered sugar
1/2 cup fresh lemon juice
zest from one large lemon (or even MORE!)
For the cake, mix dry ingredients. Add wet ingredients. Mix with electric mixer on medium speed for about two minutes. Pour into cupcake liners. (don't fill them too much.  A scant 2/3 maybe.) Bake them at 350 degrees for 17-20 minutes. Do NOT overbake or they will be too dry! The cupcakes will fall after they come out of the oven, but this is normal. Just fill up the indentation with more frosting. (Mine actually didn't fall.)
You can also make this into a cake. Pour batter into a greased 9×11 pan or two round pans. Bake at 350 degrees for 25-30 minutes.
For the frosting, place the butter in a large mixing bowl. Add 4 cups of sugar, then the juice and the zest. Beat until smooth and creamy. Gradually add the remaining sugar, 1 cup at a time, until icing is thick enough to be of good spreading consistency. I was really torn here because I wanted a thicker consistency but with every cup of sugar I knew I was diminishing my beautiful lemon flavor.  Just add more zest! :)
Use and store at room temperature. (Don't refrigerate and it will last in a covered container for about three days.)
Note: This frosting recipe makes a ton. You probably won't use all of it unless you are frosting a layered cake. But I recommend making the full amount anyway and using the leftovers to frost these Lemon Crinkle Cookies :)