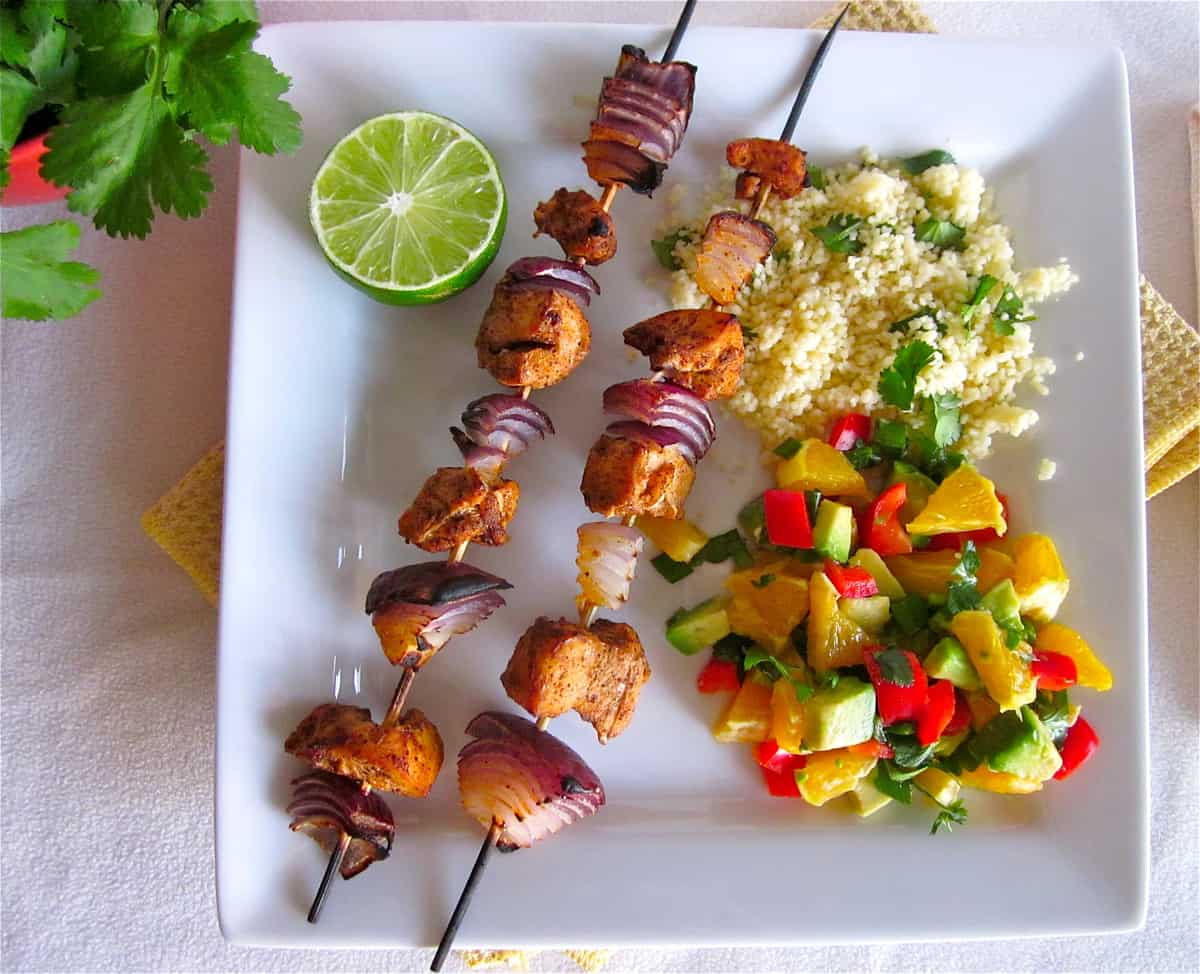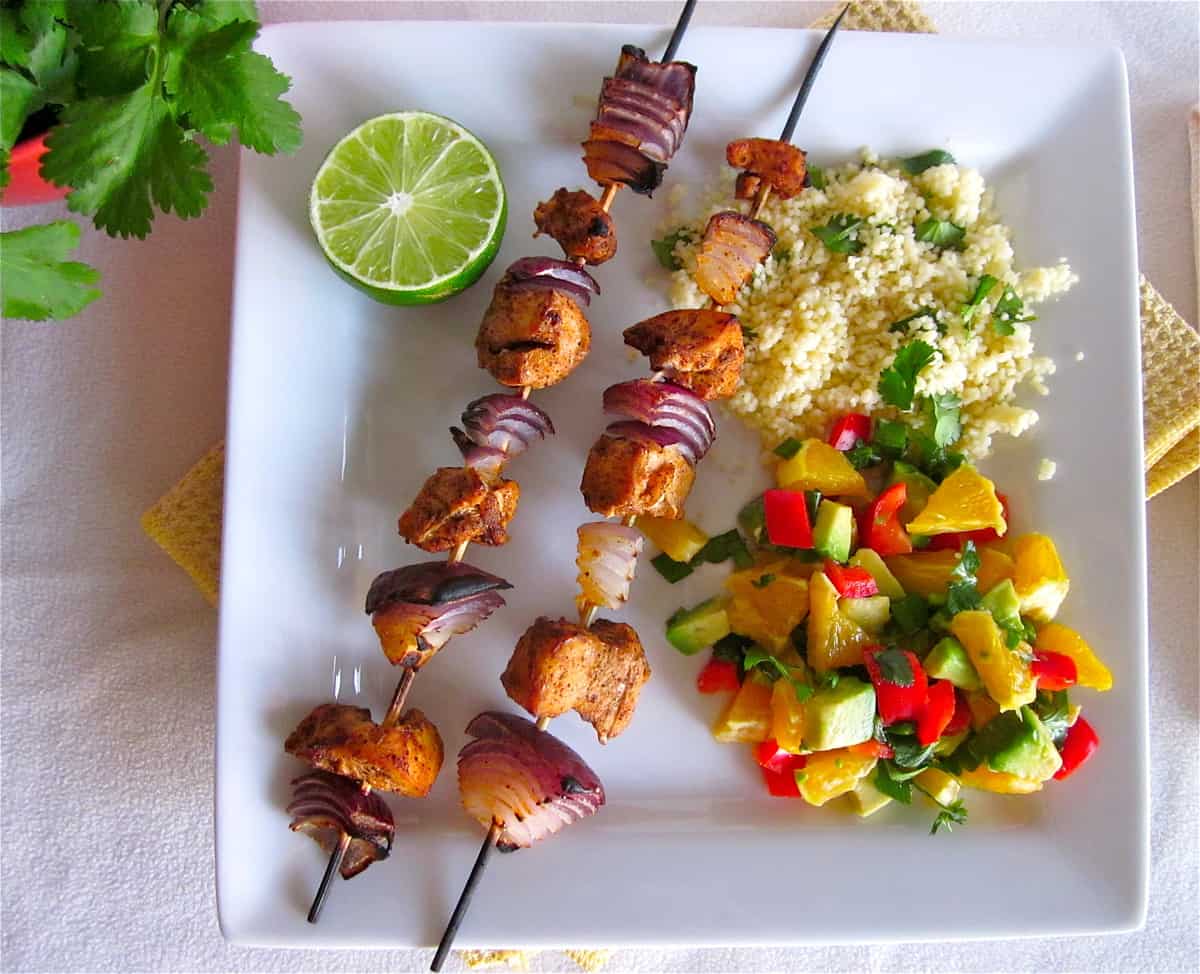 I hated oranges when I was little. I'm not sure why. Maybe I was scarred by the orange-flavored chewable Dramamine that my mom used to give me for long car trips, where I had to sit in the rear-facing mildew-scented back seat of our white and wood-paneled station wagon. (RIP, White Lightning.) No wonder I needed nausea medication.
Or it could have been because of soccer. That's probably it actually. At half time they always gave out orange wedges. Nobody ever taught me how to eat an orange, I guess, because instead of using my teeth to tear the orange away from the peel, I would just suck on the juice, which would then of course get all over my chin and hands and often times drip all the way down to my elbows. And then I had to go out and play another half game of soccer feeling all sticky. Let me amend that: Then I had to go out and stand around in a hot field watching the other girls play soccer while I tried to be invisible. (For completely non-athletic 8-year-old girls, invisibility is also known as the full-back position.)
I rediscovered oranges just a couple years ago. Probably the best day of my life. My favorite way to eat them is savagely, leaning over the kitchen sink, so that my dripping chin and elbows don't get sticky orange juice all over the carpet. Old habits die hard.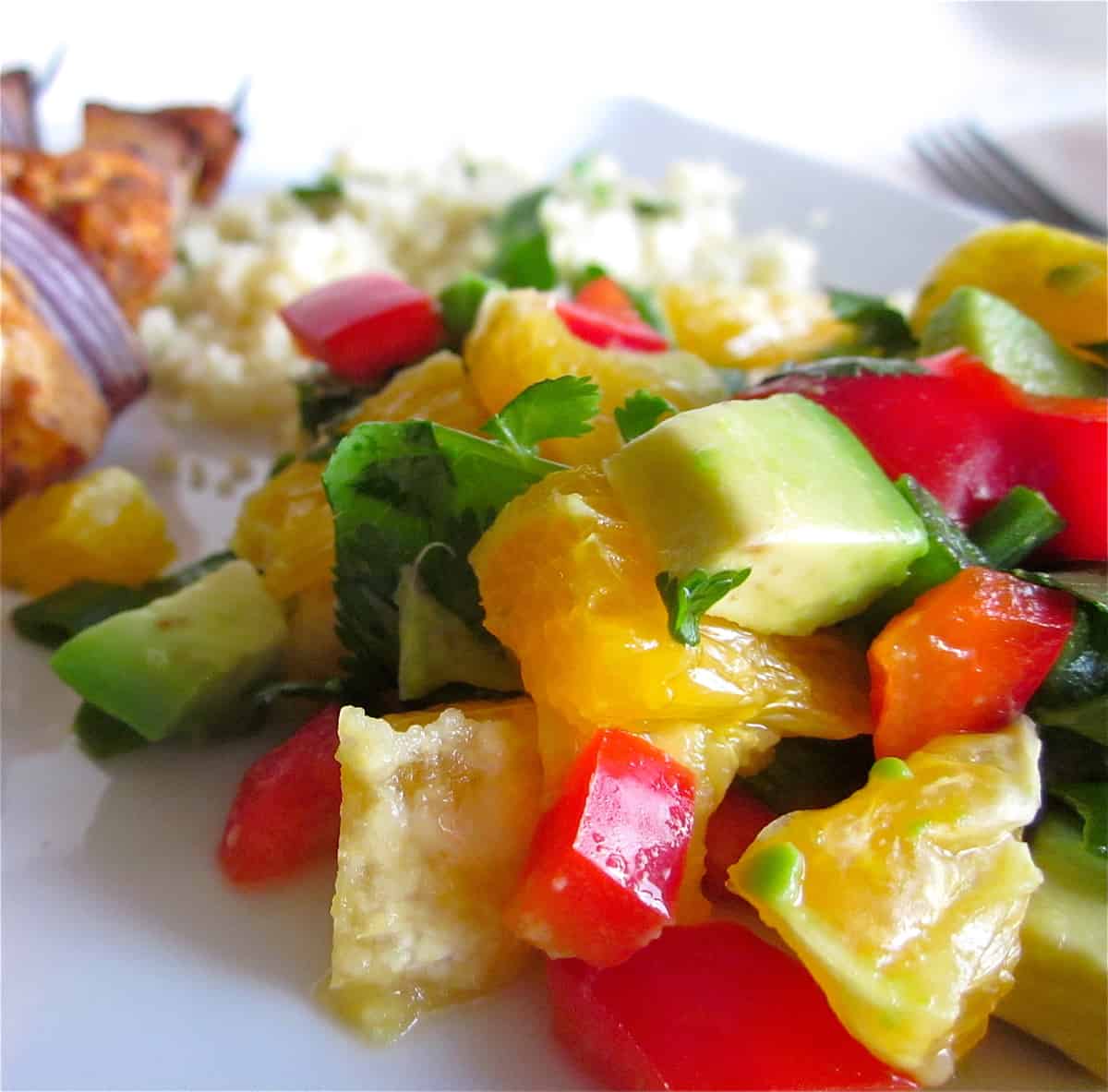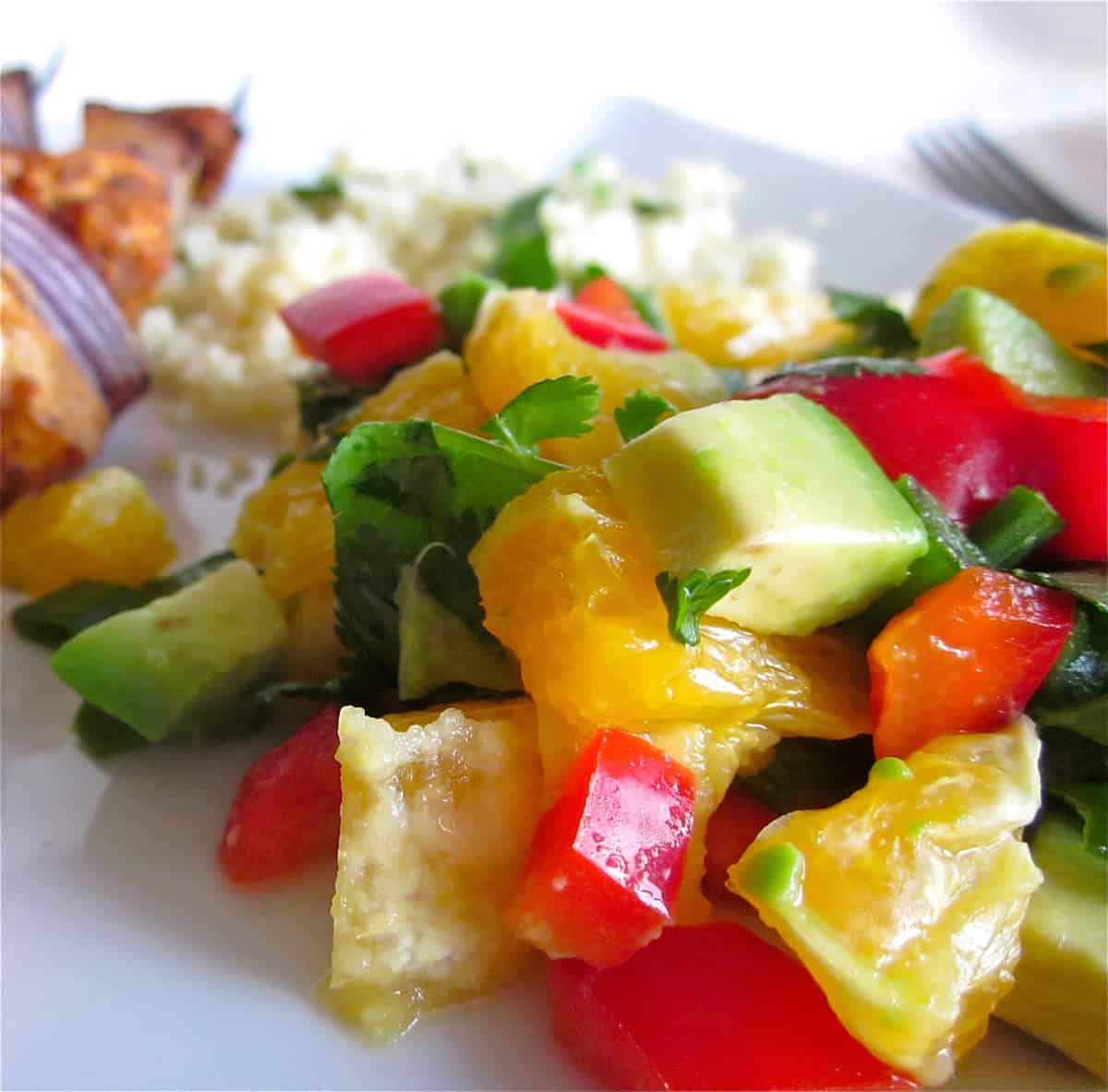 So I don't know if you have noticed yet, but this nectarine salsa has no nectarines in it. That's what I get for trying to cook like it's summertime in March. (Remember my Strawberry Pie? Sometimes you just need a little sunshine (in the form of fruit) when it's still 30 degrees outside.)
I bought the nectarines I needed for this recipe a few days ago. I wanted to let them get a little softer than they were. But when I cut them open today they were completely bad. Totally brown. I was so bummed; I really didn't want to go to the store to get more. So I looked in my fruit bowl and saw a couple oranges…and here we have it, Chicken Kebabs with Orange Salsa.
Why not? It is a fabulous combo. I like it at least as much or more than the original recipe, which I have made several times with no nectarine-mishaps. I think this is one of my top ten meals. It comes together pretty quick, especially if you can get someone to help with all the chopping. I like this meal because it is summery-feeling food that you can have any time of the year (now that I have realized you can change the fruit to be pretty much whatever you want), because you broil the meat instead of grill it.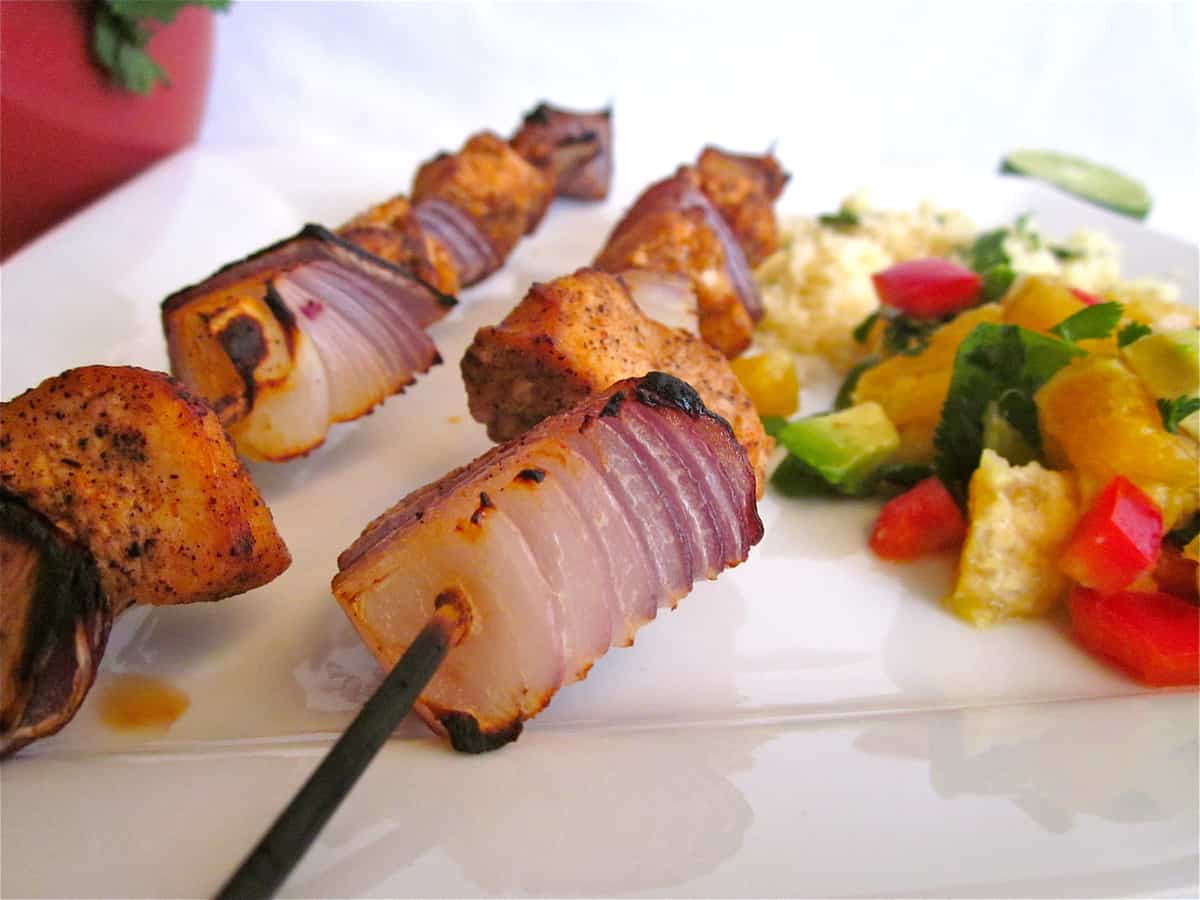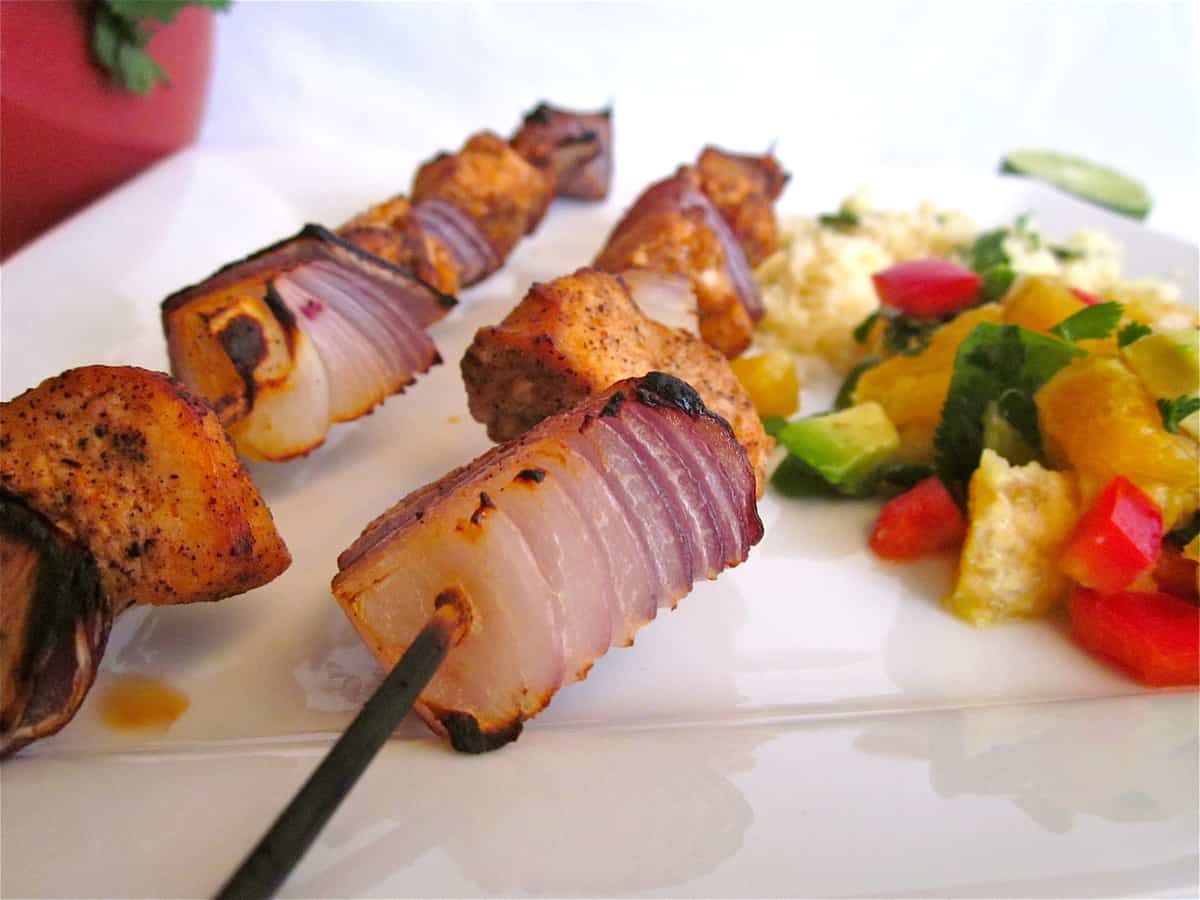 Chicken Kebabs with Nectarine Salsa
Source: slightly adapted from Cooking Light
1 tablespoon brown sugar
1 tablespoon olive oil
1 tablespoon fresh lime juice
2 teaspoons chili powder
1 teaspoon bottled minced garlic
1/2 teaspoon salt
1/2 teaspoon ground cumin
1/4 teaspoon pepper
1 1/2 pounds skinless, boneless chicken breast halves, cut into 24 (2-inch) pieces
1 large red onion, cut into 32 (2-inch) pieces
Cooking spray
2 cups diced nectarine (about 3) (obviously oranges work too. Next I am going to try mango, then pineapple.)
1/2 cup diced red bell pepper
1/4 cup thinly sliced red onion (I used green onions)
2 tablespoons fresh cilantro leaves
1 1/2 tablespoons fresh lime juice (I used a bit more)
2 teaspoons minced seeded jalapeño pepper
1/4 teaspoon salt
1/2 cup diced peeled avocado
Preheat broiler. Combine first 9 ingredients (through chicken) in a shallow dish; let stand 15 minutes or more.
Thread 4 onion pieces and 3 chicken pieces alternately onto each of 8 (12-inch) skewers. Place skewers on broiler pan coated with cooking spray. Broil 12 minutes or until chicken is done, turning occasionally. (I turned once at 4 minutes. My chicken did not take 12 minutes, it was more like 8 or 10. Keep an eye on it. Broiling can do some crazy burning in a very short time.)
Combine nectarines (or whatever fruit you use) and next 6 ingredients (through 1/4 teaspoon salt) in a bowl. Gently stir in avocado.Then eat and die of happiness. Honestly though, you couldn't ask for a better last meal.
Serve with cilantro couscous. (Just add some chopped cilantro to your couscous after it is cooked.)
Makes 4 servings.