These easy Pumpkin Cupcakes are made extra moist and flavorful thanks to the addition of browned butter! Top them off with a sophisticated Maple Pecan Buttercream Frosting and you have autumn's new favorite cupcake. They would be a perfect Thanksgiving dessert if your family is not into pie!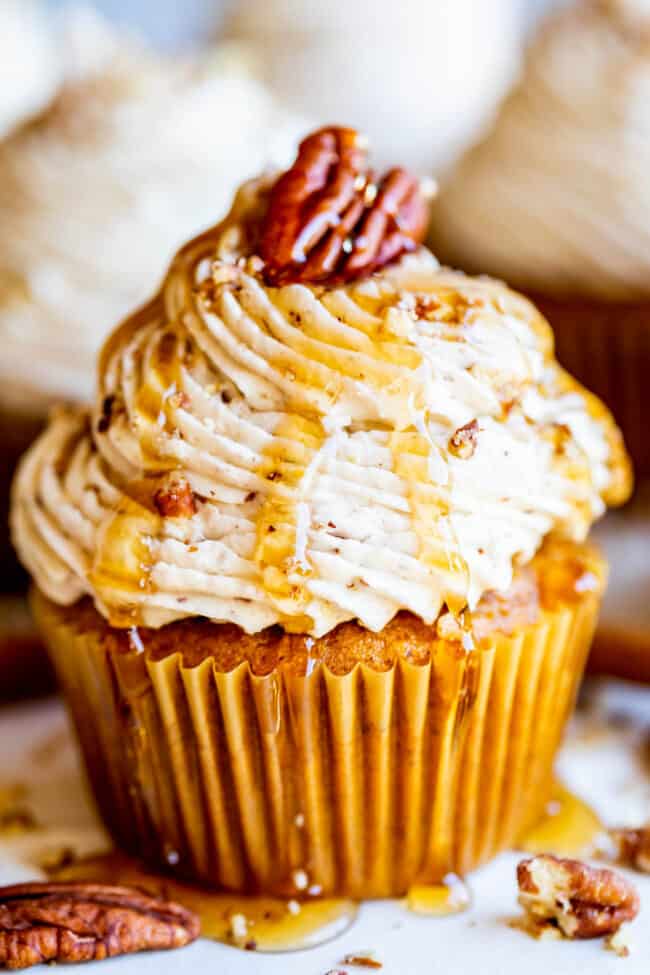 This recipe was originally posted on October 25, 2012.
The other day I took the kids to the dentist. My daughter Charlotte is 8, and we were sitting in the waiting room while the other kids had their exams. She noticed a cute fall-themed sign on the wall that said, "Friends gather here." She read it aloud, then looked over at me with one eyebrow raised and said, her voice dripping with skepticism, "But do they really?"
Good grief kid! Where is the magic! You're supposed to be young and starry eyed still! I seriously need to curb my cynicism around this one so she doesn't grow up too fast. Friends totally gather here! Maybe.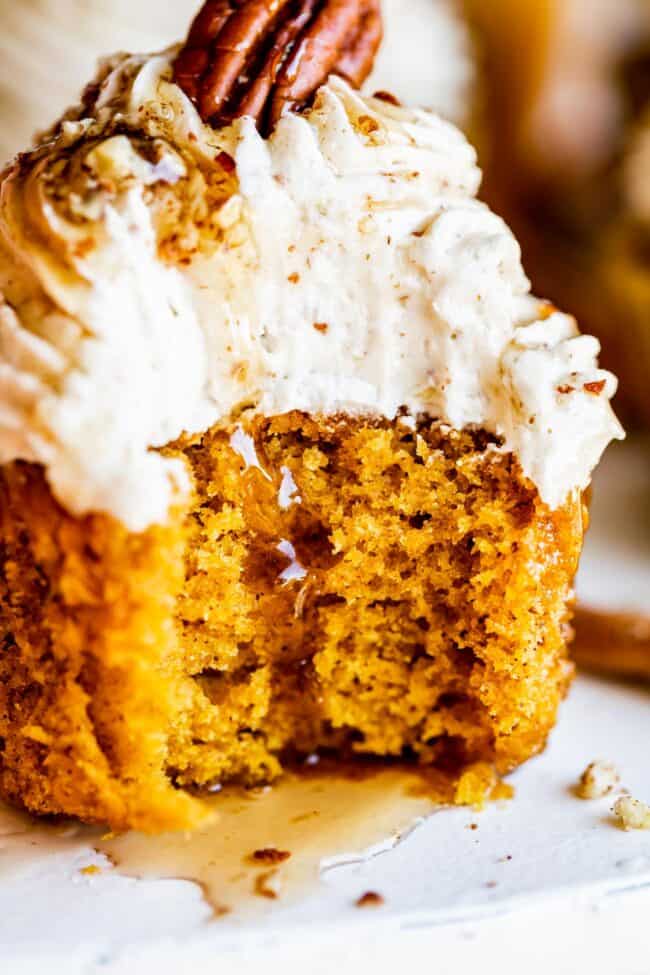 Well good news lately on the baby front: I'm 32 weeks pregnant now and just had the satisfaction of canceling over 25 appointments with my doctor. Our baby is small. He was diagnosed as an IUGR baby, which stands for Intrauterine Growth Restriction. Any baby that measures smaller than the 10th percentile on a growth ultrasound is classified as IUGR.
It usually means one of two things: either your baby is genetically small and everything is fine, or it means he's not getting the nutrients he needs from the umbilical cord/placenta. Which sometimes results in an early delivery, because although it seems backwards that you would want to deliver a small baby, if they are not growing in the womb, we can feed and nourish them better outside the womb, especially at this point in my pregnancy.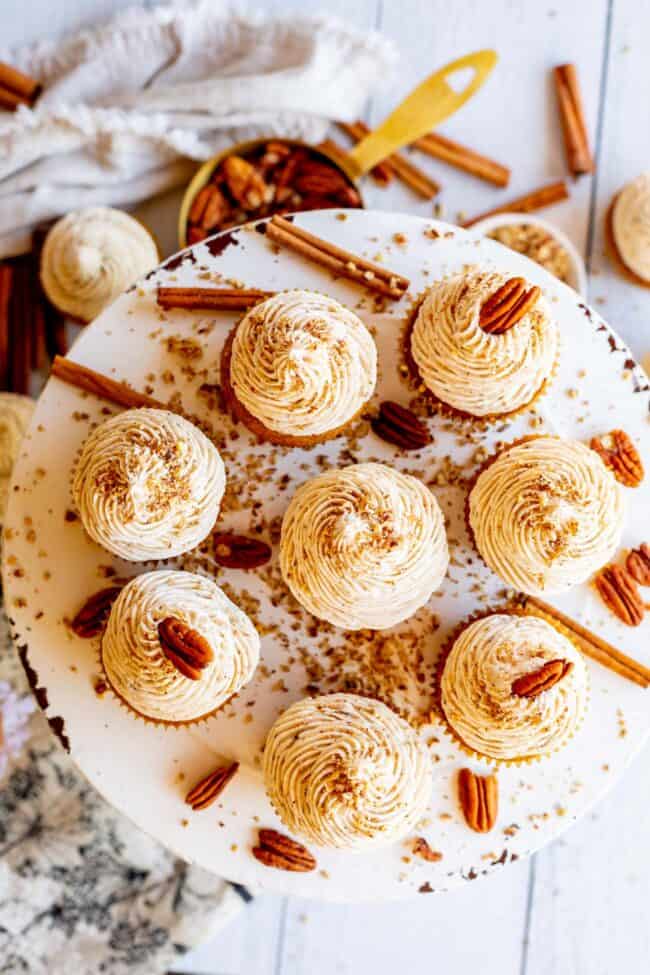 My doctor had me coming in 3 times a week for check ups. A once a week doppler ultrasound to check the blood flow in the umbilical cord, and a twice a week fetal monitoring, where they track the baby's heartbeat for 20 minutes to see if he's okay in there.
Don't get me wrong, I'm SO grateful for amazing medical care and really smart doctors who know how to care for my little baby. But on the other hand, going in to the hospital 3 times a week with 2-year-old Valentine in tow was getting old!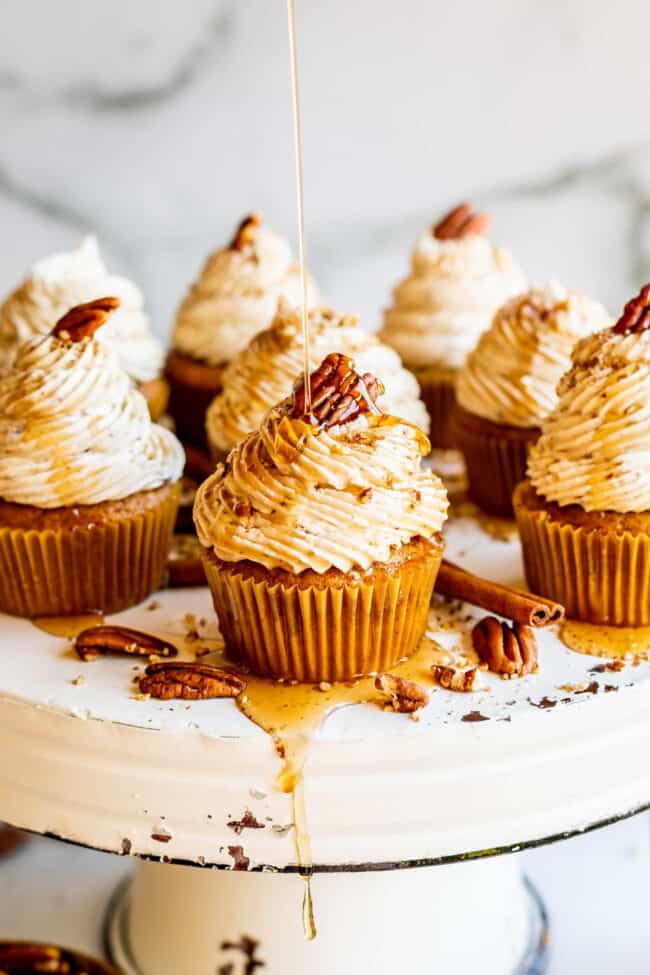 My last growth ultrasound showed that our boy has moved from the 8th percentile up to the 17th, so he is no longer classified as IUGR. I'm so so grateful he is okay, and that I don't have to go in for check ups so much anymore! Prayers work guys, what can I say. We are just so grateful he's doing better.
Are you guys gearing up for Halloween this weekend?? We have a crazy Saturday ahead of us, full of soccer and Halloween festivals. If you are heading to any parties, bring these pumpkin cupcakes!! Everyone will love you!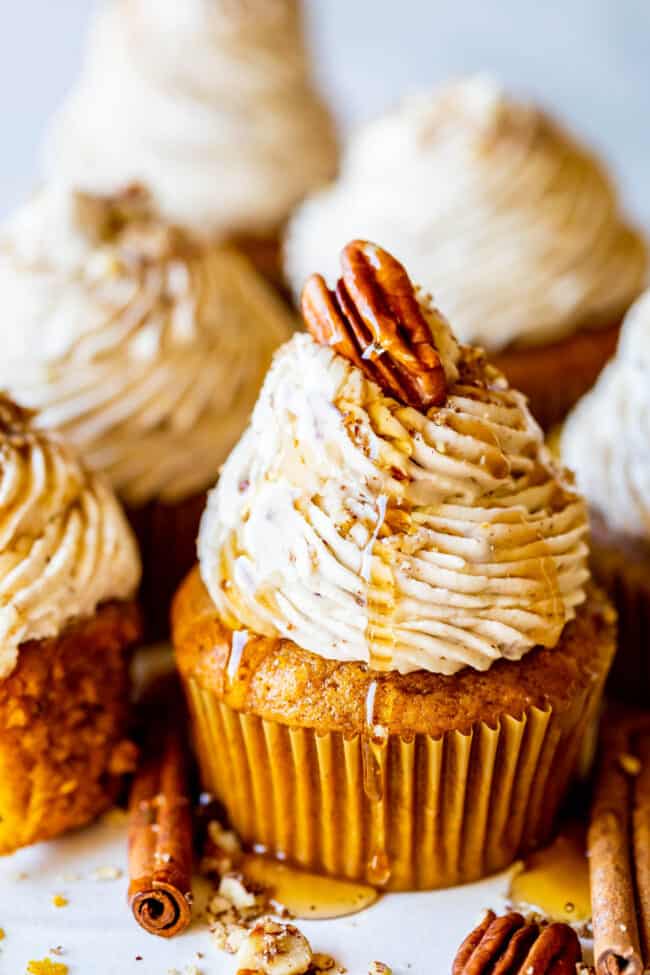 How to make Pumpkin Cupcakes
I am not a cupcake person. You can tell because I've been running this blog for 8 years and only have a total of 7 cupcake recipes posted, including this one. I just find that cupcakes are often meant to be cute but end up being dry in the middle. Is anyone else with me? But this pumpkin cupcake recipe is an exception. The baked cupcake is soft and moist and stays that way for days, if they are frosted. The pumpkin is what makes them supremely moist!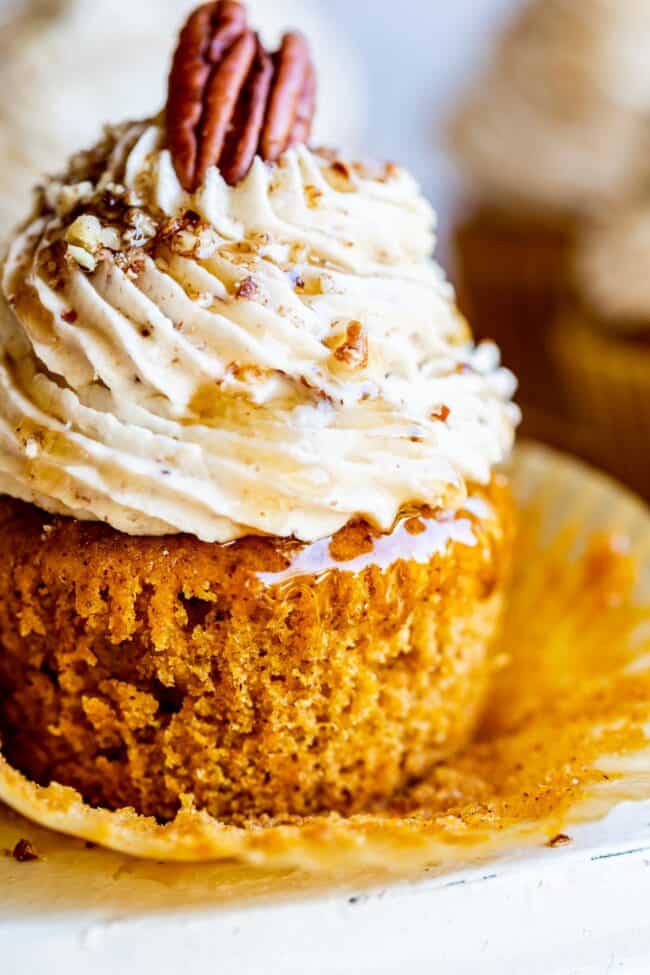 Here's the other way to take your pumpkin cupcakes from ho-hum to AMAZING: the secret's in the browned butter. I am obsessed with the flavor punch that brown butter adds to any dish, while not taking over the flavor of whatever you are going for. They are the key ingredient in Absolutely the Best Brownie Recipe I've Ever Made, it helps bring out the buttery chocolate flavor. (They are also key in my best Pecan Pie, these Slow Cooker Carrots, these Mashed Potatoes…)
The brown butter in these pumpkin cupcakes does the same thing: provides incredible depth of flavor that enhances the pumpkiny-ness of the cupcakes.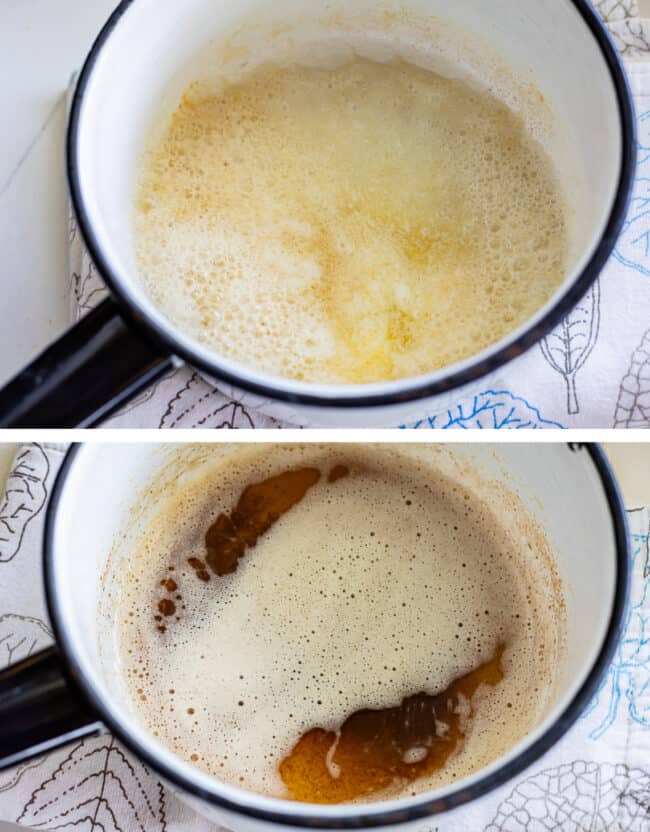 Before and after browning. Can you see all the browned "bits" at the bottom? They are magical bits of flavor dust.

Here's the pumpkin and sugar mixed together, then adding one egg at a time. After that, pour in your delectable browned butter.

Here is the batter when it's all finished. Fill your cupcake liners with 1/4 cup each of batter.
How to Make Maple Pecan Frosting
The Maple Pecan Frosting is the other element that really sets these cupcakes apart! I have an entire post dedicated to this frosting because I use it with so many other recipes (Carrot Cake, Cinnamon Cardamom Cake, Soft Cinnamon Cookies). Maple frosting would be too sweet on it's own, but the toasty pecans balance it out perfectly. It really is perfect with these pumpkin cupcakes and makes your life taste like there are autumn leaves actually falling in your kitchen.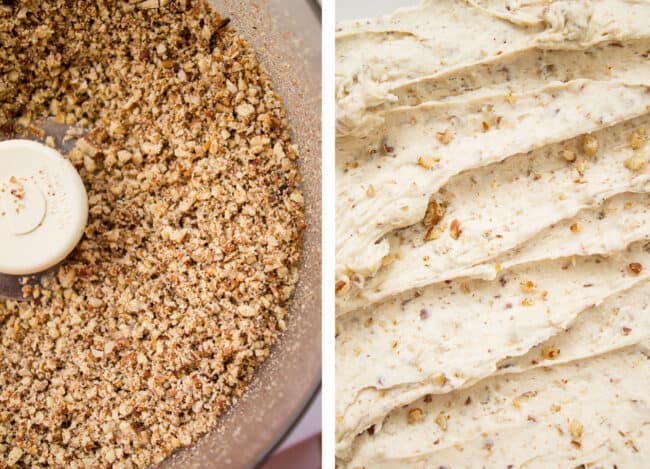 If your family is not into pie, this pumpkin cupcake recipe would be totally perfect for Thanksgiving! Or make them for your Halloween party. Finally a cupcake for the adults! The kids can eat the candy. (I'll eat both ;) Kids are sometimes dubious about these cupcakes because of the pecans. Charlotte is 8 and a declared nut-hater, but she actually really likes them; I think it's because the pecans in the frosting are chopped pretty tiny.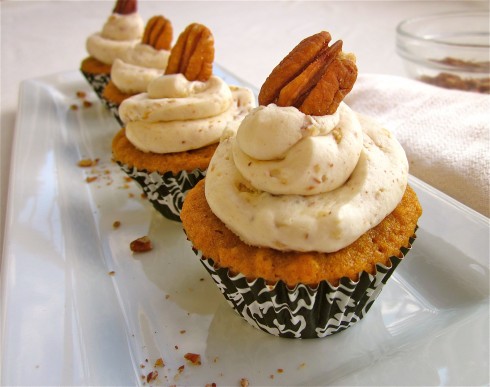 Here's the original photo I took of these pumpkin cupcakes back in 2012! Oh how time flies!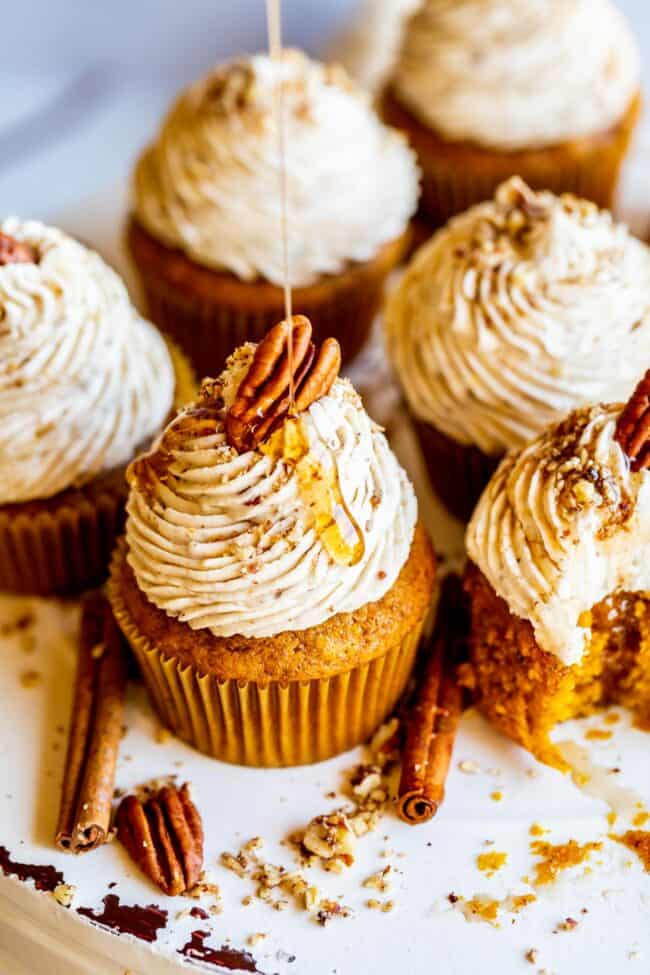 We are off to our kids' Fall Fair at the school, and then our church Halloween festival. The weekend before Halloween is always so busy! This morning I have to attempt to hot glue together Charlotte's unicorn costume…wish me luck. Happy Halloween everybody!
More pumpkin recipes you are going to love!
Pumpkin Roll << Rolling up a thin sheet cake isn't as hard as it sounds! Step by step instructions. Everyone loves this cake!
Pumpkin Cream Cheese Muffins << these might as well be called cupcakes. They are a classic every fall!
Pumpkin Butterscotch Molten Lava Cakes << these are great for a fancy evening!
Carrot Cake with Cream Cheese Maple Pecan Frosting << Today's frosting recipe, plus cream cheese. YES!
Butterscotch Pumpkin Cake Recipe << this is one of the most unique cakes I've ever made! The texture is unreal.
Paul's Pumpkin Bars with Cream Cheese Frosting << we put red hots on these. Don't knock it til you try it. I'm telling you!
Easy Pumpkin Pie Cake << from my brother Nathan's old roommate Peter. Peter kept pumpkin on hand in their apartment year-round to make this cake.
Cinnamon Cardamom Cake with Maple Pecan Frosting << Another delicious cake to use this frosting with!
Double Layer Pumpkin Cheesecake << one of my favorite cheesecakes! A perfect dessert to bring for Thanksgiving!
Easy No Churn Pumpkin Ice Cream from Country Cleaver
Mascarpone Pumpkin Mousse Cups from FoodieCrush
Pumpkin Pie Cream Puffs from A Farmgirl's Dabbles
Facebook | Pinterest | Instagram

Pumpkin Cupcakes with Maple Pecan Frosting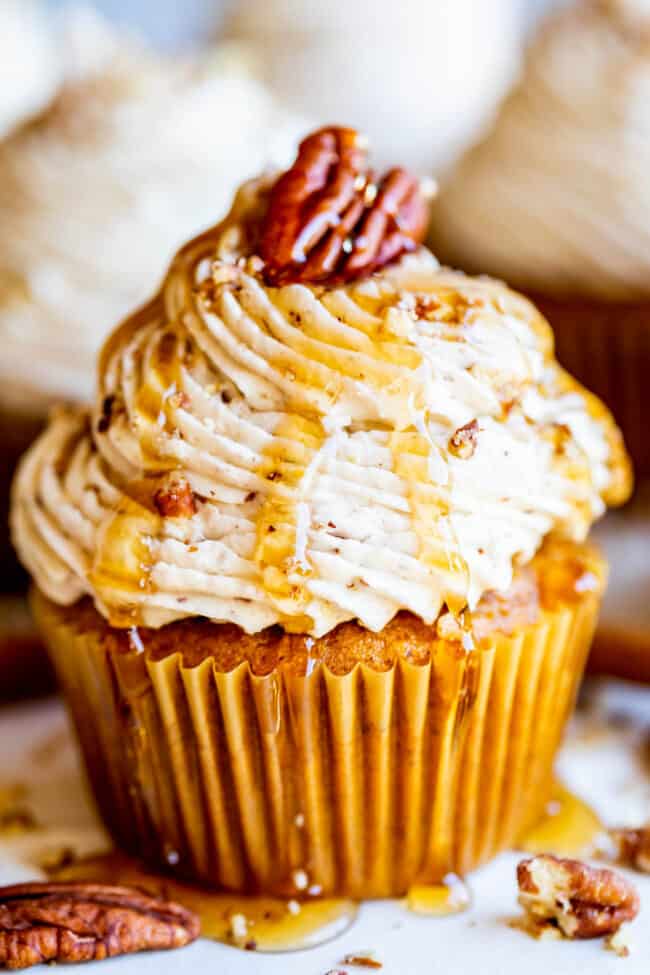 These Pumpkin Cupcakes are made extra moist and flavorful thanks to the addition of browned butter! Top them off with a sophisticated Maple Pecan Buttercream Frosting and you have autumn's new favorite cupcake. They would be a perfect Thanksgiving dessert if your family is not into pie!
Ingredients
For the cupcakes
3/4

cup

butter

,

(1 and 1/2 sticks)

1 & 2/3

cups

flour

,

spooned and leveled

2

teaspoons

baking powder

1

teaspoon

kosher salt

1

teaspoon

cinnamon

1/2

teaspoon

nutmeg

1/4

teaspoon

cloves

1

cup

pumpkin puree

,

*not pumpkin pie filling

1

cup

brown sugar

1/2

cup

granulated sugar

1/2

teaspoon

vanilla

2

eggs

1

batch Maple Pecan Frosting,

click for the recipe

toasted pecan halves

,

for topping

maple syrup

,

to garnish
Instructions
Preheat your oven to 325 degrees and place oven rack so that the cupcakes will be in the center of the oven. Line two

muffin tins

with 18-20 paper cupcake liners.

In a

2 or 3 quart saucepan

, melt 3/4 cup butter over medium heat. Keep the heat on medium and don't walk away. Stir occasionally. Soon the butter will bubble and form a thick white foam on top. After that, the foam will recede a little bit and you will start to see little brown "bits" forming on the bottom of the pan. Stir them up and take a whiff. If you see brown specks and your butter has taken on a nutty aroma, your butter is browned. Take it off the heat right away. It goes from browned to burned real quick, so pay attention! Set aside to let it cool a bit.

In a large bowl or stand mixer, whisk together 1 cup pumpkin puree* (not pie filling), 1 cup brown sugar, and 1/2 cup granulated sugar. Add 1/2 teaspoon vanilla. Add the eggs one at a time, beating well after each addition.

When the browned butter has cooled (it can still be warm, just make sure it's not so hot you risk curdling your eggs) add it to the pumpkin mixture and stir well, scraping the bottom and sides of the bowl to make sure it's all incorporated.

In a medium bowl, whisk together 1 and 2/3 cup flour, 2 teaspoons baking powder, 1 teaspoon salt, 1 teaspoon cinnamon, 1/2 teaspoon nutmeg, and 1/4 teaspoon cloves. Add the flour mixture to the batter in increments, stirring each time. Once all the flour is adding, scrape the sides and bottom of the bowl. Mix ONLY until just combined. Make sure there are no streaks of flour but once they are gone, stop mixing. A few small lumps in the batter are okay but not too many.

Fill each cupcake liner with 1/4 cup of batter.

Bake the cupcakes at 325, one pan at a time, for 18-20 minutes. Make sure the cupcakes are in the center of the oven. (If you only have one muffin tin, cool the muffin tin in a fridge for a couple minutes before baking the next set.) You will know the cupcakes are done in the center when a toothpick inserted in the center of a cupcake comes out with no batter on it. You can also press your finger into the top of a cupcake, and if the cupcake springs back immediately, it's done. (if your finger leaves a dent, leave it in a couple more minutes.)

Within 3-4 minutes of taking the cupcakes out of the oven, carefully transfer them to a wire cooling rack to cool completely. This will help keep your cupcakes from getting soggy on the bottom. Be careful not to burn yourself!

Top each cupcake with a pecan and drizzle with extra maple syrup! Totally optional.
Notes
*This recipe calls for 1 cup of pumpkin puree (makes 18-20 cupcakes). If you would like to double the recipe (for 35-38 cupcakes), you can use 1 (15-ounce) can of pumpkin, which is just a couple tablespoons short of 2 cups, but I've tried it and it works great. If you double the cupcakes, remember to double the frosting as well.
Source: the pumpkin cupcake recipe is adapted from Martha Stewart's cupcake cookbook!
Nutrition
Serving:
1
cupcake
|
Calories:
332
kcal
|
Carbohydrates:
49
g
|
Protein:
2
g
|
Fat:
14
g
|
Saturated Fat:
6
g
|
Polyunsaturated Fat:
3
g
|
Monounsaturated Fat:
4
g
|
Trans Fat:
1
g
|
Cholesterol:
39
mg
|
Sodium:
323
mg
|
Potassium:
74
mg
|
Fiber:
1
g
|
Sugar:
38
g
|
Vitamin A:
2381
IU
|
Vitamin C:
1
mg
|
Calcium:
46
mg
|
Iron:
1
mg