Spiced Poppyseed Cake with Almond Buttercream Frosting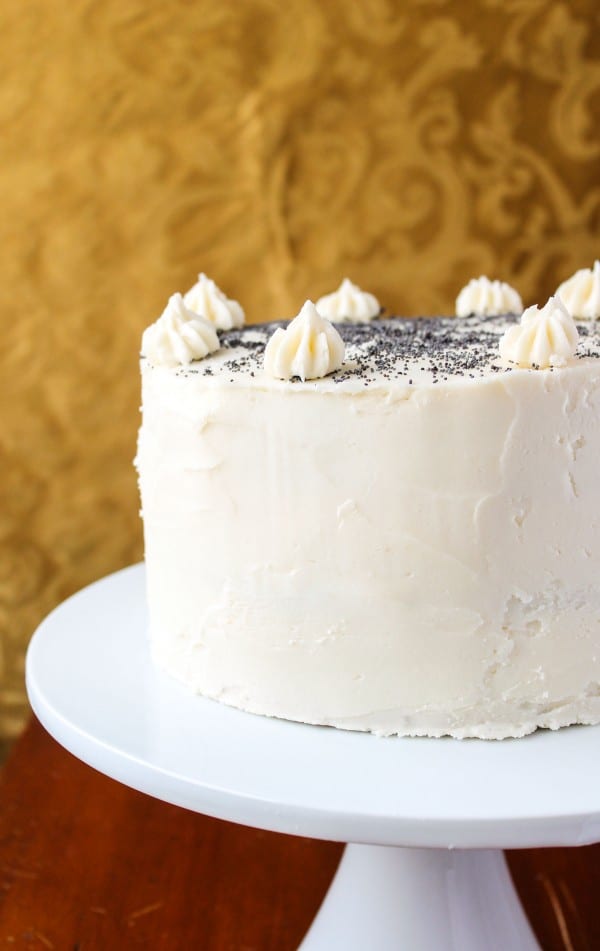 Do you ever have those days where you feel like you're watching someone else live your life? Like you're the creeper on the other side of a two-way mirror? And, like a creeper, all you want to do is grab that idiot living your life and scream, get it together woman!
I totally spaced my baby's well-check up at the doctor this morning. Charlotte had not 1 but 2 accidents at her friend's house. I burned my arm taking something out of the oven. Then I pulled the door off of our fridge.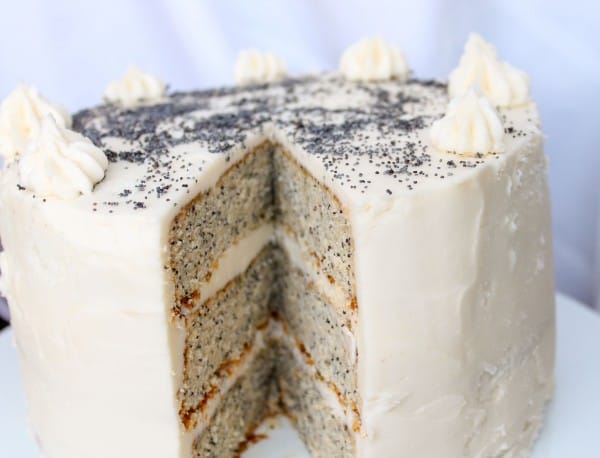 For real. It just came right off in my hand, first one corner then the other. (Remember how we didn't have a handle on our microwave for 2 years? Maybe the other appliances are picking up on this trend?)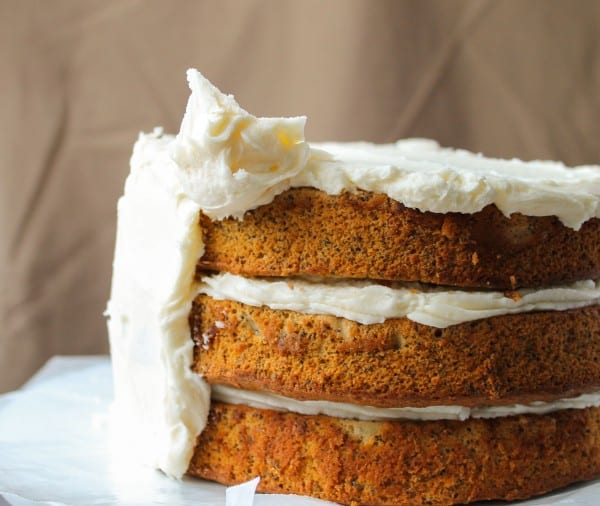 I could not stop laughing. It's probably a good thing the day ended that way; the alternative was tears, and crying gives me a headache anyway.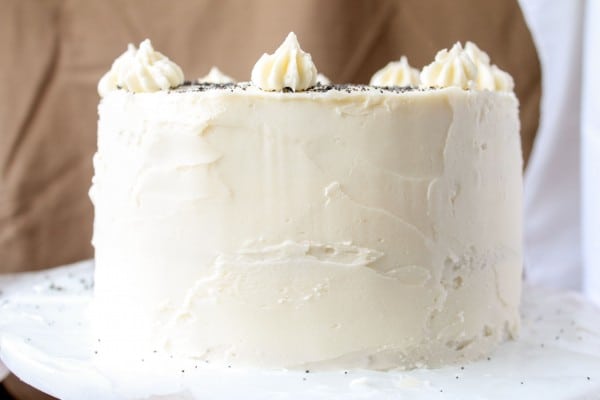 Well, by now you've probably noticed the pictures of the giant 3-layer cake I made. I figured what the heck, I might as well go out with a bang.  (I also thought it was a good idea to follow up yesterday's act with some straight up sugar.)
So far this year I've posted healthy stuff, like Indian-Spiced Cauliflower Rice, Cilantro-Lime Cucumber Salad, mayo-free Deviled Guacamole Eggs, and Kale, Chicken & White Bean Soup. If you add all those recipes up, the total net butter amounts to 1 tablespoon. One tablespoon, people! In an entire year of healthy food! This sounds less impressive when I remember that there have only been 14 days so far this year.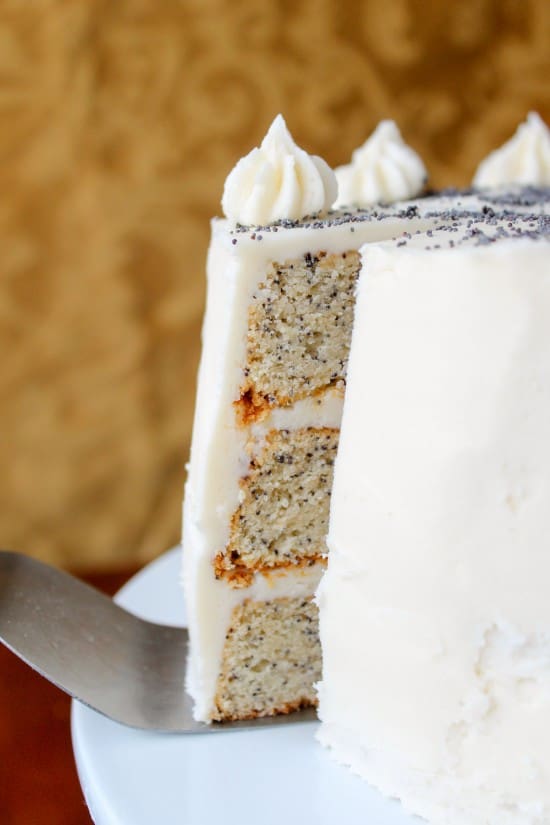 I'm making up for it, I guess. This cake has over a pound of butter in it. Also, if you take a drug test after eating it, you'll probably get fired.
Waaaaaaaaait! Come back! It's worth it, I promise. Even if you get fat and buzzed from it.
Just kidding. About the buzzed part at least.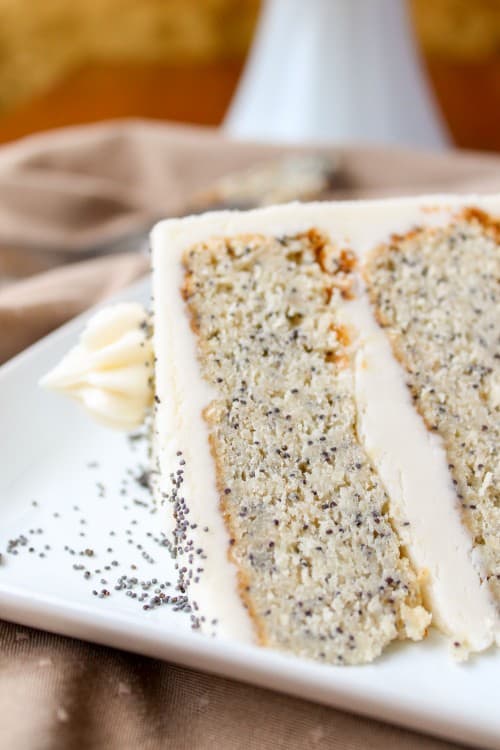 My friends Chels and Josh over at Catz in the Kitchen recently made this for Chels' birthday, and they said it fed 22 people. Hopefully that makes you feel a little better about all the butter.
The cake is thick, creamy, full of almond flavor and tiny pops of poppyseed. I couldn't finish a single one of the slices I had. It is beyond rich, and so, so good. I love the hint of cardamom, it's not a spice usually used in cake. But it totally works.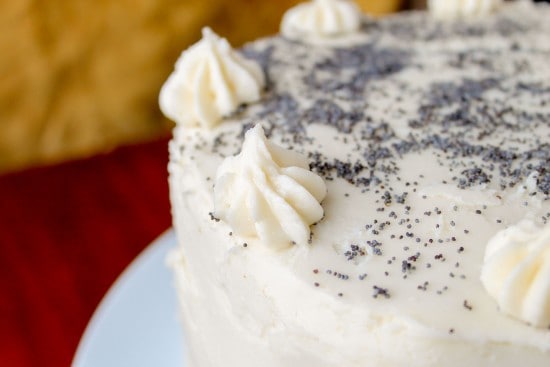 Tips for how to make Spiced Poppyseed Cake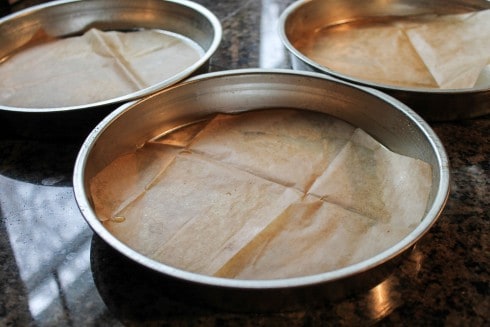 It really makes things so much easier if you line the pans.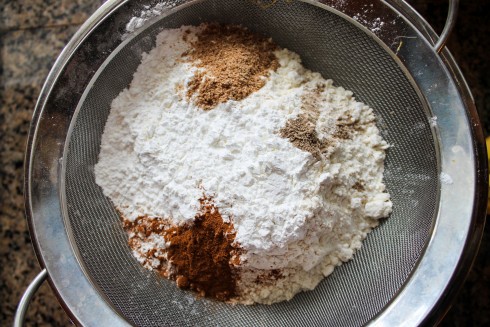 Whisk together all those dry ingredients…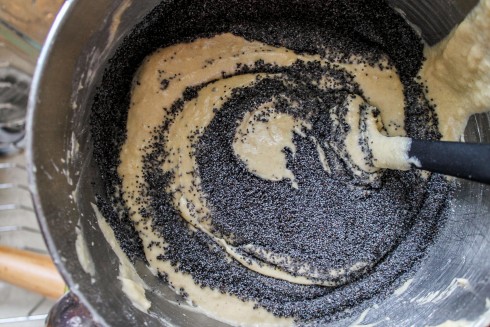 That's a lot of poppyseeds. Oh yeah.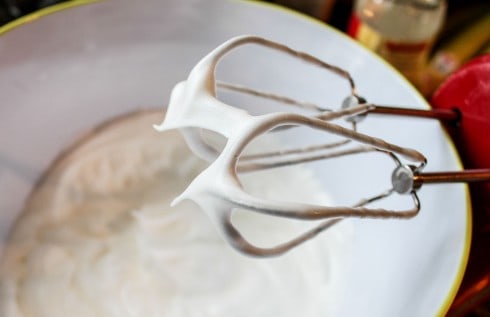 Soft peaks.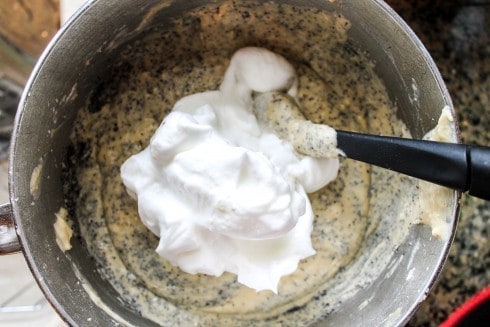 Add the egg whites in 3 additions.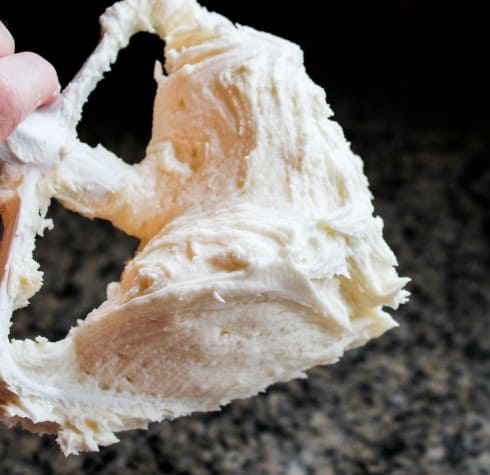 Hello frosting. You want it to be thick enough that's it's not falling off when you hold up a spoon, but still spreadable.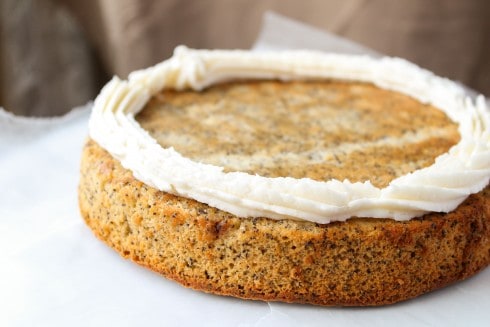 I like to pipe a frosting dam so that it doesn't all squish out.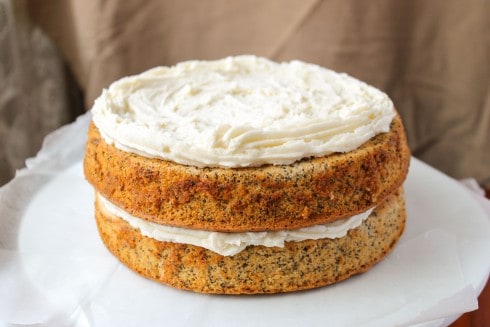 Then spread some more in the middle. Don't go crazy, you still have to frost the outside of the cake.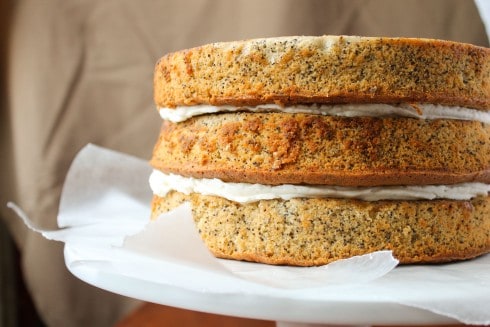 Stack up all 3 layers…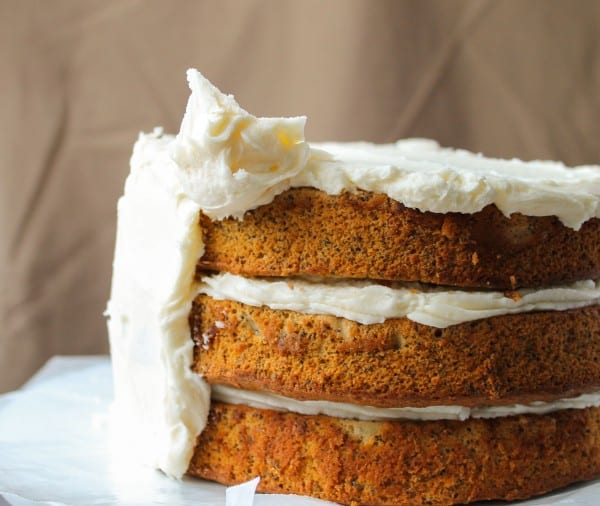 Spread the frosting on top of the cake, then spread the excess down the sides.
Are you following me on Instagram? I just got a smartphone for Christmas and I'm a little obsessed. Come on, let's be friends!
Facebook | Pinterest | Instagram | Twitter
Spiced Poppyseed Cake with Almond Buttercream Frosting
The cake is thick, creamy, full of almond flavor and tiny pops of poppyseed and covered with a delicious almond buttercream frosting.
Ingredients
For the cake:
3

cups

all-purpose flour

,

spooned and leveled

1

tablespoon

baking powder

1/4

cup

cornstarch

1

teaspoon

nutmeg

,

freshly grated

1

teaspoon

cinnamon

1/4

teaspoon

cardamom

1

cup

salted butter

,

2 sticks, at room temperature

2

cups

sugar

1/2

cup

honey

6

large

eggs

,

separated, at room temperature

2

cups

milk

,

at room temperature (or warm it in the microwave until it's tepid)

2

tablespoons

vinegar

1

tablespoon

almond extract

1/2

cup

poppy seeds

1/2

teaspoon

cream of tartar
For the frosting:
1 & 1/2

cups

salted butter

,

at room temperature

7 & 1/2

cups

powdered sugar

1 & 1/2

teaspoons

vanilla extract

1 & 1/2

teaspoons

almond extract

6

tablespoons

half-and-half

,

plus more if needed

poppy seeds

,

for sprinkling
Instructions
Prepare 3 9-inch cake pans by spraying them thoroughly with nonstick spray. Line the bottoms with parchment paper. Set aside.

Sift the dry ingredients into a large bowl: flour, baking powder, cornstarch, nutmeg, cinnamon, and cardamom. Set aside.

In a stand mixer, cream the 2 sticks of butter, 2 cups of sugar, and half cup honey until light and fluffy, at least 2 minutes, scraping the sides as you go.

Separate the 6 eggs: the whites need to go in a separate large bowl. (If you have 2 bowls for your stand mixer, use the other one). Set that aside.

Add the yolks to the butter mixture, one at a time, stirring in between each addition. Make sure you scrape the sides well. Beat until it is smooth and creamy.

In a small bowl, combine the milk, vinegar, and almond extract. It's okay if it curdles.

Add the milk mixture and the flour mixture alternately to the butter mixture, stirring after each addition until just combined.

Gently fold in the poppyseeds. Set aside.

Preheat the oven to 350 F.

Add the 1/2 teaspoon cream of tartar to the eggs whites. Using an electric mixer, beat the whites until soft peaks form; it will take several minutes.

Add the beaten egg whites to the cake batter in 3 additions, mixing until just combined.

Divide the batter evenly among the 3 prepared cake pans. Bake 30-40 minutes, or until a toothpick inserted in the center comes out clean. Check each cake, some may cook slower than others.

Remove from the oven and let cool 10 minutes. When you can handle the pans without burning yourself, remove the cakes to a wire rack. Peel off the parchment paper.

At this point, you can either freeze the cakes to frost later, or do it immediately. To freeze: While the cakes are still hot, wrap each cake tightly in plastic wrap, then in aluminum foil. Freeze for several hours, or up to 3 days. The night before you want to frost, place them in the fridge to defrost.

To frost immediately: let the cakes cool completely, then wrap tightly in plastic wrap and refrigerate until cold, at least an hour. It's easier to frost a cold cake.

To make the frosting: beat together the butter and sugar until a thick paste forms. Then add the extracts and half & half, adding more if it seems too thick. Beat until fluffy.

Spread about 1/2 cup frosting over each layer. Frost the top of the cake, then spread the excess down the sides.

Sprinkle the top with more poppyseeds, and pipe on the stars using a large star tip.
Nutrition
Serving:
1
slice
,
Calories:
771
kcal
,
Carbohydrates:
113
g
,
Protein:
7
g
,
Fat:
34
g
,
Saturated Fat:
20
g
,
Polyunsaturated Fat:
3
g
,
Monounsaturated Fat:
9
g
,
Trans Fat:
1
g
,
Cholesterol:
151
mg
,
Sodium:
378
mg
,
Potassium:
156
mg
,
Fiber:
1
g
,
Sugar:
91
g
,
Vitamin A:
1057
IU
,
Vitamin C:
1
mg
,
Calcium:
155
mg
,
Iron:
2
mg
We are a participant in the Amazon Services LLC Associates Program, an affiliate advertising program designed to provide a means for us to earn fees by linking to Amazon.com and affiliated sites.