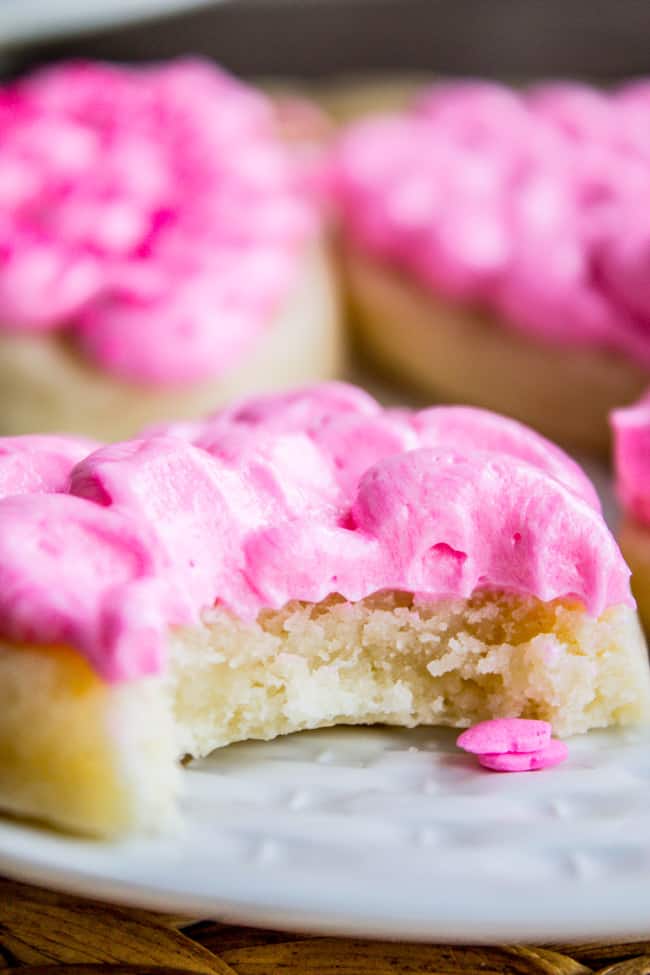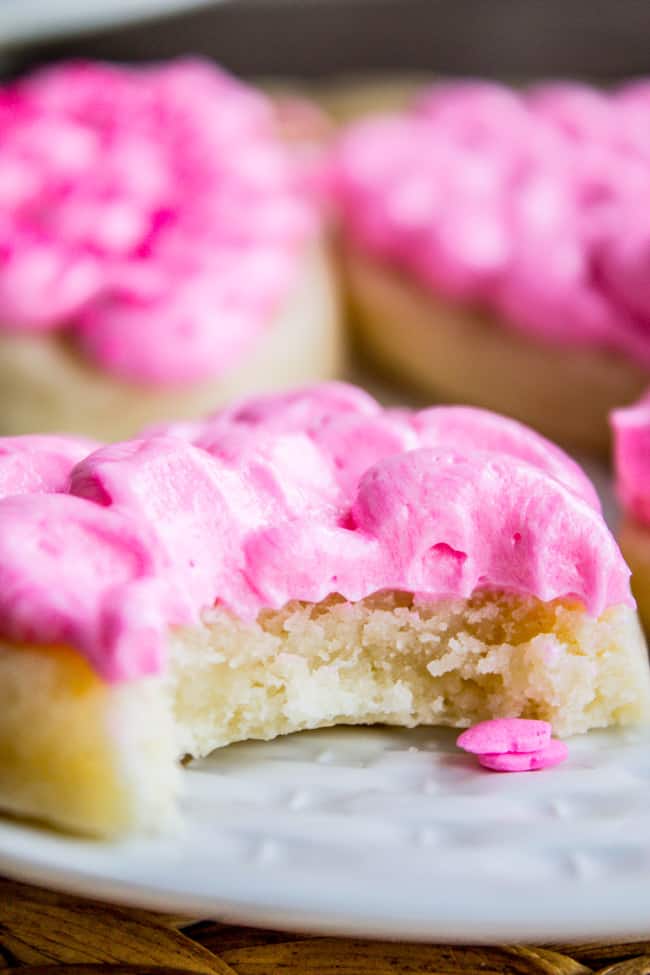 Did you make this recipe?
Leave a review »
The SOFTEST Sugar Cookies of Your Life (That Hold Their Shape)
Makes about 2 dozen cookies, depending on the shape
adjust servings
Ingredients
3/4

cup (1 and 1/2 sticks) salted butter, softened

4

ounces cream cheese, softened

1

and 1/2 cups granulated sugar

1

egg

1

teaspoon vanilla

1

and 3/4 teaspoon almond extract

1

teaspoon salt

3

cups flour, spooned and leveled
Instructions
In a large bowl or stand mixer, beat the butter on medium speed until it is soft and fluffy, 1-2 minutes.
Add the softened cream cheese and continue to beat for 1 minute, until well incorporated.
Add the sugar and beat well, 1-2 minutes, until fluffy.
Add the egg, vanilla, and almond extract. Beat well. Scrape the sides and bottom of the bowl with a spatula. This is my spatula that I love and use for every baking project.
Add salt and flour and beat until just barely combined, scraping the sides and bottom again. Do not stir too much or you will make your dough tough. The dough is pretty sticky!
Scrape the dough out onto a sheet of plastic wrap (or into a ziplock or tupperware). Cover or wrap tightly and put it in the fridge for 2 hours (or overnight) or in the freezer for 1-2 hours. (If I am in a hurry I will split the dough in half and wrap separately so that it will chill faster.)
When the dough is completely chilled, preheat oven to 350 degrees F.
Line 2-3 baking sheets with silpat baking mats or parchment paper.
Prepare a work surface with a light dusting of flour.*
If you have not already split the dough in half, do so now. Put any dough that you are not working with in the fridge.
Use floured hands to flatten out the dough a bit, then use a rolling pin to roll it and smooth it out a little bit. Don't go too crazy here, remember we want the cookies to be THICK, about 3/8 inch. I actually busted out the measuring tape for this step. No crisp cookies, please.
Lightly dust your chosen cookie cutters with flour. Press firmly into the dough, utilizing your space wisely. Use your finger or a knife (depending on the shape) to wipe away the excess flour/dough on the outer edge of the cookie cutter before pushing them out onto the pan. This helps you get clean lines.
Place the shaped dough on the prepared baking sheet. If you are using multiple cookie cutter shapes, bake all of the same shape on the same pan. Otherwise your smaller cookies will get over baked. Leave at least 1 inch in between each cookie.
If you've taken long enough that your shaped cookies are no longer chilled, place the baking sheet in the fridge or freezer for a couple minutes.
Scrape together the excess dough and knead it together once or twice (as little as possible), then roll it out again to 3/8. Don't overwork the dough! (It will get tough.) Continue until the dough is gone. Refrigerate the dough as necessary. They should go into the oven cool.
Bake the shaped cookies at 350 for about 9 minutes for smaller cookies, and about 10-11 minutes for larger cookies. Do NOT over bake. You do not want the edges or tops to brown at all. The cookies should be barely browned on the bottom. See photos.
Leave the cookies on the pan for 5 minutes, then immediately transfer to a large tupperware and cover until they are completely cooled and you are ready to frost.
Frost cookies with The BEST Buttercream Frosting for Sugar Cookies!
by The Food Charlatan