Cheesy Overnight Bacon and Egg Breakfast Casserole
This is breakfast at it's finest. I mean how do you beat bacon and eggs, really? You don't. Oh wait, you add cheese and make it the night before. That's how. BOOM.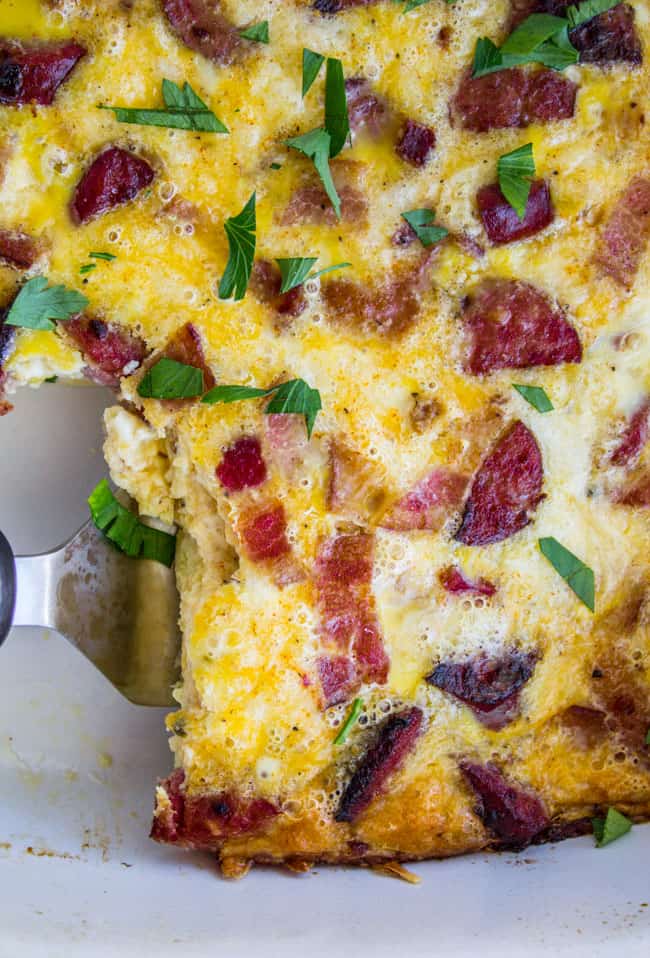 Have you seen my keys anywhere? They are silver. With some black rubbery parts. They are the ones that open my car, and my house. There are even some bonus keys on there that I have no clue what they open. No? You don't see them anywhere? WELL ME NEITHER.
You guys. I have looked everywhere. Even in my front door. That's where I usually find my keys when I lose them. Well, that is, after the neighbors pound on my door telling me my keys are in the lock. Or how bout the time I left my keys in the ignition. With the car running and the door unlocked. For 10 minutes while I went grocery shopping. If I didn't get my car stolen for leaving it running unattended, I probably won't this time right? Right??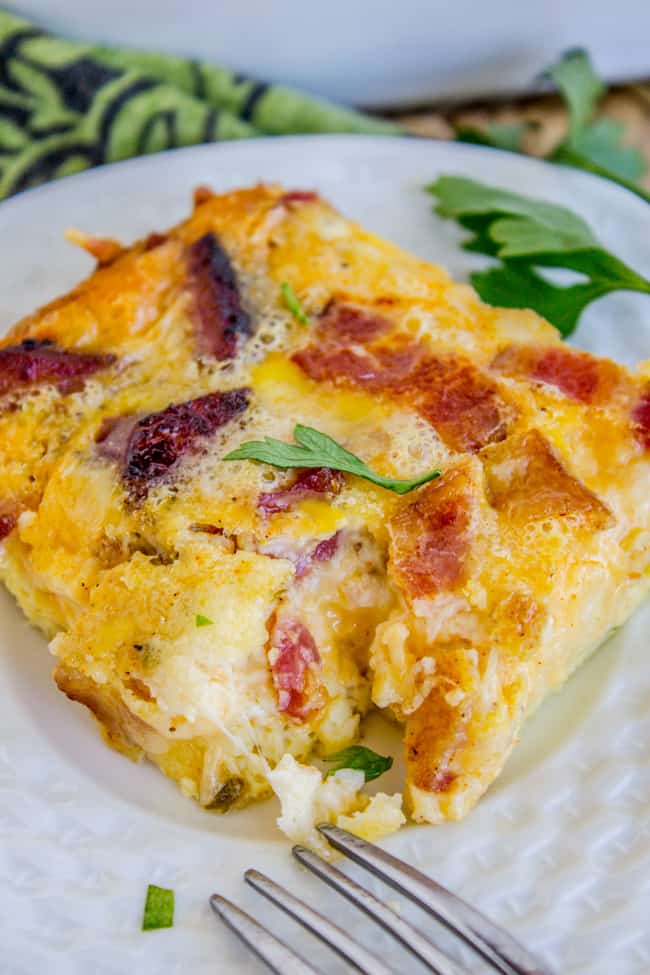 Now let's talk breakfast. This recipe is a game-changer, guys. Just kidding Nathan! That one was for you. I got this email from my brother Nathan a few weeks ago after I posted this Honey Hot Chocolate for One, asking me what percentage of my posts involve the words "game-changer"? He even did a custom search for the term which came up with dozens of results. Apparently I need a thesaurus. What can I say? Some recipes are just totally CHANGING THE GAME.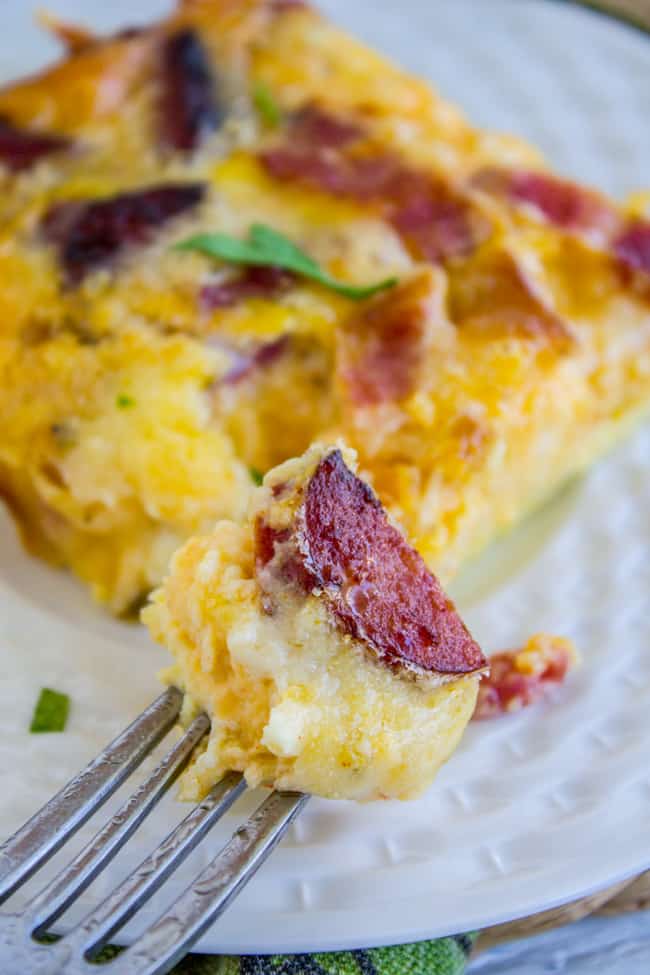 The breakfast game, in this case. I meant to share this one with you guys before Christmas so you could make it on Christmas Eve. We were already at Eric's parent's house up in Montana when I sat down to write the post…when I realized that the recipe was pinned to the inside of my cupboard back home. Doh!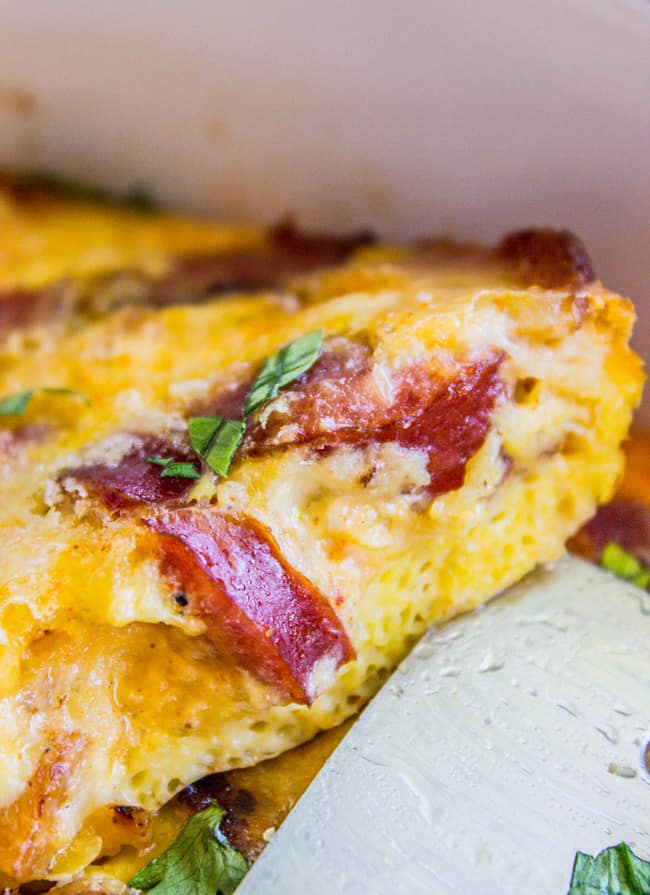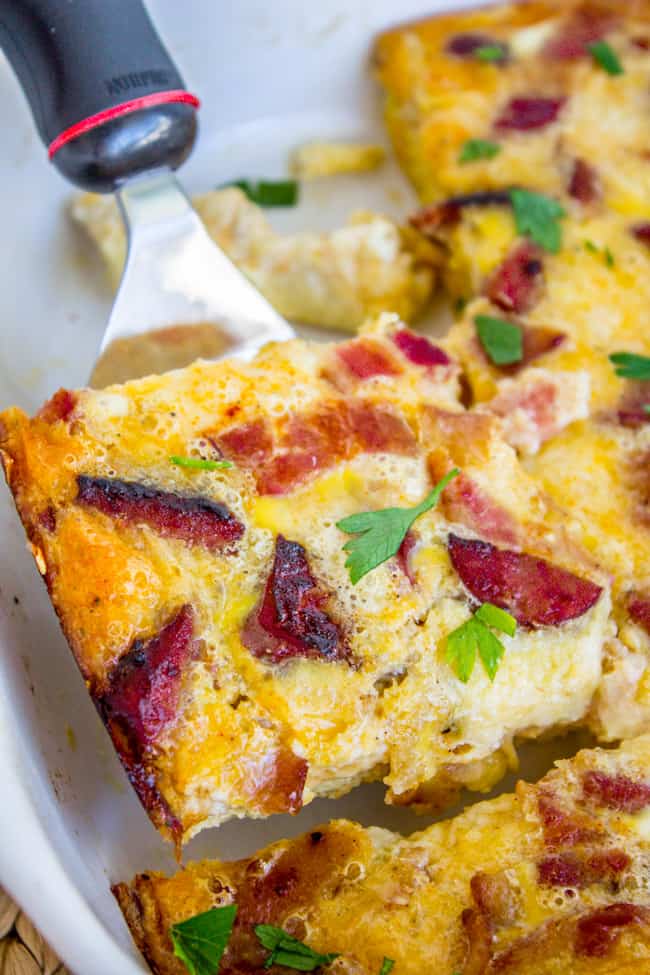 But really, you don't have to wait for Christmas to make it. I don't know why we're always waiting for special occasions to make breakfast. I mean, you do have a freezer right? You could make this on a weekend and then portion it out and pop it in the microwave for a minute or two, and bam, breakfast done. Eggs are totally the best way to start in the morning. And bacon is the best way to start ANYthing.
UPDATE: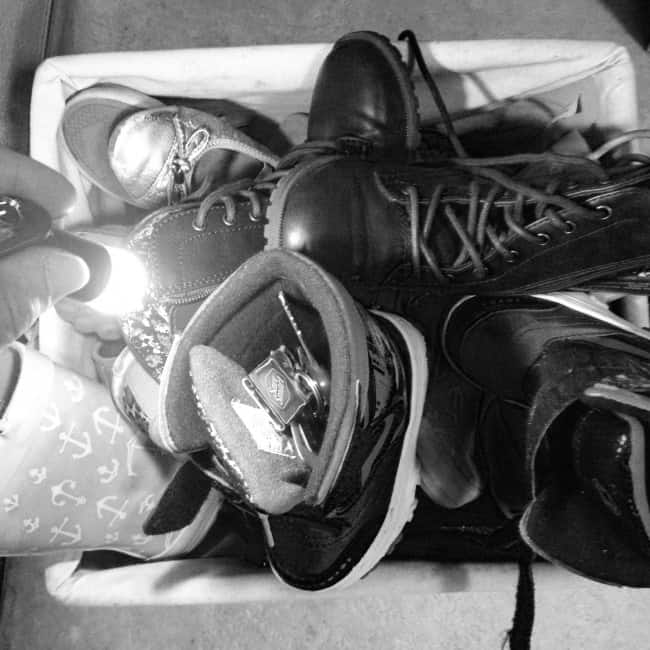 Of course they were in Truman's Lightsaber boot. (Why didn't I check there first?) Hallelujah!
If you make this casserole, snap a photo and share on social using #thefoodcharlatan. I would love to see it!
Facebook | Pinterest | Instagram | Twitter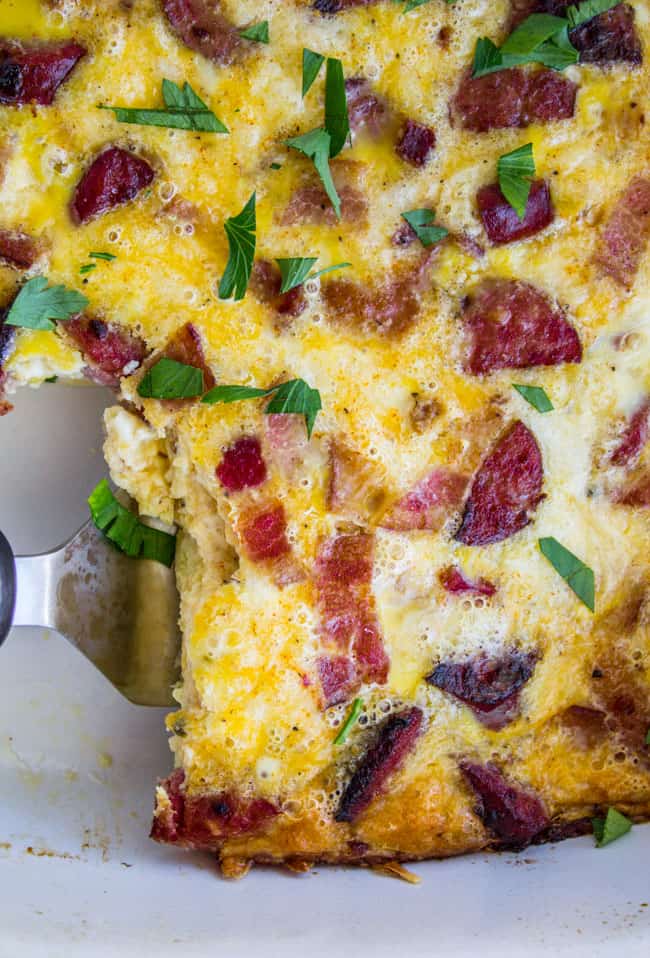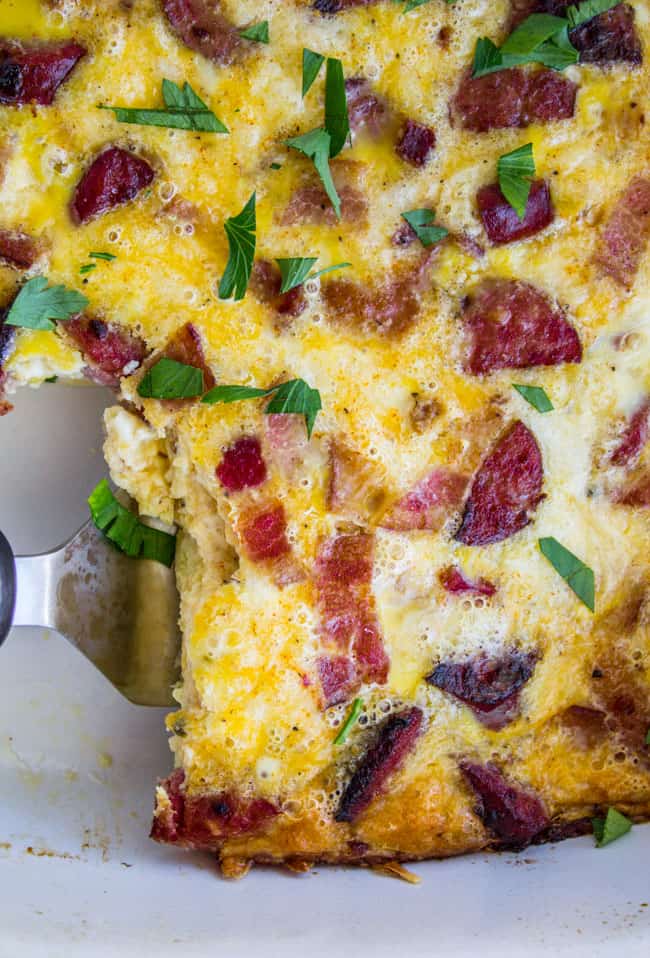 print
Did you make this recipe?
Leave a review »
Cheesy Overnight Bacon and Egg Breakfast Casserole
Serves 8-10
adjust servings
Ingredients
16

ounces cheese, shredded (I used half cheddar and half pepper jack)*

1

tablespoon flour

1

pound bacon, cooked and crumbled**

12

eggs

1

cup milk

3/4

teaspoon kosher salt***

3/4

teaspoon pepper

3/4

teaspoon seasoned salt

1/4

teaspoon dry mustard

1/4

teaspoon onion powder

1/4

teaspoon garlic powder

1/4

teaspoon paprika
Instructions
Spray a 9x13 inch casserole dish with nonstick spray or grease with butter.
Place the shredded cheese in the dish and sprinkle with 1 tablespoon of flour. Toss together with your fingers to distribute evenly.
Sprinkle bacon evenly over the cheese.
Beat the eggs, milk, salt, pepper, seasoned salt, dry mustard, onion, garlic, and paprika.
Pour over the bacon and cheese.
Cover and refrigerate overnight. OR, you can bake this right away! No need to cover.
Preheat oven to 325 degrees F. Bake uncovered for about 45 minutes, or until the center is set and the top has browned.
Let stand for 5 minutes before cutting and serving.
by The Food Charlatan

If you make this recipe,
share it on Instagram
 using the hashtag
#TheFoodCharlatan
so I can see it!
You guys will love these other breakfast casserole recipes!
Overnight Biscuits and Gravy Casserole: << I LOVE this one! I could eat the whole thing.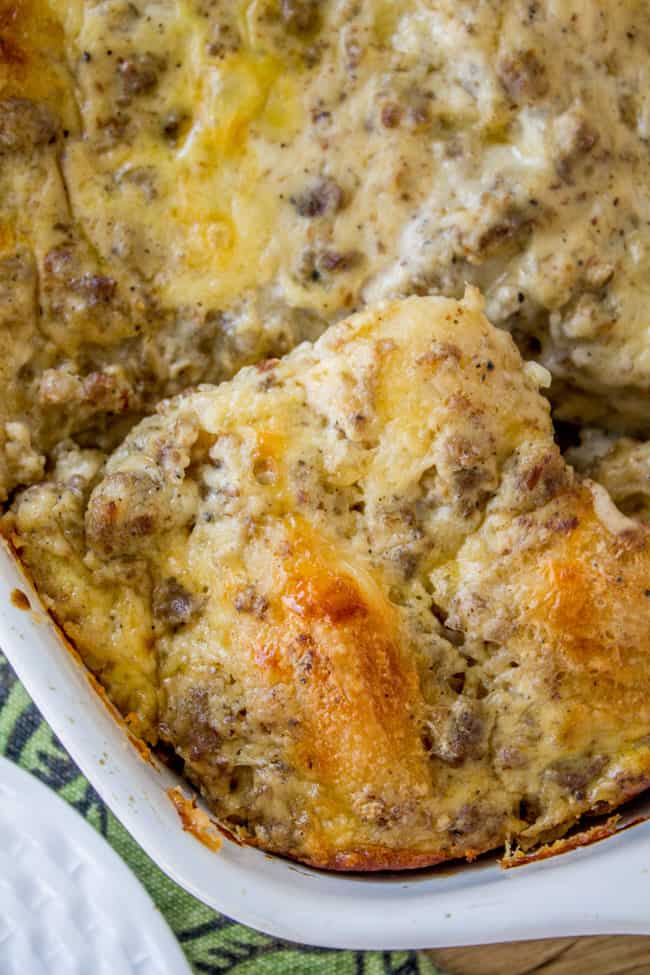 Overnight Bacon and Asparagus Breakfast Casserole: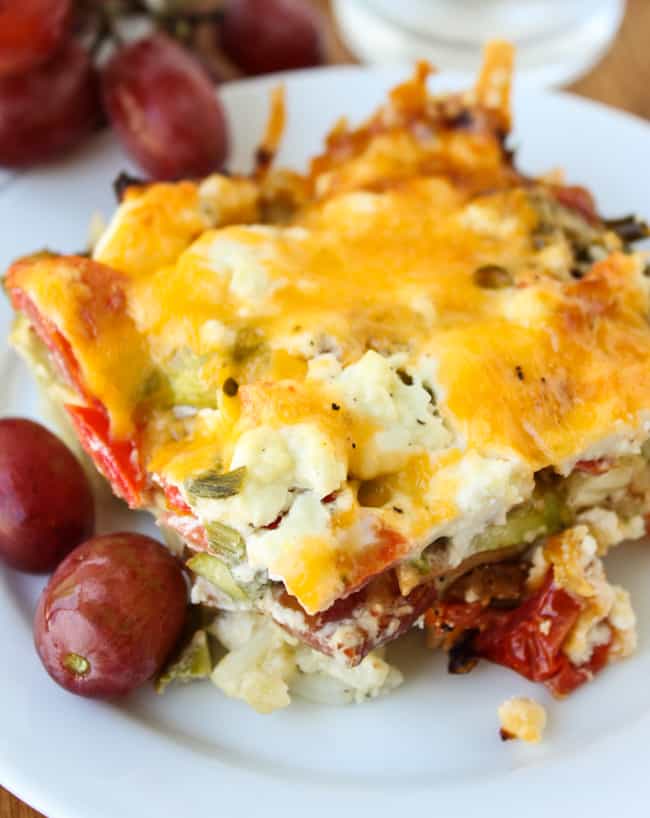 Bacon Gouda and Spinach Frittata: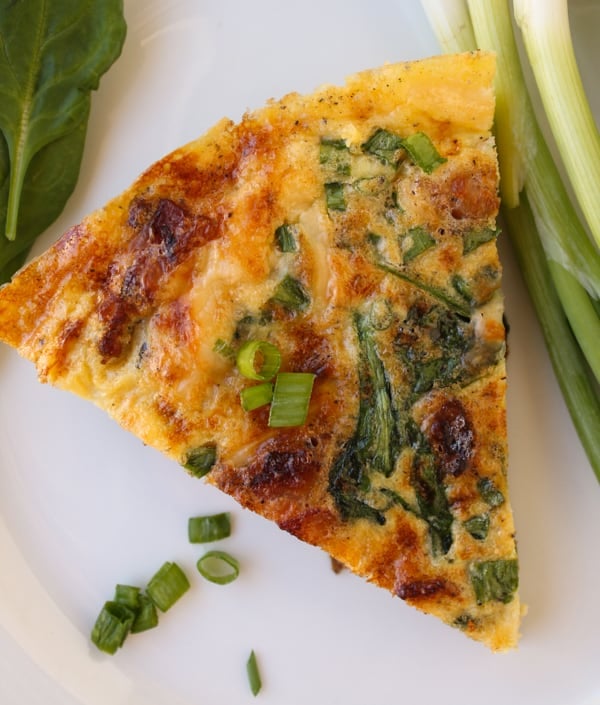 Eggs Benedict Casserole (Overnight):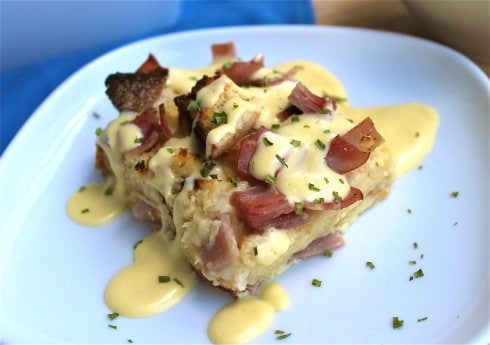 Other breakfast casseroles from friends!
Green Chile, Bacon and Cheese Egg Bake from Recipe Girl << this is one of my favorites! I've made it a bunch of times.
Bacon Spinach Breakfast Casserole from Sugar Dish Me
Cheesy Bacon Breakfast Casserole from The Grant Life
We are a participant in the Amazon Services LLC Associates Program, an affiliate advertising program designed to provide a means for us to earn fees by linking to Amazon.com and affiliated sites.