These chocolate sugar cookies are the softest you will ever have! They are packed with chocolate flavor and are perfect with a thick schmear of buttercream frosting and sprinkles. Cream cheese in the dough is the secret to super soft sugar cookies!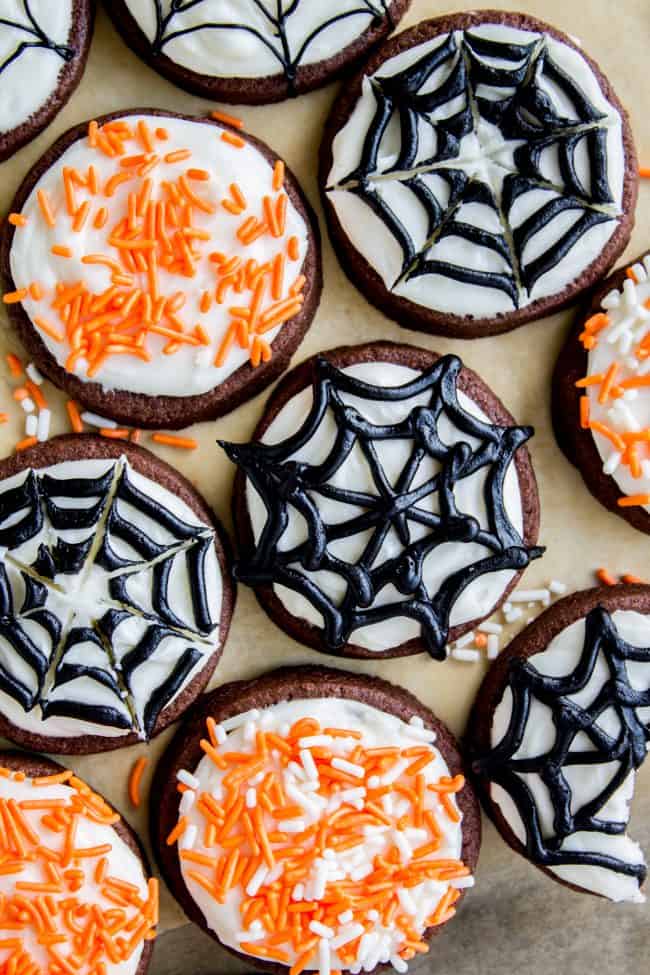 I'm not into letting my kids be babysat by the TV, but the other day I was desperately trying to finish a post before school pickup, so I turned on Mr. Roger's Neighborhood for Valentine, who's almost 2. She was so excited and sat down on the couch, ready to be entertained. I was working over at the kitchen table. After several minutes, without looking up, she calls over in her tiny voice, "Like it, Mommy. Like it."
Then after a few more minutes, with her eyes glued to the screen, she said, "Happy, Mommy. Happy."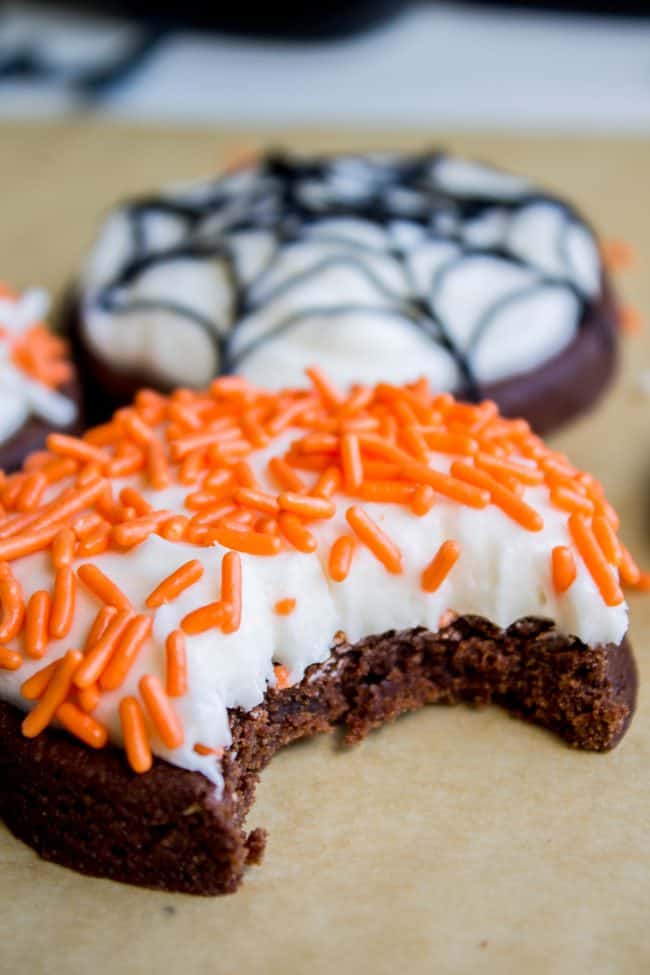 I'm pretty sure this kid's going to get more screen time than the rest of her siblings combined if she keeps this up.
What is it about Mr. Roger's Neighborhood though?? I found myself looking up from my computer more often than I should have been, just to watch him buy a pair of shoes at the store. It's oddly calming, kind of like how you feel watching Bob Ross paint. It's the voice I think. Eric and I watched the new documentary about Mr. Rogers a few months ago and I'm in love with the show all over again. The guy was a genius.
How to make perfect Chocolate Sugar Cookies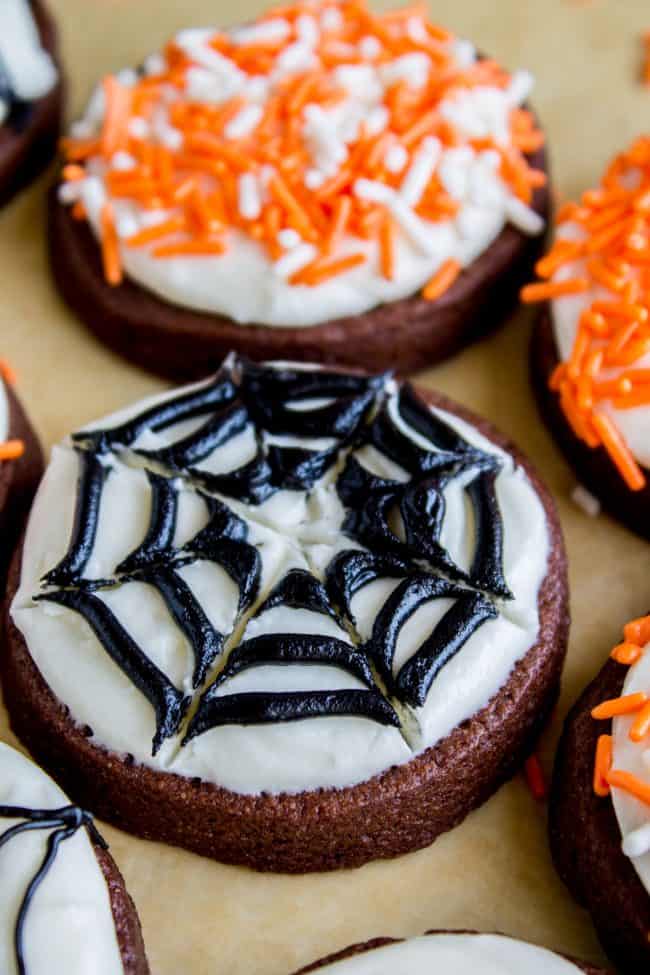 Have you ever made bad sugar cookies? By bad I mean, crunchy, too-thin, flavorless, not-worth-the-calories cookies. It's a tragedy that happens far too often. I spent a long time perfecting my recipe for The Softest Sugar Cookies of Your Life (That Hold Their Shape) and now I'm excited to present you with the chocolate version. These cookies are just as soft (yet sturdy) as their counterparts, but have tons of chocolate flavor in the cookie, perfect paired with vanilla or chocolate buttercream.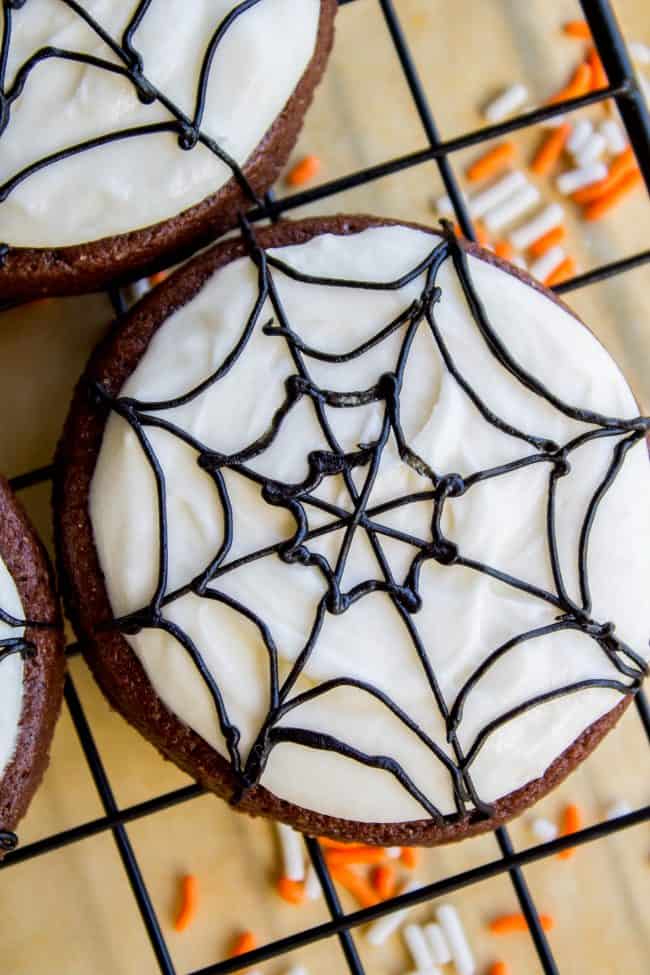 Here are some tips for how to get perfect, soft chocolate sugar cookies:
chill the dough
roll it out SUPER thick; measure it the first time so you get a feel for it. You want your rolled dough to be 3/8 inch thick.
Under bake the cookies slightly. You want the shine from the top of the cookies to just barely have vanished when you pull them out of the oven.
Let them set for 5 minutes on the pan, transfer to a wire rack for a couple minutes, then move them to a covered tupperware right away so that they stay soft.
Ice with buttercream frosting. It just tastes better that the hard royal stuff, guys.
How to make spider web cookies
Now let's talk holidays! I want to show you two ways to get this fun spider web design for Halloween. They are both so easy, and everyone will think you are amazingly talented when really you are not (I know you ;)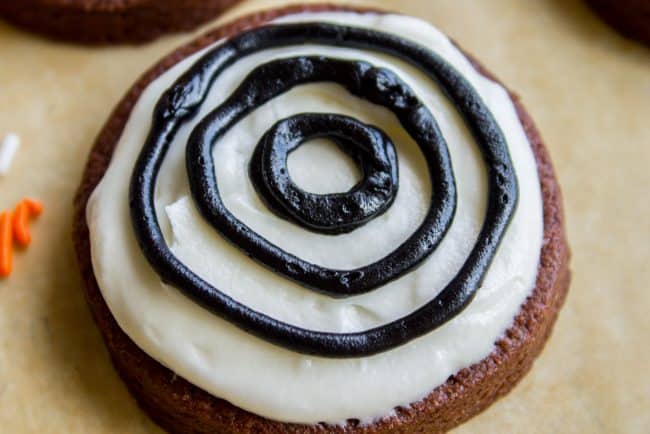 Draw a few circles and drag that toothpick right through the icing. I used black decorating icing, with tip #5.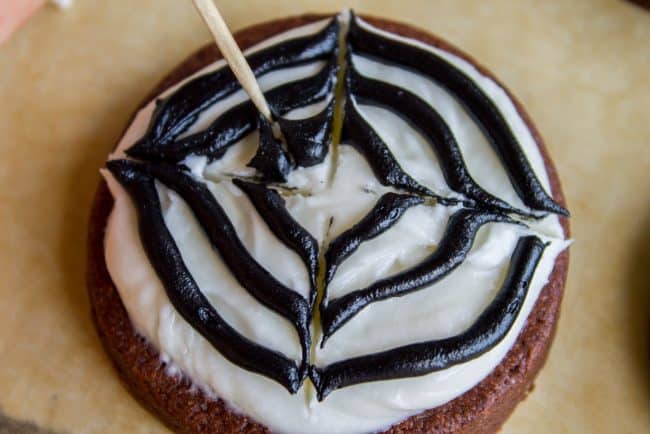 Don't look too closely for mistakes. They are not perfect. Sometimes I think we trip ourselves up thinking that every single cookie has to be "Pinterest-perfect." But no one is looking that closely. If you present a plate of these cookies to someone, they are going to be impressed with the overall appeal, not nit-picking about whether the curves on your web are perfectly concave.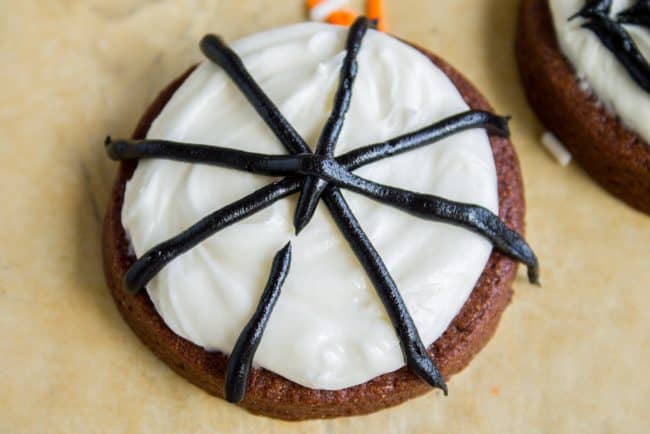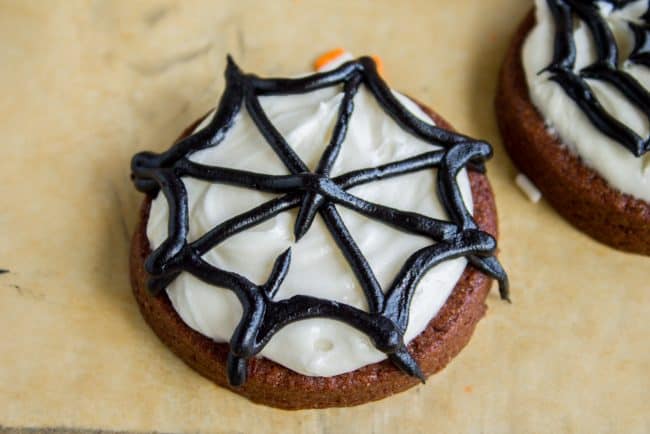 I learned this concept years ago as a teenager. I was volunteering as a server at a fancy dinner one time, and me and a few other girls were topping brownie slices with whipped cream, a raspberry, and a sprig of mint. We were running out of mint and whipped cream and were wasting time time making sure every brownie looked perfect before it got sent out on the food cart to be delivered to the guests. The caterer in charge of the kitchen came in and told us not to worry about each brownie; focus on the overall presentation. If you roll up a cart full of brownies and MOST of them have enough whipped cream, that's good enough.
It's actually a concept that I've had to re-learn over the years. I listened to a podcast on productivity recently and the podcaster said that "B minus work" is her mantra. Instead of doing A+ work on everything ever, just get the job done, even if it's not your best work. I repeat this to myself every morning while applying eyeliner, and every night while loading the dishwasher.
Chocolate Sugar Cookies for Christmas
Nothing says Christmas quite like frosted sugar cookies, right??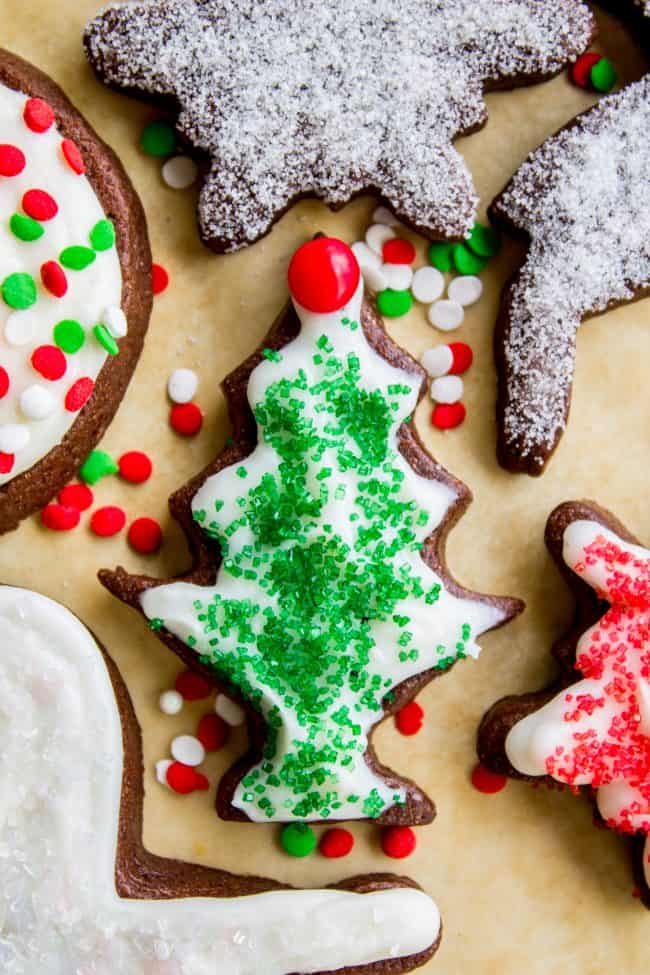 One of the best parts about this recipe is how well the cookies hold their shape. They are not going to come out of the oven unrecognizable. They will be just a smidge puffier than the shape that you cut them out to be: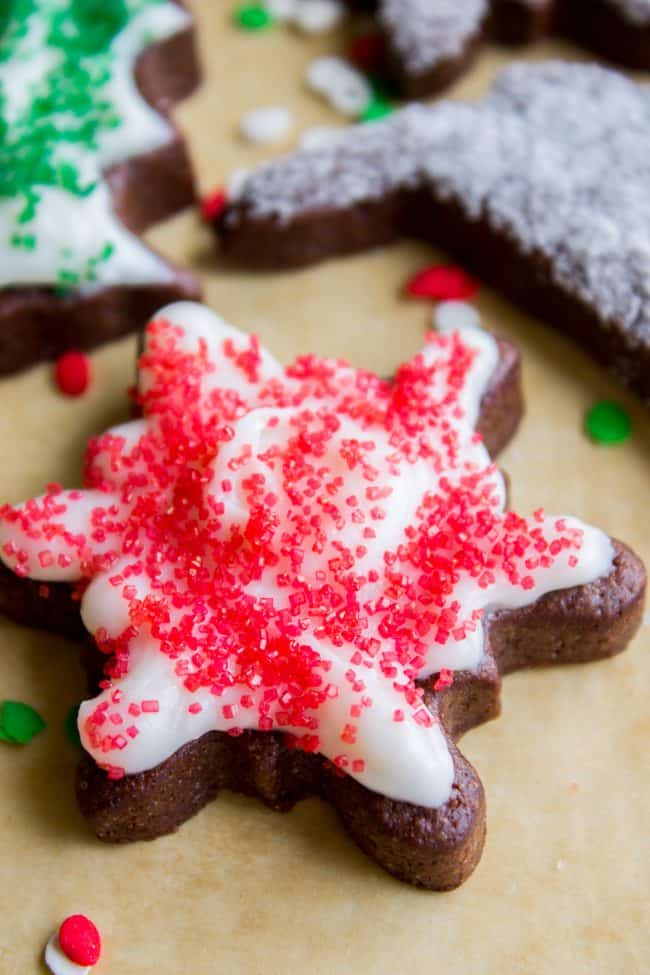 This cookie is only about 3-4 inches across, but you can still see the intricacies on the side.
Chocolate sugar cookies are perfect for serving without any frosting at all, because the cookies themselves are so flavorful. I brushed my cookies (very lightly) with equal parts corn syrup and water mixed together, then dipped in sugar.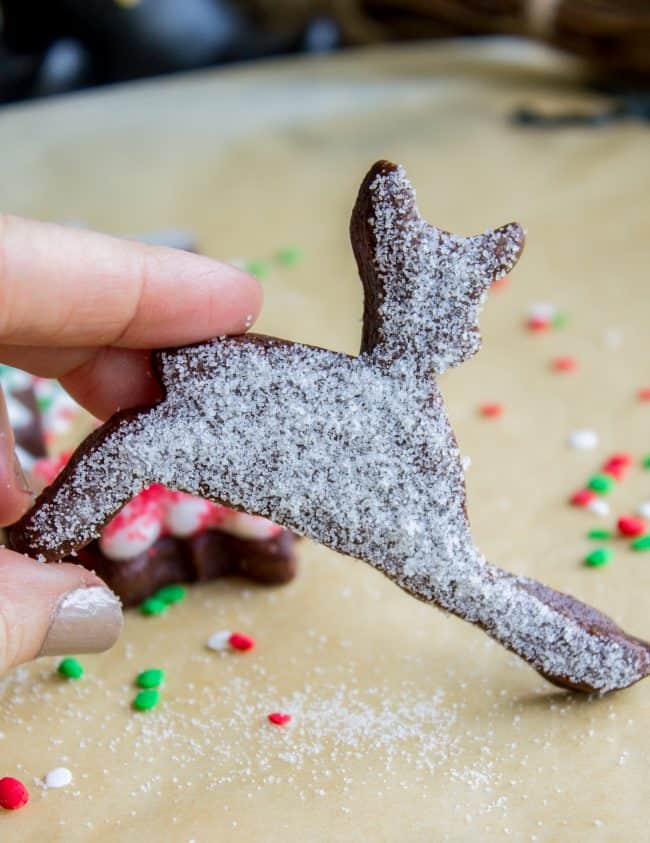 Isn't it pretty? I think it adds variety and interest to a plate of cookies to include simple ones like this, alongside cookies decorated with frosting and sprinkles. You could use any color sanding sugar that you like.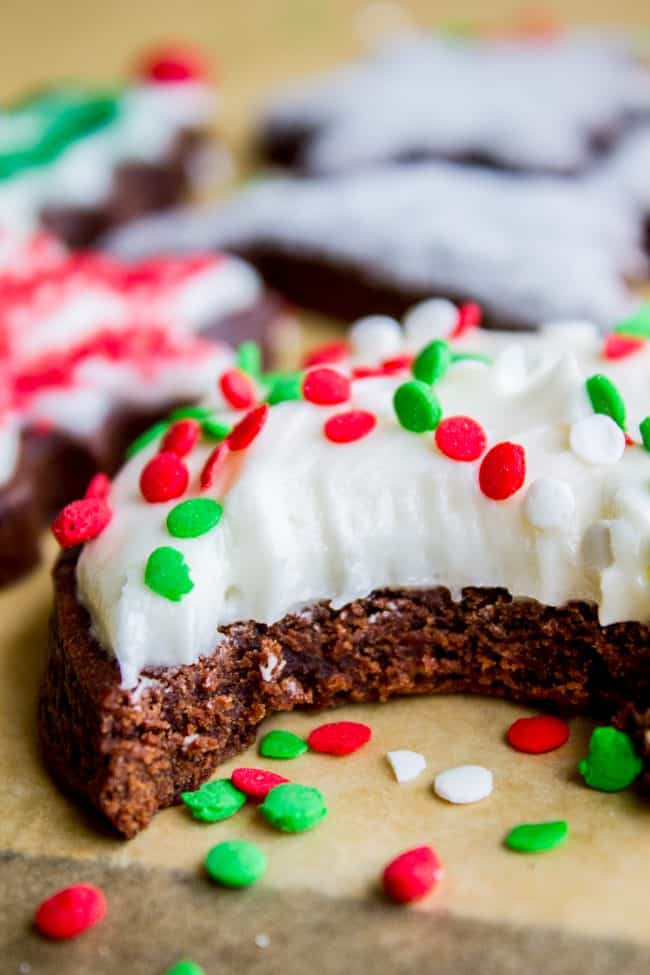 Hopefully you can see in this photo just how soft and tender the center of these cookies are! There is no greater crime than dry, crunchy sugar cookies. These ones are THICK and SOFT, not to mention chocolatey. They are perfect!! What are you waiting for!!
Facebook | Pinterest | Instagram
One year ago: Cream Cheese French Toast Casserole
Four years ago: Bacon, Gouda, and Spinach Frittata
Seven years ago: Pumpkin Cinnamon Streusel Pancakes

The Softest Chocolate Sugar Cookies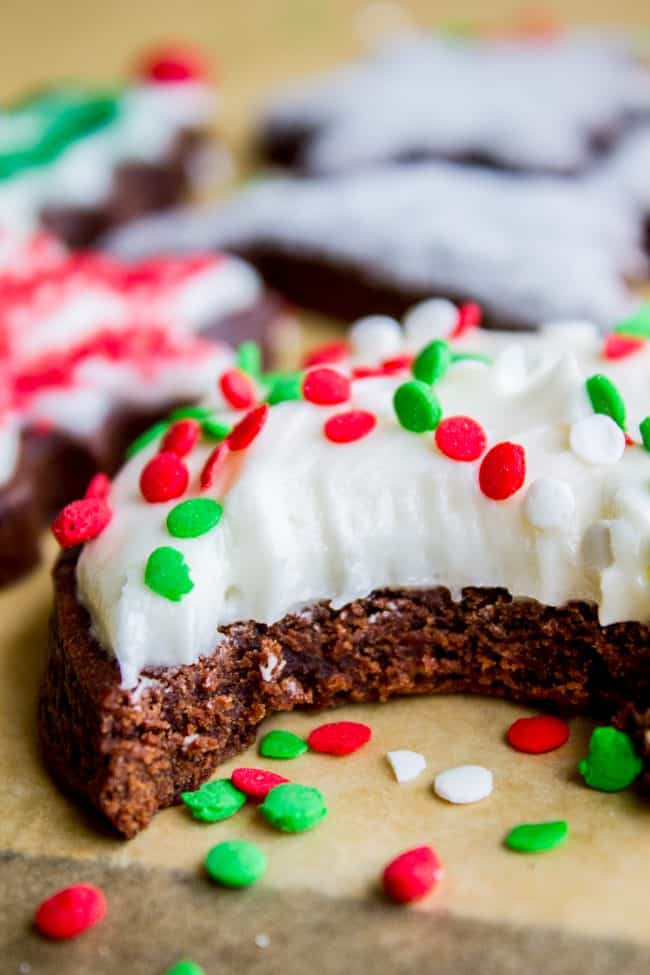 These chocolate sugar cookies are seriously the softest you will ever have! They are packed with chocolate flavor and are perfect with a thick schmear of buttercream frosting and sprinkles. Cream cheese in the dough is the secret to super soft sugar cookies.
Ingredients
3/4

cup

salted butter

,

1 & 1/2 sticks, softened

4

ounces

cream cheese

,

softened

1 & 1/2

cups

granulated sugar

1

egg

2 & 1/2

teaspoons

vanilla

1/2

teaspoon

coconut extract

,

optional

1

teaspoon

salt

3/4

cup

unsweetened cocoa

2 & 1/4

cups

flour

,

spooned and leveled
For spider web cookies
black decorating icing

#1, 2, 3, or 5 tip
Instructions
In a large bowl or stand mixer, beat the butter on medium speed until it is soft and fluffy, about 2 minutes.

Add the softened cream cheese and continue to beat for 1 minute, until well incorporated. Scrape the sides and bottom.

Add the sugar and beat well, 1-2 minutes, until fluffy.

Add the egg, vanilla, and coconut extract. Beat well. Scrape the sides and bottom of the bowl with a spatula.

This is my spatula

that I love and use for every baking project.

Add salt , cocoa, and flour, and beat until just barely combined, scraping the sides and bottom again. Do not stir too much or you will make your dough tough. The dough is pretty sticky!

Scrape the dough out onto a sheet of plastic wrap (or into a ziplock or tupperware). Cover or wrap tightly and put it in the fridge for 2 hours (or overnight) or in the freezer for 1-2 hours. (If I am in a hurry I will split the dough in half and wrap separately so that it will chill faster.)

When the dough is completely chilled, preheat oven to 350 degrees F.

Prepare a work surface by spraying your counter lightly with nonstick spray. If you have extra silicone mats, roll the dough out on those and skip the spray. You don't want to roll these out in flour, because you will see white flour on your cookie when it's baked. You can also try rolling it out between two sheets of parchment paper.

If you have not already split the dough in half, do so now. Put any dough that you are not working with in the fridge.

Spray your hands if necessary and flatten out the dough, then use a rolling pin to roll it and smooth it out a little bit. Don't go too crazy here, remember we want the cookies to be THICK, about 3/8 inch. I actually busted out the measuring tape for this step. No crisp cookies, please.

Lightly dust your chosen cookie cutters with cocoa powder, if necessary. (I skip this step unless I am using a very small or intricate cookie cutter.)

Press firmly into the dough, utilizing your space wisely. Use your finger or a knife (depending on the shape) to wipe away the excess cocoa/dough on the outer edge of the cookie cutter before pushing them out onto the pan. This helps you get clean lines.

Place the shaped dough on the prepared baking sheet. If you are using multiple cookie cutter shapes, bake all of the same shape on the same pan. Otherwise your smaller cookies will get over baked. Leave at least 1 inch in between each cookie.

If you've taken long enough that your shaped cookies are no longer chilled, place the baking sheet in the fridge or freezer for a couple minutes. It's really important that they go into the oven cold. Even 5 minutes in the fridge makes a difference.

Scrape together the excess dough and knead it together once or twice (as little as possible), then roll it out again to 3/8. Don't overwork the dough! (It will get tough.) Continue until the dough is gone. Refrigerate the dough as necessary. They should go into the oven cold.

Bake the shaped cookies at 350 for about 9 minutes for smaller cookies, and about 10-11 minutes for larger cookies. Do NOT over bake. Take the cookies out of the oven when the shine on top of each cookie has just barely disappeared.

Leave the cookies on the pan for 5 minutes, then transfer to a cooling rack for a couple minutes before moving to a tupperware. Cover until they are completely cooled and you are ready to frost.

Frost cookies with

buttercream icing

! << this recipe calls for a few different kinds of extracts, but since there is already so much flavor in a chocolate cookie, I just used an equivalent amount of vanilla (2 teaspoons).

For the Spider Web Cookies:

Attach a tip to

black decorating icing

and draw the webs according to the photos shown above. (Or you could make your own chocolate icing.) For the thinner looking webs shown above,

I used a #1 tip

. For the thicker webs,

I used a #5 tip

.
Nutrition
Calories:
171
kcal
|
Carbohydrates:
23
g
|
Protein:
2
g
|
Fat:
8
g
|
Saturated Fat:
5
g
|
Polyunsaturated Fat:
1
g
|
Monounsaturated Fat:
2
g
|
Trans Fat:
1
g
|
Cholesterol:
27
mg
|
Sodium:
166
mg
|
Potassium:
67
mg
|
Fiber:
1
g
|
Sugar:
13
g
|
Vitamin A:
251
IU
|
Calcium:
13
mg
|
Iron:
1
mg
Here is the recipe for the Best BUTTERCREAM FROSTING For Sugar Cookies: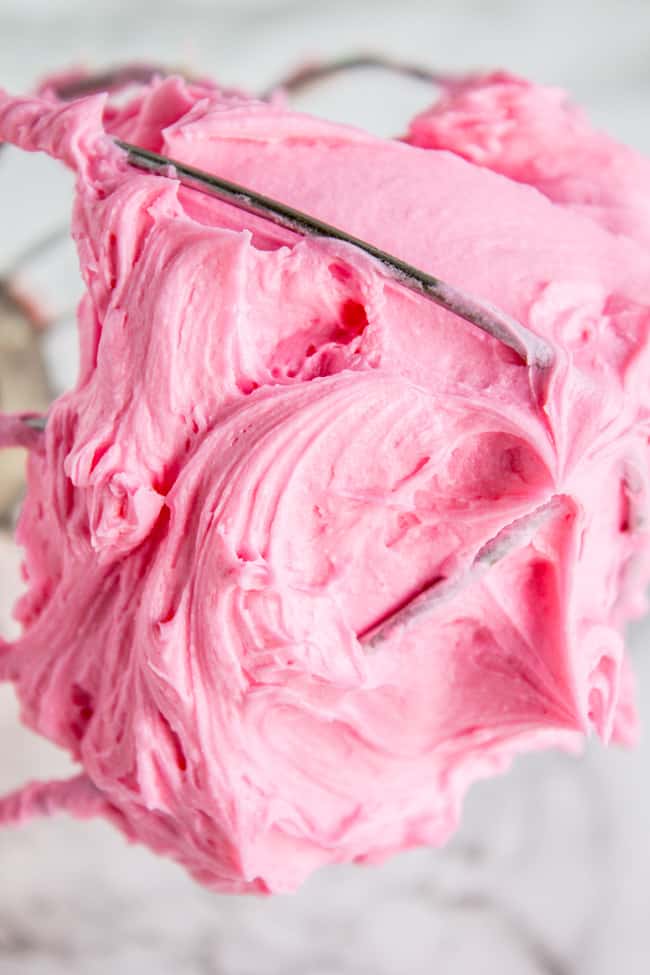 Never enough cookies!!
The SOFTEST Sugar Cookies of Your Life (That Hold Their Shape)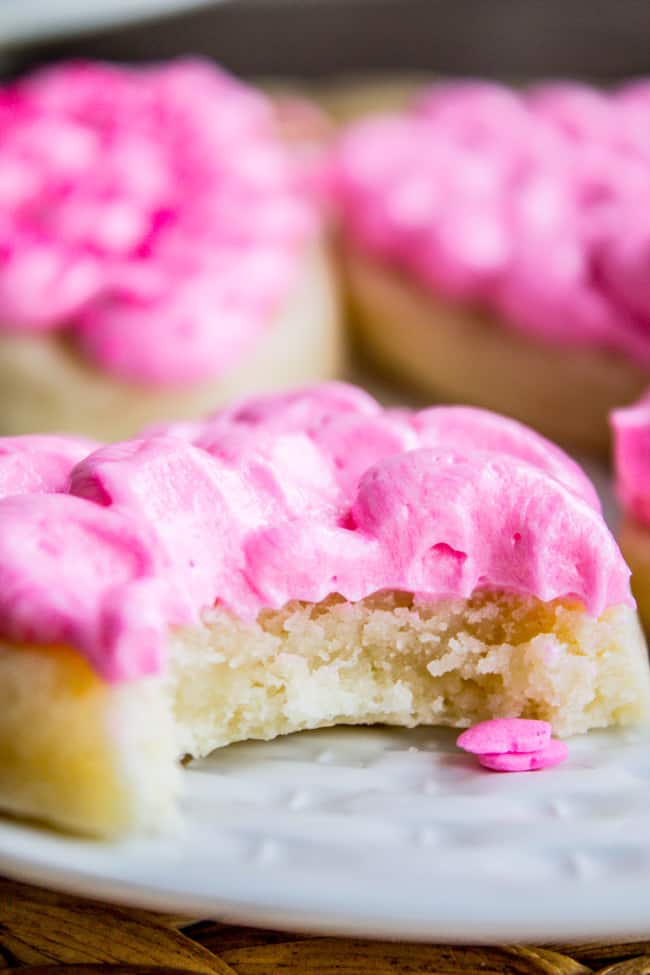 Mexican Hot Chocolate Cookies << I love these!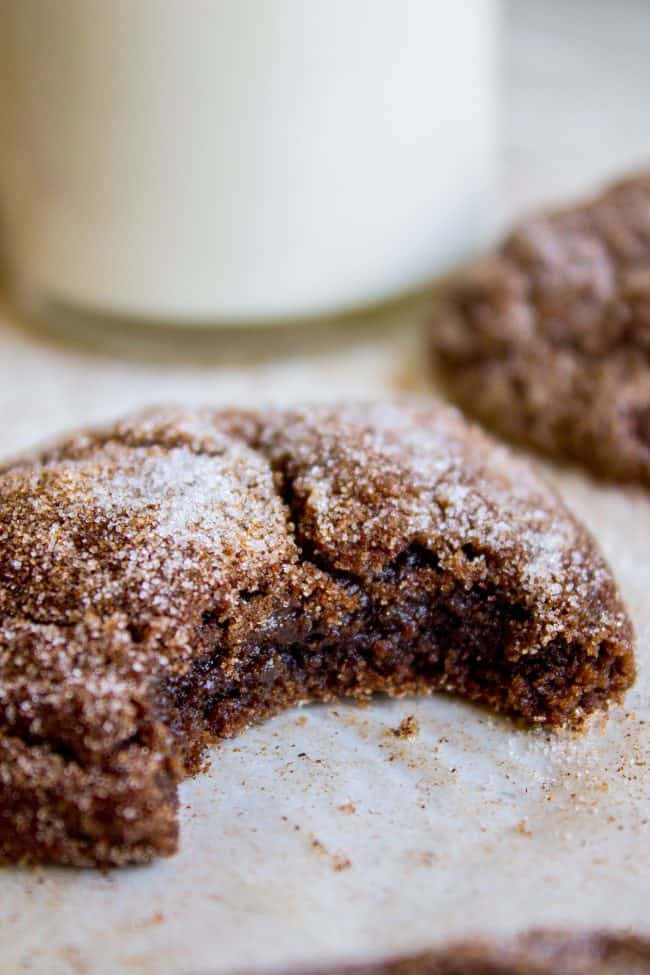 Soft Cinnamon Cookies with Maple Pecan Frosting << perfect for Christmas!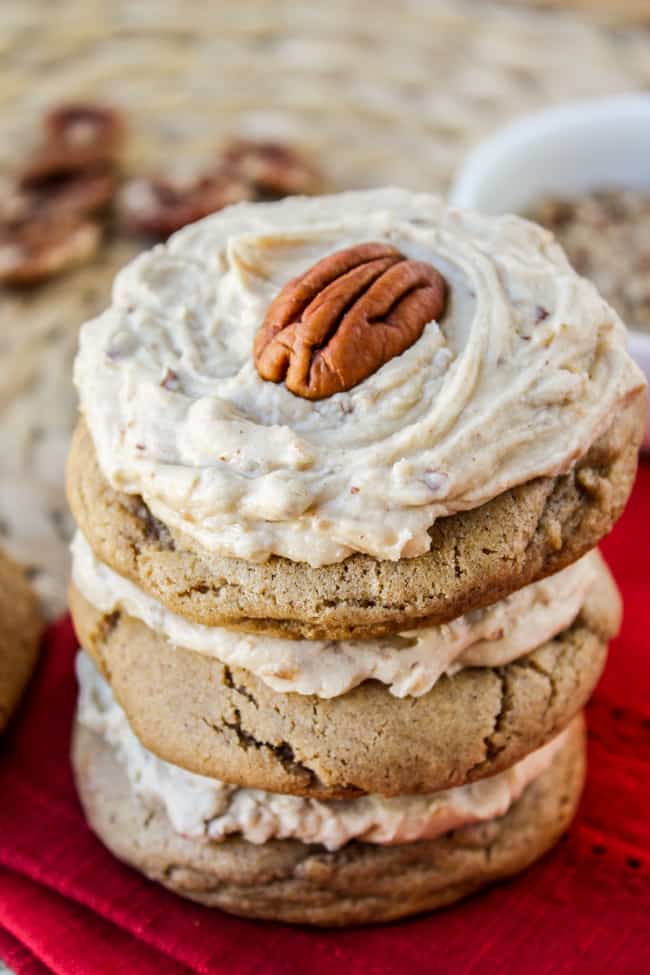 You will love these cookies from other bloggers!
Iced Oatmeal Cookies from Shugary Sweets
Flourless Chocolate Cookies from Recipe Girl
Hot Chocolate Cookies from Love in the Oven