Orange Olive Salad with Balsamic Vinaigrette
I just made a reference to Eric about the part in the old Star Trek movie where they film the Enterpriser ship for like 11 minutes or something ridiculous like that. Instead of getting a high-five for even knowing about that, I get a scoff, "It's the Enterprise, not the Enterpriser."
"So what, that's just one letter. I was really close."
"Karen, Koren, it's just one letter off. You want me to call you that?"
Yeesh. Don't mess with a man and his fake futuristic universe.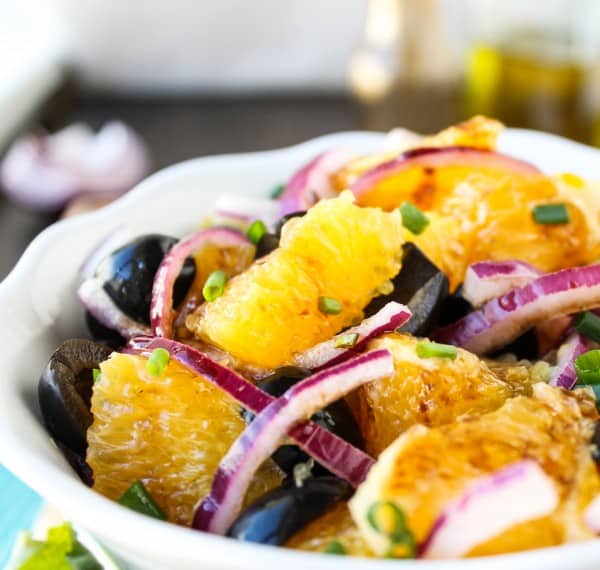 Although I'm no better than Eric if I'm being honest. I just get obsessed with snarky teenage dramas instead of nerdy stuff.
Have you guys watched Veronica Mars? My sister Nikki has been talking up this show for years, and we finally got around to watching it. AMAZING.
Nikki is a published author who is more interested in story arcs and genius characterization than pesky details like actor's names. Like I said, she adores Veronica Mars. I think she's even loosely based some characters on her.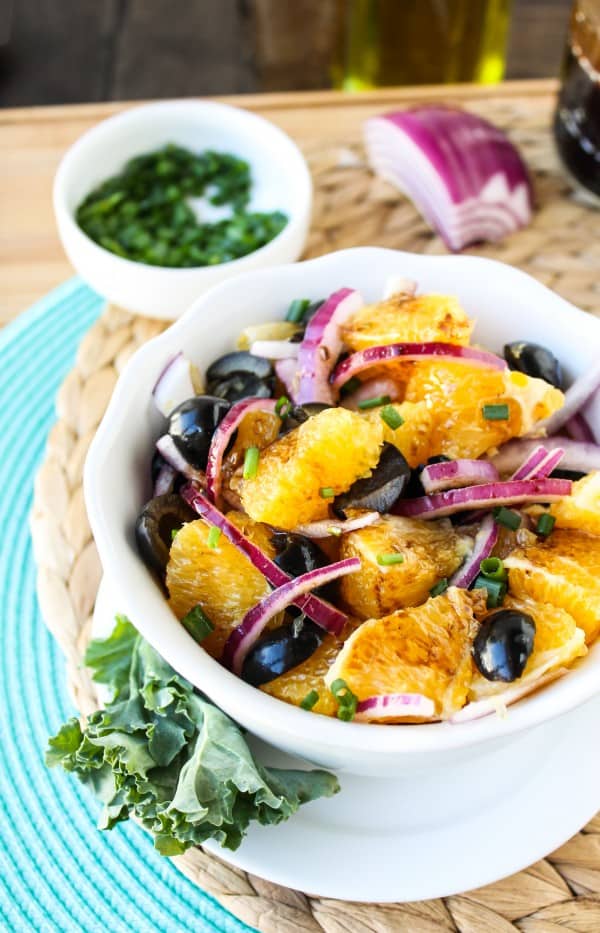 This family email chain from a while back still brings me to tears of mirth every time I think about it:
Nikki: The agent who represents Twilight requested the first 50 pages of my manuscript! (of the novel she wrote)
My husband Eric: Whoa!!! Congrats! It's just too bad Kristin Stewart is too old to play the main character.
Nikki: I would die and go to heaven if she played the main character, even at the age of 50. Kristin Stewart played Veronica in Veronica Mars, FYI everyone.
My brother: I love how clueless Nikki is about pop culture. Probably the favorite character she's ever had, and she still doesn't know who the actress is. It was Kristen Bell in Veronica Mars. Stewart was the Twilight girl.
Nikki: Dang. I'd also die if Kristen Stewart played my main character, but for another reason entirely.
You guys should totally watch the trailer.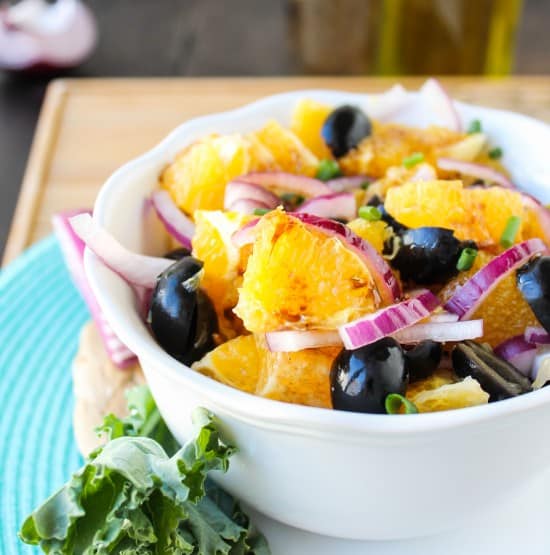 So have I ever told you guys how much I hate olives? And raw onions? I even have an aversion to peeling oranges. So this is the perfect salad for me, right? I can honestly say that I would never, in a million years, have picked it out. But my mother-in-law served it over the holidays, and I couldn't stop eating it. Could. not. stop. Until it was gone.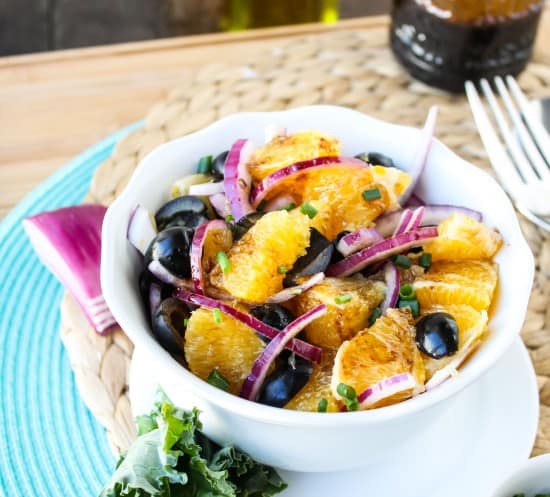 I especially love it with meat. The first time I had it was paired with ham. Last night we ate it with some steak. It's just a simple, fresh accompaniment to spice up a slice of juicy chicken or a nice thick pork chop. The brightness of the orange and the brininess of the olives stand out against the simple vinaigrette, the vinegar cutting the bite of the onion. It's perfect. Add some crusty bread sweet potatoes and it makes a great paleo dinner.
Do you guys give up? Or are you thirsty for more?
Facebook | Pinterest | Instagram | Twitter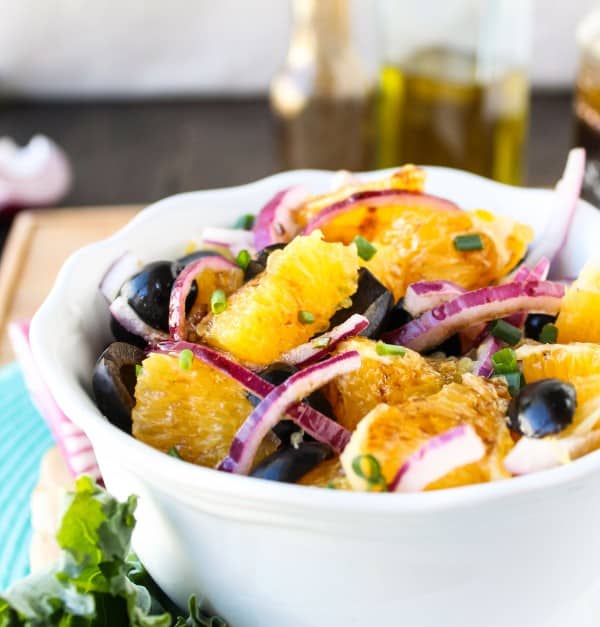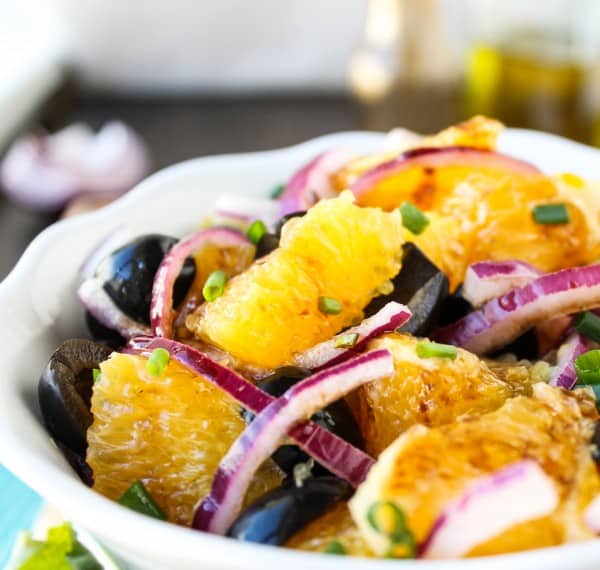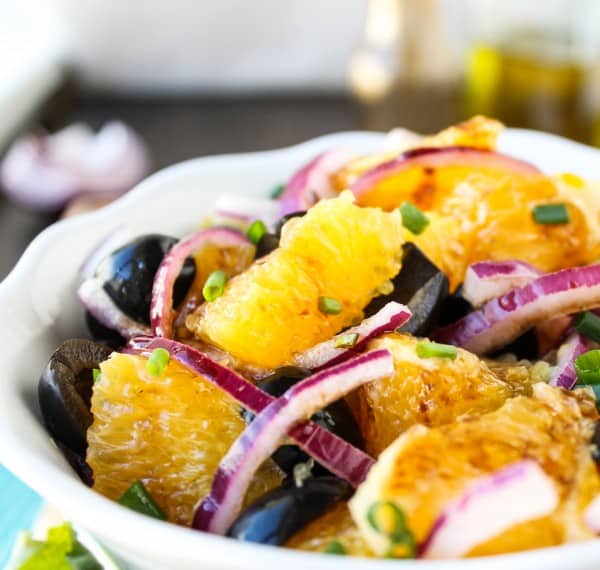 print
Did you make this recipe?
Leave a review »
Orange Olive Salad with Balsamic Vinaigrette
6-8 side servings
adjust servings
Ingredients
3

tablespoons olive oil

3

tablespoons orange juice

1/4

cup + 1 tablespoon balsamic vinegar

1

large clove garlic, minced

salt and pepper to taste

dash crushed red pepper

4

large oranges

1/2

red onion

1

cup large olives, halved (a little less than 1 can)

chives, chopped, optional garnish
Instructions
In a jar or tupperware with a tight light, combine the dressing ingredients: olive oil, orange juice, balsamic vinegar, garlic, salt, pepper, and crushed red pepper. Shake it like a polaroid picture.
Slice the oranges into 8 segments, then cut each segment into thirds. (See photos)
Half the red onion and save the other half for another use. Cut the half in half, then slice it thinly. You should be able to break the slices apart into segments.
Slice the olives in half. You can use the trick of placing several of them in between 2 tupperware lids, pressing your hand down on the top, and sliding your knife across the middle. Or just cut them one at a time.
In a medium bowl, combine the oranges, red onion, and olives. JUST before serving, pour on as much of the dressing as you like. I didn't use all of it.
Garnish with chopped chives and serve!
by The Food Charlatan

If you make this recipe,
share it on Instagram
 using the hashtag
#TheFoodCharlatan
so I can see it!
Source: lightly adapted from Big Oven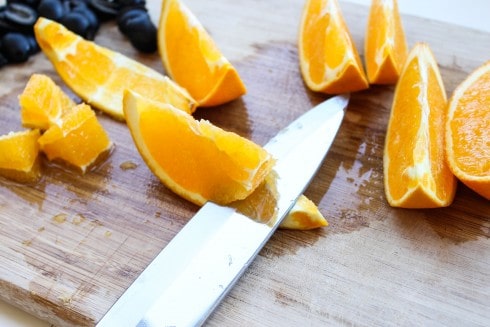 It's easier and prettier to cut your oranges instead of sectioning them out.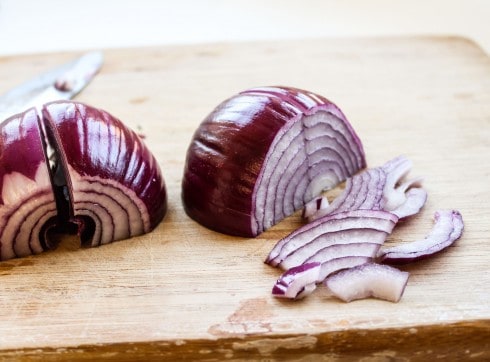 We are a participant in the Amazon Services LLC Associates Program, an affiliate advertising program designed to provide a means for us to earn fees by linking to Amazon.com and affiliated sites.