Peanut Butter S'mores Bars
 What's better than S'mores? S'mores Bars, because they have butter. What's better than S'mores Bars? Peanut Butter S'mores Bars, because, well, peanut butter. Duh.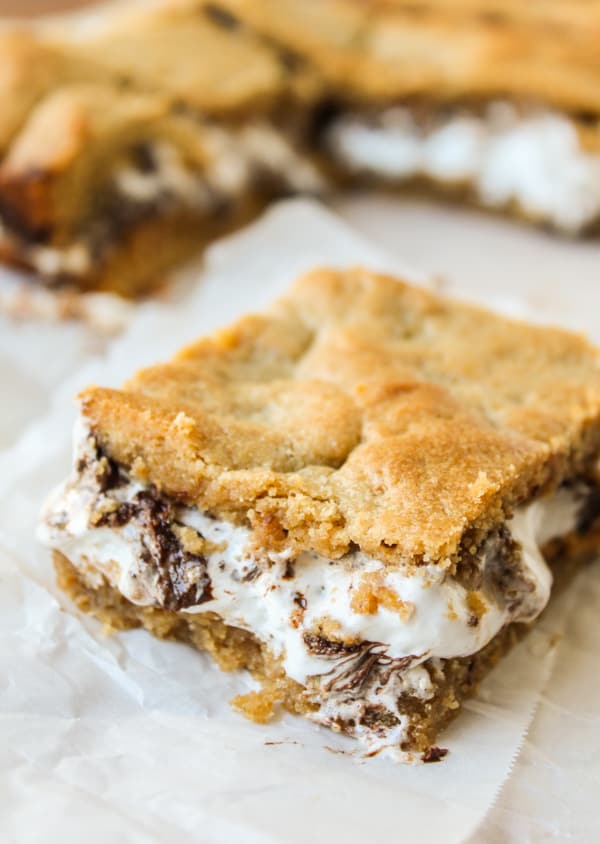 Today I was on the phone and my nephew started tugging on my arm. "Not now Eli I'm on the phone." So he whispered very quietly, "Truman is in the fireplace." Yes, my 16 month old son. Not hands-in-the-soot. WHOLE BODY in the fireplace.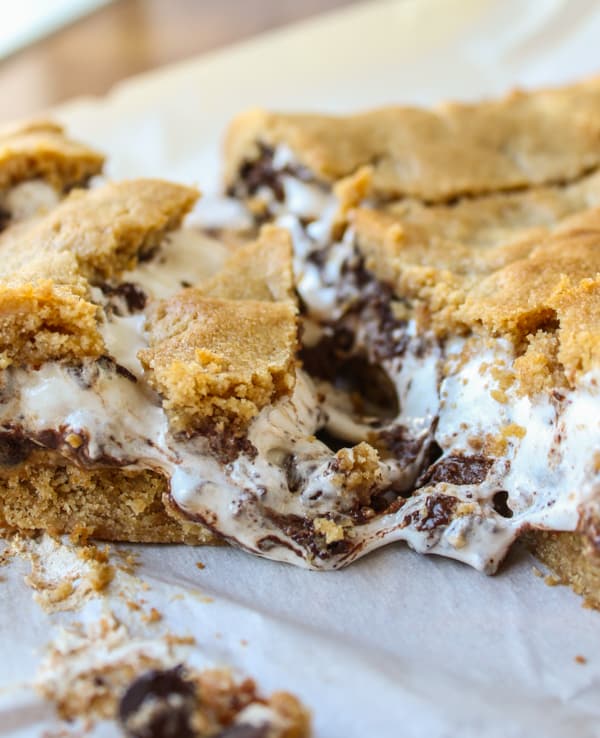 It was one of those parenting moments where you know it's going to be funny later, so I grabbed my phone to take a picture, but by then he had noticed me and was crawling out (onto our white carpet). I started to try to tempt him back inside, just for the photo, but then I saw my large, street-facing window and could just hear the 911 conversation in my head: "Yes, I'm watching her right now. She's forcing her baby into the fireplace. He's screaming! Oh, he's filthy. NOW SHE'S TAKING A PICTURE!!!"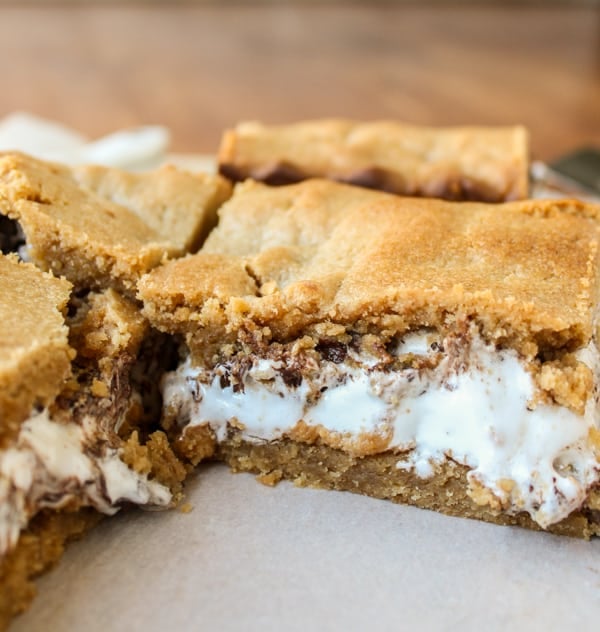 We live in such a great neighborhood, but it's true that sometimes I feel like I'm the only mom around who is not giving my kids a bath every single night, feeding them organic veggies at every meal, and getting a new government-approved carseat every other weekend. I mean don't get me wrong, if I saw a frazzled lady forcing her baby into the fireplace I would call the cops too, but only after I asked her if she was doing it for a photo.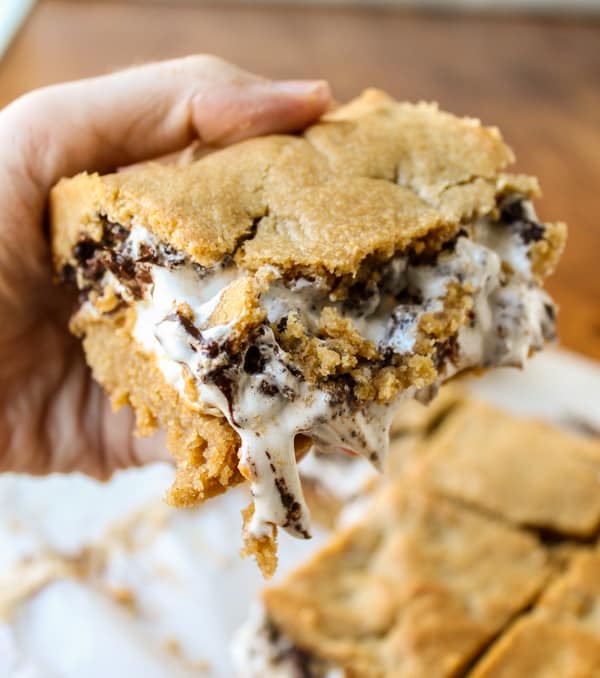 Have you guys tried making s'mores with a Reese's Peanut Butter Cup instead of regular ol' chocolate? If not you are MISSING OUT. Holy smokes it's delicious. It's still summer (please say it's still summer!) so bust out those graham crackers and try it out. Worth it.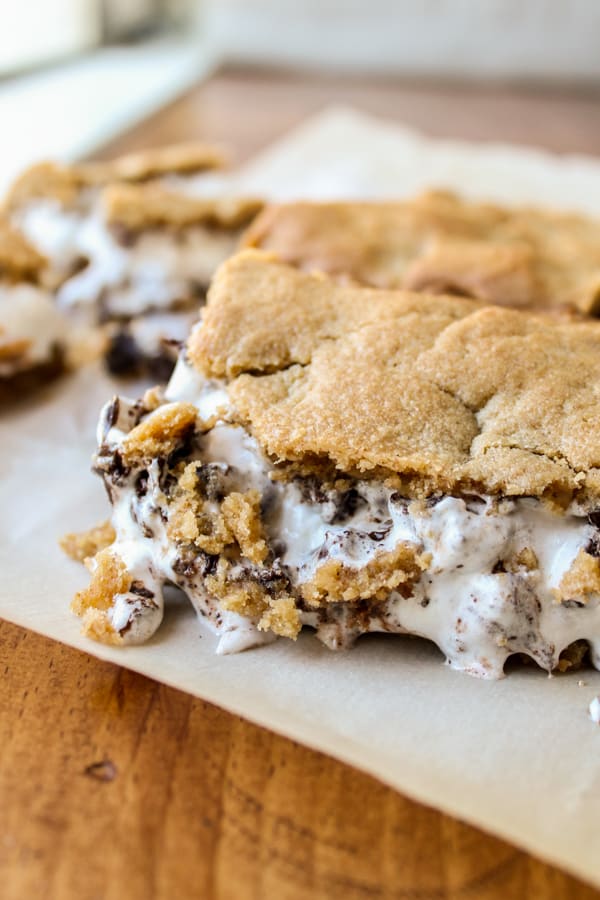 Or just make these Peanut Butter S'mores Bars. They are so rich and gooey and peanut buttery. Seriously, don't make these if you don't have any milk. Just don't. I added peanut butter to the graham dough, as well as a full layer of peanut butter beneath the marshmallow and chocolate. They are melt-in-your mouth soft. I wonder if these would be good with almond flour and almond butter, to make it gluten and peanut free? Let me know if you try it!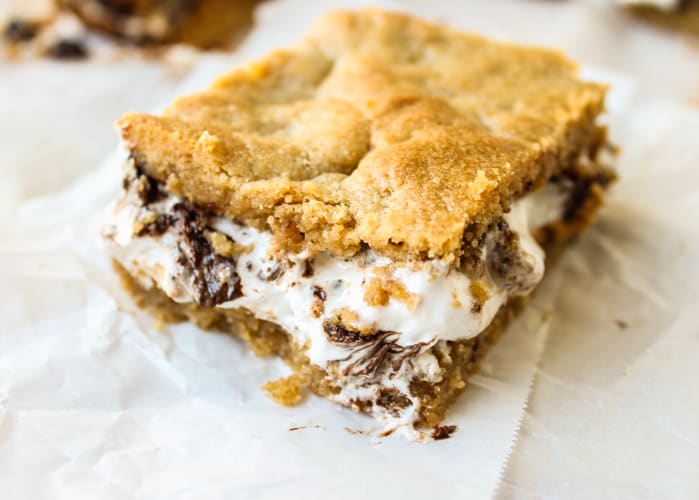 Do you guys give up? Or are you thirsty for more?
Facebook | Pinterest | Instagram | Twitter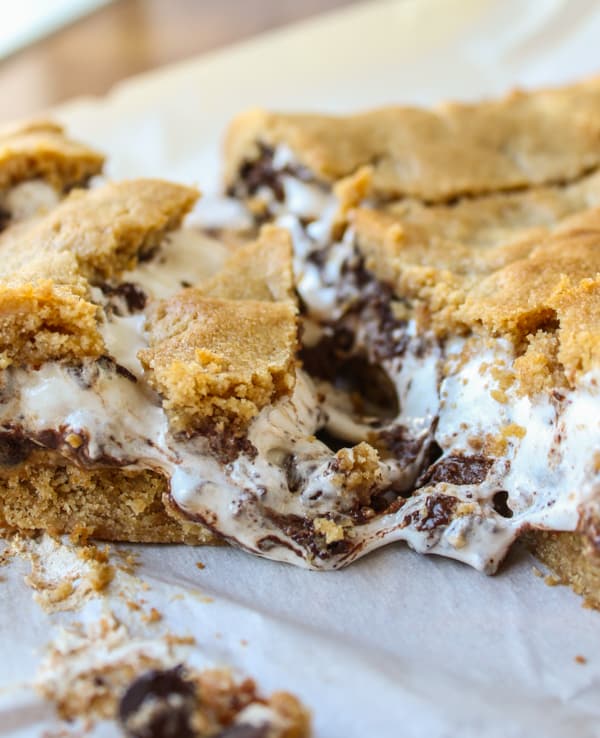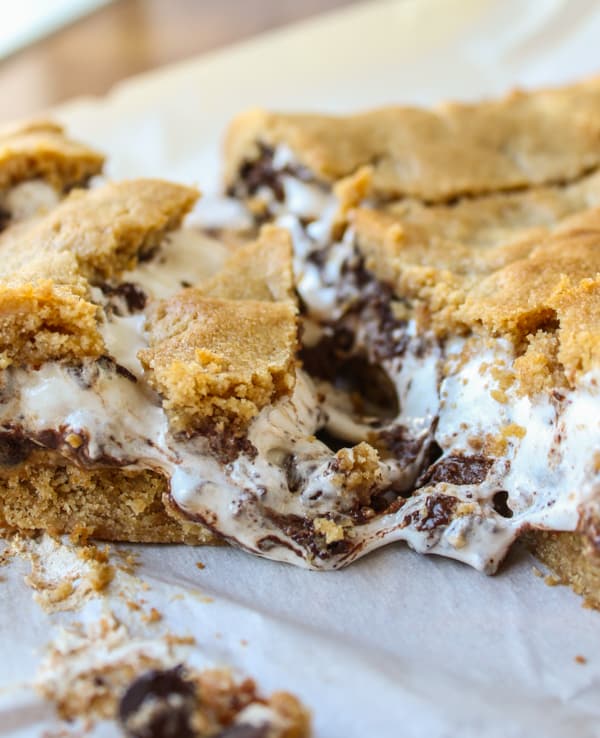 print
Did you make this recipe?
Leave a review »
Peanut Butter S'mores Bars
Makes 1 8x8 pan, serves 9
adjust servings
Ingredients
1/2

cup (1 stick) butter, room temperature

1/4

cup peanut butter

1/4

cup brown sugar

1/2

cup white sugar

1

large egg

1

teaspoon vanilla extract

1 1/3

cups all purpose flour, spooned and leveled

3/4

cup graham cracker crumbs (about 6 full sheets)

1

teaspoon baking powder

1/4

teaspoon salt

1/3

cup peanut butter

1

and 1/2 cups milk, semi-sweet, or dark chocolate chips

1 7-ounce

jar marshmallow creme
Instructions
Preheat the oven to 350 F. Grease an 8x8 or 9x9 inch pan with nonstick spray, or line with parchment paper. Set aside.
In a large bowl or stand mixer, beat together butter and 1/4 cup peanut butter. Add the brown sugar and white sugar and beat again.
Mix in the egg and vanilla; beat thoroughly.
Dump the flour on top but do not stir. Add the graham cracker crumbs without stirring. Use a small spoon to add the baking powder and salt to the top of the flour. Stir it gently with the flour. Then use the beaters to mix in the dry ingredients, only mixing until barely combined.
Spread about half of the dough into the bottom of the prepared pan. Get your finger tips wet it you have issues spreading.
Spread 1/3 cup of peanut butter over the top of the dough.
Sprinkle with all of the chocolate chips.
Remove the lid and all foil from the top of the marshmallow cream. Microwave for about 20 seconds. Watch it. When the marshmallow cream rises above the lip of the container, take it out. (Warming it makes it so much easier to spread.) Spread all of the marshmallow cream over the chocolate chips.*
Use your hands to shape pieces of the remaining dough into about 4 or 5 flattened shingles. Add them on top of the marshmallow cream, filling in gaps as you go. It doesn't need to be perfect, just try to cover the whole thing with dough. It's easier for me than spreading.
Bake at 350 F for 28-30 minutes, until lightly golden on top.
Let cool (maybe. I mean, if you want.) Cut and serve! With lots of milk. Trust me.
by The Food Charlatan

If you make this recipe,
share it on Instagram
 using the hashtag
#TheFoodCharlatan
so I can see it!
Source: Adapted from these S'mores Bars, as seen on The Girl Who Ate Everything and originally found on Lovin' From the Oven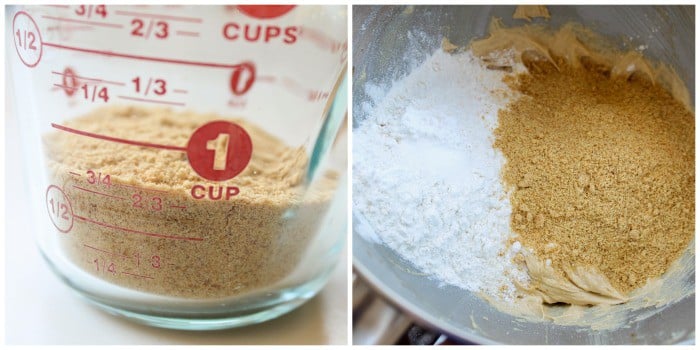 Try not to eat all the dough. It's hard, I know. Make sure you add the peanut butter layer on top of the bottom layer of dough.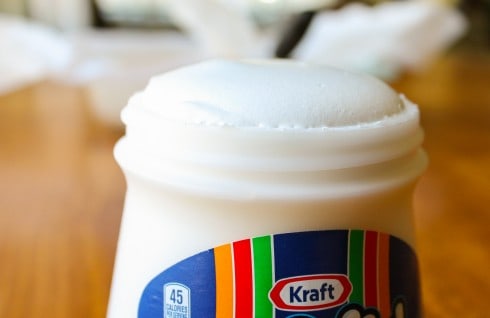 Make sure you get all the foil off the top of the marshmallow cream. Trust me, microwaving makes it so much easier to spread.

Here is my technique for getting the top crust layer on there. It doesn't need to be perfect.
Some other peanut butter recipes you might like: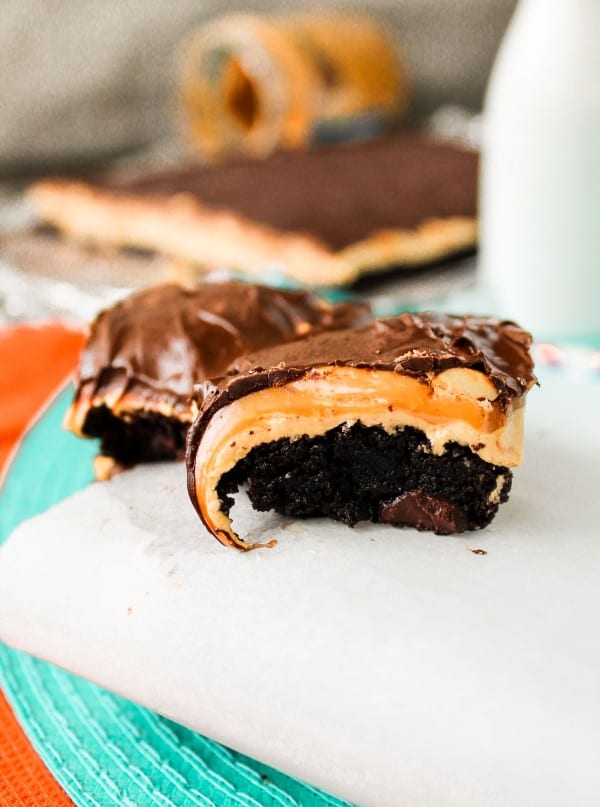 Snickers Brownie Bars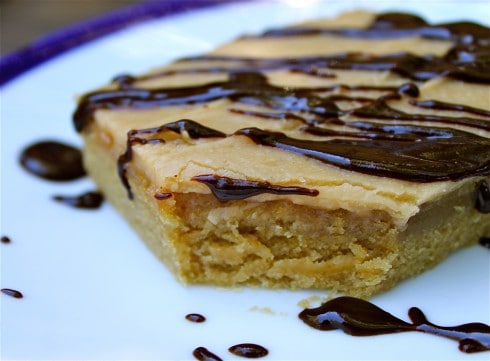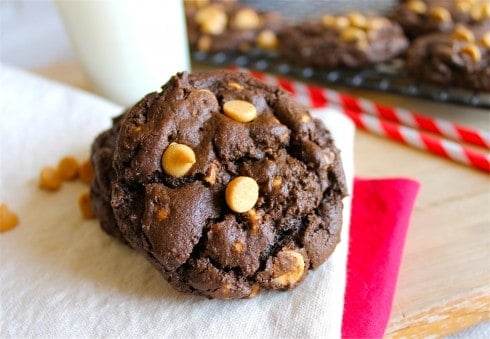 Peanut Butter Chip Chocolate Cookies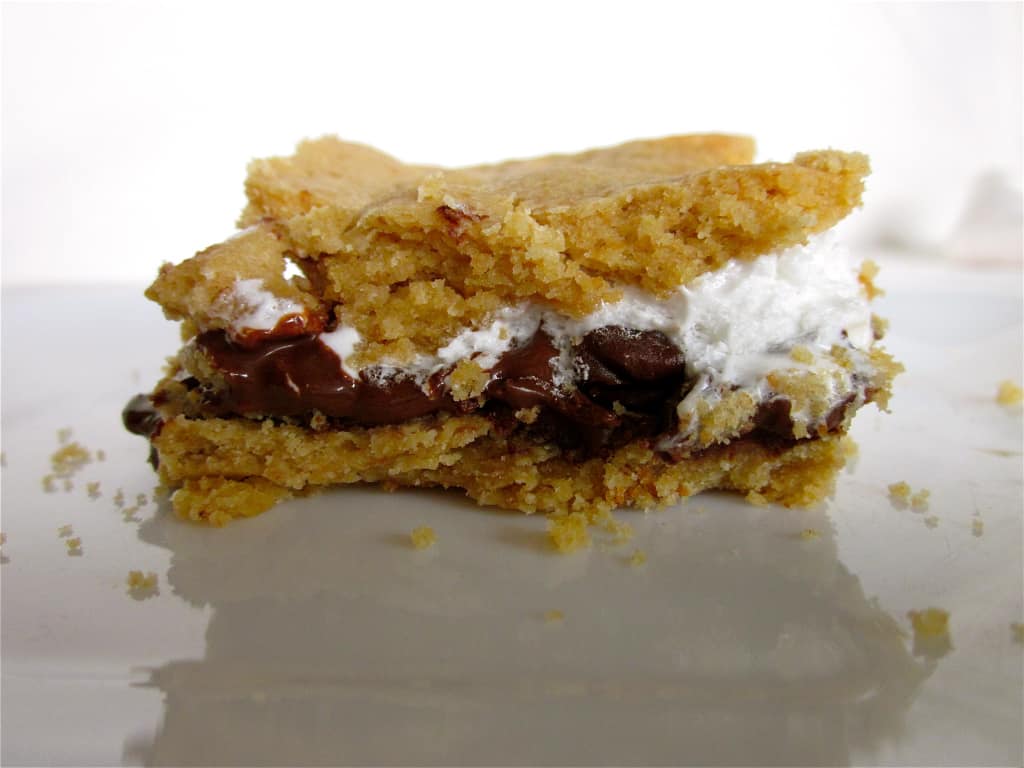 The original S'mores Bars (I swear they're better than they look :)
We are a participant in the Amazon Services LLC Associates Program, an affiliate advertising program designed to provide a means for us to earn fees by linking to Amazon.com and affiliated sites.