Fresh Strawberry Topping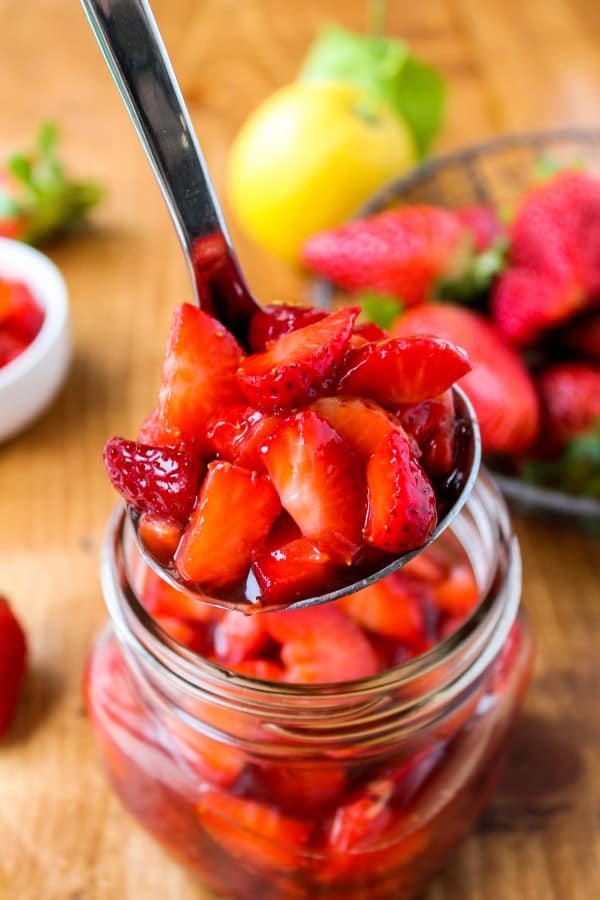 Have you ever been trapped on an airplane with a lap-baby and a 3-year-old who just wet her pants? Yeah, me neither.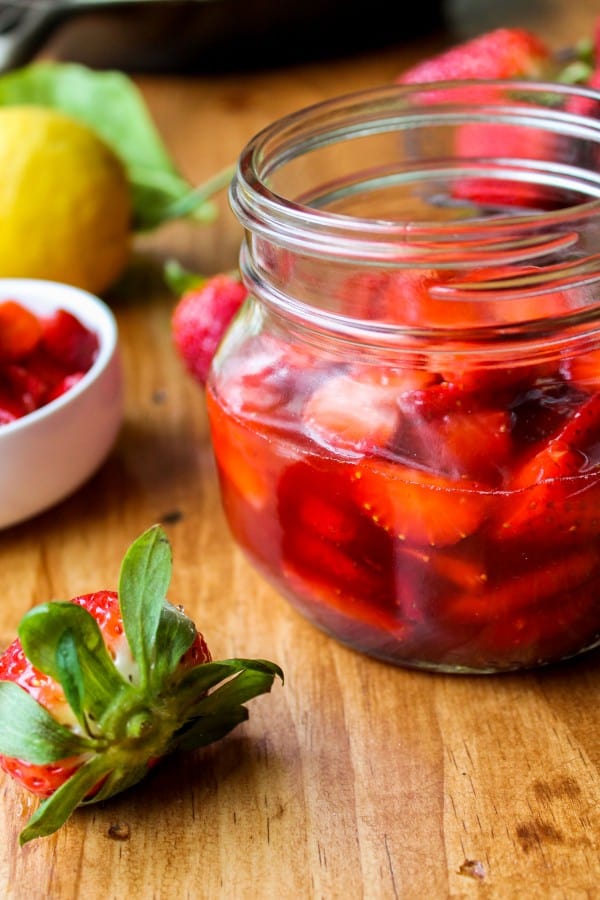 But just hypothetically, what you should NOT do is take her all the way to the front of the plane (carting aforementioned 20-pound baby) only to be told that you can't wait there, go to the back of the plane and wait, (shuffling slowly behind the drink dispensing flight attendant) where you wait some more while the ice-cup-filling flight attendant eyes your barefoot, pants-less child and says, "People always think there's water on the floor of airplane bathrooms…it's not."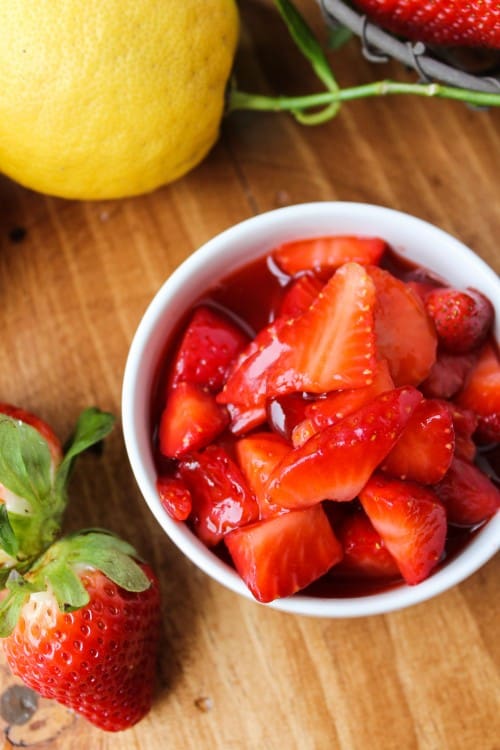 Here male flight attendant, hold my baby, I have to lift my kid onto the toilet, WHOA, that was a BUMP– "This is the captain speaking, everyone sit down, flight attendants, get in your seats, we're getting some turbulence" Except now you're standing in the spot where the flight attendants' seats fold out and you all just stare at each other with your feet spread out linebacker-like, thinking, when is this airplane going to stop earthquaking, I hope we don't die.
This is what you should NOT do when your 3-year old wets herself on a full-capacity commercial jet. When I figure out what exactly it is that you ARE supposed to do, I will call you on the phone to tell you because this is really important information to have. Really important.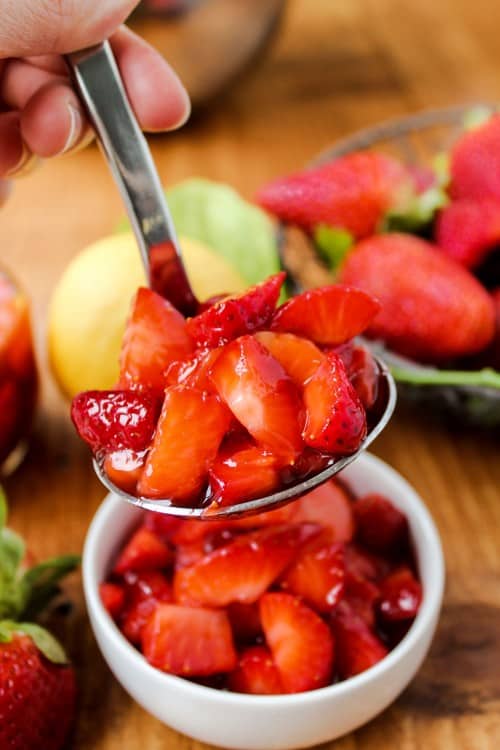 The lady sitting next to us was super nice. She offered Charlotte a banana and even helped her put on her still-damp shoes when the plane landed. Bless you, Josie. You saved my children from being abandoned on an airplane.
I'm glad to be home. I had so much fun visiting my sister but sometimes there's just nothing like a routine. You know?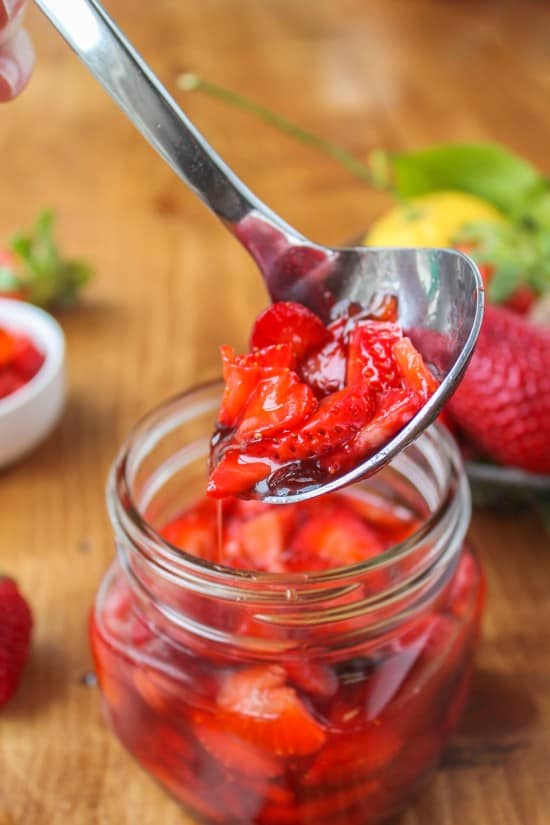 And can I just say, there's nothing like this Strawberry sauce. It's not really a sauce, per se, because the strawberries are not cooked, but it works as a sauce. It's perfect for topping anything from ice cream, to cheesecake, to waffles, to your naked spoon. I really love that the strawberries are not mushy. They remain firm yet tender. The fresh lemon juice adds the perfect brightness, so don't skip it.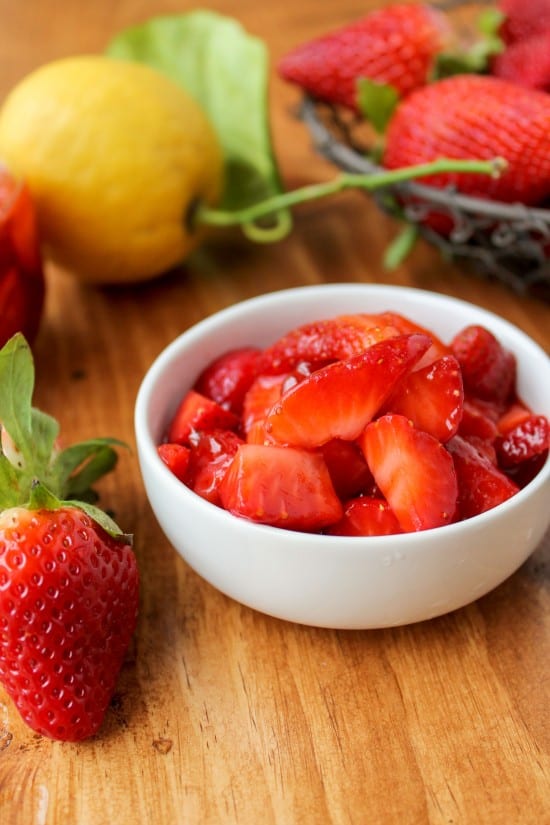 Stay tuned for my post later this week which will use this Fresh Strawberry Topping. It involves pancakes but is not what you think…any guesses?
Do you guys give up? Or are you thirsty for more?
Facebook | Pinterest | Instagram | Twitter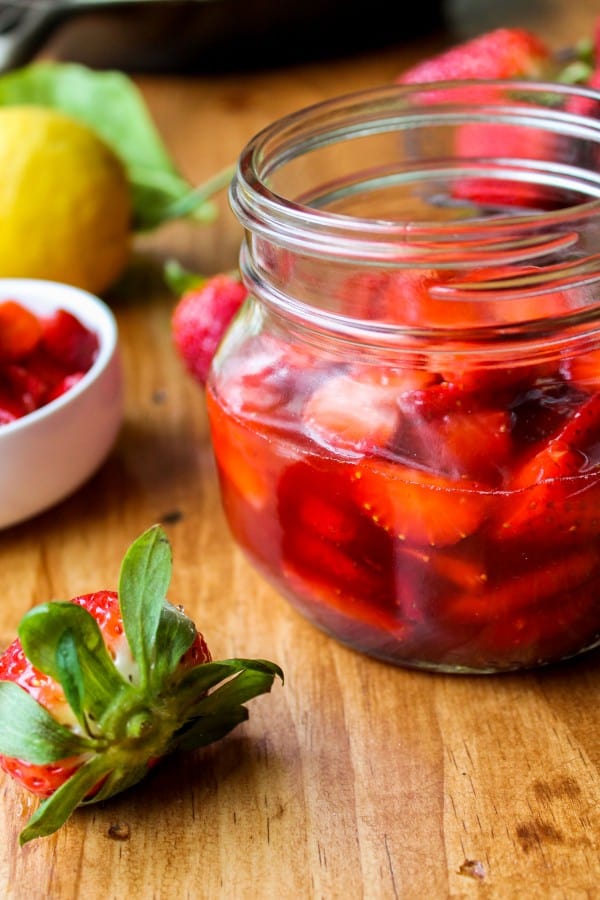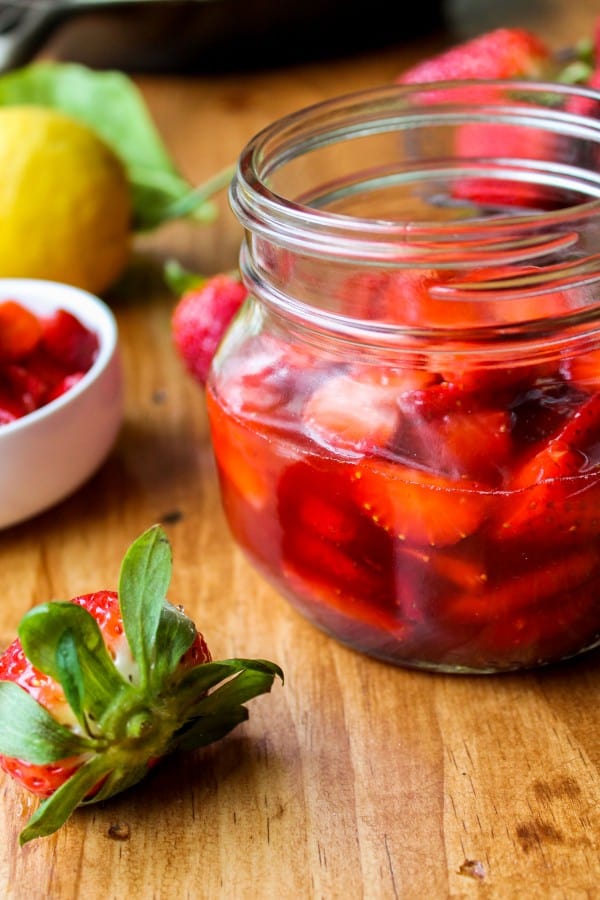 print
Did you make this recipe?
Leave a review »
Fresh Strawberry Topping
Makes about 3 cups
adjust servings
Ingredients
1 1/4

pounds strawberries (4 cups)

1/4

cup sugar

pinch of salt

1/2

cup strawberry jam (I used Smuckers)

1

tablespoon fresh lemon juice
Instructions
Hull the strawberries and slice or chop them (however big or small you want). Add them to a medium bowl and toss them with 1/4 cup sugar and a dash or two of salt. Stir together, then set aside for 30 minutes.
In a small saucepan, heat the strawberry jam over medium heat for abut 3 minutes, until no longer foamy.
Add the jam and the lemon juice to the strawberries and stir together. Let the mixture cool for about an hour. It will thicken as it cools. Serve room temperature or chilled.
by The Food Charlatan

If you make this recipe,
share it on Instagram
 using the hashtag
#TheFoodCharlatan
so I can see it!
Source: the geniuses at Cook's Illustrated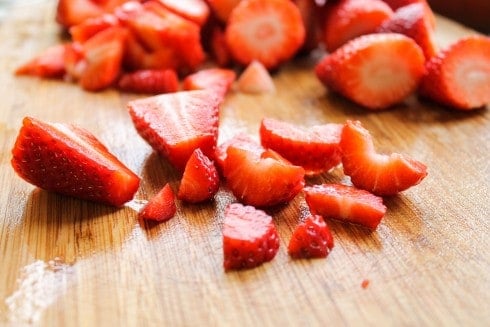 You can chop the strawberries to whatever size you want.
Grab some jam. I used seedless.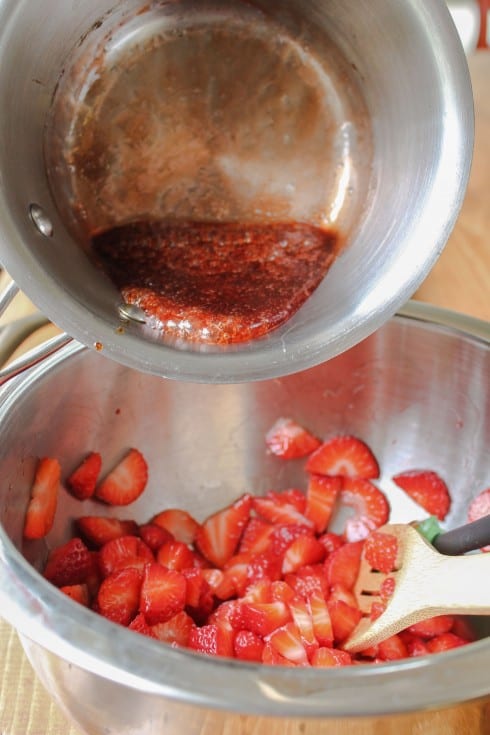 Cook it up and pour it in.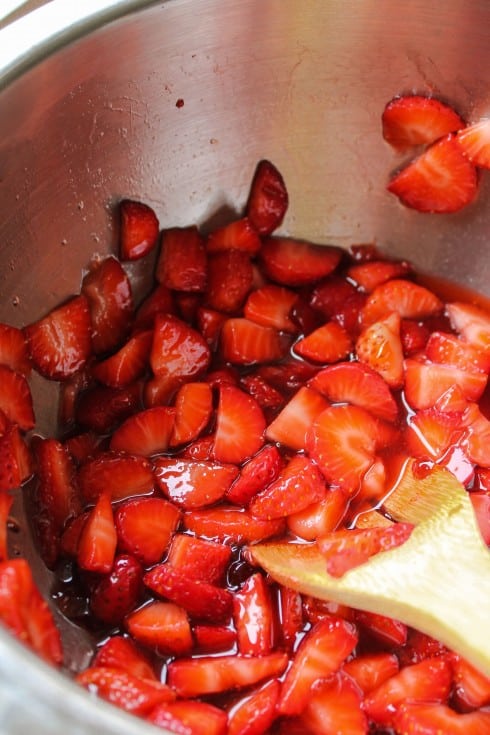 And it will get nice and syrupy.  Mm-mm.
We are a participant in the Amazon Services LLC Associates Program, an affiliate advertising program designed to provide a means for us to earn fees by linking to Amazon.com and affiliated sites.