Overnight Bacon and Asparagus Breakfast Casserole
An overnight egg casserole stuffed with bacon, asparagus, tomatoes, and hashbrowns. Easy to throw together ahead of time and impress the socks off your guests. It's easy to make this vegetarian if you want by leaving out the bacon. I mean. If you want. I guess.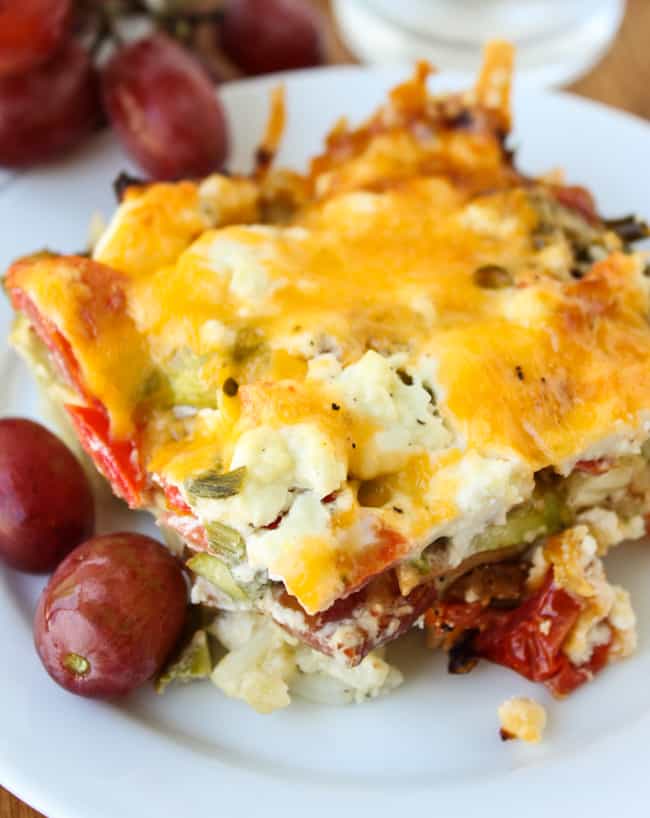 Charlotte: "Mom, your phone is wet."
Me: "WHAT! Why is my phone wet??
"Oh, Truman dipped it in the toilet."
"He WHAT?"
"He just dipped it Mom, it's no big deal."
"Char, you need to put the lid down after you go."
Eric, from the other room: "She was using it."
"WHAT?? Is my phone covered in pee??"
Char, nonchalantly: "Yup."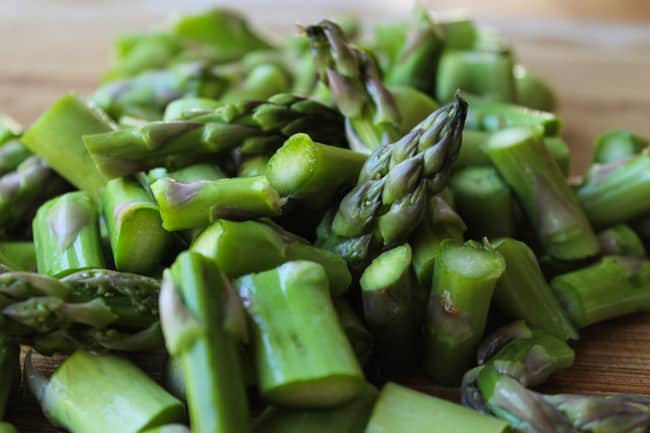 In other news, Eric ran a marathon last week. NBD: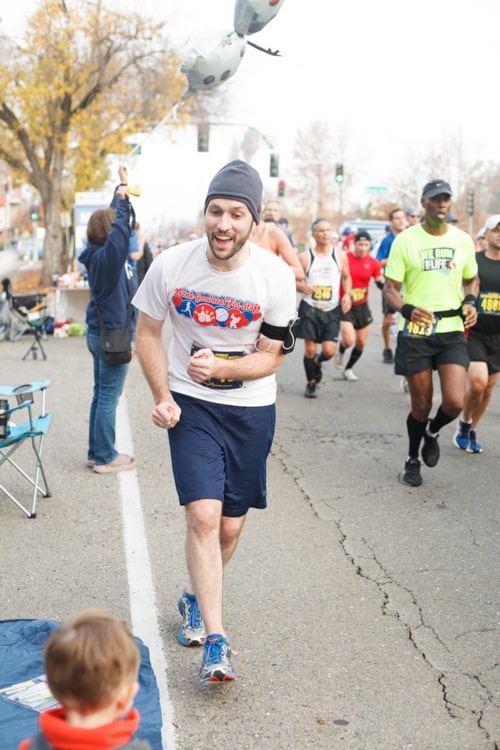 Photo cred: Sarah from Snixy Kitchen
Doesn't he look so jolly? This is at the halfway point. If I had just run 14 miles there is no way in heck my face would look even remotely chipper. I think my face would look more like that of a wounded cow's…Or maybe a walrus in labor? I don't know. It will never happen. Major props, Eric.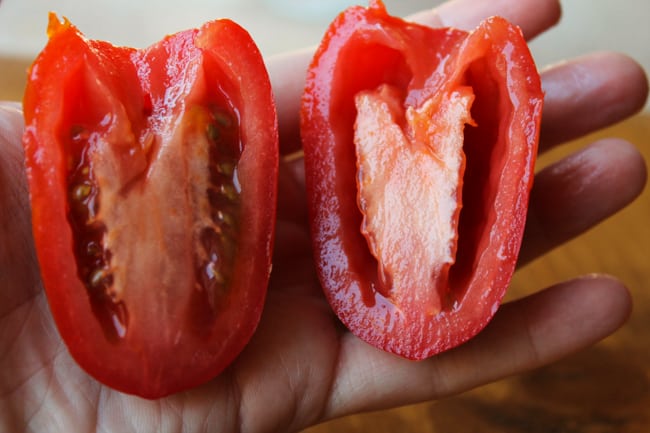 My brother Nathan ran this race too (And Sarah's husband Lucas! Party!) We all had brunch after the race with my family, and I served this breakfast casserole. Nathan told me after eating it how much he loved it: "I gotta tell you Karen, when you described this to me a couple days ago I thought it sounded kinda gross. But this stuff is amazing." And he proceeded to take half the leftovers home with him.
Calling my food gross: -1. Calling my food amazing: +1. Taking leftovers: +1. Total score: +1. You're safe Nate.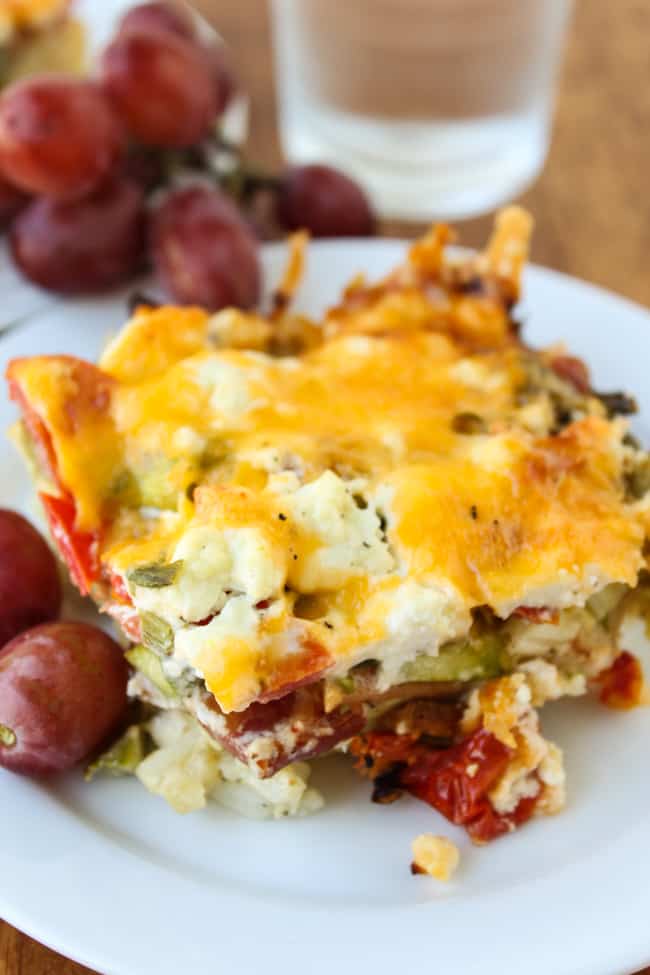 This recipe is a mashup of my 2 favorite savory breakfast dishes: Asparagus, Tomato, and Goat Cheese Quiche and Easy Breakfast Casserole with Potatoes and Ham. Both of them are crazy delicious by themselves, so I decided to throw them together. This would be a great breakfast for Christmas morning! It can be assembled the night before, or cooked right away. So you can plan ahead…or not. NICE.


print
Did you make this recipe?
Leave a review »
Overnight Bacon and Asparagus Breakfast Casserole
Serves 8-10
adjust servings
Ingredients
30

ounce bag frozen shredded hash browns, thawed*

1

stick (half cup) salted butter, melted

8

strips bacon, chopped

1

bunch asparagus, chopped

1 1/2

cups fresh tomatoes, chopped (I used 4 romas)

1

bunch green onions, chopped

8

ounces cold goat cheese, crumbled with a fork

7

eggs

1

and 1/2 cup half and half

1

and 1/4 teaspoon salt

1/2

teaspoon seasoned salt

1/2

teaspoon pepper

2

cups cheddar cheese, shredded
Instructions
Preheat the oven to 400 degrees F. Grease a 9x13 inch casserole dish.
Spread the potatoes in the dish and pour the melted butter evenly over the top.
Bake at 400 for 25 minutes, or until the potatoes are getting brown on the edges.
Remove from the oven and set aside to cool while you assemble everything else. Lower the oven temperature to 350.
While the potatoes bake, cook the bacon in a frying pan until crispy. Remove to a paper-towel lined plate. Drain all but 1 teaspoon of the bacon grease.
Snap off the woody ends of the asparagus, discard, and chop the rest into bite-size pieces. Add the chopped asparagus to the bacon grease. Cook and stir for about 5 minutes, until the asparagus is fork tender. Don't let it get mushy.
While the asparagus cooks, chop the tomatoes and green onions.
Layer the asparagus, tomatoes, green onions, and crumbled bacon on top of the potatoes.
Layer on the crumbled goat cheese.
In a mixing bowl, whisk together the eggs, half and half, salt, seasoned salt, pepper. Whisk for at least 1 minute.
Pour the egg mixture evenly over the dish. Sprinkle with 2 cups of cheddar cheese. At this point, you can cover the casserole tightly and refrigerate for up to 24 hours.
Bake at 350 for about 40-45 minutes, or until the cheese starts getting brown on top.
by The Food Charlatan

If you make this recipe,
share it on Instagram
 using the hashtag
#TheFoodCharlatan
so I can see it!
This recipe is a mashup of the 2 following recipes, my favorite savory breakfast dishes:
Asparagus, Tomato, and Goat Cheese Quiche: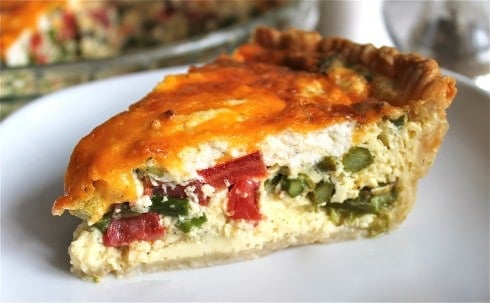 Easy Breakfast Casserole with Potatoes and Ham: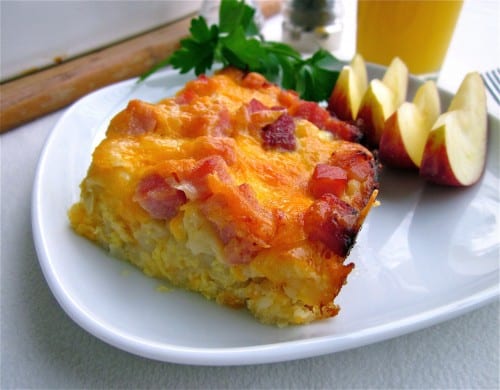 Other breakfast ideas!
Egg Benedict Casserole (Overnight):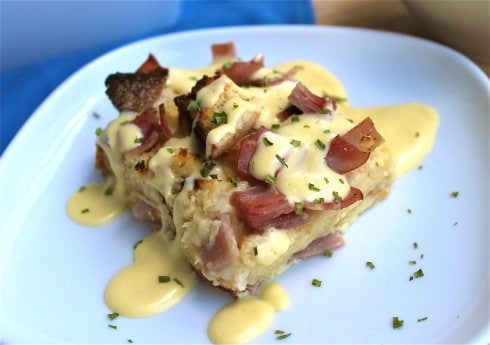 Savory Parmesan French Toast with Hollandaise Sauce: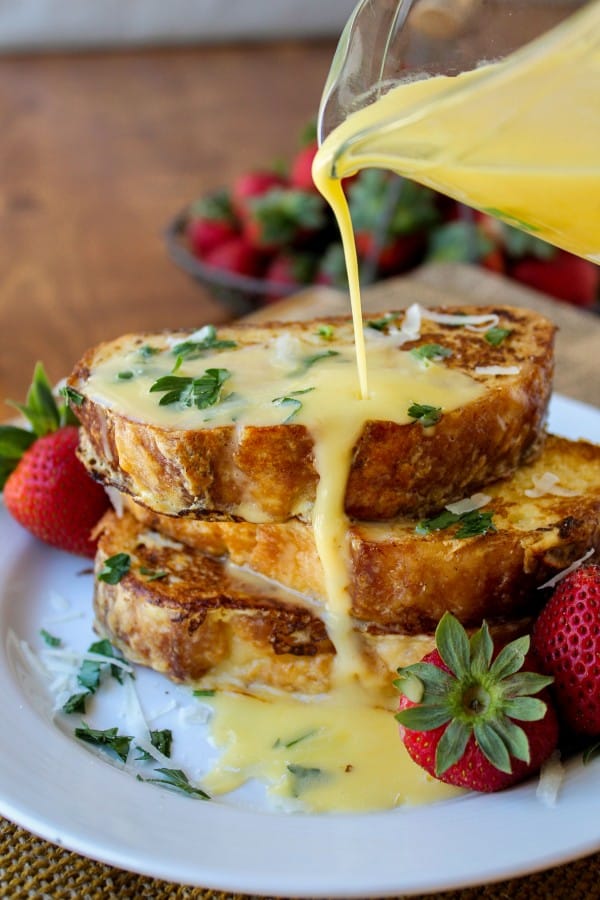 Breakfast from other fab bloggers:
Farmer's Market Overnight Breakfast Egg Casserole from Two Healthy Kitchens
Crock-Pot Tator Tot Egg Bake from Julie's Eats and Treats
Overnight Breakfast Strata from Chef in Training
We are a participant in the Amazon Services LLC Associates Program, an affiliate advertising program designed to provide a means for us to earn fees by linking to Amazon.com and affiliated sites.