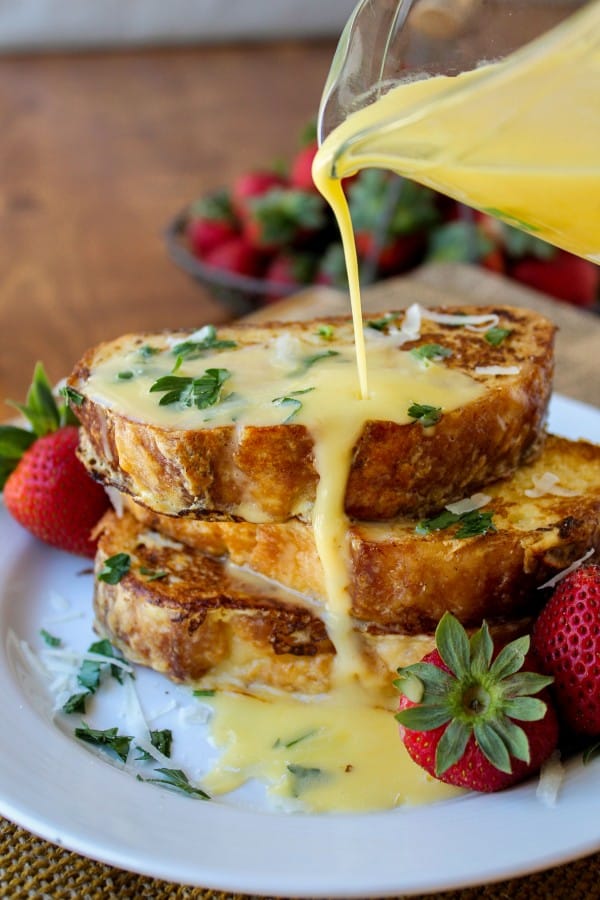 Eric was busy doing something on his phone earlier today and I asked him what he was up to. He said it wasn't important. I asked again. He said just a stupid game. What game? Shuffle Puck Cantina. How do you play? Well it's like air hockey except you're playing against these aliens and it's like a spoof of the Star Wars–
"I'm soooooo booooooorrrrreeeeed."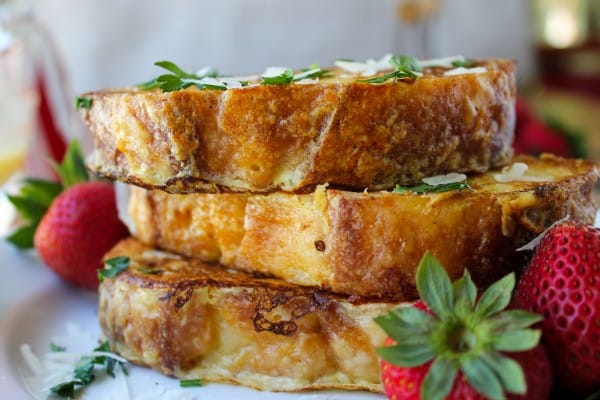 I wonder if this is how he feels when he looks over my shoulder and I'm on Pinterest.
Do you like playing games on your phone? I know there are a million popular ones out there. I just can't get into it. You should see me try to play. It's just a series of deaths. For any video game, actually. Watching me play Mario Kart kind of feels like banging your head against the wall. I fall off the cliff again, and again, and again. Thank goodness for Instagram! (My time suck of choice. No cliffs.)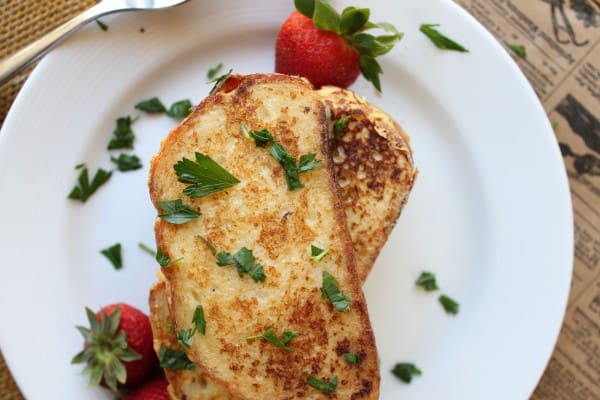 Well…Savory Parmesan French Toast with Hollandaise Sauce. Hear me out you guys!!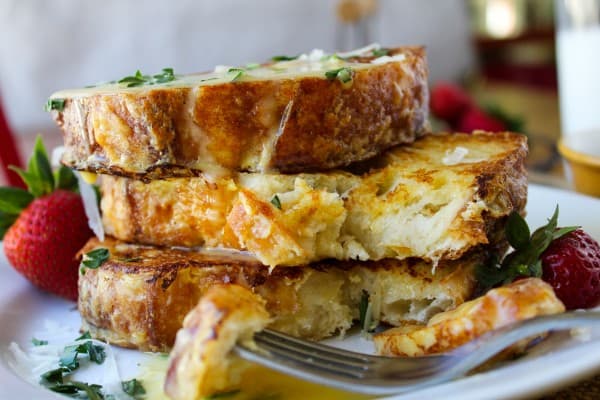 I know French Toast is supposed to be cinnamony and buttery and all maple-syrupy (see my last post for an example: Cream Cheese French Toast Casserole) but this Parmesan version is giving the sweet stuff a run for it's money. It is sooooo good. You know how when you go out to breakfast you have to decide between sweet and savory? (Or stuffing yourself with both?) Well the savory French Toast has got your back. It really is French Toast: thick bread, egg wash, fried in butter. The original recipe stopped here, but what's the point of French Toast without syrup? There isn't one. Hollandaise sauce to the rescue!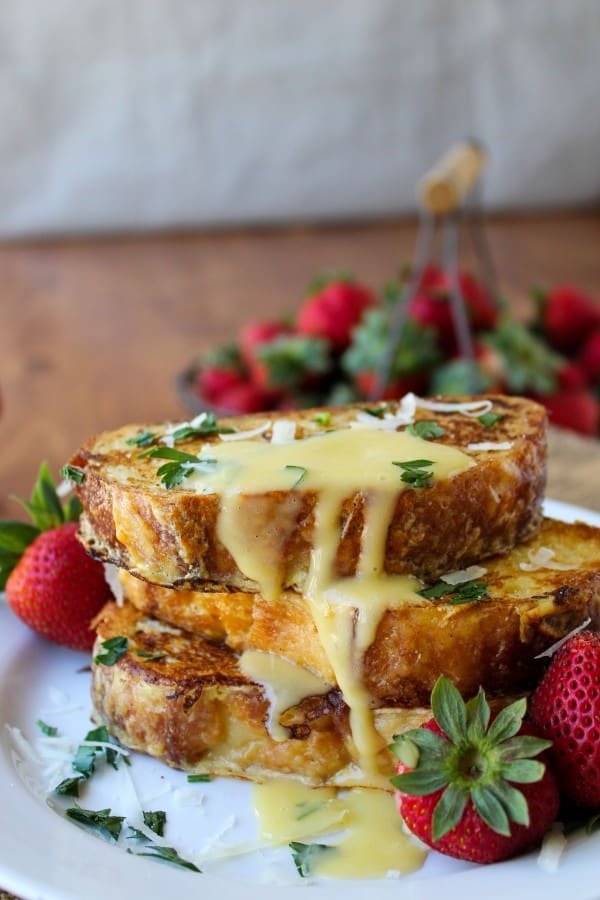 A note on this hollandaise sauce: it's a blender recipe. I love it and use it all the time because it literally takes 5 minutes to make. But if you really feel like bustin' out your double boiler for a "real" recipe, be my guest. If your dad is a savory breakfast fan, make this for him on Father's Day!

Savory Parmesan French Toast with Hollandaise Sauce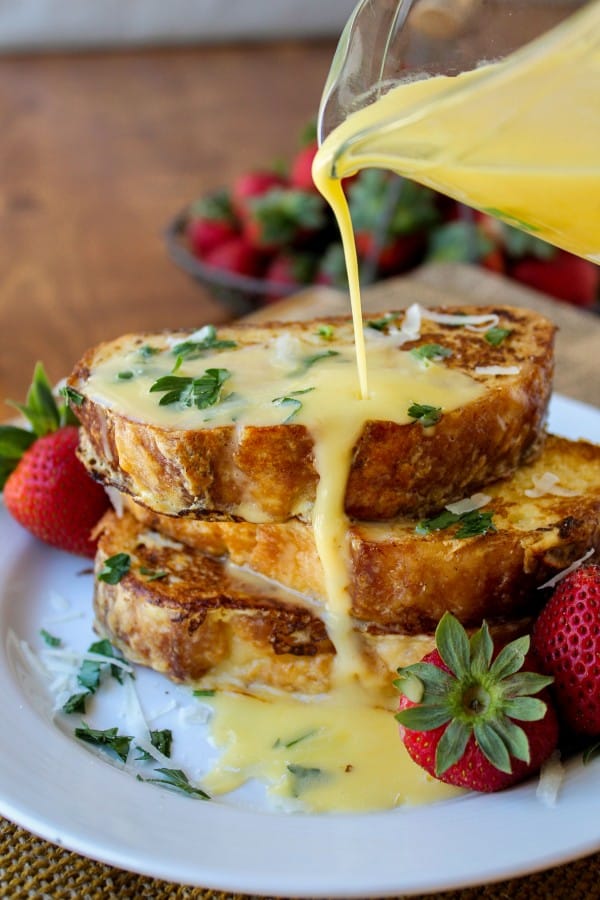 This Savory Parmesan French Toast with Hollandaise sauce will blow your mind. Same texture as French toast, but with cheese and sauce instead of syrup.
Ingredients
For the French toast:
4

large

eggs

1/2

cup

whole milk

1/2

cup

heavy cream

1/2

cup

Parmesan

,

grated, plus more for garnish

1/2

teaspoon

dry mustard powder

1/2

teaspoon

hot sauce

,

I used Tabasco

black pepper

,

freshly ground, to taste

1

clove

garlic

,

crushed with the side of a knife

dash

salt

1

loaf

bread

,

good quality, cut 1-inch thick

butter

,

for frying

flat-leaf parsley

,

or chives for garnish
For the hollandaise:
3

egg yolks

1/4

teaspoon

dijon mustard

1

tablespoon

lemon juice

1

dash

hot sauce

1/2

cup

butter
Instructions
For the French Toast:
Turn your oven on to the warm setting (170 F). Set a cooling rack over a cookie sheet and place in the oven.

Add eggs, milk, cream, Parmesan, mustard powder, hot sauce, black pepper, garlic, and salt to a blender. Blend until smooth. Pour liquid into a pie plate or an 8×8 dish. Rinse out your blender immediately.

Slice the bread into 1-inch pieces.

Heat a griddle or a large skillet to medium-high heat.

Soak the bread in the egg mixture 1-2 minutes each side.

Grease the griddle or pan with butter.

Fry each piece of bread for about 2-3 minutes, until golden brown. Flip and cook the other side for 1-2 minutes or until browned. Continue with all the bread pieces, replenishing butter as necessary.

Place each finished piece of toast on the cooling rack in the oven.
For the hollandaise:
In the rinsed-out blender, add the egg yolks, dijon mustard, lemon juice, and hot sauce. Blend until smooth. (It's not very much liquid, so I tipped the blender on it's side to help it blend up. See photos.)

In a small bowl in the microwave, melt butter completely so that it's very hot.

Open the top spout of your blender. Turn the blender on low and pour in the hot butter. It should thicken immediately.

Immediately pour the sauce into a measuring cup or bowl. Place the bowl into another bowl of very hot water. (You want to keep the sauce hot, but if you microwave it, it will curdle.)

Pour the sauce over each serving. Whisk the sauce if it starts to separate.

Top each French toast with fresh herbs and extra Parmesan.
Notes
Source: French Toast recipe slightly changed from The Kitchn, hollandaise from Allrecipes.
Nutrition
Serving:
1
slice
|
Calories:
633
kcal
|
Carbohydrates:
59
g
|
Protein:
22
g
|
Fat:
35
g
|
Saturated Fat:
19
g
|
Polyunsaturated Fat:
4
g
|
Monounsaturated Fat:
10
g
|
Trans Fat:
1
g
|
Cholesterol:
292
mg
|
Sodium:
935
mg
|
Potassium:
322
mg
|
Fiber:
5
g
|
Sugar:
8
g
|
Vitamin A:
1168
IU
|
Vitamin C:
2
mg
|
Calcium:
327
mg
|
Iron:
5
mg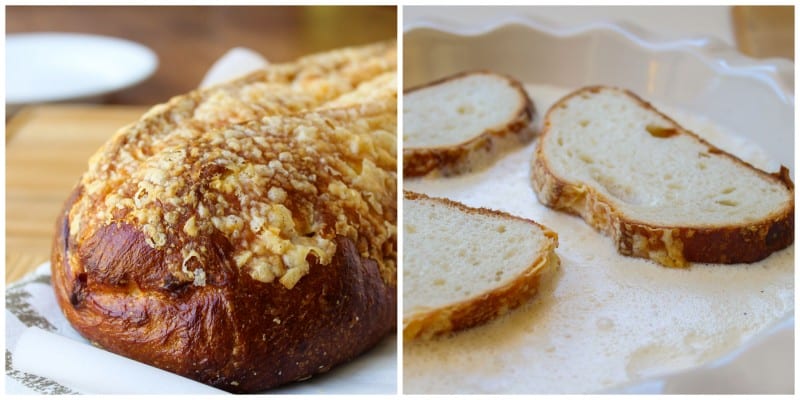 Don't skimp on the bread; I used this already-awesome cheese bread. It's artisan, but a regular loaf will work fine too.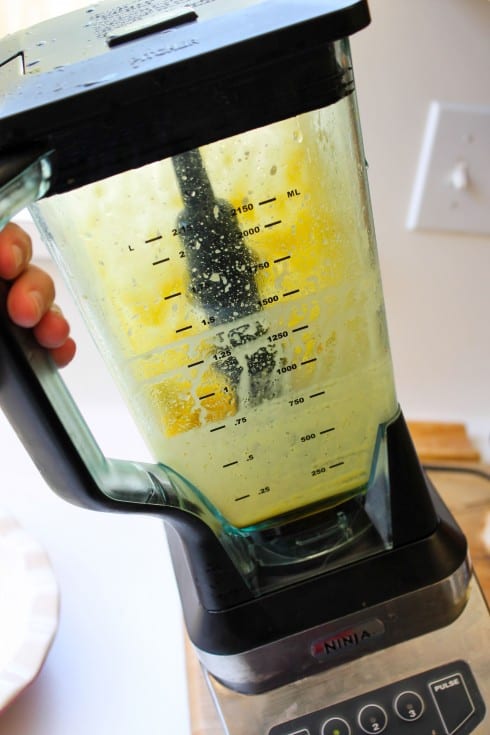 When you make the hollandaise sauce, tilt the blender a little bit. There's not that much liquid in there and this helps it blend up.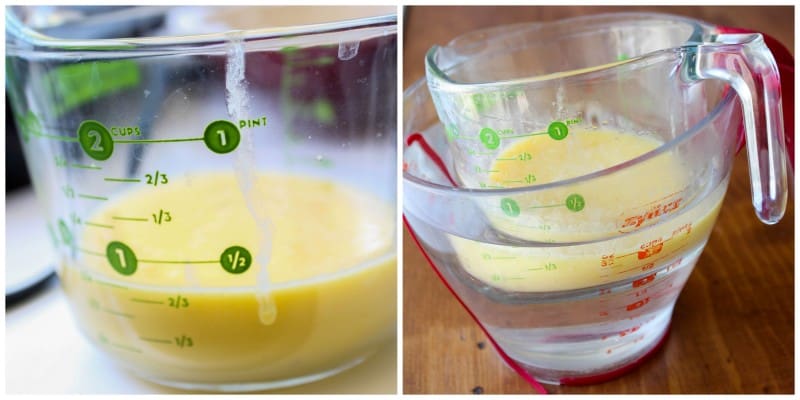 Keep your sauce in a bowl of hot water. If you microwave it, it will curdle. This is the method you should use after leftovers have been refrigerated as well.