These Raspberry Pull-Apart Buns are shaped like a flower, and have just as many calories! Just kidding, who eats flowers, gross. But it's a really delicious breakfast option for Mother's Day! The coconut glaze totally makes it!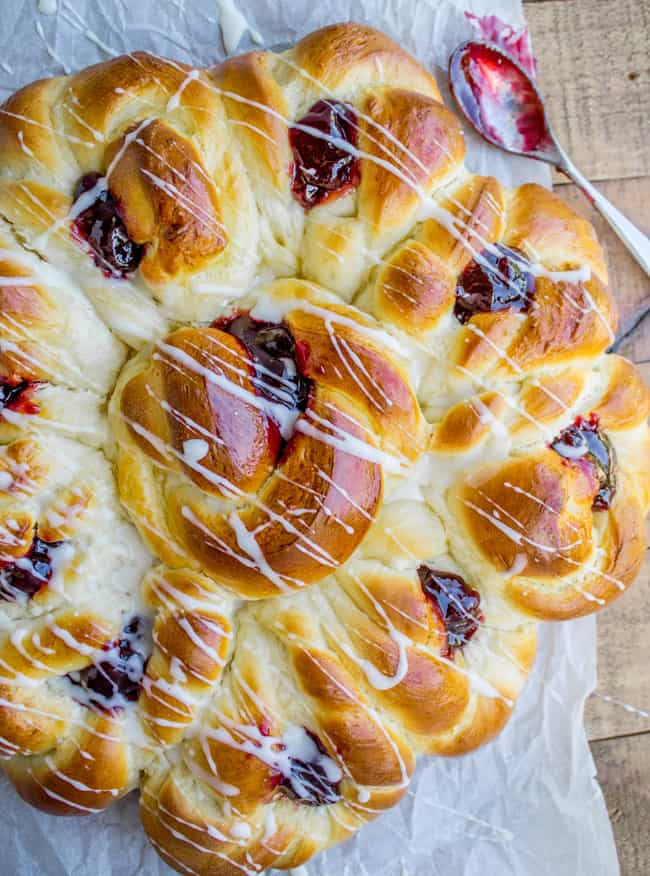 We recently bought a fridge that has a water dispenser on the front, and it's awesome, but I keep overflowing my cups and getting water all over the floor. Like, really, Karen? You can't even bother keeping an eye on your glass to make sure it doesn't overflow? I'm always trying to multitask in the kitchen but this one backfired on me.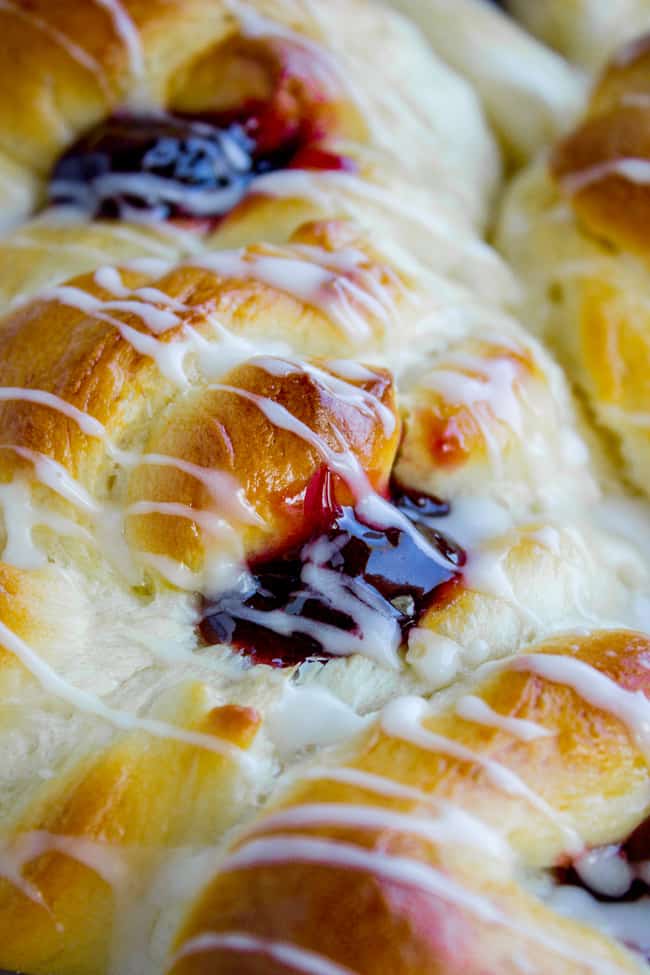 I think it has a lot to do with my pitiful attention span. You expect me to watch a cup fill with water for 15 WHOLE SECONDS?? (I should time it. I bet it's not even that long.) Another contributing factor is that lately I keep grabbing half-pint mason jars from the cupboard when I get thirsty. They're just so cute and tiny. (Heeere's your sign Karen.)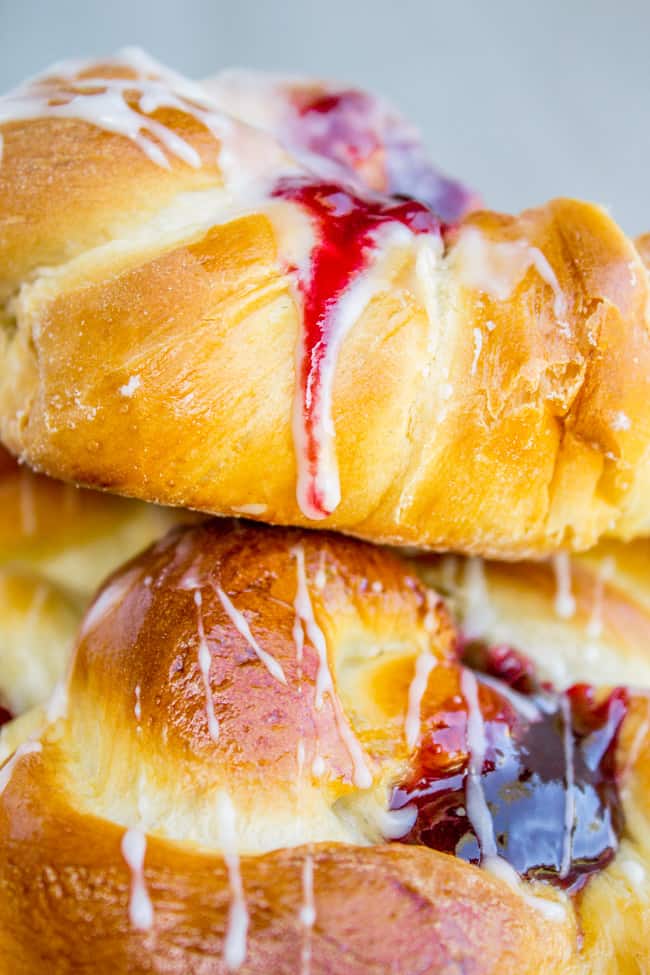 Do NOT use a tiny half-pint mason jar for the glass you need as a place-holder when shaping this bread. Go for a normal sized glass. Wait, come back, don't be intimidated! This bread is not hard, I promise. It does take some time, but any decent bun recipe does. And this one is so pretty!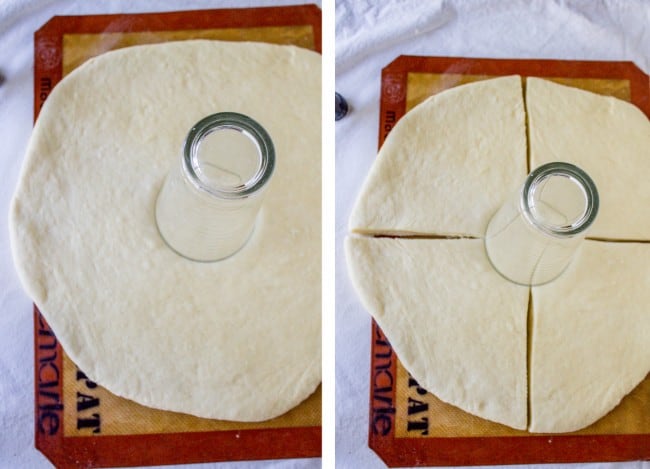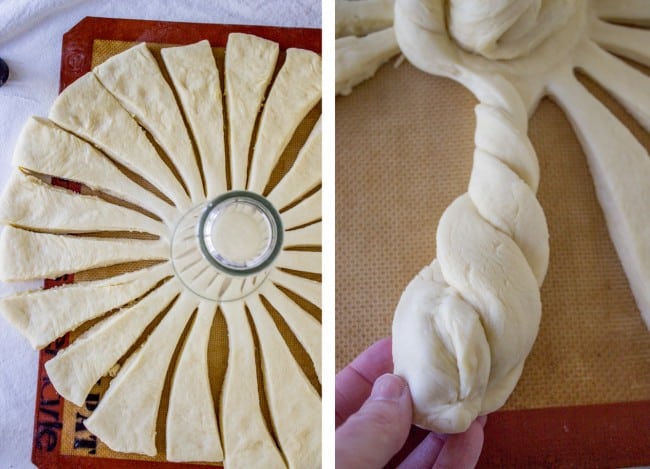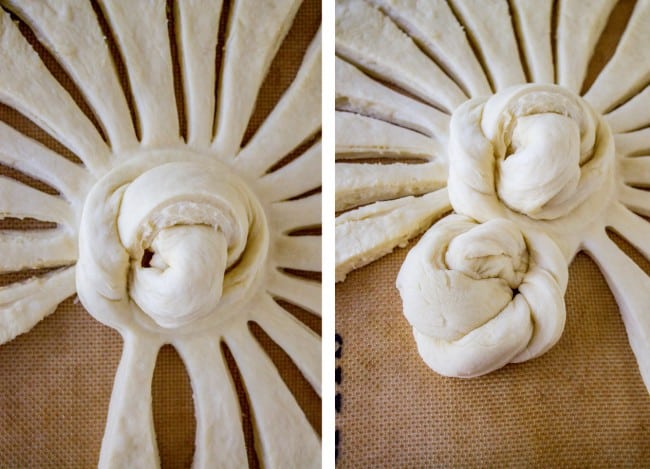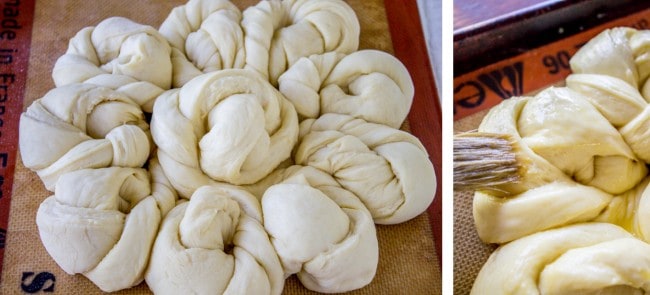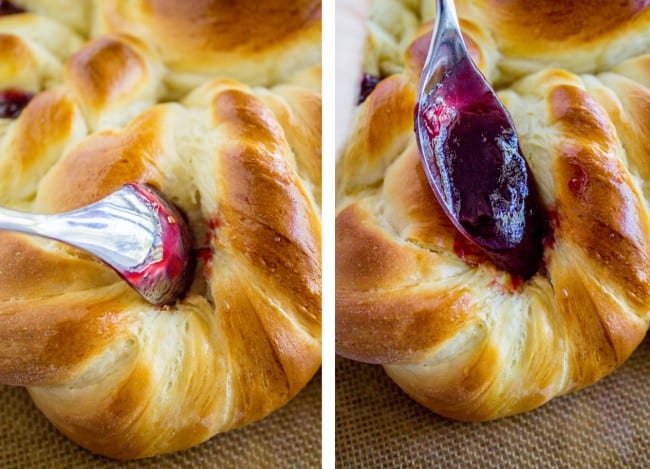 Have you ever made a sweet bread recipe where you use a cup in the middle like the photo up there? I first heard of it a few Christmases ago when my mother-in-law Kris decided to make star bread like this one for Christmas morning. She baked it, then set it on a serving dish and stuck it in the (turned off) oven to keep warm. But I guess it was still too hot, because the glass shattered, ruining the bread as well as the Easy Breakfast Casserole with Potatoes and Ham that was being kept warm on the rack below. Ah, memories!!
The bread is pretty enough by itself, but then after it's baked you poke little holes in it, fill them with coconut-flavored raspberry jam, and then drizzle it with coconut glaze. It is so fun and perfect for spring!
The drizzle is made with So Delicious Coconutmilk Coffee Creamer, who I'm partnering with for today's post. I don't drink coffee, but anyone who thinks coffee creamer is just for coffee is misinformed. At my first Real Job as an administrative assistant, there was free coffee and hot chocolate packets in the break room. All the time. To a recently starving student, this was like a jackpot of free sugary drinks. I used to add tons of those tiny creamer packets to make my hot chocolate next level.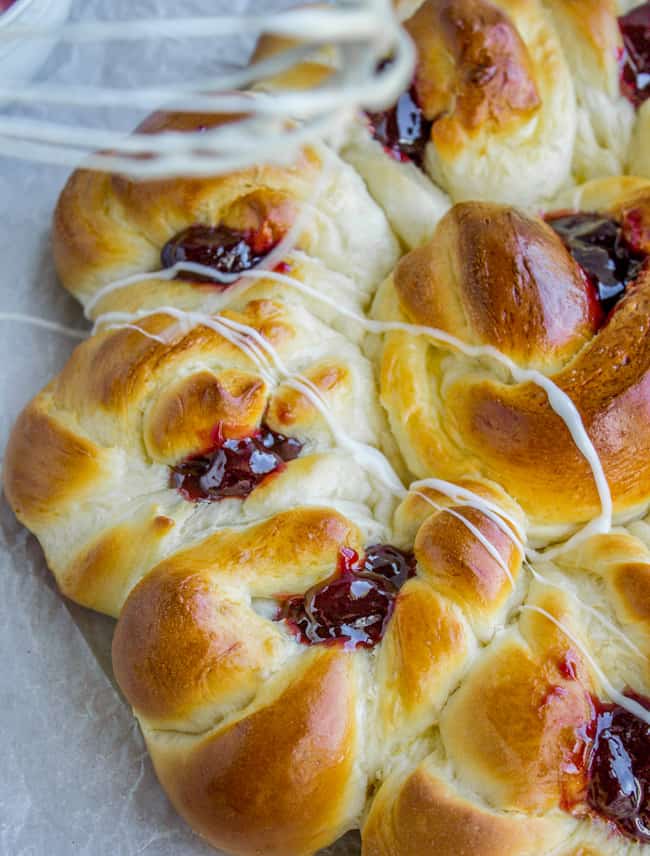 I used the French Vanilla flavor for the glaze. So good! I could drink the stuff. I found it at Target. They have an awesome deal going now through May 6 — if you use the Cartwheel app at Target, (I love the Cartwheel app!!) you can save 15% on So Delicious creamers, as well as Silk creamers. Woohoo!
Happy Mother's Day to all you awesome moms out there!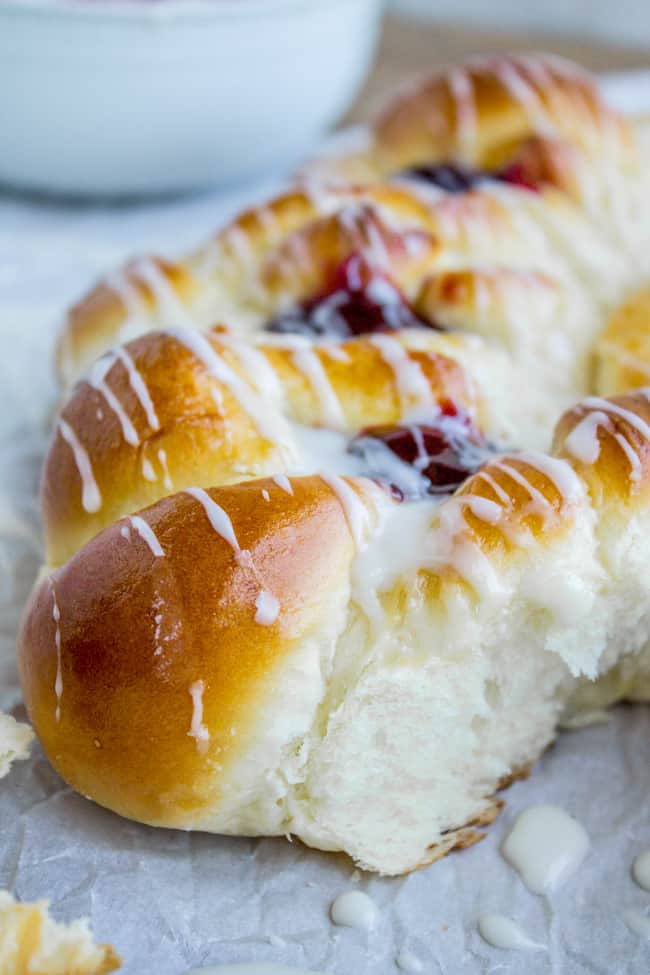 If you make any of my recipes, share it on Instagram using the hashtag #TheFoodCharlatan so I can see it! I love that.
Facebook | Pinterest | Instagram | Twitter
One year ago: Garlic Roasted Artichokes with Pesto Dipping Sauce 
Two years ago: Raspberry Peanut Butter Smoothie
Three years ago: Sriracha Deviled Eggs

Raspberry Pull-Apart Buns with Coconut Glaze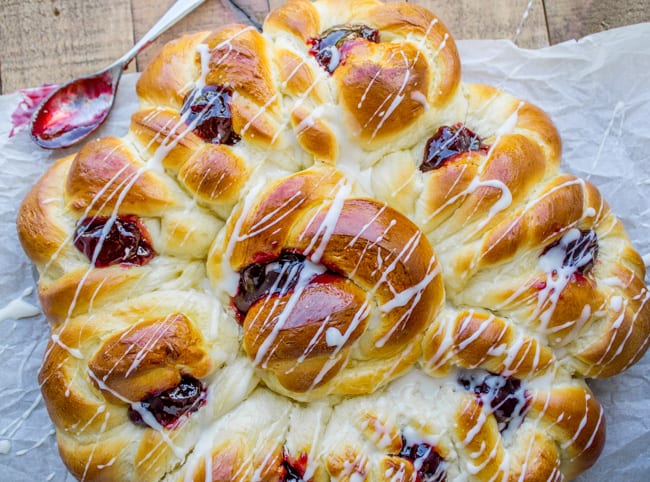 These Raspberry Pull-Apart Buns are shaped like a flower, and have just as many calories! Just kidding, who eats flowers, gross. But it's a really delicious breakfast option for Mother's Day! The coconut glaze totally makes it!
Ingredients
3 & 1/2

cups

flour

,

spooned and leveled

1

tablespoon

active dry yeast

1/4

cup

white sugar

1/2

teaspoon

kosher salt

1

cup

milk

1/4

cup

butter

,

(half stick)

2

eggs
For the top:
1

egg yolk

1

tablespoon

water

1/2

cup

seedless raspberry jam

1/8

teaspoon

coconut extract

1

cup

powdered sugar

2

tablespoons

So Delicious Coconutmilk Coffee Creamer

,

French Vanilla (or more to taste)

extra jam

,

to garnish
Instructions
In a large bowl or stand mixer, combine 2 cups of flour, yeast, sugar, and salt.

In a glass measuring cup, add 1 cup milk and 1/4 cup butter. Microwave in 30 second increments, stirring each time, until the milk is warm to the touch (like bathwater. NOT hot.) and the butter is somewhat melted and softened. (If your butter melts all the way, it's probably too hot and you should wait for it to cool.)*

Add the warm milk and 2 eggs to the flour and stir together well. At this point you can switch to the dough hook if you are using a mixer.

Add 1 and 1/2 cups flour and stir it in (That's 3 and 1/2 cups total so far). Continue adding flour in half cup increments until the dough is soft and sticky but workable. If you are using a mixer, you should hear the dough slapping the sides of the bowl.

Knead the dough either by hand or with the mixer for 7-8 minutes, until the dough is smooth and elastic.

Spray a large bowl with nonstick spray. Knead the dough into a ball and place in the oiled bowl, turning once to coat the top. Cover with a tea towel and let rise in a warm place for 1 hour or until doubled.

Punch down the dough and let rest another 10 minutes.

Roll out the dough on a floured work surface. Shape it into a 12-inch circle.

Line a large baking sheet with a silpat or parchment paper.

Transfer the dough to the lined baking sheet.

Place a glass in the center of the circle (or some other circular object with about a 3-4 inch diameter). This is only placed here so that you don't accidentally cut it while you are shaping the dough.

Cut the dough with a knife, from the rim of the glass to the edge of the dough circle, into quarters. Cut each quarter into 5 narrow wedge-shaped strips. The center of the dough with the glass over it should remain untouched.

You should now have 20 narrow wedge-shaped strips of dough surrounding the center.

Pick up two adjacent strips, and twist them together about 4 times; pinch the ends of the two pieces together. Gently coil to form a rough flower shape. Arrange the round into the middle of the circle, where the drinking glass was. This is going to be the center of the flower.

Pick up two more adjacent strips, twist 4-5 times and pinch the ends as before; coil into a rough round, and arrange the new petal next to the center rosette. Repeat with remaining 16 strips, twisting and pinching them in twos, coiling and arranging them into 8 more petals around the center rosette. Finished bread has 9 petals surrounding the center round, for a total of 10 rounds.

Use your fingers to make an indentation in the center of each round, where the jelly will go.

Cover the shaped dough with a tea towel and let rise in a warm place for about 30 minutes or until nearly doubled.

While the dough is rising, preheat the oven to 375 degrees F.

In a small bowl, whisk 1 egg yolk with 1 tablespoon water. Just before putting the bread in the oven, brush the egg mixture all over the dough with a pastry brush. You might not need all of it.

Bake the bread at 375 for about 20 minutes, or until the top is a deep golden brown and the bottom of the bread has started to brown.

In a small bowl, whisk together the raspberry jam and the coconut extract.

Let the bread cool until you are able to handle it. Use your fingers or a spoon to make a well in the center of each round. Spoon 1 to 2 teaspoons jam into the center of each round.

In a medium bowl, whisk together the powdered sugar and coconut creamer until it is thin and pourable. Add more creamer as necessary, but only a little at a time.

Use a spoon to drizzle the glaze over the bread.

Serve warm with any remaining glaze and extra jam.

This bread will keep on the countertop (covered tightly) for 2-3 days.
Notes
*My milk was a little too hot, so I added one of the eggs to the milk mixture and that helped cool it down.
Nutrition
Serving:
1
g
|
Calories:
350
kcal
|
Carbohydrates:
64
g
|
Protein:
7
g
|
Fat:
7
g
|
Saturated Fat:
4
g
|
Polyunsaturated Fat:
1
g
|
Monounsaturated Fat:
2
g
|
Trans Fat:
1
g
|
Cholesterol:
66
mg
|
Sodium:
187
mg
|
Potassium:
112
mg
|
Fiber:
1
g
|
Sugar:
27
g
|
Vitamin A:
253
IU
|
Vitamin C:
1
mg
|
Calcium:
46
mg
|
Iron:
2
mg
Source: this one was adapted from Allrecipes.com.
You will love these recipes too!
Peach Pull-Apart Bread with Caramel Sauce << If you get your hands on some fresh peaches this summer…do this.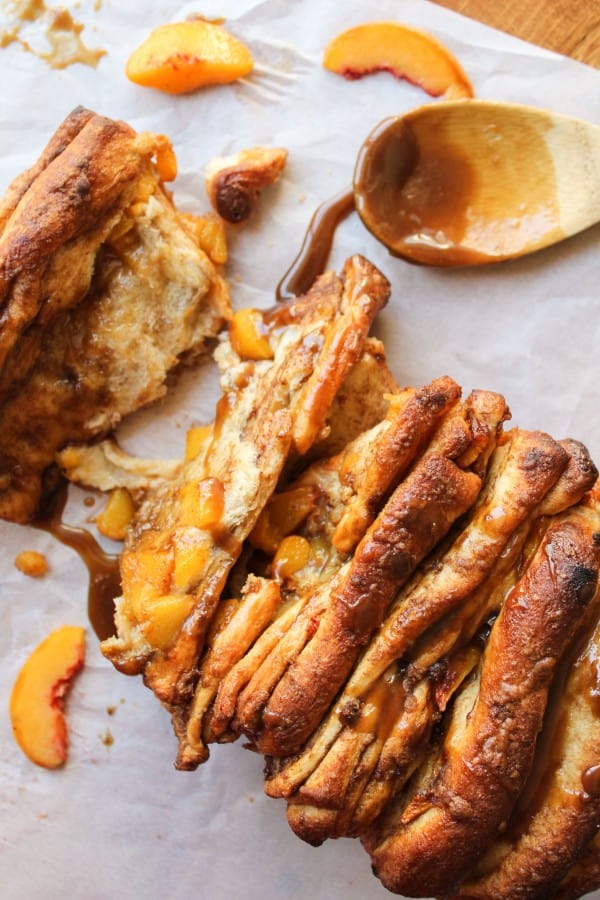 Raspberry Sweet Rolls with Coconut Cream Cheese Frosting << ok so maybe I'm obsessed with this flavor combo?? If it ain't broke don't fix it…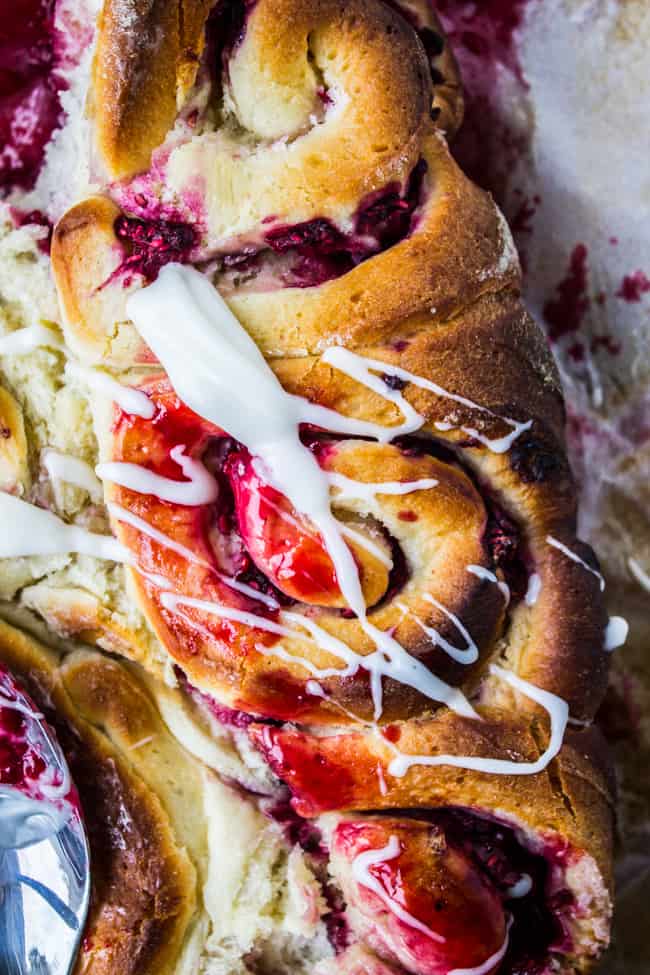 Swedish Cinnamon Buns with Cardamom << these are fun to shape!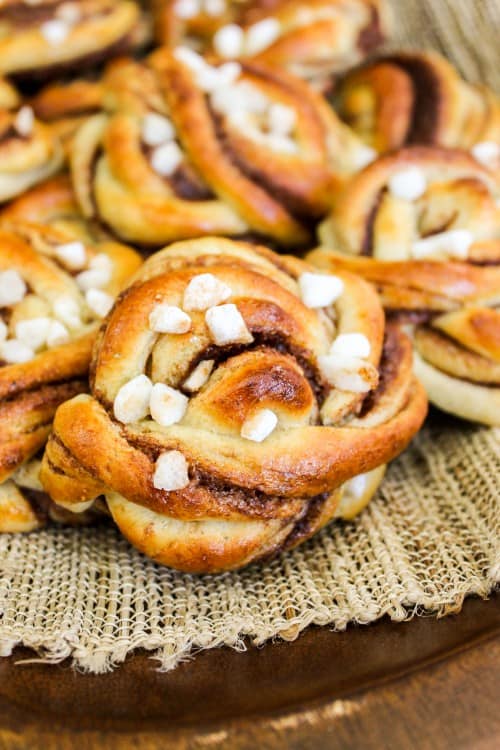 All kinds of pull-apart bread ideas from friends!
Chocolate Pull-Apart Bread from Taste and Tell
Pull Apart Cinnamon Sugar Bread from Melissa's Southern Style Kitchen
Apple Cranberry Spice Pull-Apart Loaf from Pint Sized Baker
This is a sponsored conversation written by me on behalf of Silk and So Delicious Dairy Free Creamers. The opinions and text are all mine.