Banana Blueberry Overnight Oats with Honey
When you combine oats with yogurt and let it sit overnight, you get a delicious and healthy treat for breakfast! You can play around with all kinds of mix-ins, but I added banana, blueberries, and honey. My kids adored this.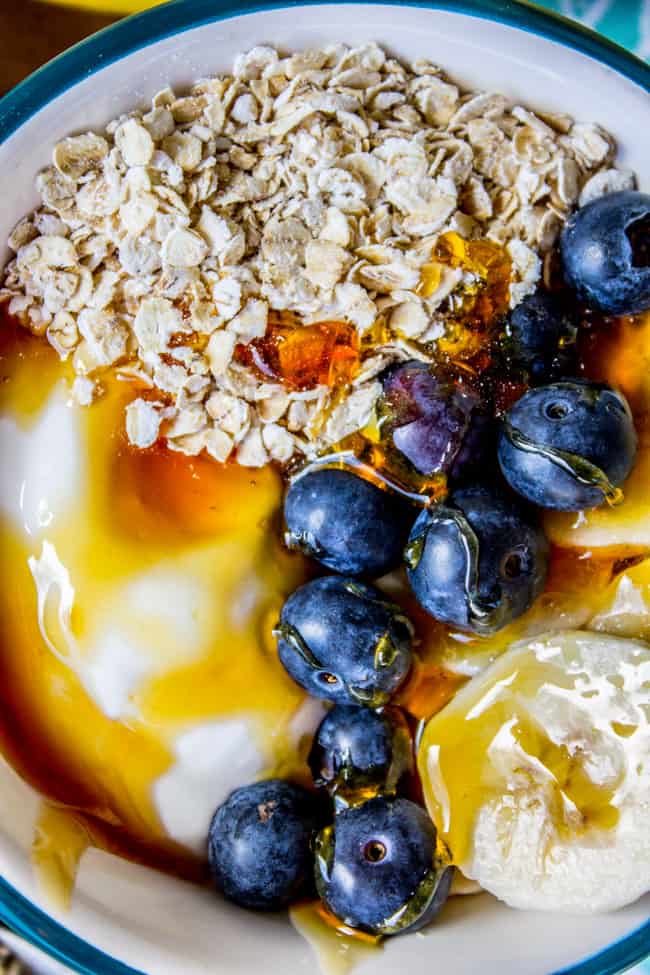 Eric and I just had this moment standing a few feet away from each other, looking into each other's eyes with small smiles. The baby just barely stopped crying and is finally in the crib, I'm about to start working on this blog post you're reading, and he's heading to bed at 11:53 after we finished our episode of Friday Night Lights. A typical weeknight evening.
I think we're having this silent moment of like, I don't know, mutual gratitude for another day lived together, or a loving look of "well done today," or maybe a "you can do it." I'm thinking that he's probably feeling guilty that he's going to bed when the baby will likely wake up again soon, and I still have a long way to go on this post, and I'm feeling like he shouldn't feel guilty at all, but it's definitely nice to be worried about.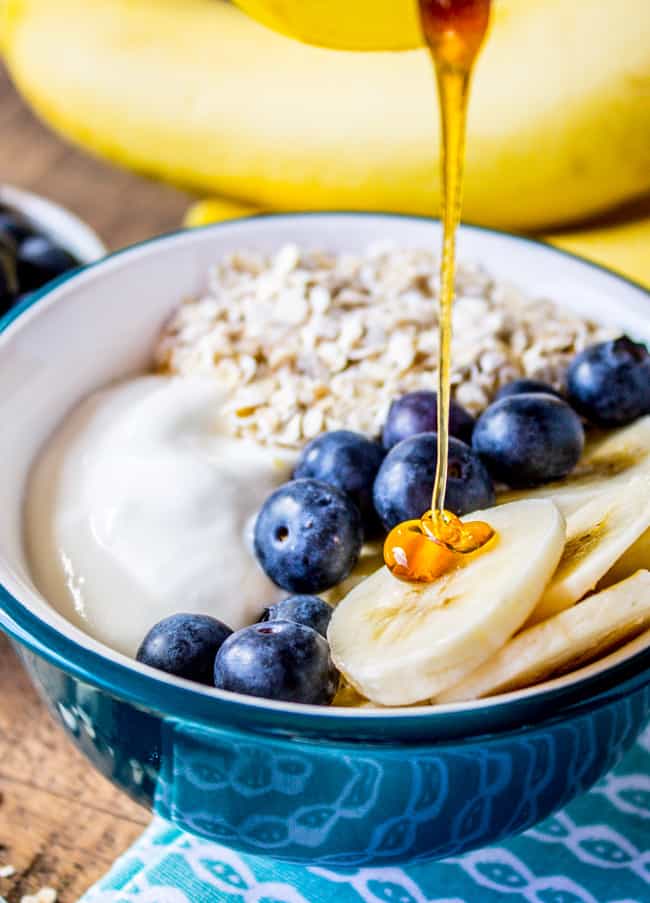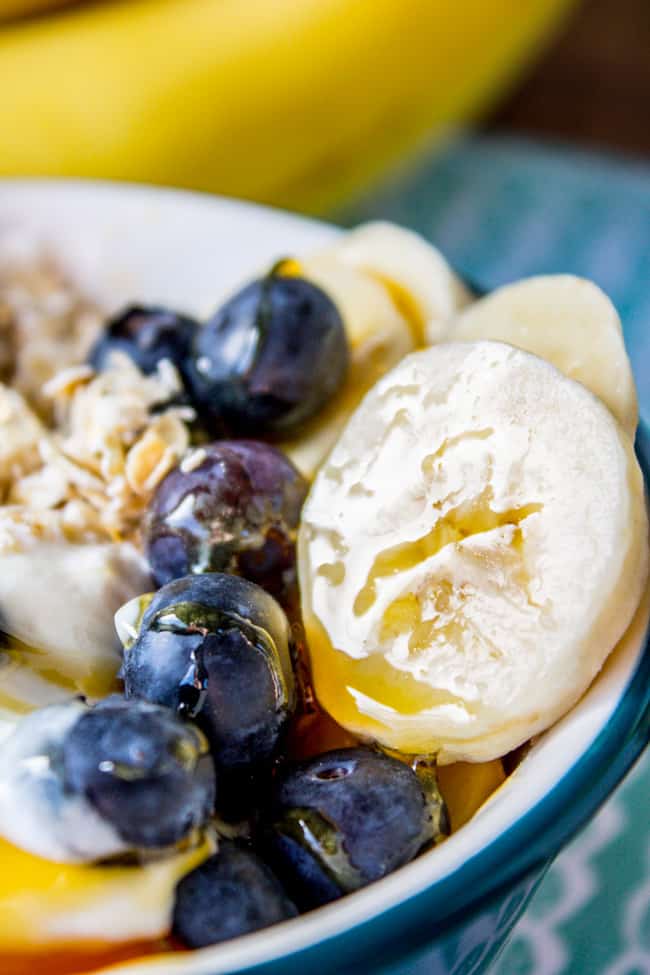 Then he squints and is like, "I can tell you're smiling, but I don't have my glasses on so I'm not sure if this is like an ironic smile or a normal smile, or really just what's going on with your face right now." I laughed so hard. So much for reading that man's face.
Eric's boss (who has been married for years) told him one time that couples who have been together long enough stop looking at each other when they're talking. You may be thinking, that's not true, we look at each other every time we talk, BUT YOU'RE WRONG. I thought the same thing when he told me about it: "Psh. Maybe OTHER couples don't look at each other but we TOTALLY look at each other, okay." Uh uh. His boss says this is why men and women have such a hard time communicating.
(Or maybe the real problem is that SOMEONE doesn't have their glasses on.)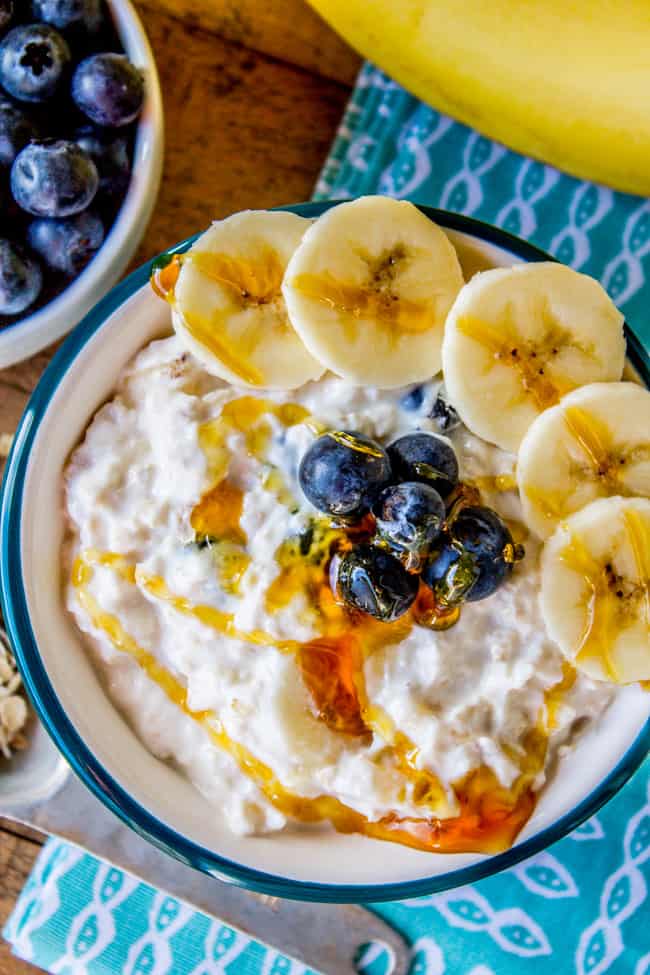 I started doing Instagram stories yesterday. I can't decide if the stories are awesome or weird. They are strangely addictive (to watch). Are you on Instagram? Help me make up my mind! You can follow along here. You have to be on mobile and on an updated version of the app to see the stories. (P.S. I love Instagram because if you use the hashtag #thefoodcharlatan when you make a recipe of mine, I get to see it! I never get tired of that!)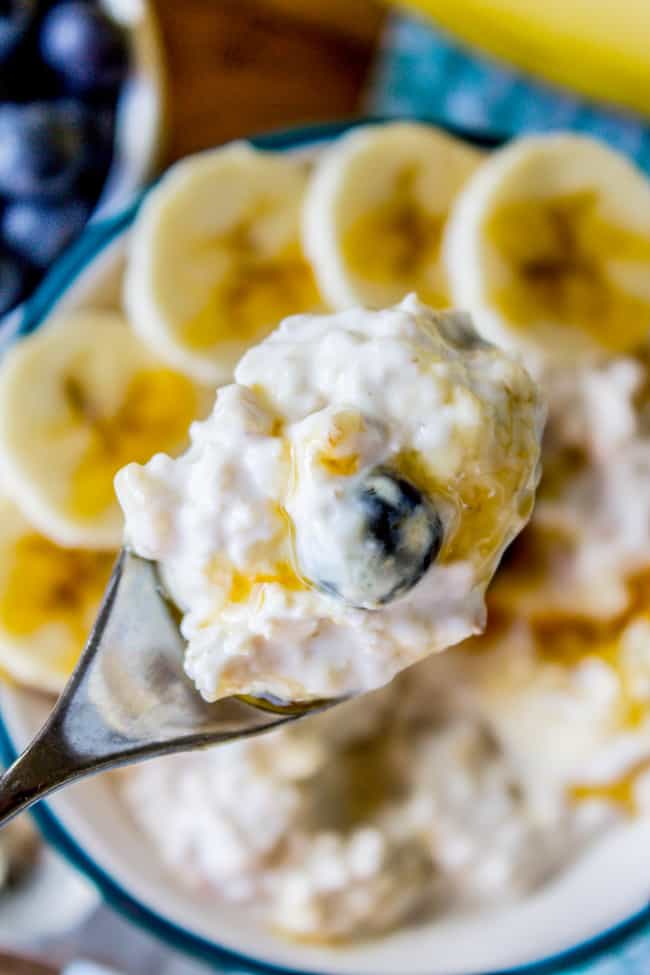 Have you ever made Overnight Oats? It literally takes 2 minutes to throw together, but just you wait, tomorrow morning you will be gushing about how awesome last-night-you was.
Overnight oats are meant to be eaten cold straight from the fridge, there's no cooking involved. The oats soften in the yogurt all night and become deliciously tender. It is way more hearty than just eating yogurt, you really feel quite full when you are done. (Am I the only one who's not full after a cup of yogurt?) You can add in whatever mix ins you want, use whatever kind of yogurt or fruit you like. I'm really into bananas lately, and honey and blueberries are never a bad idea. I meant to add a dash of cinnamon but I forgot. I added it as an option on the recipe so I don't forget next time!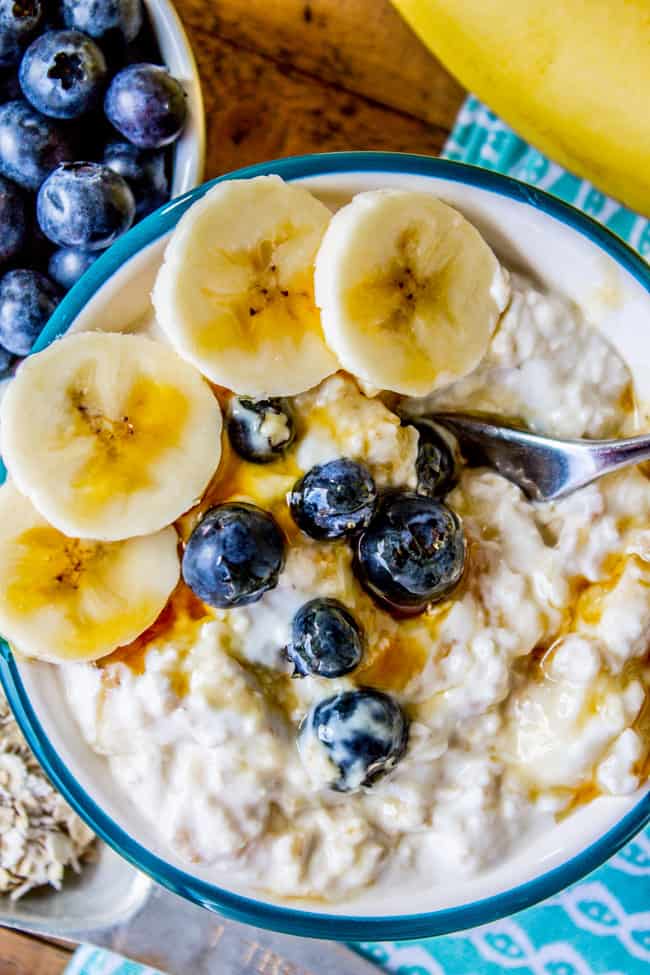 Not that you really need to look up the recipe every time you make this. Put some yogurt into a bowl, tupperware, mason jar, or anything you can cover in the fridge. Add about half the amount of oats. Add a little milk, sweetener of your choice, and some fruit. Voila! Super easy. I made this recipe to serve 2, but it's really easy to cut in half, or you could make the full amounts and save some of it for the next day.
Facebook | Pinterest | Instagram | Twitter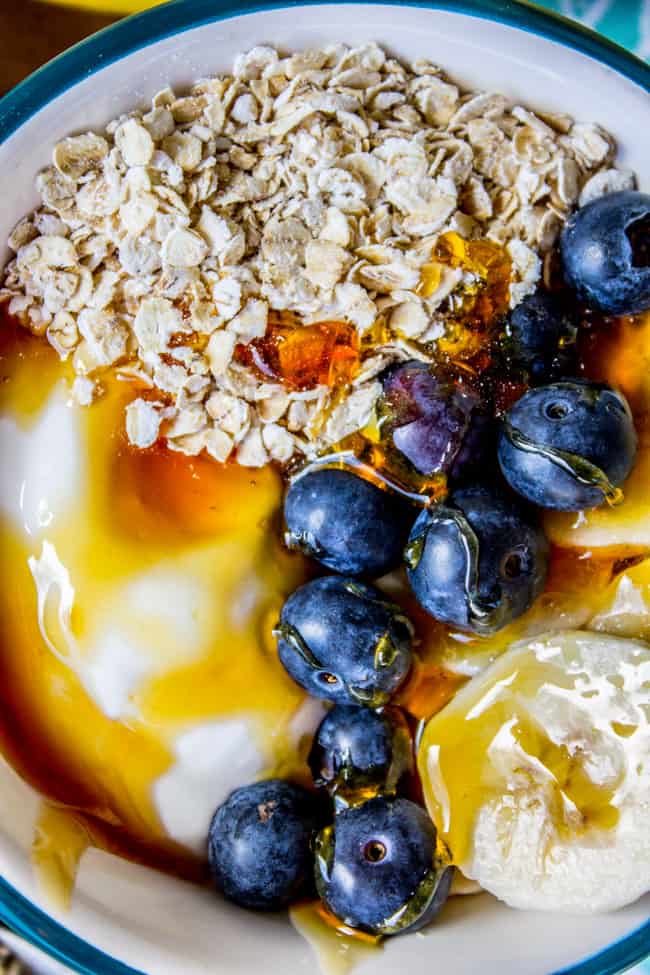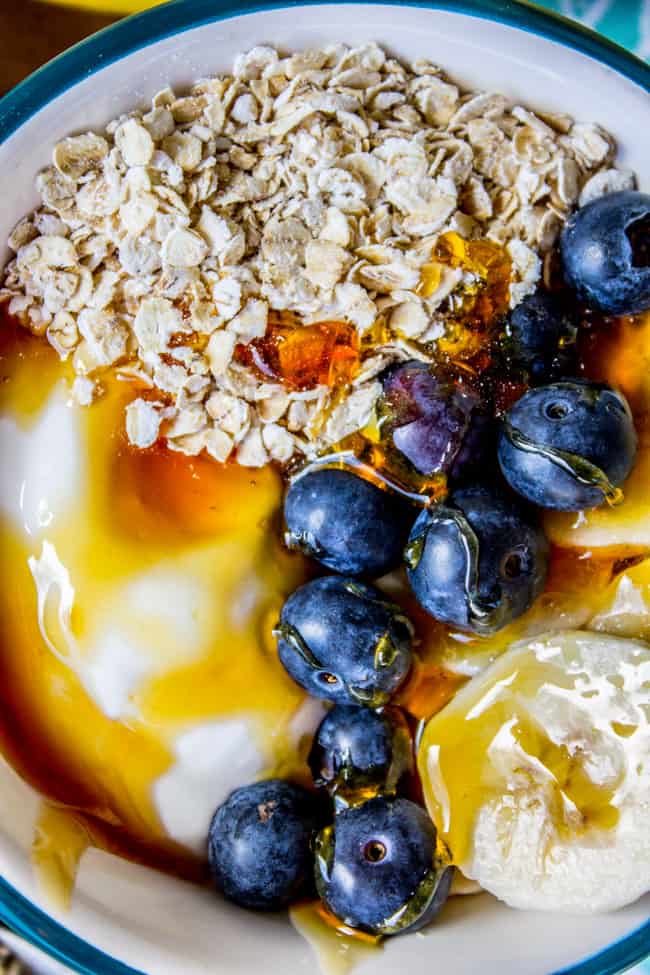 print
Did you make this recipe?
Leave a review »
Banana Blueberry Overnight Oats
Serves 2
adjust servings
Ingredients
1

cup plain Greek yogurt

1/2

cup quick oats *

2

tablespoons milk, any kind

1-3

teaspoons honey

1/4

cup blueberries

half or more of 1 banana, sliced

dash of cinnamon, if desired
Instructions
Add all the ingredients to a bowl and stir. Refrigerate for several hours or overnight. You can also mix it in a tupperware, or a mason jar with a lid.
by The Food Charlatan

If you make this recipe,
share it on Instagram
 using the hashtag
#TheFoodCharlatan
so I can see it!
Source: I was inspired by my friend Amy over at Amy's Healthy Baking! She has so many overnight oats recipes.
Other breakfast ideas you will enjoy!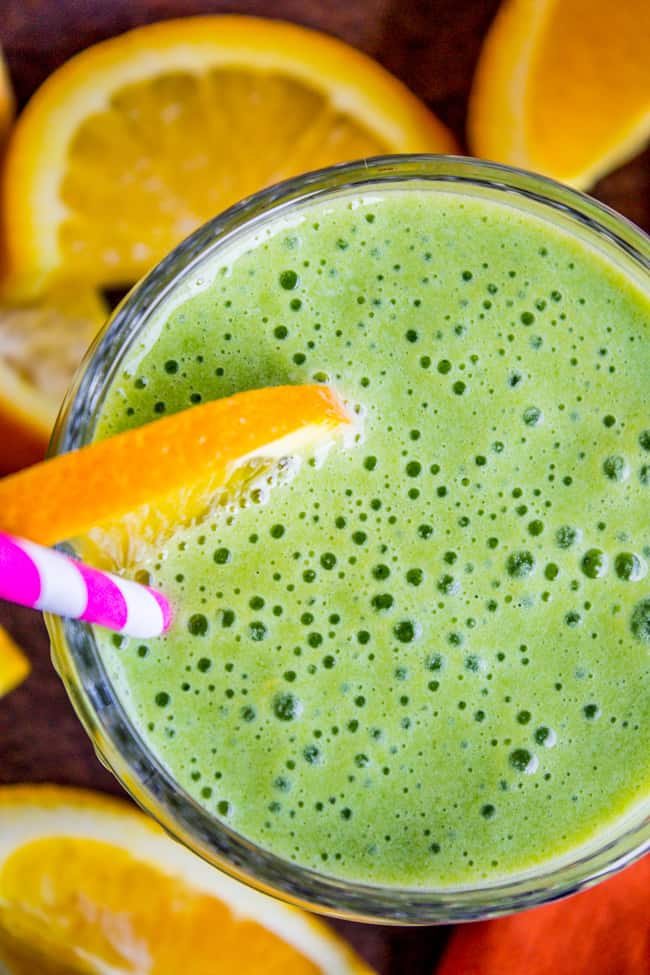 No Bake Peanut Butter Oatmeal Energy Bites: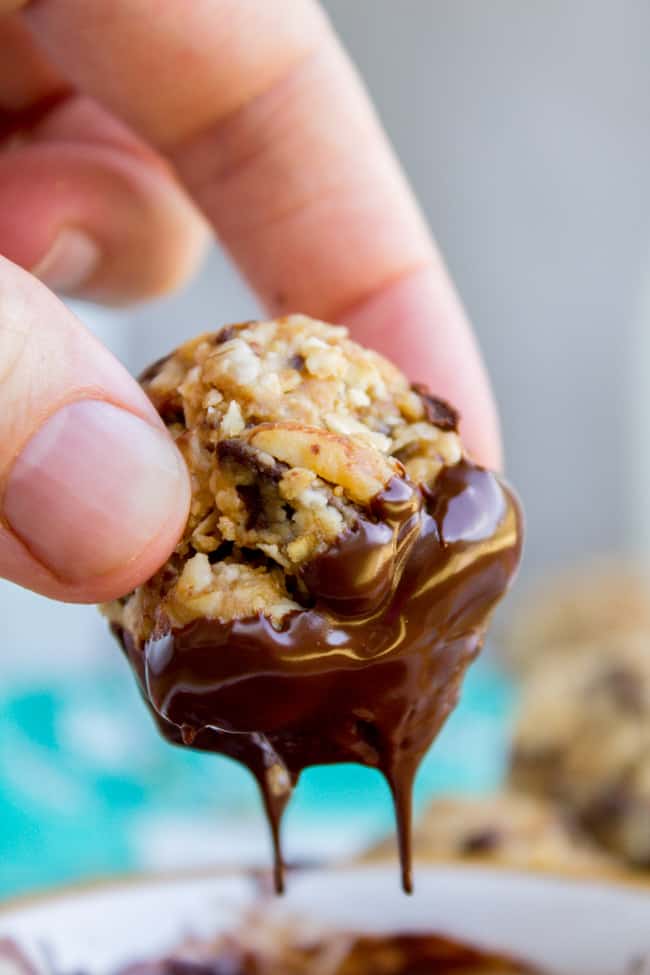 Tropical Mango Coconut Granola: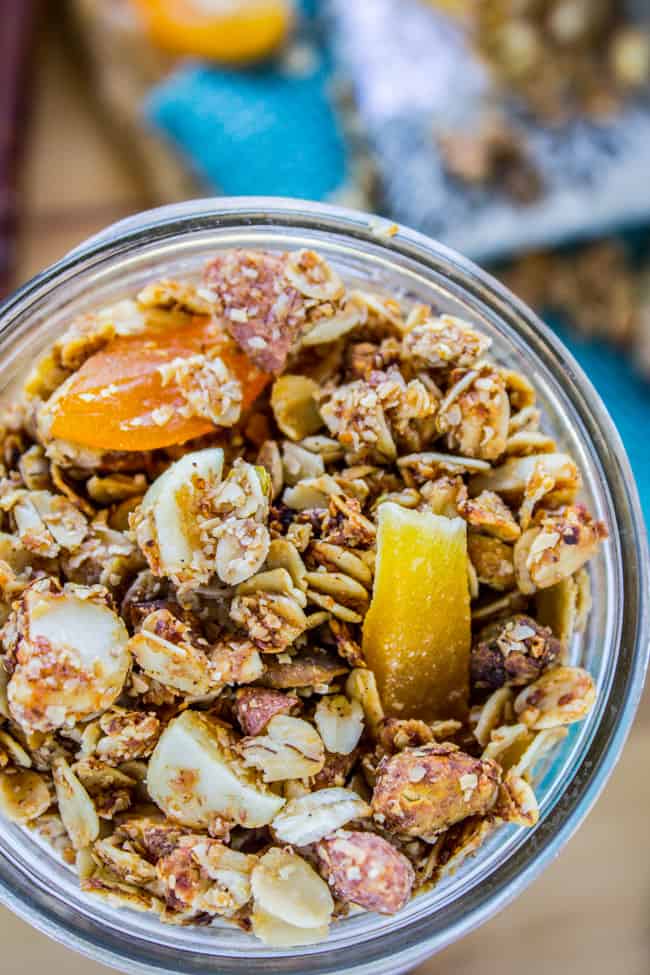 More oats from bloggers!
Almond Joy Protein Overnight Oats from Amy's Healthy Baking
Eggnog Overnight Oats from Five Heart Home
Cookie Dough Overnight Oats from Food Faith Fitness
This post contains affiliate links. Thanks for your support!
We are a participant in the Amazon Services LLC Associates Program, an affiliate advertising program designed to provide a means for us to earn fees by linking to Amazon.com and affiliated sites.