Spinach & Bacon Frittata
A moist and flavorful Bacon Frittata full of spinach and gouda cheese! Totally healthy, not to mention easy. A great breakfast or dinner option.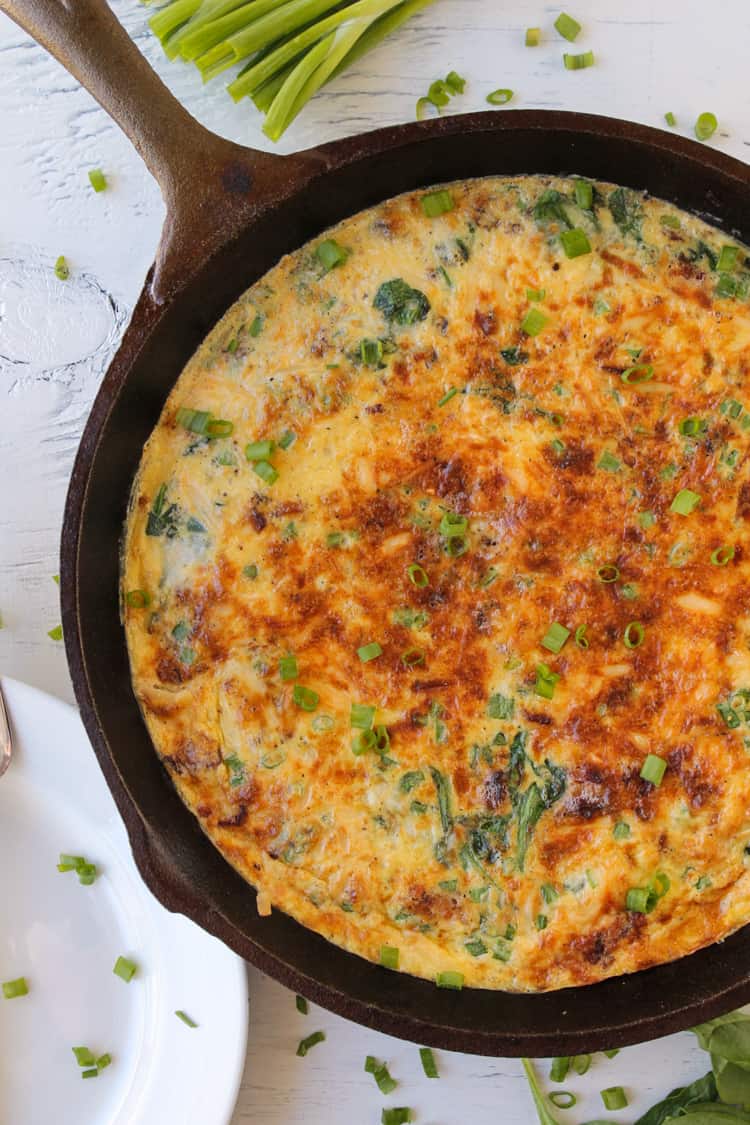 Originally posted October 14, 2014
I totally just had to google how to spell frittata. You win some you lose some, right? I suppose it could be worse. On my SENIOR high school exit exam, one of the oral questions was how to spell the word "believe." Not joking.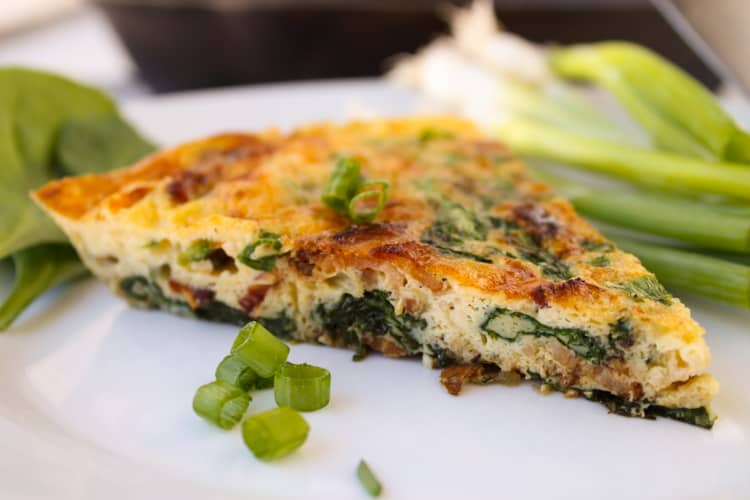 Eric and I went to a festival in San Francisco last week called Hardly Strictly Bluegrass. Free music, greasy food, and lots of really, really drunk people. Always entertaining, especially for the sober people (us).
We wanted to go because we are borderline-obsessed with Ryan Adams, who was headlining. My favorite song ever is a collaboration with him and Norah Jones. Plus we danced to this song at our wedding. (I swear I'm not depressed you guys. Sometimes sad songs are really just the best thing ever though.)
We had a great time at the concert but realized afterward that the friends we went with (who hadn't pushed as far up as we did) were totally bored. And I was forced to recognize the truth: Ryan Adams is an amazing musician, but apparently really bad at talking. Into a microphone, at least. If you ever get the chance to see him, take it, because this guy's harmonica skillz are off the hook. I just looked, Eric and I own 20 of his albums. 20! If that's not a strong recommendation I don't know what is.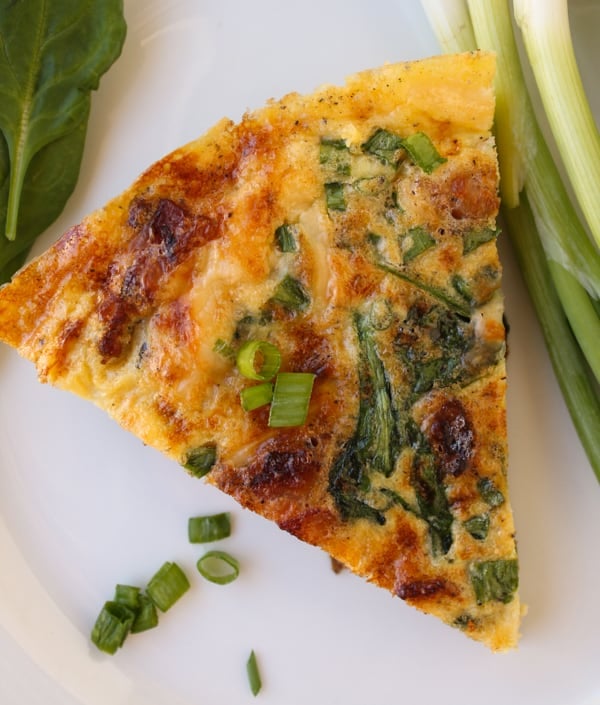 How to make a Bacon Frittata
Back to the frittata. I think frittatas are a totally overlooked breakfast option, especially if you are making breakfast at home. What's the worst part about homemade breakfast? Flipping a thousand pancakes, waiting for the waffle iron for the 7th time. (I always burn the last waffle because I am busy eating. A.l.w.a.y.s.) You only have to cook one frittata, and unlike other baked egg dishes, it cooks in about 10-15 minutes.
That's because you cook it on the stove, then broil it in the oven. Cast iron skillets are your friend.

4 cups of spinach may sound like a lot but look how much it cooks down!

Green onions: nature's ombre. Bacon: God's love.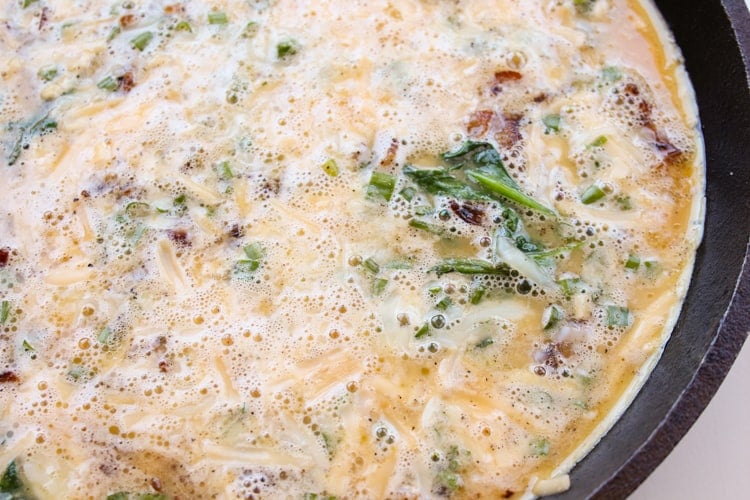 This is the frittata right before going under the broiler. It should be starting to set on the edges.
What's the difference between an omelette and a frittata?
The main difference between these two dishes is that frittatas are baked and omelettes are made on the stove top. Frittatas have all the diversity of an omelette without the annoyance of being individual. I added a bunch of bacon and gouda to mine because that's what sounded good to me, but you can change up this recipe however you like, or according to what's in your fridge. Heck you could even individualize it for picky family members. (No mushrooms on half, for example. Once you pour on the egg mixture, you don't stir, so it would be easy to do that, just like toppings on pizza.)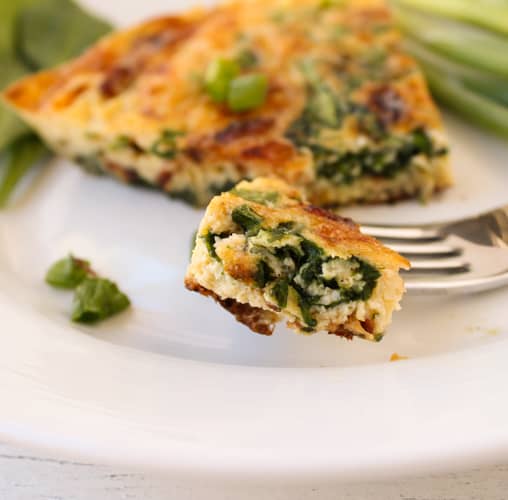 Ingredients for a bacon spinach frittata
Eggs
Bacon
Red onion, chopped
Whole milk
Spinach
Garlic
Green onion
Gouda cheese
Scroll down below for the full recipe.
You might like these eggalicious breakfasts too!
Overnight Eggs Benedict Casserole:
Asparagus, Tomato, and Goat Cheese Quiche
Easy 30-Minute Pasta Frittata with Sausage and Parmesan
Pizza Frittata from Minimalist Baker
Spinach and Red Pepper Mini Frittatas from Rachel Cooks
Fritaffles from Real Food by Dad
Bacon, Gouda, and Spinach Frittata
A moist and flavorful frittata full of bacon and gouda. And spinach! And onions! Totally healthy, not to mention easy. A great breakfast or dinner option.
Ingredients
4

strips

thick-cut bacon

,

chopped

1/2

cup

red onion

,

chopped

9

eggs

3/4

teaspoon

salt

1/2

teaspoon

pepper

1/2

cup

whole milk

4

cups

spinach

,

fresh, packed

1

clove

garlic

,

minced

1/3

cup

green onion

,

1 tablespoon reserved

1

cup

gouda

,

shredded
Instructions
Preheat your broiler. Move the rack to about 5 inches from the flame.

In an 11 inch cast iron skillet, cook the chopped bacon over medium heat for about 2 minutes. Add 1/2 cup chopped red onion and continue to cook until the bacon is crispy and the onion is tender, about 5-7 minutes.

Meanwhile, in a large mixing bowl or with a whisk, combine 9 eggs, salt, pepper, and milk. Beat well. Set aside.

Remove the bacon and onion to a paper-towel-lined plate and set aside. Spoon out most of the bacon grease, leaving about a tablespoon in the pan. (Discard the excess grease, or save it for another use.)

Add the 4 cups spinach to the pan. Cook and stir for about 1 minute, until the spinach starts to wilt, then add the minced garlic.

When the garlic is just starting to brown and the spinach is wilted, spread the spinach out around the pan so it is evenly distributed. If you don't have the rest of the ingredients ready to go yet, turn off the heat.

Sprinkle the bacon and onion mixture evenly over the spinach.

Sprinkle 1/3 cup green onions over the bacon. Sprinkle the gouda evenly on top.

Pour the egg mixture on top. Cook uncovered over medium heat for about 6-7 minutes (see Note), until the edges start to set.

Use hot pads to transfer the skillet to the preheated broiler. Broil the frittata for 2-3 minute until browned and almost set. Don't walk away!
Notes
You don't have to use an 11-inch skillet to make this. If you use a smaller skillet, just increase the cook and bake times.
Source: The Food Charlatan
Nutrition
Serving:
1
cup
,
Calories:
540
kcal
,
Carbohydrates:
8
g
,
Protein:
34
g
,
Fat:
41
g
,
Saturated Fat:
19
g
,
Polyunsaturated Fat:
5
g
,
Monounsaturated Fat:
15
g
,
Trans Fat:
1
g
,
Cholesterol:
463
mg
,
Sodium:
1338
mg
,
Potassium:
546
mg
,
Fiber:
1
g
,
Sugar:
4
g
,
Vitamin A:
3828
IU
,
Vitamin C:
12
mg
,
Calcium:
549
mg
,
Iron:
3
mg
We are a participant in the Amazon Services LLC Associates Program, an affiliate advertising program designed to provide a means for us to earn fees by linking to Amazon.com and affiliated sites.