Pizza Egg Muffins (Make Ahead Weekday Breakfast!)
If you tell me you don't like cold pizza for breakfast I will know you're a LIAR. Make Pizza Egg Muffins instead so that you don't feel like such a cow! These are protein packed, stuffed with veggies, and taste amazing. Make ahead, pop in the freezer, and microwave them on your way out the door.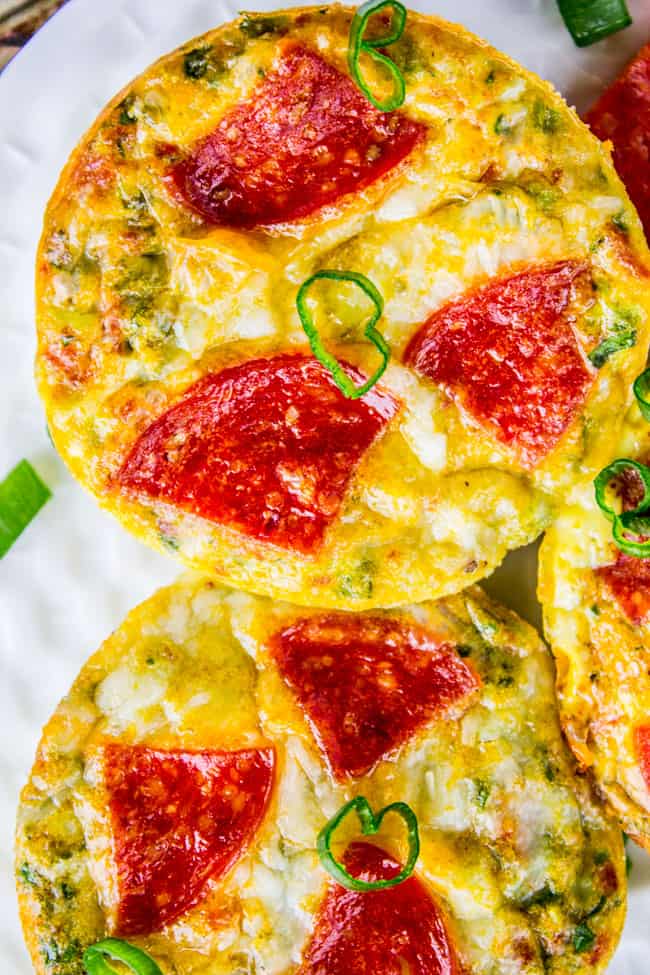 Eric and I decided after Christmas that we were going to "eat healthy" for all of January. I think we had intentions of sitting down and mapping out exactly how we were going to accomplish that, but we kept putting it off, and here we are almost to February.
Eric at least made one small effort by downloading My Fitness Pal, where he tracks his calorie intake. So far all I've done is bring home Ben and Jerry's, so that we can consume the number of calories we've already eaten that day in pure ice cream. It's really not hard, especially when you get Half Baked.
I have been pretty consistent with the yoga though. So at least if I am slowly getting fat, I will be totally zen about it.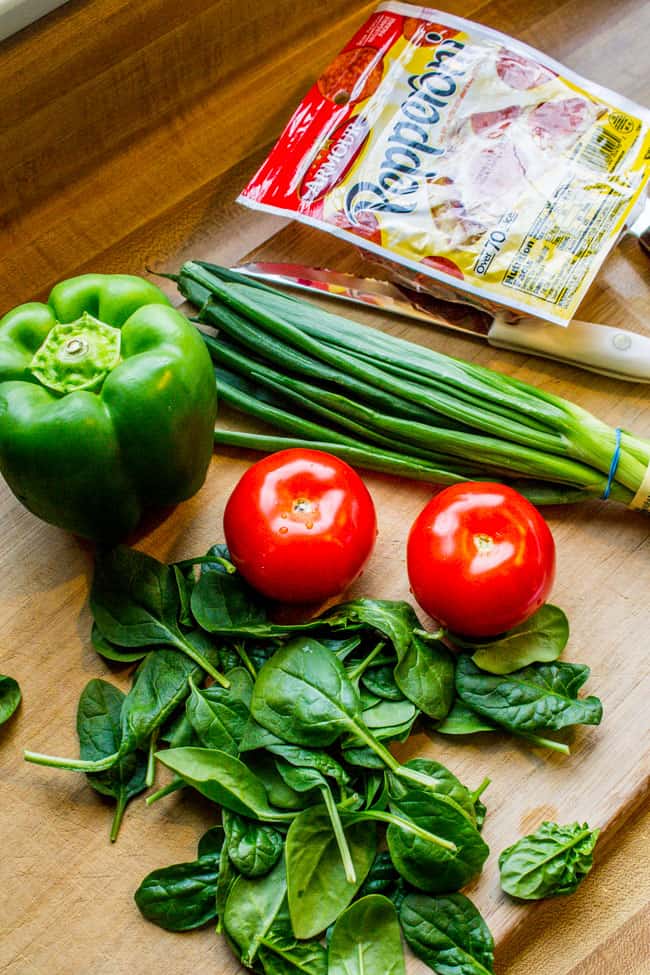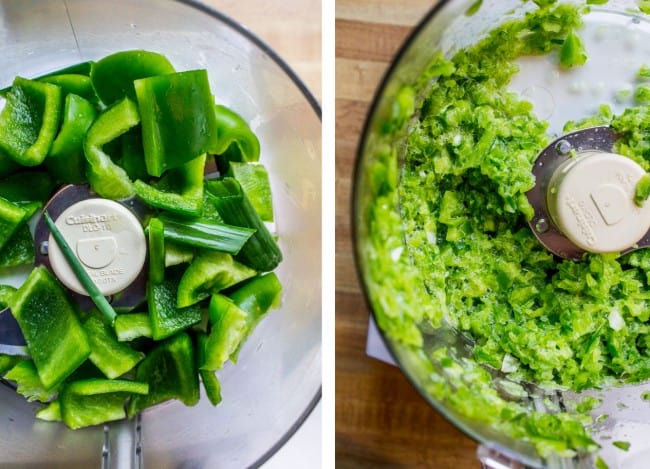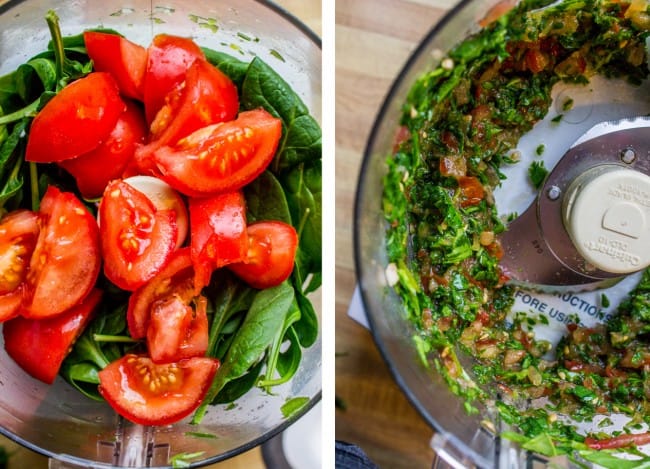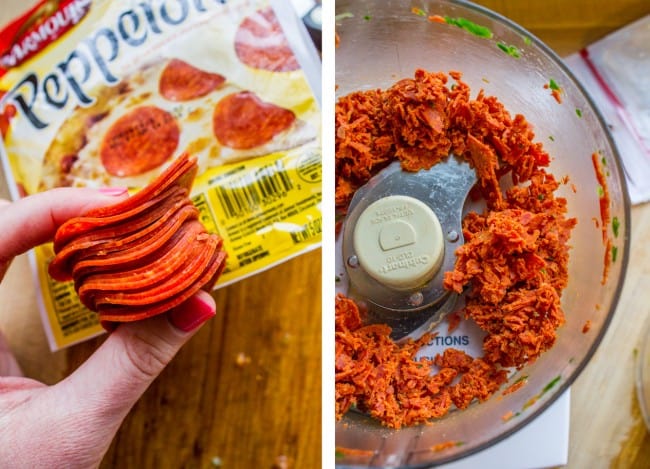 Speaking of Ben and Jerry's (that's really the most important thing I've talked about so far) have you guys heard about Amazon Now? Sacramento is one of the test cities. You can get stuff delivered in 2 hours for FREE. When Eric first told me about it I'm pretty sure my response was something like, "these lazy Americans and their dumb enabling companies…" But then Eric and I looked through the products offered.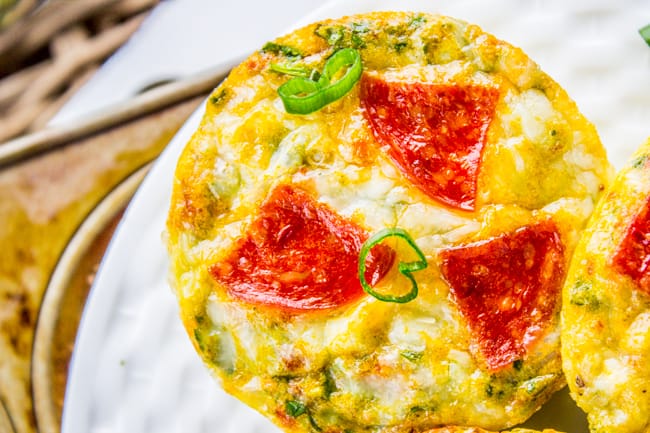 Ben and Jerry's. BEN AND JERRY'S, GUYS. Delivered to your doorstep. My friend Stephie (from Stephie Cooks–check out her blog!!) was saying just the other day that they need to have dessert delivery services. "Forget pizza. Somebody get me some waffles."
Well Stephie, WISH GRANTED. Eric and I ordered 2 pints of Half-Baked faster than you can say "lazy American."
We actually were trying to order something else, but there is a $20 minimum purchase amount and we needed a few more dollars to reach it. So we threw a pint in the cart. And we were FOUR CENTS SHORT. What would you do? Throw in another pint? Cause that's what we did.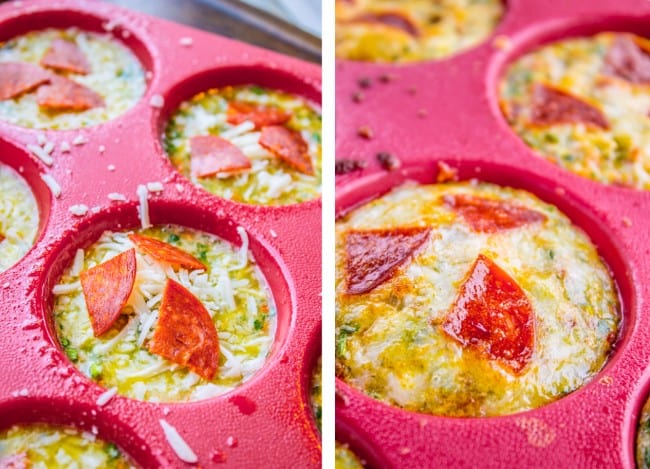 Well now that we've got all the ice cream talk out of our system, let's talk PIZZA. Have you guys ever made egg muffins? Just scrambled eggs baked in muffin tins, basically.  They are so good, and so easy. I love the original version, Baked Veggie Egg Cups, but I was craving pizza flavors. It worked out awesome! I love the way they taste. You might think it's weird to eat pizza in the morning, but that's where you and I differ. It's always time for pizza in my book.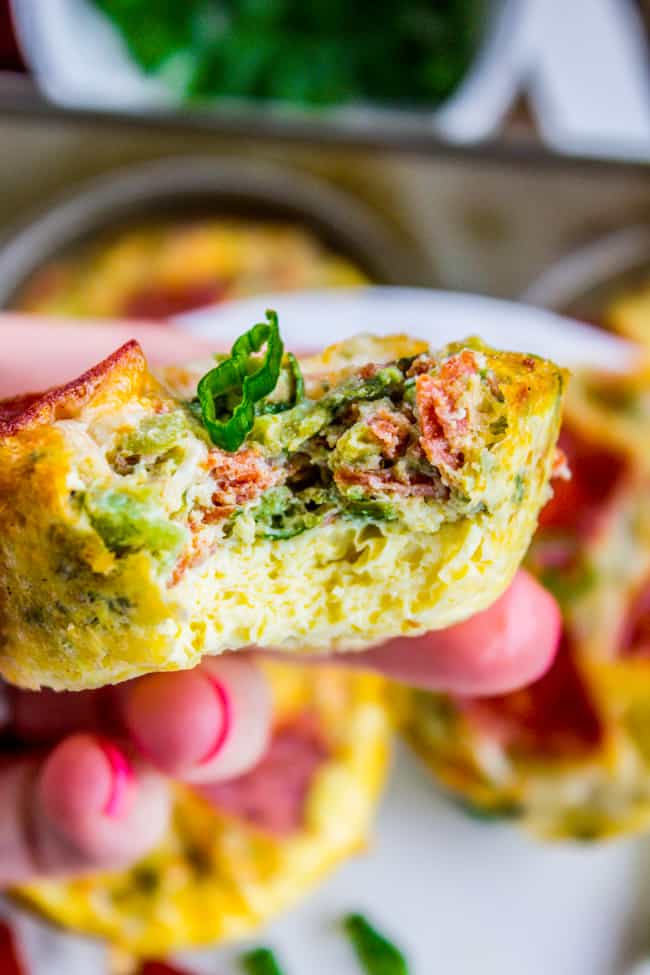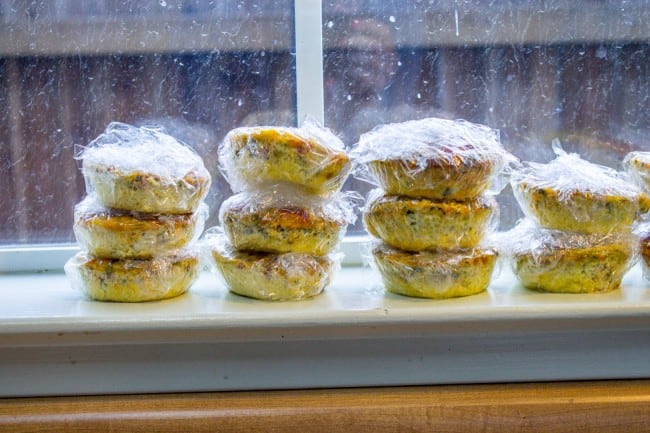 And this does taste (and smell!) like pizza, but it's really quite good for you. It's got spinach, onion, bell pepper, tomato, not to mention eggs, obviously. It's a perfect way to get some protein in the morning without pounding down a ton of carbs. The best part is that you can make them ahead: throw them in the freezer, then microwave on the morning you want to eat.
If you end up trying these egg muffins, snap a photo and share on Instagram using the hashtag #TheFoodCharlatan so that I can see it! I love seeing what you guys are making!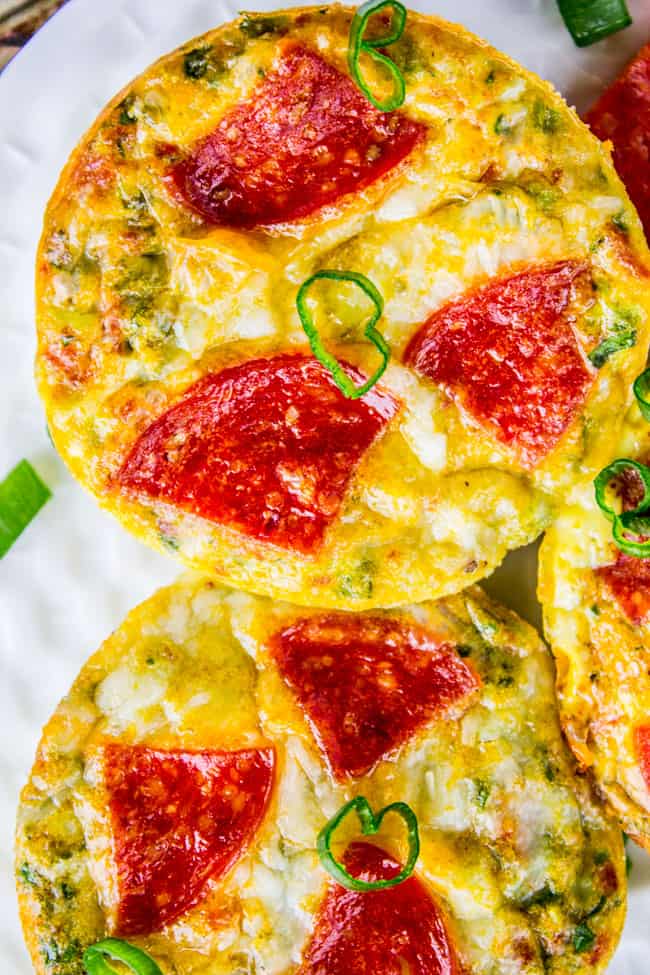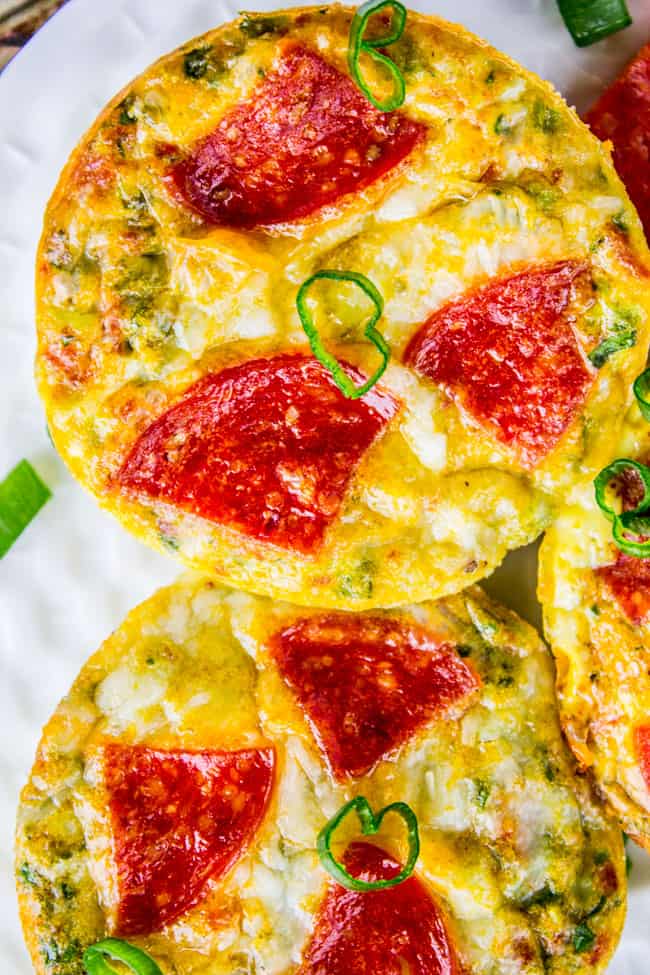 print
Did you make this recipe?
Leave a review »
Pizza Egg Muffins (Make Ahead Weekday Breakfast!)
18-20 muffins
adjust servings
Ingredients
12

eggs

1

teaspoon salt

1/2

teaspoon pepper

2

dashes crushed red pepper, or to taste

1/2

teaspoon garlic powder

1/2

cup shredded mozzarella cheese

1

green onion, cut into 3 inch segments

1

green bell pepper, chopped into 2-inch segments

2

smallish tomatoes, roughly chopped

3

handfuls of spinach, about 2 cups

5

ounces pepperoni, save a 1-inch-stack to top muffins with

1/2

or 1 cup mozzarella cheese, to top muffins
Instructions
Preheat oven to 350 degrees F. Grease 2 muffin tins with butter, oil, or nonstick spray. Be very generous!
Add 12 eggs to a large mixing bowl (I used my stand mixer).
Add salt, pepper, crushed red pepper, and garlic.
Add 1/2 cup cheese. Whisk together.
In a food processor*, add the green onion and green bell pepper. Pulse in 1-second intervals until the vegetables are chopped but not completely pulverized (see photos). Add veggies to the bowl with the eggs.
Add the tomatoes and spinach to the food processor. Pulse in 1-second intervals until the vegetables are chopped but not completely pulverized (see photos). Add veggies to the bowl with the eggs.
Add pepperoni to the food processor (save some to top muffins with!) Process until finely chopped. Add to the egg mixture.
Give the egg mixture a final whisking, then use a measuring cup to fill the muffin tins. Try to distribute the vegetables evenly. Fill each tin about 2/3 full, see photos.
Top each muffin with a teaspoon or two of cheese. Slice the remaining pepperoni into quarters. Top each muffin with a few pepperonis.
Bake at 350 for about 22-24 minutes, or until a toothpick comes out clean. If you bake both pans at the same time, switch the pans halfway through baking time.
Be aware that the muffins will puff up significantly in the oven and fall immediately when you take them out.
After they have cooled several minutes in the pan, run a knife or spatula around the edge of each muffin and gently lift it out.
Enjoy immediately, or let cool completely and save for later in the week. Wrap each muffin individually in a square of plastic wrap, then place in a large freezer safe ziplock bag. Seal and freeze. They will last at least 1 month in the freezer, I haven't tested longer than that.
To reheat: Remove muffin from the plastic wrap and place on top of a paper towel on a plate. Microwave on high for 1 minute, then check to see if it's hot enough. It might need another 30-60 seconds. Don't over heat or the eggs will become rubbery.
by The Food Charlatan

If you make this recipe,
share it on Instagram
 using the hashtag
#TheFoodCharlatan
so I can see it!
Check out these other breakfast ideas!
The original Baked Veggie Egg Cups << this version has lots of veggies, and sausage for flavor. No cheese in this one so it's a little lower calorie.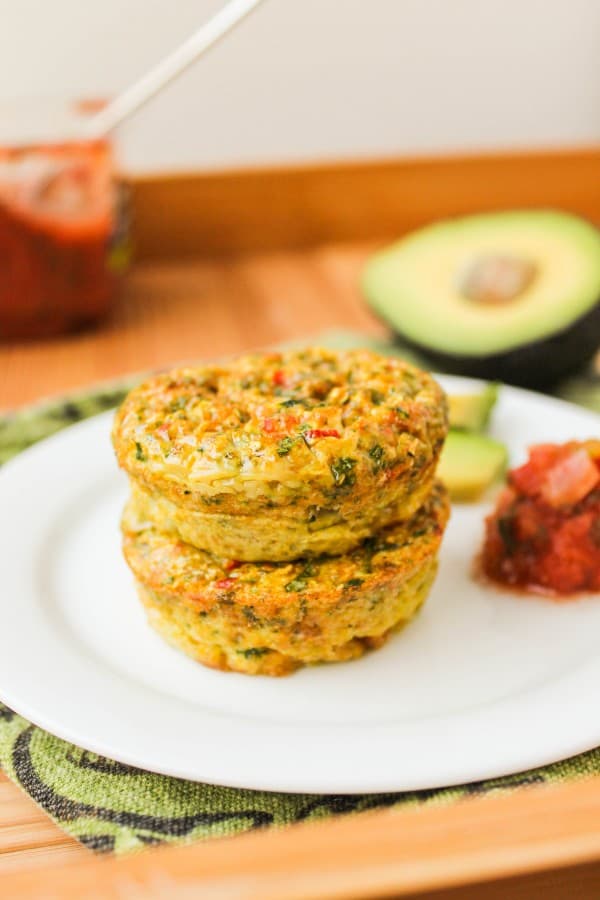 Bacon, Gouda, and Spinach Frittata << love the flavors in this. If you are looking for make ahead breakfasts, you could totally make this, divvy it up into freezer bags, and microwave on the morning you want to eat them. Use a paper towel to absorb excess water.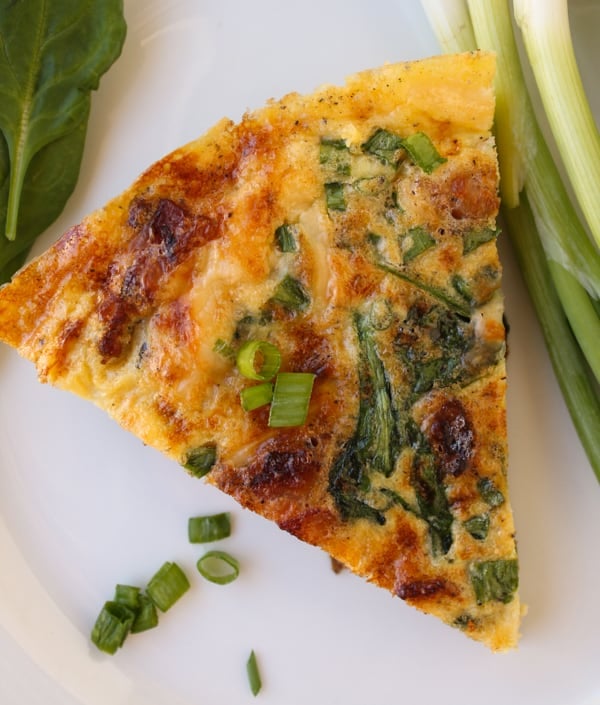 Bacon and Egg Toast Cups << This recipe was posted just a month or two after I started my blog! I haven't made these in forever, but they are SO good. I need to do it again!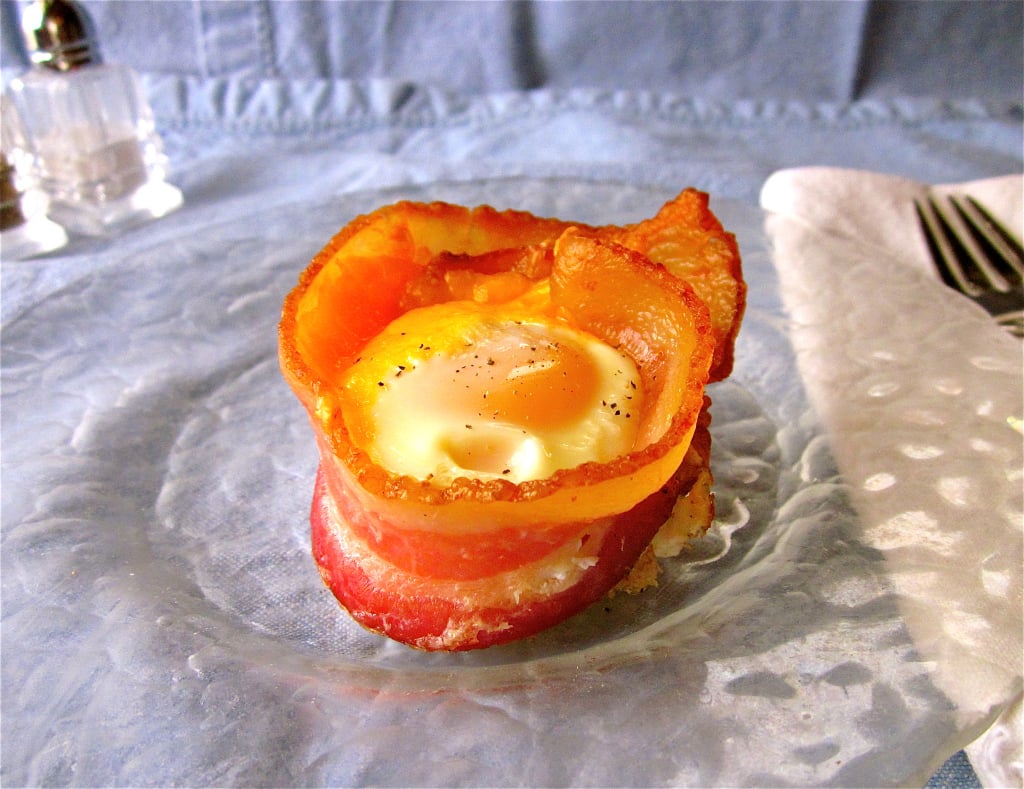 Zucchini Pizza Bites << Can't get enough pizza? These would be a fun (and healthy!…er) appetizer to serve if you are Super Bowling it up soon!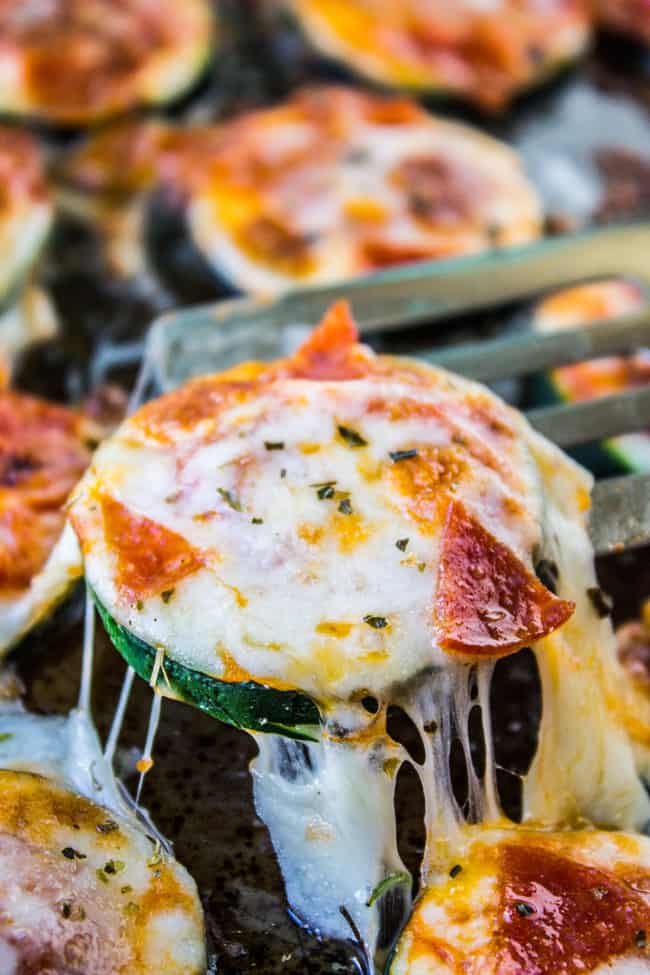 More eggs-f0r-breakfast ideas!
Frittata Muffins from Aggie's Kitchen
Egg, Ham, and Cheese Breakfast Sandwiches (Freezer Friendly) from The Lemon Bowl
Scrambled Egg Breakfast Muffins from Six Sister's Stuff
We are a participant in the Amazon Services LLC Associates Program, an affiliate advertising program designed to provide a means for us to earn fees by linking to Amazon.com and affiliated sites.