Blender Hollandaise Sauce (5 Minute Recipe)
Since I discovered this recipe for blender Hollandaise sauce I've never gone back to the stove top method. Why double boil when you can blend? It tastes just as delicious but is faster and easier, seriously like 3-5 minutes depending on how long it takes you to crack eggs and microwave butter.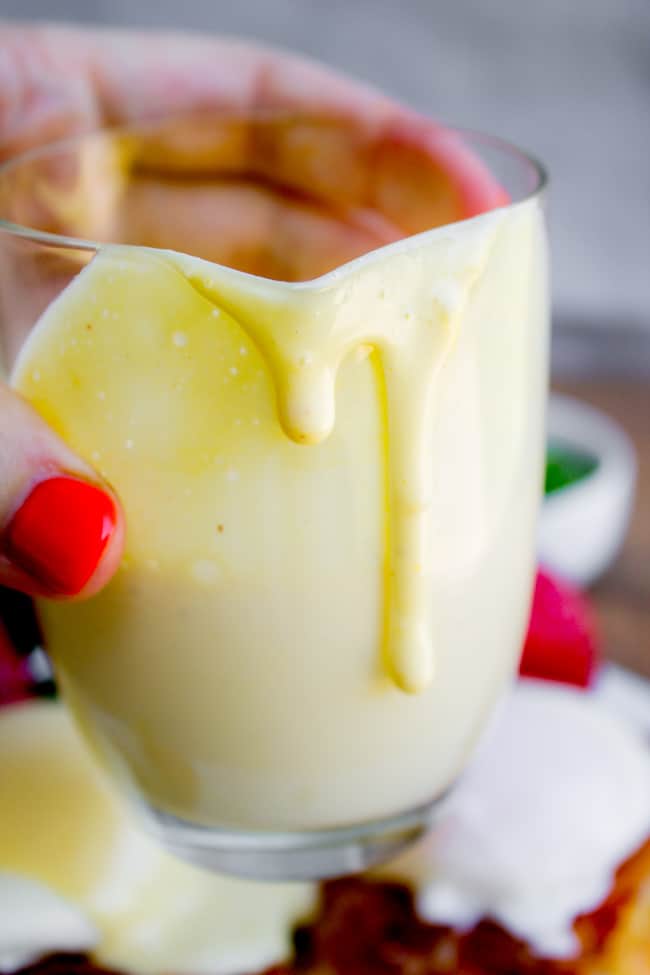 Originally posted June 6, 2017
Eric and I have the perfect excuse to not do dishes tonight. The dishwasher is full of clean dishes, our cupboards are empty, and all the other dishes are  scattered about the dining room in boxes, laundry baskets, and strewn across the table. There's no where to put them. Great excuse right??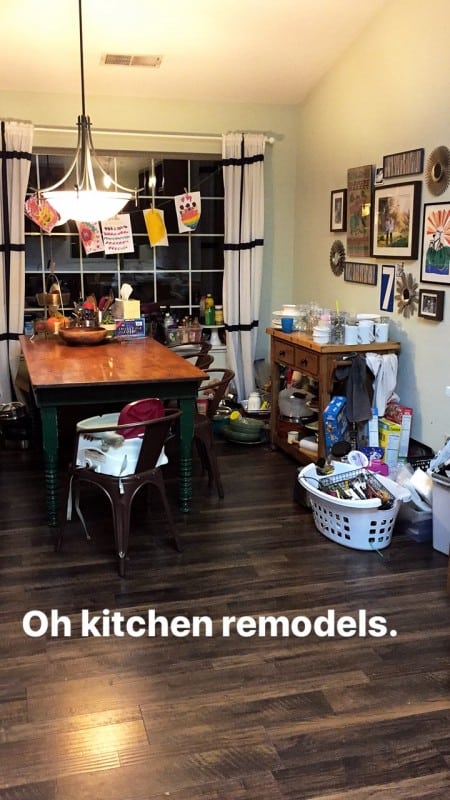 Perfect week for my baby to decide that is is time to start crawling. NOTHING exciting to get into over here, baby, I promise.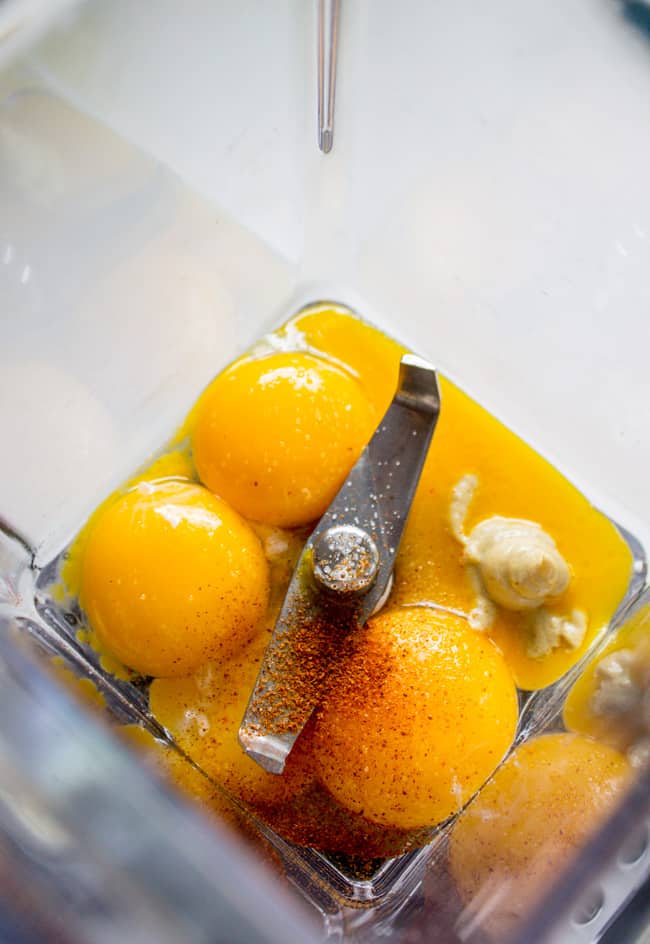 The painters are coming to sand the cupboards tomorrow. (Follow along on Instagram stories if you want!) We are painting our bottom cupboards gray and the top cabinets white. Here's a before: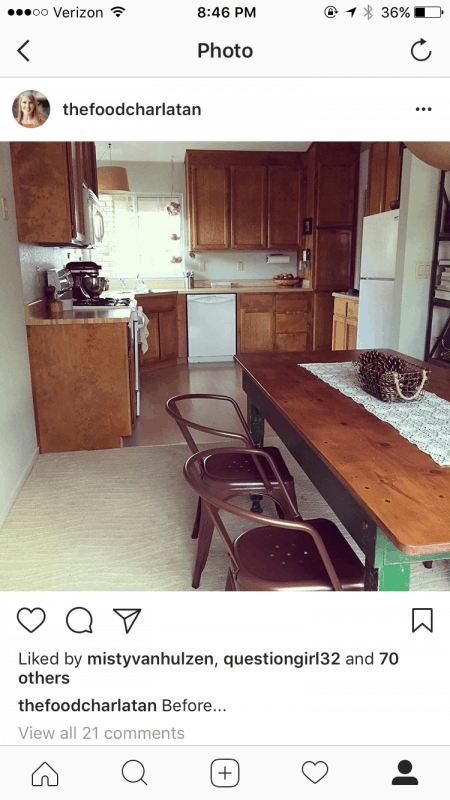 This is from last year right before we did the wood floor. (What delusional person decides to put white carpet in a dining room anyway?? With 3 kids it had to go.)
I'll show pictures when it's all done! I'm pretty excited. (To get my kitchen back especially!)
How to make Hollandaise Sauce
Do you love hollandaise sauce as much as I do? It is one of those simple sauces that I just cant get enough of. It is not hard to make, but there are a few rules. Do NOT microwave any leftover sauce. The eggs are uncooked (oh my!), meaning if you put the sauce in the microwave it will seize up and curdle and you will have sad chunks of scrambled egg in your sauce. No bueno.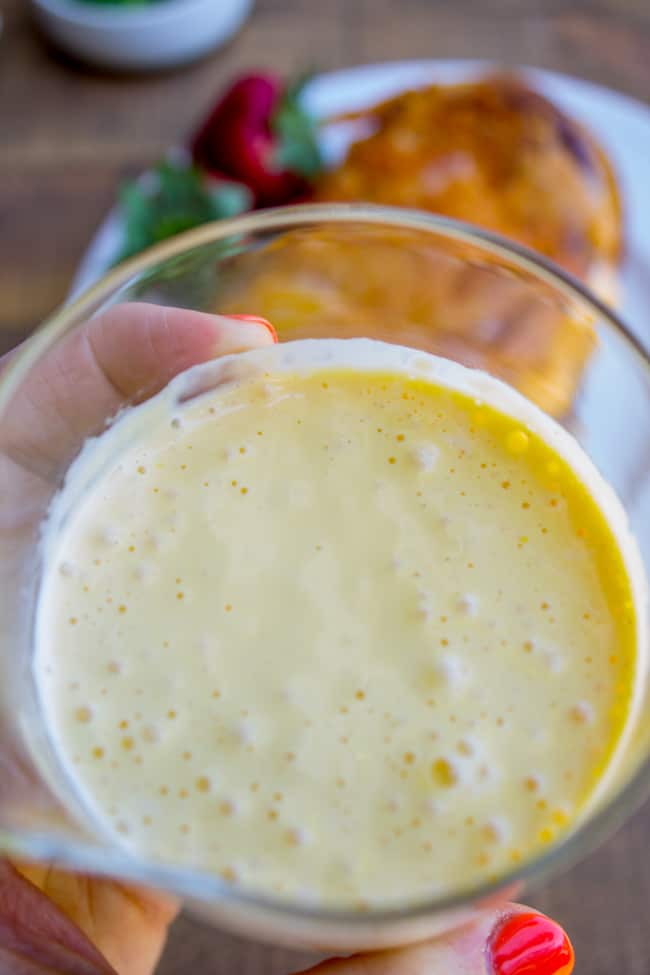 Solution? Same way you heat up breastmilk. (TMI?! This was the easiest way to explain it to my husband the other day, I thought some other parents out there might relate!) Instead of microwaving, you have to hold the container of sauce (a jar, bowl, or I like to use a glass measuring cup) under running hot water, or set it in a bowl of very hot water. If you want it to get REALLY nice and hot, then set a pot of water on the stove and rest the bowl of sauce in boiling water until hot, stirring so it stays nice and smooth.
Easy Hollandaise Sauce Recipe (in the blender!)
This is starting to sound complicated, but it's not hard. And really the only fussy part about the recipe is for reheating. When you make it the first time, it will be hot from the melted butter, and ready to pour on your breakfast right away. And it's so quick because you use the blender!
You need a few egg yolks to make hollandaise sauce. (It's what makes it so rich and custardy! Just like this Crème Brûlée Cheesecake is rich and custardy << this cheesecake calls for TEN egg yolks.) Check out my friend Courtney's post 50 Recipes For Leftover Egg Whites to get ideas for your leftover egg whites.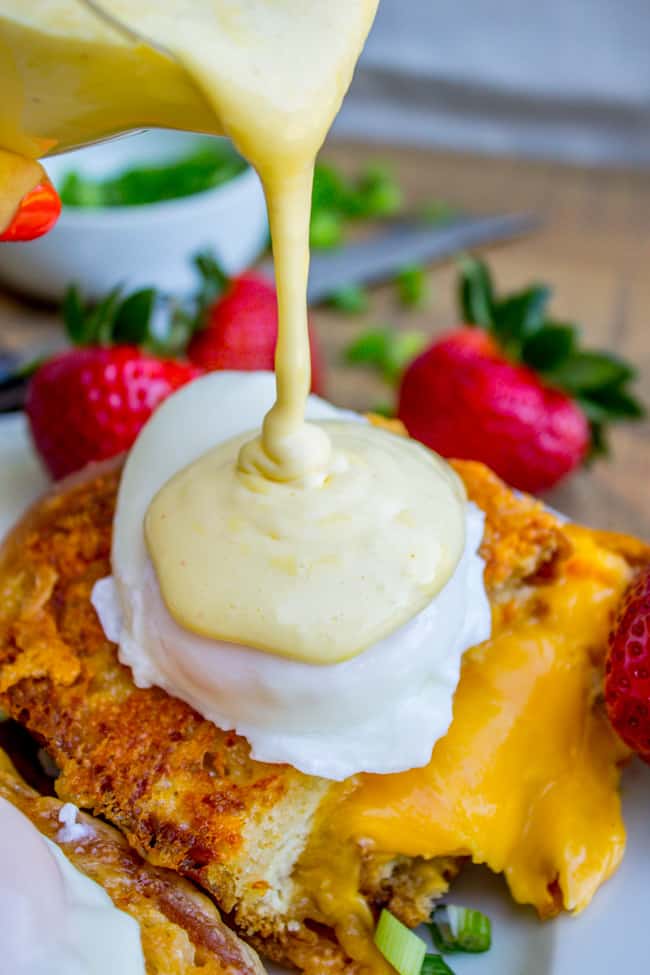 The whole reason to share this blender hollandaise sauce with you is so you can make this amazing Grilled Cheese Eggs Benedict recipe!! I'm so excited to share it!
If you make this recipe, share it on Instagram using the hashtag #TheFoodCharlatan so I can see it! I love that.
Facebook | Pinterest | Instagram | Twitter
One year ago: No Bake Peanut Butter Oatmeal Energy Bites
Two years ago: Blackberry Balsamic Grilled Chicken
Five years ago: Brazilian Cheese Bread (Gluten free)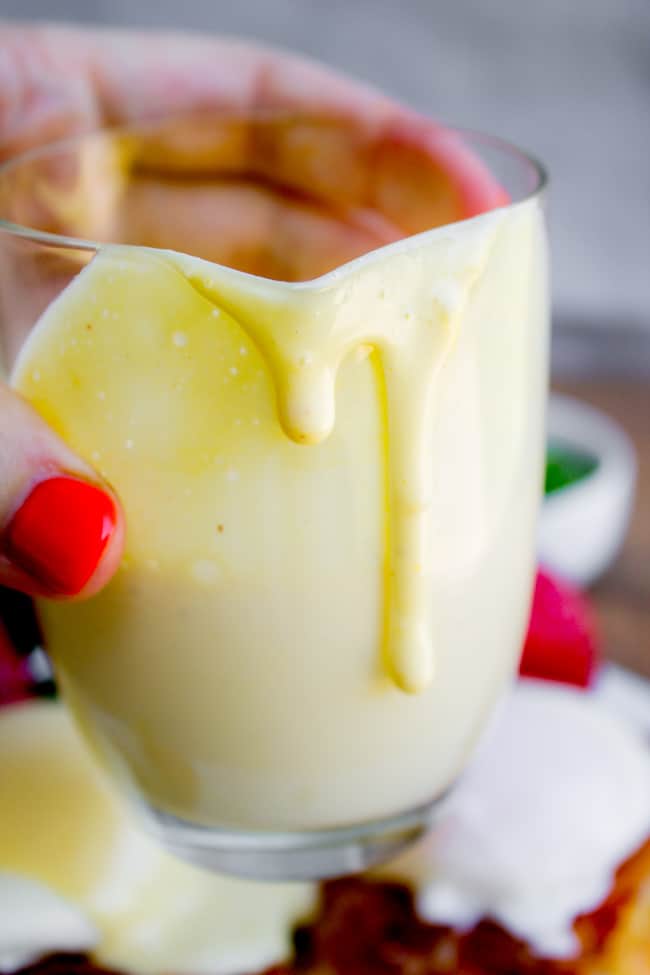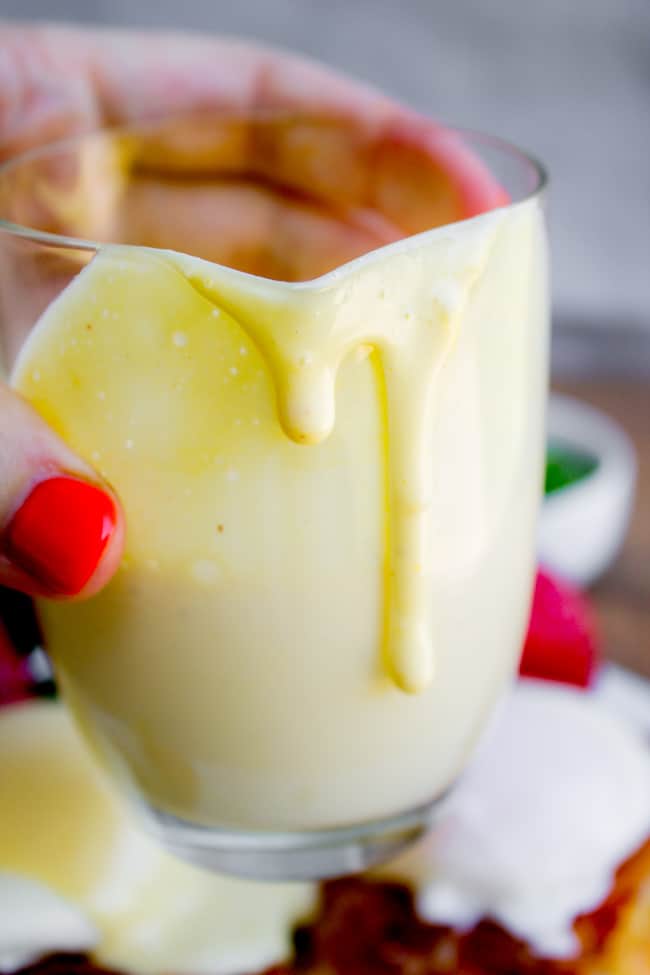 print
Did you make this recipe?
Leave a review »
Blender Hollandaise Sauce (5 Minute Recipe)
Makes about 1 cup
adjust servings
Ingredients
4

egg yolks

1/2

or 1 teaspoon dijon mustard

1

tablespoon + plus 1 teaspoon fresh squeezed lemon juice

1/8

teaspoon cayenne pepper*

2-3

dashes of salt

black pepper to taste

1

stick (1/2 cup) salted butter, melted (hot!)
Instructions
In a blender,** add egg yolks, dijon mustard, lemon juice, cayenne pepper, salt, and pepper. Blend until smooth.
In a small bowl, microwave the butter for about a minute until it is melted and very hot.
Open the top spout of your blender. Turn the blender on low and pour in the hot butter. It should thicken immediately.
Taste it and make sure all the spices are just right. Add more salt and pepper if you like.
Immediately pour the sauce into a measuring cup, bowl, or gravy boat. Place this into another bowl of very hot water. (You want to keep the sauce hot, but if you microwave it, it will curdle.)
Serve immediately.
Do not microwave to reheat! Run the container under hot water.
by The Food Charlatan

If you make this recipe,
share it on Instagram
 using the hashtag
#TheFoodCharlatan
so I can see it!
Source: This is my own recipe, but I got the blender idea from Allrecipes.com and also referenced Tyler Florence's hollandaise recipe.
Here are some recipes to go with this amazing Hollandaise sauce! 
Savory Parmesan French Toast with Hollandaise Sauce << I love this!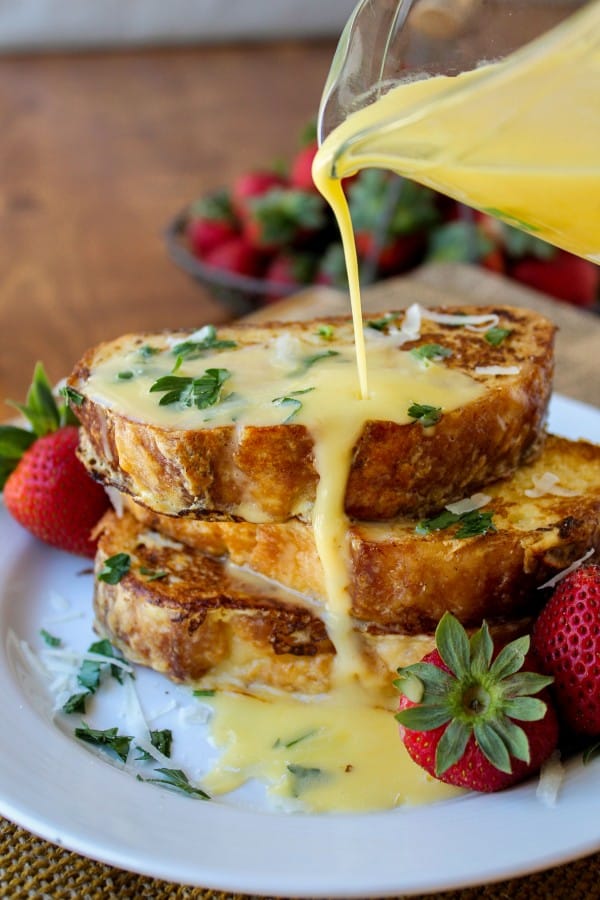 Eggs Benedict Casserole (Overnight) << this is a great holiday meal, especially Christmas morning. The hollandaise recipe to top the casserole calls for cream, which is untraditional but suuuper delicious and rich. You can use the same blender method like in today's recipe; add the cream with the yolks.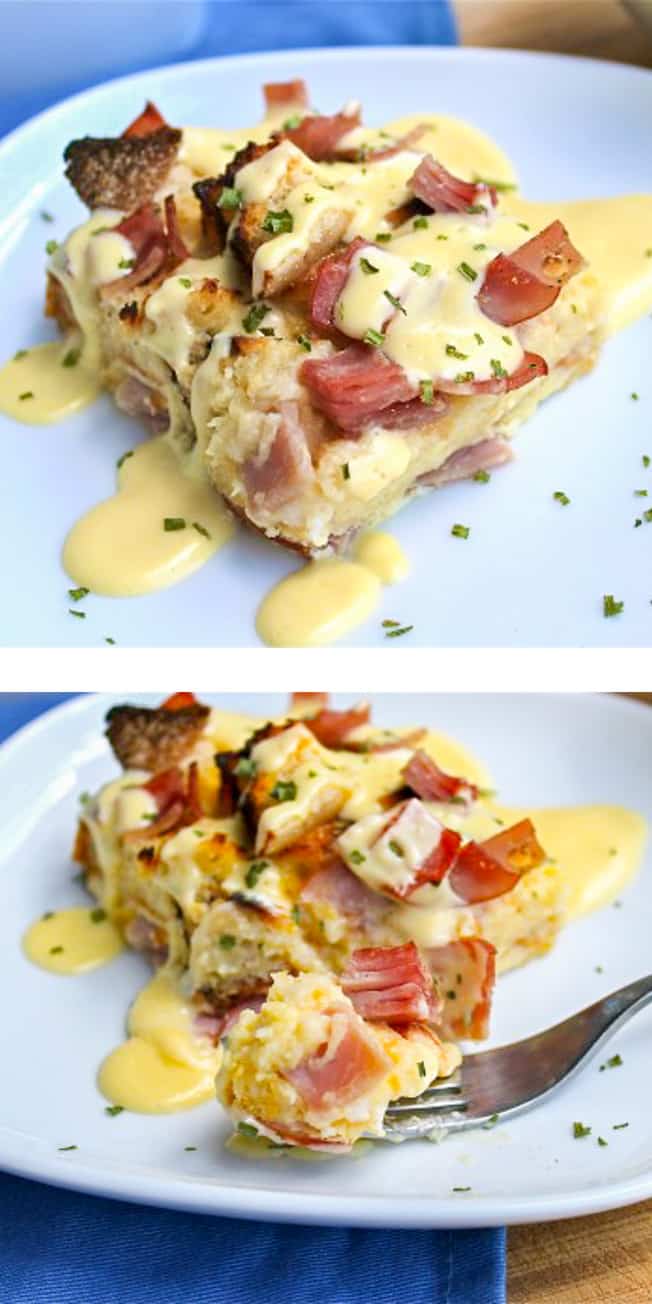 Bacon and Egg Toast Cups << this recipe doesn't call for hollandaise sauce, but wouldn't that be delicious?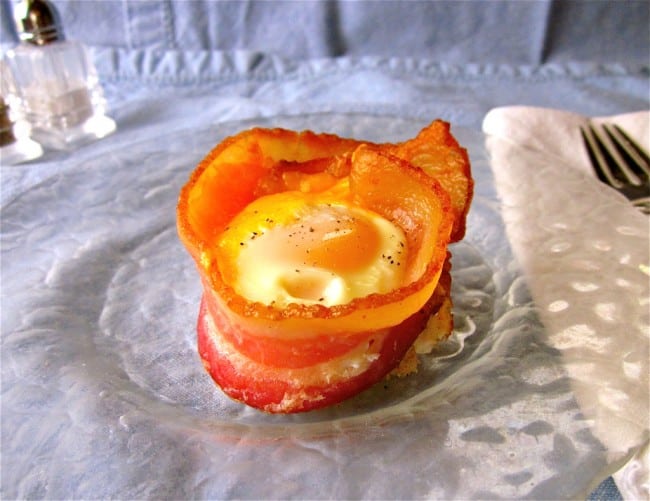 Other hollandaise recipes and ideas!
30 Second Hollandaise Sauce from The View From Great Island
Spring Asparagus with Hollandaise from Saving Dessert
Sausage Stuffed Mushrooms with Hollandaise from FoodieCrush
Breakfast Tacos with Roasted Habanero Hollandaise Sauce from Dash of Sanity
We are a participant in the Amazon Services LLC Associates Program, an affiliate advertising program designed to provide a means for us to earn fees by linking to Amazon.com and affiliated sites.