Creamy Make Ahead Scrambled Eggs for a Crowd
Are you the one by yourself in the kitchen making last-minute scrambled eggs for all your brunch guests? No longer! Make them ahead and pop them in the slow cooker. Thanks to a couple secret ingredients, they are so creamy and tender, I promise!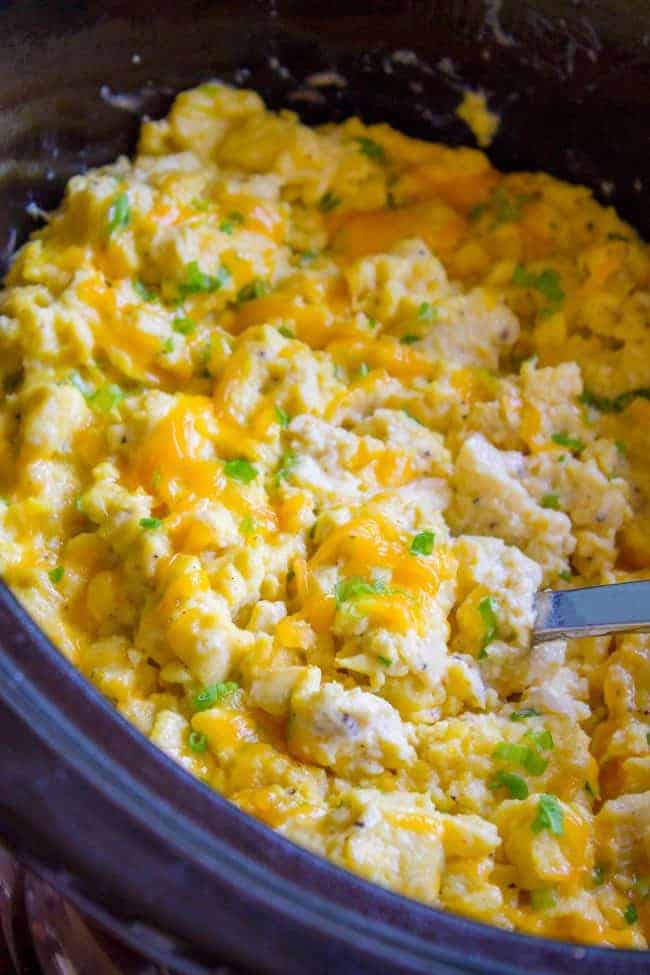 Eric just looked at his calendar and said, Your parents' fake anniversary is tomorrow!
He added their anniversary to his calendar on the wrong date, YEARS ago. And he still hasn't changed it. I've gotten texts for the last 9 years on August 16:
Eric: Tomorrow is your parents anniversary!
Me: What? No it's not. (And it wasn't last year, or the year before…)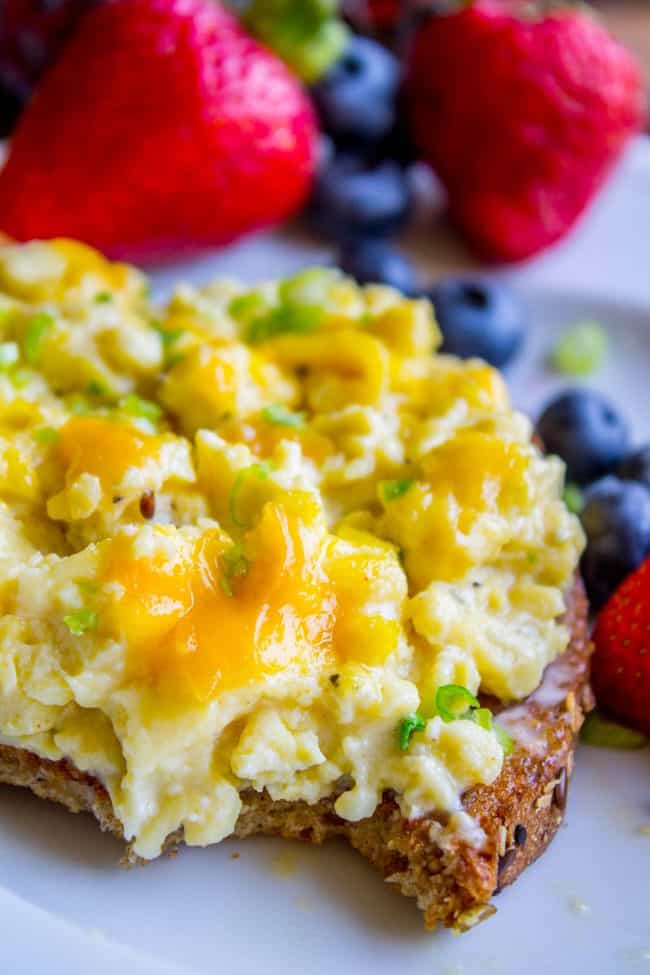 But really, how lucky am I to have snagged a guy who not only remembers our anniversary, but my parent's as well? Who am I to split hairs about the date?
It reminds me of how Eric's number was recorded on my phone as "Eric 106" for the longest time. Back in college I would add people to my phone organized by their first name and their apartment number (apparently I was WAY too cool for last names.)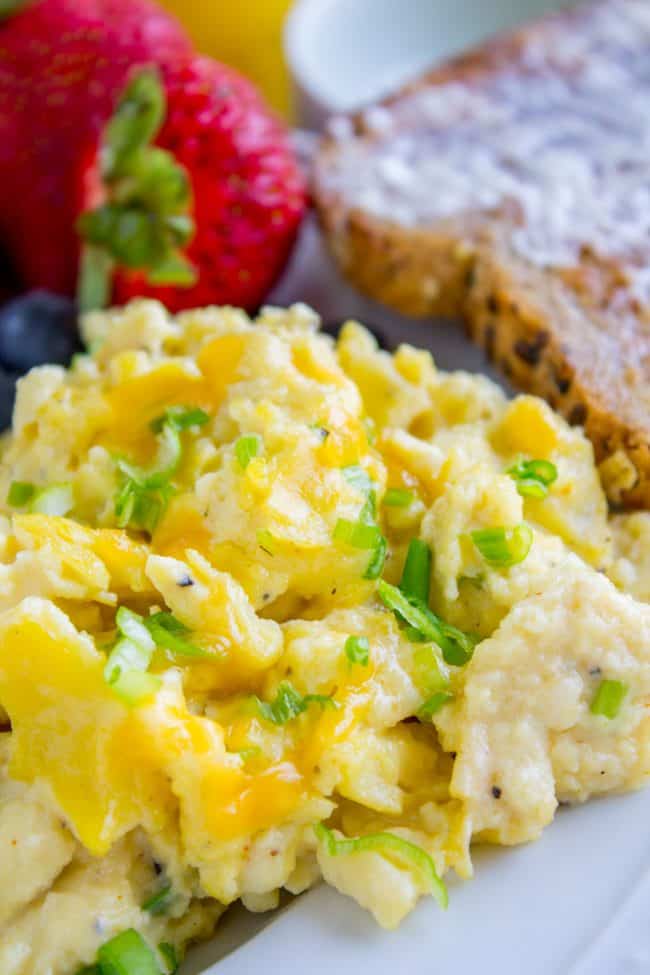 So when Eric called me up to ask me out on our first date, I added him to my phone as Eric 106 because that's where he lived, apartment 106. We dated, (broke up, oops that was me sorry Eric), got engaged, got married, had some kids, and then one day a few years ago Eric finally changed it to "Eric Husband." We're simple folks over here guys. At least the EMTs will know who to call if I'm ever in an accident.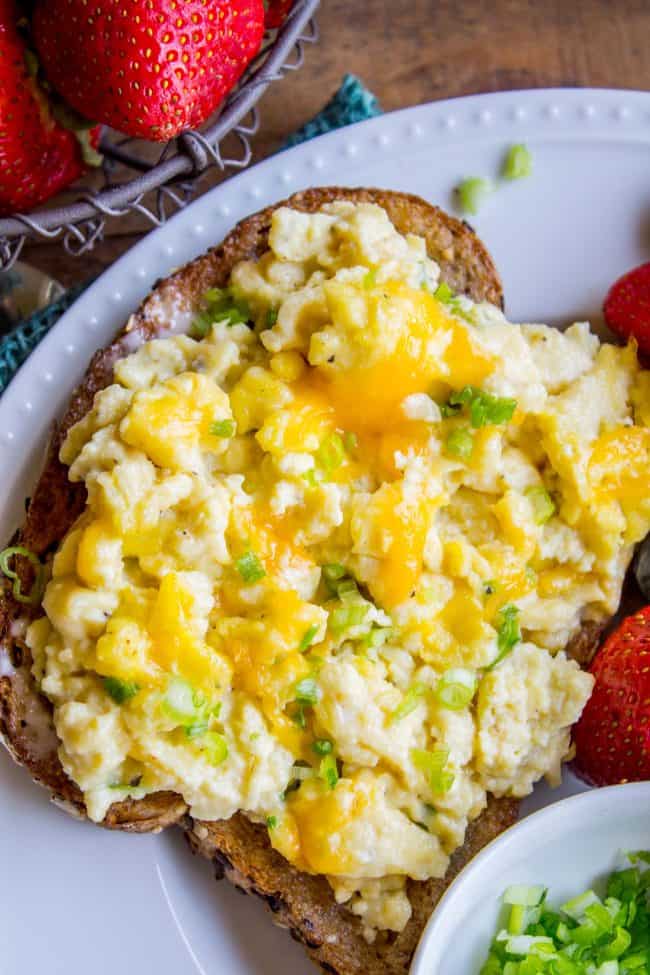 Also, side note, I was just googling some of my recipes to find suggested posts below, (just add "charlatan," any of my recipes should come up) and stumbled on this restaurant called Charlatan. It's in Chicago, has anyone been?? Looks pretty tasty.
So guys. Scrambled eggs in the crock pot. Trust me just this once.  No no, they're not cooked in the crock pot, that's not going to work. Just kept warm. You whir them in the blender to get them all mixed up (or you could just whisk in a big bowl), cook them in a pan with a stick of butter, then add cream cheese when the curds start forming. The cream cheese is the secret to keeping these make-ahead eggs creamy, tender, and soft for hours.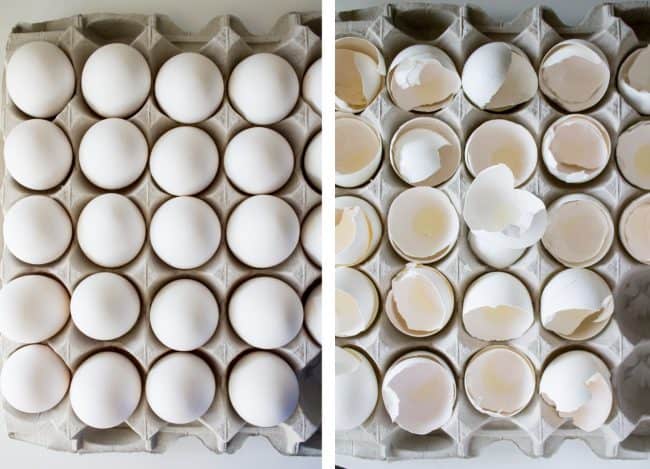 Yep, 2 dozen alright.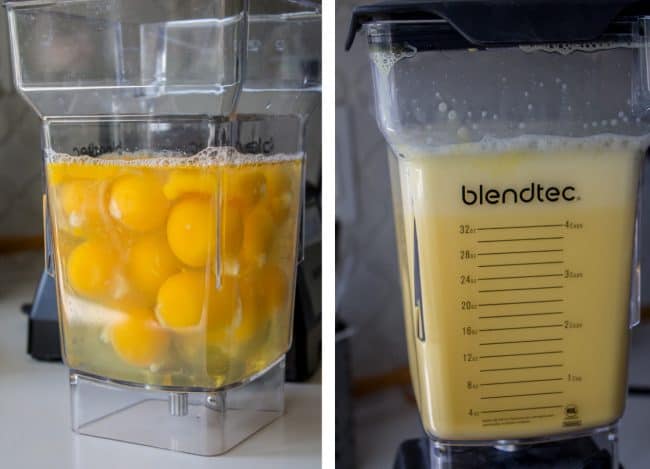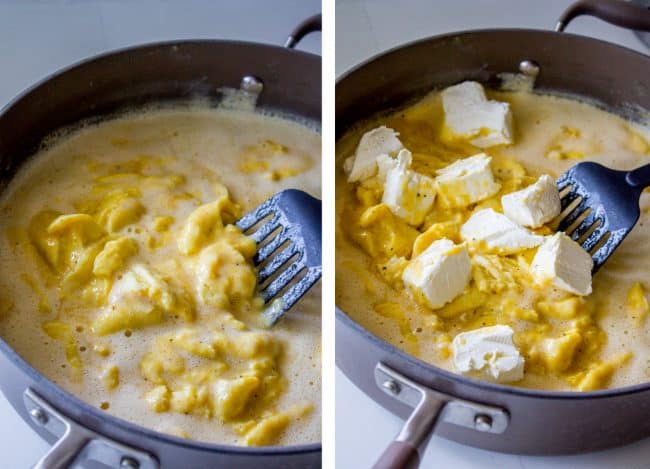 Now don't scroll down to the ingredient list and get mad at me because it looks long. Most of those are just spices, because I like really interesting scrambled eggs. But if you're a purist just use salt and pepper, by all means. This recipe is really just eggs, milk, spices, butter, and cream cheese.
The recipe serves about 15 people, depending on how hungry your guests are. This is such a great way to plan ahead for holiday brunches, weekend guests, or even just a weekend at home. Of course you don't have to make the whole amount. You could half the recipe, then keep it warm in the crock pot for lazy Saturdays when everyone seems to get up at different times.
Facebook | Pinterest | Instagram | Twitter
One year ago: Homemade Oreos with Cream Cheese Frosting
Three years ago: 13 Easy Back to School Dinners
Five Years Ago: Asian Cabbage Salad
Creamy Make Ahead Scrambled Eggs for a Crowd
Are you the one by yourself in the kitchen making last-minute scrambled eggs for all your brunch guests? No longer! Make them ahead and pop them in the slow cooker. Thanks to a couple secret ingredients, they are so creamy and tender, I promise!
Ingredients
24

large

eggs

1

cup

milk

,

cream, or half and half

2 & 1/2

teaspoons

kosher salt

1

teaspoon

black pepper

1/2

teaspoon

garlic powder

1/2

teaspoon

onion powder

1/2

teaspoon

mustard powder

1

teaspoon

seasoning salt

1/4

teaspoon

cayenne pepper

1/2

cup

butter

,

(1 stick)

1 (8-oz)

package

cream cheese

green onions

,

or chives, to garnish (optional)

shredded cheddar cheese

,

to garnish
Instructions
In a blender, add eggs, milk, and all the spices (salt, pepper, garlic, onion, mustard, seasoning salt, cayenne.) Make sure you have a big blender! Mine went over the 4 cup capacity at around 20 eggs and then I was too scared to add more so I just whisked them in. You could of course just skip blending and whisk them all in a bowl. Whatever sounds easier to you!

Melt 1/2 cup butter in a

12 inch high-sided skillet

over medium heat. When it is nice and hot, pour in the egg mixture. Lower the heat to medium-low. You have to cook eggs sloooow.

Use a spatula to occasionally scrape the bottom of the pan. Cook for 10-15 minutes until the eggs are starting to set.

Then add the cream cheese that has been cut into chunks. Carefully fold in the cream cheese and let it melt away into your dreamy creamy eggs.

When the eggs have cooked (cooked meaning you're ok sneaking a bite) but are still quite wet, add the eggs to a crock pot and turn the crock pot to warm. (If there is no warm setting, the low setting will do.) Put the lid on.

Stir the eggs every hour or so. You can keep them warm in the crock pot for about 4-5 hours. If you leave them in too long eventually they will become rubbery, so it's best to eat them within 4-5 hours.

When serving, top with cheddar cheese and green onions.
Notes
If you have a very large crowd to feed, you can double this recipe. Cook the eggs one batch at a time, and then you can add them to the same crock pot to keep warm. They should fit in a 6 or 7 quart crock pot.
This recipe is mine, but I found the basic idea for it in a recent Food Network magazine.
Nutrition
Serving:
1
g
,
Calories:
232
kcal
,
Carbohydrates:
2
g
,
Protein:
12
g
,
Fat:
19
g
,
Saturated Fat:
10
g
,
Polyunsaturated Fat:
2
g
,
Monounsaturated Fat:
6
g
,
Trans Fat:
1
g
,
Cholesterol:
332
mg
,
Sodium:
766
mg
,
Potassium:
159
mg
,
Fiber:
1
g
,
Sugar:
2
g
,
Vitamin A:
865
IU
,
Vitamin C:
1
mg
,
Calcium:
81
mg
,
Iron:
1
mg
So many eggs-for-breakfast recipes to choose from:
Cheesy Overnight Bacon and Egg Casserole << this is another good one to make ahead.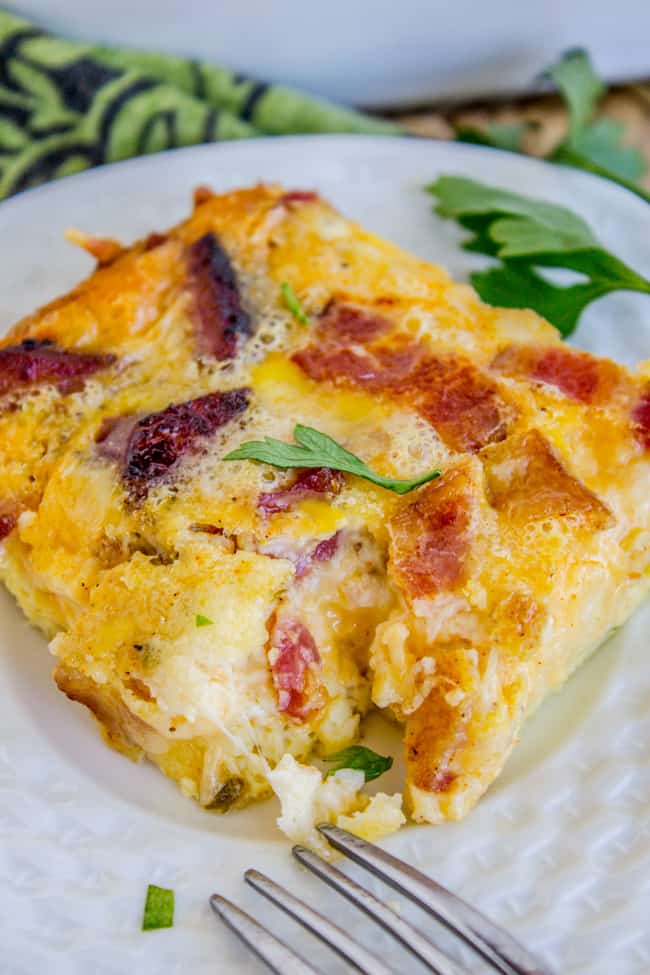 Cheesy Ham and Broccoli Frittata: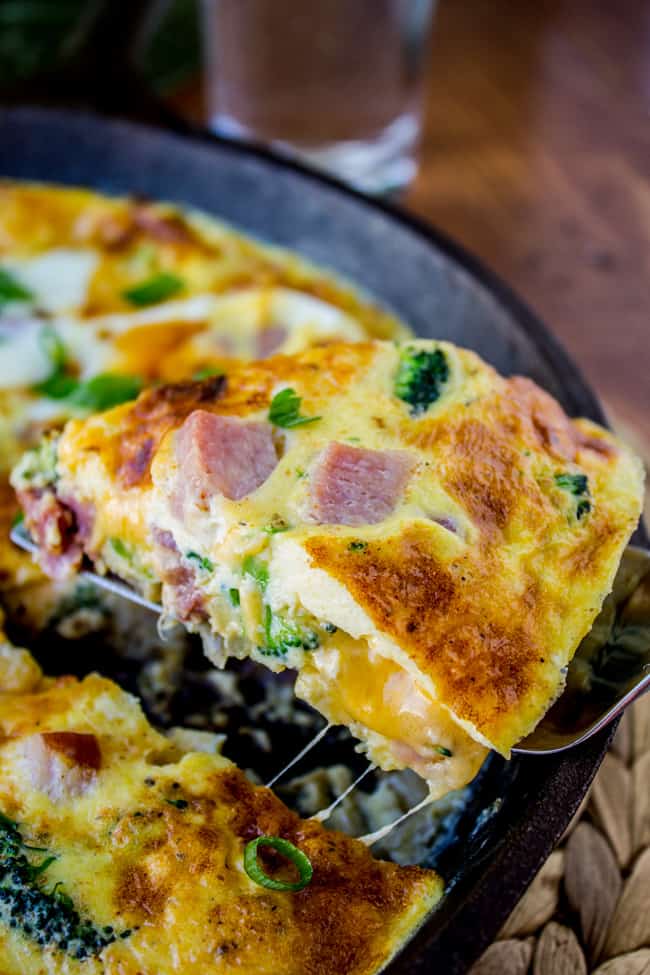 Cherry Tomato, Leek, and Spinach Quiche: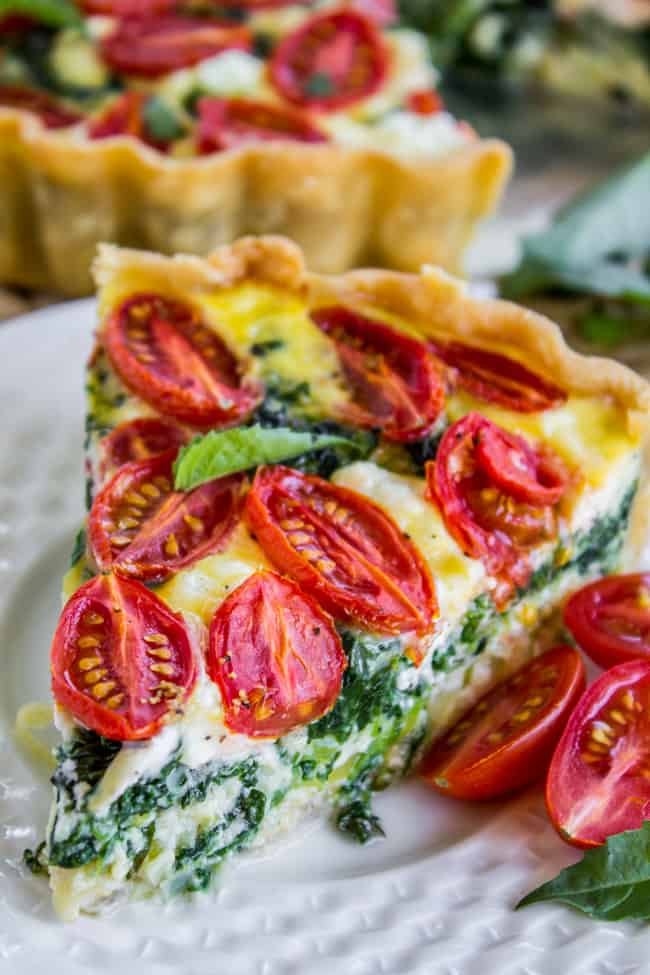 More scrambled eggs from blog friends!
2 Minute Scrambled Eggs in a Mug from Amanda's Kitchen
Cheesy Scrambled Eggs with Spinach from Barefeet in the Kitchen
Mexican Scrambled Eggs from Valerie's Kitchen
We are a participant in the Amazon Services LLC Associates Program, an affiliate advertising program designed to provide a means for us to earn fees by linking to Amazon.com and affiliated sites.