Lemon Lush Dessert is a perfectly light and refreshingly easy summer recipe! A crust layer of crushed Lemon Oreos AND pecans is topped with a cream cheese layer, a lemon pudding layer, and then freshly whipped cream. It's smooth, tart, and luxurious tasting! Feeds a crowd, too.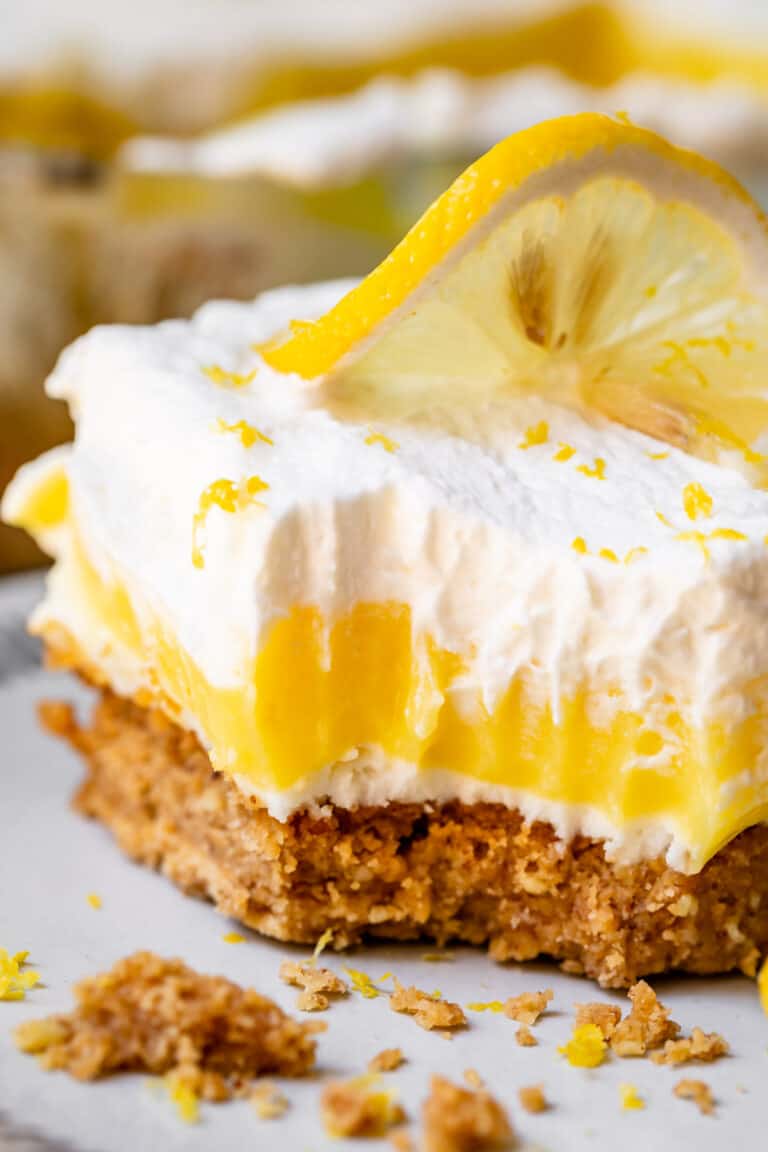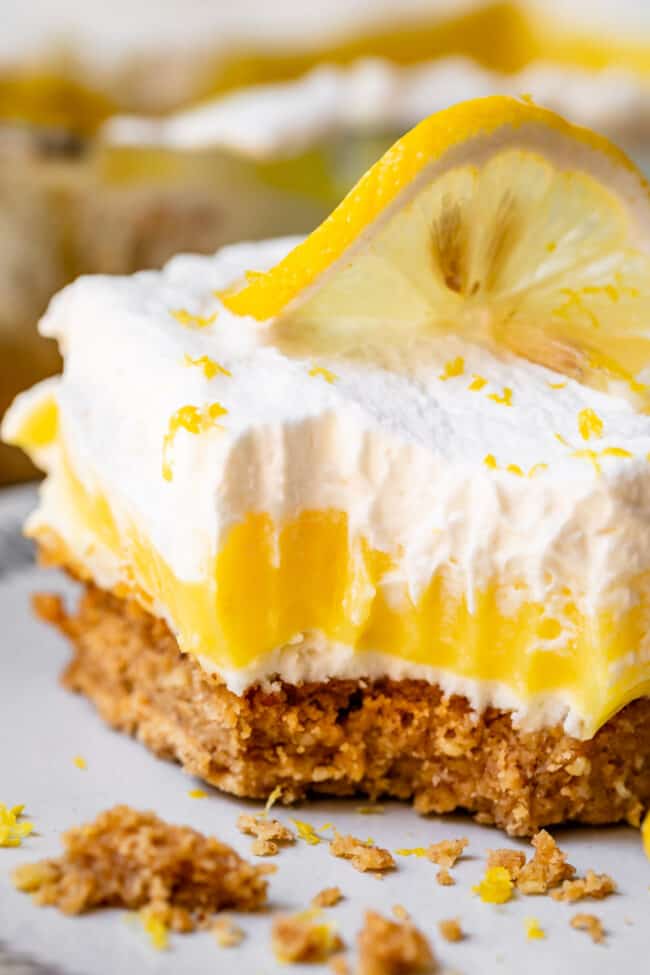 We had a bit of a hair clipping fiasco at our house last week. The annoying thing about kid's hair is that it never stops growing, so you always have to do something about it. Come on, didn't I just cut your hair last month? And now I have to do it again?? (Kind of like how dinner never lets up. No matter what you do, somebody still wants dinner 24 hours after you made the last one. What gives, universe?)
Eric graciously said he would take care of our boy's haircuts, and I graciously sent him a YouTube tutorial so that he didn't screw it up. (Aren't you bummed you're not married to me? Eric is a saint.)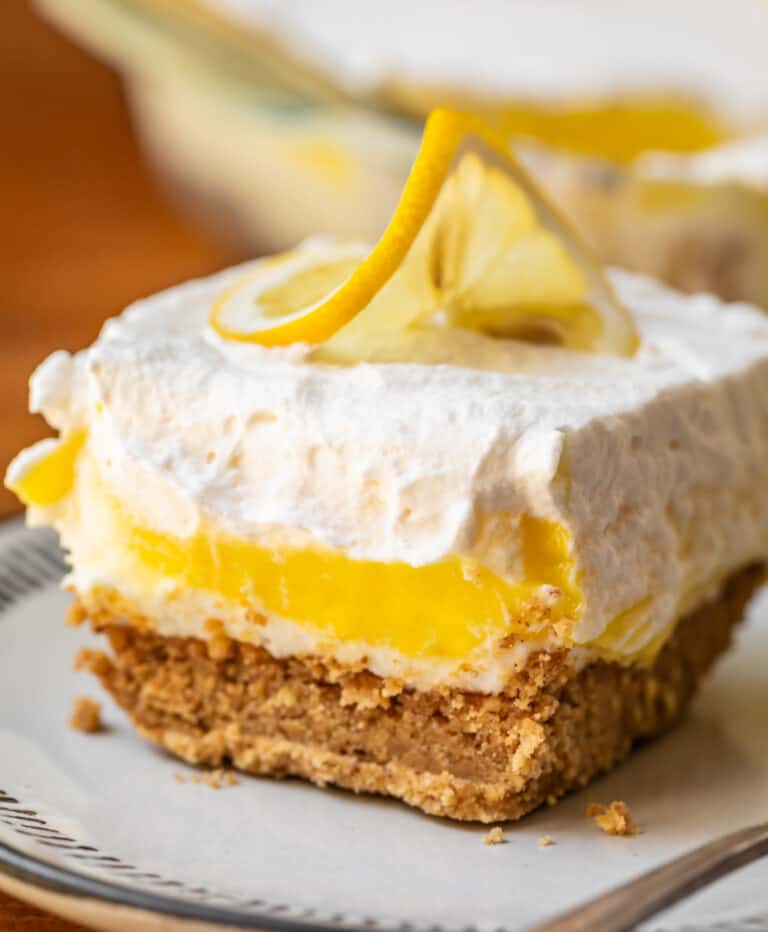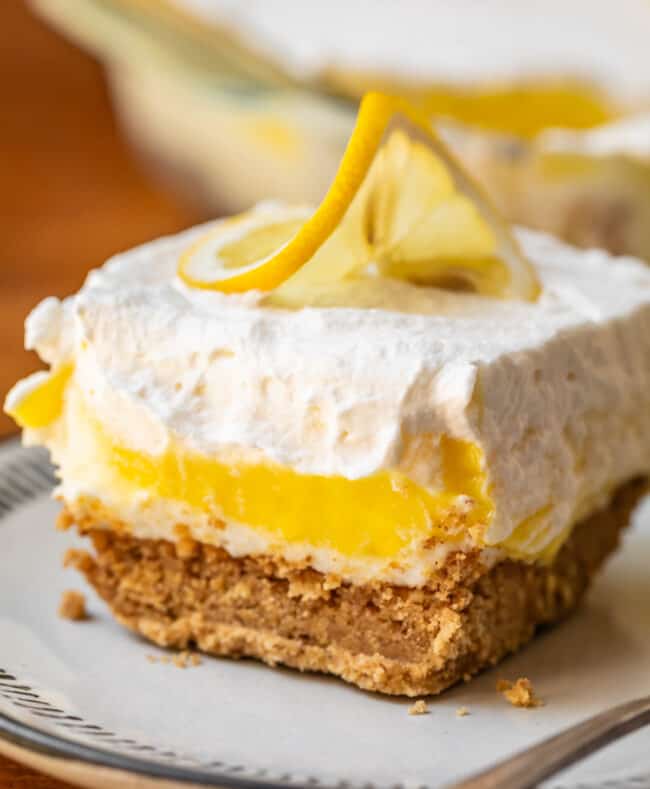 We started with the 2-year-old first, which in hindsight, was a mistake. You would not believe the level of crying, screaming, scissors-flying, ears-bleeding, hair everywhere, and general angst and chaos created from such a tiny human.
Then, after that episode, Eric had to clip the other, more placable son. 9-year-olds can totally sit still, so this should be easy peasy, right? Wrong. We paused that YouTube video so many times, and Truman still ended up looking like he got lawn-mow'd. At some point we just had to stop, because when things are going downhill and every move seems to make it worse, you just eventually call it quits, and accept that your kid looks like a hyena.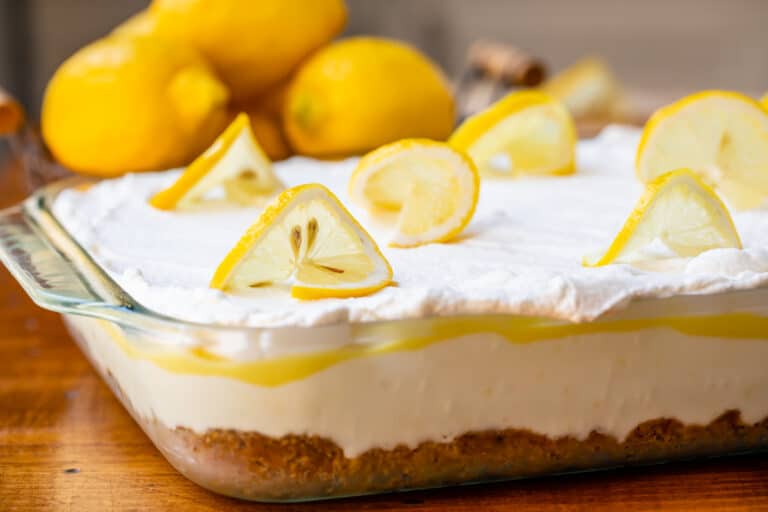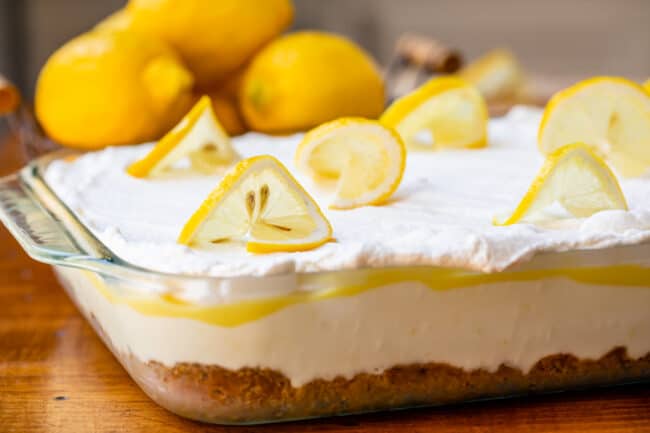 Oh well, I thought. The difference between a bad haircut and a good haircut is about 2 weeks, right?
I woke up the next morning and sent the kids off to school. And then I found out it was PICTURE DAY.
Noooo!!! The photographer probably took one look at Truman and thought, "are the scissors broken in your house, son?" (Where are my Parks and Rec fans at? 😉)
Well, now that I have solidified my son's position as the un-coolest-of-kids on the playground, we can move on.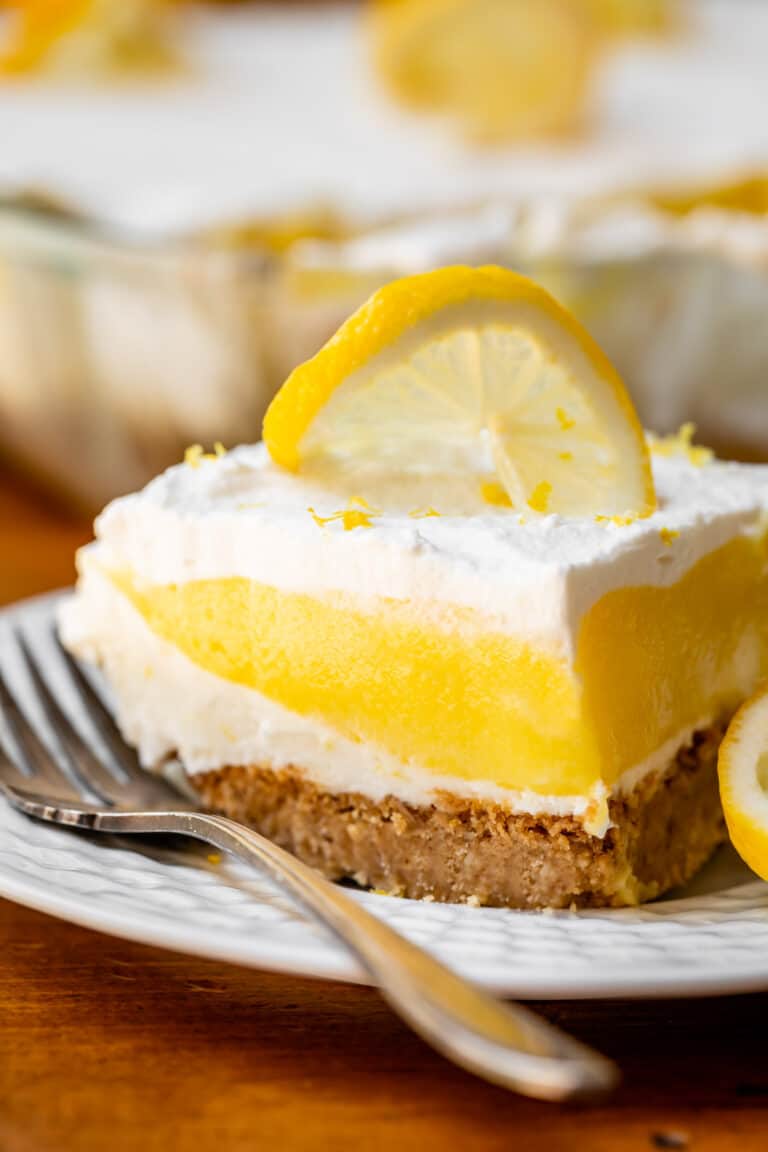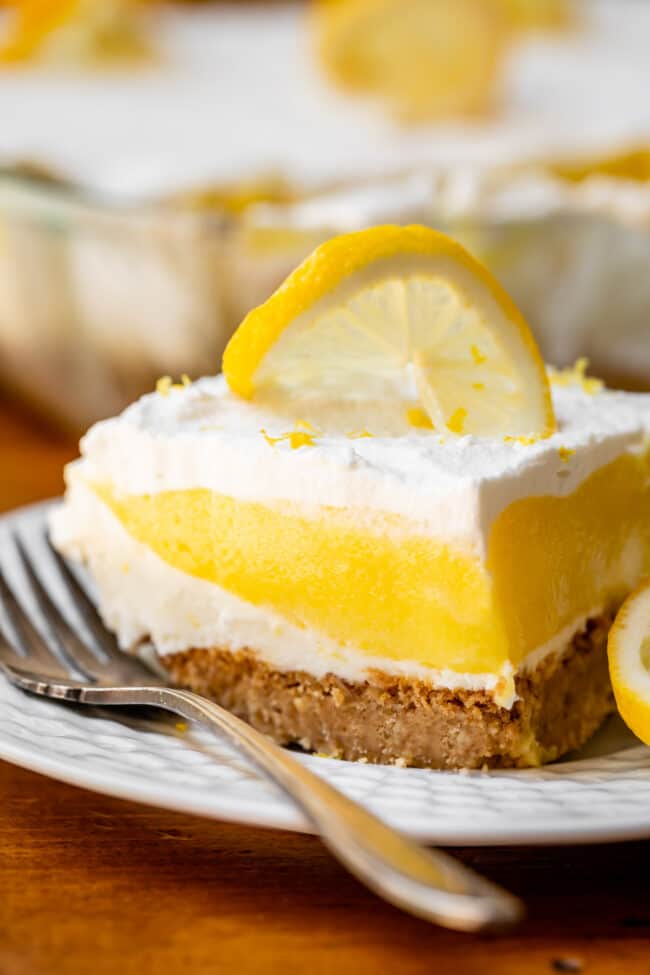 Let's get back in the kitchen, guys. It's seriously the only part of my life that I have not screwed up yet. (Okay wait, that's not even true, I screw up recipes all the time. Dangit!!)
Well I didn't screw this one up. I've got something amazing for you today. Have you heard of Lemon Lush?
What is Lemon Lush Dessert?
If you have not tried this stuff, sit down, shut up, and listen ;)
Lush desserts are cool and creamy, and live up to their name: they are LUSH. ("very rich and providing great sensory pleasure." Yes puh-lease!) They're usually made of several layers. A buttery crust, a lemony cheesecake layer, a lemon pudding layer, then topped with whipped cream.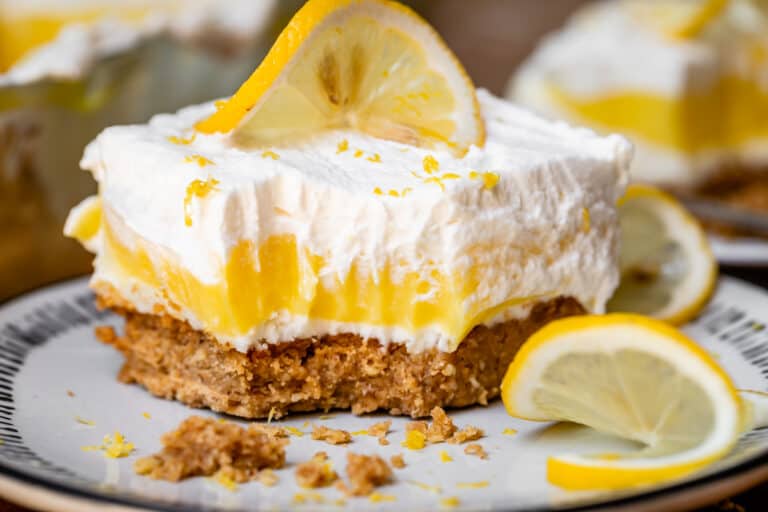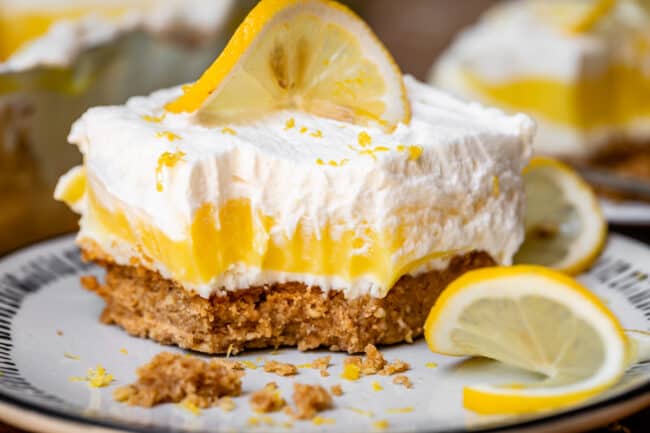 People who try Lemon Lush for the first time are usually dubious, you can see it on their face. They take a tentative bite, widen their eyes in surprise, and say something like, "What did you call this again? What is it?" In other words, give me more information about this glorious thing that just happened in my mouth.
Most people, at least where I'm from in California, haven't tried Lemon Lush. I feel like it's a Utah/MidWestern thing? Or what region is "old church cookbook" found in? Bet you 10 bucks your grandma made something like this. Of course you can change up the flavors to whatever you want: I've seen chocolate versions, turtle, Pistachio, etc. More details on variation ideas below!
Lemon Lush Ingredients
Let's break this down. It may look like a lot, but I promise it's so easy. This is an overview, the full recipe is below!
The Crust. You'll need Lemon Oreos, pecans, butter and salt.
Cream Cheese layer. basically a no-bake cheesecake layer: cream cheese, butter, powdered sugar, salt, and fresh lemon juice and zest.
Lemon pudding layer.* You need 2 boxes of lemon pudding, sugar, egg yolks, and milk.
Whipped cream topping. Just cream, powdered sugar, and salt and vanilla for flavor. You can cheat and use a tub of Cool Whip if you want!
How to make Lemon Lush Dessert
First things first, we need to make the pudding so it has time to cool. I used Cook and Serve pudding, instead of instant pudding, because it is richer (hello egg yolks) and also there is more pudding per box, so you get a thicker layer of bright yellow pudding in your Lush. See recipe notes for using instant pudding.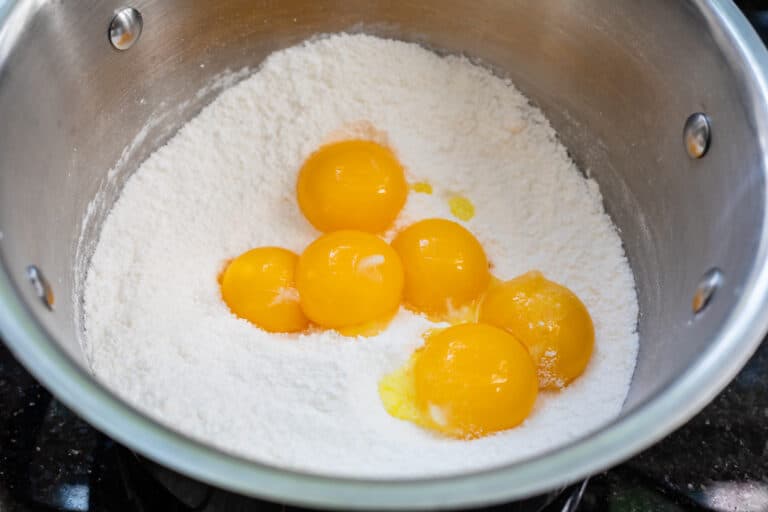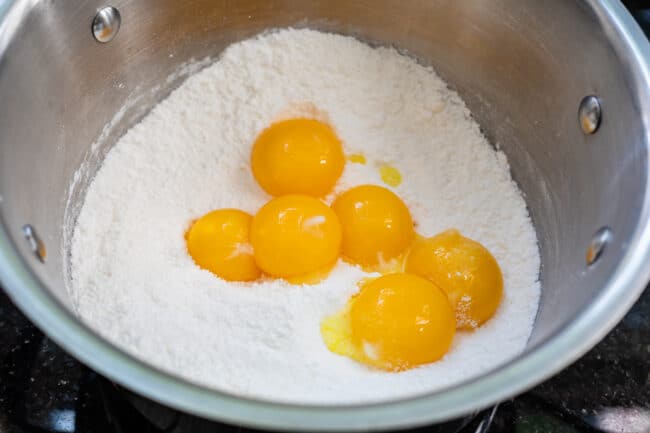 I like big yolks and I cannot lie.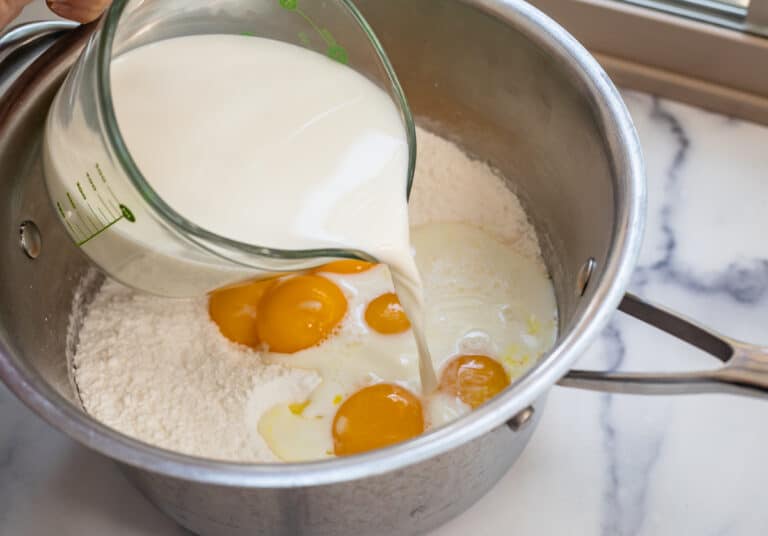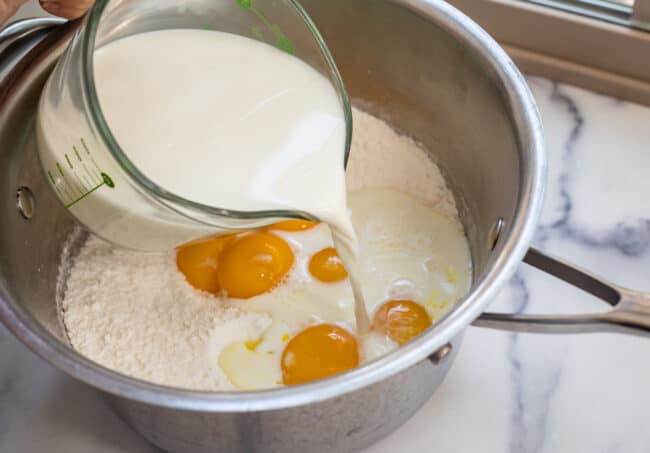 DON'T use the ingredients called for on the box. Instead we are using 2 (4.3) boxes of cook n' serve pudding, egg yolks, sugar, and milk. (The box calls for water. WHAT, NO. Whole milk, or this ain't puddin'. Bust out the half and half if you're feeling frisky.)
Mix it all together. Don't do a wimpy job on this. If you have lumps in your mixture, there will be lumps in your pudding, and nobody wants lumpy pudding. Whisk it before you even turn the stove on.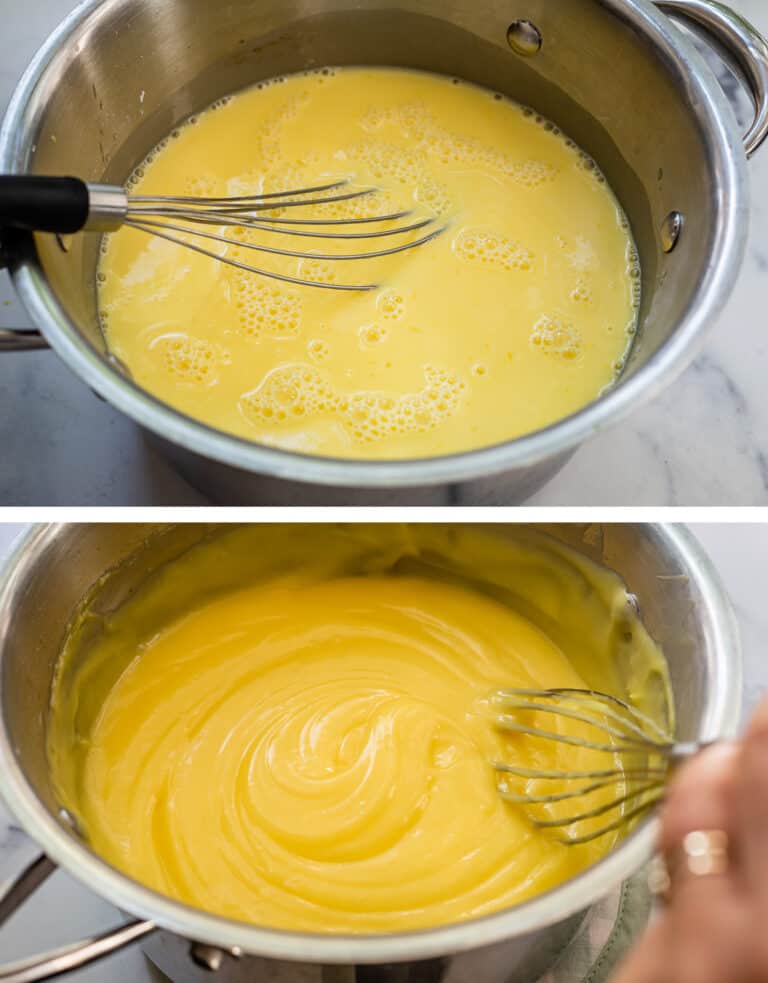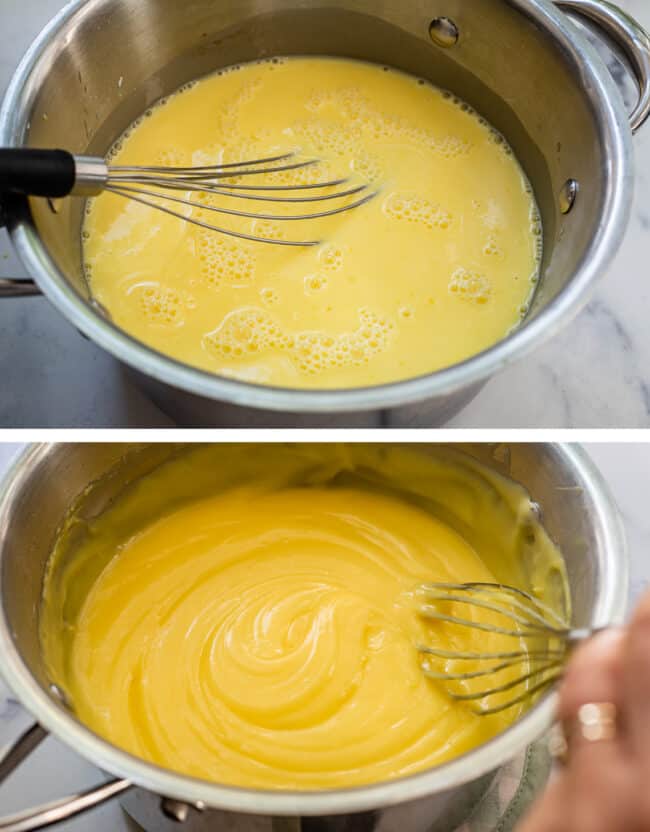 Set it over medium heat and continue whisking, whisking, whisking. Don't walk away or again, you will get lumpy pudding. Keep whisking just until it starts to boil and bubbles are coming up from the center of the pot. It should look like the photo above.
Set this aside in the fridge to cool while you make your crust.
Add some lemon Oreos and pecans to a food processor and pulse away.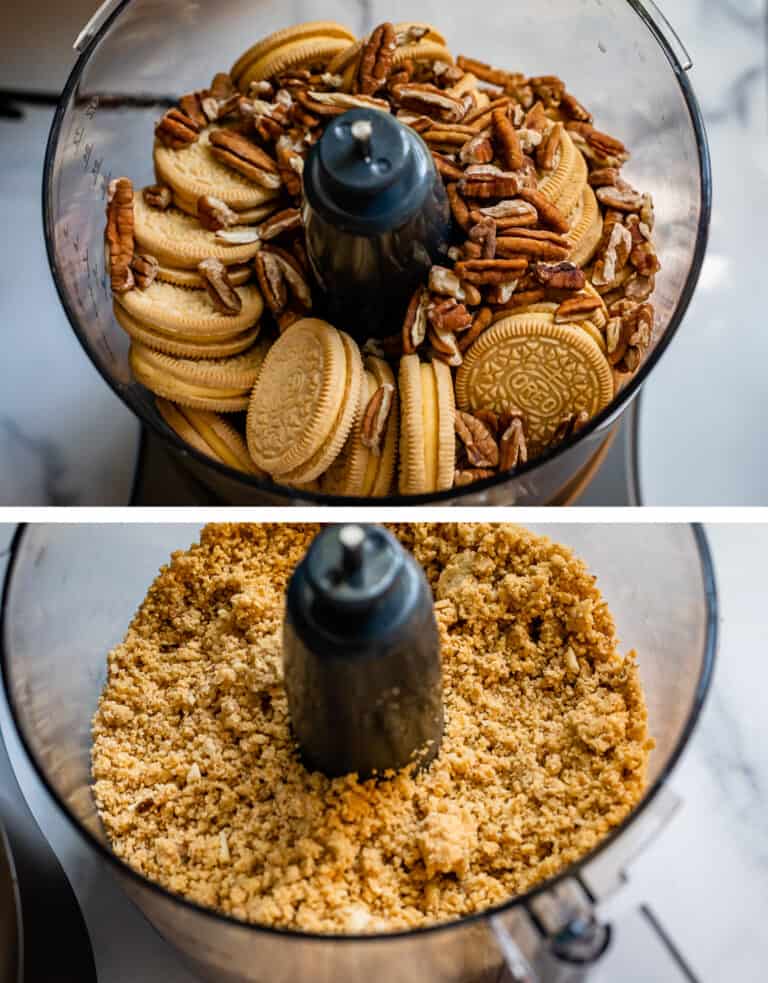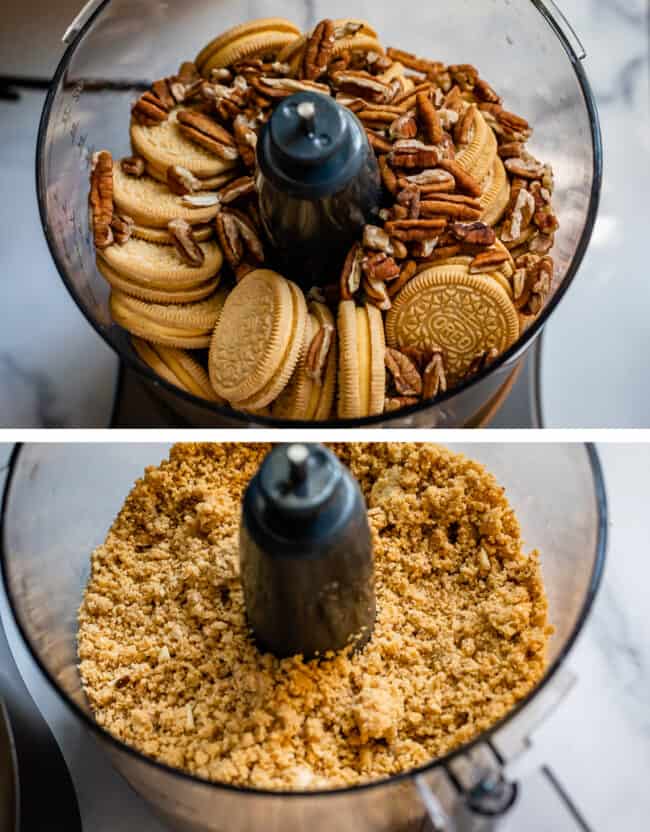 Add in some salt and butter, then press into a pan.
Bake it for 20-25 minutes until the top is a nice golden brown. We want those pecans nice and toasty, so don't under bake.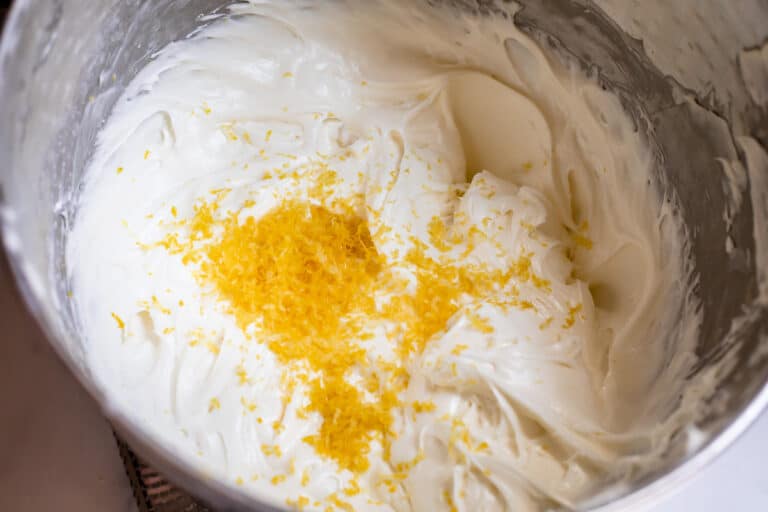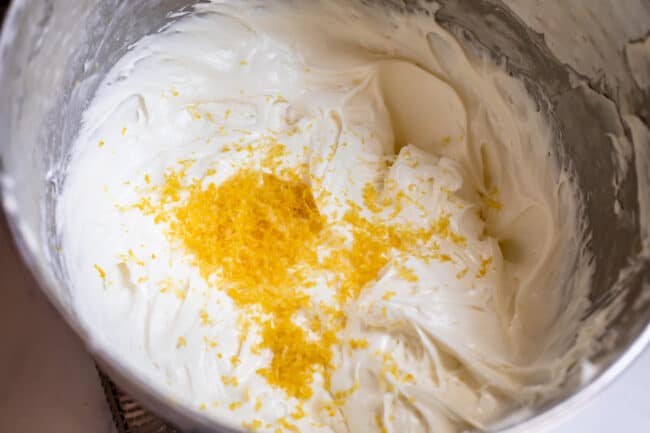 Whip up your cream cheese layer. Beat butter and cream cheese together with some powdered sugar, lemon zest and juice. Use lots of lemon zest!! Or don't, if a supremely smooth texture is more important to you. (I'll take the flavor any day).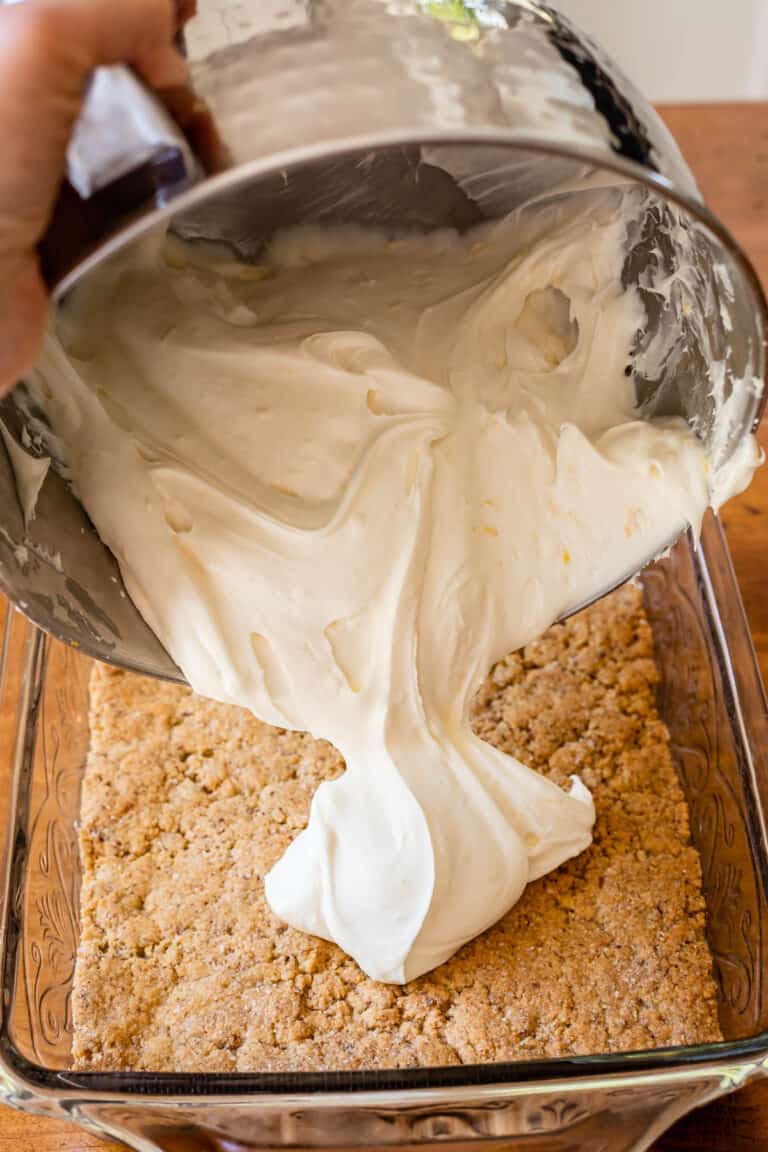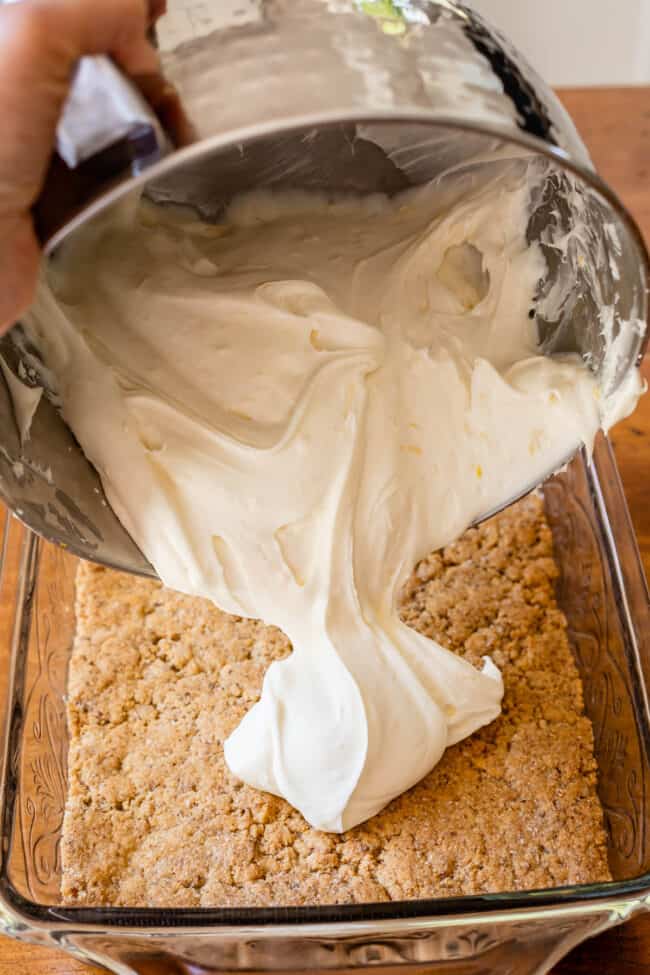 Spread the cream cheese layer onto the crust once it's cool. Spread it all the way to the edges.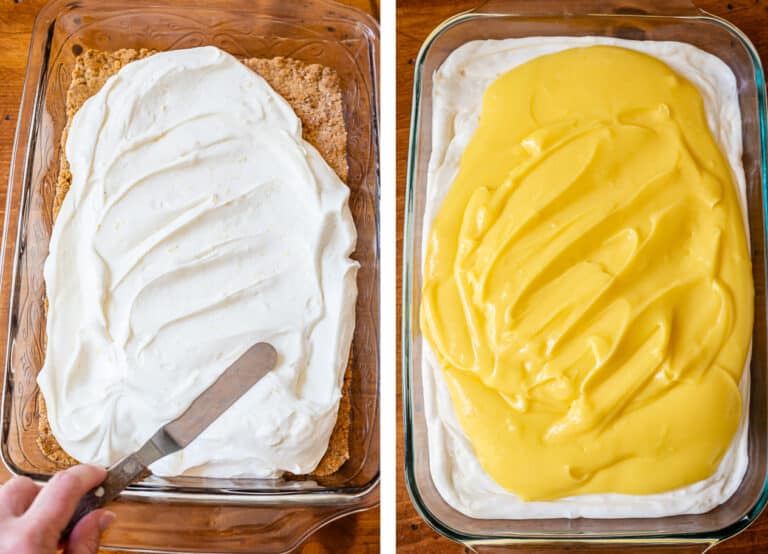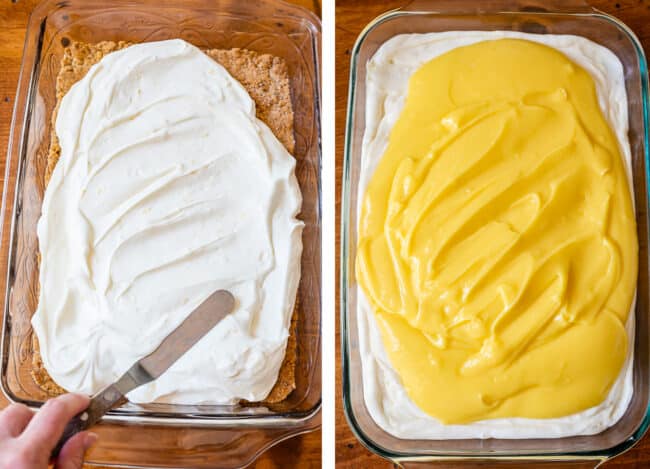 Add the not-hot pudding on top of the cream cheese mixture and spread to the edges.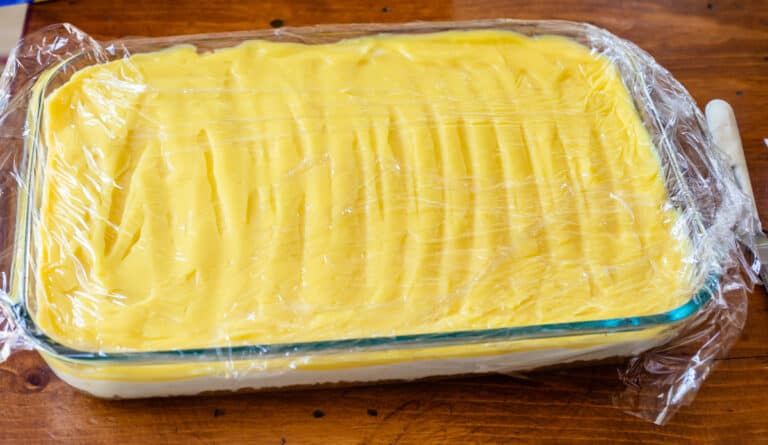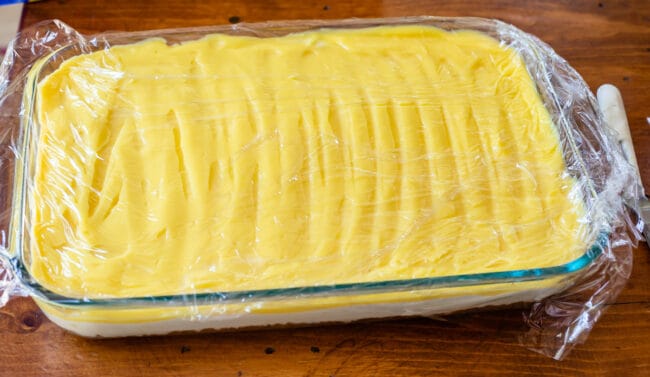 Press plastic wrap directly on the pudding so it doesn't make that gross film on top. Why are you so strange, pudding? Chill for several hours. Nobody wants room temperature Lush. It wouldn't be LUSH, ya'll.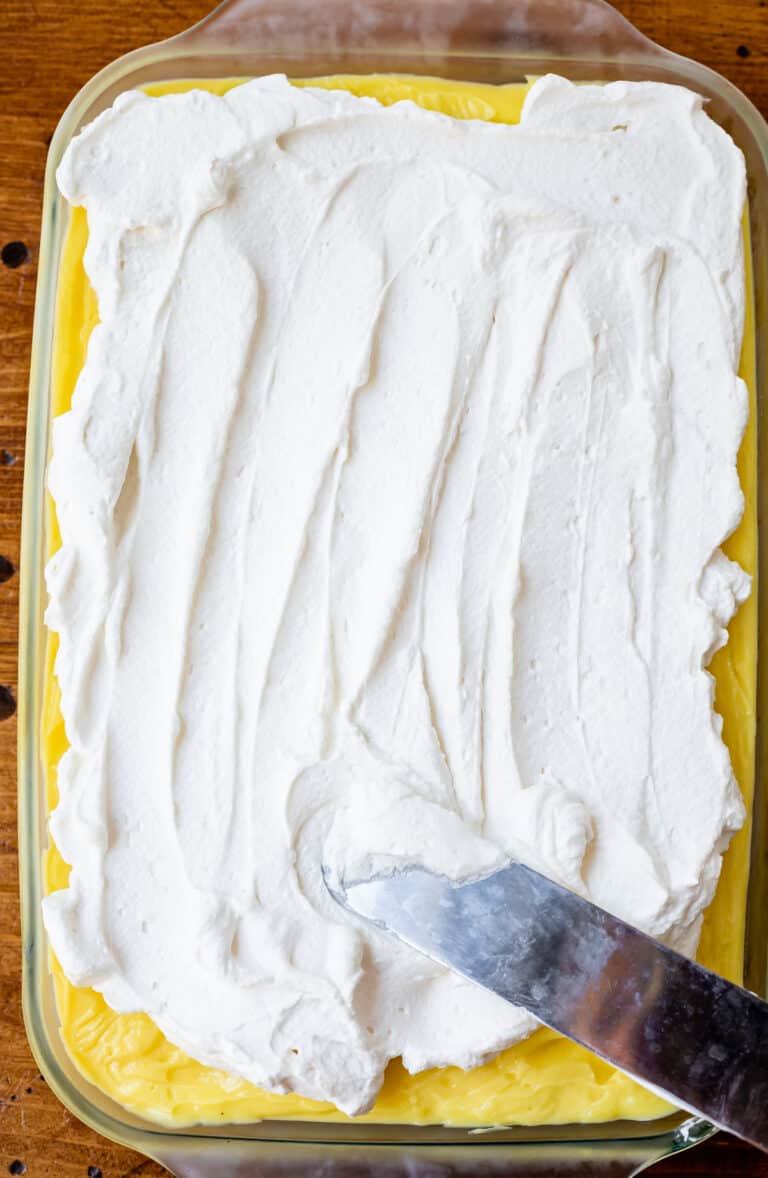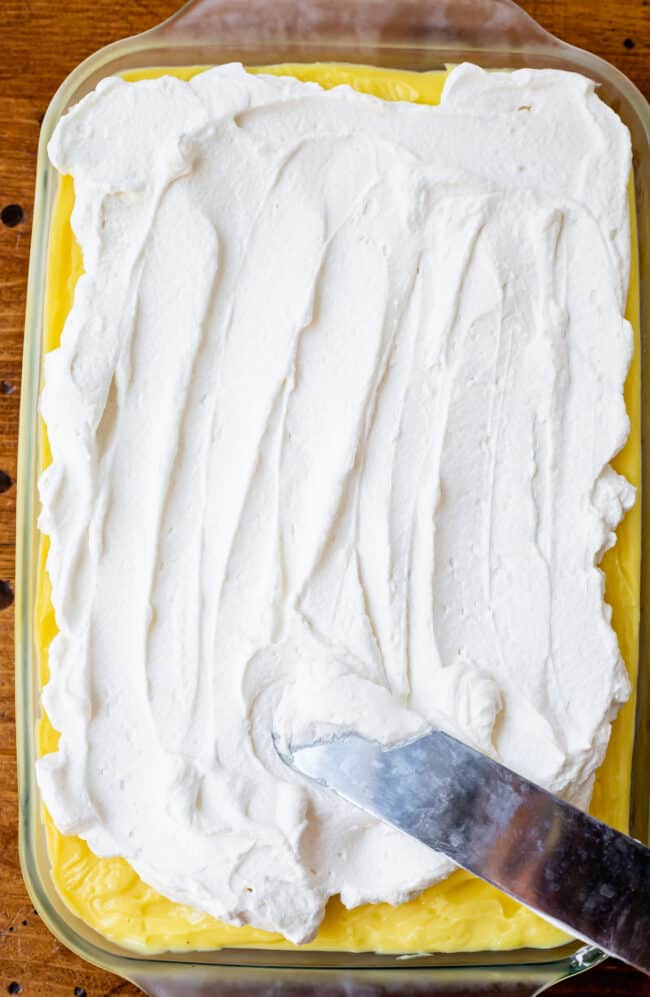 When you are ready to serve, whip up some cream and spread it over the top. Serve right away, sprinkle with lemon zest, more lemon Oreos, or crushed pecans! Make sure you steal a bite every time you pass by your fridge, like the heathen that you are.
Can you make it ahead of time?
Yes! Everything but the whipped cream topping. Because the crust is baked, the layers hold up very well. You can make this lush at least one or two days in advance before the crust starts to get soggy. Perfect for big holiday meals like Thanksgiving or Easter!
The whipped cream should be added just before serving. If you don't have time to beat cold cream and add it right before serving, you can whip it a couple hours in advance, saving it in the fridge in a separate container.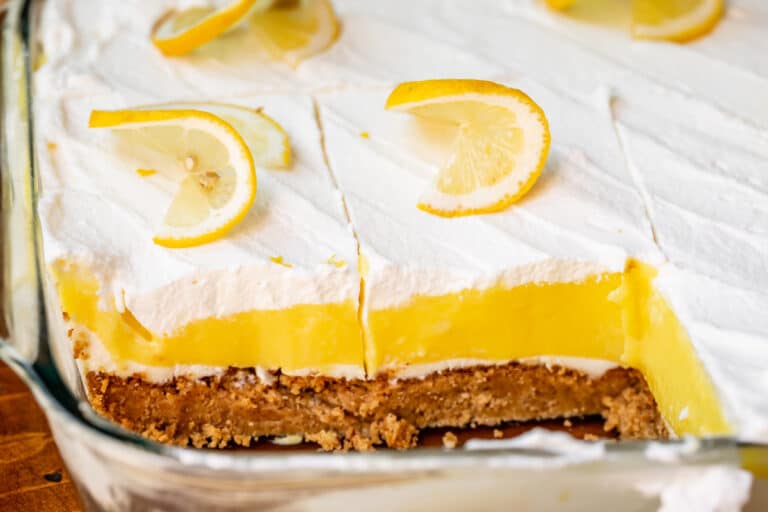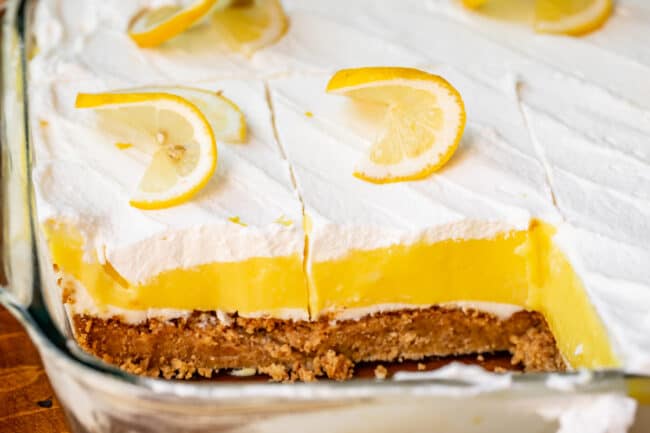 How long does Lemon Lush last?
Lemon Lush will be good for around 3 to 5 days, although we usually finish ours well before then! Definitely don't leave it out for more than an hour or two before putting it back in the refrigerator. It will keep longer that way, plus who wants to eat warmish pudding? Have some self respect.
Can you freeze it?
Yes, Lemon Lush is the perfect frozen dessert! Cover pan well with plastic wrap, then cover in foil. It will keep for 2 to 4 months. To thaw, simply place in the pan in the fridge overnight and let thaw slowly. If you serve it while it's still a little frozen, I can't see why this would be a problem!
If you are saving leftovers, just freeze it and hope for the best, presentation-wise. If you are making the recipe ahead of time and want to freeze the pan whole before eating any, I would leave off the whipped cream. Add the lemon pudding layer, seal well, and freeze. When ready to serve, thaw and then add fresh whipped cream on top. It will present much better that way!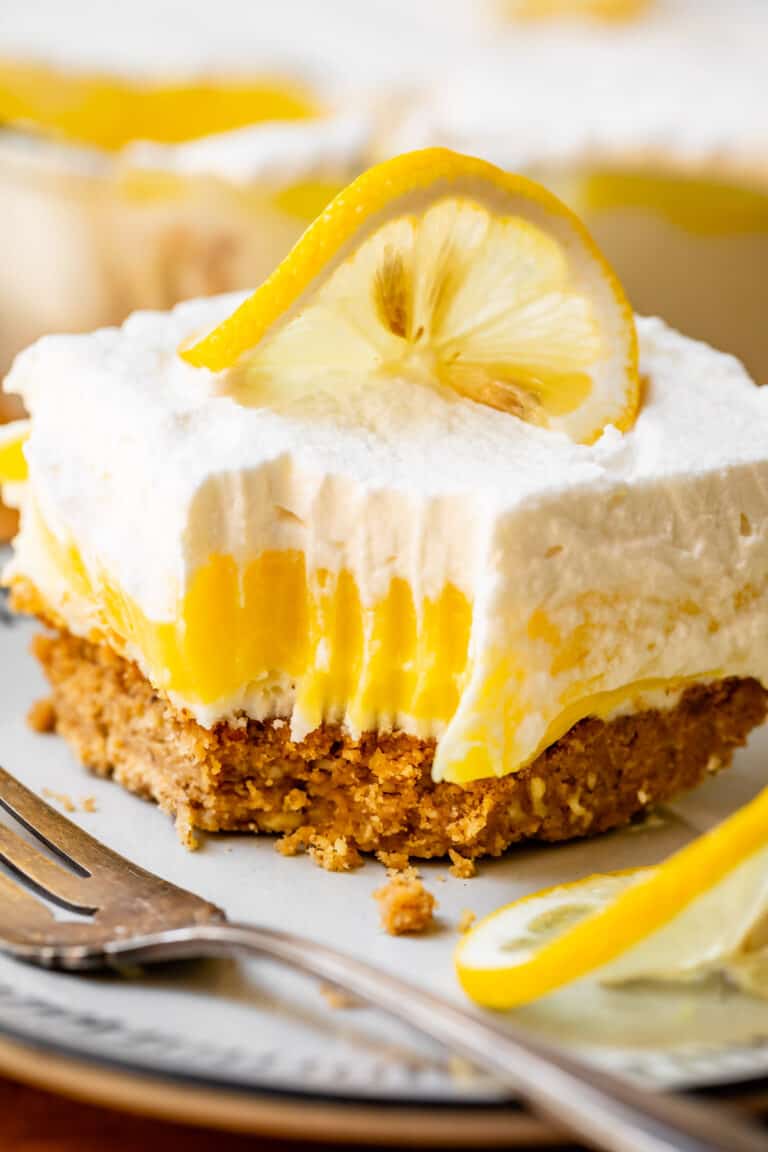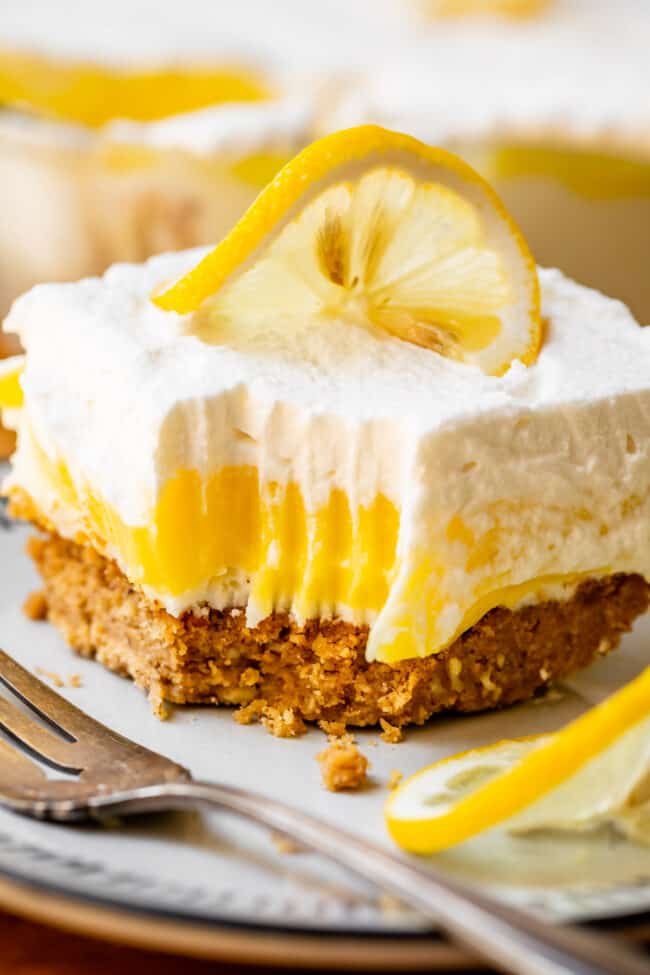 Variations: let's make every Lush recipe known to man!
Try making this recipe with any flavor profile you can think of:
Chocolate: use oreos for the crust, leave out the lemon stuff, make it chocolate pudding, voila!
Pistachio: use graham crackers for the crust (and maybe pistachios instead of pecans? I'm spitballin' here) then vanilla extract in the cream cheese, pistachio pudding, whipped cream.
Turtle: Use golden oreos/graham cracker and pecans for the crust, vanilla in cheesecake, chocolate pudding (or salted caramel pudding, is that thing? OR make a homemade Butterscotch Pudding <– yes, do this!!) and then top the whipped cream with salted caramel and toasty pecans. And maybe chocolate chips! Or incorporate chocolate by using an Oreo cust, if you go with a caramel pudding.
Banana cream: use Nilla wafers for the crust. Vanilla in cream cheese layer, use banana cream pudding, top with whipped cream, top with more Nilla wafers and bananas! And Pecans! And top the whole thing with Homemade Caramel Sauce. Ooh yes.
Seriously folks, tell me what other flavors you try. I want to make every variation of this dessert ever! Though I do think this lemon one might always be my favorite. Enjoy!
More light and refreshing summer desserts!
Desserts don't always have to be rich and heavy, sometimes cool and fresh is the order of the day. Here are some lighter-feeling treats to satisfy your sweet tooth!
Facebook | Pinterest | Instagram

Lemon Lush Dessert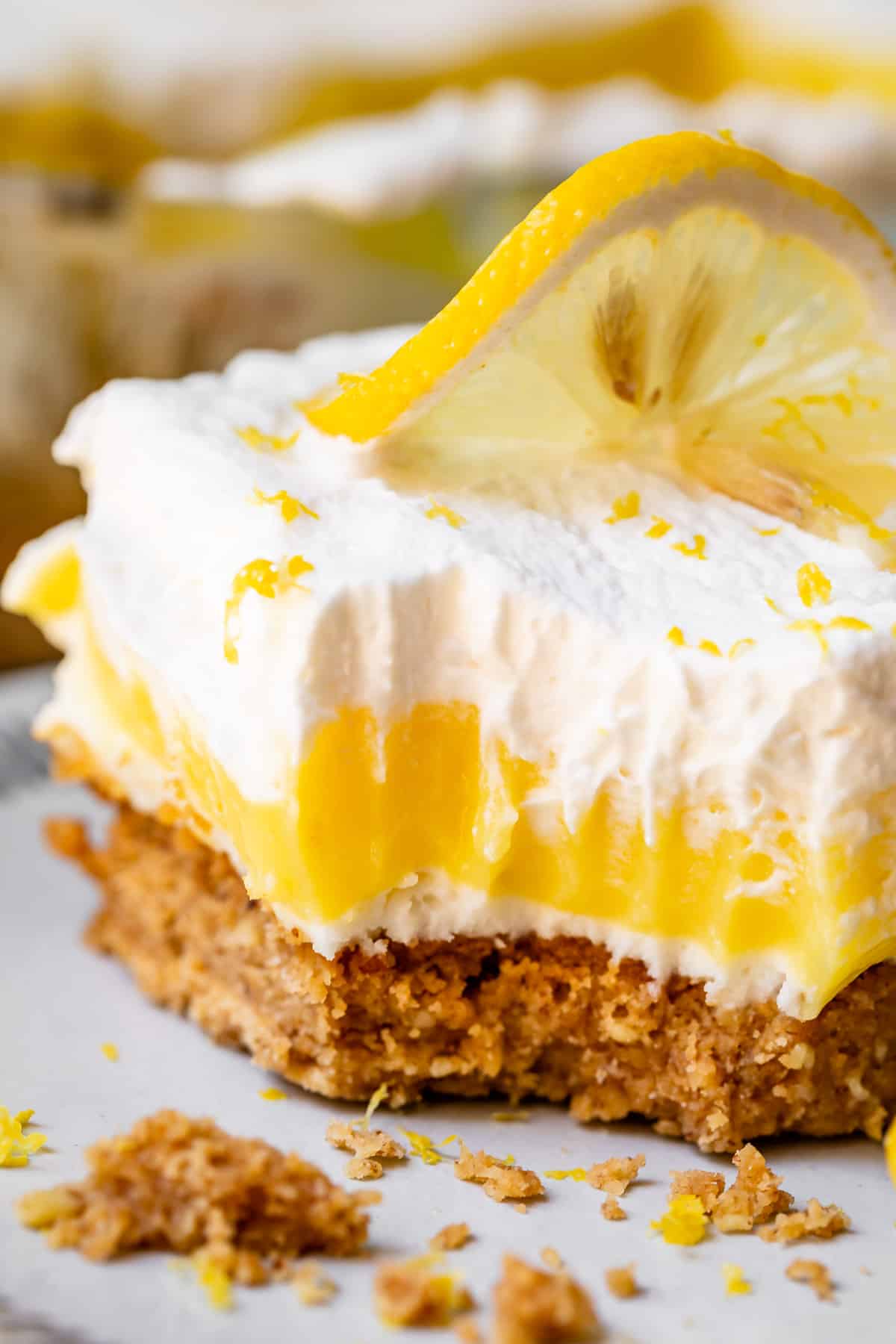 Lemon Lush Dessert is a perfectly light and refreshingly easy summer recipe! A base crust layer of crushed Lemon Oreos AND pecans is topped with a cream cheese layer, a lemon pudding layer, and then freshly whipped cream. It's smooth, tart, and luxurious tasting! Feeds a crowd, too.
Ingredients
Instructions
Add one 8-ounce package of cream cheese and 1/4 cup of butter into a stand mixer or large mixing bowl, to soften. Set aside.

Make the pudding.* Add two (4.3-ounce) boxes of cook-and-serve lemon pudding to a 3 quart saucepan. Add 1 and 1/2 cups granulated sugar and whisk together. Add 6 egg yolks. Add 5 and 1/4 cups whole milk. Whisk it all together thoroughly, making sure there are no lumps or bits of egg. Put your back into it, now.

Set the pan over medium heat and use the whisk to stir frequently for the first couple of minutes. After about 2 minutes, stick around and whisk constantly. We don't want any lumps in our pudding and this is where the magic happens, so don't walk away! You need to whisk until the mixture starts to boil. As soon as you see bubbles coming up from the bottom of the pan, turn off the burner and remove from heat.

Once the pudding has cooled for a couple minutes (Keep whisking every now and then), press plastic wrap directly on top of the pudding and up the sides of the pot (a film will form on top of your pudding if you don't.) Chill in the fridge while you make the rest. Pudding will thicken as is cools.

Meanwhile, make the crust. Preheat the oven to 350 degrees F. Add the whole 15.25-ounce package of Lemon Oreos to a food processor (about 29 Oreos.) Add 1 and 1/2 cups pecans and 1/4 teaspoon kosher salt. Process until the Oreos and pecans have turned into fine crumbs, stopping to stir as necessary. Add the melted butter and pulse to combine.

Scrape the mixture into a glass 9×13 inch casserole dish. Use your hands or a measuring cup to press the crust firmly into the pan. Bake at 350 for about 20-25 minutes, until lightly browned on top. Set aside to let cool.

Make the cream cheese layer. Beat the softened 8 ounces of cream cheese and 1/4 cup butter that you already have in a bowl. Beat until it is smooth and there are no lumps, scraping the sides of the bowl with a spatula as necessary.

Add 1 and 1/2 cups powdered sugar and 1/4 teaspoon salt. Beat well.

Add the zest from one lemon, use a microplane grater if you value your sanity. Add 2 tablespoons lemon juice, or more if you're feeling frisky. Beat well.

Once the crust is cool enough to comfortably put your hand on it for several seconds, add the cream cheese layer. Spread it all the way to the edges of the pan so you don't have any mixing of layers.

Top with the lemon pudding that should be not-hot and a little more set up at this point. Spread all the way to the edges.

Use another sheet of plastic wrap to cover the pudding layer, pressing it right onto the pudding so it doesn't make a film. Try to get any big bubbles out from under the plastic. Chill these layers for at least 3-4 hours, or overnight is great too.

Make the whipped cream. Just before you are ready to serve, make the whipped cream. In a large bowl or stand mixer, beat cold heavy cream on high speed. Add 1/2 cup powdered sugar, 1/4 teaspoon kosher salt, and 1 teaspoon of vanilla extract or lemon juice. Beat until soft peaks form.

Spread the whipped cream over the top of the lemon pudding layer. Chill until ready to serve. It's best not to cover at this point, so you don't ruin the pretty whipped cream on top.

Use a sharp knife to make slices, cleaning the knife each time. Sprinkle each serving with lemon zest, or toasted crushed pecans, or more crushed lemon oreos if you want!

To make the lemon twisties you see in the photos, slice a lemon into thin rounds, then make a slice halfway through the center of each round. Arrange on top of the Lemon Lush just before serving.
Notes
*You can use 2 (3.4 oz) boxes of Instant lemon pudding if you want! Skip all the other ingredients listed for the pudding, and just add the milk called for on the instant box (2 cups per box, so 4 cups total.) No eggs or sugar needed. You lemon pudding layer will be slightly thinner than if you had used Cook and Serve. Once your instant pudding has set up for about 5 minutes, you can pour it on top of the cream cheese mixture and chill as usual.  
**Heavy whipping cream, whipping cream, ultra heavy cream, or just "cream" are all the same thing: the cream that rises to the top of milk when you milk a cow. (No, I'm not talking about coffee creamer, yes, people ask me this every time 😂) The difference in the names is a reference to the fat content level of the cream. Any kind will work for this recipe. The higher the fat content (40% is ideal), the sturdier and tastier your whipped cream will be. 
Freezer instructions: Cover pan well with plastic wrap, then cover in foil. It will keep for 2 to 4 months. To thaw, simply place in the pan in the fridge overnight and let thaw slowly. If you serve it while it's still a little frozen, I can't see why this would be a problem!
Nutrition
Calories:
393
kcal
|
Carbohydrates:
40
g
|
Protein:
5
g
|
Fat:
25
g
|
Saturated Fat:
11
g
|
Polyunsaturated Fat:
3
g
|
Monounsaturated Fat:
9
g
|
Trans Fat:
0.2
g
|
Cholesterol:
123
mg
|
Sodium:
196
mg
|
Potassium:
192
mg
|
Fiber:
1
g
|
Sugar:
38
g
|
Vitamin A:
737
IU
|
Vitamin C:
1
mg
|
Calcium:
131
mg
|
Iron:
0.5
mg