Lemon Crinkle Cookies with Lemon Frosting
I currently have a mound of laundry on my bed waiting to be folded. Putting it all on my bed is my strategy for getting it done, because then I have to do it before I can get in bed when the time comes. Unfortunately this strategy usually fails because I have no problem shoving my clean laundry off the bed to get into it when all is said and done.
But the real reason I am stalling to do it is for fear of injury. That's right. Most people who injure themselves have a pretty good reason. Oh, you hurt your knee snowboarding? That's cool. Oh, you threw out your back helping your friend move? That was sure nice of you. Me? Oh, I injured my shoulder folding my underwear. (Awkward silence.)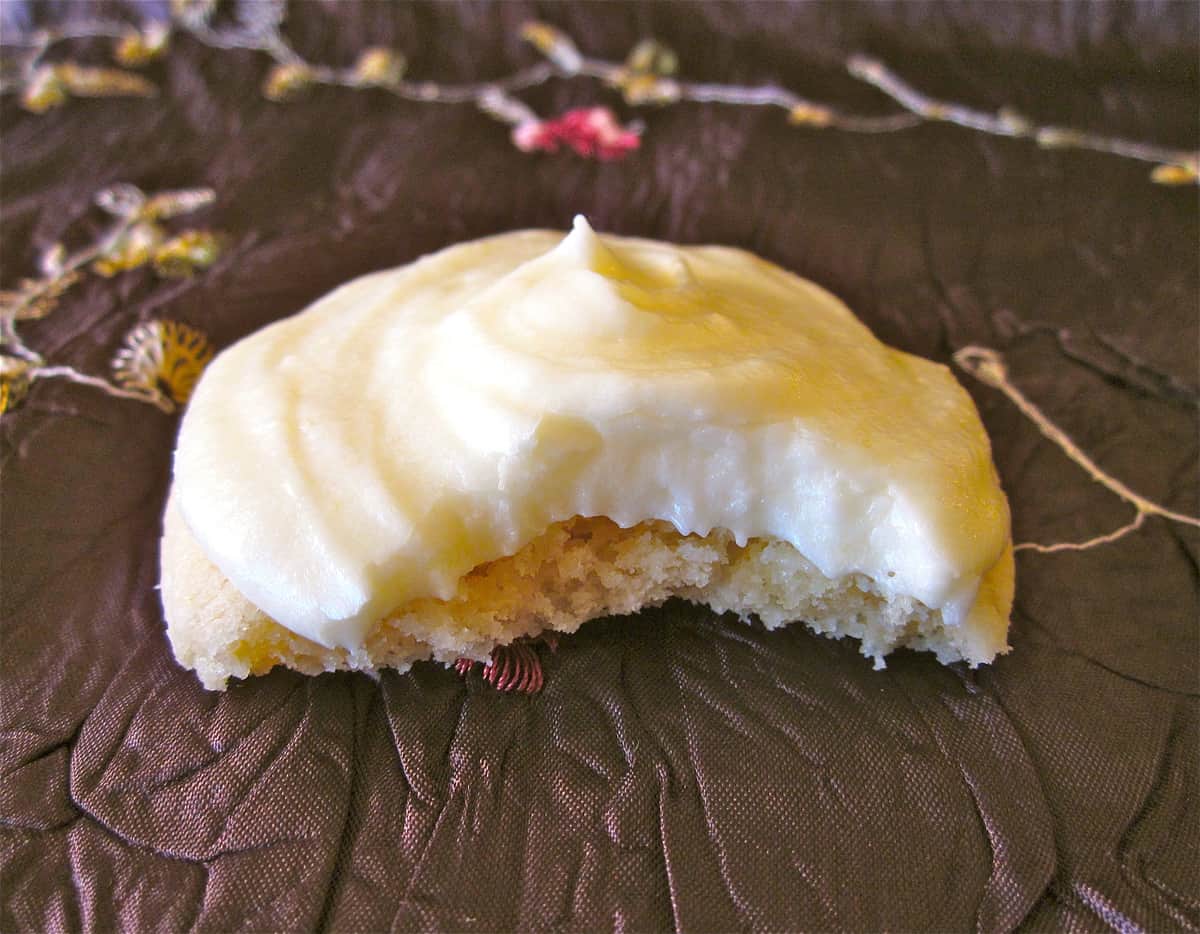 Seriously, I have no idea how this happened. Folding underwear! It's not that strenuous! But somehow I twisted my shoulder weird and ending up with my face in the laundry, moaning in pain. What is it with me? Sometimes I think I should live in a plastic bubble. But then I would probably manage to get some bubble-related injury.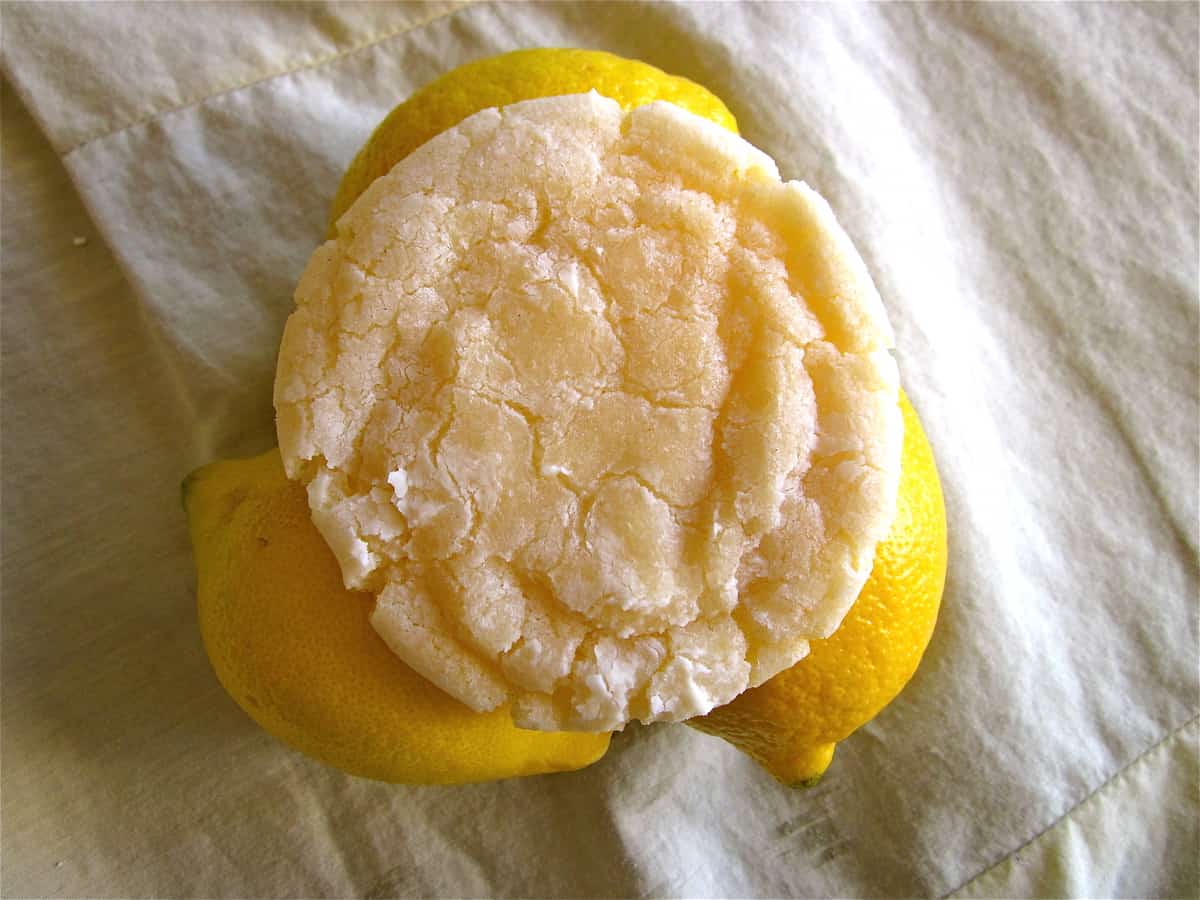 These cookies have been all over the internet for a good reason. They are amazing. I had leftover frosting from these lemon cupcakes and decided to do a mashup. Best idea ever. It is lemony heaven.
print
Did you make this recipe?
Leave a review »
Lemon Crinkle Cookies with Lemon Frosting
Ingredients
For the cookies
1/2

cup butter, softened

1

cup granulated sugar

1/2

teaspoon vanilla extract

1

whole egg

1

teaspoon lemon zest (more! more!)

1

Tablespoon fresh lemon juice

1/4

teaspoon salt

1/4

teaspoon baking powder

1/8

teaspoon baking soda

1

and 1/2 cups all-purpose flour

1/2

cup powdered sugar, for rolling
For the frosting
1/2

cup (1 stick) butter, softened

3-4

cups powdered sugar

1/4

cup fresh lemon juice

zest from one large lemon
Instructions
Preheat oven to 350 degrees.
Grease light colored* baking sheets with non-stick cooking spray and set aside. (Or just use parchment paper or silpats.)
In a large bowl, cream butter and sugar together until light and fluffy.
Whip in vanilla, egg, lemon zest, and juice. Scrape sides and mix again.
Stir in the salt, baking powder, baking soda, and flour slowly until just combined.
Scrape sides of bowl and mix again briefly.
Pour powdered sugar onto a large plate. Roll a heaping teaspoon of dough into a ball and roll in powdered sugar. Place on baking sheet and repeat with remaining dough.
Bake for 9-11 minutes or until bottoms begin to barely brown and cookies look matte (not melty or shiny).
Remove from oven and cool cookies about 3 minutes before transferring to cooling rack.
For the frosting:
Beat the butter until fluffy. Gradually add the powdered sugar, 1 cup at a time.
Add lemon juice and zest. Add more powdered sugar until icing is thick enough to be of good spreading consistency.
Spread on top of cookies or on the bottom and sandwich them, once they are cool.
by The Food Charlatan

If you make this recipe,
share it on Instagram
 using the hashtag
#TheFoodCharlatan
so I can see it!
Source: Lauren's Latest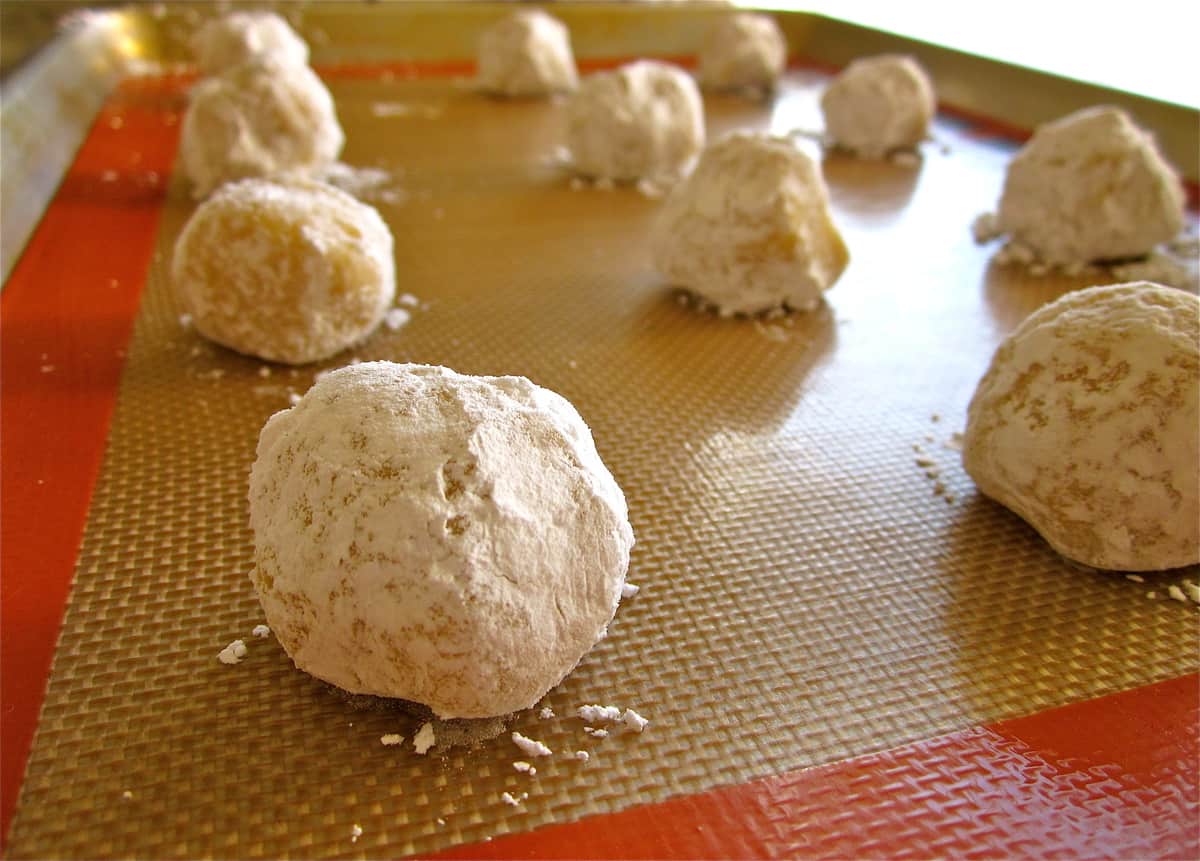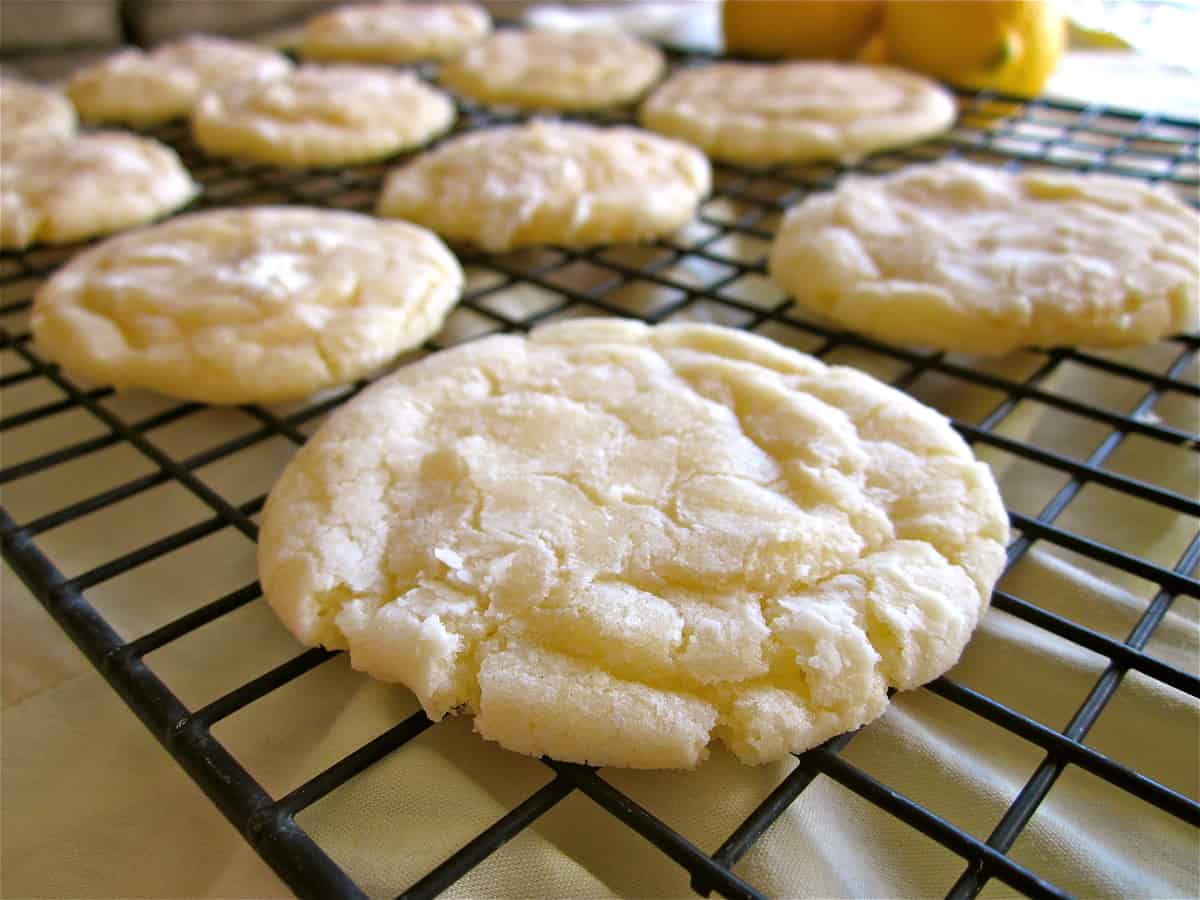 You will like these desserts too!
Lemon Cupcakes << this is where I got the frosting recipe. SO good!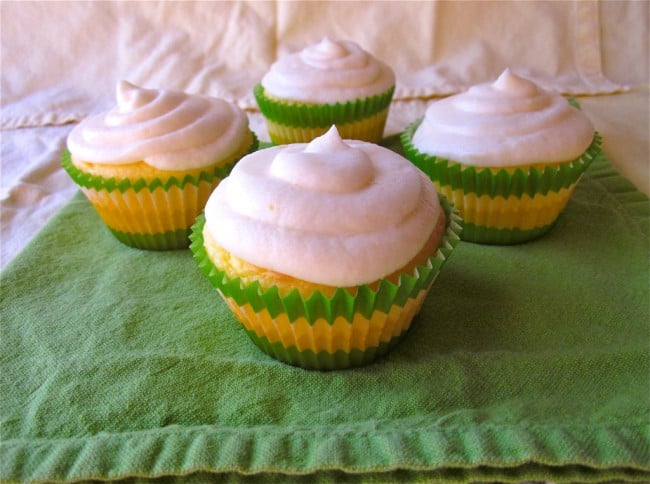 The Best Lemon Curd << this would be SO amazing on these cookies!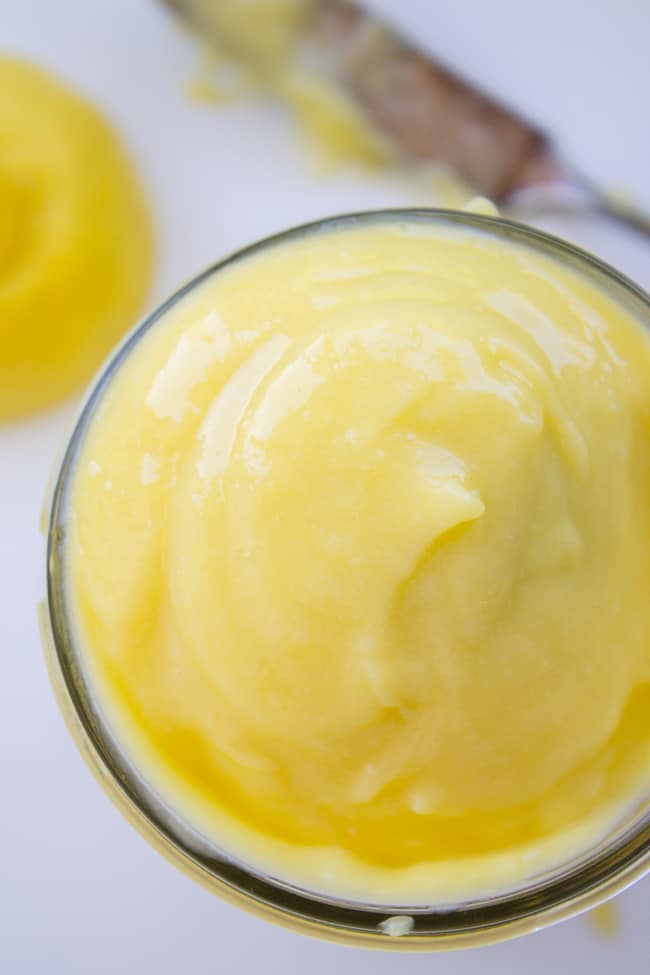 Raspberry Lemon Glazed Muffins: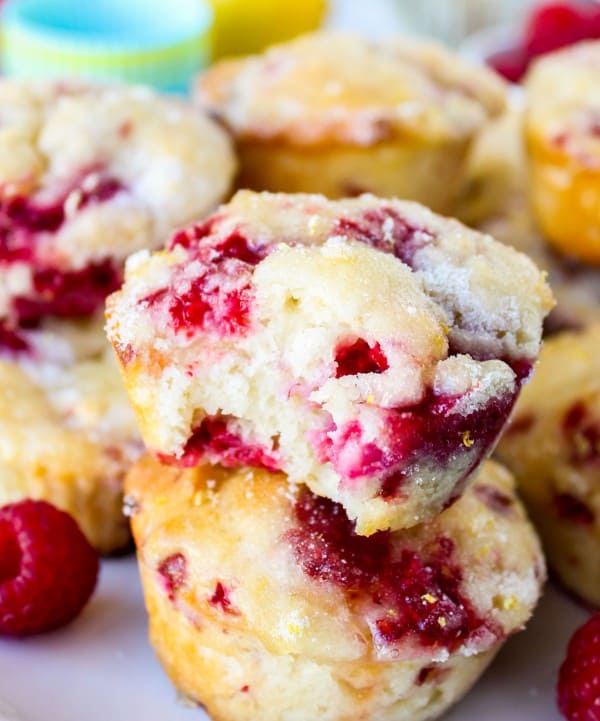 We are a participant in the Amazon Services LLC Associates Program, an affiliate advertising program designed to provide a means for us to earn fees by linking to Amazon.com and affiliated sites.