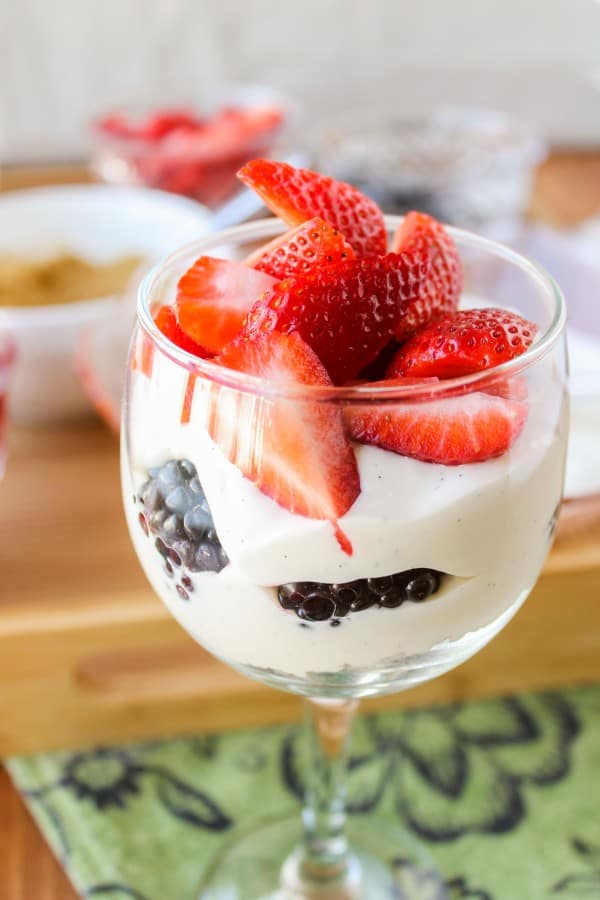 Do you ever misspell a word so many times that even when you get it right it looks wrong?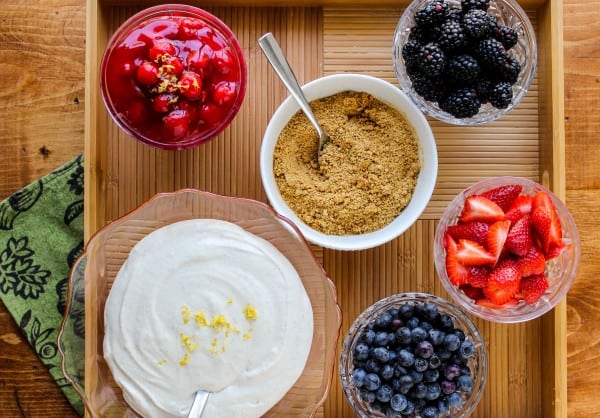 Parfat. Parfaight. Parfaite. Parfaaaaaaaaay. Spellcheck and Google are both reassuring me that parfait is correct but I can't trust anyone anymore. They're ALL WRONG.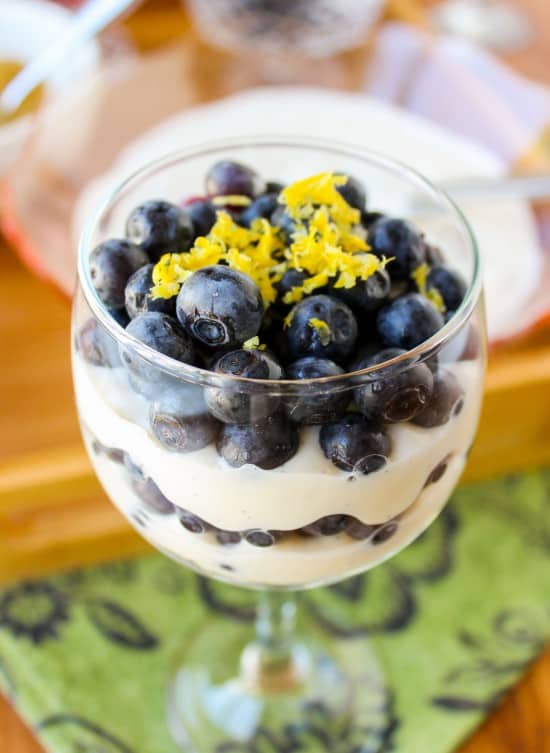 I'm pretty sure this is a French word, always a dangerous road when it comes to spelling. Like charlatan, for example. The first time I thought to name my blog The Food Charlatan I googled how to spell 'charlatan' first. (Who would have guessed that "a" is the only vowel?) When I'm talking to people In Real Life and they want to know how to find my blog I say, first google charlatan, then google food charlatan. Prooooobably I should get some business cards.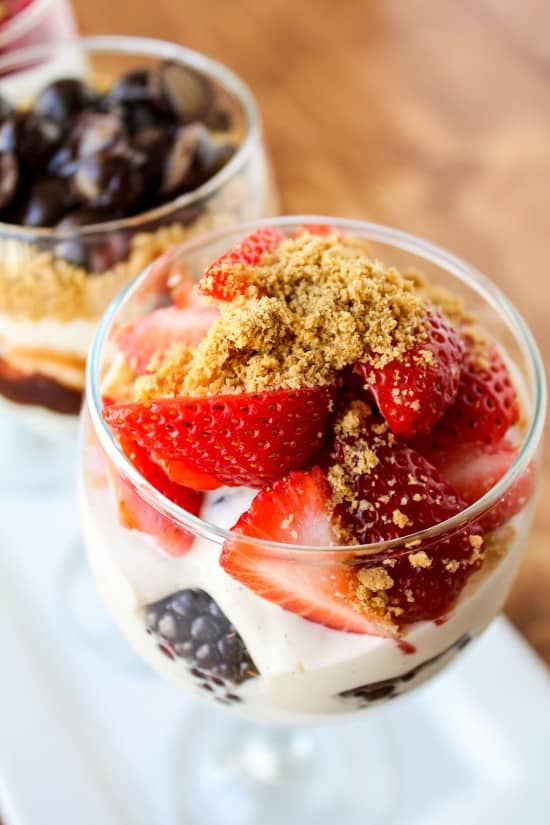 Eric was so sad that I finished off the last of this parfait without him that he left for the store to buy more ingredients for it within minutes of learning that I was a bad sharer. That's how good it is. I didn't even mind making it again because it requires like zero effort. (Also, we had leftover toppings. It's easy to run into the too-much-milk-now-I-need-more-cereal problem with this dessert.)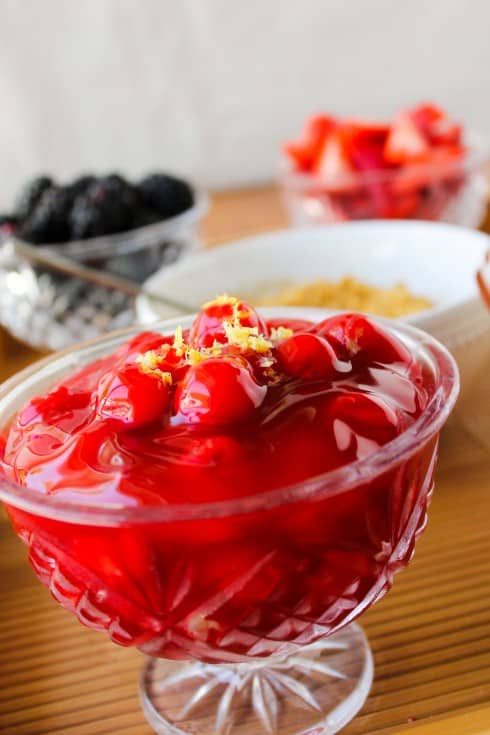 Guess what that cheesecake layer is you guys: Cream cheese. Sweetened condensed milk. Vanilla.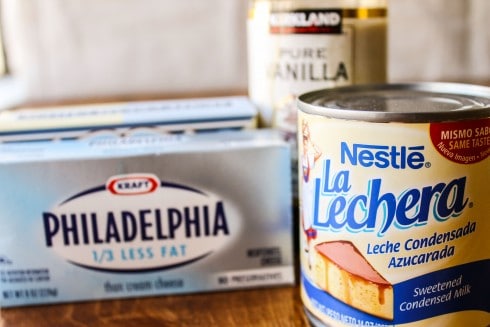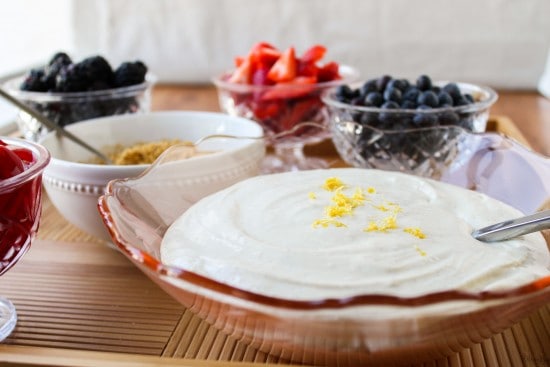 That's it.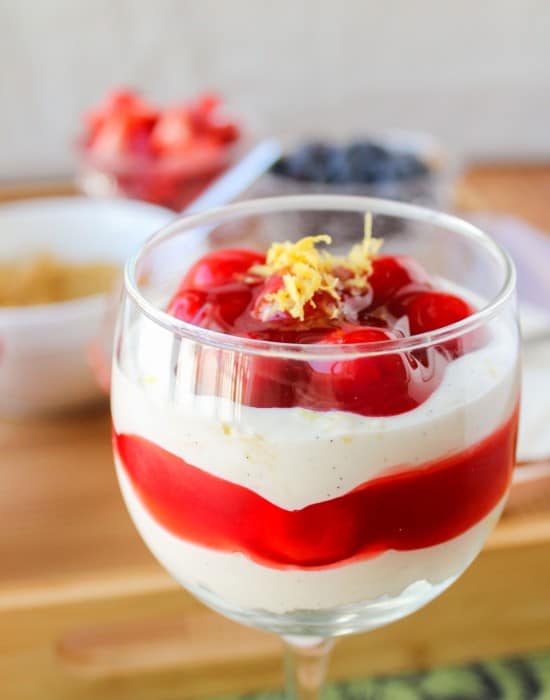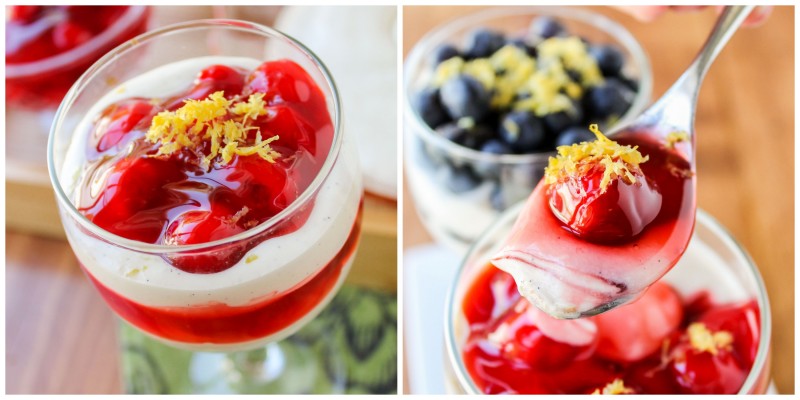 This is an original Pioneer Woman recipe. Oh Ree, we all bow down to your awesomefullness. I got the DIY idea from Heather over at Heather's Dish. She posted this for our Gallentine's Day Party back in February. I loved the idea so much that I used it that very weekend for Charlotte's 3rd birthday party. I had no plans to post it on the blog, but EVERYONE at the party was raving about it and 2 people texted me that week for the recipe because they were already planning on using it to entertain.
As far as party food goes, this recipe is preeeeeetty tough to beat. 100% make ahead-able? Check. Adaptable to different tastes and audiences? Check. Easy to serve? It's self-serve. Check. 1000% delicious? Triple check.
The cheesecake layer is basic and can be paired with just about anything. I used cherry pie filling, strawberries, blueberries (with lemon zest!) aaaaaaaand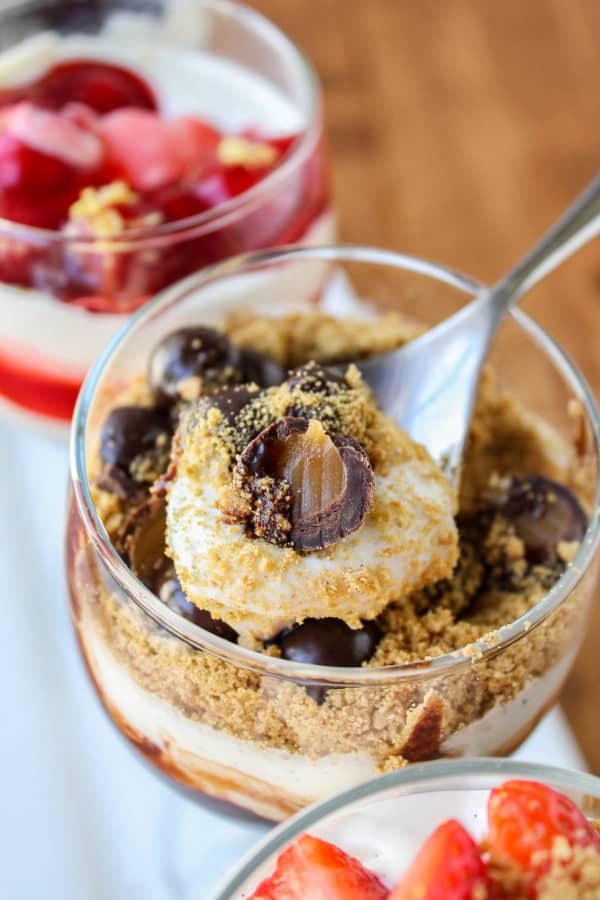 some Chocolate Covered Sea Salt Butterscotch Caramels. Of course. Because I'm obsessed.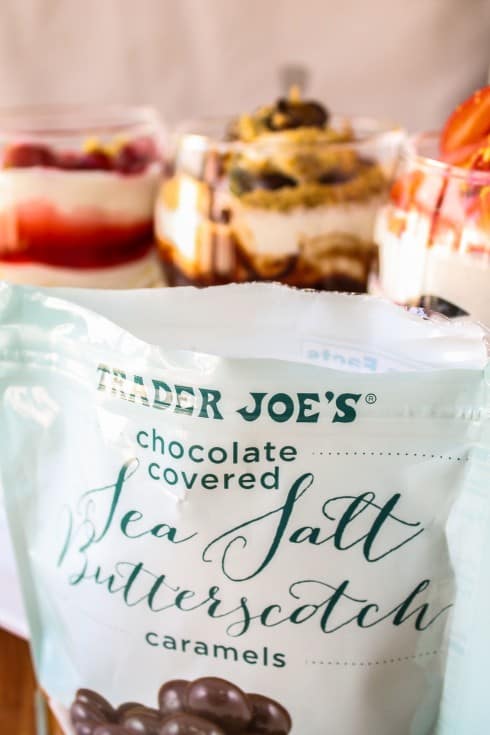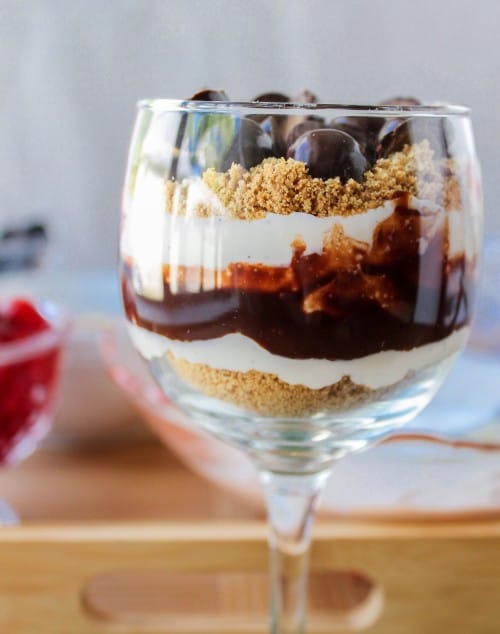 Don't doubt me. It was awesome. #sorrynotsorry
I had fun brainstorming some other flavors you could use. Apple pie filling with caramel and crumble topping. Oreo and chocolate syrup.  Peanut butter and Snickers.  Roasted bananas and butterscotch sauce. Raspberry pistachio. Peppermint ganache. Any kind of cheesecake you could potentially make, you could add the flavors to this. Except it's waaaay easier and you don't have to worry about your baked cheesecake getting a fault-line down the middle.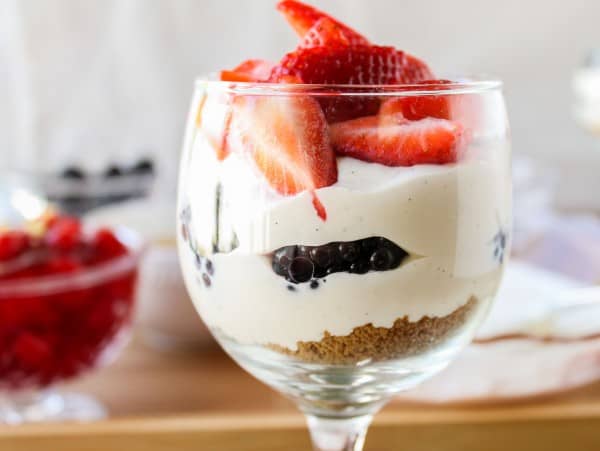 I think this No Bake Cheesecake Parfait Bar would be an awesome dessert to serve at an Easter gathering. Light, fresh, and portable, so that you can carry it with you while you are sneaking your kids Easter candy helping them search for eggs.
Do you guys give up? Or are you thirsty for more?
Facebook | Pinterest | Instagram | Twitter

No Bake Cheesecake Parfait Bar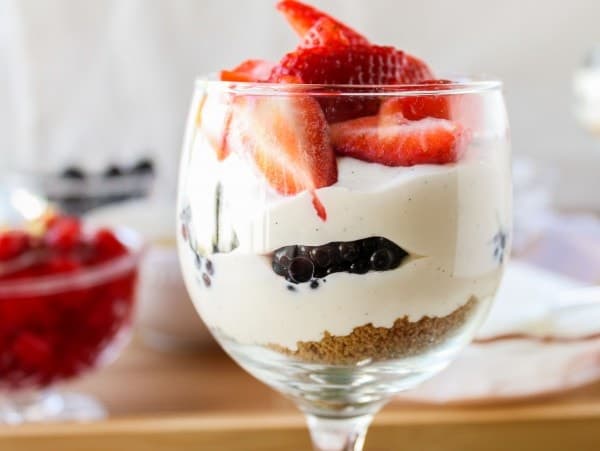 This No Bake Cheesecake Parfait Bar is perfect for any party! Easy, make-ahead, self-serve, adaptable, and delicious. Yes please!
Ingredients
2

8-oz packages

cream cheese

,

or neufchâtel, softened

1

14-oz can

sweetened condensed milk

1

tablespoon

vanilla

,

or 1 tablespoon vanilla bean paste

2

tablespoons

butter

,

melted

1

cup

graham cracker crumbs

Your choice of toppings: pie filling

,

fresh fruit, lemon zest, chopped up brownies, chocolate chips, caramel sauce, etc.
Instructions
In a large mixing bowl, beat the cream cheese until completely smooth, 1-2 minutes.

Add the sweetened condensed milk and vanilla (or vanilla bean paste) and combine thoroughly, scraping the sides.

Transfer to a pretty bowl, cover, and refrigerate until chilled 2-3 hours.

Meanwhile, melt butter in a medium bowl. Add the graham cracker crumbs (they don't have to be perfectly crushed) and mix it up.

Divide toppings among separate bowls.

Let people serve themselves! Party on.
Notes
These are great served in clear 8-ounce plastic cups. Still pretty but no cleanup!
I like the butter in the graham cracker crumbs, but you can totally leave it out and it will still taste great.
Source: Very lightly changed from The Pioneer Woman's original recipe, DIY idea from Heather's Dish
Nutrition
Serving:
1
bar
|
Calories:
358
kcal
|
Carbohydrates:
14
g
|
Protein:
6
g
|
Fat:
31
g
|
Saturated Fat:
17
g
|
Polyunsaturated Fat:
1
g
|
Monounsaturated Fat:
8
g
|
Trans Fat:
1
g
|
Cholesterol:
93
mg
|
Sodium:
369
mg
|
Potassium:
134
mg
|
Fiber:
1
g
|
Sugar:
6
g
|
Vitamin A:
1132
IU
|
Vitamin C:
1
mg
|
Calcium:
87
mg
|
Iron:
1
mg
Wait!! I forgot to talk about the vanilla bean paste!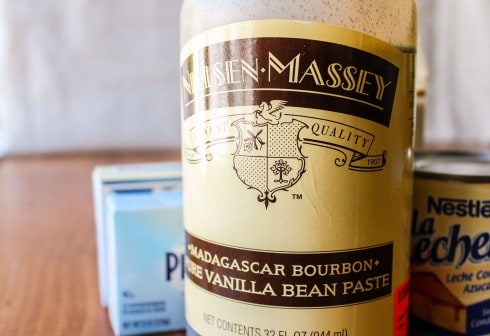 You can totally use regular vanilla in this recipe. It will taste great. But it will taste AMAZING if you use vanilla bean paste. I asked for it for Christmas and got this huge giant bottle. I swear I use it like every other day.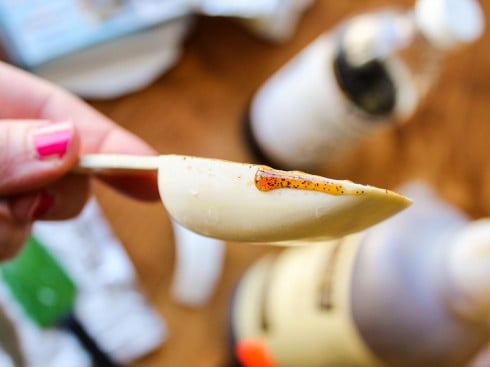 Look at those vanilla specks. I. love. it. Buy it here. <<That's an affiliate link. Because you love supporting this charlatan right?