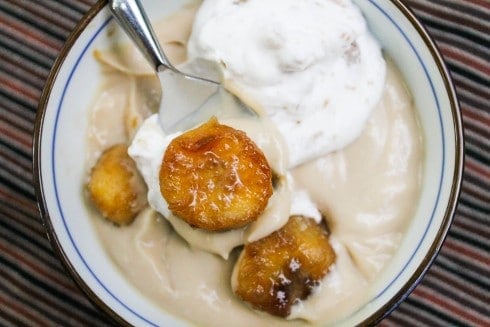 This is one of those recipes that makes me so glad that there are more creative people out there than me. Sometimes I seriously start to think that all the good ideas have been had, but then I'm wowed by some awesome idea or flavor combination, and my faith in humanity is restored. (My brother Nate told me about Zipcar the other day. That was one of those times. "Way to go, humans," I thought.)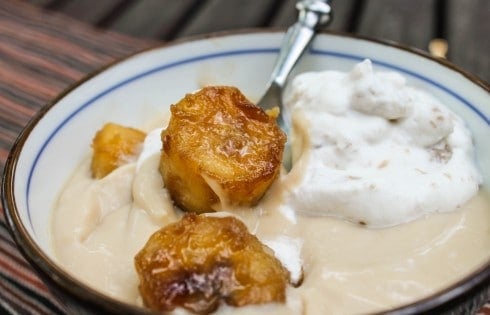 I put this stuff in my mouth and thought that again: Way to go, humans. We are so awesome for coming up with something this magical. And by we I mean not me. I'm not the kind of person who can taste something in a restaurant and go home to successfully recreate it. Which is exactly what the recipe author (Not Without Salt) did: tasted it in a restaurant and went home and made it. I mean come on, Roasted Banana Whipped Cream? Doesn't it just scream hoity toity restaurant/I'm charging you 8 bucks for this?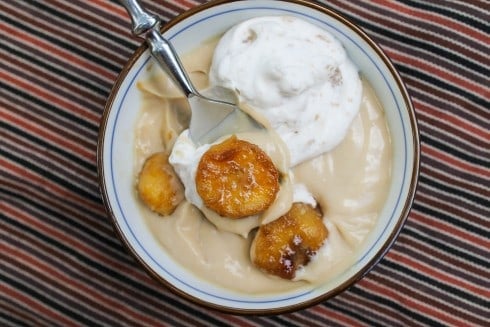 I would pay 8 bucks for this pudding though. It is that good. But I don't have to, because I can make it at home. This pudding is not your average Snack Pack. It is thick and luscious and way too rich. And do you see those roasted bananas? I made an extra batch. Just to eat. All by myself.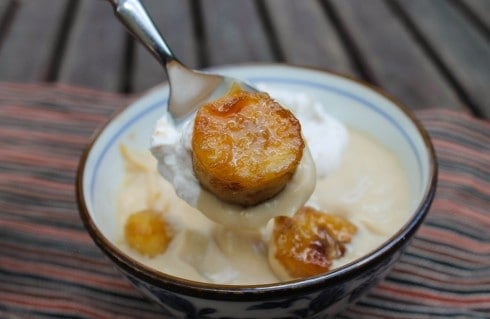 Way to go, humans.

Butterscotch Pudding with Roasted Banana Whipped Cream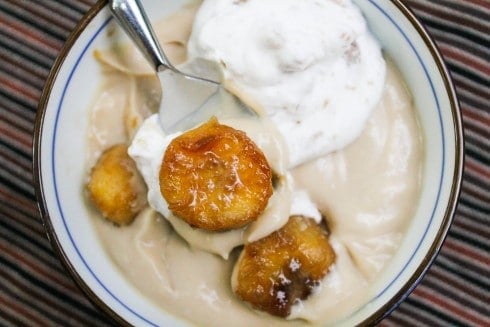 This is an incredibly rich, sweet and pleasantly salted pudding.
Ingredients
Butterscotch Pudding
3/4

cup

dark brown sugar

,

packed

½

teaspoon

kosher or flaky sea salt

2

tablespoons

cornstarch

,

plus 1 teaspoon

1 & 1/2

cups

whole milk

1/2

cup

heavy cream

2

tablespoons

unsalted butter

1

teaspoon

pure vanilla extract
Roasted Banana Whipped Cream
4

ripe bananas

,

cut into 1 inch pieces

4

tablespoons

butter

,

half stick

1/4

cup

dark brown sugar

2

cups

softly whipped cream

,

1 cup of cream, if you are whipping your own*
Instructions
In a medium saucepan whisk together the brown sugar, cornstarch, and 1/2 teaspoon salt. Whisk in the milk and cream. Bring to a boil over medium heat, whisking frequently. When it starts to boil, set a timer for one minute and whisk constantly. Remove from heat and stir in the butter and vanilla.

Pour into a bowl or tupperware, then cover surface with wax paper or plastic wrap. If you skip this step the pudding will get a film on the top of it, and when you mix that in you end up with lumps in your pudding. Chill at least 1 1/2 hours.

In a large saucepan over medium-high heat, add the butter and brown sugar. Continually stir the sugar so that it doesn't scorch. Cook until the butter and sugar have melted together. Add the bananas and cook for just about 1 minute. You want the edges to caramelize and coat in the sugar but you don't want them to get too soft. I found it was best to gently turn the bananas so that each side gets caramelized. Turn off the heat and set this aside to cool.

Once cool, add about one banana (a fourth of the bananas) to a food processor or blender, making sure to add some of the brown sugary sauce too. Puree until smooth. Fold this into the whipped cream. Taste it. Puree more bananas and add them if you want a stronger flavor.

Serve the pudding topped with whipped cream and roasted bananas.
Notes
*I whipped my own cream and did not even bother adding vanilla or powdered sugar to it. Just straight up cream. The banana puree sweetens it plenty.
Source: Not Without Salt
Nutrition
Serving:
0.5
cup
|
Calories:
718
kcal
|
Carbohydrates:
94
g
|
Protein:
6
g
|
Fat:
38
g
|
Saturated Fat:
24
g
|
Polyunsaturated Fat:
2
g
|
Monounsaturated Fat:
10
g
|
Trans Fat:
1
g
|
Cholesterol:
118
mg
|
Sodium:
461
mg
|
Potassium:
689
mg
|
Fiber:
3
g
|
Sugar:
75
g
|
Vitamin A:
1391
IU
|
Vitamin C:
10
mg
|
Calcium:
210
mg
|
Iron:
1
mg