These rhubarb meringue layers are legit. A buttery crust topped with rhubarb and a thick custard, and finally a fluffy meringue. It is one of my favorite desserts ever. It feeds a crowd too, perfect for potlucks!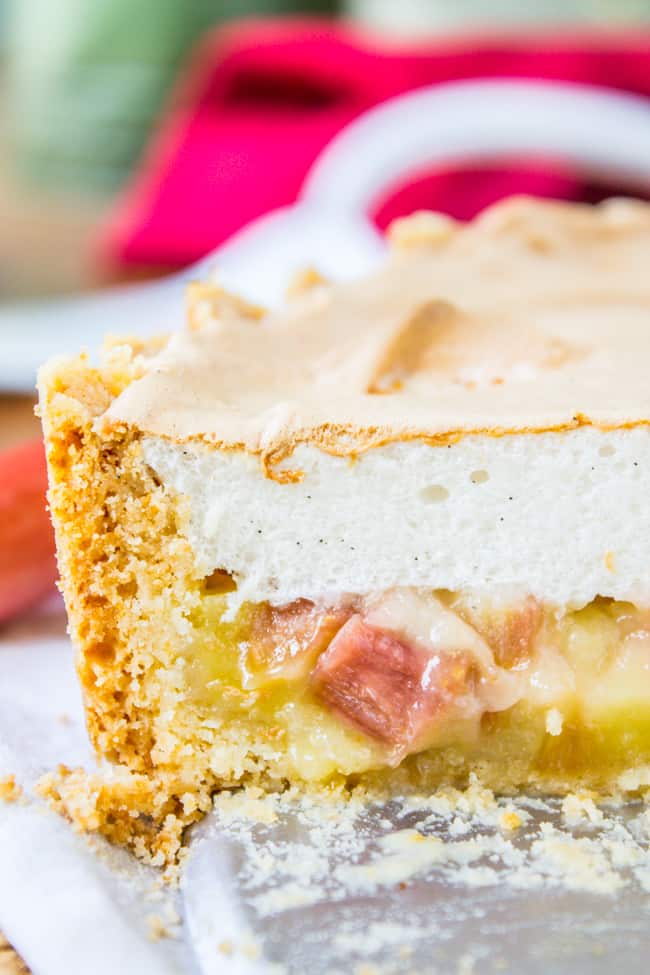 Last week Eric and I went to see U2 twice. Yes, you read that right. Twice. We went to the SAME CONCERT. TWICE.
Eric spent several days leading up to the concert(s) practicing his standing skillz in preparation. Apparently standing at a concert for several hours is no joke, and he wanted to be ready. So, standing practice. Put that on your agenda for next time you are prepping for 2 concerts in a row. Oh wait, you are normal. I forgot.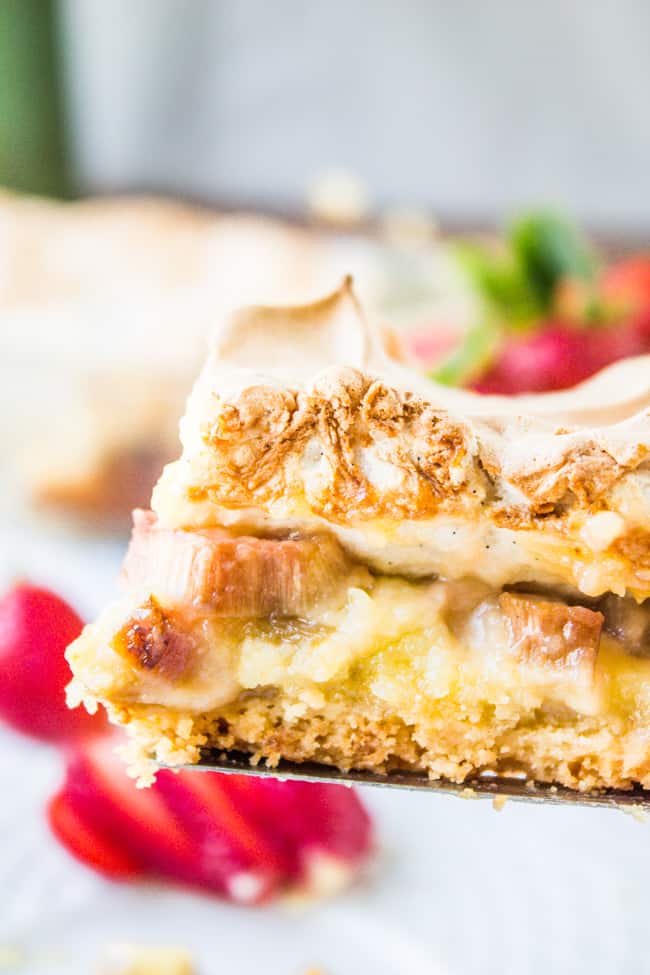 There are a lot of normal people at U2 concerts, by the way. We just didn't meet any of them. There were the 65-year-old potheads next to us in line (talking about the U2 concerts they went to in the 80s), the couple that flew all the way from Boise, and the extremely jumpy short girl who was standing directly in front of me…with a pom-pom. A pom pom that she snapped repeatedly in my face in her jumpy-puppy excitement.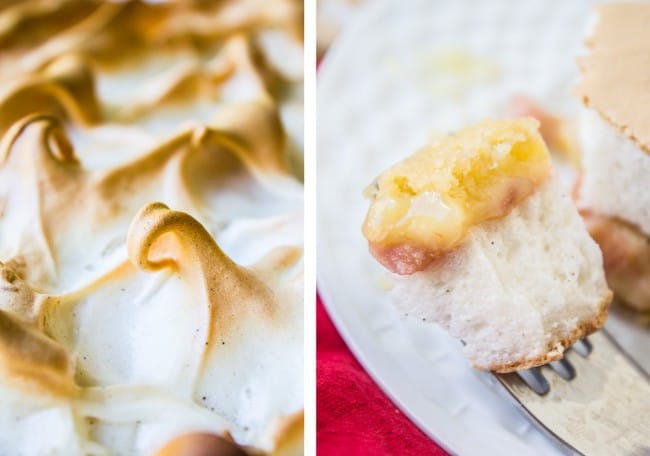 I'm a pretty nice person, okay? I mean, I haven't killed any butterflies lately. But you snap a pom-pom in my face in your efforts to get Bono's attention and I WILL push your hand down 20 times in a row. I had JUST resolved to snatch it out of her hand and throw it on stage when she decided she was done. It's a shame. I was kind of ready for a cat fight.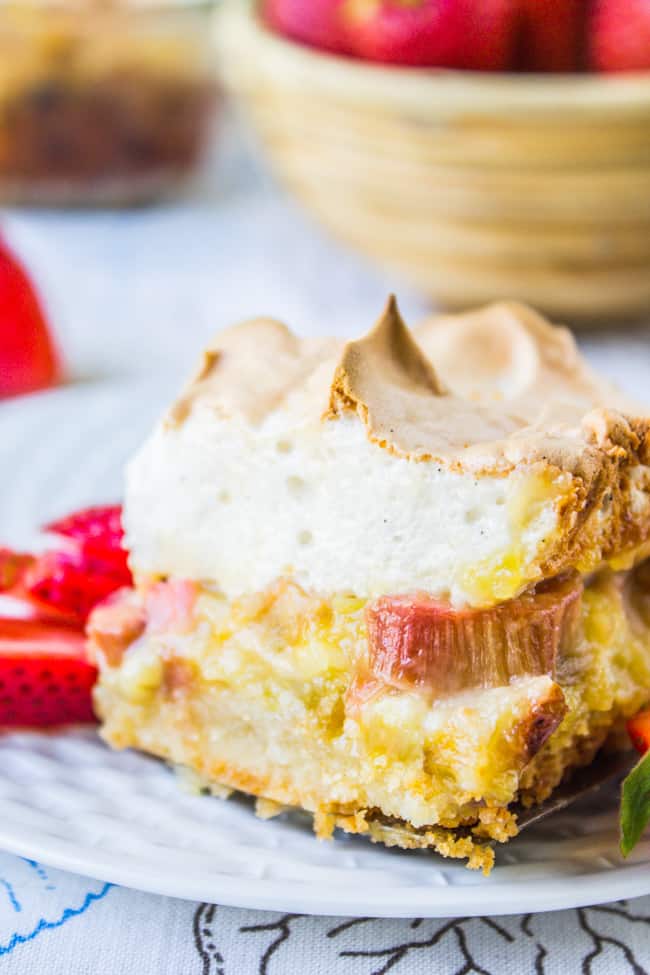 I like U2, but it's nothing compared to Eric. He is a true fan, minus the pot and pom-poms (thank goodness). But dang guys, this concert (both of them, I should say) were pretty freaking awesome. If you every get the chance you should totally go see them. TWICE.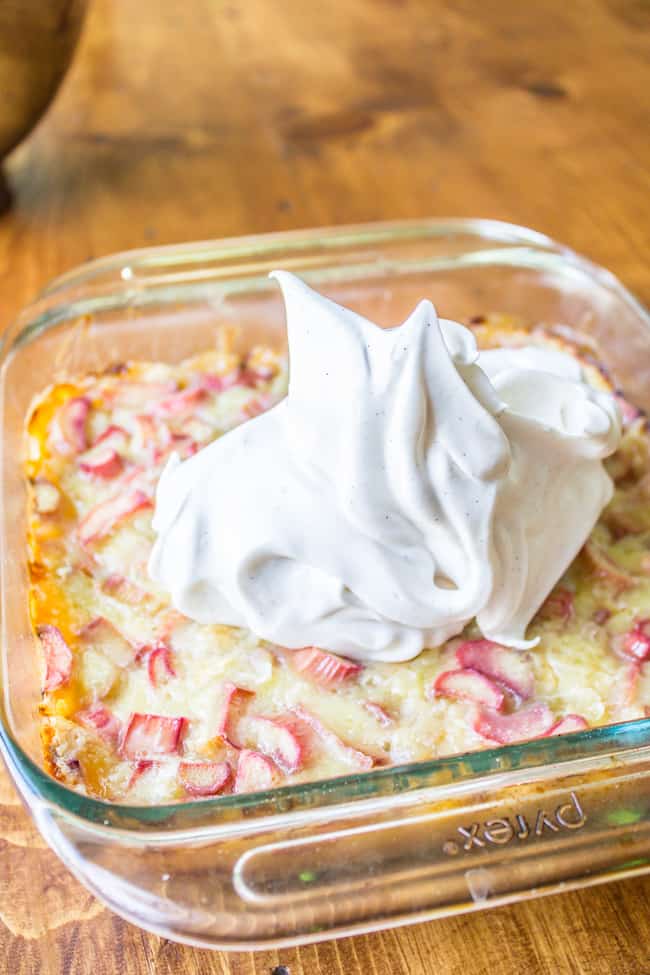 Today we're doing a throw-back recipe. I posted these Rhubarb Meringue Layers a few months after I started my blog: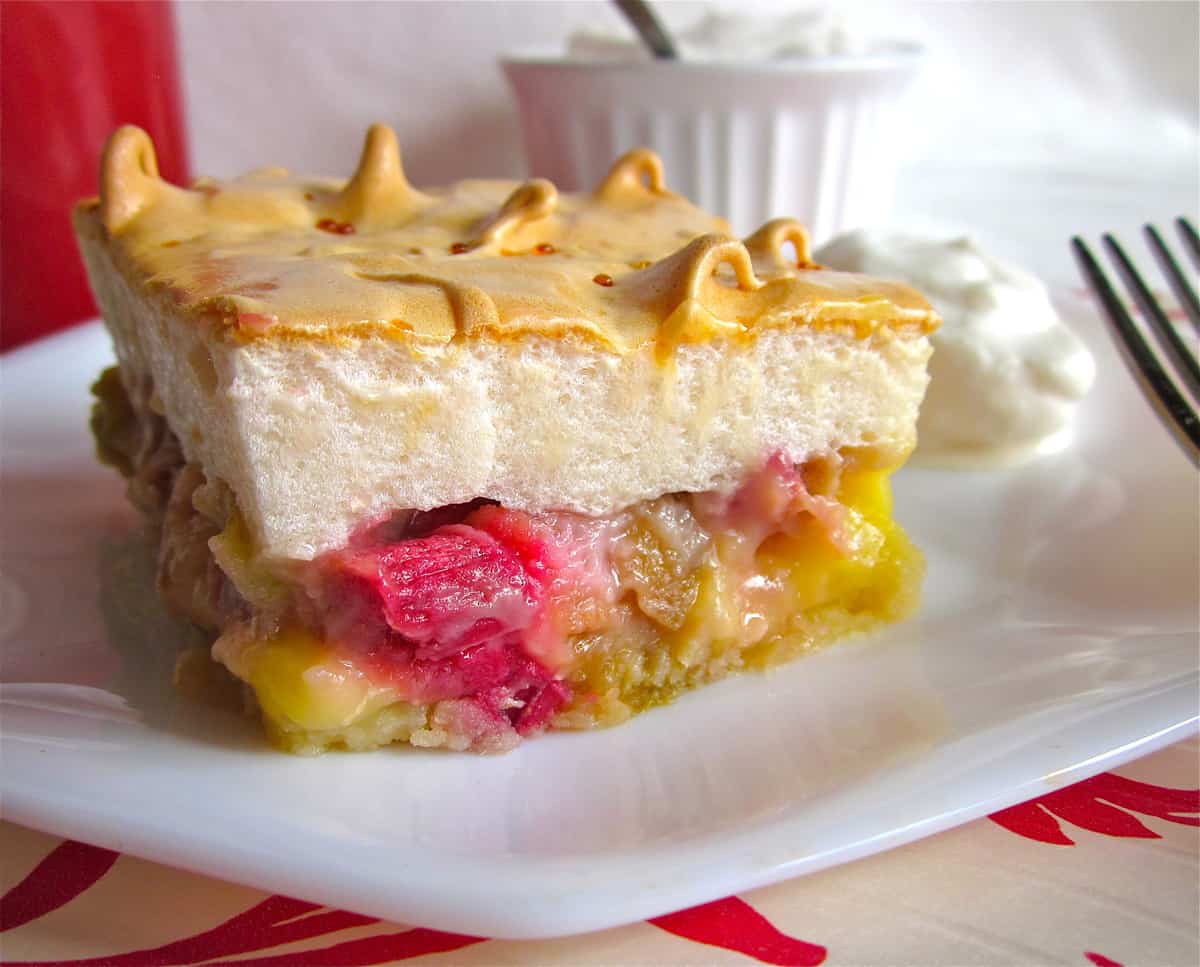 I make them every year, it is totally one of my favorite spring desserts! I made it 3 times so far just in the last few weeks. If you've never tried rhubarb, make this first. It's easy, foolproof, and SO FREAKING GOOD. I know it's not winning any beauty contests, but try to see past the fact that rhubarb looks like giant red celery.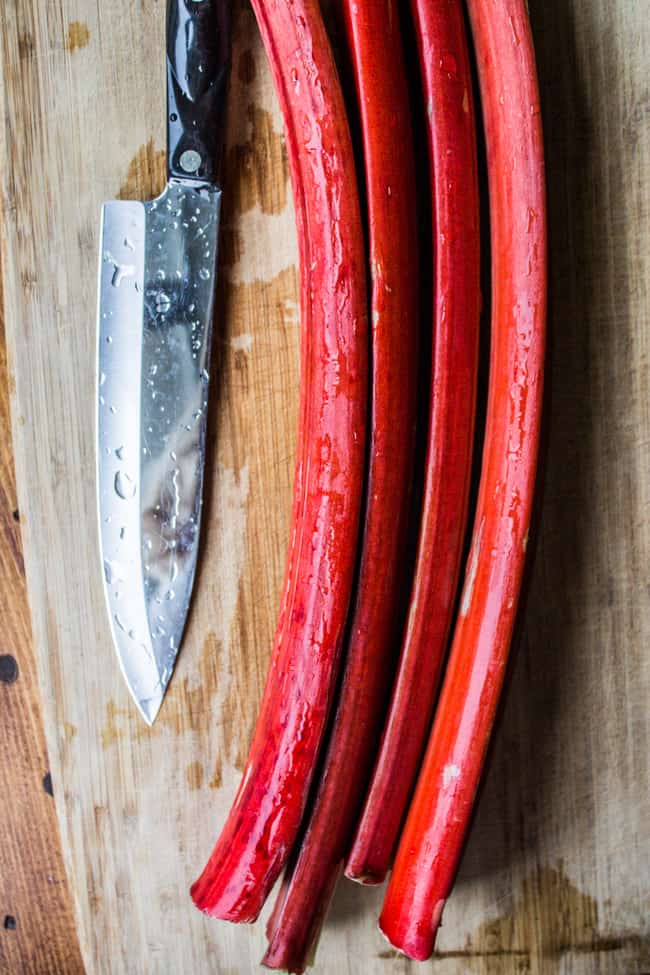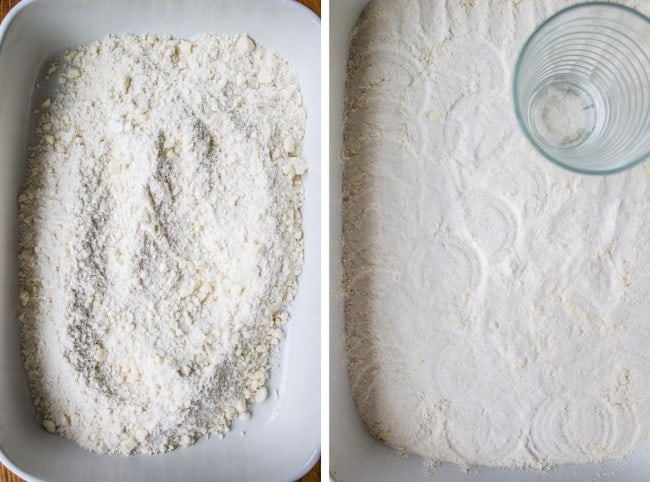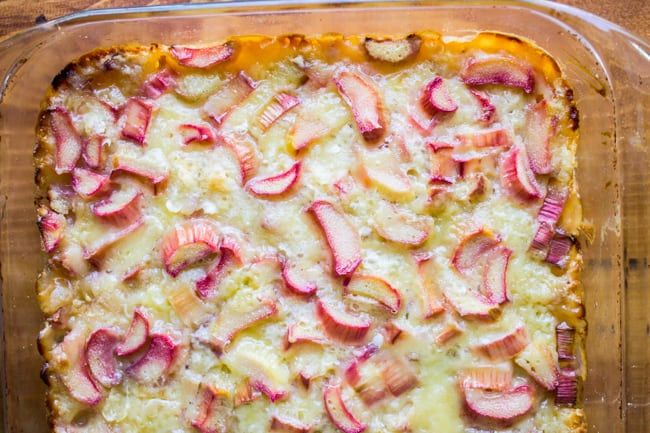 It doesn't exactly make you think, "Mm, custard bars!!" But trust me guys. This stuff is legit. It's like an amazing combination of rhubarb pie and lemon meringue pie, with double the amount of crust (yes please).
Definitely let me know if you try this recipe out for your Easter festivities! It truly is one of my favorites.
More rhubarb!
Facebook | Pinterest | Instagram

Rhubarb Meringue Layers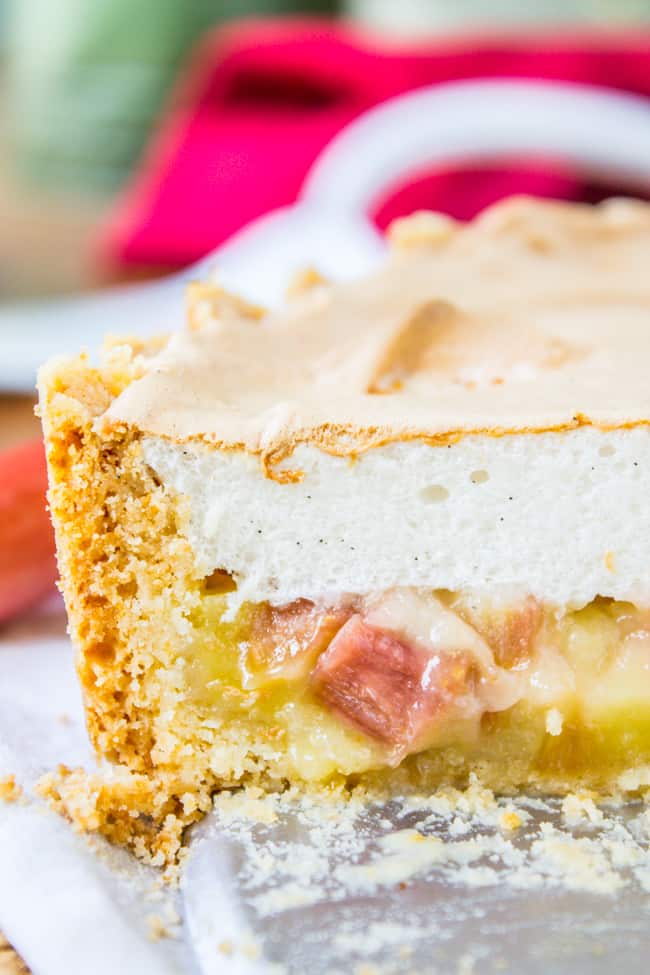 These rhubarb meringue layers are legit. A buttery crust topped with rhubarb and a thick custard, and finally a fluffy meringue. It is one of my favorite desserts ever. It feeds a crowd too, perfect for potlucks!
Ingredients
For the crust:
2

cups

flour

,

spooned and leveled

1

tablespoon

sugar

1/4

teaspoon

salt

1

cup

butter

,

cut into chunks
For the custard:
2

cups

sugar

1/4

cup

flour

1/8

teaspoon

salt

6

egg yolks

,

beaten

1

cup

half & half

,

OR cream

5

cups

rhubarb

,

thawed and drained, fresh or frozen, sliced
For the meringue:
6

egg whites

3/4

cup

sugar

1/4

teaspoon

cream of tartar

2

teaspoons

Rodelle Pure Vanilla Extract
Instructions
Preheat oven to 350. Butter a 13x9x2-inch baking pan.

For the crust, in a large bowl combine the 2 cups of flour, 1 tablespoon sugar, and 1/4 teaspoon salt. Using a pastry cutter, cut in butter until mixture resembles coarse crumbs. (Or pulse in a food processor).

Press mixture into the bottom of the prepared pan. I like to use an empty glass or a measuring cup to get it nice and flat.

Bake for 10 minutes at 350.

To make the custard, in a cold saucepan combine 2 cups sugar, 1/4 cup flour, and 1/8 teaspoon salt.

Beat the egg yolks and the 1 cup half-and-half (or cream) in a separate bowl, then combine with the flour mixture in the saucepan. Turn the burner on to medium heat. Stir until the mixture gets thick. This takes about 12-15 minutes. Do not allow it to boil.

Chop the rhubarb. If your stalk is exceptionally thick, you can slice it lengthwise once, then chop.

Sprinkle the chopped rhubarb over the baked crust and then pour the custard over the top. Bake for 40 minutes. It will not look quite set, but shouldn't be super jiggly.

For the meringue, combine egg whites, 3/4 cup sugar, cream of tartar, and the vanilla; beat on medium speed for about 5 minutes, or until stiff peaks form. Spoon on top of the hot baked custard; carefully spread to edges.

Bake for 12-15 minutes or until golden. Cool, cut into bars, then devour!

I like to store these on the counter. Poke some toothpicks on top and cover with plastic wrap if you don't have a lid.
Notes
Press the crust onto the bottom of the pan, not up the sides. I know the first photo on this post shows crust on the side. I was experimenting with this recipe in a tart pan, but I didn't like the way it turned out (crust was too thin on the bottom). I liked that shot though, so I kept it.
Nutrition
Serving:
1
bar
|
Calories:
478
kcal
|
Carbohydrates:
68
g
|
Protein:
7
g
|
Fat:
20
g
|
Saturated Fat:
12
g
|
Polyunsaturated Fat:
1
g
|
Monounsaturated Fat:
6
g
|
Trans Fat:
1
g
|
Cholesterol:
146
mg
|
Sodium:
248
mg
|
Potassium:
249
mg
|
Fiber:
2
g
|
Sugar:
48
g
|
Vitamin A:
726
IU
|
Vitamin C:
4
mg
|
Calcium:
86
mg
|
Iron:
2
mg