This caramel sauce is so creamy and smooth! It comes together quickly and uses just a few ingredients. I love the tang that the lemon adds. This sauce is the perfect topping for ice cream, crisps or cobbler, a fall cake, or your spoon.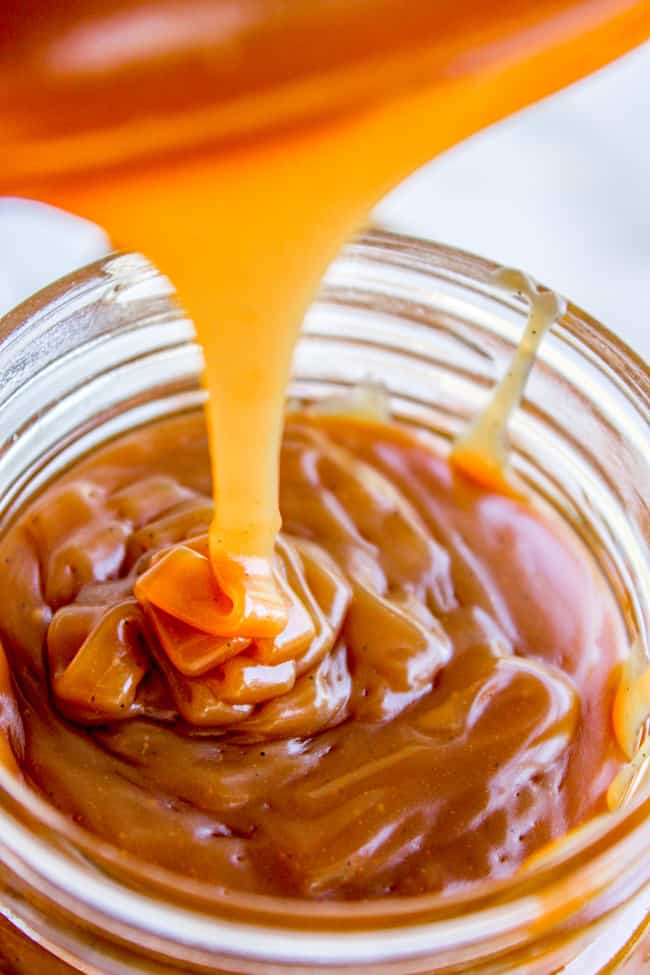 Last night I was driving home from a church meeting, when I saw this poor guy walking his dead car across 4 lanes of traffic on a busy street, trying to get to the side of the road. Normally I pass by people with car issues because I have my kids with me (and because I know ZERO about cars), but I was kid-free and had cables in the trunk, so I stopped and asked if he needed a jump.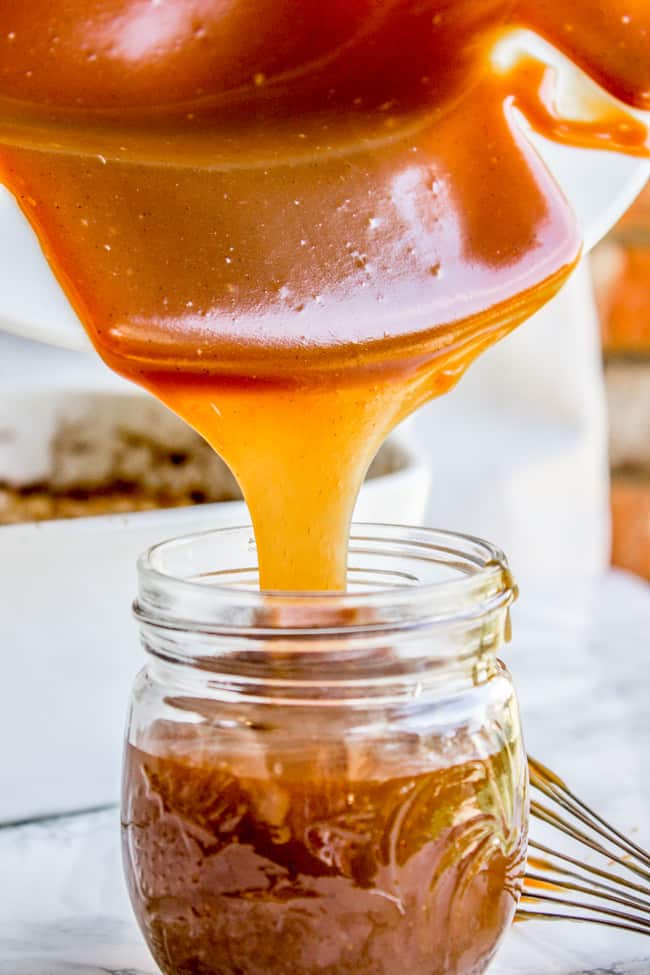 We hooked up the cables and got his car started. I noticed that he looked slightly bewildered throughout the whole process, eyeing my very round 7-month-pregnant-belly. I asked him what happened to his car. He said, "I pulled over to help a pregnant lady whose car had died.  Then my car wouldn't start. Congratulations on your baby."
I seriously don't think I've ever laughed so hard with a complete stranger. What are the odds that you pull over to help a pregnant lady, then your car breaks down, then ANOTHER pregnant lady stops to help you? Ha!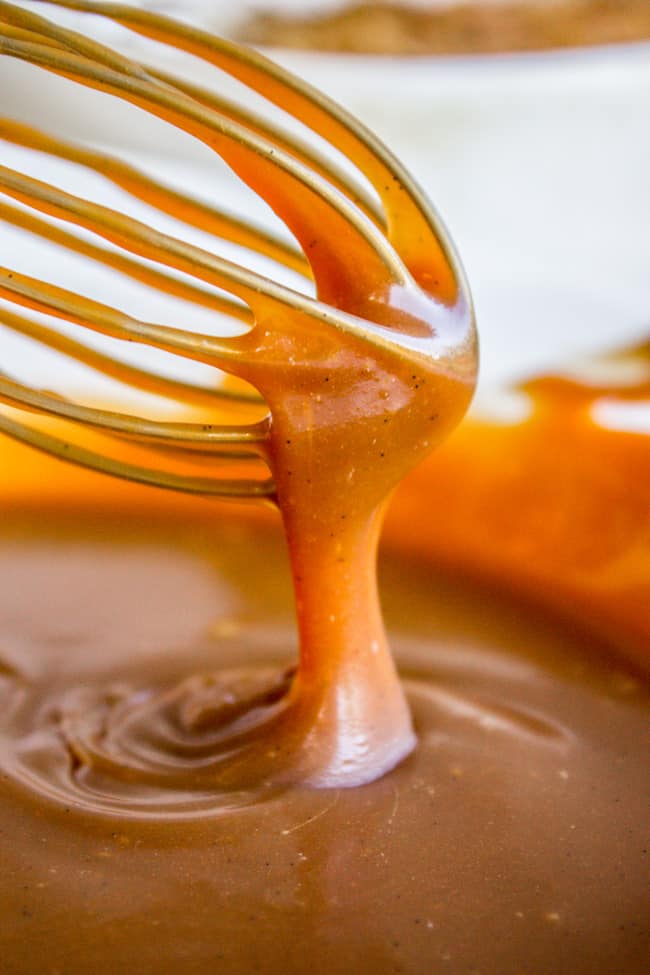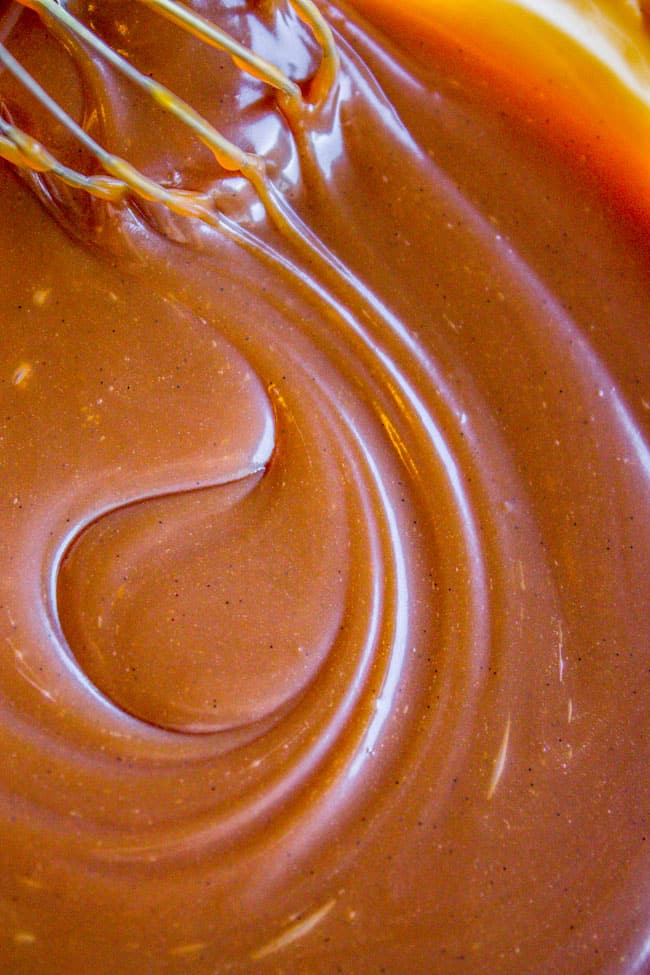 Speaking of being pregnant, I had my 33 week check up yesterday. Doc said I'm measuring small (29 centimeters) so he sent me in for an ultrasound marked "urgent." Anytime a doctor orders something that says "urgent," it's bound to make you freak out a little, but fortunately they got me scheduled for later that day. The doctor emailed me later and said the baby is developing fine, I just "hide my baby well."
I don't know about that. I'll give you one guess where the baby is: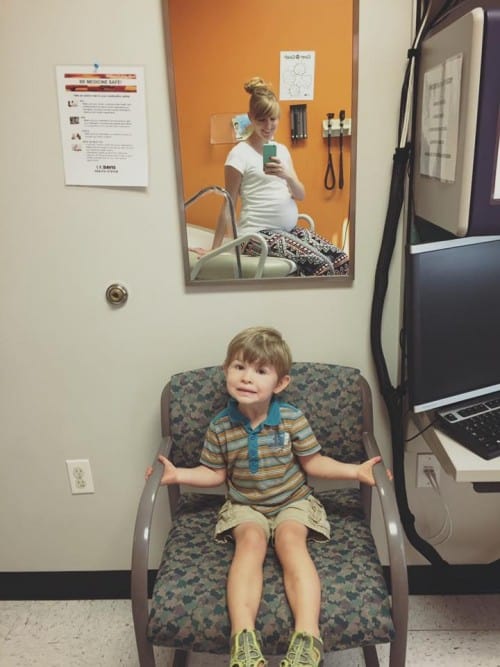 But I am very relieved that the baby is safe. They said she's about 4 pounds, 14 ounces, which is right on track. 7 weeks to go!
I can't wait to share this recipe with you guys! I have been making this caramel sauce for years. It's a huge favorite of mine. It is not a cheater recipe; you won't find any butter here (sorry butter, you know I love you.) It's straight up water and sugar and cream (plus vanilla, salt, and lemon to add flavor.) That's it!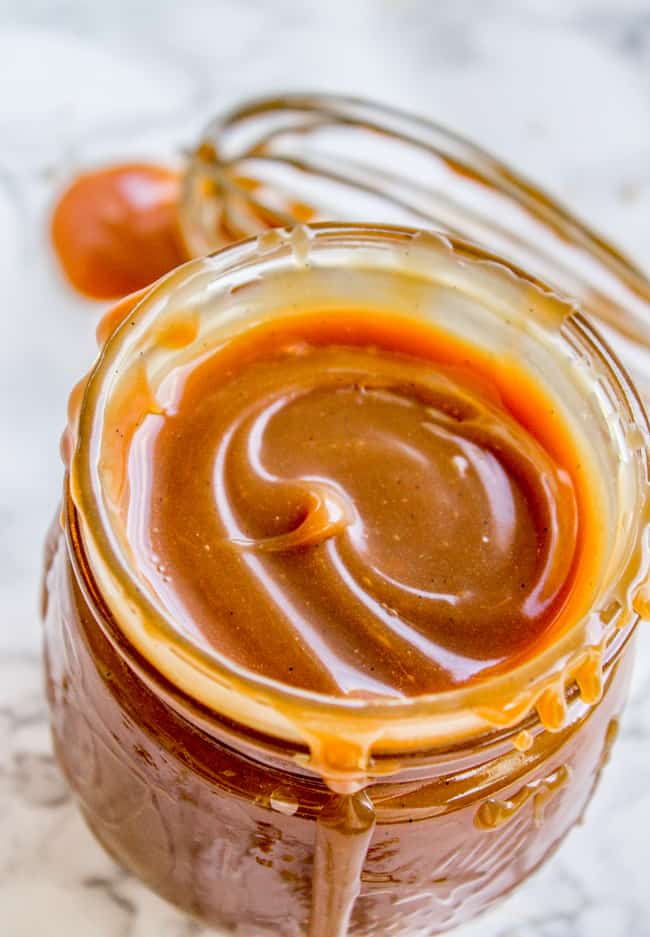 If you are a confident candy maker, you can probably make this without a thermometer (but if you're a candy maker, you probably already have one…) The nice thing about this recipe is that it's caramel SAUCE, so if you don't get the temperature exactly right, no harm done, your sauce just won't have as deep a flavor. It's not like when you're making caramel to eat as candy and need it to be hard (but not too hard) at room temperature. Basically the only way to mess this sauce up is to go too far and burn it. Don't do that. :)
Also don't burn the handle off your candy thermometer. Am I scaring you away from making this?? I swear it's not always this dramatic.

I've made this caramel sauce a ton of times, it's not hard. For some reason I was worried that the tip of the thermometer was not submerged in the syrup enough and wasn't getting a proper reading, so I was tilting the pan to make sure it was submerged. But I didn't realize that meant the handle on the other side was directly above the flame of my gas burner. Oooops!!!
There are literally a hundred things you could put this caramel sauce on. I'm posting my friend Amelia's recipe for Apple Crisp next, and that's what I drizzled it over today. A very, very good choice. I have some links after the recipe for other desserts that this caramel sauce would pair well will, but here are some more general ideas:
ice cream
cake
trifle
dip apples/bananas/any fruit into it
top pancakes or waffles. DO IT.
Stir into plain Greek Yogurt and top with granola and/or fruit
Fold into whipped cream and top a cake with it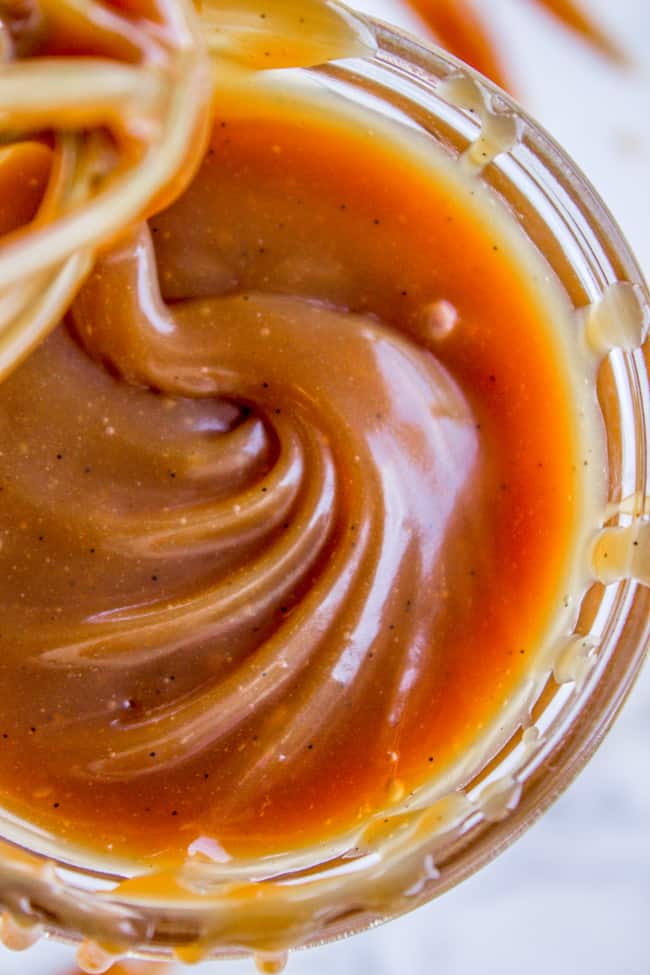 Facebook | Pinterest | Instagram | Twitter

My Favorite Caramel Sauce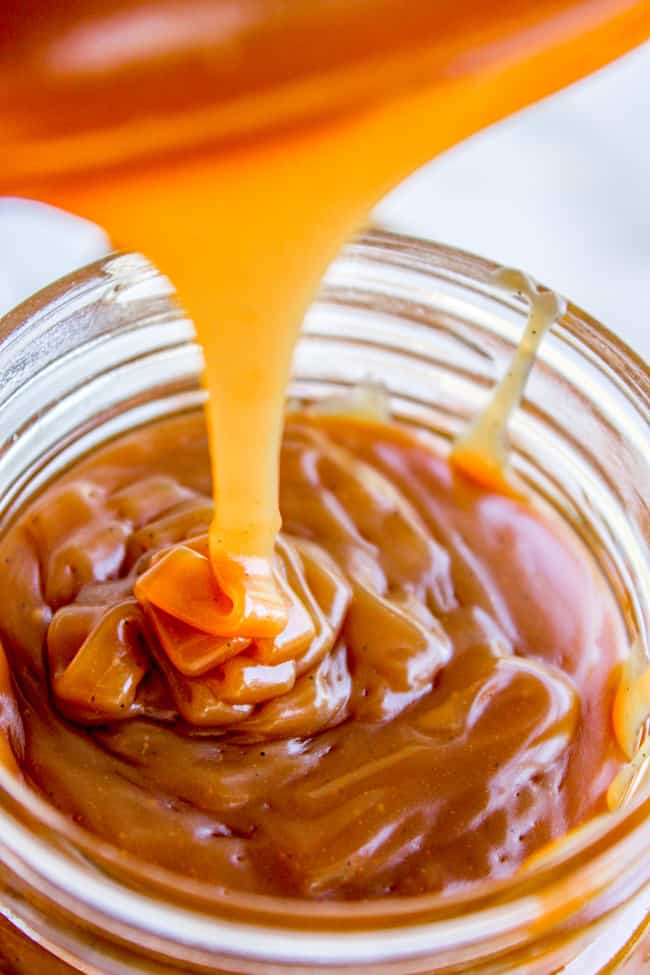 This caramel sauce is so creamy and smooth! It comes together quickly and uses just a few ingredients. I love the tang that the lemon adds. This sauce is the perfect topping for ice cream, crisps or cobbler, a fall cake, or your spoon. 
Ingredients
1/2

cup

water

1

cup

sugar

1

cup

heavy cream

1/4

teaspoon

salt

,

or to taste

3/4

teaspoon

vanilla bean paste

,

*

1/2

teaspoon

lemon juice
Instructions
In a 2-quart heavy-bottomed sauce pan,** add the water.

Add the sugar to the center of the water. Don't get sugar on the sides of the pot, or it will get all crusty and make your caramel not smooth. (If you do get some on the side, use a pastry brush to wipe the sides and remove the crystals before they harden.)

Stir and bring the mixture to a boil over high heat. Use a lid if you want it to go faster, but stay close by, you need to start timing once it reaches a boil.

Once boiling all across the surface, set a timer for 7 minutes. If you have one, attach a candy thermometer to the side of the pan.

Boil until the syrup is thick and straw-colored. It should reach about 300 degrees. This ended up taking more like 9 minutes for me.

Reduce the heat to medium and continue boiling until syrup is a deep amber color, and reaches about 350 degrees, 1-3 minutes.

Meanwhile, add cream to a glass measuring cup and microwave for about 1-2 minutes, until it is hot. Keep warm until ready to add to caramel.

Remove the syrup from heat when it is deep amber. Carefully pour about a quarter of the cream into the pot and stir. Be careful, it's going to bubble up and pop!

Wait for the bubbles to calm down, then add the remaining cream, in increments if you want. Stir it together.

Add salt to taste, vanilla, and lemon juice, and whisk until sauce is nice and smooth. The sauce will thicken as it cools. Sometimes I throw it in the freezer for a few minutes to speed up the cooling.

Store covered in the fridge for at least two weeks. Maybe longer, I wouldn't know.

Eat with ice cream, cake, or cobbler! Actually the options are pretty endless. Fingers work great with this sauce.
Notes
*Or just use regular vanilla extract! Both will taste great, the vanilla bean paste just adds like MEGA vanilla flavor :)
**Technically caramel sauce dips into the realm of candy-making, which means you have to take stuff like this seriously. A 1-quart pan is too small (the caramel bubbles up when you add the cream) and a 3-quart pan is too big (your caramel won't be deep enough to dip the thermometer in). So use the middle-size pot.
Source: adapted from Cook's Illustrated
Nutrition
Serving:
0.5
cup
|
Calories:
537
kcal
|
Carbohydrates:
70
g
|
Protein:
2
g
|
Fat:
29
g
|
Saturated Fat:
18
g
|
Polyunsaturated Fat:
1
g
|
Monounsaturated Fat:
8
g
|
Cholesterol:
109
mg
|
Sodium:
227
mg
|
Potassium:
62
mg
|
Fiber:
1
g
|
Sugar:
67
g
|
Vitamin A:
1166
IU
|
Vitamin C:
1
mg
|
Calcium:
54
mg
|
Iron:
1
mg
Source: adapted from Cook's Illustrated
Here are some ideas for what to put your caramel sauce on!
This Cream Cheese Pound Cake. The dreamiest, moistest cake, paired with this caramel sauce?? Forgetaboutit.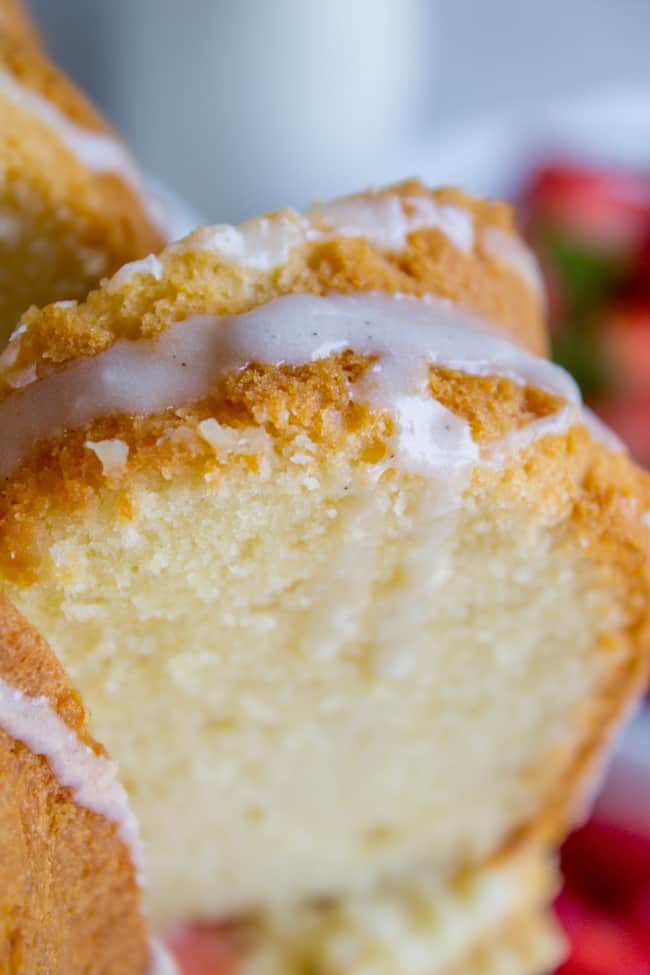 Easy Pumpkin Pie Cake. How could caramel sauce not make this better??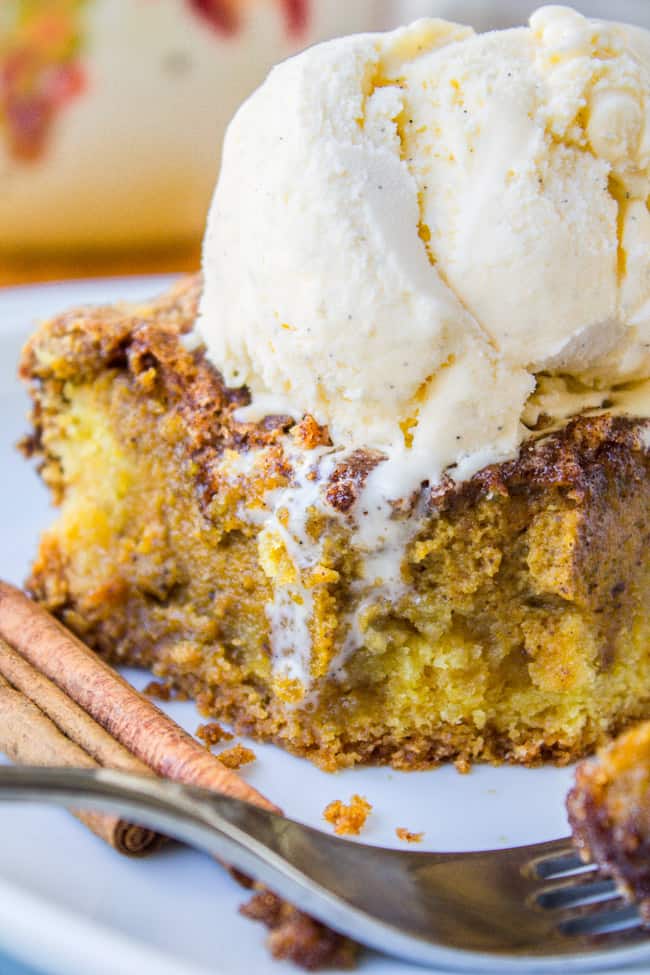 Maple Cheesecake with Roasted Pears << this is easier than it looks. YUM!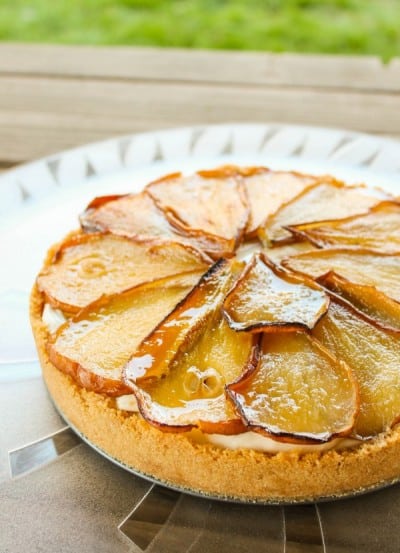 You will love these other topping ideas!
The Best Lemon Curd (Easy!) << this is a reader favorite! And a favorite of mine too.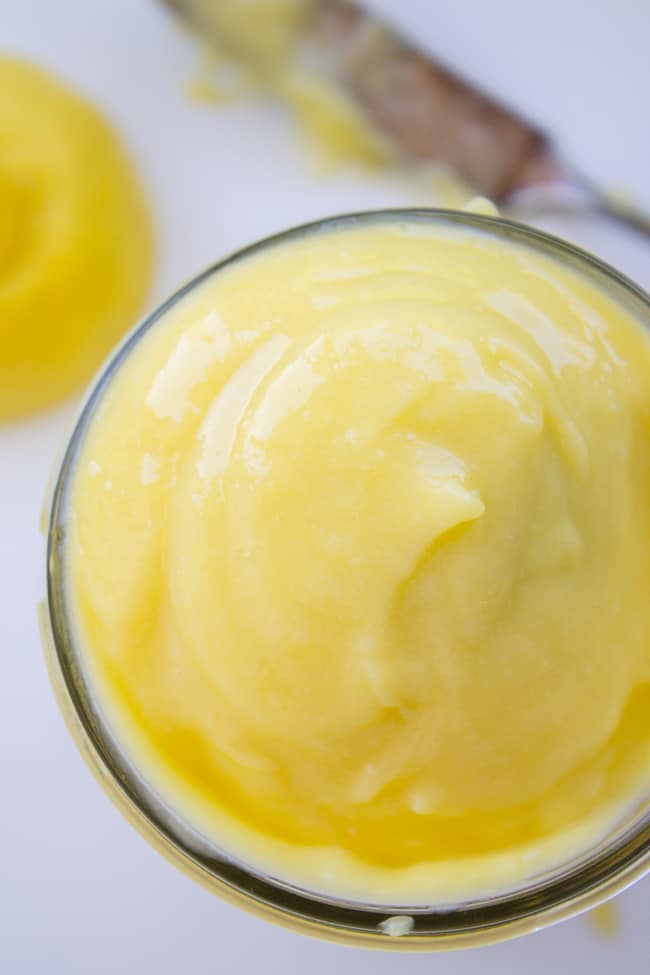 Fresh Strawberry Topping << sooo much better than just adding sugar to your strawberries!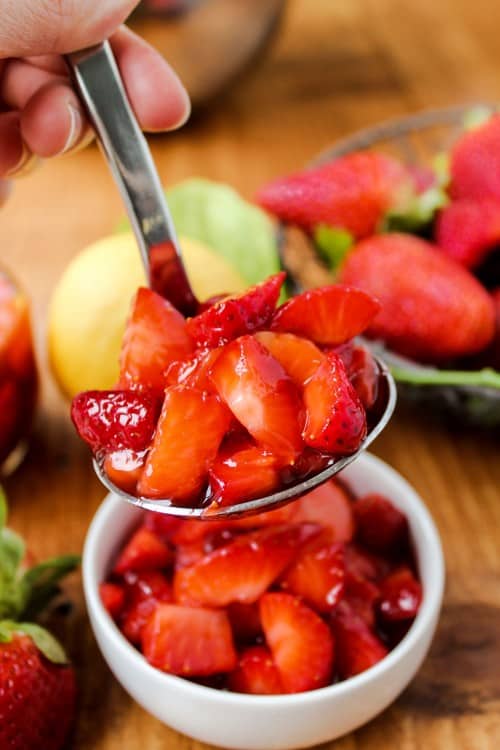 Other caramels from other awesome bloggers!
How to Make a Caramel Sauce from House of Yumm
5-Minute, 5-Ingredient Caramel Sauce from Five Heart Home
Peanut Butter Caramel Sauce from A Dash of Sanity